Celebrity's newest ship, Celebrity Beyond, made its much-anticipated arrival to North America last week - and its been hyped as the best ship in the cruise line's fleet.
Celebrity has set the bar high with its newest ship; just by the ship's name alone, it sets the tone that Beyond will be a cut above the rest.
Image
I boarded Celebrity Beyond for its inaugural North American sailing and Ceremonial Naming Event last week as part of a hosted media cruise. I had never set foot on a Celebrity cruise ship before, although I've spent many nights at sea with sister-brand Royal Caribbean.
Image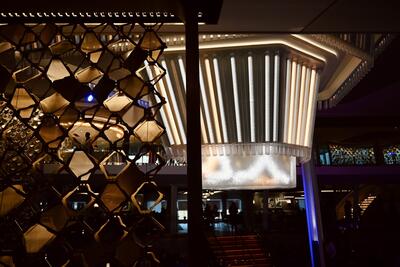 I had high standards for Celebrity Beyond - and I can confidentially say that it did not disappoint; however, the ship was unlike anything I expected. I was wowed in ways I never anticipated and left puzzled by a few minor happenings on the ship.
Image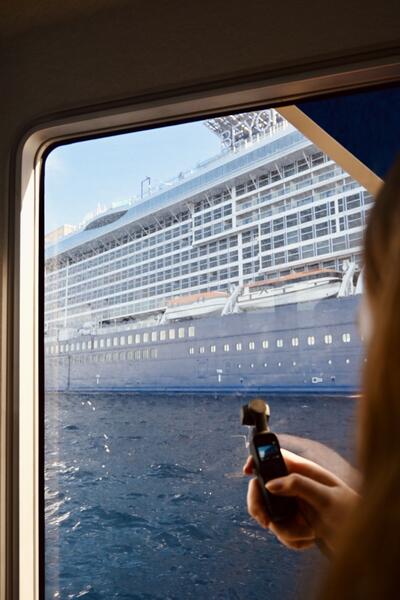 Here's my honest review of Celebrity's newest ship and how I felt it lived up to the hype, along with a few ways Beyond fell short for me.
Love at First Sight
First impressions are everything and Celebrity brought its A-game with Beyond.
Cruising for me is more than just what a ship has to offer. While some cruisers are less about the destinations and more about the cruise ship itself, this isn't necessarily my style. I've set sail on some of the oldest ships in Royal Caribbean's fleet because I was drawn to their itineraries.
Image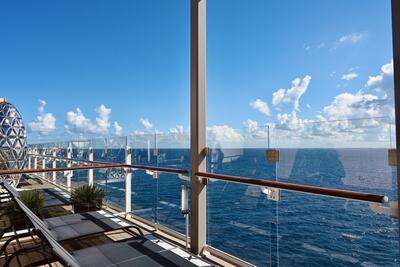 I've never booked a sailing solely for the purpose of sailing on a brand new ship; instead, I tend to book port-intensive itineraries with destinations like Iceland, Israel and the Canary Islands.
All this to say, boarding a cruise ship doesn't always leave me speechless because I am more focused on the itinerary aspect of cruising. After cruising more than 30 times and spending nearly a year of my life at sea, I'll be honest that it takes a lot for me to be truly wowed.
Image
Yet, stepping foot on Celebrity Beyond was unlike anything I've experienced before on a cruise ship. It might be a little dramatic, but I almost felt a hint of love at first sight.
Image
Perhaps the last time I was truly speechless in a love-at-first-sight kind of way was on my first cruise as a little girl on the Big Red Boat in 1998.
From the brilliant Grand Atrium upon arrival to the marble tile in our stateroom, I was blown away by the remarkable details and stunning design of the ship. I didn't know a cruise ship could feel like a boutique hotel while simultaneously offering more than a boutique hotel could ever offer.
Image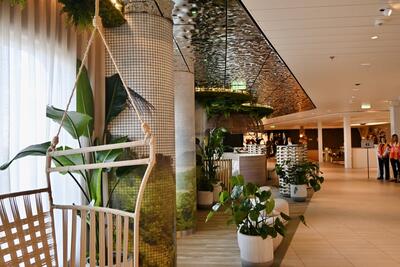 Modern and Relaxed Luxury
Celebrity Beyond is bigger and better than earlier Edge-class ships with more space, elevated luxury and enhanced design.
In fact, the ship was designed with Gen-X in mind; CEO Lisa Lutoff-Perlo stated the company has researched exactly how Generation X likes to travel, including what they care about and the relaxed luxury that they enjoy.
Image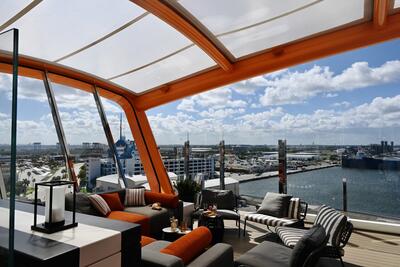 Given the pandemic's impact on a generation that values experiences, like travel, more than material possessions, the excitement to cruise was through the roof.
Image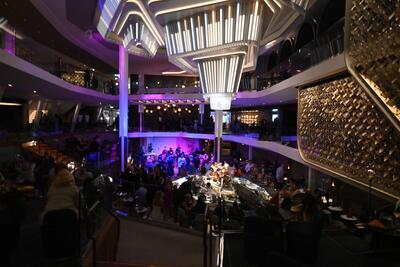 During our media cruise, Lutoff-Perlo described Celebrity Beyond as having an approachable and accessible sense of luxury; I completely agree with this sentiment.
Beyond was equally relaxed as she was upscale. Where you could find ceviche served in fresh coconuts, you could wander to nearby MastGrill for a classic hamburger with fries. We also loved the truffle fries and mac & cheese served at Craft Social Bar. 
Image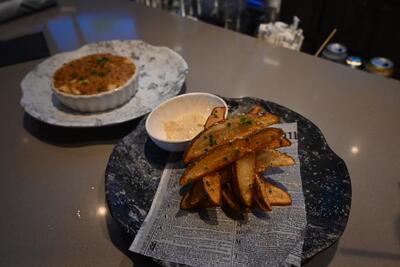 Celebrity Beyond felt intimate, yet airy at the same time.
However, this sense of intimacy brings another small gripe I had with Beyond - At times, it felt a little dark in areas like the Grand Plaza. I'd love to see even more windows added to bring in more natural light during the day.
Image
With the sparkling lights illuminating the dark space in the evening, I'd love to see a bit more sunlight come through to balance everything out.
Image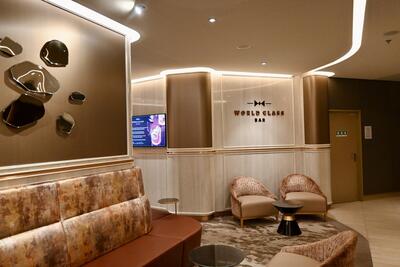 Beach Club Parallels
The top deck of a cruise ship is always bustling - and, in typical fashion, Celebrity Beyond took it a step further with Beyond. With plush loungers surrounding a plunge pool and upper-deck infinity pools, this is no standard pool deck; rather, this is a resort deck and Beyond has named it appropriately so.
Image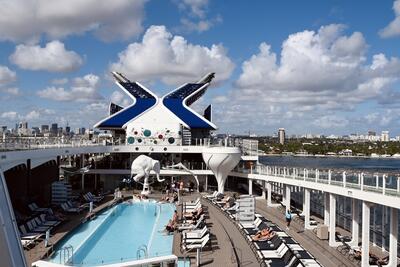 Walking around the top deck, you could have told me I was at a seaside resort in St. Tropez and I would have believed you. The Sunset Bar at the aft of the Resort Deck is beautifully designed with Moroccan-accents. It's the perfect spot to watch - you guessed it- the sunset.
Image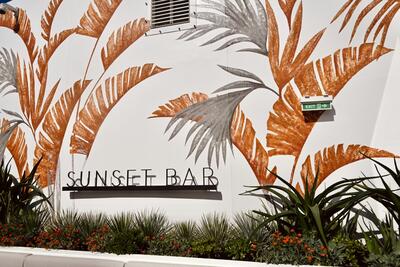 Celebrity took the opportunity to make the Sunset Bar more inviting with design-forward thinking on Beyond, something that was lacking on earlier Edge-class ships.
Image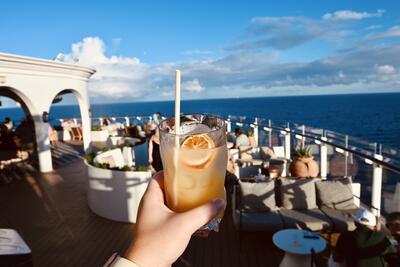 Nestled between the pool and the Sunset Bar is the imaginative Rooftop Garden with real greenery. Located at the front of the ship is the beloved Solarium in an enclosed space featuring an indoor pool, hot tub and nearby Spa Cafe.
Image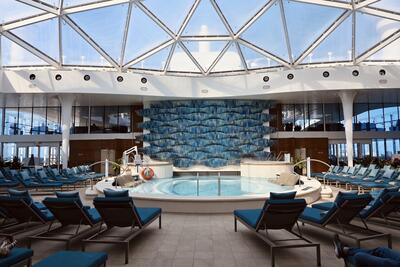 Celebrity Beyond is touted as having more open-air space than any cruise ship at sea, and I would agree with this sentiment. There are so many spaces, including some lovely nooks and crannies, on the top deck that are ideal for enjoying views of the sea and taking in some fresh salty air.
Image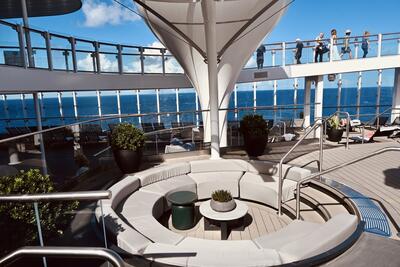 Wellness is another important aspect of Beyond's design; although I didn't volunteer for the 7am spin class, I did appreciate the large, multi-leveled running track. On the second evening, I walked around the ship on the running track and enjoyed seeing the Resort Deck decked out in neon lights.
Image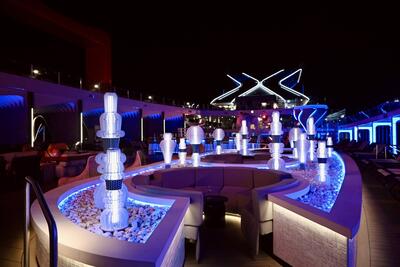 I imagined how lovely it would be to walk around this running track as Beyond pulled into a breathtaking port, like Santorini.
Stateroom Functionality and Design
As we wandered down the halls to find our stateroom, I found the hallway design to be noticeably modern. Every stateroom number had a small light that illuminated a sense of warmth, making the room feel immediately inviting for us.
Image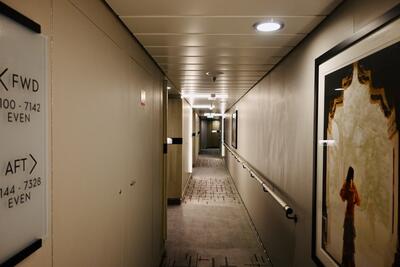 Celebrity Beyond features accommodations that are both aesthetically pleasing with design-forward features while still being equally as functional.
Image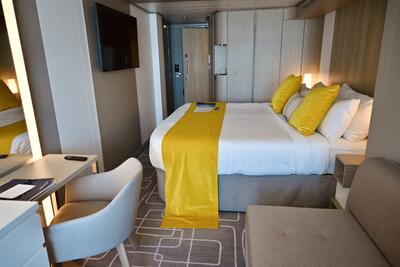 With tons of storage and a large bathroom - quite possibly the biggest shower I've ever had in a balcony stateroom - we were impressed by our infinite veranda stateroom.
Image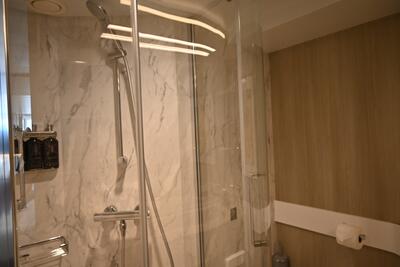 As I cozied into the king bed on our first night, I instantly noticed the difference in bedding quality in our stateroom. I had never been disappointed in bedding quality on a cruise, but I guess I have never been impressed either - until now!
Image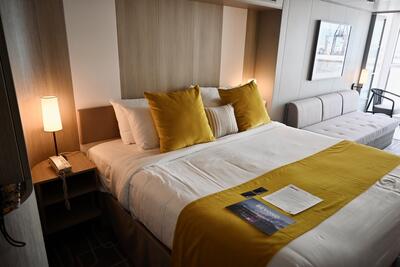 The bed sheets were silky soft while the bed was comfortably firm to my liking; the pillows also felt upscale compared to drab hotel pillows that I'm used to. 
Next to the bed was a small nightstand with a little lamp and wall outlet, which was perfect for me.
Image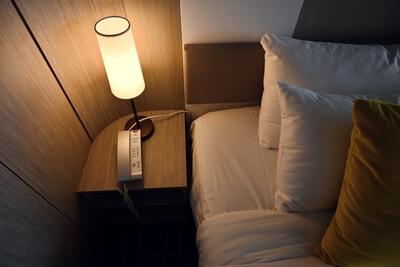 The stateroom also featured a charging station with outlets perfectly enclosed in a white box, which had multiple outlets and USB plugs. Knowing Beyond was also the most technologically-advanced ship in Celebrity's fleet, I appreciated this thoughtful touch to accommodate those of us living in a device-driven world.
Image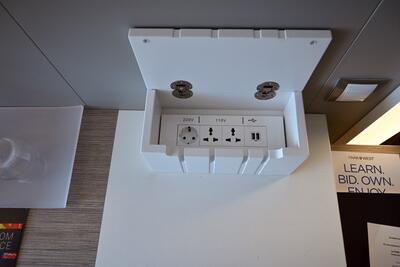 Lackluster Infinite Veranda
The Edge-class ships are the first to introduce infinite verandas - which is a twist on the traditional balcony. Rather than having an external balcony outside, the infinite veranda is meant to transform the entire stateroom into a balcony with floor to ceiling windows.
Image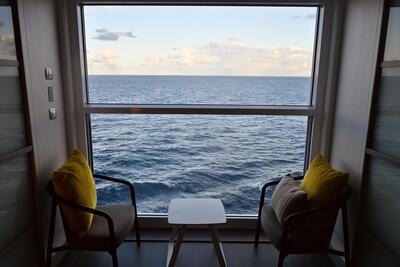 I had a hard time understanding this concept until I took a look at it myself - and unfortunately, this is an area where Celebrity Beyond fell short for me.
The best comparison I can make is one to your own home. Imagine a house with a sunroom and a house with a large outdoor deck. The sunroom makes you feel a little bit like you're outside, but you aren't actually outside.
On the other hand, a large outdoor deck gets you truly outside and in the sun.
Image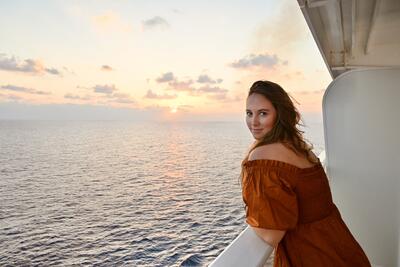 In this case, the infinite veranda felt more like a sunroom with open windows and less like an outdoor deck. We missed having a traditional balcony where you can truly feel like you're outside.
Image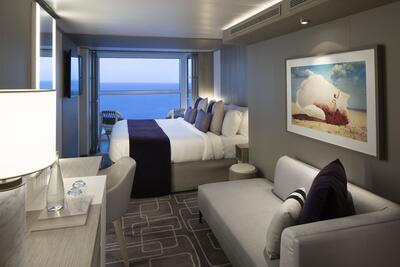 Is this better than having an inside cabin with no view or even a porthole? Yes, of course! But the infinite veranda is not a traditional balcony in my mind.
Also, the infinite veranda appeared to mess with temperature control in our cabin. Our cabin felt unusually hot during our sailing and I think the floor-to-ceiling windows have something to do with this. We also struggled to figure out how to close the doors that would have separated our stateroom from the veranda area, which might have helped.
Image
This also leads me to my next disappointment on Celebrity Beyond - in general, the ship felt hot to me. I saw others fanning themselves off in places like the elevator and dining room. I spoke with a few others who agreed the ship's inside temperature was unusually warm to them too.
Normally, cruise ships are chilly so I always carry around a sweater or jacket. This time, I fanning myself off to keep cool inside. 
Our stateroom was cool enough to sleep comfortably, but there was a noticeable difference with the temperature in public places. Perhaps this isn't normal on Beyond, but I noticed my sweat-stache appearing more than I would have liked.
Above and Beyond Dining
I was stunned to find all of the dining options available on Celebrity Beyond. With more than 32 restaurants and bars, we simply didn't have enough time to try everything Beyond had to offer.
Image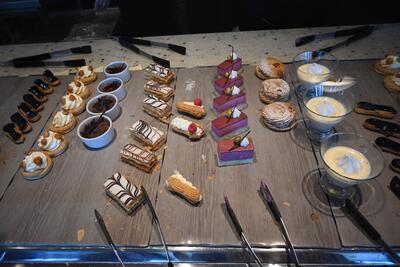 Even as we bopped from bar to bar trying different cocktails, we were left wanting more time to savor each venue and try more of what each has to offer. The vanilla mojito was the smash-hit for us, served at the Magic Carpet bar.
Image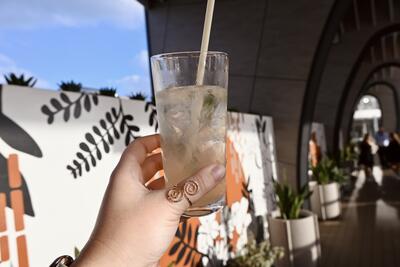 Of course, the Martini Bar was a close second for our top spot with its 20-something martinis on the menu.
Image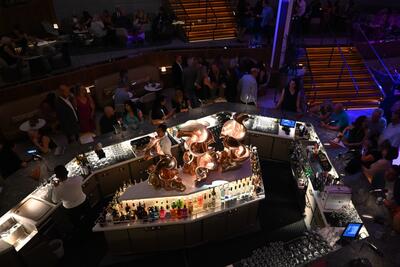 Oceanview Cafe was perhaps the sexiest cruise ship buffet that I've ever dined in. With high ceilings, velvet booths and large lighting fixtures with warm Edison bulbs, the cafe felt nothing like a banquet hall.
Image
As a dessert lover, I was impressed with the creme brûlée being torched right in front of me. We loved the freshly scooped gelato at the ice cream station and the Parisian-style pastries were all equally delightful. The chocolate fountain with fruit skewers was one of my favorites as well. 
Image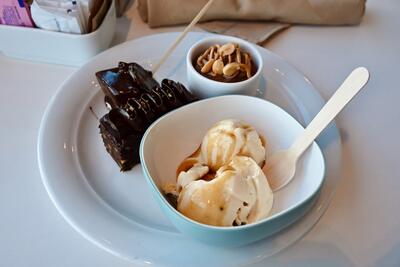 Ditching the main dining room on Beyond allows for a more intimate dining experience in four themed restaurants (Normandie, Cyprus, Tuscan and Cosmopolitan). This upscale dining experience is lovely for those choosing to enjoy the complimentary options onboard.
Image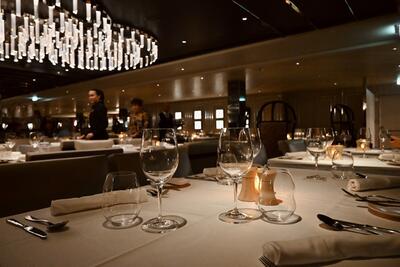 I would have loved to try more of the specialty restaurants, cafes and dining rooms on Beyond. The elevated dining experience on Beyond truly lives up to the hype.
Final Thoughts
I was blown away by Celebrity Beyond in many aspects - particularly the design-centric aesthetic, our functional and beautiful stateroom, the ship's infinite dining options, the Resort Deck's parallels to a seaside beach club and so much more.
Image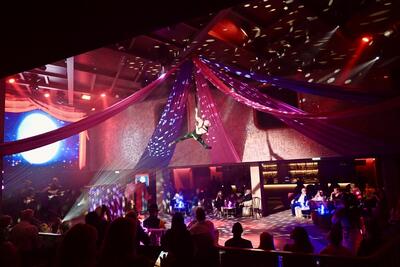 While some cruise ships are filled with waterslides, zip-lines and trampoline parks, Celebrity Beyond appeals to an entirely different sector of cruisers.
Image
For someone who might say 'cruising isn't for me', Celebrity Beyond could completely smash that stereotype. Celebrity CEO Lutoff-Perlo even stated during the onboard press conference that she wants her legacy to be known as the person who transformed cruising, even for the self-proclaimed non-cruiser. 
Image
During the press conference, she said, "Step onboard Celebrity Beyond and then tell me that cruising isn't for you."
Image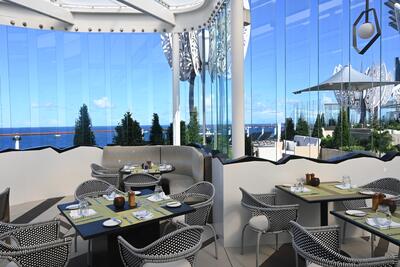 Celebrity Beyond lived up to the hype across the board with very few disappointments for me; In fact, I'm already planning my next trip to board Celebrity Beyond again for a proper cruise to experience everything she has to offer.
Image