Celebrity Beyond is the newest and most innovative ship in Celebrity's fleet. With its dazzling aesthetics, open-spaced decks and dozens of delectable dining choices, its hard not to love everything Celebrity Beyond has to offer.
Celebrity Beyond is the third ship in the award-winning Edge-class of cruise ships, which are bigger and better than anything Celebrity has ever built.
With Celebrity Apex and Celebrity Edge built in 2018 and 2020, Celebrity Beyond was the first opportunity for the cruise line to make enhancements and changes to its newly designed class of ships.
Image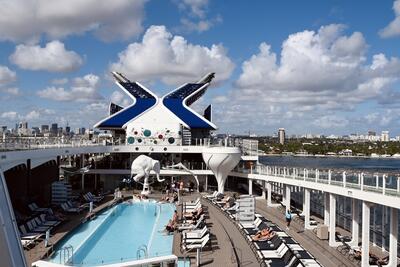 The brand-new Celebrity Beyond is 20 meters longer and 1 deck higher than preceding ships in the Edge class; she also boasts 179 more staterooms. Overall, Celebrity Beyond is about 12% bigger than both Celebrity Apex and Celebrity Edge.
Image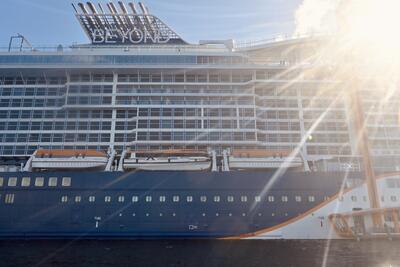 Celebrity Beyond is branded as a ship that focuses on luxury, wellness and design while still maintaining a sense of approachability.
Just recently, CruiseBlog had the opportunity to sail on Celebrity Beyond for a 2-night hosted media cruise, which gave us the chance to see if the ship really lived up to the hype.
Image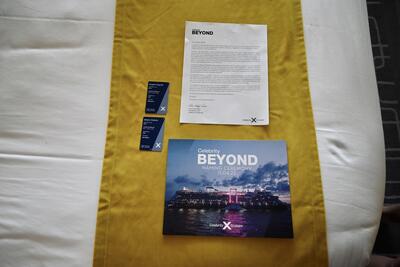 After our quick sailing, I can honestly say that I've never been on a cruise ship quite like Celebrity Beyond, where every inch of the ship was thoughtfully designed with beauty and art around every corner.
Image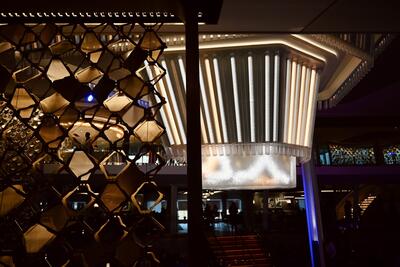 Here are 10 things that I think Celebrity got right on their newest cruise ship.
1. Reimagined Sunset Bar
One of the best places onboard to grab a cocktail on Celebrity Beyond is the Sunset Bar, located on the top deck and nestled into the aft of the ship. With more space on Celebrity Beyond than other Edge-class ships, the popular Sunset Bar was expanded to expand over multiple decks.
Image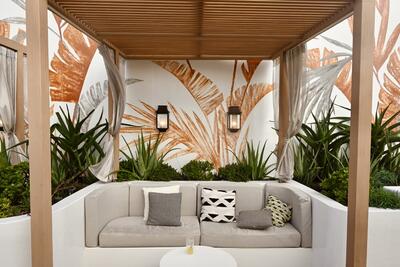 With help from designer Nate Berkus, the Moroccan-style bar features terraces seating with beautiful white arches and a backsplash of green tiles. Surrounded by plush daybeds, the Sunset Bar revels an upscale beach club with its relaxed and refined vibes.
Image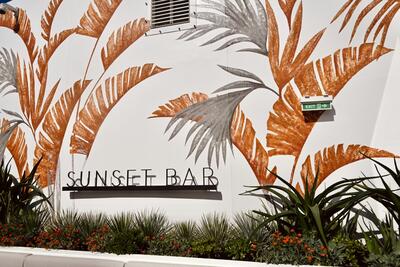 There's certainly no better place onboard to watch a sunset at sea than from the appropriately-dubbed Sunset Bar. We enjoyed grabbing cocktails here before dinner on our second night - and by the looks of how busy the bar was, others were enjoying themselves too.
Image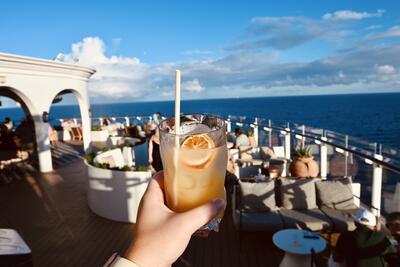 2. Expanded Rooftop Garden
Celebrity Beyond has more open-aired outdoor space than any other cruise ship sailing at sea and you can undoubtedly feel the expansion of the revolutionary Rooftop Garden.
Image
This living urban playscape features real greenery that are maintained by onboard landscapers. The Rooftop Garden was such a hit on Edge and Apex that Celebrity took its design a step further by adding cantilevered pools over the open ocean.
Image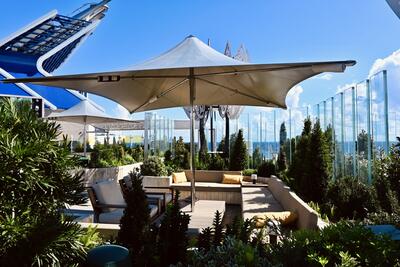 With tons of comfortable couches and oversized chairs, the Rooftop Garden is the place to hang out. The Rooftop Garden Grill, just one of specialty restaurants onboard, amplifies the space even more.
Image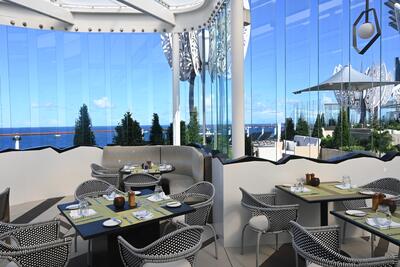 The Rooftop Garden is the perfect spot onboard to gaze at the sea and take in the fresh, salty air. In fact, during our media sailing, we saw Celebrity Beyond Godmother (and GOAT) Simone Biles enjoying a baseball game on the big screen while relaxing in the Rooftop Garden.
3. Dazzling Grand Plaza
Upon boarding the Celebrity Beyond, I was immediately taken aback by the brilliant Grand Plaza atrium. Bustling with people and bopping with music, this space is the heartbeat of the ship.
Image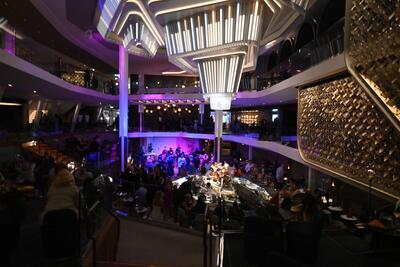 Whether you're grabbing a pastry and coffee before disembarking the ship or indulging with a martini from the Martini Bar under the bright neon lights in the evening, the Grand Plaza is the place to be.
Image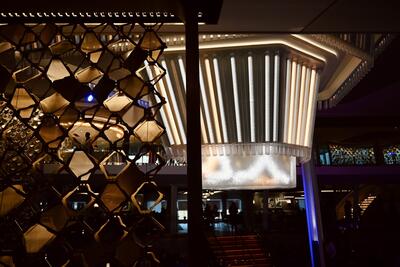 This three-story atrium always has something going on with live music, bars and restaurants surrounding the Grand Plaza. Designed beautifully with European piazzas in mind, this wildly popular venue has the a contagious energy bringing everyone together to enjoy a taste of the good life.
Image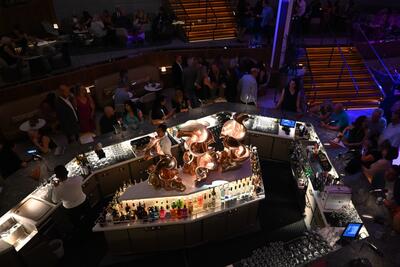 You won't find the atrium cluttered with shops and guest service desks; instead, Celebrity chose to make the Grand Plaza an inviting and welcoming space.
Image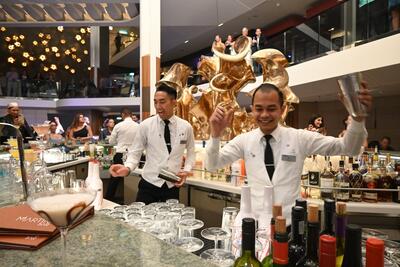 Even on our short sailing, we found ourselves gravitating towards the Grand Atrium throughout our cruise. In the morning, I loved grabbing a coffee at Cafe al Bacio before experiencing the Destination Gateway launch experience. We snacked on truffle fries at the Craft Social Bar in the afternoon and finished our evening sipping on an apple martini after dinner at the Martini Bar.
Image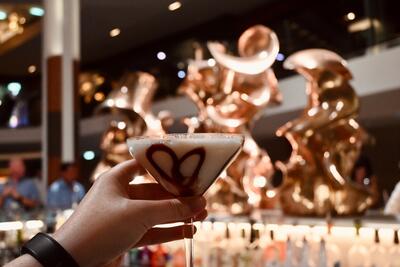 The expanded Grand Plaza on Beyond also allows for the addition of two new venues; Le Voyage by Daniel Boulud and the beloved World Class Bar.
Image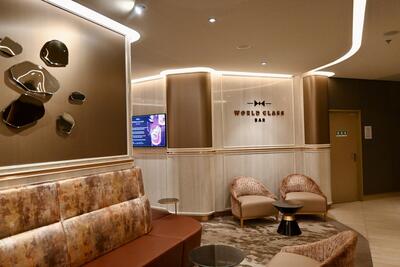 4. Technology Innovation
If you sail on an older cruise ship, one of the biggest pains is not having enough outlets to charge all of your devices. Back in the day, having just one outlet was plenty since most preferred to disconnect while cruising.
Image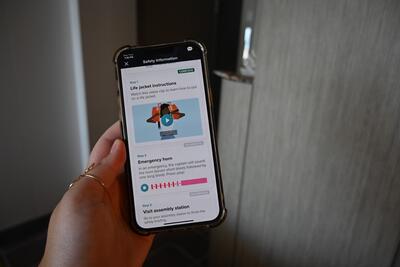 These days, our lives are surrounded by gadgets and gizmos a plenty! Between laptops, smart watches, phones, tablets and cameras, there are simply not enough outlets when traveling.
We found our stateroom to be the most tech-friendly cabins we've sailed in. We were pleased to find a white box positioned on our vanity with not one, but two 110 outlets, along with 2 USB plugs and a plug for European devices. There were slots for cords so everything could be nicely organized. We also had an outlet positioned right next to our bed, which is perfect for those of us (i.e. me) who like to have our phones in bed.
Image
The only issue that I found with this was my camera charger did not fit in the white box, so I had to charge it separately over by my bed.
Our cabin also had a touchscreen control panel with different settings for morning, evening, movie and sleep. This controlled the temperature in the room as well.
Image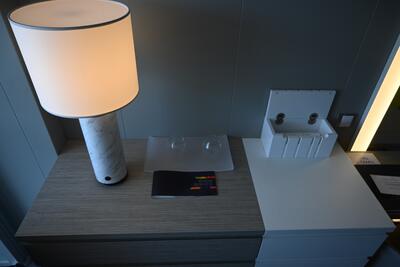 We also found the elevators to light up the frame with red or green when the elevator arrived; inside, the elevators had large touchscreens as well.
5. The Jazz Joint Performance
Onboard Celebrity Beyond, the Club is a versatile venue that can host a variety of events, such as nightly game shows and silent discos. During our short time on Celebrity Beyond, this is where we had our morning press conference.
Image
The versatility of this space allows it to transform into a speakeasy in the evening when a new show, The Jazz Joint, is performed. With performers straight from Las Vegas, this energetic and interactive show was the perfect end to our second day. With singing, dancing and acrobatics, the show kept us captivated throughout.
Image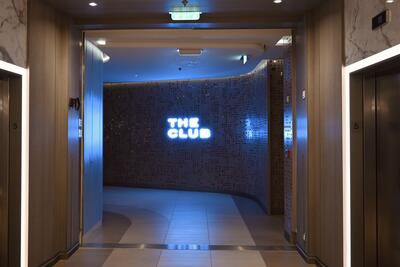 While we didn't get the chance to try all of the entertainment onboard, it was nice to have another nightly show as an option. Sometimes it can feel like a mad-dash to get to the theatre after dinner when you're on a cruise, but having multiple options for these shows really alleviated that pressure.
6. The Retreat: Bigger and Better
Although you won't be finding me traveling in a suite anytime soon on Celebrity Beyond, a girl can dream! For those who love the finer things in life, staying in The Retreat is the perfect option for you.
Image
Celebrity Beyond has some truly incredible staterooms for suite guests, including multi-story villas, the Iconic Suite and the Penthouse suite. With 22 more suites than any other Edge-class ship, The Retreat is its own luxurious resort-within-a-resort. 
Image
All suites on Celebrity Beyond come with access to The Retreat, which is now 40% larger than any other suites-only area on Celebrity cruise ship. This exclusive area has a private pool, lounge and dining area. 
Image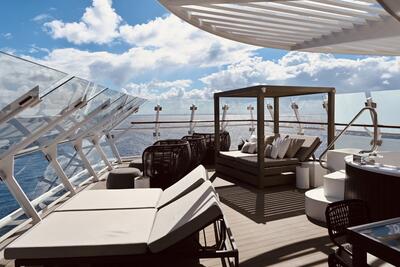 For AquaClass fans, Celebrity Beyond offers a new category of staterooms with AquaClass Sly suites. This stateroom combines the suite perks of the The Retreat with Celebrity's AquaClass amenities, such as access to the Blu restaurant and the thermal spa. 
7. Ditching the Main Dining Room
Celebrity Beyond has totally reimagined the onboard dining scene. With more than 32 dining and beverage venues onboard, we simply didn't have enough time to try everything we wanted to.
Image
While you'll still find the classics on Celebrity Beyond, like the Oceanview Cafe Buffet and Mast Grill with burgers and hot dogs, you might be surprised to find that there is not one main dining room; instead, Celebrity Beyond features four complimentary restaurants.
Image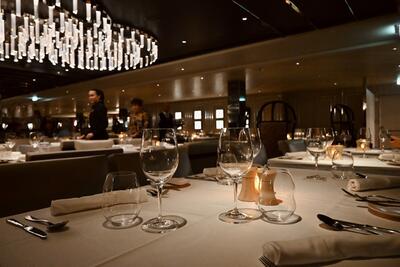 Each of these four restaurants have a more intimate dining experience that each have dedicated and unique menu offerings, including Italian, French, American and Mediterranean. You can also find Celebrity classics at each restaurant. 
Image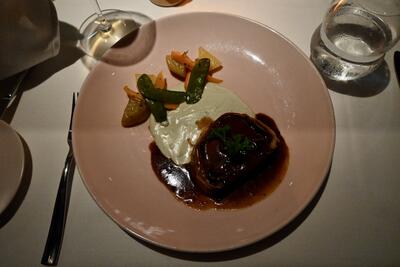 During our time onboard, we dined at the French-style restaurant, Normandie. While it still resembled the essence of a main dining room, it felt less like a giant banquet hall and more like an upscale restaurant. The French-inspired dishes on the menu were unique to Normandie, while we could still order from the classics menu as well. 
8. Upscale Tendering Experience
If you ask any cruiser what their least favorite aspect of cruising is, I would expect many to express their dismay for having to tender to port. 
Image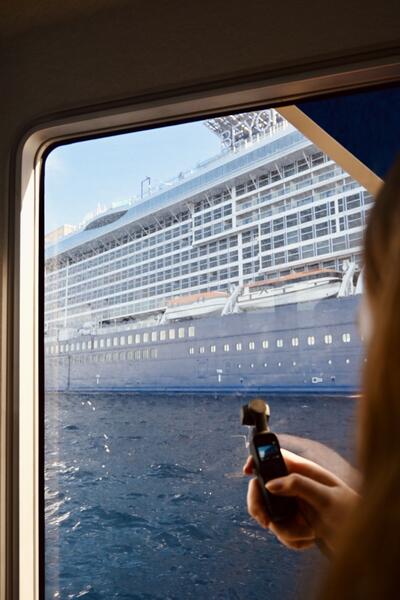 Celebrity Beyond has taken the tendering experience and given it a total 180 with its Destination Gateway experience. Rather than relying on ports to provide tenders, Celebrity Beyond brings its own upscale tenders wherever it travels.
Image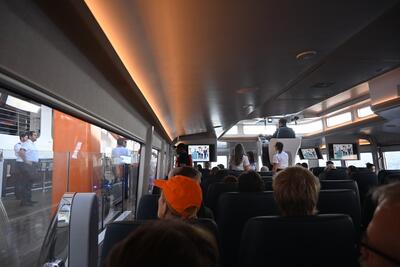 Serving as both a lifeboat (if necessary) and tender, these luxury vessels are launched from the Magic Carpet. With air conditioning, cushioned seats and digital screens, this is unlike any tendering experience I've had before. 
Image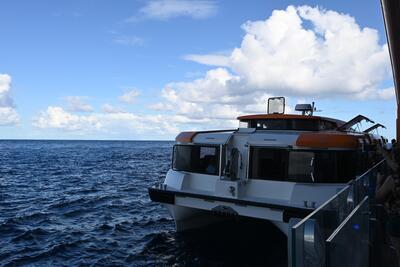 While tendering can be a pain, the Destination Gateway experience is unlike anything I've experienced before.
Image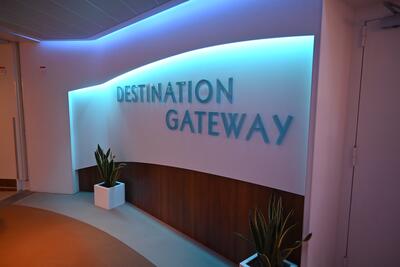 9. The Revolutionary Magic Carpet
When looking at Celebrity Beyond from a distance, it's hard to miss the bright orange structure that towers above the top deck. This venue, known as the Magic Carpet, is a revolutionary addition in the Edge-class ships.
Image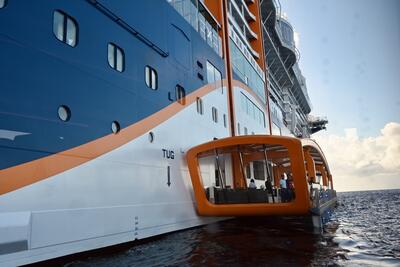 The Magic Carpet is a multi-use space, roughly the size of a tennis court, that juts out over the edge of the ship.
Image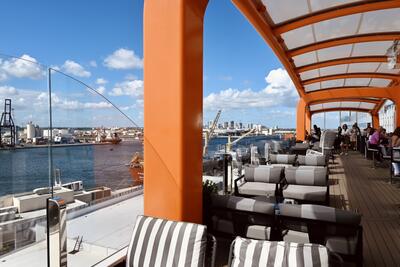 In the morning, the Magic Carpet serves as a launching zone for Destination Gateway when it's necessary to tender into a port. By night, the Magic Carpet is catapulted to the top deck where it serves as a trendy bar that offers incredible views of the sea and ship. 
Image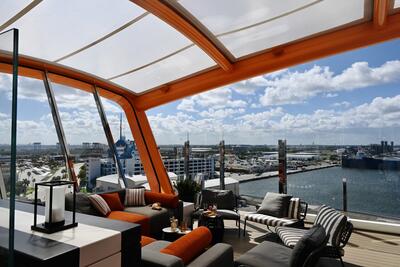 This type of innovation was the first for the cruising industry - and the Magic Carpet has proved to be wildly popular 
10. Thoughtfully and Beautifully Designed
When I say Celebrity Beyond took my breath away, I am not being overly dramatic. I have honestly never seen a ship that was so beautifully and thoughtfully designed. 
Image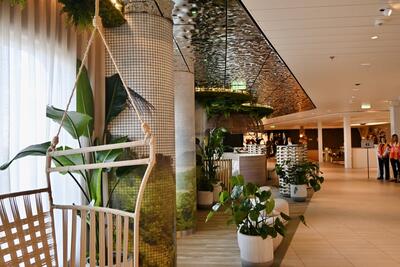 Every inch of Celebrity Beyond felt like it had a specific purpose - there was no stone left unturned when this ship was designed. I'm talking about marble accents not just in the elevators, but also in our stateroom bathroom. 
Image
Take one step into Eden and you'll see why they consider it 'a window to the world'. Surrounded by greenery, wicker chairs and velvety green couches, you can relax, dine and chill in Eden throughout the day. 
Image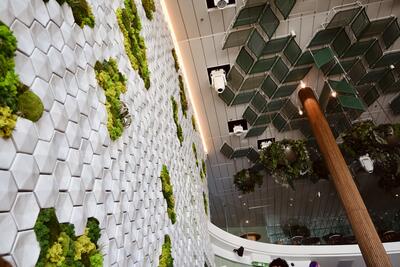 Undoubtedly, you'll be wowed by every inch of greenery you will see.