As someone who loves to cruise, I am always excited to try out a new cruise line. In fact, for many years, I'd been wanting to take a cruise with Celebrity Cruises because I've enjoyed all of my cruises with sister-brand Royal Caribbean.
Rather than building mega cruise ships, the cruise line seems to focus on building small-to-medium sized vessels relative to other cruise lines. Celebrity's cruise ships almost parallel boutique hotels rather than mainstream cruise lines.
Last week, I embarked on a quick spring break cruise for 4-nights with my sister to Key West and Nassau. We had one day at sea in-between port days. The cruise was pretty affordable, costing just $500 each for us to sail on Celebrity Silhouette.
Image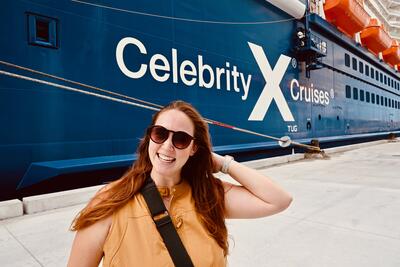 Although the cruise ship was not their newest, we felt Celebrity Silhouette was the perfect size for a quick getaway. There was plenty to do and see onboard without all of the onboard thrills and family-friendly areas that we are used to seeing on Royal Caribbean.
Unfortunately, four nights is hardly enough time to experience everything that a new cruise line has to offer. Instead, I viewed this as a little sampler of what the Celebrity experience is all about.
Image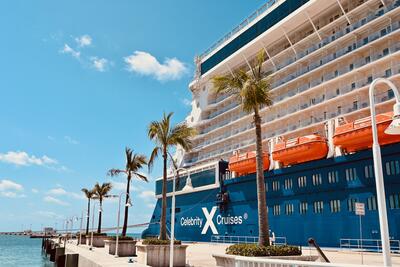 Come along as I share the top 10 things I learned on my first Celebrity Cruise.
1. Celebrity focuses on thoughtful, little details that make a big impact on your cruising experience
From the moment we stepped onboard, I was impressed by all of Celebrity's small luxury touches that they incorporate into the cruising experience. For me, these details might be small but it did feel like they made a noticeable impact on our cruising experience.
Image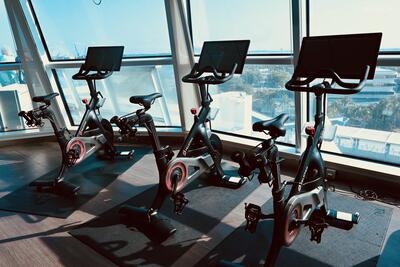 First, we noticed that we didn't need to check-out towels on the pool deck. Every chair had a carefully folded pool towel atop, ready to be used by anyone. There was an entire area of towels that you could simply walk up to and grab as many as you needed.
Image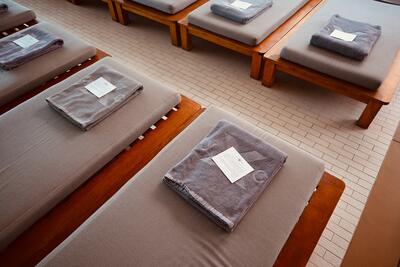 Royal Caribbean, and other mainstream cruise lines, require you to check out towels and return them after use. This isn't a huge nuance, but it's nice to be trusted that any towel I use, I will return.
Image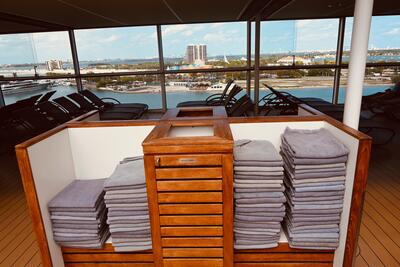 After a long, hot day in the sun walking around Key West, we were pleasantly surprised to return to the ship when we were greeted with ice cold, rolled towels for us to cool ourselves off with. We also quenched our thirst with some fruit-infused water.
Image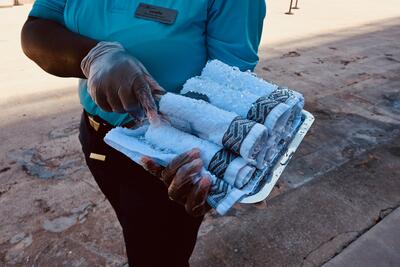 Similarly, each evening in the dining room, we were given the choice of three different butters to sample with the bread basket. Each evening, we enjoyed trying two different flavored butters.
Image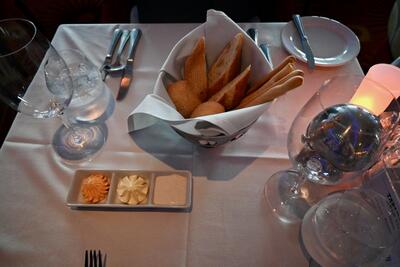 In the evenings, we returned to our stateroom to find a fresh rose in a small vase on our coffee table. Another evening, we were gifted a Celebrity tote bag to take home.
Image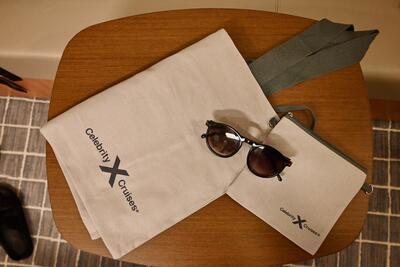 2. Celebrity Cruises and Royal Caribbean use the same app onboard, along with identical virtual muster drills.
I really wasn't sure how much similarities we would find onboard Celebrity, even though the cruise line is owned by the same parent company as Royal Caribbean.
When we downloaded the app prior to boarding, we noted that the application was identical to Royal Caribbean's - just with a slightly different color scheme. The check-in process was the same, along with the luggage tags and documentation.
Image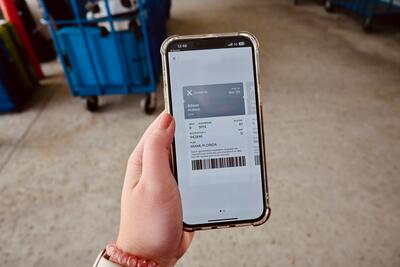 Once onboard, we were pleased to discover that Celebrity offers the same virtual muster drill experience as Royal Caribbean. I much prefer this virtual drill as opposed to the old-school muster drill that required everyone to congregate in their muster stations.
Image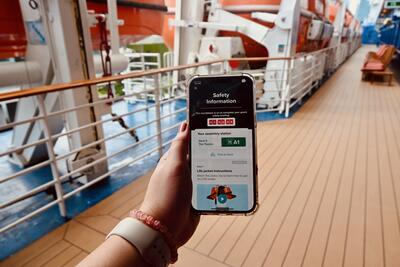 The app proved to be exactly the same as Royal Caribbean, even offering the onboard chat feature; however, my sister was never able to get the chat feature to work on her phone. We tried a few different tactics (i.e. turning the phone on and off and closing the app) but to no avail.
3. If you are a member of Royal Caribbean's Crown & Anchor program, Celebrity Cruises offers status-match perks; however, the benefits are not identical and each cruise line has independent programs
One of the biggest reasons that I continue to cruise with Royal Caribbean is because of my Diamond Plus loyalty status. Receiving 5 daily drink vouchers, along with discounts on internet, BOGO specialty dining and free laundry, are all very lucrative benefits that save me literally thousands of dollars each year while cruising.
Image
As a Diamond Plus member of Royal Caribbean, I am automatically given Elite status on Celebrity Cruises' Captain's Club loyalty program. A similar perk is given for those with Celebrity status sailing on Royal Caribbean, as Elite members and above receive Diamond status on Royal Caribbean.
Image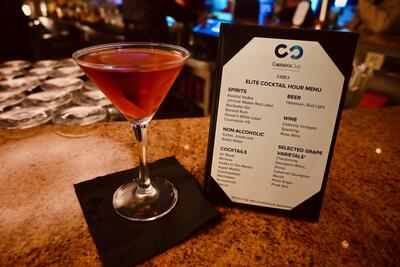 With this Elite status, we received a few very lucrative perks. Each evening from 5-7pm, we enjoyed complimentary happy hour at almost every bar on Celebrity Silhouette, although we had to order from a limited menu. Those who have sailed with Royal Caribbean for a long time will remember this is almost identical to the pre-pandemic drink benefit with lounge happy hour.
Image
There is also a complimentary coffeehouse style breakfast in the mornings, in which you can get specialty coffees, along with mimosas and Bloody Mary's available. We also received a discount of 30% on internet packages, a free scoop of gelato and free bag of laundry onboard.
Image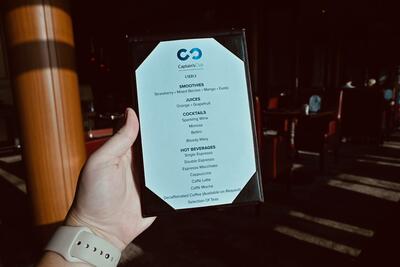 On the final evening, we were invited to a Captain's Club reception party, which we did not attend. During departure day, we also had access to a private departure lounge with snacks and coffee, which we did take advantage of because we could stay there until 9am.
Image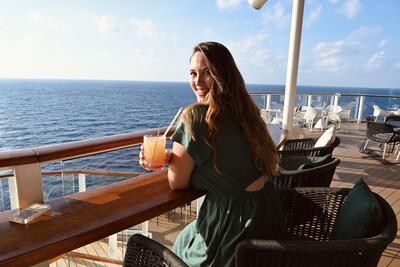 I do with that Royal Caribbean and Celebrity Cruises would merge their loyalty programs - or that you could receive the same benefits on each considering the cruise lines have the same parent company; however, the status reciprocity benefits are still very appreciated.
4. Celebrity charges more for internet onboard, although the service is identical to Royal Caribbean's
Both Royal Caribbean and Celebrity Cruises have been upgrading their cruise ships to feature StarLink service onboard. This satellite internet service is an improvement from older technologies that used to be found on cruise ships.
However, we were really surprised to see the price difference for Internet between the two cruise lines. The service provider is identical, so the price difference is quite perplexing.
Image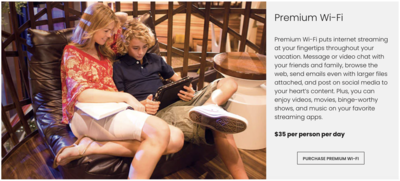 On Royal Caribbean, the premium internet package is $25 per day when purchased onboard. You can pre-purchase internet if you want to snag a discounted price; additionally, certain Crown & Anchor statuses receive free internet days when purchased onboard.
Onboard Celebrity Cruises, the premium internet was $35 per day when purchased onboard. Since we receive a 30% discount with our Elite status, I waited until we boarded to purchase internet. Without the discount, it would have been $140 for the four nights, but the 30% discount took the price down to $98.
Image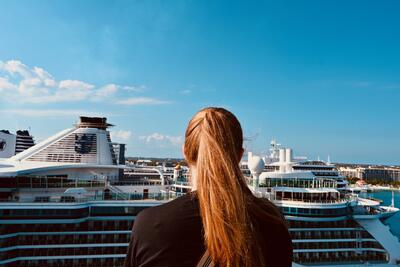 Comparatively, on Royal Caribbean we would receive $50 off our internet purchase. For a 4-night cruise, that means the premium package would only cost $50.
Considering Celebrity Cruises and Royal Caribbean are owned by the same company and also use the the exact same internet provider, so the discrepancy in price doesn't totally make sense to me.
5. Celebrity Cruises aims to offer an adults-focused experience onboard; however, the cruise line is not exclusively adults-only.
I've always been under the impression that Celebrity Cruises might allow children onboard, but the onboard experience isn't necessarily catered to families. In my mind, Celebrity Cruises was more of an adults-only experience - and one that wouldn't necessarily attract people with kids - especially when compared to Royal Caribbean.
Image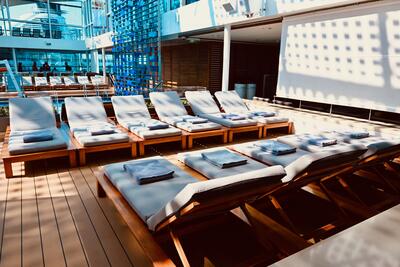 This fact was only emphasized by my parents, who also just returned from their first Celebrity cruise to the Panama Canal. They told my sister and I that they felt young on their cruise and they both just turned 62 this year. Mom and dad said we would probably be the youngest people onboard and we might even get bored.
We were prepared to have a laid back experience because of these expectations, but this couldn't have been further from the truth for our 4-night spring break sailing!
Image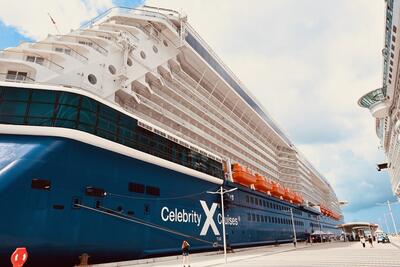 Onboard our sailing, we saw way more families and kids than we expected. At first, it seemed like families with older kids, but our table in the main dining room was surrounded by families with young toddlers. The screaming toddler each night was a resonating reminder that Celebrity might cater to adults, but that kids are definitely welcomed onboard.
Image
Of course, each sailing is different and a 4-night spring break itinerary is probably most likely to attract families to Celebrity than any other type of sailing.
5. When it comes to short sailings, Celebrity offers very few itineraries for 3- to 4-nights. Instead, the cruise line aims to offer longer sailings to more unique locations.
When trying a new cruise line for the first time, I prefer to take a shorter sailing to get a feel for what the onboard experience is like. This also works best with my work schedule, since it's easy to take a few days off over the weekend.
Short sailings also attract a more lively crowd normally and the onboard experience feels more like a party.
Image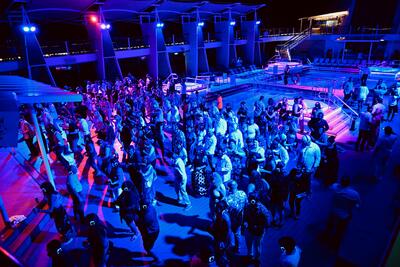 I was surprised to find that Celebrity doesn't offer many short, weekend sailings. In fact, the cruise line doesn't offer any weekend sailings from May to October from Florida. This is totally different than sister-brand Royal Caribbean and competitors Carnival and Virgin Voyages, which offer plenty of weekend sailings throughout the year.
Image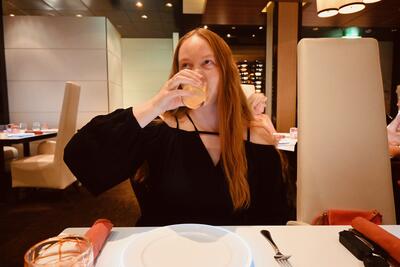 Looking at Celebrity's array of itineraries, I found some incredibly unique options to destinations like India, Antarctica, Peru, Morocco, Sri Lanka and the Galapagos Islands. As someone who is more destination-focused when it comes to cruising, these itineraries really appeal to me.
Essentially, Celebrity is not looking to attract a party crowd. Longer sailings to more exotic destinations will inherently appeal to an older crowd or travelers looking for destination-focused cruising.
6. Celebrity Cruises offers an affordable, more all-inclusive approach to luxury cruising in the mass-market category of the cruising industry.
Celebrity Cruises has been referring to their onboard experience as an accessibly approach to luxury. This upscale experience isn't necessarily priced to true luxury brands like Regent Seven Sea or Viking Cruise Line; instead, the price point is similar to Holland America and Princess Cruises.
Image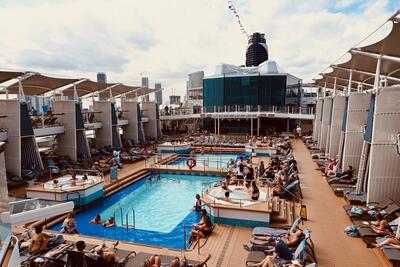 Recently, Celebrity Cruises expanded their pricing to include Always Included packages, which include a basic Wi-Fi and drink package, along with gratuities.
For my first cruise with Celebrity, we ended up booking the Cruise Only fare rather than Always Included. With my Elite status, we receive complimentary happy hour drinks and 30% off internet packages and wanted to see what this type of cruise experience was like.
Image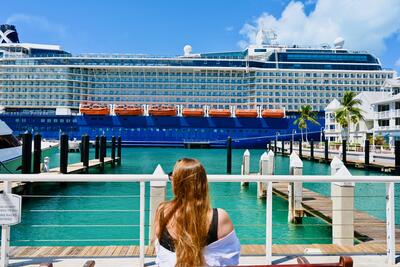 We enjoyed nightly happy hour at both Passport Bar and Sunset Bar on Celebrity Silhouette, although we just had a few drinks. I did miss the drink vouchers that we receive on Royal Caribbean, as poolside is my favorite place to enjoy a cocktail. I also missed being able to order a drink at dinner without having to get up and go to a bar; of course, these are first-world problems!
Image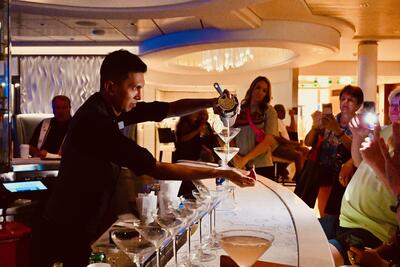 For my next Celebrity cruise, I am already looking at booking Always Included to compare the price savings. I do think it would be nice to have a more all-inclusive experience onboard, which is something Royal Caribbean does not offer.
7. Celebrity's cruise ships are stylish, upscale and innovative; however, you won't find any onboard thrills like waterslides, trampolines or bumper cars onboard.
Although Celebrity Cruises and Royal Caribbean are owned by the same parent company, the cruise lines take a vastly different approach at ship design.
Image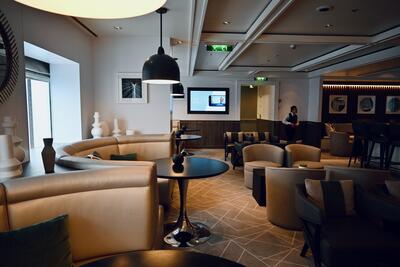 Royal Caribbean is focusing on building massive, mega cruise ships - the biggest in the world - with a distinct appeal to families. The cruise line's newest ship, Icon of the Seas, is meant to be the world's best family vacation with particular neighborhoods dedicated to the family experience.
On the other hand, Celebrity continues to build medium-sized cruise ships with a big emphasis on innovation and high-end design. The Edge-class of ships even feature a Magic Carpet contraption that serves as a bar by night and tender-launch platform by day. 
Image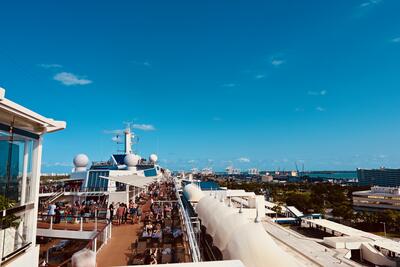 Real greenery can be found onboard Celebrity's cruise ships, like the Lawn Club we were able to experience Celebrity Silhouette.
Image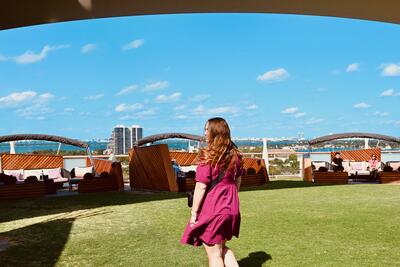 As someone without kids, Celebrity's ship design resonates more with my travel style these days. The onboard thrills are certainly impressive, but not necessarily a selling point for me anymore.
Instead, I appreciate Celebrity's approach to pampering cruisers and the onboard amenities that cater to relaxation. Food is an important aspect of cruising, and I also found that the food on Celebrity Silhouette was a notch above Royal Caribbean.
8. Entertainment onboard Celebrity Silhouette reminded us of Royal Caribbean's entertainment.
It's tough to get the full-picture of what a cruise line has to offer for entertainment on a 4-night cruise; however, I've taken plenty of short sailings with other cruise lines to know the type of entertainment offered.
Image
One thing that I've always loved about Royal Caribbean is its distinct entertainment, such as ice shows and diving spectacles. The newer ships even offer full-length, Broadway-style musicals. Even a short 4-night sailing, you can find ships offering the ice skating showcases on Freedom and Voyager-class ships.
Celebrity Silhouette's entertainment was very good, but nothing blew us away compared to other entertainment we've seen on cruise ships. I think a longer sailing would give us an opportunity to experience higher-quality production with newer technology.
Image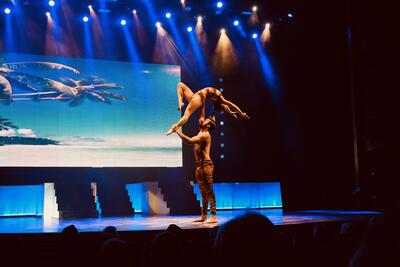 While we certainly enjoyed the shows that we attended in the theatre, nothing differentiated the entertainment from what we've seen before. We loved the Cosmopolitan show, although the graphics and visuals on the screen left a little to be desired. This is where the ship showed its age.
Image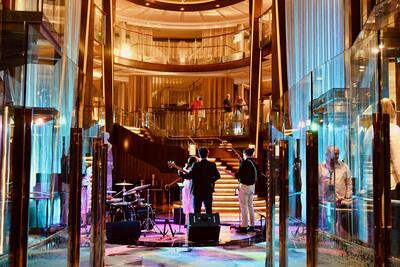 Celebrity Silhouette did not have any unique venues for shows to take place in, although I know Celebrity's newer ships aim to provide awe-inspiring shows utilizing new technology and venues. Compared to ships like Royal Caribbean's Radiance-class of ships, we found the entertainment to be on-par.
9. Celebrity had the highest quality buffet of any cruise ship I've sailed on with a wide variety of cuisine offerings.
The buffet on a cruise ship is a dining staple, as it offers meals for breakfast, lunch and dinner. The accessibility and convenience of a buffet onboard a cruise ship continues to be important, even as dining evolves in the cruising industry.
Image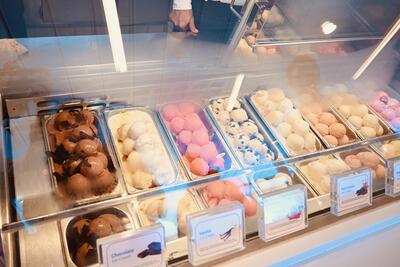 I've never been disappointed with buffet food on a Royal Caribbean cruise (unlike Carnival's lackluster Lido Marketplace, which has always left me disappointed). However, I've also never really been wowed by the buffet on a Royal Caribbean cruise.
Image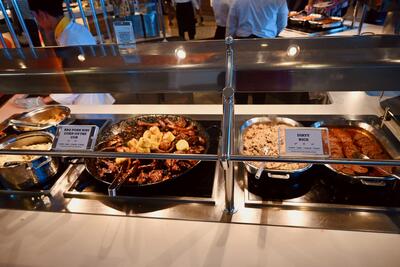 We found that Celebrity's onboard buffet, called Oceanview Cafe, served top-notch food consistently throughout our 4-night sailing. I was impressed by the variety of food available, along with some unique international cuisine options, like the delicious and freshly-made Greek gyros that I enjoyed on the last day.
Image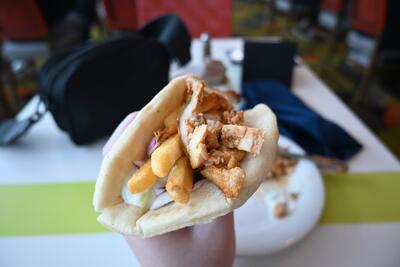 Celebrity's buffet also impressed us one day during lunch with beautifully designed layered cakes. From black forest cake to strawberry white chocolate and dulce de leche chocolate cake. 
Image
These cakes felt like something straight from a local bakery; of course, we enjoyed sampling a few of these!
10. Even the cheapest cabin onboard our Celebrity cruise was impressively spacious and well designed. It might even be the most impressive inside stateroom I've ever stayed in.
I'm no stranger to booking the cheapest cabin on a cruise ship. At the end of the day, I find myself spending more time exploring ports and the cruise ship than I do relaxing in my cabin. As such, I don't mind skimping on a cheaper cabin so I can spend more money on things that I value more, like shore excursions and specialty dining.
Image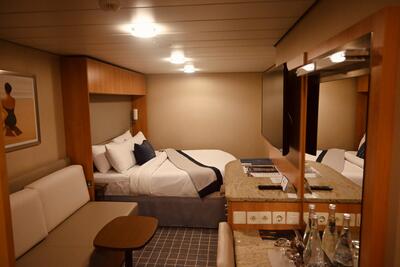 All that said, I don't have super high expectations booking an inside cabin guarantee on a cruise ship. Even on the oldest ships, normally an inside cabin has all the basic necessities for me without any bells or whistles.
Surprisingly, I was actually very impressed by our inside cabin on Celebrity Silhouette. The stateroom felt very spacious compared to any other inside cabin I've sailed in before. In addition to a king bed, we found a large couch in the sitting area to be a nice addition to the small space.
Image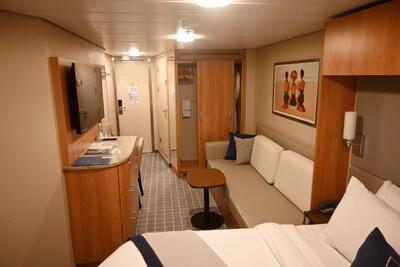 Our bathroom was also thoughtfully designed and larger than anticipated. Even for a ship that's more than a decade old, the space was utilized to its full potential. The shower was large enough to have an ample amount of space; there's nothing I hate more than a tiny shower with a clingy shower curtain.
Image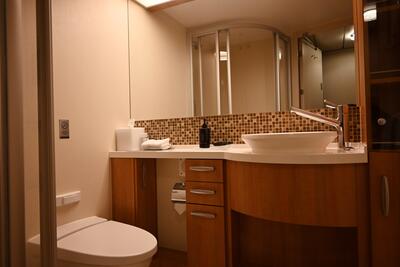 We were pleased to find a luscious robe in our closet for each of us to use throughout the cruise without even requesting one. The rob was soft and comfortable!
Image
While the cabin was impressive, we didn't luck out with location since we booked a guaranteed cabin. Our room was quite noisy, as it was next to a Crew Only entrance. Early in the morning, we were woken by thuds and clinks from the nearby area. It was noisy enough that even earplugs and white noise couldn't keep me asleep, even though I am a light sleeper in general.
Image
Overall, the inside cabin's design and overall space to leave us with a positive impression, although I did rethink booking a guarantee cabin for an upcoming cruise. This is a risk you take!