Alaska is one of the most beautiful places on Earth, and it's the perfect place to visit by cruise ship because of the great variety of wildlife that you can encounter, as well as its natural beauty and history.
Perhaps you're drawn to the gorgeous scenery, the area's cultural and historic riches, or its abundant wildlife. With a variety of itineraries, cruise ships, destinations, and activities to consider, no two cruises to Alaska will be the same. 
However, first-timers can easily become overwhelmed choosing the best Alaska cruise itinerary or picking the perfect cruise line or cruise tour.
In our Alaska cruise guide, we'll take you through everything you need to know to choose and plan the best Alaska cruise vacation. 
What are the best Alaska cruise itineraries?
Image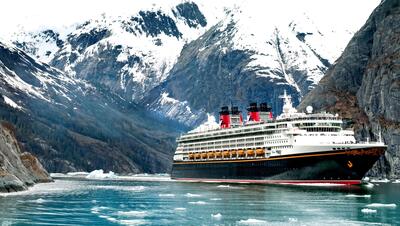 The best Alaska cruise itinerary for you depends on what you want to prioritize for your vacation. In general, most people want to try to see as much of Alaska as they can in one sailing. After all, it's a long distance to reach Alaska and not the cheapest cruise, either.
The Inside Passage cruises are the most popular option and they sail roundtrip from Seattle or Vancouver, perhaps with a stop in Victoria, B.C., and explore Southeast Alaska, never reaching Anchorage. They stop at the big, tourist-focused Inside Passage ports. 
Image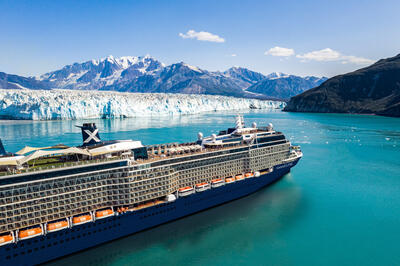 One-way cruises travel between Vancouver and Whittier or Seward in Alaska. These cruises typically visit several Inside Passage ports, but swap Victoria for a more northern Alaska stop, such as Sitka. They take cruisers through the Gulf of Alaska to Southcentral Alaska, close to Anchorage.
Note that if your cruise begins or ends in Canada, you will be required to carry a passport with you. If you're taking a closed loop cruise from Seattle or San Francisco, a birth certificate and state issued ID will suffice; however, I recommend a passport, anyway!
Is a one-way or roundtrip Alaska cruise itinerary best?
Image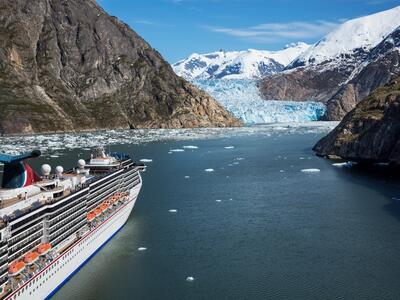 The benefit of a roundtrip cruise is that it is much simpler -- and cheaper -- to get to the departure ports. You won't have to bother with one-way flights and the longer transit time to/from Anchorage. It's much easier to plan roundtrip airfare to Seattle than a one-way flight into Anchorage and out of Vancouver.  
A one-way sailing, however, is best for cruisers who want to tack on extra vacation time on land to visit Denali National Park or the Kenai Peninsula. Moreover, most cruise lines also offer a cruise tour add-on for one-way sailings, which combine a three- to seven-night bus tour through Alaska with a weeklong cruise. 
These options are ideal for travelers who want their entire itinerary planned out for them, rather than booking their own lodging, transportation, and activities pre- or post-cruise.
Image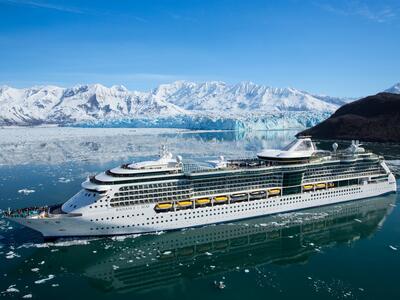 Small, adventure-oriented ships offer alternative Alaska cruise itineraries that focus on lesser-touristed ports. These expedition sailings depart from Alaskan ports, such as Juneau, Sitka, or Ketchikan, and explore remote islands and wilderness areas. 
This type of cruise is best for travelers who want to spend their time hiking, kayaking, wildlife viewing, and visiting scenic destinations. Of course, they are the most expensive Alaska cruise option. 
Read more: How much does an Alaska cruise cost?
Which cruise line is best for Alaska?
Image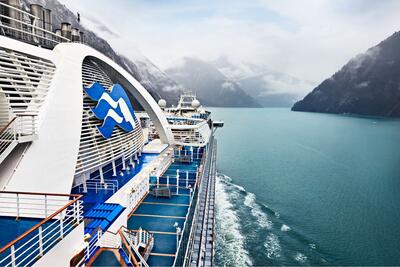 Nearly every major cruise line sails to Alaska, so you have your pick of price points and onboard personalities.
Among the big-ship lines, Holland America and Princess are known as the Alaska experts. These lines typically base the most ships in this region every summer, and offer the largest selection of cruises and cruise tours. 
Read more: Should I cruise on Princess to Alaska? I booked a sailing to see for myself
They schedule Alaska-specific special events onboard, such as Princess' Puppies in the Piazza (featuring baby sled dogs) and Klondike Festival, and even have their own train cars and hotel properties in Denali and Fairbanks.
However, if other lines, such as Royal Caribbean, Carnival Cruise Line, or Norwegian, suit your family's needs and budget better, you will still have a wonderful cruise vacation in Alaska. You might find that these lines offer more competitive pricing, your preferred onboard activities (think Royal Caribbean's Quantum Class North Star towering over Alaskan glaciers), or more robust kids' programming, making them the best Alaska cruise choice for you. 
Read more: What is the best cruise line for Alaskan sailings?
Image
Travelers looking for luxury should consider upscale lines such as Crystal, Regent Seven Seas, Seabourn, and Silversea. These cruise lines offer more intimate ships, inclusive fares, and attentive service, but won't have as many onboard attractions or as expansive kids' facilities or activities as the bigger ships. 
Choose expedition cruise lines, such as UnCruise Adventures, American Cruise Line, or Alaskan Dream Cruises, for intimate, adventure-focused ships that sail off the beaten path.
Are Alaskan cruises family-friendly?
Absolutely! I'd suggest looking into cruise lines that will offer more activities for children, such as Disney Cruise Line, Norwegian Cruise Line, Carnival Cruise Line, or Royal Caribbean because you won't find yourself by the pool as often as you might on a Caribbean itinerary. 
When it comes to excursions, there might be some more adventurous ones that younger children won't be able to attend. However, they are sure to love a wildlife quest in Sitka, Skagway's White Pass scenic railway, a whale cruise in Icy Straight point, or a trolley tour in Ketchikan! 
Best time to cruise to Alaska
Image

The Alaska cruise season is short, running mainly from May to September, with a few lines offering sailings in April and October. The best time to cruise varies based on what you prioritize most.
The best Alaska cruise weather is typically found in June, when the summer rains haven't ramped up, but the air temperatures are rising. This is the time when the sun barely sets and it's light nearly all day long. July and August are the rainiest months in Alaska and see the most mosquitos; September is starting to get chilly, with rougher waters and shorter days.
May is the best month to see waterfalls and wildflowers. June is when the salmon start to run, and the different species will appear and disappear throughout the cruise season. Denali lodges and the park road open in June, so your best bet for visiting the national park is in July and August for full accessibility and wildlife activity. However, if you want to see baby animals, plan your Alaska visit for May or June. Alaska's peak whale season runs May through September.
Image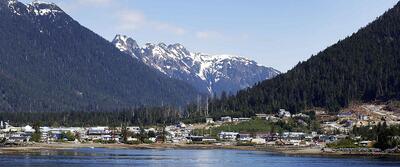 The best prices are found in the shoulder seasons: April-May and September-October. The biggest crowds and highest cruise fares come mid-June through mid-August.
Travelers who want the best shot at viewing the Northern Lights should book a cruise at the very end of the season, and tack on a cruise tour up to Denali and Fairbanks for the greatest potential. (For the best aurora display, you need to come in winter.)
Popular Alaska cruise ports
Image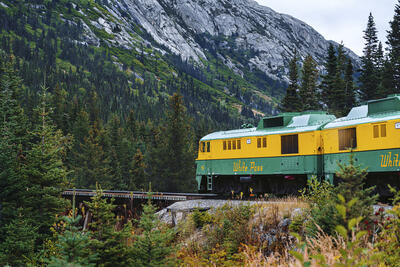 Most Alaska ports offer a mix of history, culture, scenery, and outdoor activities. If the best Alaska cruise ports are the most popular ones, then the top options are the main Inside Passage ports of Juneau, Skagway, and Ketchikan. 
Cruise ships sailing one-way voyages often visit Sitka, a former Russian outpost in North America and home to many native Alaskans. Some ships visit Haines instead of Skagway. Icy Strait Point is a native owned and operated port set on a former fish cannery, which has been expanding and growing in popularity. Less common are the ports of Petersburg and Wrangell, located between Ketchikan and Juneau; you can find these smaller ports on select itineraries.
For more information on our favorite destinations, read our post on the best Alaska cruise ports.
What to do on an Alaskan cruise
Image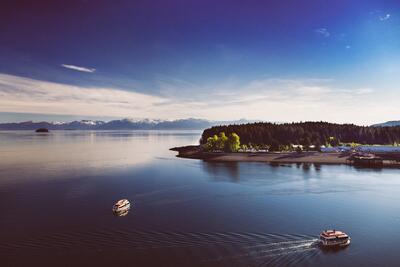 When it comes to planning shore excursions or time in port, you'll find more things you must see or do on your Alaska cruise than you have time for.
Flightseeing is a popular activity, either by a floatplane that will soar you over beautiful natural areas or a helicopter that will fly up to the top of a glacier. Dogslide rides or visiting a dogsled training center and playing with the huskies are quintessential Alaska activities. To get more of a glimpse of Alaska culture and lifestyle, get tickets to a lumberjack show, attend a salmon bake, or go on a crab fishing tour.
History buffs will want to explore the state's Gold Rush history, either with a local tour of Skagway or a ride on the White Pass & Yukon Railroad. Culturally curious cruisers can visit a totem park or see a performance by native Alaskans.
Image
Animal lovers can sign up for a whale watch, visit a bald eagle preserve, or take a tour to observe bears in their natural habitat or at a sanctuary. Active travelers can work up a sweat hiking, kayaking, biking, zip-lining, and even snorkeling in Alaska's wilderness. Gentle rafting and float trips are a less intense way to get outside and bond with nature in this cruise destination.
Don't want to book a tour? Alaska's cruise ports provide plenty of shopping opportunities for souvenirs and locally made crafts. Grab an Alaskan beer at a historic saloon, or try local seafood at any number of portside restaurants.
Scenic cruise destinations in Alaska 
Image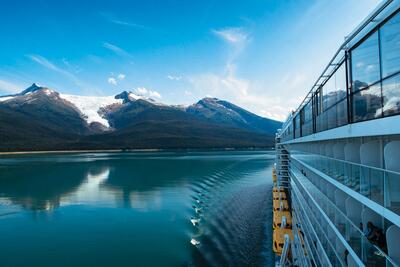 Glaciers are a must-see in Alaska, and every cruise itinerary features at least one day of scenic cruising. Glacier Bay National Park is the top pick for glacier-viewing because of its multiple glaciers and generally passable channel. However, so many cruise lines wish to visit that the national park issues a limited-number of day-use spots each year. (Holland America and Princess have longstanding agreements with the park and typically have the best access.)
Other scenic cruising sites along the Inside Passage include Tracy Arm with its Sawyer Glacier and
Endicott Arm with Dawes Glacier. One-way Alaska cruises that travel to/from Seward and Whittier may also visit the spectacular Hubbard Glacier.
Typically, the big ships will open up all the outer decks for passengers to crowd the railings to watch the glaciers calve and scan the area for wildlife. If you want to get out on a kayak or small boat to get closer to the glacier or the marine life, you'll need to book an expedition cruise.
Compare the options in our guide to scenic cruising in Alaska.
Top Alaska cruise tours
Image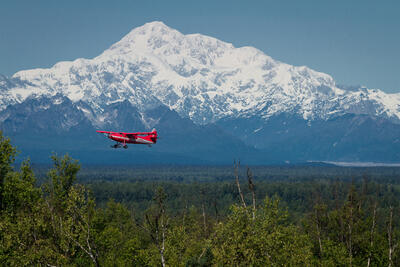 Cruise tours to Alaska's interior come in different lengths and visit different areas of the state. The most popular visit Talkeetna for views of Denali (formerly Mt. McKinley) and Denali National Park to see wildlife and learn about the park's history and ecosystem.
Some Alaska cruise tours will give guests a night in Anchorage to explore the city, or travel as far north as Fairbanks. Others will swap Anchorage with a stay on the Kenai Peninsula or at the Alyeska Resort in the Chugach Mountains before heading north.
Other cruise tours combine interior Alaska with trips to Canada's Yukon. Some simply extend the land portion of the trip to include Dawson City or Whitehorse for one epic trip. For those with less vacation time, Holland America has an option that combines half an Alaska cruise with a land extension through the Yukon to Fairbanks and Denali, ending in Anchorage. 
Image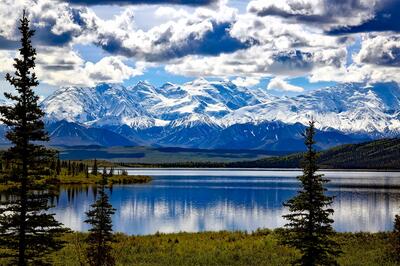 For a different Canadian adventure, Princess offers a cruise tour that starts in Calgary and visits Banff and Lake Louise before finishing up in Alaska to meet the cruise ship. This tour does not venture as far as Denali.
Which Alaska cruise tours are the best? That decision is personal, but Holland America and Princess lead the pack for the most diverse tour options, company-owned Alaska railway cars and resort properties, and experience in the region.
In addition to where you want to go on a cruise tour and how much time you can take, you'll want to think about whether you want to do the land tour or the cruise first. The land tours are more go-go-go than the cruise, with long bus rides and early morning departures; many people prefer to book this more intense travel first and follow up with the more relaxing cruise.
When should I book my Alaska cruise?
Image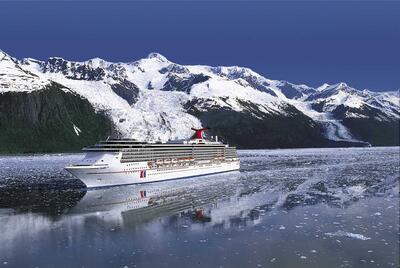 We always recommend booking your cruise early, even nine to 12 months in advance, to get the lowest prices and best pick of cabins. You can probably wait until January or February, when cruise lines put out Wave Season sales and promotions, to see if you can get a deal on your Alaska sailing. 
Once it gets to be March or April, your booking is considered last minute. You might find a low fare, especially on shoulder-season cruises, but you might also find that the room types you prefer are sold out or that fares have gone up on a nearly full ship. This is especially true for balcony cabins, as they are the most desired in this scenic region. 
What to pack for an Alaska cruise
Image
Your packing list for an Alaska cruise will look very different from your Caribbean one. You'll want to include the following items, as well as all the typical cruise essentials:
Rain jacket and other rain gear (boots, pants, umbrella, etc.)
Warm layers, hats, and gloves for chilly days and glacier viewing
Binoculars for wildlife spotting
Bug spray for those pesky mosquitos
Hiking boots if you plan on getting out into nature
Swimsuit and sunscreen because sometimes it's warm and sunny
Camera with wide angle and telephoto lenses
Day pack for carrying extra layers, souvenirs, etc.
Waterproof bags for kayaking or rafting trips
Read more: 20 First time Alaska cruise tips
Why cruise to Alaska?
Image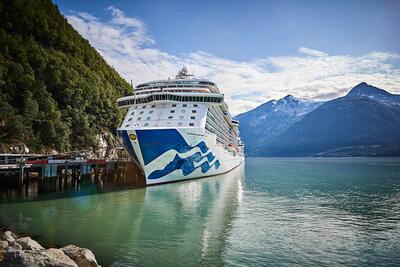 The 49th U.S. state is home to a beautiful mountainous landscape and an abundance of wildlife, from bald eagles to bears and moose. It possesses a unique Gold Rush history and a vibrant mix of native Alaskan cultures. You won't find this blend of scenery, outdoor pursuits, history, and culture in any other cruise itinerary.
One advantage an Alaska cruise has over a land trip is how tricky it is to get around by land. For example, Ketchikan is only accessible by air or sea. You cannot visit the breathtaking glaciers of Glacier Bay by car, so if you want to explore this region of Alaska, you'll need a ship to get there.
Image
Unlike other cruise destinations, Alaskan ports aren't separated by vast swaths of ocean. When you cruise the Inside Passage, the ship is constantly within site of land. Most sea days offer something to see, even if not an official scenic cruising day. It's a different kind of cruise experience, and one many travelers are eager to pursue.