On several Celebrity cruise ships, you can find a very unique, animated dining experience called Le Petit Chef. This is a specialty dining restaurant onboard Celebrity's cruise ships and features an immersive and visual dinner.
Le Petit Chef is not exclusive to Celebrity's cruise ships; in fact, there are over 35 Le Petit Chef restaurants around the world. Celebrity created a partnership with the restaurant to feature this one-of-a-kind cruise ship dining experience.
This dining spectacle centers around the "tiniest chef in the world" with visual projections directly onto your plate and table. The tiny little chef takes you through each course with cute animations that follow along with a fun storyline.
Image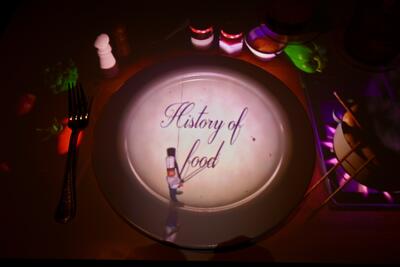 I recently sailing on Celebrity Silhouette for a 4-night cruise with my sister. This was our first Celebrity cruise, so we were ecstatic to see what the cruise line had to offer. Since we had $100 onboard credit that we needed to use, we thought it would be fun to try something we've never done before on a cruise ship.
Image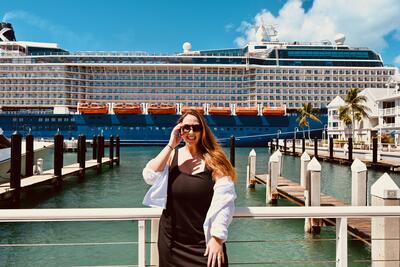 We pre-booked our Le Petit Chef dining experience in the cruise planner. The total cost was $129 for the two of us, including gratuities. That comes out to $64.50 per person, which is pretty standard for specialty dining on a cruise ship. With the onboard credit, we only had to pay the difference of $29 for this experience.
Reviews online were mixed about the Le Petit Chef experience. Some say it's worth the cost, but others said it felt a little gimmicky. We wanted to see for ourselves whether Le Petit Chef was worth the cost and whether it was something we would consider doing again.
We arrived at QSine Restaurant for our 6:00pm reservation for Le Petit Chef. The ambiance was dark, quaint and slightly quirky with whimsical decor.
Upon arrival, we were seated at a table for just the two of us. Le Petit Chef was a small restaurant on Celebrity Silhouette with probably only 20 tables.
Image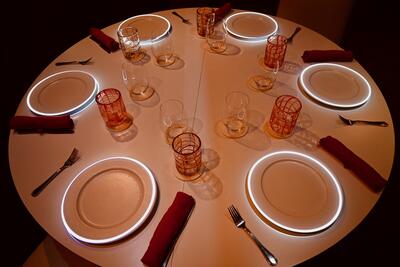 Our plates were perfectly aligned with a bright white circle projection on the table. We were instructed to keep our plate here throughout the experience, as it would ensure the visuals were properly displayed.
Image
The menu was titled "How to become the world's greatest Celebrity Chef" and included two different options for each course, along with cocktails specific to the Le Petit Chef restaurant. 
Image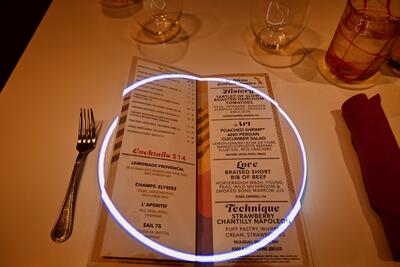 Our attentive waiter explained that we could mix-and-match between each course and didn't need to stick to one side of the menu. The evening included four different courses based on the following topics: history, art, love and technique.
Image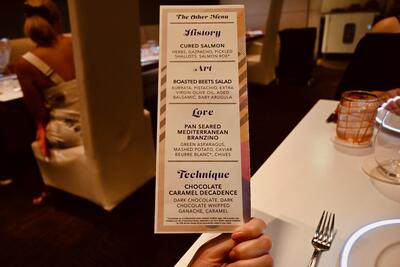 The waiters came around to take our orders before showtime. My sister and I don't like seafood, so we appreciated having two options for each course. In fact, my sister requested Mac and cheese from the kid's menu during one course because she doesn't love salads - and our waiter was happy to accommodate her request.
Image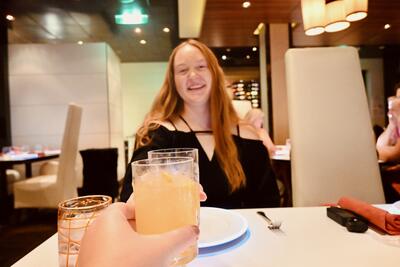 The dinner show didn't start until 6:30pm as we waited for everyone to arrive to the restaurant and order their meals.
The first course introduced us to Le Petit Chef, in which the tiny chef explained the history of tomatoes, including how the creation of margarita pizza in Italy increased the global demand for tomatoes.
Was this a true statement or just part of the storyline? I am not sure on that - and a quick Google search does not confirm or deny this claim.
Image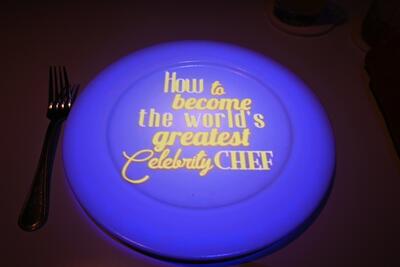 Either way, Le Petit chef was pretty cute as he trotted around our table and plates. We smiled as the show started and this little chef told us all about the history of tomatoes, which featured subtle jungle sounds that filled the restaurant.
Image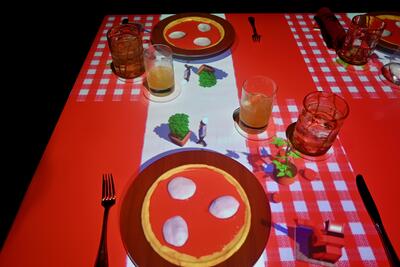 During this course, we both chose the Tartlet of Slow-Roasted Heirloom Tomatoes, which included feta cheese, tapenade, roasted pumpkin seeds and arugula. The tomatoes were so juicy that one squirted onto my black dress! I thought it was a nice dish with many flavors that worked well together. 
Image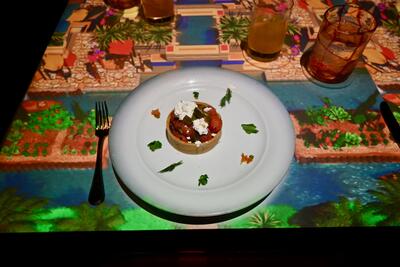 My sister (who is notoriously tough on her grading) rated the appetizer with a score of 6/10 while I felt it was a solid 8/10. I've never had anything like this tartlet, which fit the uniqueness of the entire dining experience.
Next, we moved into Art portion of the visual dining experience. 
Le Petit Chef returned to share how he tried to reinvent the dining experience during his culinary journey. This entailed drawing inspiration from famous painters with display, color and texture.
Image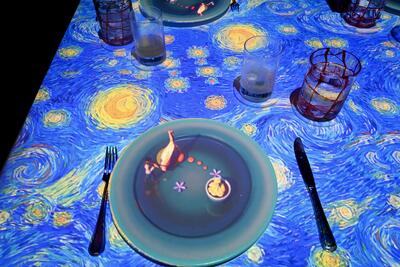 During this portion of the show, the table projection transformed to reflect the art theme with fun colors and shapes. We watched the projections change around our table and plate while Le Petit Chef explained to us how he's learned the importance of plating and focusing on color and texture in his dishes. 
Image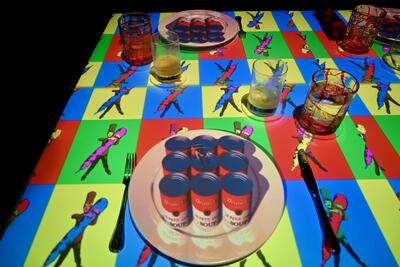 Chef explained how this revelation ties into the Art potion's salad creation with beets and colorful tomatoes as part of the salad display.
Image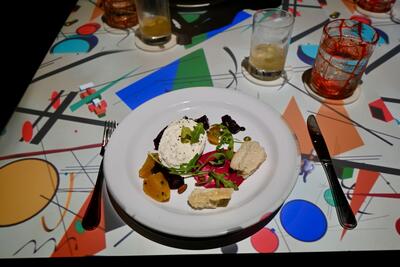 For this potion, I opted to order off the alternative menu for the Roasted Beets Salad, which featured burrata (my favorite!!), pistachio, balsamic, olive oil and baby arugula. As I mentioned earlier, neither of the options appealed to my sister, so she requested Mac and cheese from the kid's menu.
Image
My beets salad was delicious and beautifully displayed, as I would expect given the topic of this course. The salad earned a 9/10 score from me - mostly from the luscious serving of burrata- while my sister ranked her mac and cheese with 7/10.
Image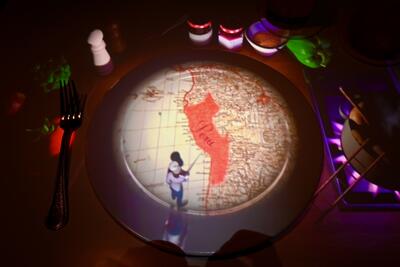 At this point in the experience, we noted the quality of the projections could definitely be improved. We joked that it certainly wasn't 4k quality! However, it didn't really make or break the experience for us. 
The main event was during the third course, centered around the theme of love, when we received our entrees.
This portion of the evening was my favorite, as Le Petit Chef gave us a touching tribute to the best cook in the world - his grandma. Chef explained how he was inspired by his grandma growing up while he watched her cook delicious, home-cooked meals.
Image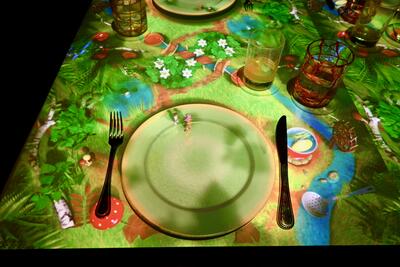 We could see the visual projections of Le Petit Chef running around the pasture with his grandma with butterflies surrounding the two of them. He shared that his grandma made the best short rib in the world, so that's what he wanted to serve us tonight.
Image
The Braised Short Rib of Beef was served with mashed potatoes and peas, along with some marinated mushrooms. The entree also features a delicious au jus sauce. The beef was tender and perfectly cooked, not too fatty as some short rib can be. 
Image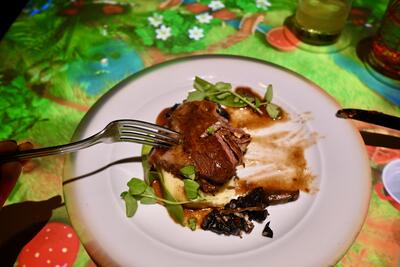 For this potion, my short rib received a 10/10 score while my sister gave it an almost-perfect score of 9/10.
Finally, the fourth course centered around technique - the perfect time for Le Petit Chef to showcase his dessert skills!
My sister and I opted to try different desserts on the menu for the final course. As a chocolate lover, I had to try the Chocolate Caramel Decadence, which featured caramel, dark chocolate and mousse. My sister wanted to try the Strawberry Chantilly Napoleon puff pastry cream with strawberry for a lighter flare. 
Image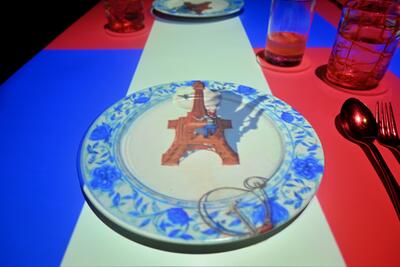 During this portion of the show, Le Petit Chef explained that everyone who eats your food is a critic and the key to being a master chef is repetition and mastering all elements of the dining experience - including dessert! We laughed as the little chef read through some 'critical' reviews about the Le Petit Chef dining experience.
Image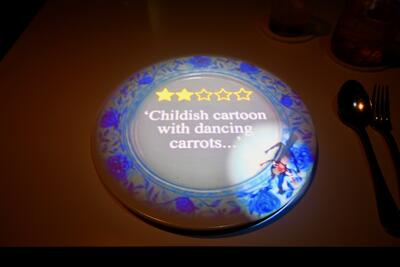 My chocolate decadence was indeed decadent and rich with layers of moose and caramel. I adored it and appreciated the level of detail put into the display. 
Image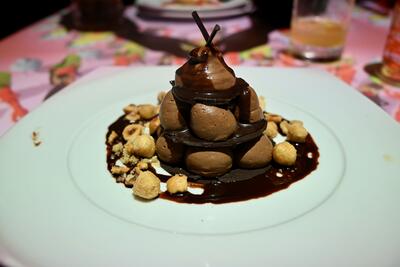 My sister was delighted by her strawberry dessert, which was certainly lighter than mine with vanilla wafer layers and fluffy whipped cream.
Image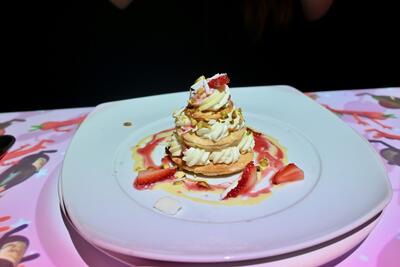 Both of us rated the desserts as 8/10, as they were equally beautiful as they were yummy - but, they didn't wow us. 
The evening ended with a special surprise - graduation certificates! This was a nice touch to end the dining experience in Le Petit Chef.
We were surprised to be handed little certificates from our waiter at the end of the experience, accompanied by fireworks and a graduation ceremony. These were graduation certificates stating that we were awarded the Honorary Degree of Superchef, specially for the field of Culinary Arts. 
Image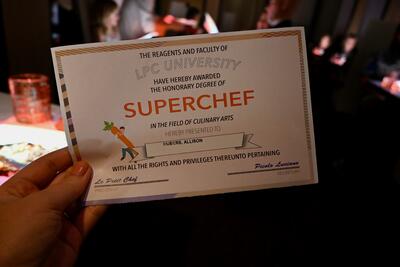 The certificates even had our names printed specifically and they were indeed signed by Le Petit Chef himself. I'll be taking this home to proudly hang on the fridge!
Was Le Petit Chef worth the additional cost - or was the experience gimmicky?
In all honesty, I wasn't sure what to expect from Le Petit Chef. Based on mixed reviews, some said that the experience was gimmicky and a waste of money. I was also worried it might seem juvenile; however, Celebrity's cruise ships are all about curating an adults-focused experience so I had a hard time believing it would be like that. 
Image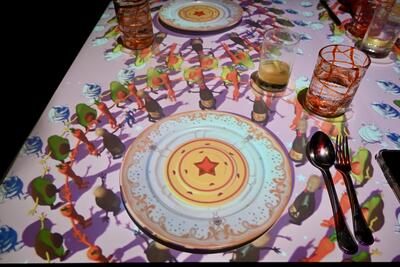 My sister and I both enjoyed our evening in Le Petit Chef. It was unlike anything we had ever done before at sea, let alone on land. As we cruise often both for work and leisure, it was fun to try something different that is only offered on Celebrity's cruise ships.
Image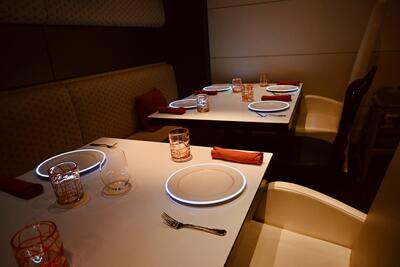 The visual projections were cute and entertaining as the little chef guided us through his journey to become the world's best chef. Even if you don't enjoy the visual show, the food was still delicious and well presented.
Personally, we didn't find the experience gimmicky, but rather a quirky and entertaining show.
The restaurant itself had a lovely ambiance in a very intimate setting. This is usually a perk of dining in a specialty restaurant, as it's a more personal experience with very attentive service and the highest-quality food available onboard.
Image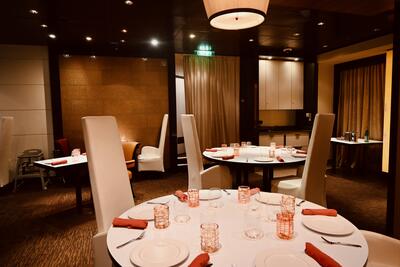 It also didn't hurt that we had $100 onboard credit to use during our 4-night sailing, so it was a good opportunity to try it.
If you are traveling with older kids, this could also be a lovely dining experience as a family. We were seated next to a family that had somewhat older kids, probably closer to 10 years old. I wouldn't recommend bringing small children into Le Petit Chef unless they can sit through a 90 minute dinner show, as it's an intimate venue.
Final thoughts: Would we try Le Petit Chef again?
While we both enjoyed Le Petit Chef, I don't think it's something we would do again for a while on a Celebrity cruise. It seems like one of those more unique experiences that you do once in a while, rather than every time you cruise.
Image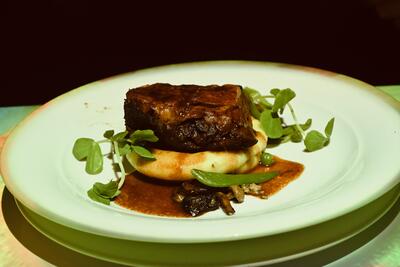 I am not sure if each Celebrity cruise has the same Le Petit Chef show onboard, but I'd imagine some ships have the same show while others might tweak the visuals a bit.
Image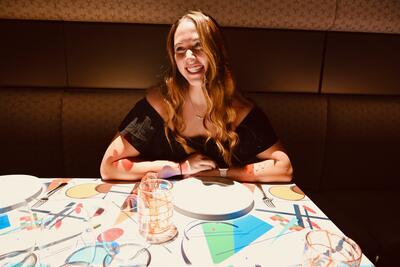 The set menu is also pretty limited with only two options for each course. Unlike other specialty restaurants on cruise ships, this means you can't try different meals - especially if you cruise often. When we sail on Royal Caribbean, we almost always dine at a specialty restaurant onboard (like Chops Steakhouse or Jamie Oliver's Italian) because the menus are expansive and we can try something new.
Image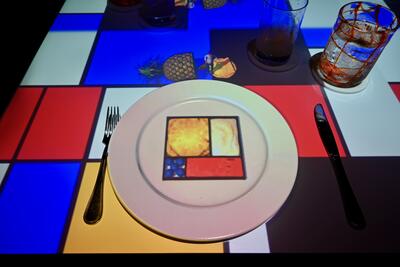 Le Petit Chef's menu is limited and I can't imagine it changes often due to the menu aligning with the theme of the show. We were really impressed by how accommodating the waiters were with our questions and requests. I'd imagine they would certainly make something work if you aren't feeling something on the menu, similar to how my sister was able to get mac and cheese for one of the courses.
Image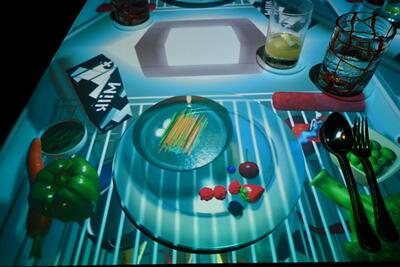 If you're considering trying out Le Petit Chef, we both agreed it would be worth trying at least once on your Celebrity cruise. If you're on a longer sailing or perhaps have many days at sea, this entertaining, immersive and animated dining experience is something fun and different.
Image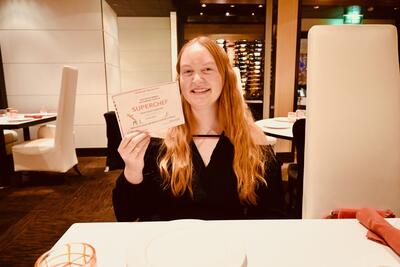 Would it be something I do every time I cruise? Probably not. But, that doesn't mean we didn't enjoy the experience!