Located on the northern coast of the Dominican Republic is Amber Cove, one of the Caribbean's newest cruise ports that opened in 2015. 
While the port of Amber Cove was built by Carnival Corporation, another pier, Taino Bay, was recently finished, allowing for other cruise lines to dock closer to the heart of Puerto Plata. It's about a fifteen-minute drive from Amber Cove. 
During construction, some Norwegian ships did dock at Carnival's pier; however, if you have an upcoming sailing onboard NCL, you'll dock at Taino, rather than Amber Cove. 
Now, you can expect to find mainly Carnival ships at Amber Cove; however, they do welcome the occasional Holland America Line and Princess Cruises vessel, as they are both part of Carnival Corporation. 
Here's everything you need to know about Amber Cove prior to your next trip to this beautiful resort-like port of call. 
Amber Cove is located in the Puerto Plata region of the Dominican Republic
Image

The Puerto Plata region is characterized by a tropical climate with lots of lush vegetation, beautiful beaches, and mountain views. The historic center can trace its roots back to the beginning of the 16th century with the construction of Fortaleza San Felipe, 
In addition to the colonial-era center, Puerto Plata has numerous beaches for cruise passengers to enjoy. This is important for Carnival guests, as they do not provide a complimentary beach. 
Read more: Carnival Cruise Line's Amber Cove vs. Royal Caribbean's CocoCay: Which is better?
There are no tender boats
Image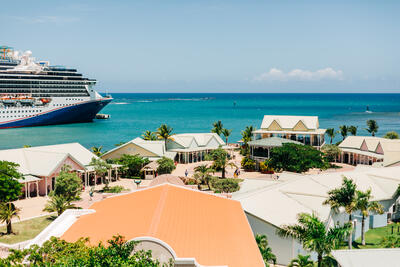 Part of Carnival's $85 million investment in Amber Cove included building a pier, so you won't have to worry about being shuttled from the ship to the shore. As soon as you get off the ship. The walk from the ship is easy; however, there's transportation for those who require it. 
Read more: Guide to cruise line private islands
What's the weather like?
Image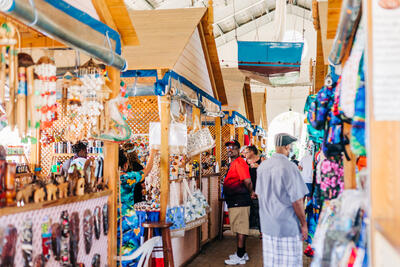 The Dominican Republic is known for its sunny skies and great weather year-round. Visitors can expect highs in the 80s and into the 90s in summer and early fall, so you will want to make sure that you have plenty of sunscreen packed in your day bag, as well as a hat, towel, cash/credit cards, and any other must-haves. 
The highest rainfall is between November and January, which is something to consider when venturing out for the day. The rainy season technically lasts through May. June, July, August, and September tend to see the least amount of rain. 
There's lots to do in the port area, so you don't have to book an excursion
Image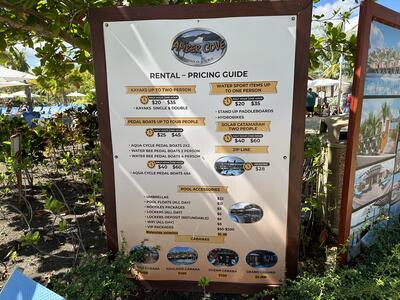 Amber Cove was designed to be a resort-like destination for Carnival Corporation guests. This means that you can take advantage of the 300,000-gallon pool with a swim-up bar and kids' splash pad for free! 
Of course, Carnival does offer some other activities for a fee, such as a zip line, as well as kayak and paddle board rentals. The price of a double kayak varies from $20 for a half hour to $35 for a full hour, while a pedal boat for four costs $25 for thirty minutes and $45 for an hour. The zip line only costs $28 for unlimited rides! 
You can go shopping here, too. Look for some pieces of jewelry made with Larimar, a blue mineral that's native to the Dominican!
Splurge on a cabana
Image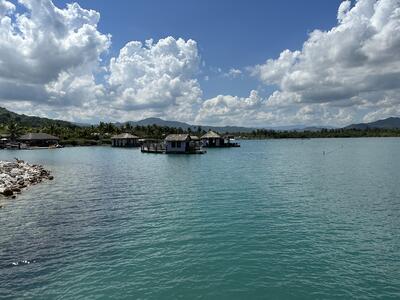 Amber Cove has cabanas available for guests to rent; however, they cost a premium! Some, such as the Grand Cabana, can go for over $2,000 for the day! That is essentially the cost of another cruise vacation. 
All cabana guests receive complimentary water, soda, and snacks. Plus, you will have a cabana attendant!
Poolside Cabana
Image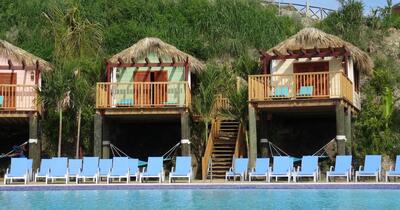 The poolside cabana is situated in the heart of the action at Amber Cove. Whether you want to relax in the large pool or be close to the Coco Caña Pool Bar, these cabanas are perfect for those wanting some privacy, rather than sitting on a lounge chair. 
Plus, they come with snacks, water, soda, air conditioning, internet, a television, showers, a refrigerator, and comfortable living room furniture. 
In terms of pricing, you can expect to pay around $520 for up to eight guests. 
Ocean Cabana
Image

At $530, the Ocean Cabana is slightly more expensive. That being said, you'll be able to enjoy the Tahitian-style overwater cabanas that are situated away from the hustle and bustle of the pool. 
In addition to the snacks, water, soda, and Wi-Fi that are also included with the poolside cabanas, you'll get to choose from two water sports to enjoy for one full hour. The options include kayaks, stand-up paddle boards, and aqua cycles.  
Inside the cabana, you'll find a cable television, table and chairs, as well as deck chairs and an outdoor shower. 
Hillside Cabana
Image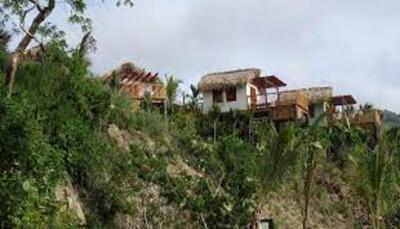 The cheapest cabana option is the Hillside Cabana. 
For $500, you'll be able to take in the sweeping views of the bay and surrounding mountains in a private hot tub. The cabana itself is outfitted with A/C, as well as Wi-Fi, a television, showers, a mist cooling system, a refrigerator, lounge chairs, and living room furniture. 
Moreover, you'll get to choose from two water sports for one hour, as well as get complimentary snacks, water, and soda. 
Grand Cabana
Image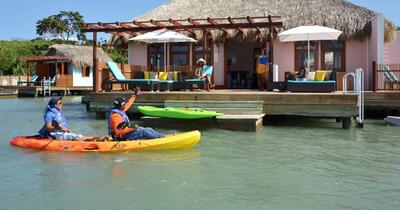 For those looking for the ultimate cabana experience, you'll want to book the Grand Cabana. At 1,000 square feet, it really is the ultimate splurge! 
Of course, it is the most expensive cabana at Amber Cove, costing over $2,000 for the all-day rental. It can accommodate up to 20 guests! 
This over-the-water bungalow includes water, soda, snacks, a fan, internet, television, showers, a mist cooling system, a fridge and personal hot tub, and an expansive outdoor deck. Plus, you can choose from two water sports!
What are the food and beverage options on Amber Cove?
Image
Unlike other private cruise line destinations, including Carnival's Half Moon Cay, food is not included. 
Coco Cana Bar and Restaurant serves up classic beach cocktails along with a variety of BBQ favorites and Dominican specialties, such as yucca and local fish.
Expect to pay $15-$30 per entree. A Caesar salad, for instance, costs $16 with chicken, while the club sampler will run you $26! 
Image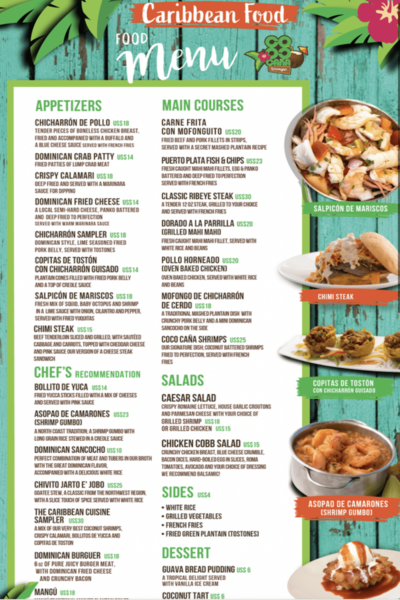 Another place you can grab a bite to eat is Restaurant Caribbean Cuisine. This is located more in the port area, while Coco Cana is adjacent to the pool. 
It is on the more expensive side, too, with shrimp gumbo advertised for $23. There are, however, some cheaper options, such as the Dominican Sancocho for $10 and cobb salad for $15. 
Some of the cheapest food on the island can be found at Nathan's, with a hot dog combo that comes with french fries and a soda priced at $13. You can get a cheeseburger, fries, and soda for just $11, too! 
Image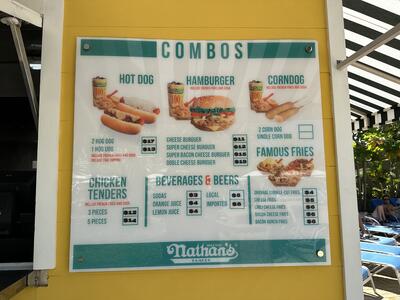 Just keep in mind that a family of four could easily spend $80 or more eating on the island, so if you don't want to spend money on lunch, you'll want to head back onboard for a little bit! 
If you want a delicious cup of coffee, you should stop at Cafè El Cibao, where you can get a frozen coffee for around $6, which is a great cold treat when it's hot outside. 
Image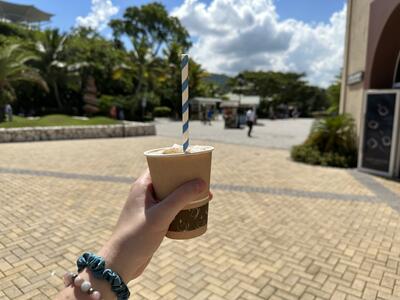 You can also select from a number of sweets including coconut balls, tres leches cakes, and cheesecake. Before heading back to the ship, you can purchase local Dominican coffee beans to bring home!
Drink packages don't work
Image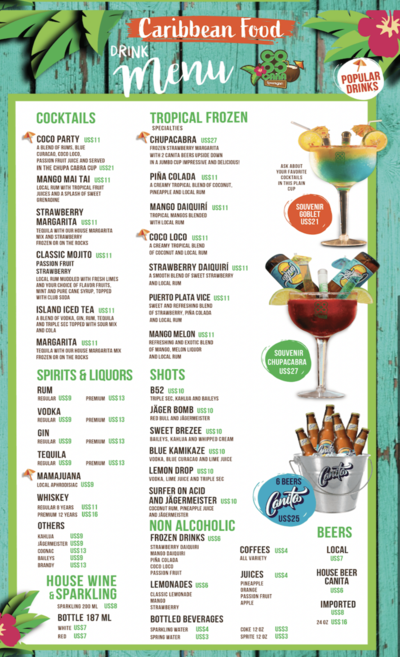 Drinks aren't included ashore either, even if you purchased a Carnival drink package. It doesn't matter if it's CHEERS! or Bottomless Bubbles-- neither will work!
Cocktails cost around $11, while specialty beverages can cost upwards of $27! Spirits range from around $9 to $13, while some specialty shots, such as a lemon drop of blue kamikaze, coming in at $10. 
You are able to purchase beer on Amber Cove for anywhere from $8 to $16, with the most expensive option being an imported 24oz. 
There are also a few snack carts located around Amber Cove where you can pick up alcoholic beverages such as a mamajuana ($9), regular local rum ($9), mojito ($11), and beer ($6-$8). 
Image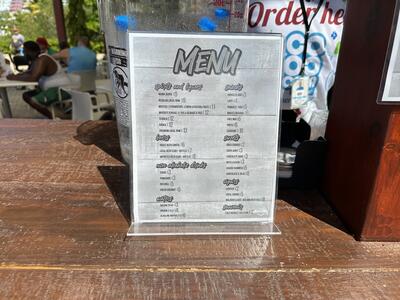 In terms of soda, you can expect to find them for $3, with a bottle of water costing $3 or $4 depending on which size you purchase. 
Read more: What's the cost of a drink package on Carnival? (2023)
If you want to explore the area, consider booking a shore excursion 
Image
For those who want to venture out of the port area, Carnival and other visiting cruise lines offer a number of excursions that highlight the area's stunning beaches, water, and natural features including:
Beach day
Local tour of town
Catamaran Sail
Snorkeling
Waterfalls of Damajagua
Dolphin Swim
Hands-on Chocolate Experience
Dune Buggy
Ocean World Day Pass
Ziplining
Horseback Riding
Monkey Land
Puerto Plata City Sights
Shore excursion pricing varies. Carnival Cruise Line, for instance, lists the All Inclusive Coconut Cove Break Break at $94.99/adult and $79.99/child, while the Adrenaline Zipline and Horseback Riding combo costs $114.99/adult and $104.99/child. 
Don't be afraid to explore on your own
Image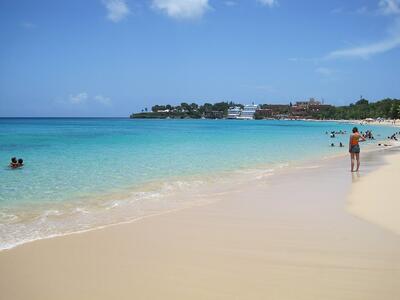 In addition to the shore excursion offerings, guests can explore on their own, as there are plenty of taxis available and rental cars at the port.
It takes about fifteen minutes to travel to nearby Puerto Plata, which is home to Fort San Felipe, one of the oldest European forts that still stands today in the Americas. Guests can visit the local Amber Museum or stroll the town's historic colonial streets. You'll find some delicious local cuisine here, too, which is something the port of Amber Cove does lack. 
The area is well-known for its beaches, such as Sosua which is a thirty-minute drive. Other local attractions include waterfalls and Ocean World Adventure Park, which has lots of marine animals including sharks and dolphins.
How to visit Amber Cove?
Image
Amber Cove is available on select Carnival, Princess, and Holland America itineraries. Carnival, however, has the most options, meaning that you can be a little bit more selective in which ship you'd like to sail on. You can choose anything from the brand-new Carnival Celebration to the 15-year-old Carnival Freedom. 
Princess ships that occasionally visit include Enchanted Princess, Caribbean Princess, and Sky Princess. 
If you want to visit Amber Cove on a Holland America Line ship, look for sailings onboard Nieuw Amsterdam, Zaandam, Eurodam, and Nieuw Statendam.
There are even some Costa ships that sail to Amber Cove, including Costa Pacifica.
If you purchase a Carnival Wi-Fi package, it will not work ashore 
Image
That doesn't mean that you cannot use your phone while on Amber Cove. Since you cannot use the ship's internet, you will have to stop at the visitor center and purchase a pass, which costs $8 per day.