Located on the northern coast of the Dominican Republic, Amber Cove is Carnival Cruise Line's private port destination.
Image
It offers visitors numerous activities in port as well as a gateway to a variety of excursions in the scenic Puerto Plata region.
Cruisers from Carnival and its subsidiaries Princess Cruises and Holland America, along with the occasional Norwegian Cruise Line ship enjoy the port's facilities as well sights in the surrounding area.
Here is what you need to know before visiting Amber Cove.
Overview
Image

The Puerto Plata region is characterized by a tropical climate with lots of lush vegetation, beautiful beaches and mountain views. Its historic center can trace its roots back to the beginning of the 16th century, and the town has tons of charm with colonial architecture and forts.
More recently, the area which is known for amber (fossilized tree resin) was a filming location for some scenes in the hit movies Jurassic Park, borrowing spectacular pieces of amber from the local museum.
The 30-acre port area has no dinosaurs today but treats guests to lots of entertainment, food and shopping as well as a launching point for a wide range of local activities.
Going onshore
Image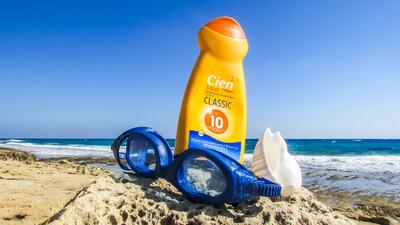 Part of Carnival's $85 million investment in Amber Cove included building a pier, so there is no need to tender at this port. It is an easy walk to shore and transportation is provided from the dock for those who require it.
The Dominican Republic is known for its sunny skies and great weather all year round. Visitors can expect highs in the 80s, and into the 90s in summer and early fall. The highest rainfall is between November and January, something to consider when venturing out for the day.
Bring plenty of sunscreen, a hat, towel, credit cards and any other must haves, although you can always pop back to the ship.
Port Area
Image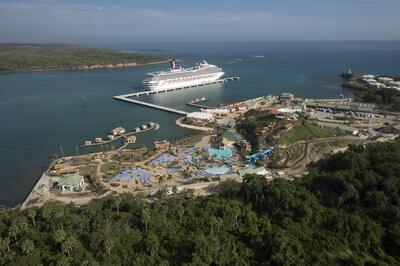 Once onshore, there is lots to do in the port area, and guests can enjoy a number of activities without booking any excursions.
Many cruisers love to treat themselves to a sparkly piece of jewelry, and there are shopping and jewelry stores onsite in addition to a local artisanal market. Larimar is a blue mineral native to the Dominican which is featured in locally made jewelry.  
The complimentary aqua zone has plenty of loungers around the 300,000 gallon pool with a swim up bar and nearby splash area for kids. Oher activities include a zipline, kayaks and paddle boards for an additional fee.
Amber Cove Cabanas
Image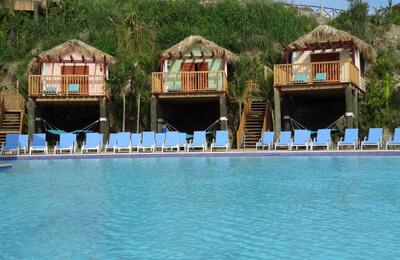 Guests can book cabanas at Amber Cove, and it is recommended to reserve prior to arrival through the cruise planner.
The cabanas are located in various areas throughout the port. All cabana guests receive complimentary water, soda and snacks and are served by attendant. Guests must bring their own towels and credit card for payment; cash is not accepted. Options include:
The well rated cabana starts at $325 and accommodates up to 8 guests (ages 14 and up). Located at the port's large pool, passengers enjoy VIP service and a prime location. Cabanas feature air conditioning, Wi-Fi, TV, mist cooling systems, a fridge and a living room.
Image

Starting at $345, this option can accommodate up to 8, with no age limit. Described as Tahitian-style overwater cabanas, they feature a mini-fridge, Wi-Fi, table and chairs, a deck and outdoor shower.
These cabanas take advantage of the hilly terrain and their stunning vistas. Guests can book this cabana starting at $310, accommodating up to 8 guests and no age limit.
The cabana has air conditioning, Wi-Fi, TV, showers, misting system, a fridge, loungers, a living room and hot tub.
The Grand Cabana is the ultimate splurge at $1,170. The 1,000 square foot cabana can accommodate up to 20 people ages 14 and up. Located on the water, it comes with kayaks, stand-up paddle board or aqua cycles for an hour.
The cabana includes air conditioning, Wi- Fi, TV, showers, misting system, a fridge, a large deck with chairs and hot tub.
Food and Beverages
Image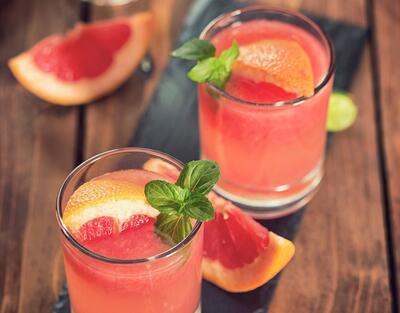 If you stay in the port area there are two main places to have a bite to eat. Food is extra while in port, and unfortunately, cruise line drink packages will not work at Amber Cove.
Coco Cana Bar and Restaurant serves up classic beach cocktails along with a variety of BBQ favorites and Dominican specialties such as yucca and local fish.
Cruisers rave about Cafè El Cibao and their fantastic coffee. Other offerings include a number of sweets such as coconut balls, tres leches cakes and cheesecake. Before heading back to the ship, you can purchase local Dominican coffee beans to bring home.
Excursions
Image
For those who want to venture out of the port area, Carnival and other visiting cruise lines offer a number of excursions that highlight the area's stunning beaches, water, and natural features including:
Beach day
Local tour of town
Catamaran Sail
Snorkeling
Waterfalls of Damajagua
Dolphin Swim
Hands on Chocolate Experience
Dune Buggy
Ocean World Day Pass
Zipling
Horseback Riding
Monkey Land
Puerto Plata City Sights
Exploring on your own
Image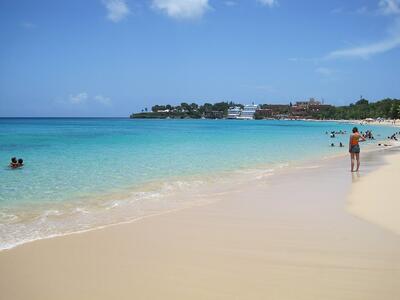 In addition to this, guests can explore on their own as there are plenty of taxis available and rentals cars at the port.
It takes about 20 minutes to travel to nearby Puerto Plata which is home to Fort San Felipe, one of the oldest European forts that still stands today in the Americas. Guests can visit the local Amber Museum or stroll the town's historic colonial streets with lots of restaurants.
The area is well known for its beaches such as as Sosua which is a 30-minute drive. Other local attractions include waterfalls and Ocean World Adventure Park with lots of marine animals including as sharks and dolphins.
How to visit Amber Cove?
Image
Amber Cove is a busy stop in the Caribbean, with plenty of ships visiting each year on many eastern and southern itineraries:
Carnival Cruise Line:
Carnival Elation
Carnival Freedom
Carnival Horizon
Carnival Legend
Carnival Magic
Carnival Vista
Mardi Gras
Norwegian Cruise Line
Norwegian Escape
Norwegian Encore
Norwegian Breakaway
Princess Cruises
Holland America
Rotterdam
Nieuw Amsterdam
Nieuw Statendam
Zuiderdam
Zaandam