Longtime cruisers have seen the cruise industry transition through many phases within the last few decades. As a lifelong cruise myself (at the ripe age of 27 years old), I've been on 34 cruises; even I feel like I have personally seen the cruise industry transform even in my lifetime. 
At 4 years old, I boarded my first cruise ship on The Big Red Boat, which was one of the original Disney Cruises before Disney had their own cruise line. I am a former cruise kid, born to two parents who loved to cruise. I've continued cruising into adulthood, as it's one of my favorite ways to travel with my own family now.
I even spent 4 months living on a cruise ship traveling the world on Semester at Sea during my semester abroad in college. 
Here's me and my sister on our Big Red Boat cruise - our first cruise!
Image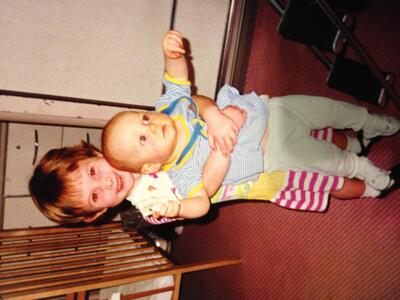 As the cruise industry is constantly evolving to become bigger and better, many longtime cruisers have seen cruise traditions come and go. Some beloved traditions have been slowly phased out overtime, which can be fun to reminisce about. 
To start, modern cruise ships that are built in this day and age are massive compared to the ships that were built in the 80s and 90s.
Royal Caribbean launched its first 'megaship' with Sovereign of the Seas in 1988 that could hold 2,800 passengers - which is measly compared to today's cruise ships. Wonder of the Seas, Royal Caribbean's newest and biggest ship, can hold up to an astonishing 7,000 passengers. 
Image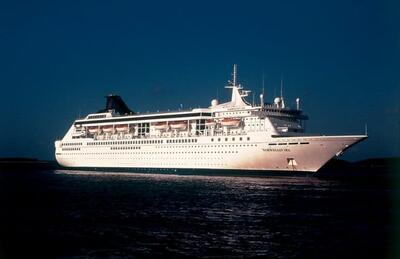 Old-timey cruise ships were focused more on elegance and tradition - a stark contrast to today's floating cities where you can find go-kart tracks, roller coasters, surf simulators, waterslides, zip lines and more.
Image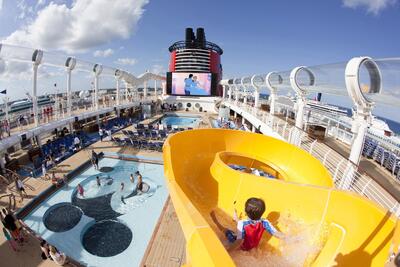 As cruise lines have transitioned towards offering action-packed, adventure-focused and family-friendly vacations, many nostalgic cruise traditions have been nixed. Some traditions will be greatly missed while others are welcome improvements!
Here are just a few memorable cruising traditions that are either being phased out or have been completely phased out from cruising.
Midnight buffets
One of the most beloved cruising traditions that has been phased out is the midnight buffet.
Back when cruising had a more structured dining schedule, most cruisers only had the option to eat at the buffet or dining room during an early or late night seating for dinner. As such, the midnight buffet was more necessary to accommodate the hungry stomachs of partiers. 
Image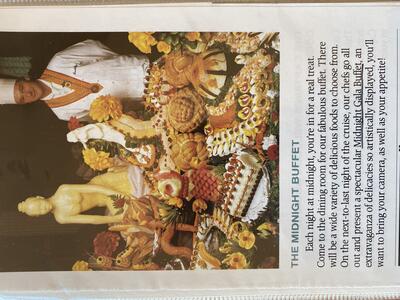 For many years, cruise lines would host a late-night buffet with a smorgasbord of lavish food, such as caviar, lobster and escargot. With over-the-top set ups, many cruisers would get to the midnight buffet early to take pictures of the extravagant offerings. Everyone would gather around with their disposable cameras to capture the incredible creations.
You could even see giant butter carvings (pictured below) and towers made from a variety of bread.
Image
Unfortunately, the midnight buffet was fairly wasteful for cruise lines when most of the food was uneaten. Additionally, the crew members would spend a significant amount of time setting up the displays and taking them down each night.
Also, with many people being more health conscious, late-night eating has became less popular with cruisers. 
In addition, most cruise lines have added other after-dark dining options for those who get the late night munchies. You can often find 24-hour pizza parlors, small late-night bites, or 24-hour room service options on modern cruise ships.
Chocolate buffet
In the spirit of over-the-top buffets, cruise lines offered chocolate (or dessert) buffets for many years as well. 
Image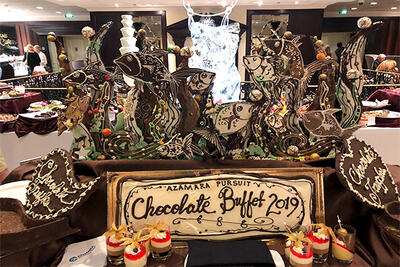 As a chocolate lover myself, I have fond memories of overflowing chocolate with deliciously layered chocolate cakes, chocolate mousses, chocolate covered fruit and practically anything with chocolate that you can imagine. 
During the late-night chocolate buffet, cruise lines would present beautifully displayed desserts that included incredibly detailed chocolate sculptures for cruisers to enjoy. Imagine a huge chocolate fountain surrounded by an infinite amount of chocolate desserts to choose from (aka, my personal heaven). 
Image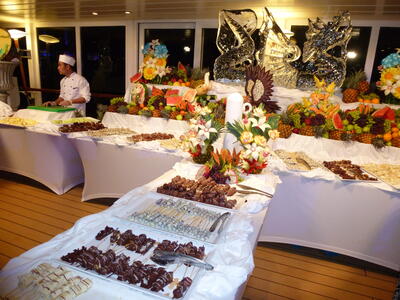 Similarly to the midnight buffet, the chocolate buffet has been phased out by most cruise lines. Some will still offer a late-night chocolate fountain for guests to enjoy, but the over-the-top buffet event isn't really around these days. 
Intricate ice carvings and demonstrations
For many years, you couldn't step foot on a cruise ship without seeing an intricate ice sculpture. These huge chunks of ice would be carved meticulously to unveil a beautiful, how-did-they-do-that design that would leave many cruisers stunned. 
Image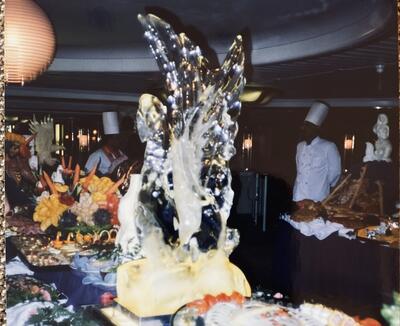 While these haven't been totally phased out, you aren't seeing ice sculptures onboard like you used to. Most cruise lines even offered ice carving demonstrations on the pool-deck that would draw big crowds. Again, you might see the occasional ice carving on a cruise ship today, but it certainly isn't the focal point of the buffets like it used to be. 
Selling the cruise recap video
As someone who grew up cruising in the early 2000s, I have vivid memories of the cruise line have a videographer. This crew member would use a large camcorder and record videos throughout the cruise. On the last night, they would showcase the cruise video for everyone at the farewell show and offer guests the opportunity to purchase the video on DVD. 
These days, you certainly won't be seeing anyone from the cruise line walking around with a giant camera to record every activity and moment of the cruise. 
Image
Of course, there are many reasons why this has been phased out and a few are pretty obvious.
To start, everyone has phones that can capture and record videos easily throughout their cruise. Most of the time, we didn't even see ourselves in the final product. Why would anyone want to purchase a DVD memory of their cruise vacation that didn't even include themselves?!
Themed menus every night
In my 20 years of cruising, I've witnessed the onboard dining scene transition through many phases. 
When I first started cruising more frequently in elementary school, I remember the cruise lines offering a themed menu each night. One of my favorites was the Italian night, which featured a blue, slightly more elegant menu on Royal Caribbean.
Image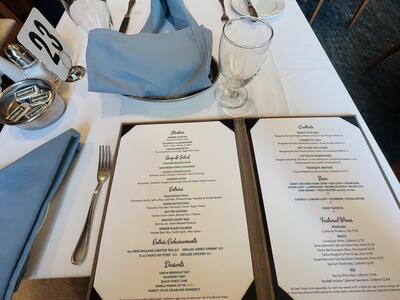 Cruise lines still offer certain themed dinners onboard, including formal night, lobster night and Italian night. However, you won't be seeing special colored menus that change each night. 
Additionally, cruise lines have started to offer sections of their menu that do not rotate, but rather are offered every night of the cruise. Another section of the menu has nightly offerings that will only be available for that evening. 
Chocolates on your pillow
Back in the day, when you'd return to your stateroom after a long, busy day on the ship, you'd often find a tiny chocolate on your pillow. While this was a small gesture from the cruise line, I loved having another tiny sweet before bedtime. 
Image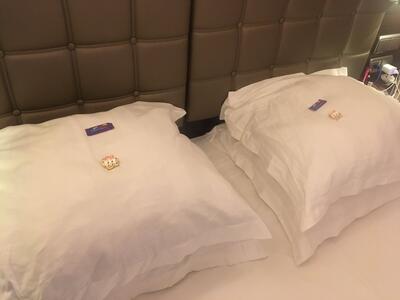 For a while, all guests onboard cruises could come back to their stateroom and expect to find this little piece of chocolate goodness on their pillow. There was a transition phase where cruise lines only gave the chocolates for suite guests and other top-tier loyalty cruisers.
No surprise that cruise lines had to make budget cuts when the recession hit around 2008-2009 and the chocolate surprises were first on the chopping block. While some cruisers claimed they never ate the chocolate after gorging on delicious food most of the day, I will admit that I miss their tiny gesture and wish they'd bring back the pillow chocolates! 
In-person muster drills
Cramming together on the promenade deck right after boarding for the muster frill was very standard for many years - up until the pandemic.
Once onboard, in-person muster drills required the congregation of all guests onboard to hear the safety instructions regarding the ship's emergency horn, how to properly put on a life jacket and where to meet in case of an emergency.
Image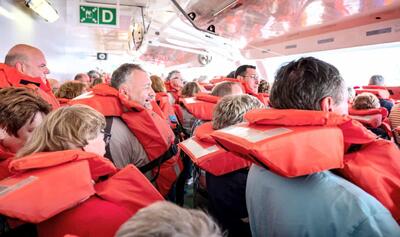 Cruise lines would call out each stateroom and you would promptly respond "Here!" for them to mark you off. You'd be shoulder to shoulder with strangers looking over the port, just waiting to be released so you could enjoy your cruise.
Don't get me wrong, you are still required by law to complete the safety lecture when boarding a cruise ship. In a post-pandemic move, most cruise lines have transitioned to a required virtual muster drill. 
Image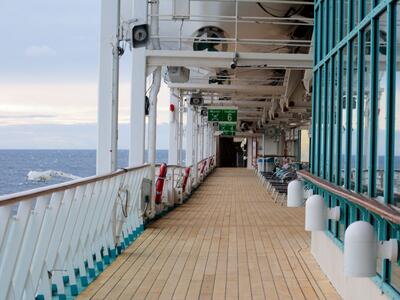 Moving to an (almost) completely virtual experience has been a game changer for a few reasons.
First, you can complete the life jacket video and listen to the ship's horn on the cruise line's app on your own time. You still need to get this done within a few hours of boarding, but it's not a set time like it used to be. Additionally, you no longer have to congregate and cram next to your fellow passengers at the muster station. 
Now, you just visit the station after watching the virtual instructions and a crew member will give you the go-ahead. 
Image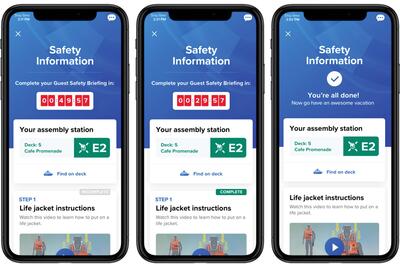 Some cruise lines still don't have a virtual muster drill in place, which our writer Hayley found as the case on Margaritaville at Sea. However, most of the major cruise lines have already moved to this new system. 
This is a cruise tradition that we absolutely will not miss!
Rooms with portholes
If you've sailed on an older cruise ship recently, you may have noticed the lack of available balconies. When I recently sailed on Carnival's oldest ship, Carnival Ecstasy, we found that there was just a tiny set of cabins that had balconies at the back of the ship. Most of the rooms had portholes or they were inside cabins.
Image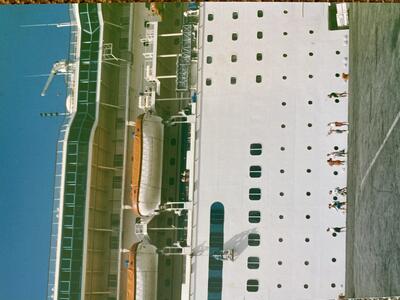 Back when ships were built in the 1980s and 1990s, you could pretty much only sail in an inside or ocean view cabin with a porthole. Balconies were not an option and if they were, you had to book quickly to ensure you could snag a coveted private veranda. 
Image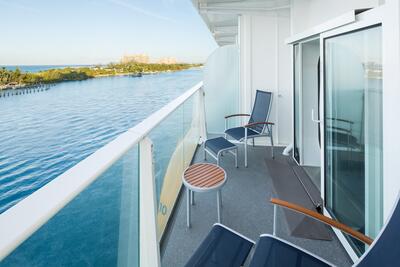 These days, new cruise ships are being built with increasingly more balconies. In fact, modern day ships are built with 80-90% more balconies than older ships to accommodate the growing demand for private verandas. 
Most cruise lines are phasing out rooms with portholes almost entirely on new ships except for a select few cabins that still have windows.  
Printing every photo taken
Another notable difference between old and new cruise ships is the lack of space for the photo center.
For many years, cruise ships would print every single picture that their photographers would take throughout the cruise. You'd have to comb through the photo center displays to find your picture - and it felt very wasteful and cumbersome.
Image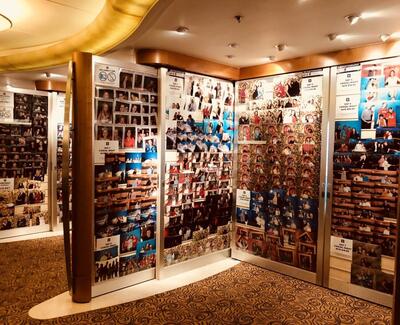 Now, you'll find digital kiosks that will pull up all of the photos tied to your stateroom. This means the photo center onboard is noticeably smaller than the spaces you'll find on older ships.
With everyone having their own smartphone to take pictures throughout their cruise, it's not surprising that cruise lines have been phasing out their onboard photo services. You'll still find it common to take a welcome aboard picture and nightly pictures in the dining room, but it's presumed this became a dying revenue stream because of smartphone capabilities. 
Image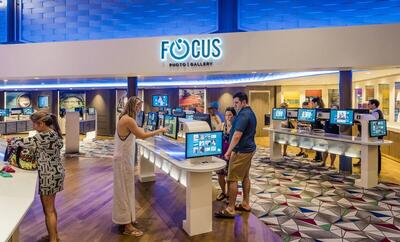 Some ships are still printing photos because they haven't adapted the new digital kiosks, but this is a cruise tradition that we won't miss. 
Printed daily cruise schedules
One final cruise tradition that has been getting phased out is the daily printed cruise schedule.
For as long as I can remember, I'd return to your stateroom each night and find the next day's cruise schedule and information. The schedule was usually placed on a neatly made bed, along with a cute towel animal. Since many cruise ships are moving to incorporate technology whenever possible, the printed cruise schedule has been replaced with mobile apps that you use on your phone. 
Image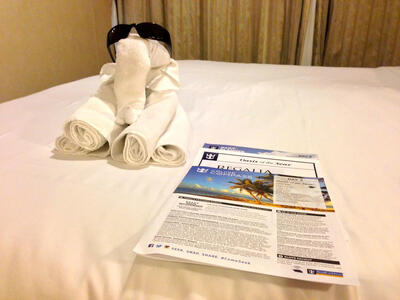 As cruise lines look to become more sustainable and environmentally friendly, it makes sense to phase out the daily printed cruise schedules. Most guests already have smartphones and use these regularly anyway.
Image
I've found that you can still get a daily printed cruise schedule upon request, but it's no longer the standard to receive this in your stateroom every night. For the environment, this is a tradition that I won't necessarily miss but it does reflect the changing times as cruise lines become more technologically advanced. 
Now, if they stop making towel animals on cruises, I might never recover!