Most cruise cabins are equipped to accommodate a maximum two guests. Families and friends, however, may opt to travel three and four to a room for either safety precautions or to save some money, as the cruise fare for the latter two guests is less expensive than the first and second. 
If you are planning on having more than two guests in the stateroom, you might be wondering how sleeping arrangements will work. Staterooms do not have the space for two double beds like many land-based hotels do. Even in most suites, you will not find two standard double beds!
Enter the pullman bed. While some staterooms will have a couch that can covert into a sofa bed, many also have pullman beds, especially those that are able to accommodate four passengers. 
Let's get into what a pullman bed is and why you should be aware of them before your next cruise!
What is a pullman bed?
Image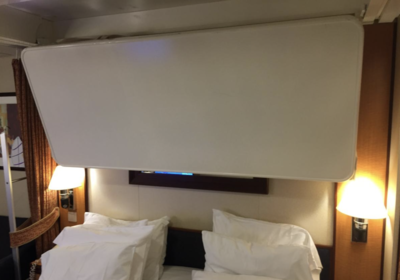 A pullman bed is one that pulls down from the ceiling of wall of a stateroom. In essence, they allow more people to sleep in one cabin without taking up more floor space. They are accessed via ladder and were named after George M. Pullman who is credited for inventing pullman beds in the 1850s to help save space on trains. 
When not in use, they can be folded away! This will help make your cabin feel more spacious. And if only two people are booked in a cabin with pullman beds, they never have to be lowered. In fact, you may not even know that your cabin has them!
Depending on the configuration of your stateroom, there may be either one or two pullman beds. If there is only one, the couch is usually able to convert into a sofa bed to fit four people in the room. 
They are often available in all stateroom categories, whether you are wanting to book an interior, ocean view, or balcony. Availability, of course, will vary. 
Prior to booking your stateroom, it is crucial that you confirm the arrangement of any pullman beds and/or sofa beds. Once onboard, it is very unlikely that you will be able to change staterooms if you are unhappy. 
Read more: Top 10 cruise cabin hacks to make your stateroom more livable
Do pullman beds have age and weight restrictions?
Image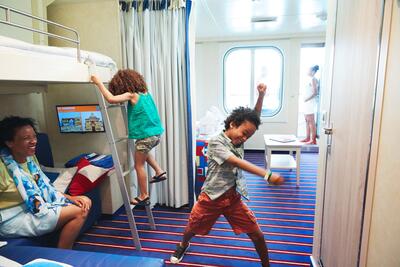 Yes. The maximum weight is usually around 200-250lbs; however, some cruise lines -- like Royal Caribbean -- have increased limits-- their pullman bed weight limit is 300lbs. 
Moreover, some do have age restrictions. Royal Caribbean, for instance, states that the minimum age to sleep on a pullman bed is 6-years-old. 
If you have concerns, it is best to reach out to your cruise line directly, as they will be able to confirm any detailed restrictions that they may have. 
Overall, though, pullman beds are bed suited for children or smaller adults. Even then, adults may have issues when trying to sit up, as they may hit their head on the ceiling or find that they do not have much room to adjust. 
Moreover, since pullman beds require the passenger to climb a ladder, they are not suitable for those with mobility issues. They should have priority for being able to sleep on one of the traditional beds. 
How large are pullman beds?
Image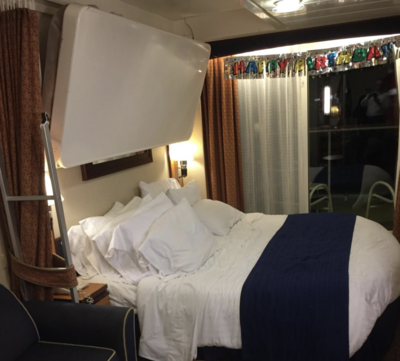 While these beds vary in size, they are usually about the size of a single bed. Sometimes, they are a little bit more narrow or shorter in length. If you are a tall adult hoping to save money by squeezing more people into a stateroom and sleeping on a pullman bed, you may find yourself not getting enough rest each evening. 
What safety features do pullman beds have?
Image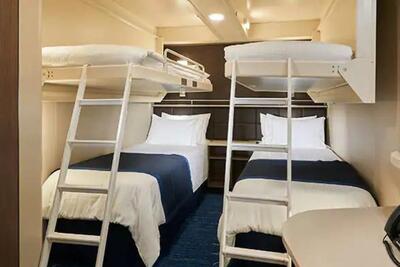 If you are worried about a young child falling off, have no fear! Pullman beds are equipped with guard rails to keep them safe. The size of the rail depends on which cruise line and ship you are sailing on. 
Once onboard, you may be able to request an additional rail from your cabin attendant. It is best to do this as soon as you meet them, so they have time to see if your request can be accommodated before you are ready to retire for the evening. Not all ships have extra rails. 
Additionally, you can purchase an inflatable guard rail prior to leaving for your cruise. 
Read more: 16 Things To Do As Soon as You Get to Your Cruise Cabin
Will I be responsible for setting up the pullman bed each evening?
Image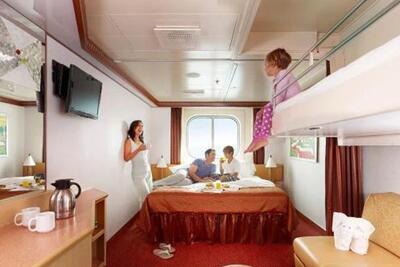 No! You will not be able to do it yourself. Your stateroom attendant will be the one who will pull down the bed each evening and fold it back up during the day. If you would like, you can ask them to leave it down at all times. This might be helpful if you have children who will want to nap throughout the day. 
Alternative options for large travel parties
Image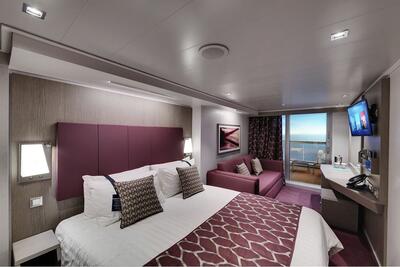 The most obvious alternative option when traveling with four guests is to book two staterooms. While this may be more expensive, you will be thankful that you have two bathrooms and the extra living space. Your stateroom will not feel as cramped. 
If traveling with a third person, however, you would be stuck paying a single supplement if they stayed in their own room, meaning that it is not the wisest financial decision. Why would you want to pay for four people when only three are traveling?
Depending on which cruise line and ship you are looking at, you may be able to stay in a more spacious stateroom that is a little bit larger than standard cabins and meant to accommodate larger parties. Select Carnival ships, for instance, offer deluxe cabins that feature split bathrooms. While you may not gain a ton of extra living space, these kinds of travel arrangements make it easier to share the space with a larger group!
Read more: Best cruise ship cabins for your family
Bottom line
Image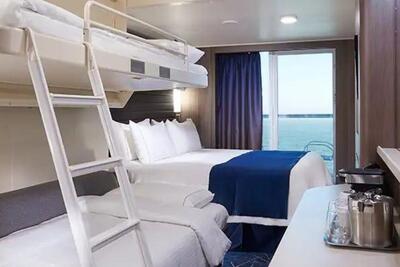 Staterooms with pullman beds make it possible for larger parties to stay together. Families with younger children may not feel comfortable putting them in a separate stateroom, even if it connects to theirs. Plus, the more people you have in one stateroom, the lower the average price per guest becomes. This could make what might otherwise be a dream vacation become more accessible!
If you have any concerns about booking rooms with pullman bed(s), we advise you to speak with a travel agent! They can help you decide whether or not your family would benefit from sharing one room or splurging on two. Plus, they can help you with cabin location and other things, such as booking specialty dining reservations, shore excursions, and making your travel arrangements.