Cruise ship cabins look so cute and cozy for a couple. What happens when you put a family of four (or five, even six) all in one room on a cruise ship? 
First off, not all cabins can sleep that many people. Pick a room that's too small – even if it has enough bunks and sofa beds for everyone -- and you will be tripping all over each other, making a mess of the limited floor space, and fighting over who showers first. That is why most standard cruise cabins are only equipped for 2-4 guests.
Choose the right cabin or combination of connecting rooms, and you will be luxuriating in separate bedrooms and roomy balconies. You might score a room close to the kids club or a family suite with extra perks that make it easier for parents to navigate traveling with children.
Image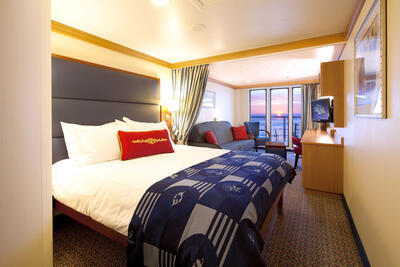 Whether you are looking for cruise ships with two-bedroom suites or for any cabin that accommodate a large family of six, here are the best cruise ship cabins for your family on sixmainstream cruise lines.
Best Carnival family cabins and suites
Image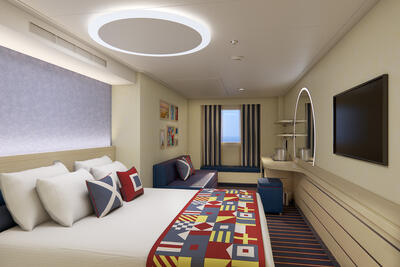 The best cruise ship cabins for families on Carnival Cruise Line are their Family Harbor suites and staterooms, found onboard their newest ships.
Family Harbor cabins come in a variety of categories and sizes, from inside cabins to roomy suites. Most of the cabins can sleep four, though some only sleep two or three (likely with the expectation of families booking connecting rooms). 
Family Harbor Deluxe Ocean View cabins sleep five and have a full bathroom plus a separate washroom with sink and tub. Standard Family Harbor Suites also sleep five and offer the split bathroom set-up, plus a walk-in closet and extra-large living area.
Related: What's the difference between a balcony cabin and a suite on a cruise?
Image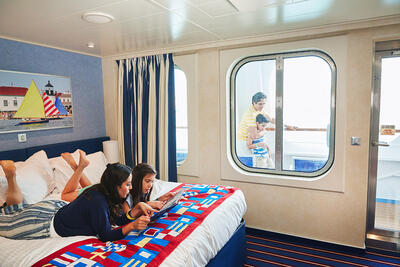 These Carnival cruise family rooms are tops for families because of their access to the Family Harbor Lounge and the associated perks. The lounge, located smack in the middle of all the Family Harbor cabins, is the place to go to play board and video games; check your email; get assistance from a concierge; and grab complimentary breakfast, snacks, and drinks. 
Family Harbor perks include free kids meals in specialty restaurants and a free evening of Night Owls group babysitting, meaning parents can easily take advantage of some adult-only time. 
The older ships in Carnival's fleet do not offer Family Harbor cabins, but some – such as the Dream-class ships (i.e., Carnival Dream, Magic, and Breeze) – feature Deluxe or Family Ocean View cabins. These rooms, like their Family Harbor counterparts, can accommodate a family of five with two twins, two pull-down bunk beds, and a single sofa bed. They also have the split bathroom concept, making it easier for everyone to get ready without running into each other. 
Parents, however, should note that to accommodate the bunk beds, the floor-level beds cannot be pushed together to form a queen, so the grownups will be sleeping apart.
Other Carnival cabins that sleep 4 or more
Image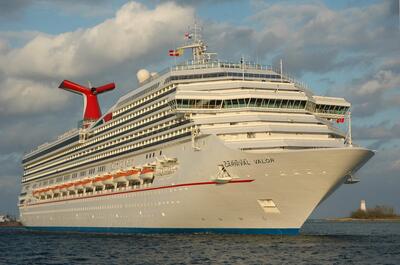 Carnival cruise ships have cabins in all categories that can accommodate families of three or four, either with a sofa bed or pull-down bunk beds. All ships have connecting rooms, so parents with older children who need more space (and two full bathrooms!) can book adjoining rooms that have a door that opens up between them.
Best Disney family cabins and suites
Image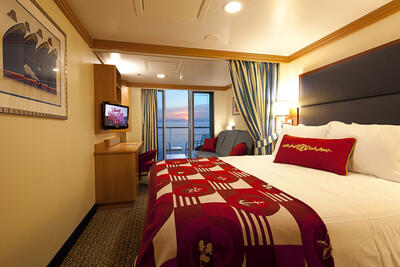 You could say that any cabin on a Disney cruise ship is perfect for a family, but the Deluxe Family Ocean View Staterooms, with or without balconies or Concierge-level amenities, are the best for families of five.
These cabins are slightly larger than regular outside and balcony cabins and have a single sofa bed, pull-down bunk bed, and wall pull-down bed in addition to the master bed. A curtain divides the room to give privacy.
They also feature the split bathrooms, so the toilet is separate from the shower. 
Image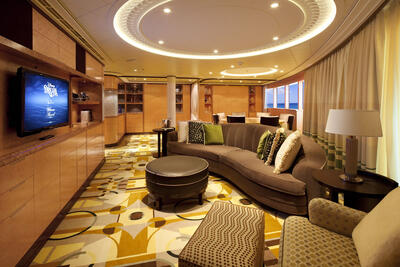 In addition, all of Disney's Concierge-level suites sleep 5 to 7 guests. They're ideal for families who want to spread out with large balconies, expansive living rooms with dining areas, separate master bedrooms, and at least two full bathrooms.
Concierge services help busy families plan an amazing vacation, and the concierge lounge and sun deck give parents a quiet place to reconnect and enjoy a drink while the kids live it up in the Oceaneer Club and Lab or the Edge and Vine tween and teen clubs.
Image
The new Disney Wish includes the cruise line's first-ever Concierge Tower Suite. It's a multilevel suite that's 1,966 square feet and is located in the famous Disney Cruise Line stack. With two primary bedrooms, a separate living and dining area, and 4.5 bathrooms, sleeping up to eight guests in this luxurious suite is no problem. Be prepared for the cost of this one-of-a-kind suite. A family of five can expect to pay close to $30,000 for a three night Bahamas cruise.
Other Disney cabins that sleep 4 or more
Image
As we said, families can't go wrong with any cabin on a Disney ship. Most rooms sleep three or four, and all but the smallest have split baths – one room with a toilet and sink and a second with a tub/shower combo and sink. 
Inside cabins lack a window but many make up for it with a virtual porthole. These round screens look like porthole windows and show camera footage from the bow of the ship, enhanced with animated Disney friends who pop in to wave hello.
On Disney cruise ships, it's also easy for families to book connecting cabins to gain that extra coveted bathroom, closet, and living space, and avoid the squeeze that comes from teens and parents sharing a room.
Related: What's the best cruise ship cabin location?
Best Celebrity Cruises family cabins and suites
Image
Celebrity Cruises offers a variety of different suites ranging from 254 square feet studio Sky suites to the luxurious 1,892 square foot Iconic Suites on Edge Class ships. 
If you are looking for the most space for your family to make themselves comfortable in, the Iconic Suite is one of your best options, as it has over 2,500 square feet of indoor and outdoor space, including two bedrooms and two bathrooms. 
The Reflection Suite is another great option, as it has two bedrooms, two bathrooms, and indoor living spaces spread out over 1,636 square feet. Plus, there's another 193 square feet of terrance space. 
No matter what suite you select, you will gain access to The Retreat, an exclusive suites-only area that has a dedicated restaurant, lounge, and private sundeck on select vessels. Of course, suites come at a premium and are not the cheapest accommodations onboard. 
Other Celebrity Cruises cabins that sleep 4 or more
Image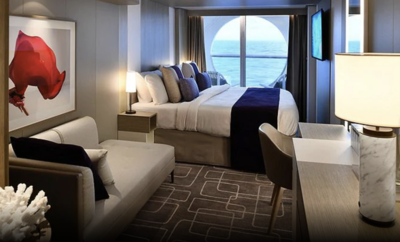 Online, you will only be able to book a cabin for 4 guests. If you have 5 or more, you will have to give Celebrity a call directly. 
That being said, you can book just about any cabin category of your choosing for 4 people, from an interior to ocean view, veranda, or Concierge Class. Note that Aqua Class staterooms are reserved for double occupancy only. 
If you prefer additional space, there are adjoining staterooms that will allow you to have an extra bathroom and floor space. That alone can make a family vacation turn into one of the best ones yet!
Best Royal Caribbean family cabins and suites
Image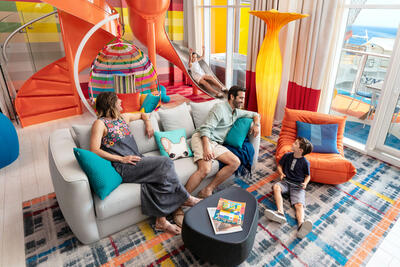 Royal Caribbean's Ultimate Family Suite is its most famous kid-focused cabin. The two-story suite sleeps up to eight guests and is a wonderland of games, slides, climbing walls, and Legos. There are also only three of these, and they are insanely expensive, so they are not practical for most vacationing families.
Unfortunately, the line has removed the term "family" from several cabin categories, so families need to look a bit harder to find cabins to accommodate their clan. Look for cabins dubbed "spacious interior" or "ultra spacious ocean view" for rooms that can sleep up to six with two twin beds that convert to a Royal King, a double sofa bed, and two pull-down bunks.
Related: Why an inside cabin is the best choice for a cruise
Image
Many of the line's suites, from junior suites on up to the Royal Loft Suite, can sleep four to six people; we found a two-bedroom Grand Suite that can sleep eight. One- and two-bedroom AquaTheater suites can sleep four to eight, and have private box seat viewing of all the AquaTheater shows, a major plus for kids.
Quantum-class ships have a unique configuration, which combines a junior suite, studio, and balcony cabin into a multi-room suite that sleeps up to 10 passengers with three bathrooms. Though the rooms can be booked separately, they share a vestibule with a door on the cabin corridor, so when combined, they merge into a multi-room suite that's perfect for large families or groups. 
Other Royal Caribbean cabins that sleep 4 or more
Image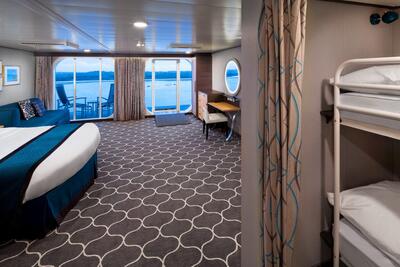 Many of Royal Caribbean's standard cabins and suites can sleep three or four guests, either with sofa beds or pull-down bunks above. A family of four will fit, but space might be tight when everyone is getting ready at the same time for dinner or an outing in port. 
Royal Caribbean has plenty of connecting cabins if you have the budget to spend more for that extra living and bathroom space. Just be sure you price compare because it might be a better value to book one suite, with the accompanying Royal Suite Class perks, than two standard cabins. It, of course, depends on which cabin categories you are looking to book. 
Icon of the Seas
Image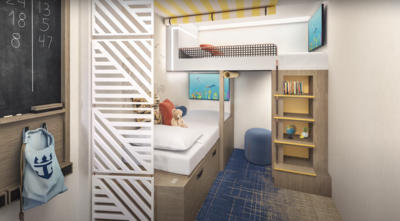 When Icon of the Seas launches in January 2024, 80% of her staterooms will be able to accommodate three or more guests, making it one of the most family-friendly cruise ships at sea. 
Their Family Infinite Balcony stateroom will include in-room games, a split bathroom, and separate bunk bed area for children that can be closed off for privacy. And kids will love having their own television inside of their bunk!
Another brand-new stateroom category will be Surfside Suite. While you will not have direct oceanfront views, the enlarged stateroom will include a separate nook for children that has the ability to be closed off. Additionally, children will be able to stand out on the balcony and look out at the neighborhood that was designed for them! 
Best Norwegian family cabins and suites
Image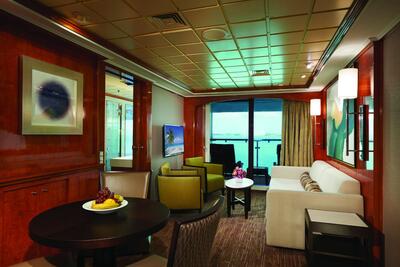 Norwegian's best family cabins are their family suites and villas that can sleep five or six people. Two-bedroom suites offer separate spaces for parents and kids, two bathrooms, and – more importantly – two televisions, as well as a shared hangout with dining table and private balcony. 
On most ships, guests in these family suites have access to The Haven with their incredible VIP perks, exclusive pool deck, lounge, and exclusive restaurant.
Budget-conscious families can still find plenty of cabins that sleep four. Rooms dubbed "family balcony" or "family inside" are standard cabins that sleep four and are located near the kids club and pool deck. 
However, Family Oceanview cabins on select ships sleep up to five and may have a bathtub rather than the typical shower. Family Club Balcony Suites are mini-suites that sleep four; some of these rooms offer a tub, as well.
Other Norwegian cabins that sleep 4 or more
Image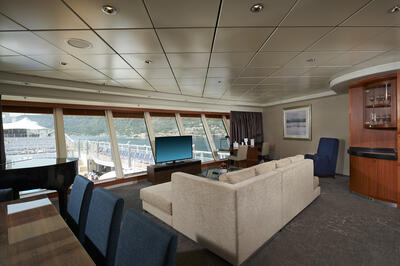 Most, but not all, of Norwegian Cruise Line's suites can sleep four or more, even if they're not targeted at families. The Three-Bedroom Garden Villa, for example, would make an incredible family retreat with its multiple bedrooms and bathrooms, huge living area, and private sun deck with hot tub, lounge seating, and outdoor dining table.
Select standard cabins can accommodate families of four as well. Connecting rooms across categories allow for a roomier home-away-from-home, and curtail any fights about closet space and control of the limited bathroom shelves.
Related: Top 10 cruise cabin hacks to make your stateroom more livable
Best MSC Cruises family cabins and suites
Image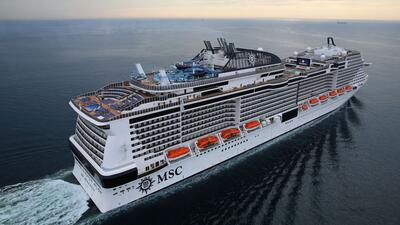 For a super family cruise, book into one of MSC's Super Family suites. The accommodations are actually groups of two or three connected cabins that can sleep up to 10 people. For example, on MSC Meraviglia, the Super Family room can house up to six passengers in two connecting balcony cabins, while the Super Family Plus Balcony suite can sleep five to nine guests in two balcony cabins connected to one inside cabin.
These Super Family options are booked with MSC's Fantastica experience, which includes room service, additional kids' activities, and one free professional photo to commemorate your family vacation.
Other MSC cabins that sleep 4 or more 
Image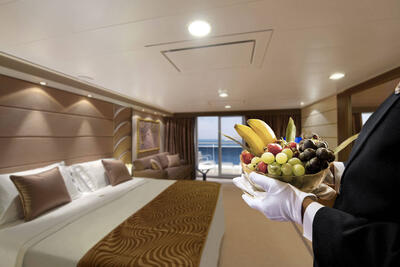 A few Yacht Club suites can sleep four with a double sofa bed in the living room. These include Royal Suites and duplexes. Plus, Yacht Club guests get the royal treatment with 24-hour room service, a personal butler, free Wi-Fi, and access to the Yacht Club restaurant, lounge, and pool deck.
You can find cabins with room for three or four guests in nearly every cabin category. Extra berths come in the form of bunk beds, sofa beds, or Pullman beds. Most adjoining cabins are considered family cabins, though there are a few connecting rooms in the least expensive Bella experience level.
Still confused about cruise rooms? Learn more about how to choose a cruise ship cabin.