Traveling with a family can be especially challenging these days. So, for our winter break trip this year, I decided to skip much of the vacation planning and instead book a 6-night cruise aboard Royal Caribbean's Odyssey of the Seas. While I did have to do some planning in advance, once we got on board, we were able to relax and enjoy our trip with no stress.
We found that Odyssey of the Seas had wonderful activities for kids, and my teens were able to find many exciting things to do. With six days on the ship (including two full days at sea), there were so many activities that my kids were never bored, and we even left without them trying everything to do on the ship.
Image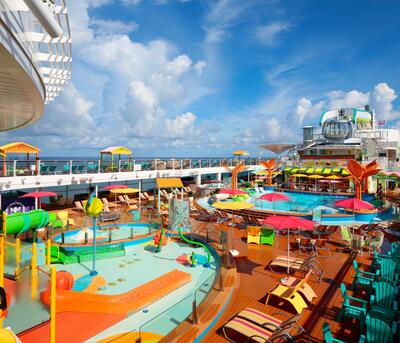 Before our sailing, we had received a RoyalUp email offering us the opportunity to bid for a stateroom upgrade. We took the opportunity to bid on a Grand Suite (one bedroom) and were thrilled to have our bid accepted. Our suite concierge was extremely helpful in organizing activities for us, making our trip even more seamless.
Here are some of the fun activities offered on Royal Caribbean's Odyssey of the Seas.
Foot Pool/Giant Chess
Image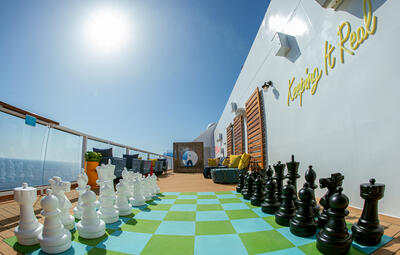 Before we even set sail, my kids found the giant foot pool game located outside the SeaPlex area. Foot pool is a hybrid of billiards and soccer and is played by kicking the cue ball following the rules of pool. It's very fun, and we played a few times during our sailing.
There are also giant life-sized chess boards, including one on the exclusive teen deck. These are a great way to enjoy playing chess in a whole new way, while also enjoying the beautiful outdoor weather. My kids played several times.
North Star
Image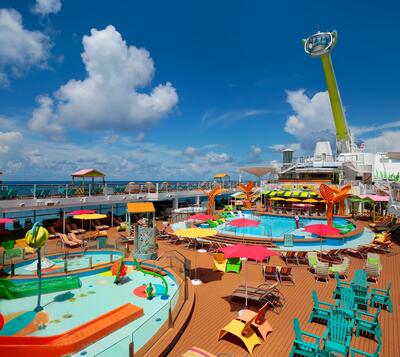 One of the most innovative features of the Quantum Class Royal Caribbean ships is the North Star. An observation pod that travels above and to the sides of the ship, the North Star gives cruisers the opportunity to the sites beyond the ship from a unique vantage point. It's a relatively short ride but offers a view that can't be beaten.
Luckily, our suite concierge pre-booked our North Star experience for the afternoon of our day at Perfect Day at CocoCay. It's complimentary, but reservations were required. We still had plenty of time at the island, but then returned in time to experience beautiful views of both the Caribbean Sea and Perfect Day at CocoCay while we were still docked.
SeaPlex
Image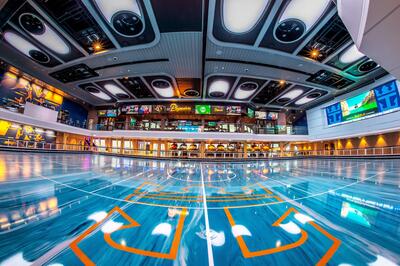 The SeaPlex is an exciting and action-packed area of the ship. At times, it hosts bumper cars at sea. This is a free activity and is very popular. Find the times in the Cruise Compass and line up for your turn.
At other times the SeaPlex offers pick-up basketball and ping pong courts. It's surrounded by arcade games, and Playmakers Sports Bar and Arcade overlook it. We spent quite a bit of time in the SeaPlex - it's an especially fun area for teens.
Sky Pad
Image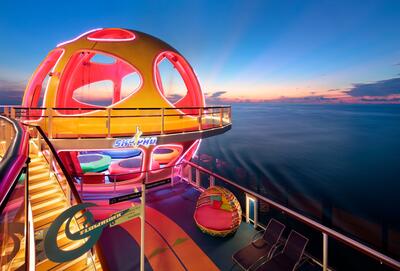 The Sky Pad, located outdoors by the iFly and FlowRider, is a bungee trampoline with an optional virtual reality twist. After a brief video, you'll be harnessed and fitted with a VR headset. As you bounce, you'll be transformed into a new location.
The Sky Pad is offered on a first-come, first-served basis. We found that the lines were generally pretty short, and you could definitely do it more than once during your sailing if you wanted to.
Pool Deck
Image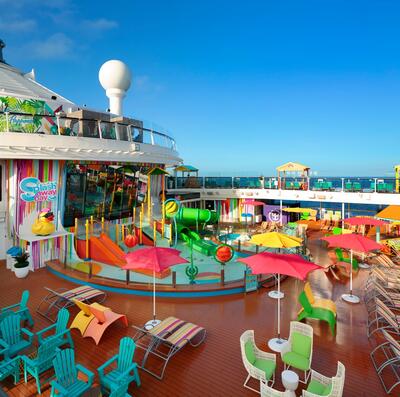 Of course, after a long winter in New England, we were excited to spend some time in the pools and on the sun loungers. Odyssey of the Seas offers a resort-style pool deck, with lots of chairs, two pools, and several outdoor whirlpools. As suite guests, we also had access to the suite-only sundeck which was almost completely empty during our visit.
For younger kids, the pool deck is also home to Splashaway Bay. This water play area offers small slides and splash zones.
Shows on Odyssey of the Seas
Image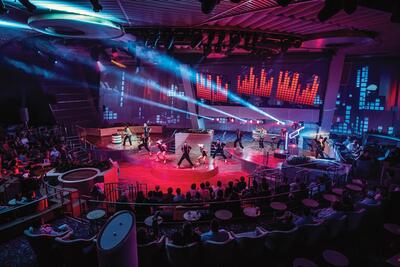 Royal Caribbean ships offer compelling entertainment, and the Odyssey of the Sea is no exception. During our 6-night cruise, there were two musical productions scheduled. The Book, an innovative show located in the technologically advanced theater space in Two70, was scheduled for the first five nights of our trip. Reservations were required and were easy to obtain in the Royal Caribbean app.
The Book is a unique show that is tough to explain, but it is incredibly entertaining. My daughter loved it so much that she wanted to go back a second time.
On the last night, we saw the Effectors, which was performed in the Royal Theater. The Effectors is exclusive to Royal Caribbean and tells the story of a group of superheroes who use creative powers to fight evil. It's an entertaining show utilizing special effects including lights and drones and is a must-see. Again, reservations were required for the show, and we were easily able to make them on the app.
Flowrider
Image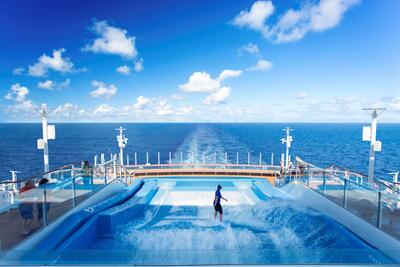 The Odyssey of the Seas also offers a Flowrider surf simulator. Located by the Sky Pad, the Flowrider is also open to guests without the need for reservations. A height limit does apply.
Spa
Image
At one point, while my kids were in our stateroom working on homework, I snuck out for a spa treatment at the Vitality Spa onboard. While I decided to do a salon service, they do offer a number of treatments including massages and acupuncture. They can (and should) be booked in advance.
Other activities on the Odyssey of the Seas
Image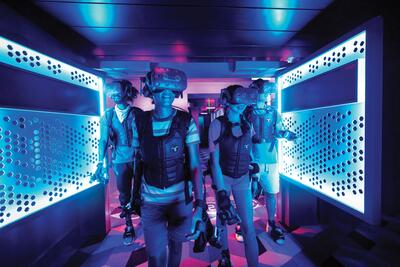 Despite having six days on the Odyssey of the Seas, there were still some additional activities that we didn't have time to participate in. These include the Ripcord by iFly skydiving simulator, Laser Tag: Clash for the Crystal City, and the virtual adventure zone. There are also several kids clubs - offering different activities based on kids' ages. 
While we were sad to have missed out on some activities, it's always nice to know that we can return to the ship and try some completely new-to-us activities.