Carnival Cruise Line just debuted its newest mega-ship, Carnival Celebration - and there's more to eat onboard than you can even imagine. 
While Carnival Celebration shines in many ways, one of the most impressive features was the sheer number of dining venues available onboard. 
The brand-new Carnival Celebration can hold nearly 6,000 passengers, so it only makes sense the cruise line added more than a dozen dining choices to accommodate the onboard crowd.
Image
From quick, casual dining to speciality restaurants and SeaDay Brunch, there is no shortage of eating options on Carnival Celebration. In fact, with so many places to try during our 7-night cruise, we nearly ran out of time to try everything we wanted to.
Image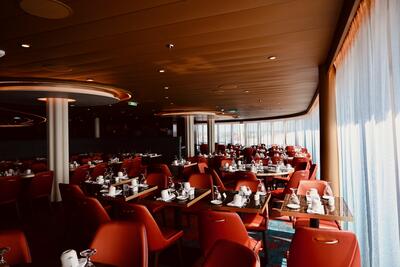 Although most dining choices on Carnival Celebration are complimentary, the snazzy and stylish new cruise ship offers a few for-cost speciality dining choices as dining alternatives.
Image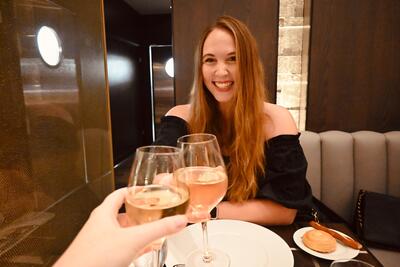 As with most cruise ships, speciality restaurants provide an opportunity for cruisers to enjoy an elevated dining experience during their vacation. Typically, specialty dining comes with higher quality food and more upscale ambiances that are nestled away from the onboard crowds.
Carnival Celebration's specialty restaurants include:
Fahrenheit 555 Steakhouse
Bonsai Sushi & Teppanyaki
Rudi's Seafood
Emeril's Bistro 1397
Two other restaurants onboard, ChiBang and Cucina del Capitano, are specialty-style restaurants that are surprisingly included in the cost of your cruise fare.
Image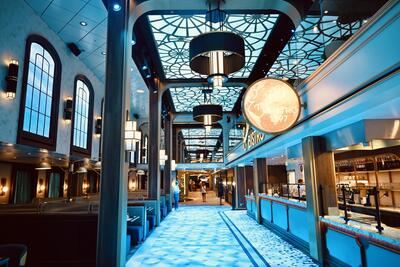 During one of Carnival Celebration's first sailings, we tried the best speciality restaurants onboard; read on to see our honest thoughts on everything these dining venues had to offer.
Fahrenheit 555 Steakhouse
Carnival Cruise Line describes its speciality steakhouse as a dining experience where haute cuisine meets atmosphere. The menu features choices like lobster, lamb, and steak cuts with great service to cultivate an evening you won't soon forget.
In all honesty, I absolutely love a tender, juicy steak so I was very excited to see how Fahrenheit 555 compared to other steakhouses - both on land and at sea.
Image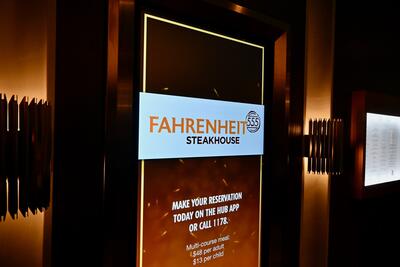 This was actually my first specialty restaurant on a Carnival cruise ship. Before boarding Carnival Celebration, we pre-booked Fahrenheit 555, which proved to be the right choice because the cruise line announced a price increase from $42 to $48 per person for the venue shortly after we booked.
Fahrenheit 555 has a beautiful and elegant atmosphere complete with a full bar and multiple spaces for dining. We were seated very close to other tables, which made the room feel more cramped, especially when compared to other speciality restaurants we've tried.
Image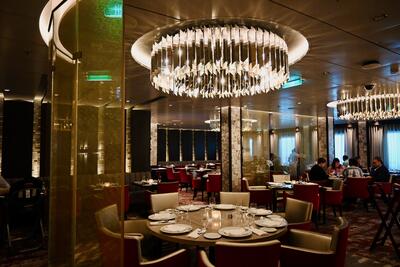 Upon arrival at the restaurant, we were told that we could only select one appetizer, one soup or salad, one entree with two sides and one dessert. This was slightly off-putting, as we appreciate the opportunity to try multiple appetizers, sides and desserts in specialty restaurants - especially considering the serving sizes are quite small.
Image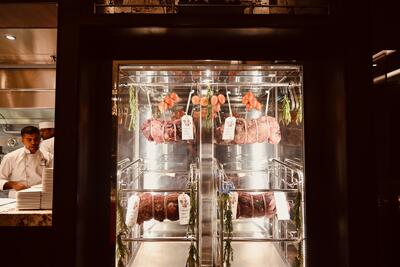 When already paying extra for a dining experience on top of your cruise fare, I wouldn't expect there to be limitations for how much you can order (within reason, of course!). I could understand being limited to one entree, but the other limitations certainly deterred from the elevated dining experience.
Each table is offered a complimentary bottle of wine to share, so we chose the house white to sip throughout our meal.
Image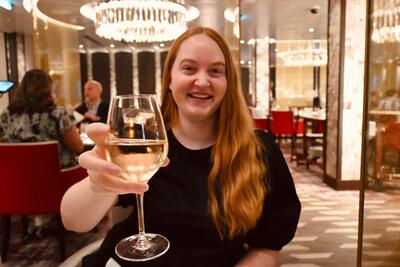 Our dinner started with a very tiny hamburger, which was both adorably cute and delicious. Apparently this is a signature starter for Carnival in their steakhouses. 
Image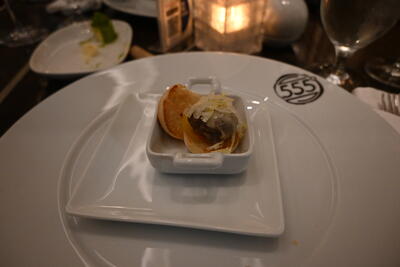 Both of us opted to choose the heritage berkshire pork belly for an appetizer, which was tasty and served with warm bread on the side.
Image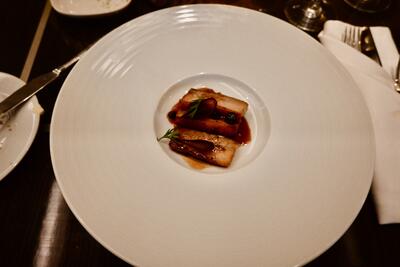 We opted next for a creamy Caesar salad and warm, cheesy French onion soup next. I am sure the lobster bisque would also be enticing for seafood lovers. 
Image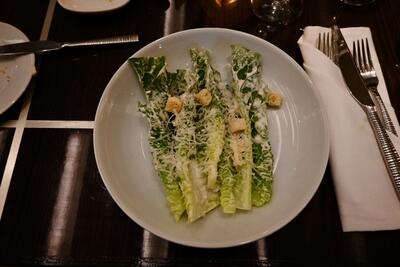 The main event was our entree course, in which we chose to try the broiled filet and roasted chicken. Although the steak temperature was cooked perfectly, the lingering broil taste left a little to be desired.
Image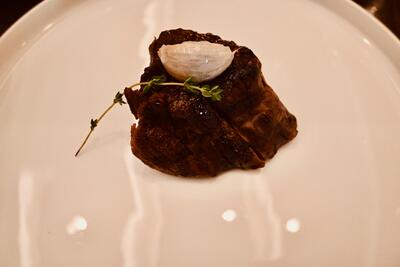 The bone-in chicken entree was massive, juicy and tender, which we both liked. Our favorite sides were the mac & cheese and mashed potatoes - both were excellent and complemented the meats entrees.
Image
Dessert featured a biscoff-crusted cheesecake and melting chocolate dome - the perfect sweet ending to our meal.
Image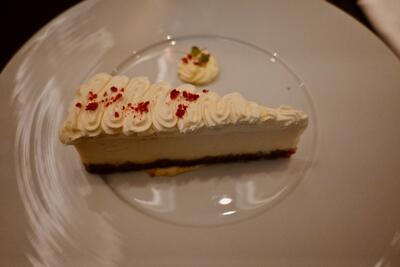 Overall, we enjoyed the dazzling, quiet atmosphere and excellent service throughout our evening.
While Fahrenheit 555 certainly offers a higher-quality meal, we were pleased with our meal but not overly thrilled. Perhaps if we could have sampled more of the menu, we might have been more impressed with our experience.
Emeril's Bistro 1397
Thanks to famed celebrity chef Emeril Lagasse, Carnival Celebration is home to the second-ever Emeril's Bistro at sea (the first at-sea restaurant debuted on sister-ship Carnival Mardi Gras in 2021).
Image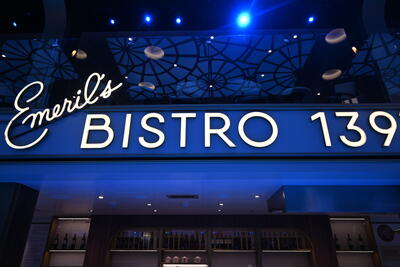 The a-la-carte speciality restaurant features reasonably priced meals with creole flair and bayou flavors.
The week before our cruise, I had the opportunity to dine at a local Emeril's restaurant; unfortunately, this was a poor experience. The food was overpriced and quite possibly one of the worst burgers I've had at a restaurant.
Image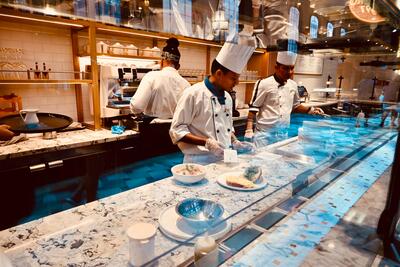 Needless to say, my expectations were pretty low before trying Emeril's Bistro 1397 onboard Carnival Celebration.
With an all-day menu serving up breakfast, lunch and dinner, we were most intrigued by the breakfast offerings. Emeril's Bistro 1397 is located in The Gateway zone onboard Carnival Celebration with a designated, cafe-like seating area.
Image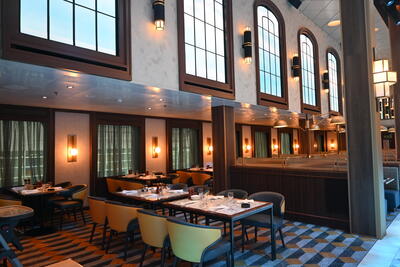 On our third day, we opted to try Emeril's for breakfast while the ship was docked in Cozumel. We ordered the Banana's Foster Crepes and Breakfast Po-Boy. Given the massive line at the speciality coffee shop, I also ordered a latte to complement our breakfast selections.
The menu was reasonably priced with almost everything costing around $6 each.
Image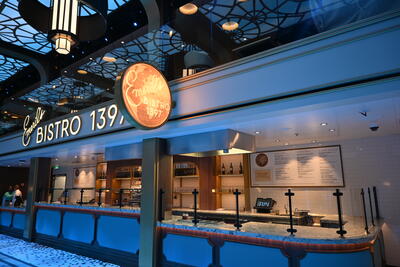 Service was quick and the atmosphere was casual while still feeling like an elevated-dining experience. A reservation is not required, although seating is limited.
The Breakfast Bacon Po-Boy was incredibly delicious; it was cheesy, well-seasoned and served on a warm baguette. It was a large serving as well considering the $6 price and served with hand-cut chips. 
Image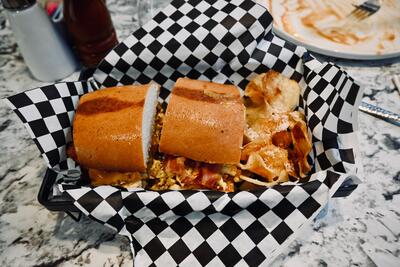 The Banana's Foster Crepe balanced the savory sandwich, served with carmelized bananas and a special surprise on top- a scoop of vanilla ice cream! It was so good that I didn't get the chance to get an untouched photo because my sister took the first bite. 
Image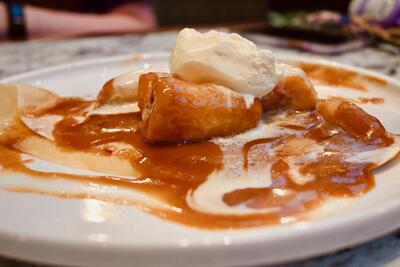 We were so impressed with our experience that we decided to go back on the last sea day of our cruise so we could sample more breakfast items.
This time, we opted for the ham croissant sandwich served with sweet potato fries and the sweet potato waffle.
Image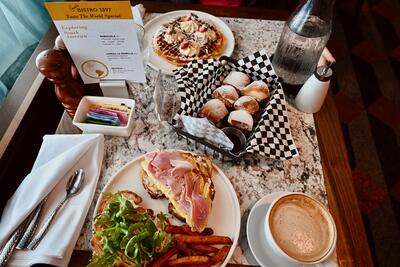 The menu also featured beignets; these small, pillowy balls of fried dough were calling our name all week, so we indulged in an order of these New Orleans classics since it was our last chance to do so.
Image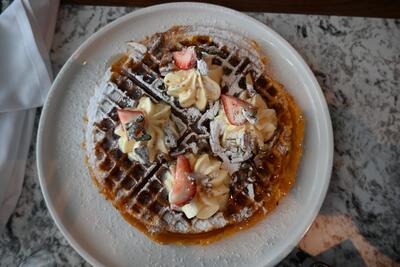 Again, everything was a slam dunk that we ordered from Emeril's, especially the beignets, which were to-die-for. These are served with chocolate and strawberry sauces; I think these could be delicious for any meal at Emeril's, not just breakfast. 
Image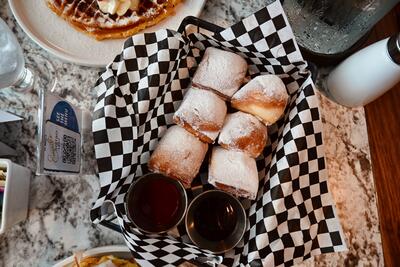 After disembarking Carnival Celebration, we've found ourselves craving Emeril's more than anything else we had onboard; it's safe to say this was our favorite speciality dining restaurant on Carnival Celebration.
Bonsai Teppanyaki
In a first for us, we also pre-booked an evening dinner to be enjoyed at Bonsai Teppanyaki for $38 per person.
Located in Celebration Central, Bonsai has a separate area for its sushi restaurant and teppanyaki grills. Although we aren't fans of sushi or fish, we were excited to have a teppanyaki experience at sea.
Image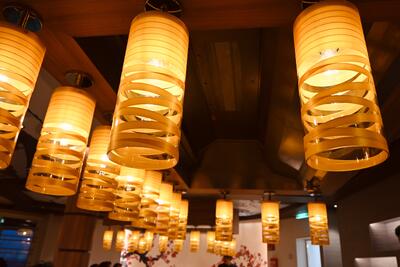 The night before our reservation, we received a call from Bonsai to confirm our reservation for the following evening. We were told we would be charged $25 each for not showing up, which makes sense considering there are only limited seats at each grill.
Image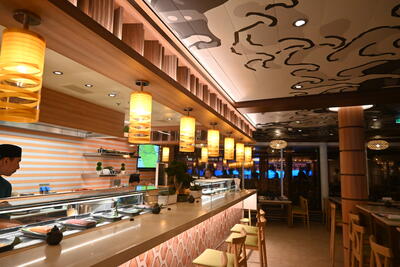 There are three grills in the teppanyaki restaurant, each with ten seats surrounding the grill. Once seated, a waitress came around and asked for any dietary restrictions and our choice for meat entrees.
Image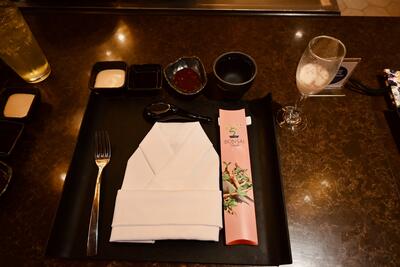 I opted for the steak and chicken combo, although you could also choose shrimp for your entree as well. We also told the waitress that we didn't necessarily want the appetizers that involved fish or tuna.
The waitress served us edamame with the pork belly yakitori; around this time, our teppanyaki master introduced himself and started the interactive grill experience.
Image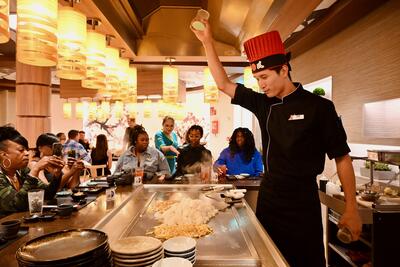 We watched as he chopped, cooked and seared vegetables with globs of garlic butter; of course, he impressively scrambled eggs. The highlight was the giant flames pouring out of the onion tower.
Image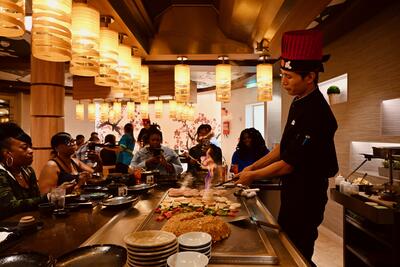 The fried rice was served first as we watched the teppanyaki master perfectly cook our meat entrees to our specified liking.
With multiple sauces available for dipping (our favorite being the yum-yum sauce), we loved our entrees; in fact, the servings were so hearty that we weren't able to finish our meals despite how delicious everything tasted.
Image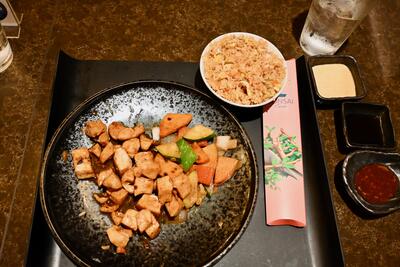 Our meal was finished off with a chocolate bento box; six little compartments featured a variety of miniature desserts like green tea ice cream, a chocolate strawberry, a chocolate truffle and some sort of warm, alcoholic beverage.
Image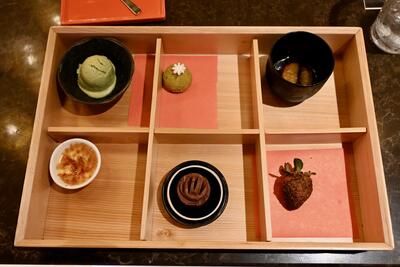 This meal was equally fun as it was delicious. The exquisite cooking skills of our teppanyaki master was very entertaining! The only downside is you are seated with strangers during the experience and seats are very close.
Honorable Mention: Cucina Del Capitano
Although this is a complimentary dining venue on Carnival Celebration, Cucina Del Capitano feels like it could be a speciality restaurant onboard. Research shows this restaurant with an $18 surcharge on other Carnival cruise ships, but it's complimentary on Carnival Celebration.
Image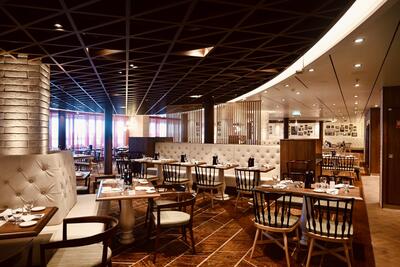 Specializing in Italian cuisine, we were so impressed with this alternative dining venue that we decided to dine here for two nights of our cruise. 
Since we had anytime dining, we were able to request a table at Cucina Del Capitano promptly at 5:30pm on the Carnival app and we received a table quickly both times. 
Image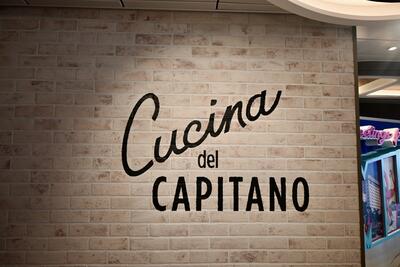 The menu here features plenty of Italian choices while also offering Carnival classic entrees. For starters, we enjoyed the arancini, caprese salad and meatball. We also tried the entree carbonara, short rib and chicken parmesan - all of these were excellent and the chicken parmesan was HUGE.
Image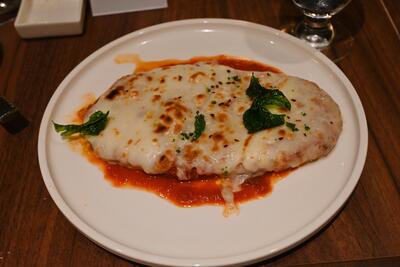 The warm atmosphere also feels more welcoming than the large main dining room; we particularly appreciated all of the photos of Italy around the venue.
Image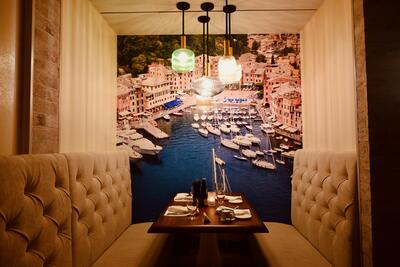 Honorable Mention: ChiBang!
Similar to Cucina Del Capitano, ChiBang is another complimentary venue on Carnival Celebration that has the look and feel of a speciality restaurant.
Image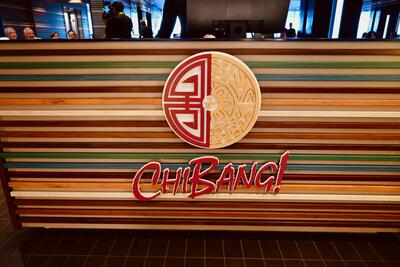 This new restaurant first debuted on sister-ship Carnival Mardi Gras - and it's been a popular choice for Carnival cruisers for! This restaurant features a full menu of both Mexican and Chinese offerings in a modern, colorful venue.
Meaning 'wing' in Mandarin, ChiBang is another fun alternative to the traditional main dining room and is open for both lunch and dinner.
Image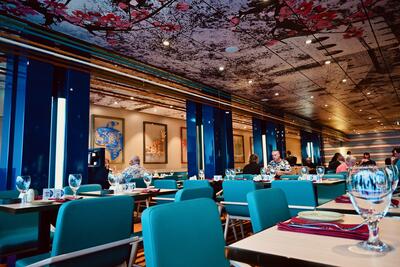 Just like Cucina Del Capitano, we were able to request a table to dine at ChiBang at 5:30pm on the Carnival app and we were seated quickly. Since we had eaten burritos for breakfast from BlueIguana, we opted to try the Chinese menu for our evening in ChiBang.
Image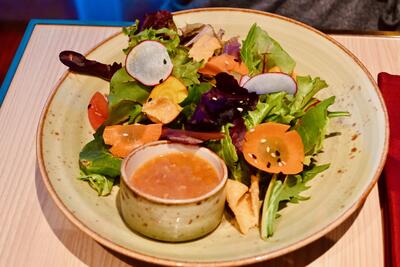 We started with the Mandarin Honey Crunch Salad and Chicken Spring Rolls - both were delicious and very fresh. Additionally, we sampled the pork belly and, unfortunately, we were not impressed.
Image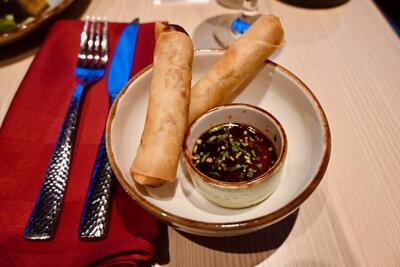 For entrees, we tried the Beef and Broccoli along with the Kung Pao Chicken with sides of hekka noodles, rice and broccoli. Again, everything tasted super fresh and flavorful. We really enjoyed our meals at ChiBang!
Image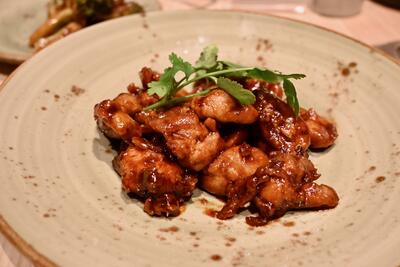 On a future Carnival cruise, I would have loved to try some of the Mexican menu options to see how those stack against the Chinese offerings.
Image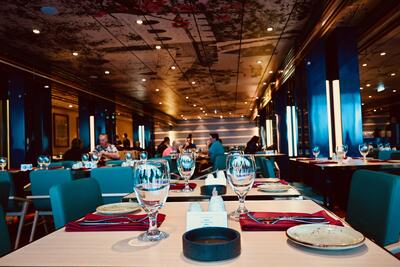 Dessert features a fun twist on Carnival's famous chocolate melting cake, with ChiBang serving up the Chocolate C-Bang with textured chocolate, salted fudge ganache, ginger and caramel ice cream. It was absolutely delectable, even with the hunt of ginger.
Is it worth it to try specialty restaurants on Carnival Celebration?
With so many complimentary dining venues on Carnival Celebration, you might be wondering whether it's even worth it to pay extra for any dining onboard.
Image
In short, yes!
It's absolutely worthwhile to try the specialty restaurants onboard Carnival Celebration, particularly if you appreciate higher quality food in a quieter dining environment. As someone who cruises frequently, I've found a new love for specialty dining for these very reasons. 
The speciality dining options onboard Carnival Celebration are certainly worth a try, particularly the Bonsai Teppanyaki and Emeril's Bistro 1397
Bonsai Teppanyaki is worthwhile because of the interactive and entertaining dining show you receive with your meal, although the flavorful food is worthwhile in and of itself. If you have kids who enjoy teppanyaki-style food, this would be a great choice to switch things up for one night on your cruise or to celebrate a special occasion. 
Image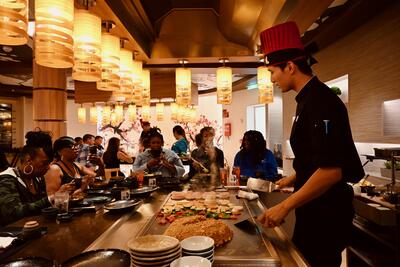 We particularly were impressed with Emeril's Bistro 1397, which was surprising! This cafe offers excellent quality food with very reasonable prices. The small seating area is more quaint than other crowded and busy spots onboard, especially breakfast in the Lido Marketplace buffet.
Image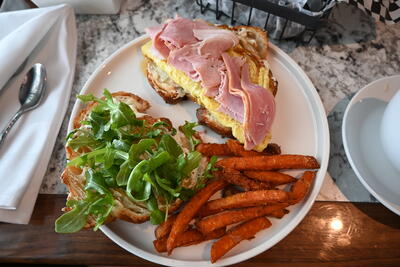 I'd highly recommend trying Emeril's Bistro, even if you only sample the out-of-this-world beignets.
As for the Fahrenheit 555 steakhouse, this one left a little to be desired for us. Perhaps the initial restrictions on how much we could order from the menu had our experience dampened from the start.
However, we did enjoy the ambiance and excellent service during our dinner; we also found our meals to be good, but nothing spectacular.
Image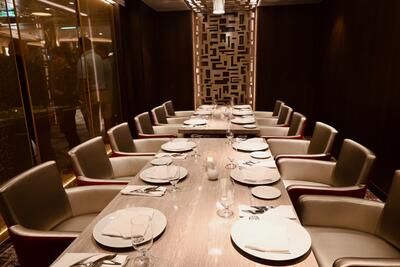 Of course, you have to try ChiBang and Cucina del Capitano for either dinner or lunch. Since these are complimentary venues, there's absolutely no reason not to try these specialty-style restaurants.
Overall, you won't go hungry onboard Carnival Celebration regardless of where you decide to dine; however, if you want an elevated or special dining experience, I would recommend saving room in your cruising budget to try some of these venues.