It seems like cruise culture is divided into two very different groups: people who love Carnival and people who love to hate on Carnival.
Those who love to cruise on Carnival are passionately loyal to the brand for its fun, energetic atmosphere and overall laidback style of cruising.
On the other hand, those who love to hate on Carnival Cruise Line compare it to Spirit Airlines or the Walmart of the Seas.
Image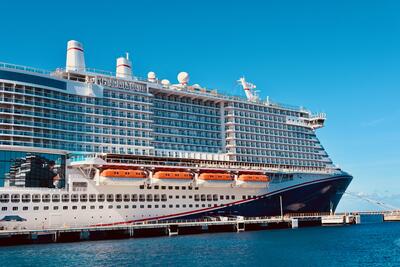 Surprisingly, I've toggled between the two groups this year. I never envisioned myself sailing on not one, but two Carnival cruises within the last few months.
Somehow I went from hating on Carnival to kinda loving the onboard experience and appreciating how the brand differentiates itself from other cruise lines.
In August, I sailed on Carnival Ecstasy right before her shipyard retirement. This cruise changed my opinion on the Carnival experience; while the ship was absolutely nothing special (in fact, she was somewhat falling apart), we really enjoyed the Carnival culture! I was shocked by how much fun we had, especially given our low expectations.
Image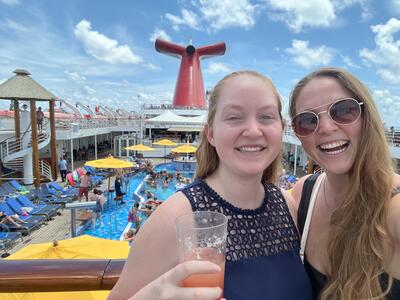 My sister and I found ourselves enjoying the nightly entertainment, the quick and casual food and joining in on the overall chill environment on Ecstasy.
We were so pleasantly surprised with our time on Ecstasy that we wanted to experience the best of what Carnival has to offer; so, we booked one of the first sailings on the cruise line's newest ship, Carnival Celebration!
Image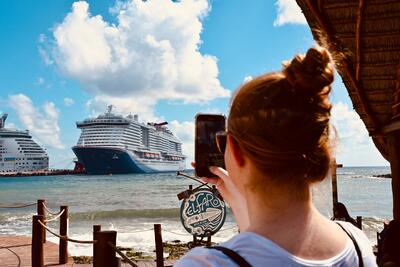 Here are 10 reasons why a new Carnival cruise ship is perfect if you've avoided Carnival Cruise Line.
1. Sail on the cruise line's biggest cruise ships
The brand-new Carnival Celebration is the second ship in Carnival's new Excel-class. Released in 2021 was sister-ship, Carnival Mardi Gras. These two revolutionary cruise ships have marked a new era of cruising for Carnival.
While Carnival Cruise Line has been known for keeping their ships wildly similar even across different classes, the Excel-class is unlike anything Carnival has built before.
Image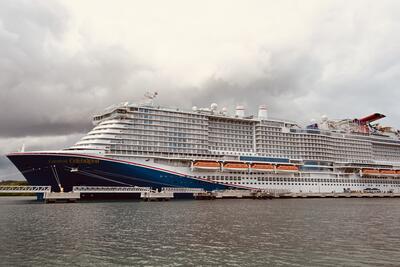 As other cruise lines continue to build mega ships, which have become essentially floating cities, Carnival had resisted the trend for many years.
Hopping on the mega-ship bandwagon, Carnival unveiled that its new ships in the Excel class could be bigger and better than anything the cruise line has built. These massive ships are nearly 40% bigger than the next-biggest cruise ships in the Carnival fleet with Carnival Panorama being built just 3 years ago.
Image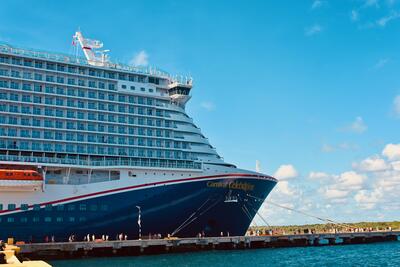 Carnival Celebration and Carnival Mardi Gras can each hold around 5,200 passengers when sailing at double occupancy.
With more real estate to work with, Carnival has really upped their game with these brand new cruise ships between the entertainment, dining and beverage venues, accommodations and onboard thrills.
Image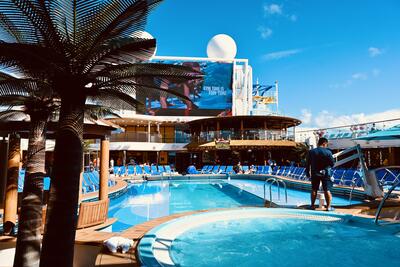 The ships are beautifully crafted as well; I would have never expected Carnival to design such a modern and aesthetically pleasing cruise ship.
Image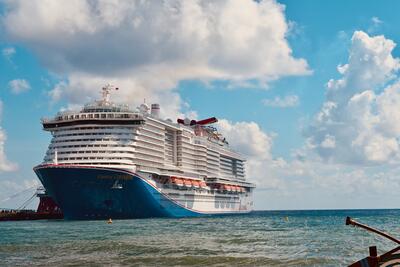 2. Dine in 20 different locations
The newest Carnival cruise ships have so many dining options onboard that we are struggling to try everything during our 7-night sailing. Both Celebration and Mardi Gras have a combination of sit-down and casual dining - and both have been impressive.
Image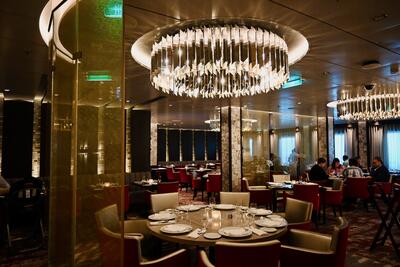 Cucina del Capitano, the onboard Italian restaurant, feels like a specialty restaurant even though it's a complimentary venue. The restaurant was covered with lovely pictures of Italy, creating an especially warm ambiance.
Image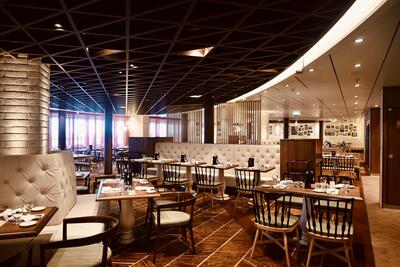 Similarly, ChiBang! Offers both dueling menus of Mexican and Chinese dishes in another could-be-specialty dining venue. Green chairs accent the cherry blossoms draped across the ceiling.
Image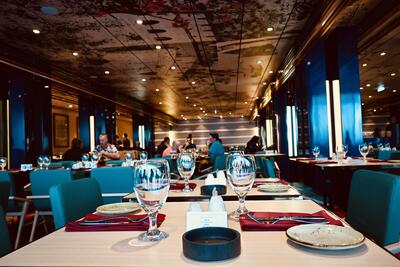 Carnival's experience is all about being casual, which is absolutely reflective in its non-traditional approach to dining. While you can still find the traditional main dining room, specialty restaurants and other sit-down places, we've been blown away by the casualty dining options onboard.
Image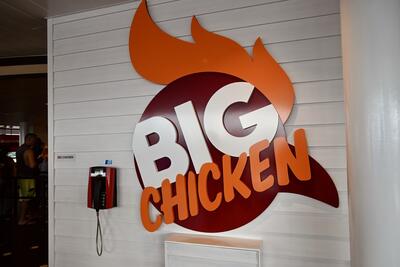 Guy Fieri's popular Guy's Burger Joint is joined by another dining spot by the same celebrity chef, Pig & Anchor Smokehouse | Brewhouse.
Image
Other famous celebrities, like former NBA player Shaquille O'Neil and chef Emeril Bagasse, have left their mark on Carnival's newest ships with Shaq's Big Chicken (which is outstanding) and Emeril's Bistro 1397 (serving up delicious, authentic bayou dishes).
Image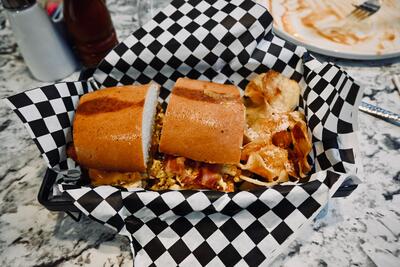 Street Eats is another unique dining addition that features small food stands serving up seafood, dim sum and French fries near the Lido deck.
Of course, you can find Carnival staples like pizza at Miami Slice, sandwiches from Deco Deli and burritos from BlueIguana.
Image
3. Enjoy mainstream and exciting entertainment
One of the biggest surprises for us on our Carnival Ecstasy cruise was how much we enjoyed the onboard entertainment. Everything was upbeat, fast-paced and geared towards a younger generation.
Carnival Celebration's entertainment debuts some really fantastic and mainstream shows.
Image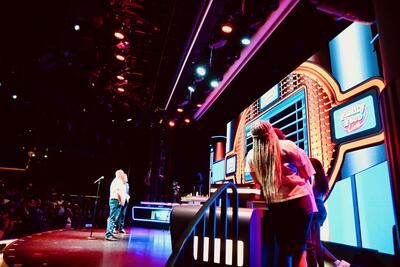 Punchliner Comedy Club is a signature venue on Carnival cruise ships, and there's plenty of comedy to go around onboard. With upwards of 100 shows during the 7-night sailings, you will be laughing your way through the cruise.
Image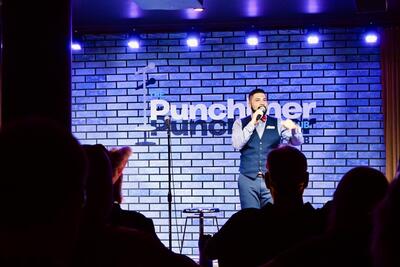 Carnival's classic era of cruising introduced the dazzling atrium in the 1990s, which has been replaced with the multi-leveled Celebration Central (also known as the Grand Atrium on Carnival Mardi Gras).
Image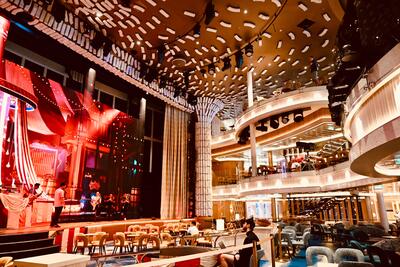 On Celebration, the center stage here is home to the extremely popular aerial show The Most Magnificent Circus - which has people camping out in the atrium for hours to snag seats. Truly, this was one of the best shows I've seen on a cruise ship.
Image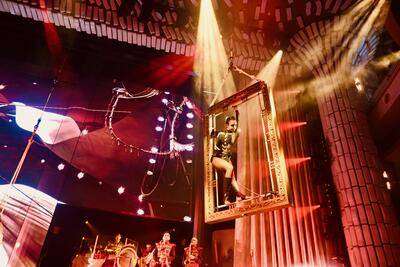 Another fabulous show in Celebration Central was Celestial Strings, which is styled during the regency-period and brings to life modern songs (think: Rhianna's We Found Love) with electric violins.
Image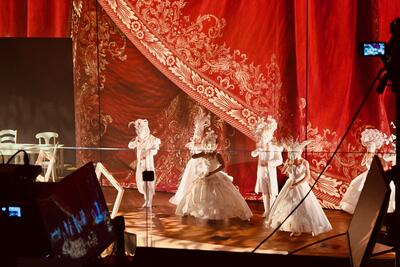 We also joined forces with friends onboard for SpongeBob Trivia, sang along at the Piano Bar and laughed our way through the Family Feud Game Show.
4. Ride the onboard thrills in the Ultimate Playground
As I've gotten older, I've been slowing growing out of the onboard thrill phase of cruising. While I used to love trying out the latest ride or slide in the last 15 years of my life, it hasn't been a selling point for me when choosing a cruise.
Image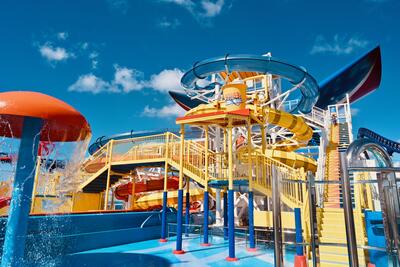 The last time I rode a waterslide was on Royal Caribbean's Mariner of the Seas, and I reveled a snail as I barely scooted my way down. I was so underwhelmed I didn't even bother going on the other slide.
However, Carnival has really impressed me with their onboard thrills in the Ultimate Playground, which I never expected!
Image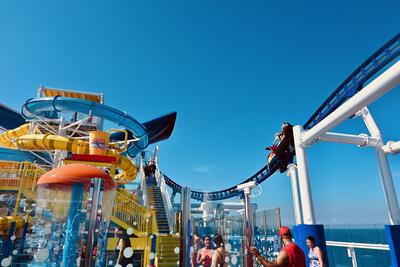 We chose to pay the $15 entrance fee to ride Bolt, which is the second rollercoaster at sea (the first debuted on Mardi Gras). As a former rollercoaster connoisseur, I figured Bolt would be nothing more than a glorified kiddy ride - yet we found ourselves screaming and laughing as we reached speeds of 40 mph!
Image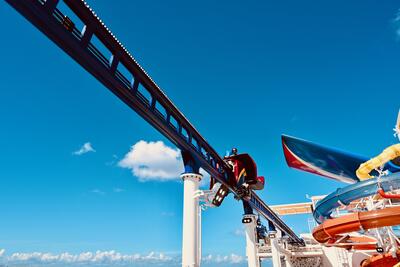 Bolt really got our adrenaline pumping, leaving us with a permanent smile and racing heart after we got off the ride. I would have hopped back on for another turn if I could have.
Image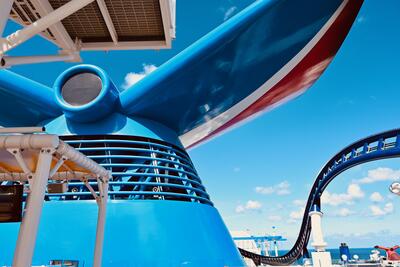 We also opted to try the waterslides as we saw more adults than I expected taking their turns going down. One of the slides has you in a little capsule where you hear an ominous countdown for the floor to drop below you - shooting you down the orange tube.
Image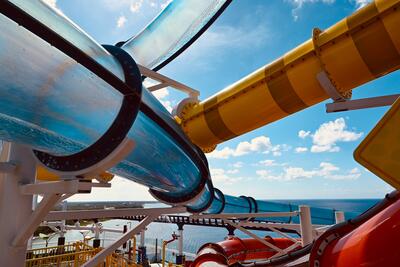 A blue slide has you going face first on a mat while a yellow option has you twisting and turning to the bottom. I was stunned by how much fun these slides were; they reveled an actual waterpark!
The Ultimate Playground also has a walking path, ropes course, miniature golf, and sports court.
Image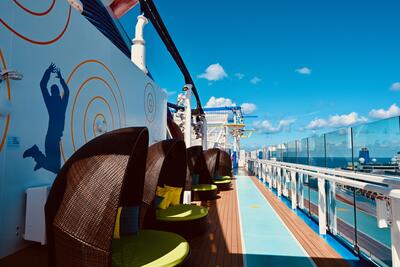 5. Enjoy the largest ever adults-only Serenity
With Carnival considering itself to be the most fun ships at sea, this inevitably attracts a lot of families onboard.
As someone without kids, I do appreciate the opportunity for a little peace and quiet to kick back, relax and sip on a cocktail. I can imagine that parents onboard also need a space to retreat to.
Image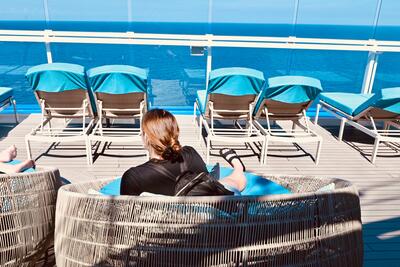 Carnival Celebration and Mardi Gras created the biggest adults-only Serenity of any cruise ship in the company's fleet.
While the Lido pool often feels crammed and busy, Serenity has provided the perfect place for us to sit on plushy loungers and relax. We've never struggled to find a daybed or chair in Serenity, which also features a small pool and bar in the center.
Image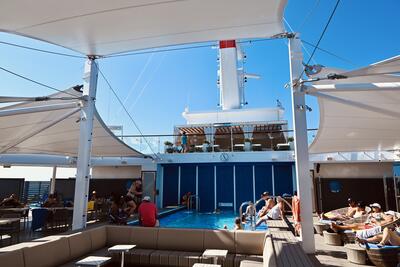 Although there are tons of families and kids onboard, adults can take advantage of Serenity and enjoy this expansive, relaxing space.
6.  Explore six different zones on the ship
With cruise ships become so massive, most are designed with certain zones - Carnival Celebration has six distinct zones onboard. Sister-ship Mardi Gras shares only three of these zones, which is a notable area where the two Excel-class ships differ.
Image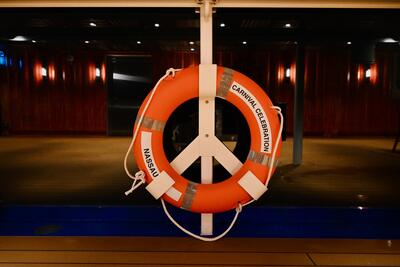 While some zones feel very distinct, others are not as self-contained.
Celebration Central is the modern-day version of Carnival's atrium with multiple levels. This zone congregate to a central stage for performances with seating, tables and chairs surrounding the stage. You can also find the JavaBlue coffee ship, Piano Bar 88, Punchliner Comedy Club and Bonsai Sushi & Teppanyaki.
Image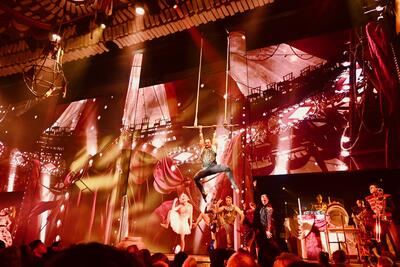 A Rolls-Royce can't be missed in Celebration Central, which was actually rescued from Carnival Ecstasy before its retirement in the scrapyard. Similarly, Aquaria Bar has a stunning two-deck rainbow mural extracted from the Carnival Victory.
Image
The Gateway
A personal favorite of mine, The Gateway is a zone inspired entirely by travel!
You'll find Latitude Bar here, which has design elements that parallel a train station; the bar is surrounded by famous cities around the world.
Image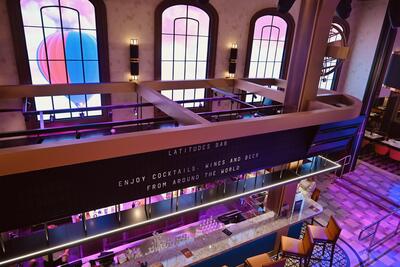 On the ceiling, you can find intricate travel designs that surround LED windows displaying scenes from around the world.
Image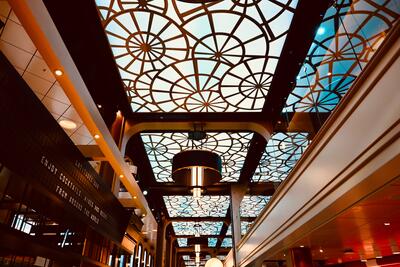 The Gateway is also where you'll find Emeril's Bistro 1397 serving up Louisiana-style dishes for breakfast, lunch and dinner. Not too far from Emeril's is Carnival Kitchen where cruisers can learn new cooking skills.
Image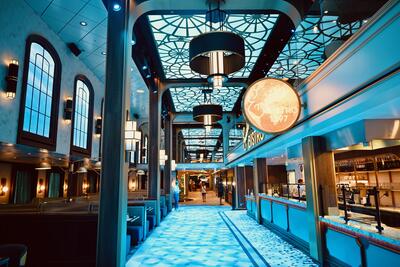 The Alchemy Bar sits atop The Gateway near Fahrenheit 555 steakhouse and Limelight Nightclub and Lounge. Two main dining rooms are also located in The Gateway is Carnivale Restaurant and Restaurant Festivale.
Image
The Ultimate Playground
As mentioned, this is where you can find Bolt, the waterslides, the ropes course, a miniature golf course, a sports court, walking path and even an area to play corn hole.
Image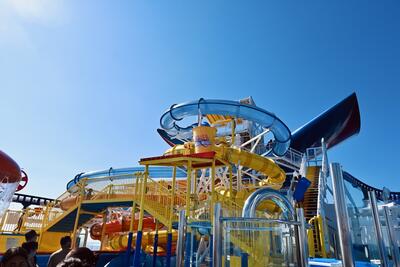 The Ultimate Playground is located at the aft of the ship and sits on the top deck, enclosed by the steel structure of Bolt. This colorful, fun area is perfect for kids and adults alike.
Image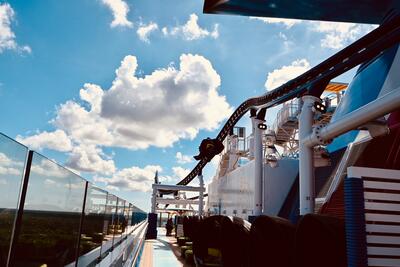 820 Biscayne
With Carnival Cruise Line being born in Miami, this zone pays homage to the city's history. With neon lights and bright colors, this zone is purposefully designed to look like Miami. A giant postcard greets you near an 820 Biscayne sign naming all of the venues in this zone.
Image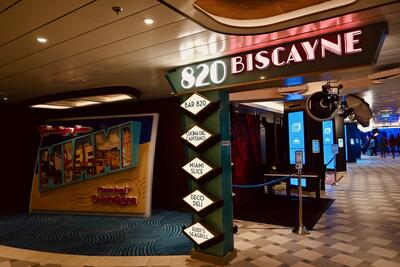 Located near midship on Deck 8, this is where you can find guest services, Miami Slice, Deco Deli, Rudi's Seagull, Cucina del Capitano and Bar 820.
Summer Landing
Continuing on Deck 8 near the aft of the ship, Summer Landing feels like home with giant screens to watch the biggest games live and Guy Fieri's Pig & Anchor Smokehouse and Brewhouse.
Image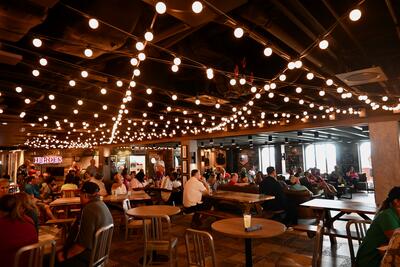 With string lights illuminating the ceiling and the floor covered with couches and picnic tables, this cozy area is a great spot to hang out. You can also find an ice cream station here served in a military vehicle near the veteran's dedication area.
Image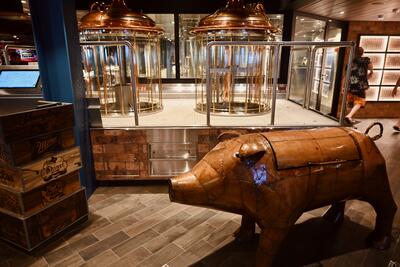 The Lido
All of the activity starts on the pool deck, so you can head to the Lido for a great place to swim, take a dip in the hot tubs, grab a cocktail at RedFrog Tiki Hut or lounge in the sun. You can expect the Lido to be packed during your cruise's sail away.
Image
You can also find Serenity with more pools and hot tubs, which also houses the Fresh Creation salad bar.
Image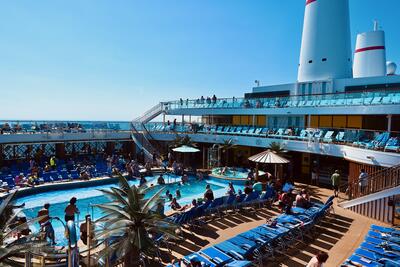 The Lido is also where you can find the Lido Buffet, Shaq's Big Chicken, Street Eats, BlueIguana Cantina and Seafood Shack.
7. Feel welcomed onboard by enthusiastic staff
One area where I felt Carnival Ecstasy fell short on our last Carnival sailing was the service we received; normally, we have excellent experiences getting to know the crew members. Perhaps the end-of-life was looming with Ecstasy and staff members had mentally checked out with their contracts coming to an end as well.
Image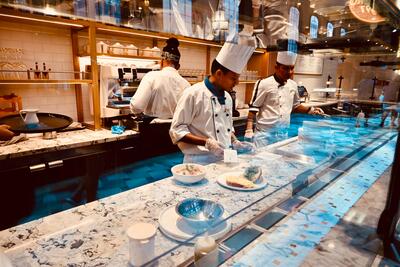 Carnival Celebration has made up for this prior disappointing experience. We've found everyone onboard to be attentive, welcoming and enthusiastic.
This is the type of service I've come to expect and appreciate when cruising. I love forming connections with crew members - and conversations with loyal Carnival cruisers onboard have echoed the same sentiment.
Image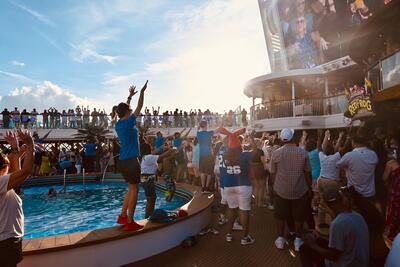 Our dining experiences on Carnival Celebration have been exceedingly better than we had during our Carnival Ecstasy sailing, which felt somewhat chaotic and rushed.
Speaking with some of the crew members, most seem excited to be working on the brand new ship with all of the amenities it has to offer.
8. Learn something new in Carnival Kitchen
You might not have time to take a cooking class at home, but Carnival has made it easy to learn a new skill on its brand new ships.
Image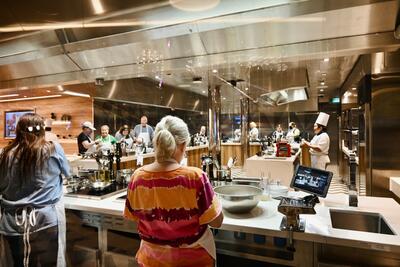 Carnival Kitchen is an innovative space where you can take a variety of classes, such as learning how to make homemade pasta and pizza from scratch.
This demo kitchen has individual working spaces with screens that help you follow along the instructor - similar to a view you'd see on a cooking channel.
9. Stay in modern and trendy accommodations
Although we are staying in the cheapest cabin onboard Carnival Celebration, the accommodations onboard are modern and trendy. For example, our inside cabin has a modestly sized shower that makes showers on older ships look pitiful in comparison.
Image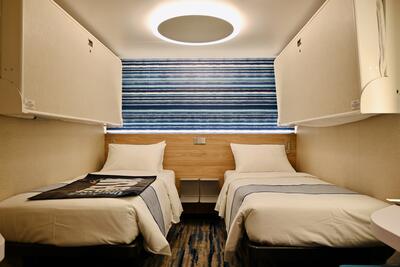 We also have USB plugs right next to our beds; the room is brightly lit with a ring light around the vanity mirror, which is perfect for getting ready in the mornings.
Image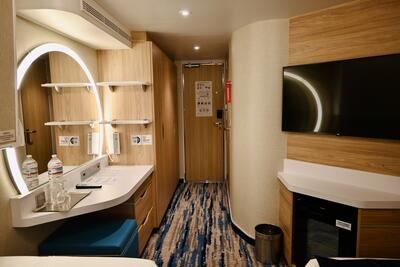 There's also multiple outlets and USB plugs on the vanity; in a device-driven world, it's almost necessary to have all of these outlets so we can charge our electronics each night.
While we aren't using the extra bunk beds in our cabin, we noticed that each bunk has 2 more USB plugs for those sleepers to use.
Image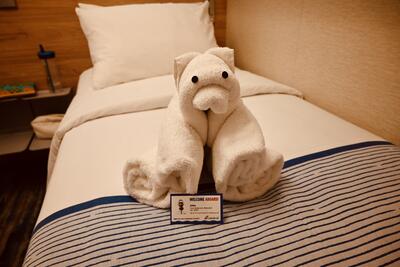 The cabin also features a huge closet with tons of shelving, storage and hangers, allowing us to unpack and get comfortable in the stateroom.
10. Sip on cocktails from around the world
Finally, are you really on a cruise if you don't have a few cocktails throughout?
Image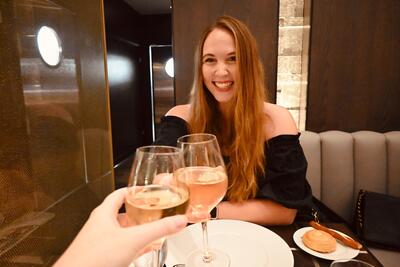 As someone who loves to travel, it's been super fun to see all of the cocktails available onboard, especially in The Gateway. Sipping a Sangria from Spain while looking at all the faux passport stamps was a real treat for me.
Image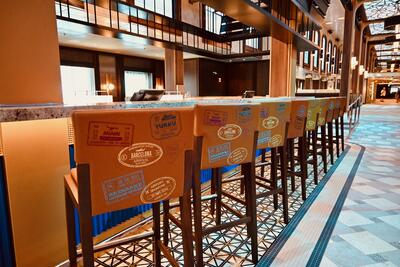 At Latitudes Bar, you can find specialty cocktails and drinks from around the world. Additionally, The Gateway has little scenes that change on the LED screens to really transport you to a different world.
Image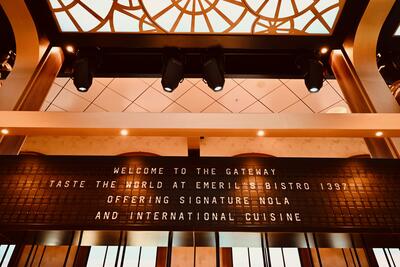 Another special area onboard is The Golden Jubilee, which pays homage to Carnival Cruise Line's history.
Image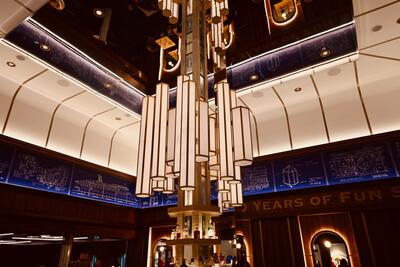 You can find old ship plans on the wallpaper, doors from ships prior and portholes with history of the cruise line. This is a really cool spot to have a drink during happy hour, especially for loyal Carnival cruisers.
Image