Each cruise line aims to offer a unique and unparalleled onboard experience to compete in the cruise industry. Because of this, there are so many cruise lines that can fit the travel styles of almost anyone.
There are things to like and dislike about almost every cruise line. At the end of the day, you have to find the cruise line that not only fits your budget, but also your cruising style and priorities.
As someone who has been a lifelong Royal Caribbean cruiser, it's always interesting to sail on other cruise lines to see how how the onboard experience differs. There are things that I grow to appreciate about Royal Caribbean when I venture to other cruise lines.
Image
On the flip side, there are things that I notice on other cruise lines that I sometimes like better than Royal Caribbean.
Just recently, I took my first cruise on Celebrity Cruises for a 4-night spring break sailing on Celebrity Silhouette. I absolutely loved my experience onboard! Because Celebrity is a sister-brand to Royal Caribbean - and owned by the same parent company - there were many similarities between the two.
Image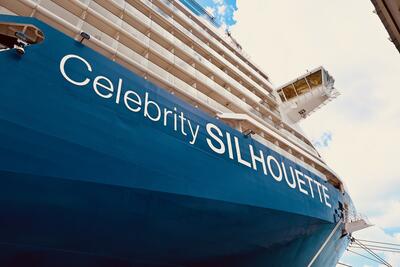 There were also some things that Celebrity Cruises does different than Royal Caribbean that I actually liked better. Here's a list of all the things - big and small - that I preferred on Celebrity.
Large interior staterooms
One of the first things I noticed on Celebrity was the difference in space on Celebrity Silhouette than previous inside cabins I've stayed in with Royal Caribbean.
Inside cabins are normally the smallest and cheapest staterooms on any cruise ship, but how the space is utilized is important.
Image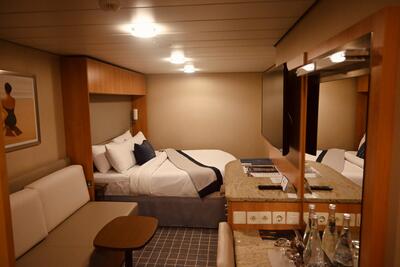 Royal Caribbean's inside staterooms have never left me disappointed, but I was very impressed by the seemingly spacious accommodations provided by Celebrity - even in a cheap interior cabin!
Our stateroom had a full-size couch and king bed, along with a small coffee table, closet, large vanity, ottoman and small vanity. We were shocked by the spacious bathroom in our cabin as well, which included a very large shower in comparison to Royal Caribbean's showers.
Image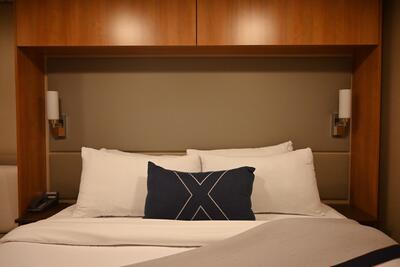 Overall, we did prefer this more spacious interior cabin on Celebrity compared to Royal Caribbean.
Self-service towel stations
It's become pretty standard for mainstream cruise lines to require towel check-in and check-outs to discourage cruisers from stealing. Royal Caribbean has been enforcing towel checks for many years, almost as long as I can remember.
Image
Once you get to the pool deck, you normally have to find the towel attendant and check out the towels you'll be using during that day. Once you're done, you have to return to the towel attendant to ensure you don't get charged for an unreturned towel.
It's not a huge deal, but it can be annoying when the attendant is not close to where you are
Walking into the Solarium on our Celebrity cruise, I noticed almost immediately that each chair had a towel perfectly folded placed atop a plushy lounge cushion. In addition, the pool deck had a large station where you could simply walk up to get a towel from a self-service station.
Image
Each pool deck chair also had a towel on the first day.
I didn't realize how a simple detail could make an impression on my pool day lounging, but not having to wander back and forth to the towel attendant was something I definitely liked better on Celebrity compared to Royal Caribbean.
No pushy photographers
While boarding Celebrity Silhouette, I was surprised to see that no one was waiting in the terminal to take our picture. Almost every cruise that I've been on has photographers immediately wanting to take my picture.
Throughout the cruise, this trend continued. We were never approached by anyone about taking our picture, which was a very welcomed change on Celebrity. With most phones being able to take free, high quality pictures, I am surprised Royal Caribbean still pushes professional pictures as much as they do.
Image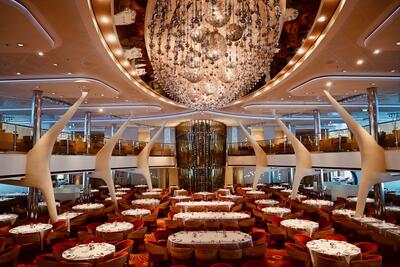 It was a nice change of pace to enjoy a meal without forcing a smile for the photographer, as I never want to be rude or dismissive. It's how they make money, but it also can be annoying each night at dinner. How many people actually purchase a picture of just themselves sitting at a dinner table anyway!?
Quality shower products
Royal Caribbean has a mysterious 3-in-1 shower product to use onboard in most cabins, unless you're staying in a suite. As such, I always pack my own shampoo, conditioner and body wash because I don't really trust the mysterious bathroom product they provide.
I was pleased to see that Celebrity provides actual shampoo, conditioner and body wash in their showers onboard. Even though we were staying in a cheap interior cabin, we were still provided these higher-quality products.
Image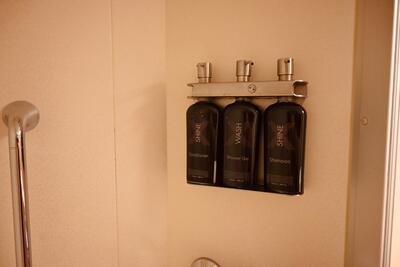 Not only is this more convenient because I don't need to take up suitcase space with my shower products, but it also makes the experience feel more luxurious compared to Royal Caribbean.
Refreshing towels and fruit water when returning to the ship
Our first port stop during this short 4-night cruise was in Key West, Florida. Of course, because it's Florida, the day was hot, humid and sunny. We opted to walk across the island to see the 'Southern Most Point in North America' statue.
Image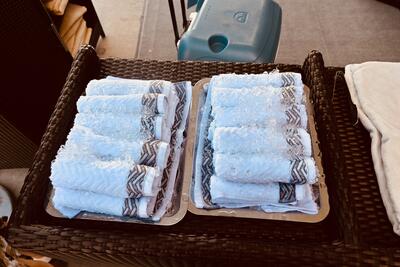 After a hot day wandering around the city, we were so excited to see Celebrity had set up a little tent for those of us returning to the ship. One of the crew members was holding towels that were so cold, you could see the ice still covering them.
This was so refreshing and such a thoughtful touch!
Image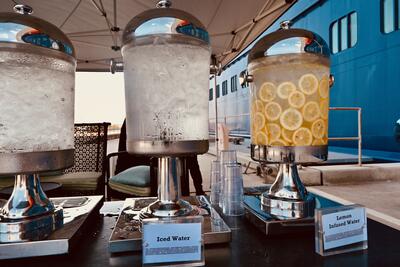 In addition, they had a water station with fruit-infused water available to drink. We happily cooled off under the tent with our cold towels and lemon water.
While Royal Caribbean will occasionally have a return tent with water, Celebrity went the extra mile by providing this ice cold towel for us to cool off with. Sometimes, it's the little luxuries that make a noticeable difference!
No upselling drink or dining packages
Throughout your Royal Caribbean cruise, especially during the first few days, it's not uncommon to be approached about booking an evening as the specialty restaurant. You can also find a crew member outside of the buffet trying to sell drink packages.
Not always, but sometimes, these crew members can be a little pushy about trying to sell you something. Again, I don't want to be rude so I usually strike up a conversation and change the subject before dismissing the offer.
Image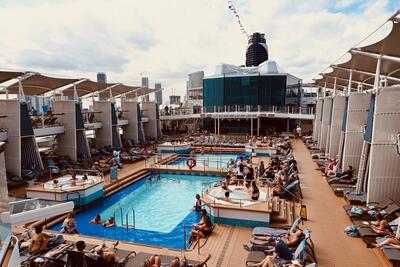 On our Celebrity cruise, we were never once approached by someone trying to upsell something to us. It was nice to feel as though we weren't being nickel-and-dimed during our time onboard, but rather that we could enjoy the amenities that we already paid for.
I understand that Royal Caribbean relies on these onboard purchases for profit, and that is why their cruise fares are cheaper most of the time. Either way, I did appreciate that Celebrity's crew members didn't approach us and try to upsell us anything.
Casino is smoke-free
Although I am not a huge gambler, I do enjoy spending some time in the casino onboard when I go cruising. It's fun to head to the casino and a few drinks on the slot machines. During the immediate post-pandemic cruising era, no smoking was allowed on Royal Caribbean ships and I really enjoyed this change.
Image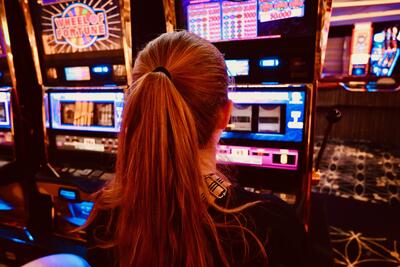 The casino has blankets of cigarette smoke normally, so having fresh air to breathe was welcomed for me. Now, the smoking is back onboard the casino for Royal Caribbean cruisers;
However, I was pleasantly surprised to see that Celebrity never allows smoking in their casino!
This is such a nice change of pace for those of us who don't smoke - and it's also healthier to not be breathing in second-hand smoke. I prefer Celebrity's smoke-free casino compared to Royal Caribbean - and I am probably more likely to spend more time in the casino because of it.
Extra stateroom amenities
Once we started to get settled into our cabin, we found a few amenities in our inside stateroom that we felt were notable.
First, we each had a robe already in the closet. I absolutely love having a robe to use while I am in my cabin and normally request one when I sail on Royal Caribbean. This robe provided by Celebrity was extremely soft and comfortable. I was so impressed and loved that it was already waiting for me in the closet.
Image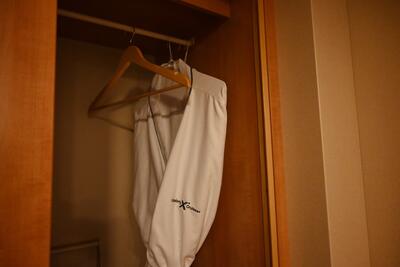 Next, we also noticed that the cabin had a Celebrity-branded umbrella for us to use. As a longtime traveler, it's important to always pack an umbrella, especially if you plan to spend a lot of time wandering around each port. Some destinations - like Alaska, British Isles and Norway - are more likely to be rainy.
It is nice that Celebrity Cruise provides you an umbrella to use for the duration of your cruise.
Complimentary tote bags
One evening when we returned to our stateroom, we were flattered to see that Celebrity had gifted us a free tote bag and pouch. This was something totally unexpected, but it was a really nice gesture from the cruise line.
Image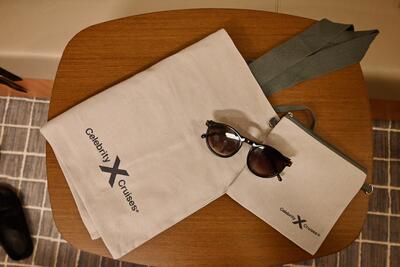 I already packed a tote bag to use around the ship, but my sister was excited to start using the new bag almost immediately. I am not sure if this is a loyalty-specific type of gift, as we received Elite reciprocal status from Royal Caribbean; but, either way, it was nice to return to our stateroom and find this complimentary bag for us to keep.
Special butter each night
This is one is a very minor detail in the grand scheme of cruising, but we really enjoyed how Celebrity offered us three different butters to try each night. Two of the flavors rotate each night while the center butter is plain old whipped butter.
Image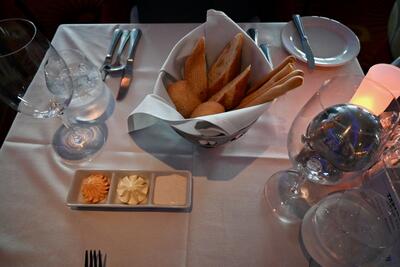 The first night, we tried sun-dried tomato butter while the other night we had ranch-flavored butter and garlicky herb butter. It was fun to try the different butters each evening in the dining room and added a special flair to the nightly bread basket.
Again, it's a very minor detail but these small things that Celebrity does throughout the cruise experience differentiate from the Royal Caribbean experience.
Cloth towels in the bathroom
Another small detail that we noticed on our first Celebrity cruise was how the public bathrooms onboard had cloth towels in the bathrooms instead of standard paper towels or blow dryers. We were surprised to find such a small, but luxurious, touch while we were onboard.
Image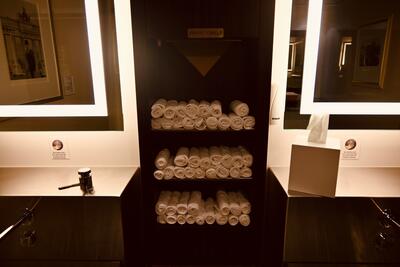 Drying your hands with a real cloth towel was a simple difference between Royal Caribbean and Celebrity, but it's something we did like better.
Unlimited cocktails during Captain's Club happy hour
This was our first Celebrity cruise, but we were able to take advantage of Captain's Club benefits through the cruise line's reciprocity status match program with Royal Caribbean. Since we are Diamond Plus members on Royal Caribbean, we were given Elite benefits on our Celebrity cruise.
Image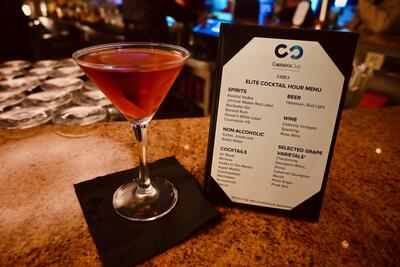 It was fun to compare the different perks between the loyalty programs, and we found a few differences that we liked. One of my favorite loyalty perks with Royal Caribbean is the daily drink vouchers, as I get five free drinks each day on my cruises.
Similarly, Celebrity hosts a nightly happy hour from 5pm-7pm for Elite members and above. This is a very lucrative benefit and, theoretically, you could drink as much as you want of the complimentary cocktails during these two hours. If you drank fast enough, you could do some damage during these two hours!
Limited announcements
It's common to hear multiple announcements throughout the day when you're on a cruise ship and this is pretty standard practice. On Royal Caribbean, the announcements aren't excessive by any means, but they are more frequent than you find on Celebrity Cruises.
Image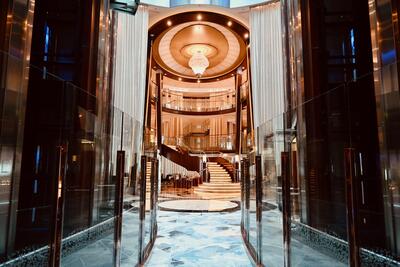 I think some of this can be attributed to less upselling throughout the cruise, as they aren't pressuring people to attend bingo or a spa giveaway.
Instead, Celebrity Cruises focuses mostly on the mandatory announcements of arriving and departing from certain ports rather than making announcements that are more 'fluffy'.
Final thoughts
Royal Caribbean and Celebrity Cruises might be owned by the same parent company, but the two cruise lines have different approaches to their onboard experience and amenities offered. 
I found that Celebrity focuses more on little touches and details throughout the cruising experience, such as special butter each evening, cloth towels in the bathroom, and complimentary tote bags. In addition, having more spacious cabins with more luxurious amenities made a big difference in our cruising experience onboard. 
Image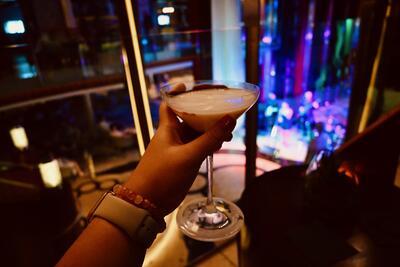 Overall, I was impressed with Celebrity's cruising experience and already can't wait to plan another one with the cruise line in the future; however, Celebrity is consistently more expensive than Royal Caribbean, so the price and itinerary has to be the right match for me to choose Celebrity over Royal Caribbean. 
Either way, both cruise lines provide an excellent value for cruising and I will continue to stick with Royal Caribbean and Celebrity Cruises in the future.