Are you someone that believes bigger is always better when it comes to cruising?
Larger cruise ships typically feature the latest and greatest when it comes to technology, entertainment, staterooms and dining options. More space onboard allows for a cruise line to squeeze more amenities and offerings for guests.
These days, cruise lines are continuing to construct mega cruise ships that are essentially floating cities with distinct neighborhoods. You can also find multiple classes of suites available and endless things to do and eat onboard.
If this is your style of cruising, then you've probably considered cruising on either Royal Caribbean's Oasis-class ships or Carnival's new Excel-class ships. Royal Caribbean and Carnival Cruise Line are both considered mainstream cruise lines, aiming to offer affordable and exciting cruise vacations.
Image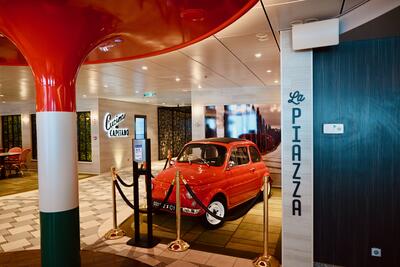 The Excel-class for Carnival and Oasis-class for Royal Caribbean have everything you could hope for in a cruise vacation: tons of activities, fun for all ages and a wide selection of dining, bars and entertainment onboard.
Both the Excel-class and Oasis-class represent the biggest cruise ships from both Carnival Cruise Line and Royal Caribbean. These massive cruise ships are revolutionary for both cruise lines, with each ship representing a new chapter in ship innovation, design and technology.
Image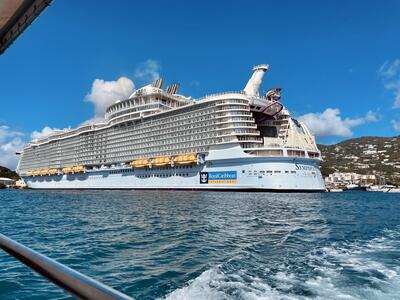 Last year, I was able to cruise on both of these ship classes. In February, I sailed on Harmony of the Seas for a Caribbean sailing with my family. This wasn't my first time on an Oasis-class ship, as I've also sailed on sister-ship Allure of the Seas.
Later in the year, I sailed on Carnival Celebration during its inaugural debut in North America. The ship blew me away so much that I decided to set sail on sister-ship Carnival Mardi Gras just a few weeks ago. 
Image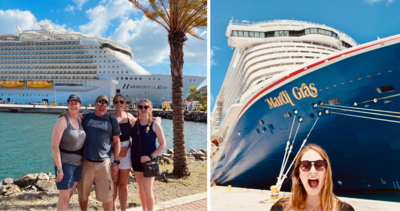 I was eager to see how Carnival's newest class of ships would compare to the wildly popular and trailblazing Oasis-class from Royal Caribbean.
Come along as we explore how these two mega ship classes compare from two of the most popular cruise lines.
Ship Class Overview
Royal Caribbean debuted its Oasis-class of cruise ships in 2009, much to the excitement of the cruise industry. There was no other ship that could compare to the innovative Oasis of the Seas at the time. From the ship's design and sheer size to the first-of-its-kind entertainment, Oasis of the Seas was the best of the best.
Image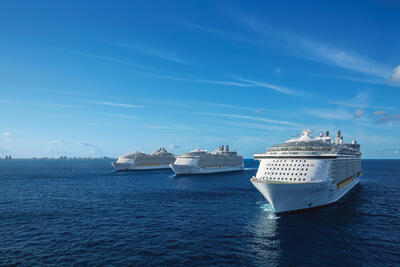 Following Oasis of the Seas, Royal Caribbean launched Allure of the Seas, Harmony of the Seas, Symphony of the Seas and Wonder of the Seas in the following years with Utopia of the Seas joining the fleet soon. The large ship class has proven to be one of the most popular designs in the cruise line's history.
With Oasis-class ships, Royal Caribbean introduced a ship designed with a neighborhood concept in mind. With this, Oasis-class ships are easy to navigate with a distinct design that allows for open air spaces. This includes a Central Park with real greenery and trees, along with a Boardwalk for families with a carousel and Aqua Theatre with diving show spectacles.
Image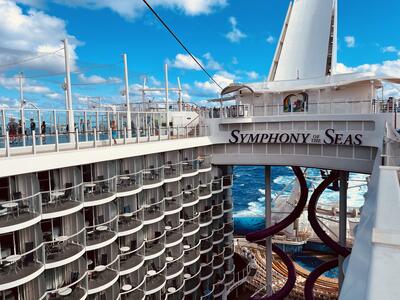 When sailing at capacity, Oasis-class ships can hold anywhere from 5,400 to 7,000 passengers. These vessels are the biggest cruise ships in the world, clocking in at an astonishing 225,000 tons.
Perhaps even more impactful was the introduction and inception of the Excel-class of ships for Carnival Cruise Line. With the debut of Mardi Gras in 2021, Carnival truly upped its game with the most modern ship to date for the cruise line.
Image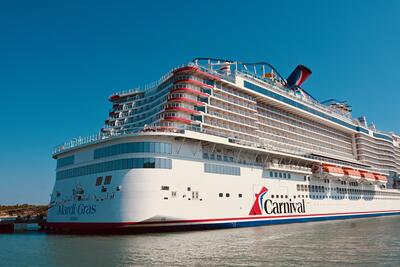 For nearly a decade, Carnival Cruise Line focused on building classes of ships with similar design and size, leading to somewhat lack of innovation. Each new ship by Carnival failed to bring any wow-factors, although each class slowly built ships bigger than the last.
That all changed with Carnival's Mardi Gras, which was nearly 40% bigger than anything the cruise line had built before. This massive, stylish new cruise ship truly represents a new era for the cruise line with far more eateries, bars and lounges onboard than any other Carnival ship.
Image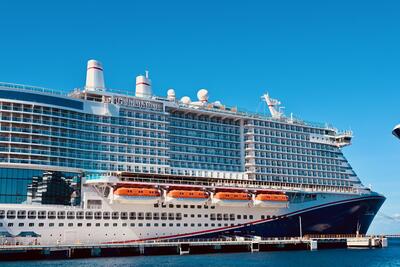 Later in 2022, Carnival Celebration debuted as the second ship in the Excel-class. The two ships have been making waves in the cruise industry, as Carnival finally feels like it competes with other mainstream cruise lines. Similar to Oasis-class ships, Carnival's Excel-class is designed with distinct zones in mind. With six zones onboard, the overall flow and passenger experience is heavily improved.
Some of these zones include fun themes, like the French Quarter - a zone that is specifically designed with New Orleans in mind with the Fortune Teller Bar, Brass Magnolia Bar and Emerald's Bistro serving up creole-inspired favorites.
Image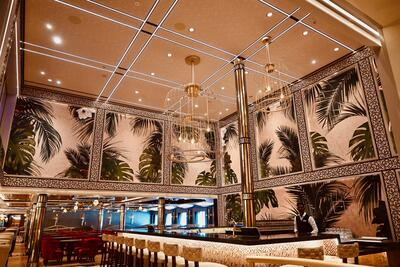 Although the Excel-class ships are bigger than anything in Carnival's fleet, these ships are still smaller than Royal Caribbean's Oasis-class. Carnival's newest ships clock in right around 180,000 gross tons, making these ships about 20% smaller than Oasis-class ships.
Image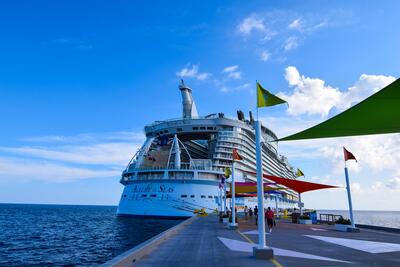 At the end of the day, both the Oasis-class and Excel-class ships are considered large vessels with very many passengers sailing onboard; however, both classes have been thoughtfully and meticulously designed to improve passenger flow and create ample space for an enjoyable cruise.
Dining and Eateries
Eating is one of the best parts of a cruise, making it one of the more important considerations when comparing the two ship classes. Oasis-class and Excel-class ships have plenty of spots to eat onboard, from casual cafes to main dining rooms and specialty restaurants.
Image
Royal Caribbean's Oasis-class of ships features nine different inclusive dining options onboard. This includes a main dining room, which serves world-class cuisine in a multi-level ambiance for three meals each day. You'll also find the Windjammer Cafe as the onboard buffet option.
For cafe-style venues, Oasis-class ships feature the Solarium Bistro (located in the adults-only area), along with Park Cafe in Central Park, Sorrento's Pizzeria, Cafe Promenade, Vitality Spa Cafe, Boardwalk Dog House and El Loco Fresh with quick Mexican options.
Image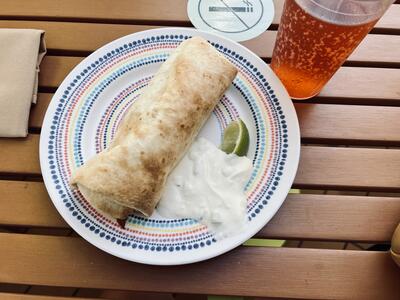 You can enjoy a variety of salads and paninis at Park Cafe, a fresh slice of pizza from Sorrento's Pizzeria (which stays open late into the evening) or a quesadilla poolside at El Loco Fresh.
In addition, Oasis-class ships feature upwards of 10 different specialty dining venues, including specialty options for steak, Italian, sushi and seafood. 
Image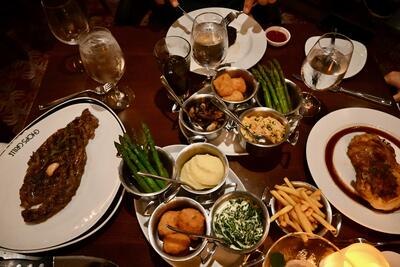 You can even try a whimsical dining experience at Wonderland, which is Alice in Wonderland themed. These will cost an additional fee, but do provide the highest quality of food onboard with a high level of attentive service.
Comparatively, Carnival's Excel-class of ships have a whopping 20+ dining options onboard, meaning you will likely run out of time before you can try everything to eat! You can find all of Carnival's signature venues onboard, including eateries that feature celebrity chef partnerships with Guy Fieri, Emeril Lagassi and Shaquille O'Neal.
Image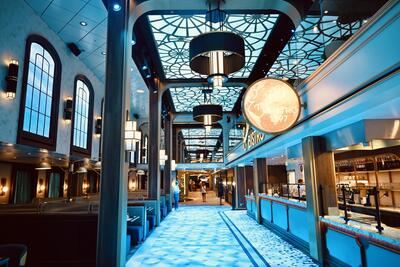 These complimentary options include the popular Guy's Burger Joint, serving up juicy burgers made-to-order. Another Guy Fieri partnership is featured on Excel-class ships with Pig and Anchor Smokehouse and Brewery, where you can enjoy tasty BBQ in the Summer's Landing Zone - themed after a typical summer picnic.
Image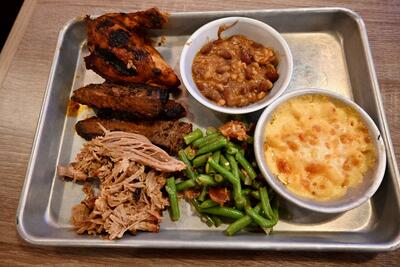 Shaq's Big Chicken is found onboard Excel-class ships as well; honestly, this spot is a dupe of Chick-fil-A with crispy chicken sandwiches and tenders. This is one of my favorite spots on the Excel-class ships!
Image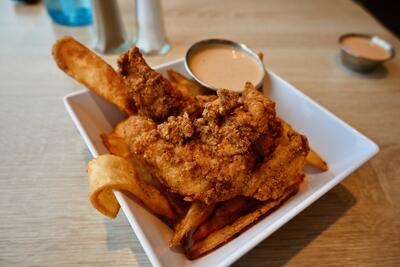 Other signature Carnival venues include a pizzeria, panini shop, BlueIguana Cantina, and coffee-style cafe called JavaBlue. Other complimentary dining options for sit-down means include the Italian Cucina del Capitano and Mexican-Asian fusion ChiBang.
Of course, you can also enjoy the main dining room or Lido Marketplace buffet on Excel-class ships, although the casual eateries are where Carnival's Excel-class ships really shine. All of the quick, casual spots for food provide excellent options for meals throughout your cruise. In my personal opinion, Carnival has the best casual food options of any cruise line.
Image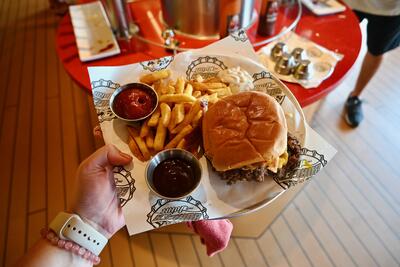 On the contrary, Royal Caribbean's dining room, buffet and specialty dining are all major highlights on Oasis-class ships. Royal Caribbean prides itself on offering a top-tier dining experience in its main dining room, along with providing a wide variety of delicious food in the Windjammer buffet. I'd argue that Royal Caribbean has some of the best specialty dining restaurants at sea, making the additional charge worthwhile.
Entertainment and Headliner Productions
Royal Caribbean's Oasis-class and Carnival's Excel-class ships all offer incredible, high-quality production shows for cruisers to enjoy. Regardless of which ship class you sail on, I can almost guarantee that you will be awestruck by the entertainment onboard.
To start, Royal Caribbean's Oasis-class ships feature 90-minute musical production shows; most of these are Broadway shows like Mamma Mia, Hairspray, Grease, Cats and more. These musicals are major productions and a huge entertainment highlight for Oasis-class ships.
Image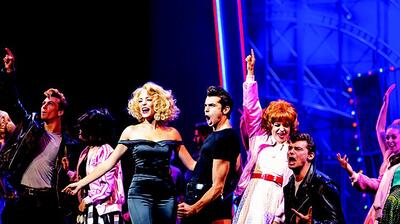 You'll also enjoy other unique entertainment on Oasis-class ships with Royal Caribbean's AquaTheatre. Located at the very back of the ship, this theatre is home to a diving and swimming show - and it's spectacular. You'll witness incredible spectacles like synchronized swimming and Olympian-level high diving. These shows can only be found on Royal Caribbean's Oasis-class ships.
Image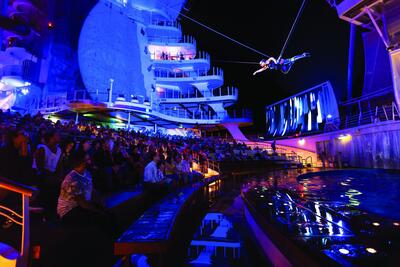 Another unique show onboard Oasis-class ships is an ice skating production on the ship's very own ice skating rink. While you can find ice skating shows on Voyager-class and Freedom-class ships, these are entirely unique just to Royal Caribbean.
Finally, you can enjoy the onboard Comedy Club, live musicians, nightclubs, lounges and bars throughout your cruise on an Oasis-class ships. The entertainment onboard is truly fabulous for Oasis-class ships.
Image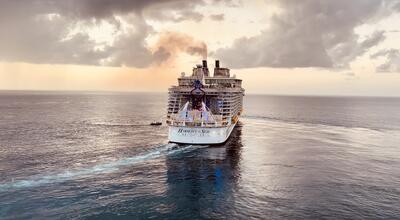 However, Carnival has certainly risen the bar with its Excel-class of cruise ships. On prior Carnival cruises, I always felt like the main entertainment was lower budget and almost resembled a high school production. This has all changed with the newest class of ships!
To start, Carnival has created a new Center Stage concept with the Excel-class of ships. This stage spans over three decks in a large atrium with the stage being built-in to the side of the ship!
Image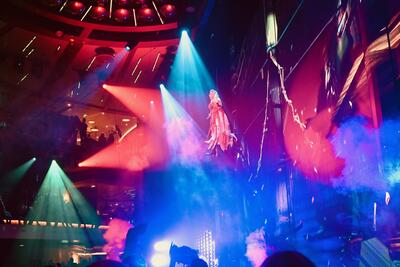 Here, you'll find original, incredible production shows like the Most Magnificent Circus, Celestial Strings, VooDoo Moon, We Are One and Vegas Nights. These Center Stage productions include live singers, dancers, acrobatics and aerialists in a dazzling headliner show.
Image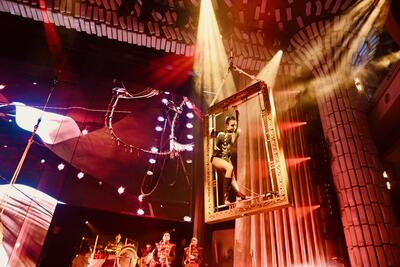 Carnival also has Production Playlist shows in a smaller onboard theatre with more productions featuring the ship's onboard singers and dancers. Although smaller scale, these shows are also worthwhile and entertaining.
Of course, Carnival is known for its signature Punchliner Comedy Club with multiple shows offered each day with rotating comedians. You can also enjoy the Piano Man Bar each evening on Excel-class ships, along with a buzzing nightlife thanks to multiple bars, lounges and nightclubs.
Image
If you're looking for more specialty-style entertainment, Oasis-class ships might be worthwhile because of the Broadway musicals, AquaTheatre shows and ice skating spectacles. On the other hand, those looking for more parties and lively nightclubs will definitely enjoy the fast-paced environment on Excel-class ships.
At the end of the day, you can't go wrong with entertainment from either cruise line. Both the Excel-class and Oasis-class offer a variety of fabulous headliner and production shows.
Onboard Thrills, Amenities and Activities
Cruise lines are able to squeeze a seemingly infinite amount of activities and onboard thrills on these massive ships. Royal Caribbean and Carnival Cruise Line have showcased some of the best onboard thrills for cruises on their Oasis-class and Excel-class ships. Similar to dining options, you'll probably run out of time before you can try everything you want to do!
Image
Royal Caribbean's Oasis-class ships are some of the most innovative cruise ships at sea. You can find the Ultimate Abyss (the tallest slide at sea) onboard, along with a waterpark, FlowRider surf simulator, ice skating rink, zip line and rock climbing wall. All of these onboard thrills are complimentary for cruisers, which is a major perk of Oasis-class ships.
Image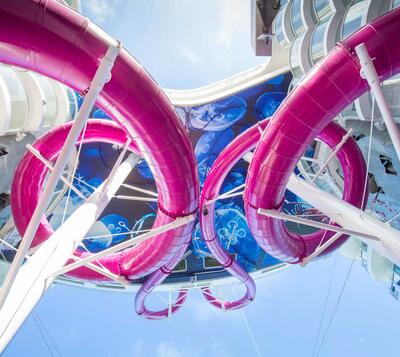 Similar to Oasis-class ships, Carnival Cruise Line has debuted many new onboard thrills and activities on its Excel-class ships. The most notable innovation is Bolt: The Ultimate Sea Coaster. This is the first rollercoaster at sea; however, the cost is not complimentary. Riders have to pay $15 each for two laps around the track. As someone who has personally rode Bolt, I can say with confidence the price is worth it!
Image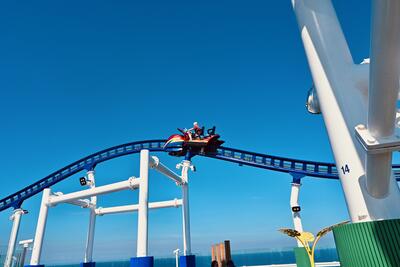 Excel-class ships also offer complimentary onboard thrills at the Ultimate Playground, where cruisers can enjoy fast-riding waterslides at WaterWorks, miniature golf, sports court, walking path and a ropes course that takes you across the top deck of the ship. You can even hang over the side! These thrills are all complimentary on Excel-class ships.
Image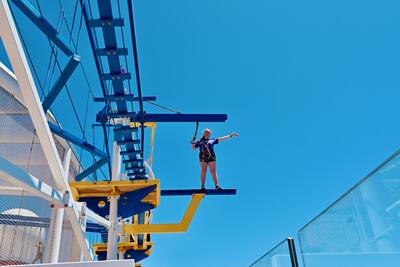 Little cruisers can also enjoy Adventure Ocean on Oasis-class ships. This childcare program includes programs for babies, kids and teens onboard for ages 6 months to 17 years old. Similarly, Carnival Cruise line offers Camp Ocean for kids onboard with very similar programming available for kids 6 months to 17 years old.
Both cruise lines offer dedicated programming for kids onboard, with activities geared towards each age group. Since children are grouped by age, your kids will find plenty of fun to be had and make friends while they're at it too. Older kids will enjoy video games, crafts, scavenger hunts and other age-appropriate activities while parents can enjoy some alone time as well.
Image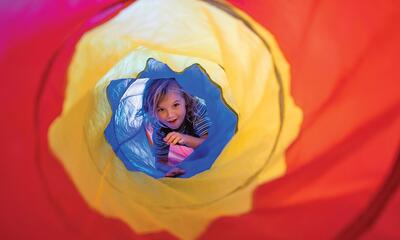 For adults, Royal Caribbean offers an expansive Solarium on Oasis-class ships for adults only. This serene space is large with multiple pools and hot tubs specifically for adults. Most of the area is enclosed with glass panels surrounding the space.
Image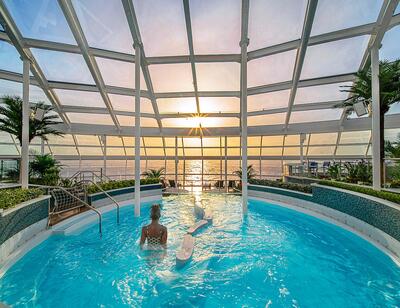 Adults can also enjoy some peace and quiet on Carnival's Excel-class ships in the adults-only Serenity. This large space is dedicated to adults with plenty of padded loungers and daybeds, along with a dedicated pool and two hot tubs. You can find more open-air space in Serenity for laying out in the sun.
Carnival has also included a Carnival Kitchen onboard Excel-class ships, where cruisers can take cooking classes right onboard. These classes, including make your own pasta, pizza and ice cream, take place in a state-of-the-art kitchen. These classes are not complimentary and require reservations.
Image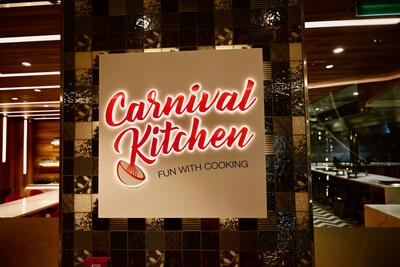 As for onboard activities, you can expect to find a wide array of trivia, bingo, dance classes and more on both Oasis-class ships and Excel-class ships. Both Royal Caribbean and Carnival strive to offer plenty of activities for cruisers to enjoy throughout their vacation; you won't find any shortage of offerings each day.
When comparing the two, Royal Caribbean's Oasis-class does seem to have more complimentary onboard thrills in comparison to Carnival's Excel-class. However, you will still have plenty of complimentary activities and onboard thrills on both ship classes.
Staterooms and Suites
With so many passengers onboard the Oasis-class and Excel-class of ships, you can also expect to find a variety of stateroom accommodations available onboard. From inside cabins to luxurious suites, there's a stateroom for all budgets on both of these ship classes.
Image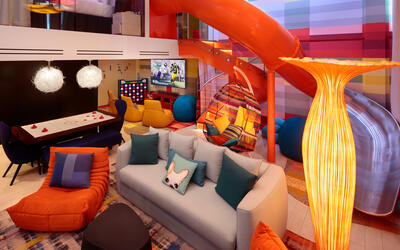 Royal Caribbean's Oasis-class does feature some unique stateroom options thanks to the ship's open-air design. In the Boardwalk and Central Park neighborhoods, you can book inward-facing balconies. Although you won't have a perfect view of the ocean, you will have some natural light (albeit, less privacy than the ocean provides). Similarly, you can book a Promenade View Stateroom with a view of the Royal Promenade, which is more interesting than a windowless inside cabin.
Image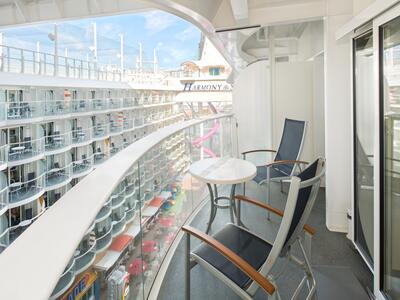 On the pricier side, you can also book a top of the line suite for the ultimate luxurious experience. These suites include the Ultimate Family Suite, catered specifically for families, or the AquaTheatre suites, which provide aft-facing views of the ship and the diving shows.
Similarly, Carnival's Excel-class also offer a wide variety of staterooms onboard. Guests can enjoy uniquely themed staterooms onboard Excel-class ships, including the Havana Club and Family Harbor. While Havana staterooms get special access to a Havana bar and lounge, the Family Harbor staterooms are conveniently located next to the kids club and a special family lounge that serves PB&J sandwiches and cookies throughout the day.
Image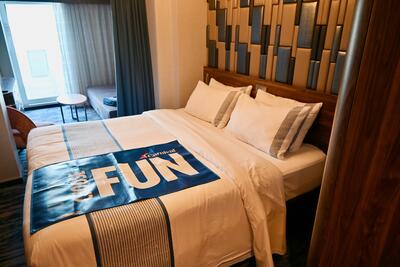 Regardless of which ship class you sail on, you will find a wide range of staterooms to accommodate any travel style or budget.
Final Thoughts
Royal Caribbean and Carnival Cruise Line are two of the most popular cruise lines in the world. These mainstream cruise lines offer affordable, family-friendly vacations with sailings around the globe, including North America, Europe, Alaska, and Australia.
Image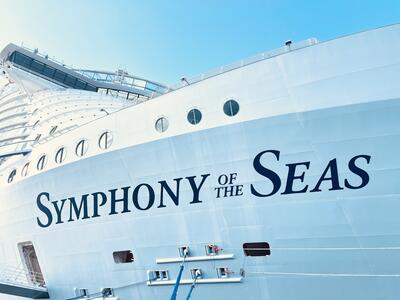 If you're torn between the Oasis-class and Excel-class of ships, you truly can't go wrong. As someone who has sailed on each ship class multiple times, these cruise ships are some of the best cruise ships at sea! Those sailing with families will love either cruise experience.
Royal Caribbean tends to have a slightly more upscale ambiance onboard, especially on Oasis-class ships, which can curate a better adult experience. I'd argue the Solarium onboard is more expansive and serene that Carnival's Serenity space.
If you're someone who prefers a casual cruise experience, you might prefer the Excel-class of ships. These tend to be a bit more lively when it comes to sailaway parties, night clubs and deck parties. Excel-class productions and headliner shows are fabulous and kept to 60 minutes.
Image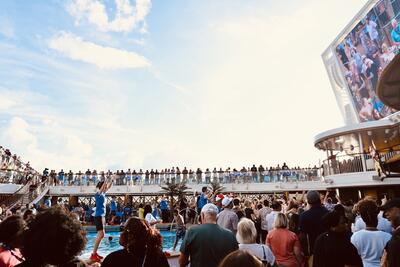 Additionally, Carnival's Excel-classes have the best quick, casual eateries at sea, including authentic pizza, crispy chicken sandwiches and juicy burgers. You'll have a blast on Carnival's Excel-class ships from the moment you step onboard.
On the other hand, Royal Caribbean's Oasis-class ships have better specialty dining restaurants onboard, although these come with an additional cost. Personally, I believe Oasis-class ships have a better buffet and main dining room experience compared to the Excel-class ships. Finally, you'll enjoy higher quality productions with Broadway shows, along with diving and ice skating spectacles.