Last month, I set sail onboard one of Carnival's newest cruise ships, the Carnival Mardi Gras with my sister. We sailed on a 7-night itinerary through the Caribbean while staying in an Ocean Suite with a large balcony.
Image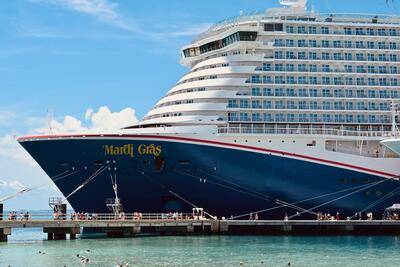 Mardi Gras is a nearly brand-new ship that's part of the Excel-class for Carnival Cruise Line - and it's truly reinvented the brand for me. For years, I felt like Carnival's cruise ships looked dated compared to other new ships in the cruise industry.
Image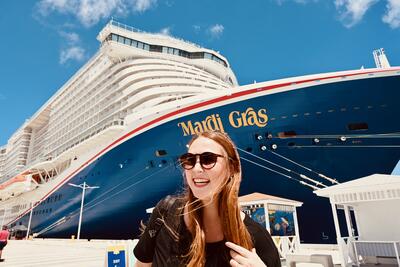 While other cruise lines were building cruise ships that were bigger and better than anything in their fleets, Carnival's approach to cruising was simplistic and consistent. Each new class of cruise ships was similar to the previous, only making few modifications to accommodate a larger vessel.
Image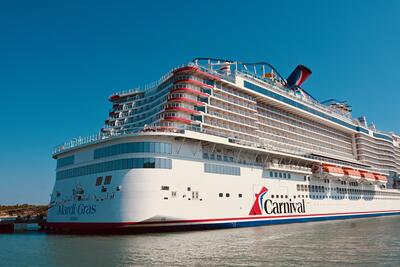 That all changed with Carnival's newest class of cruise ships - the Excel class of ships. Mardi Gras was the first cruise ship of this new Excel-class and also the first LNG-powered cruise ship to debut in North America.
Image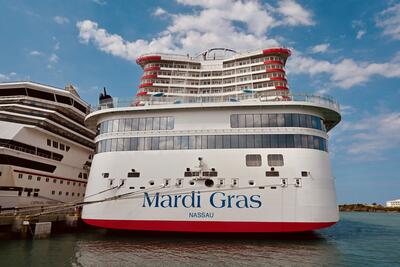 In 2021, Carnival Mardi Gras made her stunning debut as the biggest and most modern cruise ship to date for the cruise line. In fact, the newest ship could hold nearly 40% more passengers than the previously built, holding around 6,600 passengers.
Image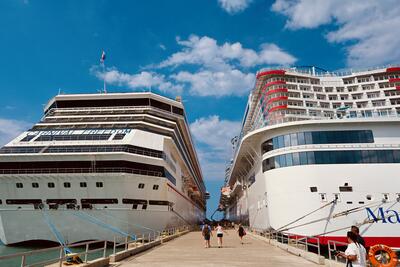 Carnival Mardi Gras is so big that it even features the first rollercoaster at sea, dubbed Bolt: The Ultimate Sea Coaster.
Image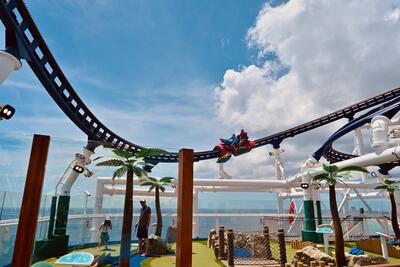 The newest cruise ship is highly technological and feels light-years ahead of previously built Carnival cruise ships.
Image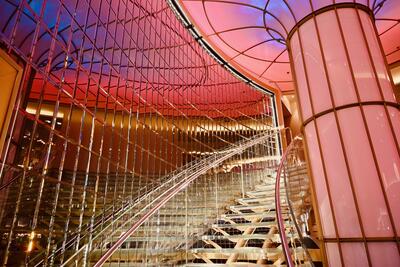 After sailing on Carnival Celebration last year, which is Mardi Gras' sister ship, I was blown away by this new era of Carnival Cruise Line.
Image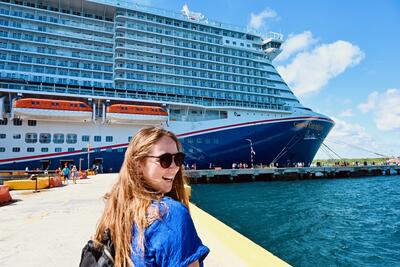 I couldn't wait to board Carnival Mardi Gras to see how the ships compared, but honestly, I was equally as excited just to cruise onboard this incredible class again.
Image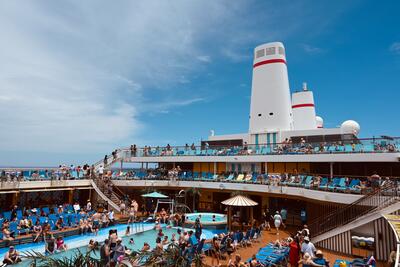 When boarding Carnival Mardi Gras, we were greeted by Grand Central, which is a three deck zone onboard the cruise ship. 
Image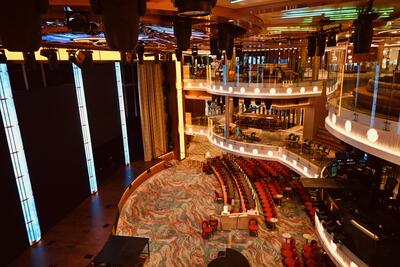 In the evening, Center Stage transforms into an intimate and immersive entertainment venue with highly technological screens.
Image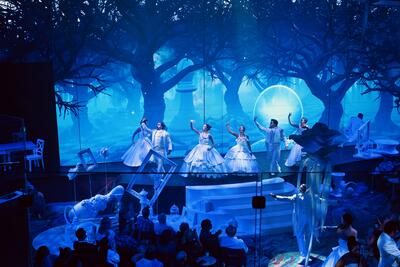 Grand Central is truly the heartbreak of the cruise ship and debuted Carnival's newest production venue, Center Stage - an outward facing atrium that is home to magnificent production shows. 
Image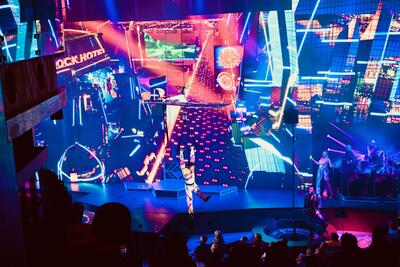 You can also find plenty of bars, lounges, restaurants and shops surrounding Center Stage, making this a very busy area onboard.
Image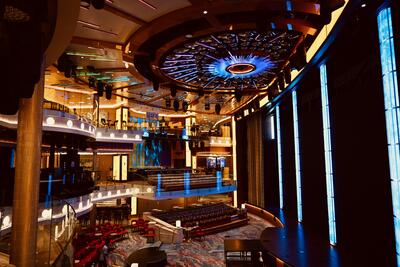 Center Stage is actually built into the side of Carnival Mardi Gras, creating a space that's not only beautiful, but versatile and functional.
Image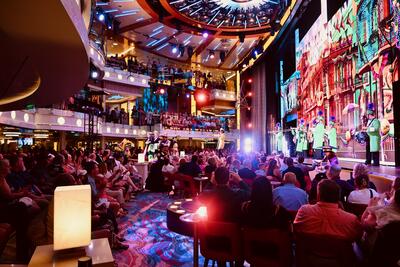 In the evenings, you can find unique, aerialist production shows like VooDoo Moon and Vegas Nights. These headliner shows were a huge step-up from anything I had seen onboard a Carnival cruise before.
Image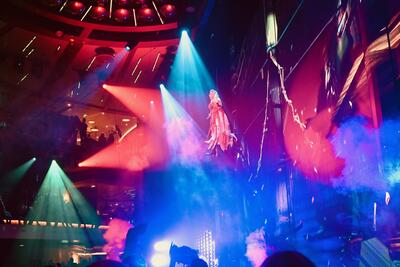 Each morning, I would start the day with a coffee from Java Blue Cafe, located on the bottom level of Grand Central. As someone who loves lattes, this was the best place to order specialty coffee.
Image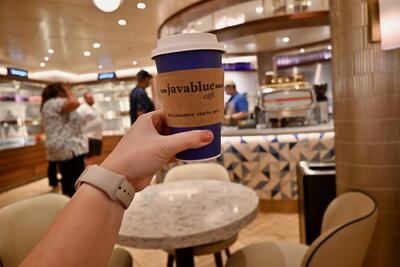 We also discovered that Java Blue Cafe served complimentary breakfast sandwiches each morning. I had the breakfast sandwich with fruit - and it was the best way to start my day!
Image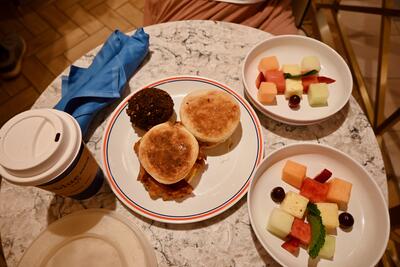 With a ship as large as Carnival Margi Gras, you can find other zones onboard, similar to Royal Caribbean's neighborhoods on Oasis-class ships. One of our favorite zones was the French Quarter.
Image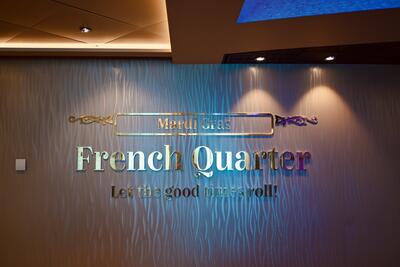 This zone, themed after New Orleans, is located on Deck 7. The design and decor across the French Quarter heavily leans into the jazzy theme - it's almost like taking a trip to New Orleans without even getting off the ship.
Image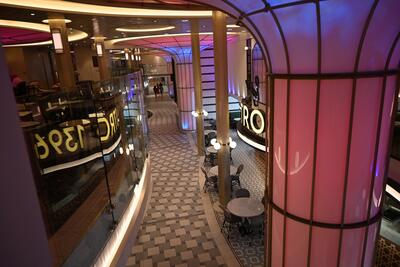 The French Quarter on Carnival Mardi Gras is home to the Fortune Teller Bar, where you can order specialty cocktails with many fun themes. I tried the bar's famous Crystal Bar cocktail, which comes with a special presentation flair that you have to try!
Image
Also in the French Quarter is Emeril's Bistro 1396. This was a venue we absolutely loved on Carnival Celebration, which was also developed by famed chef Emerald Lagasse.
Image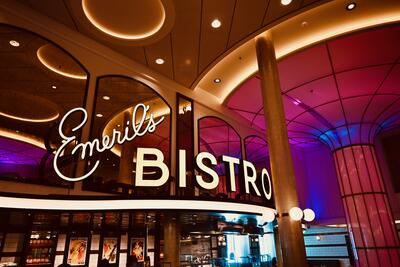 Although not complimentary, the dishes served in Emeril's Bistro are reasonably priced around $5 - and it's totally worth it! 
Image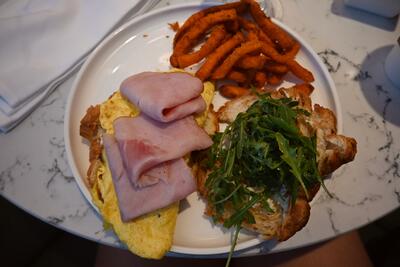 We love the Banana Foster's Crepe and the breakfast bayou croissant sandwich. It was a great way to start our day, although the nightly musicians in the French Quarter make for a perfect spot to visit anytime.
Image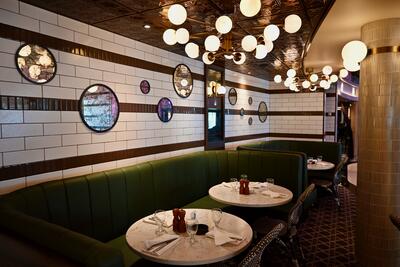 Another popular zone onboard Carnival Mardi Gras is Summer's Landing. Take your backyard 4th of July celebration and bring it to the aft of a cruise ship, and you have Summer's Landing inspiration.
Image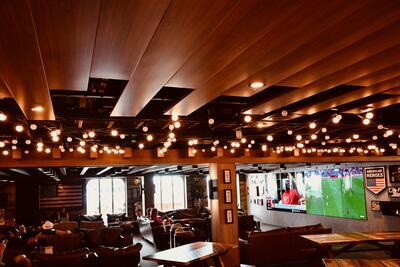 Summer's Landing features a Veteran's Tribute Lounge with a self-serve ice cream machine and tons of couches to catch your favorite teams playing. There's also a brewery called Flavortown with beers made in-house.
Image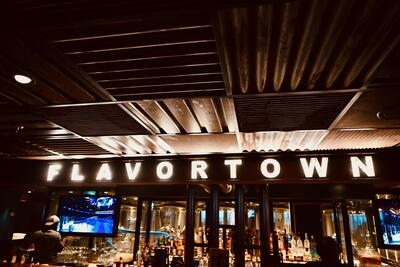 Adjacent is Guy Fieri's Pig and Anchor Smokehouse, which is a complimentary BBQ venue. This spot is open for a lunch buffet or quick sit-down dinner. The BBQ was excellent. 
Image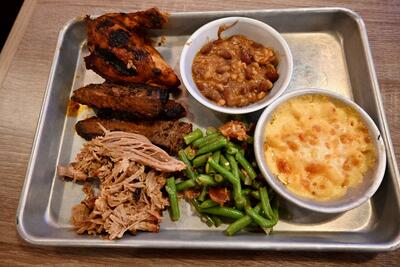 There is more food onboard Carnival Mardi Gras than we had time to try. Some Carnival favorites can be found in La Piazza, which is hope to a pizza parlor, panini cafe and specialty dining Cucina del Capitano.
Image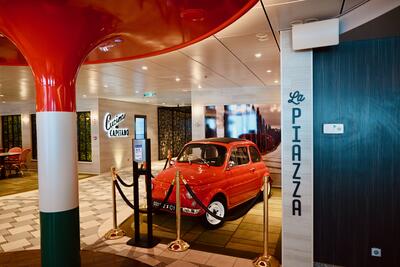 Although Cucina del Capitano feels like it should be a specialty restaurant, this dining spot is actually complementary. I tried the signature pistachio pesto pasta - it was incredible!
Image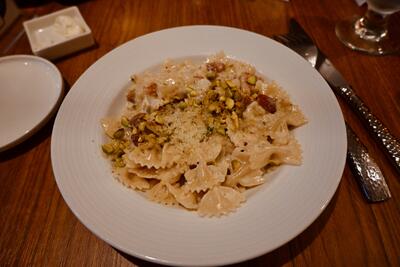 Similarly, guests onboard Carnival Mardi Gras can dine at the very popular ChiBang restaurant. 
Image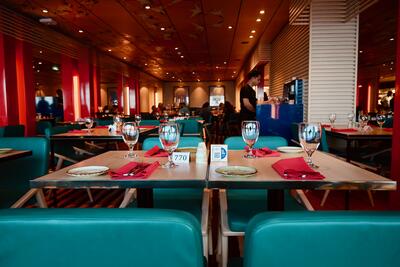 This is another speciality-like restaurant with a dual menu featuring Mexican and Asian options. The Beef and Broccoli was delicious!
Image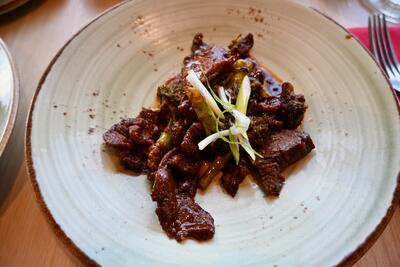 Our all-time favorite dining spot on Carnival Mardi Gras was Big Chicken. This spot, created by Shaq O'Neil in partnership with the cruise line, is located on the back of the ship and serves up a variety of chicken sandwiches and tenders.
Image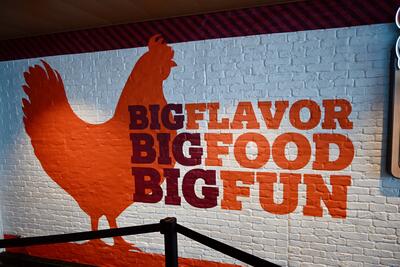 We enjoyed breakfast, lunch and dinner at Big Chicken. In the morning, biscuit sandwiches are served while the crispy chicken tenders and fries make for the perfect lunch snack after exploring the ports of call.
Image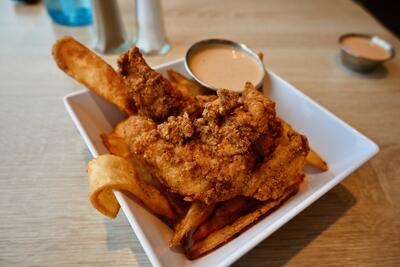 However, Guy's Burger Joint is a close second to Big Chicken. This burger spot, another creation by Guy Fieri, is where you can find freshly made, juicy burgers with a variety of toppings.
Image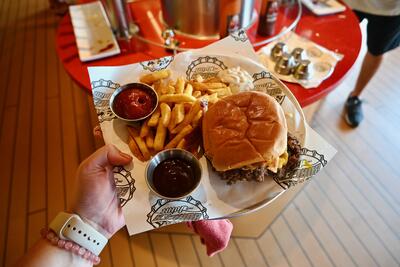 We also dined two evenings in the main dining room, called Palm Restaurant. This is where you can find the famed SeaDay Brunch as well, although I only dined here for dinner.
Image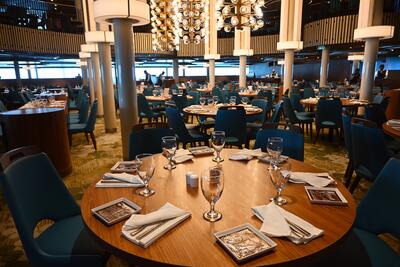 The service was excellent and all of the menu items we sampled were great! We really enjoyed our dinner experience in the main dining room; in fact, I wished we had tried going to the main dining room sooner.
Image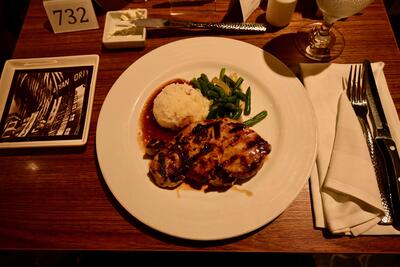 Of course, you absolutely have to try Carnival's famous Melting Chocolate Cake. This dessert is available every single night and it's delectable. The cruise line has perfected this one!
Image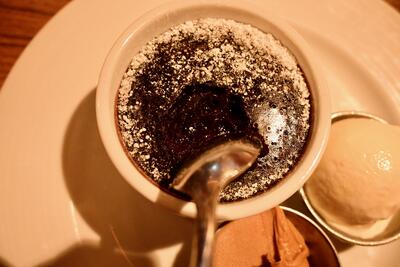 If you're sitting poolside, you can also grab tacos or burritos from BlueIguana Cantina! This little dining spot is the perfect place for a quick lunch while enjoying the pool deck.
Image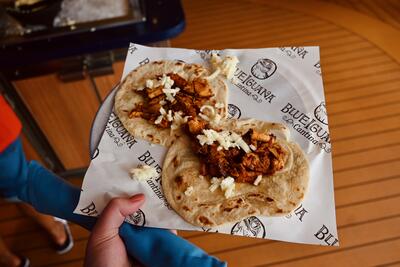 BlueIguana Cantina also serves amazing breakfast burritos in the morning. This is a great place to take a burrito on-the-go if you have an excursion or busy morning. 
Image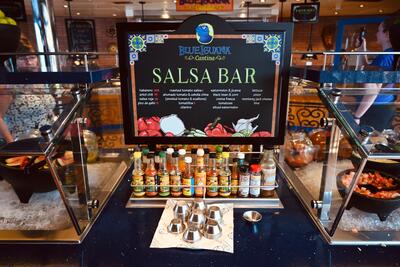 One of Carnival's signature bars - RedFrog Tiki Bar - is also located right by the pool. This classic bar spans over two decks! It's a great spot to grab a pina colada or fruity cocktail during the Sailaway Party.
Image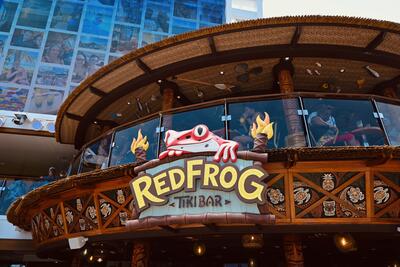 Carnival is known for its classic Sailaway Parties and Mardi Gras' Sailaway Party was one of the biggest parties I've seen at sea! 
Image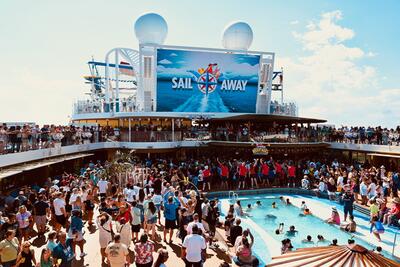 As we waived goodbye to reality and set sail to Nassau, everyone onboard was dancing, singing and drinking to the start of vacation.
Image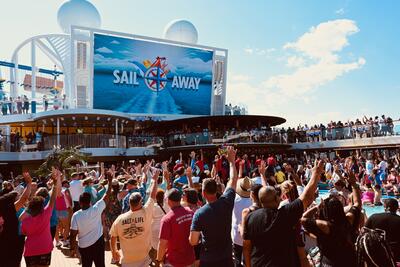 The main pool deck on Carnival Mardi Gras is a busy place, although you could almost always find sun loungers nearby. During sea days, you can find all sorts of activities taking place, like bean bag toss competitions and line dancing classes.
Image
Additionally, Mardi Gras features numerous pools found around the ship, including the adult's only Serenity retreat. This was one of our favorite places on the ship to relax!
Image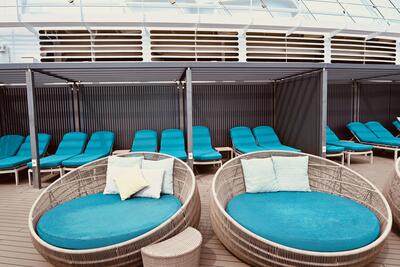 Serenity has tons of plushy loungers and daybeds to use throughout the cruise. Surprisingly, we never had an issue finding a place to relax, even with the ship being quite busy with people. 
Image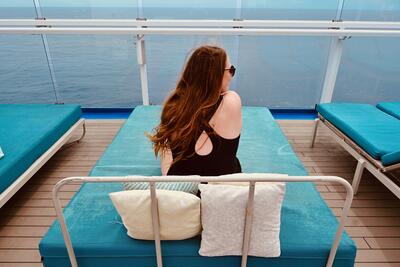 This adults-only retreat also features a small pool, bar and build-your-own salad bar called Fresh Creations. 
Image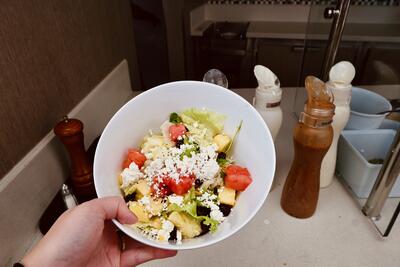 Opposite of the Serenity, located at the aft of Carnival Mardi Gras is the Ultimate Playground.
Image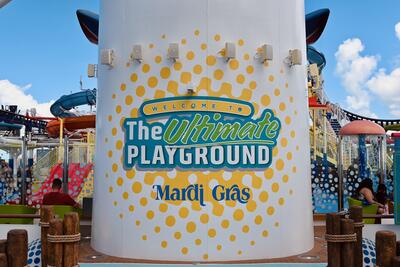 The Ultimate Playground is home to all of the onboard thrills you can find on Carnival Mardi Gras. Kids and adults can try the daring waterslides during their cruise, while little kids will certainly enjoy the smaller splash area.
Image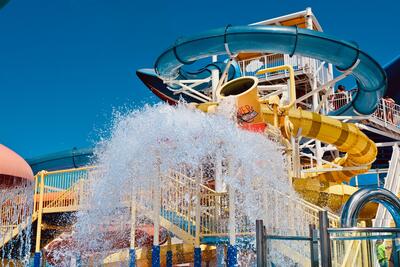 You can also find miniature golf in the Ultimate Playground, along with the Sports Court and walking path. Kids and teens were constantly playing golf and basketball during our cruise, so this is a popular place!
Image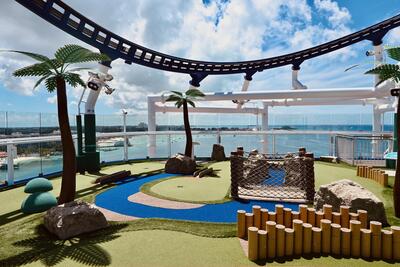 If you're looking to ride Bolt, the first rollercoaster on a cruise ship, then you'll also want to head to the Ultimate Playground. Here, you will have to reserve a spot to ride Bolt, but this Ultimate Sea Coaster is worth the $15 price.
Image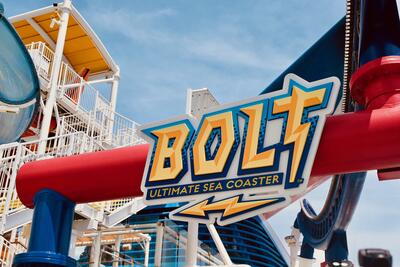 As longtime rollercoaster fanatics, my sister and I rode Bolt during our cruise on Carnival Celebration. We had an absolute blast and we were equally as surprised that Bolt felt like a legitimate rollercoaster, not a kiddie ride.
Image
Since we weren't able to try the Ropes Course at the Ultimate Playground, my sister wanted to take a stab at the obstacle course. 
Image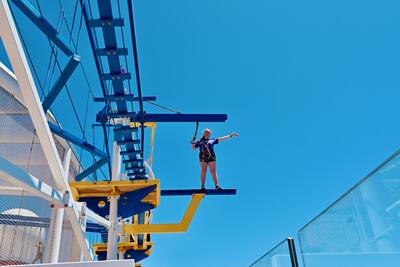 High above the top deck, you can go through a series of obstacles, including a zip line. Best of all, it's free and meant for adults and kids.
Image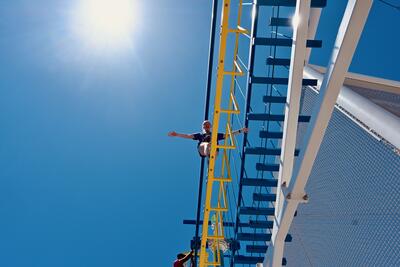 Because this is weather dependent, don't wait until the last day to take your turn on the Ropes Course! We made this mistake last time, so my sister was excited that she had another chance to try the course.
Image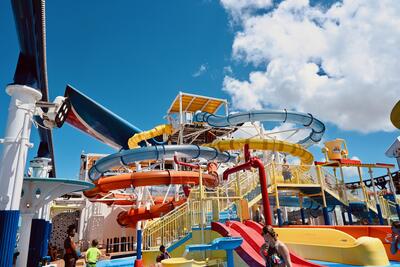 Finally, Carnival Mardi Gras features a slew of bars and lounges to finish off your evening with a cocktail and show. 
Image
One of Carnival's signature bars, the chemistry-themed Alchemy Bar, serves up some of the best drinks onboard Carnival Mardi Gras. Located conveniently by the LimeLight Lounge, you can quickly grab a drink here before going to trivia or karaoke. 
Image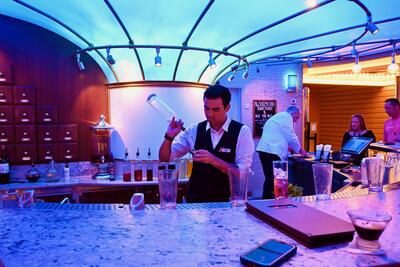 If you're into comedy, Carnival Mardi Gras hosts daily comedy shows in the Punchliner Comedy Club. Throughout the cruise, we enjoyed attending the 30-minute shows with different comedians throughout.
Image
At the end of the day, we found solice in our Ocean Suite cabin. This spacious suite featured a king bed, separate living room, extended balcony and premium bathroom.
Image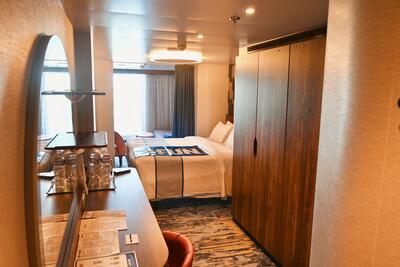 Staying in a suite was fabulous. We enjoyed our suite so much, it would be hard to go back to an inside cabin! The best part was the extended balcony where we could enjoy the sunsets as we pulled away from ports of call.
Image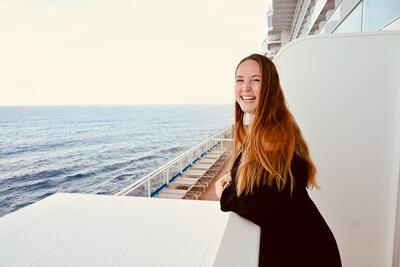 Staying in a suite was fabulous. We enjoyed our suite so much, it would be hard to go back to an inside cabin! The best part was the extended balcony where we could enjoy the sunsets as we pulled away from ports of call.
Image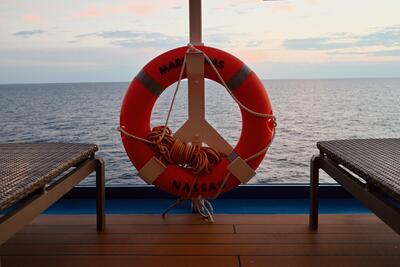 I wouldn't hesitate to sail again on Carnival Mardi Gras. This revolutionary and innovative cruise ship is snazzy, modern and trendy - descriptive words that I never associated with the cruise line before! Joining the class of ships will be Carnival Jubilee, scheduled to make her debut later this year.