How much does it cost to build today's most innovative and technologically advanced cruise ships at sea?
Cruise ships are often thought of as "floating cities," where you have access to seemingly endless dining options, entertainment, and activities, such as rollercoasters, zip lines, ice skating rinks, skydiving simulators, and go-karts. 
Building a cruise ship, to say the least, is a sizable investment. Nearly every cruise ship with a capacity of 3,000 passengers cost over $750 million to build. 
Even some of the oldest cruise ships cost hundreds of millions of dollars, including Carnival Cruise Line's Fantasy Class that were built in the late 1990s. Each of these cost around $300 million! When accounting for inflation, these small ships capable of holding around a little over 2,000 guests would cost about $5.5 million today. 
Some of today's newest cruise ships can cost upwards of $1 billion dollars; however, the exact amount depends on the size of the ship. 
MSC Euribia, one of MSC Cruises' newest cruise ships that is scheduled to launch in June 2023, cost around $850 million, while their first World Class ship, MSC World Europa, came it at around $1 billion. The latter ship measures about 34,000 more in gross registered tonnage, which accounts for the cost difference. 
What is the cost of the newest cruise ships?
Image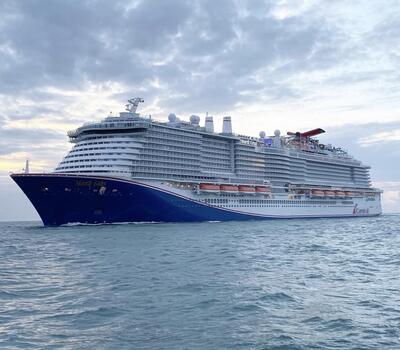 The biggest cruise ships in the world regularly cost well over a billion dollars, but the exact cost really depends on how large the ship is planned to be.
Royal Caribbean's Oasis Class cruise ships, which are the largest in the world, cost between $1.3 and $1.4 billion each. Similarly, their new Icon class ship, which has been in development since 2016, cost $1.3 billion. It is expected to set sail fall 2023. 
Carnival Mardi Gras was launched in 2021 and cost $1 billion. Its sister ship, Carnival Celebration, is set to launch later in 2022 also cost $1 billion.
Image
MSC Cruises' newest ship in 2021, the MSC Virtuosa, cost $800 million. The MSC Seashore, which also made its debut in 2021, cost $1.15 billion. The difference between the costs of these two ships is that they are from different classes, with the latter class being much larger. 
Image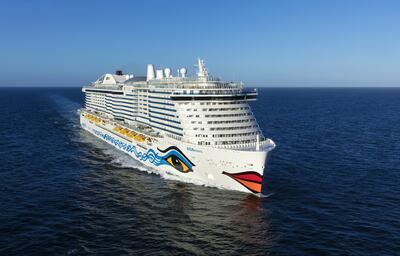 AIDA Cruises' new Excellence-class ships, AIDAnova, has a cost of $1.1 billion.
While not as expensive as some of the other newer ships entering service, Norwegian Cruise Line's newest ship launched in 2022, the Norwegian Prima, cost close to $850 million. There are five other ships in the Prima Class planned to enter service between 2023 and 2027, each costing roughly the same. 
Image
Celebrity's newest ship, Celebrity Beyond, entered service in April 2022 and cost $900 million. 
If you move down to luxury ships, the World Navigator by Atlas Cruises cost just $80 million.
Mega yacht Evrima in the Ritz-Carlton Yacht Collection costs $320 million.
Regent Seven Seas Explorer is claimed to be the most luxurious cruise ship ever built, and came in at $450 million.
As you can tell, there is a wide gamut of prices for a ship, but they are anything but cheap. Even the smaller cruise ships cost hundreds of million dollars to build. And even outside of the financial cost, the time spent developing cruise ships is another "cost" that should be remembered. 
What is the most expensive cruise ship ever built?
Image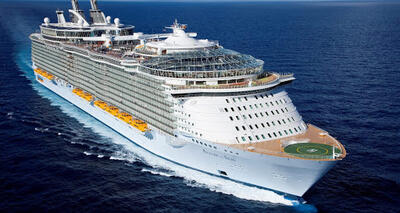 Not adjusted for inflation, the most expensive cruise ships built are Royal Caribbean's Oasis of the Seas and Allure of the Seas. Each came in at a cost of $1.4 billion.
In case you are wondering, why would the first two Oasis Class ships cost more than some of her newer sister ships, the reason is the first ship in a class costs more to initially develop.
Subsequent ships are a bit cheaper because some of the upfront costs and considerations are not part of that cost. There is less planning and legwork that has to go into later ships in the same class!
Why does it cost so much to build a cruise ship?
Image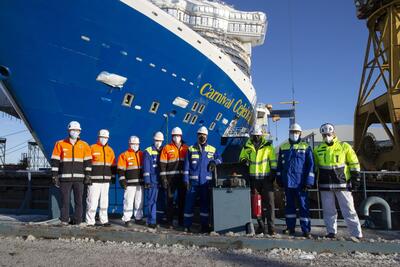 Cruise ships are engineering masterpieces. Prior to even starting construction, cruise lines do extensive market research in order to build ships that will appeal to their target market. 
Royal Caribbean's Icon of the Seas, for instance, will feature 55% more cabins with the ability to accommodate three or most guests than Oasis Class ships due to their target audience of the multigenerational family. In addition, there will be 14 new cabin categories that were designed specifically for the new class of ship. 
The intricate construction process can take anywhere from 12 to 18 months and requires thousands of construction crew members. 
It begins with the steel cutting ceremony and is followed by the laying down of the kneel, which is the lowest part of the ship. Cruise ships are built in segments and later welded together. Some portions are not even built at the shipyard! Icon of the Seas' staterooms, for instance, are being built at a factory about thirty minutes away from the shipyard in Finland. 
How expensive are cruise ship refurbishments?
Image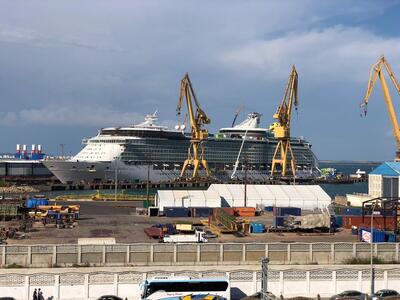 Standard dry docks are not going to be as expensive as when a ship receives a major renovation. Refurbishing ships and adding some of the latest venues and activities keeps the ships in high demand, without the cost of building a brand-new vessel. 
When Carnival Destiny, for instance, was overhauled and transformed into Carnival Sunshine, it cost the cruise line a reported $155 million. And when Royal Caribbean's Freedom of the Seas underwent the cruise line's Royal Amplification program, they spent around $116 to upgrade the ship. 
Cruise ships are not only expensive to build, but they are also expensive to maintain and keep up-to-date! 
How much does it cost to operate cruise ships?
Image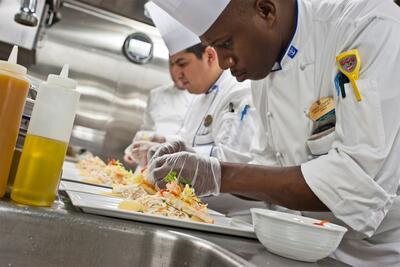 Like with everything else, operating cruise ships costs money. They cost millions of dollars per year to operate. 
In addition to paying crew and paying for fuel to help power the ship, the cruise line has to buy food supplies, pay travel agents their commission, and more. They also have to stock their onboard amenities -- think of places like the spa and gift shop -- with products. 
Some of the world's largest cruise ships will spend over $180,000 in fuel per day alone. In short, operating a cruise ship is not a cheap endeavor.