There's no vacation more special than your honeymoon. It's the first time you and your new spouse will be jetting off as husband and wife! Love is in the air and your honeymoon provides much-needed relaxation to celebrate a new life chapter. 
If your wedding was anything like mine, planning the nuptials turned into a part-time job. I was excited to plan my honeymoon because I love to travel and plan all-things-vacation. However, some couples have no bandwidth to plan their honeymoon after being exhausted from planning the wedding itself.
If limited planning and tons relaxing is your goal, then consider cruising as the perfect honeymoon for you! Cruising provides an all-inclusive, luxury vacation that will leave you shining with that newlywed glow.
Below are 15 reasons to go on a cruise for your honeymoon:
1. Budget friendly
Image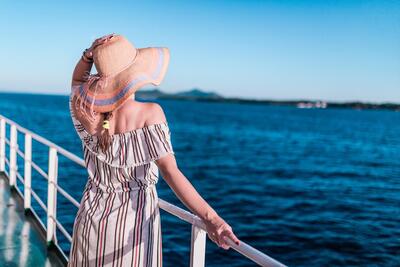 Did the open-bar at your reception blow your wedding budget? Maybe you splurged on that dreamy designer gown while wedding dress shopping! It's totally understandable to feel that you've been stretched thin following your wedding and seeing the final costs. 
Lucky for you, cruising is a very affordable vacation choice for your honeymoon. You'll find cruising has an all-inclusive feel without the price of a true all-inclusive. Most cruises are anywhere from $60-$100 each day per person. You don't have to skimp on luxury if you're honeymoonin' on a budget, as you'll still feel pampered while enjoying exquisite cuisine and top-notch entertainment.
2. Visit multiple, bucket list destinations 
Image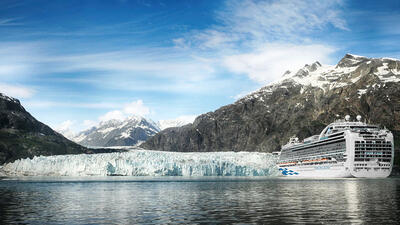 Cruising allows you to see multiple locations without ever needing to repack your bags. The start of your marriage is a brand new adventure - and your honeymoon can be one too!
Each day, you'll wake up in a new port and have the opportunity to see the world from a new lens. Cruising is a special type of vacation because you can spend anywhere from 7-14 days exploring new ports each day. You can visit places you've only dreamed of seeing, like the Galapagos Islands, the Seychelles, Fiji, Bali and the Canary Islands.
3. Stress-free travel
Image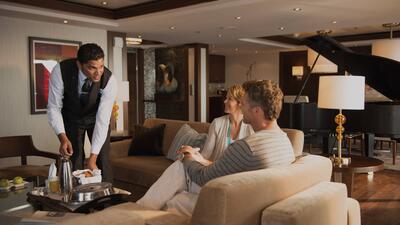 If wedding planning left you feeling drained and sucked out every ounce of your energy, then you'll love cruising for your honeymoon! You can step onboard with absolutely zero plans and that's perfectly acceptable. 
Each day you can hang out by the pool with a drink in hand, explore the local port or chill on the beach. Maybe you want to see a new country that day or stay onboard and book a couple's massage.
You can end your evenings with a 4-course meal or having room service delivered right to your cabin! The choice is yours - and your only plan can be having no plan in place. 
4. Foodie paradise!
Image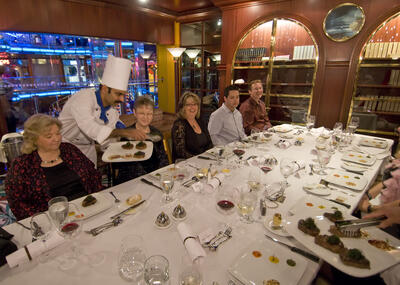 From the pool-side buffet to up-scale specialty dining, foodie couples will be in honeymoon heaven. Cruise ships are filled with so many options for dining around the clock.
You an enjoy late night pizza, breakfast on your private balcony, sushi night at the Hibachi grill and ice cream by the pool, just to name a few. Don't worry about making multiple reservations to ensure you have romantic honeymoon dinners. You'll find plenty of restaurants and venues to dine together each night with the sea providing the perfect scenery.  
5. Something for everyone
Image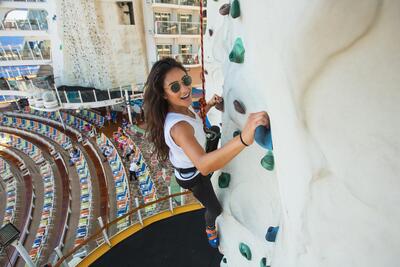 Between onboard activities and in-port excursions, you and your new spouse will surely find something to do that both of you will love. Even couples who have different interests will appreciate the wide variety of things to do when you cruise. Some might find the ship is enough a destination even if they never step foot ashore.
On the other hand, some couples will love the nonstop activities and amenities offered through cruising, allowing them to have a honeymoon filled with nonstop exploring.
6. In-port adventures
Image
Each port of your itinerary offers a new place to make memories together. There's something special about experiencing something new together for the first time as husband and wife. 
Maybe you want to do something romantic together like taking a wine-tasting tour in Tuscany or a sunset catamaran ride in the Caribbean. Adventurous couples might want to take an excursion to explore an Alaskan glacier by helicopter or cliff jump into the Adriatic Sea while docked in Croatia.
Whatever you choose to do, your honeymoon cruise will provide plenty of opportunities to make newlywed memories together. 
7. Spa services
Image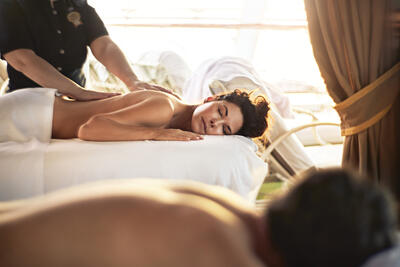 Every newlywed couple deserves to be pampered after the big day has passed! All cruise ships have an onboard spa area where you can indulge in a much-needed couple's massage.
You can also find many other services and treatments in the spa area; there's plenty of options for you and your spouse to relax with a romantic spa treatment. Take this time to unwind from the wedding stress and soak in all the newlywed bliss!
8. Opportunity to disconnect
Image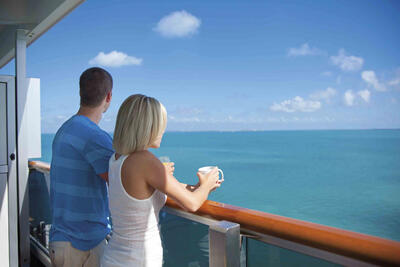 Wedding planning involves a constant stream of emails, phone calls and texts with vendors. Leading up to the big day involves even more communication and planning with everyone involved. You've likely been glued to your phone and computer to make sure everything ran smoothly. 
When you take a cruise, you have a rare opportunity to truly disconnect. Most phones don't have any service at sea unless you pay for an internet package onboard. This means all the quality time with your new spouse without feeling attached to your electronics. 
9. Escapism
Image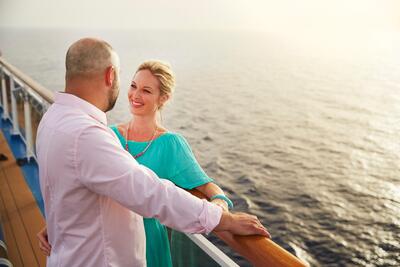 Weddings are extremely special and beautiful events that bring together two people, along with their families and friends. Any engaged couple will tell you that emotions are heightened while wedding planning. 
Unfortunately, these emotions can lead to unwanted wedding drama between families, friends and even vendors. You don't want to bring any of that negativity with you on your honeymoon. 
Cruising gives you the perfect excuse to escape any wedding drama by physically leaving behind those problems for another time. Picture yourself sailing away to sea, waving goodbye to the stress and welcoming all the good vibes of your honeymoon. 
10. Experience new cultures together
Image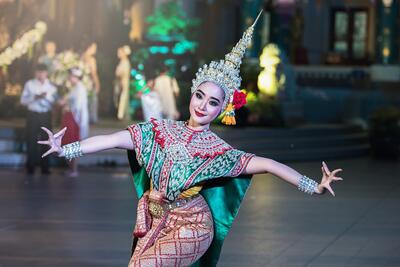 If you and your new spouse love to travel, cruising for your honeymoon is an excellent choice. Find an itinerary that includes exotic ports, like an itinerary that features the tropical islands of Southeast Asia. Immersing yourself in a new culture is one thing, but immersing yourself with your new husband/wife takes it to a whole new level. 
Cruises allow you to visit places that might be too expensive or difficult to visit. Think outside the box - places like Greenland, Patagonia, Antarctica, and the Arctic Circle can easily be accessed by cruising. 
11. Let loose
Image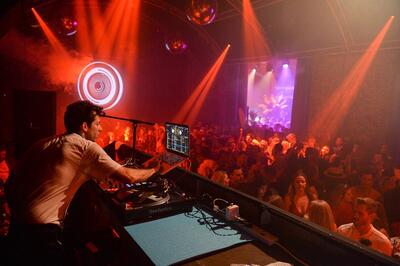 On your honeymoon cruise, you have virtually no responsibilities except to make it back to your cabin each night. Cruise lines offer plenty of opportunities to let loose together with live music and nonstop DJ tunes throughout your sailing. 
Take this opportunity to let loose and celebrate your new marriage together! Hit up the nightclub and dance the night away. No one will judge if you're double fisting drinks while tearing up the dance floor.
12. Safety
Image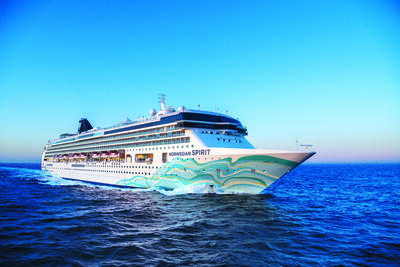 Although most resorts and islands are generally safe, cruise lines are committed to providing you a safe and healthy experience. Cruising is statistically the safest way to travel - even safer than commercial airlines! You can rest easy knowing you're in good hands of the captain and crew of your ship.
Also, some all-inclusive resorts aren't located in the best areas. While the resort itself might be safe, any unrest in the country can trickle to your resort experience as well. Cruising ensures you'll have a safe and enjoyable honeymoon, as ships have the flexibility to change itinerary whenever necessary for safety. 
13. A new sunset and sunrise every day
Image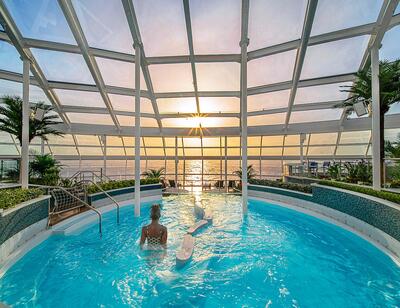 There's something so romantic about watching the sunset together, especially when you're newlyweds basking in post-nuptial bliss. It's always a serene and breathtaking moment to watch the sun slowly set over the sea. 
When you're cruising, the ship is typically pulling into port at sunrise and leaving for a new destination at sunset. You'll get to enjoy these quiet moments together with a different sunrise and sunset each day during a cruise. Some of the best sunsets I've ever seen were ones that I watched from the balcony of a cruise ship. 
14. Ultimate relaxation
Image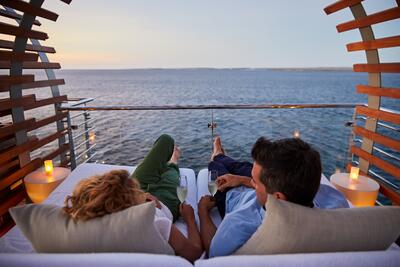 The minute you step onboard, you will be taken care of and pampered nonstop. From excellent service in the dining room to your stateroom attendant meticulously cleaning your cabin twice a day, you won't have to lift a finger. The crew will go above and beyond to make sure you're satisfied with every aspect of your cruise vacation.
As a honeymoon couple, the staff will surely take every opportunity to make you feel special and celebrated. 
15. Don't waste any time
Image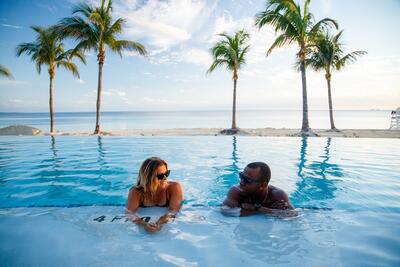 If you've dreamed of a romantic honeymoon to the Greek Islands, consider how much time you'll spend at the airport or onboard a ferry to visit each island. You'll have to check in and out of hotels while repacking your suitcase multiple times. 
Cruising for your honeymoon allows you to enjoy more quality time together rather than wasting time at the airport, train terminal or ferry dock. The cruise ship moves you while you sleep, meaning your precious time together isn't wasted on logistics.
Also, the more logistics your honeymoon has, the more opportunities you have for something to go amiss. Limit your plans and let the cruise line handle the logistics for you! 
If you're wondering what I did for my honeymoon, this shouldn't come as a surprise that my husband and I took a cruise! We sailed from Venice to Croatia and Greece on an 8-day sailing onboard Royal Caribbean. It was the perfect honeymoon for us, as Venice where we got engaged the year earlier. If you have any doubts on cruising for your honeymoon, I promise you won't be disappointed.