Disney Cruise Line's newest ship, Disney Wish, is one step closer to its highly anticipated inaugural sailing.
Disney Wish has started her conveyance journey on the Ems River from the Meyer Werft shipyard in Papenburg, Germany. During this journey, the newest cruise ship for Disney Cruise Line will transition to its final outfitting location before beginning sea trials.
What is a ship's conveyance?
Image
Essentially, a ship's conveyance is a strategically planned move of a new cruise ship from the shipyard, where it was constructed, to the North Sea. 
The Meyer Werft shipyard in Papenburg, Germany is located considerably inland, meaning the new cruise ships can't simply set sail to the open sea like normal from a cruise port. The location of Meyer Werft in Germany was chosen in 1795 to protect ships from the impact of storms from the North Sea, which is notoriously stormy. 
During Disney Wish's conveyance, the brand-new cruise ship will transit backwards up the Ems River to its new location. The journey for Disney Wish is approximately 32 kilometers from the shipyard and must take place during high-tide. 
Image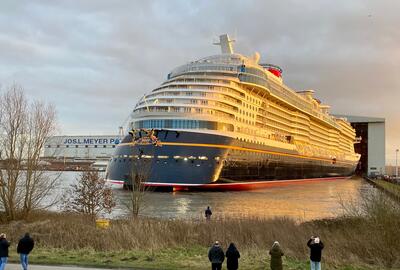 A few of the river's dams will also be closed to ensure Disney Wish can safely make her journey. 
For a ship's conveyance to be successful, the river must have enough water below the hull of the cruise ship. When the tides are right, Disney Wish will begin her journey upriver; during some sections of the river, Disney Wish will only have a few centimeters of clearance.
Disney Wish isn't able to make her journey alone though; she requires two tugboats to guide her, moving only 2-3 knots along the river. By traversing her conveyance backwards, Disney Wish is able to optimize control and protect the azipods and propellers. 
Image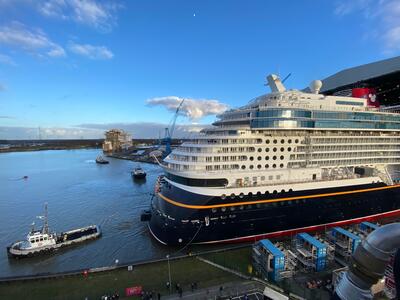 It will take approximately 10 hours for Disney Wish to complete her conveyance, given the Elms River maintains optimal weather conditions for the strategic move. 
Once the ship reaches this new location, Disney Wish will receive her final outfitting and begin sea trials to ensure the ship is ready and safe to sail. Once she is deemed sea-worthy, Disney Wish will be delivered to Disney Cruise Line where it can begin its planned sailings for the 2022 summer season. 
Disney Wish will set sail from Orlando's Port Canaveral in July 2022, offering 3 to 4 night sailings to the Caribbean. Typical of Disney, the short cruises won't be cheap. Disney Wish offers 3-night sailings starting at $1,700 and 4-night sailings starting at $2,200.
The Highly Anticipated Disney Wish
Image
Announced nearly 5 years ago in 2017, Disney Wish was confirmed as the first cruise ship that would join Disney Cruise Line's new Triton Class. This marked the first new Disney Cruise Ship in nearly 10 years.
The next two ships of the Triton Class will be delivered in 2024 and 2025, respectively.
Disney Wish is the most innovative ship to date for Disney Cruise Line; in fact, she will be one of the most advanced ships sailing this summer because she features new LNG-powered technology. 
Image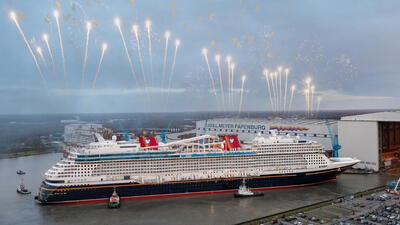 The expansion of Disney Cruise Line marks an exciting new chapter for the cruise line, as the 3 new ships will nearly double Disney's current sailing capacity. Disney Cruise Line operates a fairly small fleet, instead focusing on offering highly-interactive, premium experiences onboard its ships. 
One of the most exciting features of Disney Wish is the cruise line's first-ever ride at sea, the Aqua Mouse. The snazzy new cruise ship will also have 6 pools, a Stars War lounge exclusively for adults, stunning entertainment with original theater productions, and a Marvel Superhero Academy. 
Disney Wish will be the cruise line's largest ship with 1,250 staterooms and a sailing capacity of 4,000 passengers. 
Image
Additionally, Disney Wish will focus on combining classic Disney themes with wondrous dining, featuring 3 new restaurants onboard. Dining and storytelling come to life with Disney Wish's new specialty dining options, which is sure to leave a lasting memory for families who love the Disney experience.
One of the new specialty restaurants will feature an all-new theatrical experience based on Disney's wildly popular Frozen films. The dining show will be complete with musical performances from Anna and Elsa. 
Another imaginative dining experience will take place during the Avengers Quantum Encounter. The restaurant will feature delectable dishes from around the world during an immersive, action-packed mission. 
Disney Wish will also feature a highly-anticipated Star Wars universe where travelers can support the Renaissance during another immersive experience onboard a starship.