Today, May 19, 2022 MCS Cruises announced new details and updates pertaining to their newest ship, MSC World Europa. Updates include new restaurants, family offerings, and stateroom designs aboard World Europa.
MSC newest ship is six months away from its debut, and welcoming onboard its first passengers. MSC World Europa is said to be the cruise line's most innovative, most environmentally advanced, and its most exciting ship to debut so far. MSC World Europa is said to become the cruise line's flagship once it is completed.
MSC Cruises has announced new details on what will make their newest ship special and engaging for guests.
Image
The World Promenade
The large promenade onboard will span 341 feet long, and cover a 7-deck height. The promenade area onboard will be named World Promenade. This area will feature sea views and al-fresco dining.
The longest dry slide found at sea will be located in the World Promenade area. This innovative form of entertainment will be named The Venom Drop @ The Spiral. The slide will span the length of 11 decks. This fun and thrilling experience will be able to take guests from the top of the ship, to the World Promenade with a nearly 250-foot drop.
Also featured in as par of the World Promenade, will be the World Galleria. This space will cover approximately 3,200 square feet and will consist of bars, restaurants, shops, and boutiques.
Restaurants, bars, and lounges
MSC World Europa will feature an impressive 33 restaurants, bars, and lounges. Each of these venues is said to have their own style and ambiance for guests to explore, along with globally inspired menus.
Part of this impressive number of restaurants, bars, and lounges, will be 13 dining venues, including 6 specialty restaurants. Two of these venues will be brand new to MSC Cruises, Chef's Garden Kitchen and La Pescaderia.
In addition to new offerings, guests will be able to enjoy fan favorites such as Butcher's Cut, Hola! Tacos & Cantina, and Kaito Teppanyaki and Sushi Bar.
Out of the 20 bars and lounges that will be found onboard MSC World Europa, 7 of which will be new concepts for MSC Cruises. These venues will make their debut with the new ship, such as a microbrewery, gin bar, and a cocktail bar that will honor mixology.
Image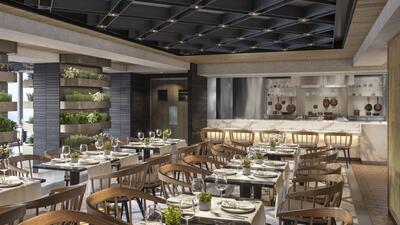 MSC says this about their dining locations onboard MSC World Europa, "a wide variety of bars and cafes to match any mood. Peruse her decks, step into the fresh juice bar, settle in for a cup of tea, or enjoy a cocktail. Bars and lounges will surprise guests with a strong focus on artisan and craft products."
Entertainment
Guests will be able to experience a wide range of entertainment onboard MSC World Europa, including: grand-scale theater productions, immersive performances in the aft lounge, interactive family entertainment in the Luna Park Arena, a roller-disco, and bumper cars.
Image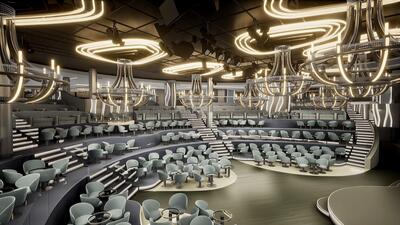 Children's areas
MSC Cruises has collaborated with both LEGO and Chico to create a one-of-a-kind kids space onboard World Europa. This entertainment venue for children will cover 8,200 square feet and will be intended for children 0-17 years of age.
This venue will have intended rooms and sections for each age group of children. The children area will additionally have its hours extended, and younger passengers will be accompanied by staff so that they might enjoy all the ship has to offer.
Pool areas
MSC World Europa will feature 7 swimming pools and 13 whirlpools onboard. Some of the highlights that guests will be able to enjoy include: Zen Pool, MSC Yacht Club, Aquapark, La Plage, and Botanic Gargen Pool.
Image

Cabins
MSC World Europa will feature 7 new and innovative cabin types and designs not yet seen aboard other MSC ships.
An example of one of these new cabin designs, is the Infinite Ocean View cabins. These rooms will feature a panoramic window that slides down to form a glass balustrade when they are opened that will provide stunning views.
Image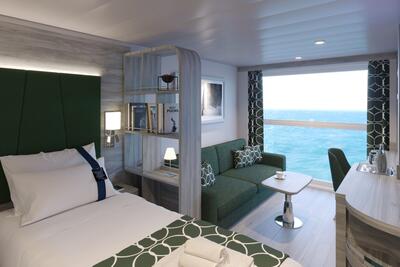 Itineraries
MSC newest ship is currently scheduled to spend its inaugural season in the Gulf region. MSC World Europa will begin its season with a 4-night sailing from Doha, Qatar to Dubai, United Arab Emirates. Afterwards, World Europa will offer 7-night sailings from Dubai to Abu Dhabi.
While experiencing the Gulf region, World Europa will make stops at destinations such as Dammam, Saudi Arabia, where guests will be able to visit the Al Ahsa Oasis.
Environmentally conscious
MSC World Europa will be MSC's first LNG (Liquified Natural Gas)-powered vessel, making it the most environmentally conscious ship in MSC's fleet to date. LNG is currently one of the cleanest marine fuels available, and it almost eliminates local air pollutant emissions, such as sulphuric oxides and nitrogen oxides, by 85%.
World Europa will additionally have Selective Catalytic Reduction (SCR) systems onboard, as well as shore-to-ship power connectivity, and advanced wastewater treatment systems.
Image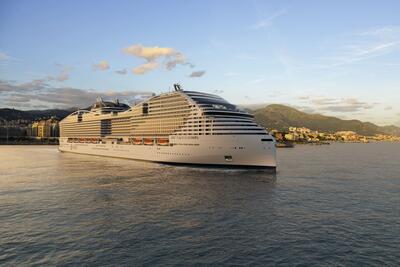 Details
MSC World Europa will be the first ship in MSC's newest ship class, World Class. World Europa will stat at 22 decks tall, and span more than 150 feet wide. World Europa will feature 2,626 cabins onboard, and will contain more than 430,000 square feet of public space.
"As the first in her class, she is a modern cruise ship unlike any other, pushing the boundaries of what is possible at sea. She breaks records, sets new standards and is our most sustainable and futuristic cruise ship ever. Powered by cleaner fuel, and with green technology integrated throughout the ship, she is a statement of our commitment to the future of this planet," says MSC Cruises about their newest ship.