There's more than one way to cross the Atlantic Ocean to reach the Old Country. 
While most travelers choose the speedy and efficient method of flight, a voyage on a cruise ship is the classic way to enjoy a transatlantic journey.
I hopped on Cunard's legendary Queen Mary 2 for my first crossing, going eastbound from New York City's Brooklyn Cruise Terminal to Southampton to see exactly what seven days at sea feels like.
Image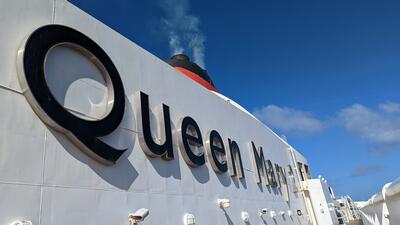 A cruise with no port stops for a whole week seems like it might be boring, don't you think?
Well, as I asked others who have done this voyage (and some several times), they insist that there is a lot to love about it. 
For most onboard, I learned that the goal is to simply enjoy a series of days that can be filled any way you desire — relaxing all the way or mixing in any number of the dozens of activities offered each day in the program.
Indeed, the daily program is packed with entertainment and enrichment activities, and this is where Queen Mary 2 really shines. 
I'll give you a rundown of how my weekend voyage played out here, with the highlights and lowlights.
First, a bit about the ship. 
Queen Mary 2 is technically not a cruise ship but an ocean liner. It's actually the world's last and only ocean liner. The ship debuted in 2004 and carries up to 2,700 passengers. It's an ocean liner because its primary purpose is to transport passengers between New York and England. So, it is built differently than standard cruise ships. Queen Mary 2 has a strengthened and thicker hull (almost twice as thick as most standard cruise vessels). It also can travel much faster, reaching almost 30 knots in open water. The bow and hull shape also are designed to cut through the water even in rough seas, and this makes the journey much safer and more stable.
Day 1 Embarkation
Image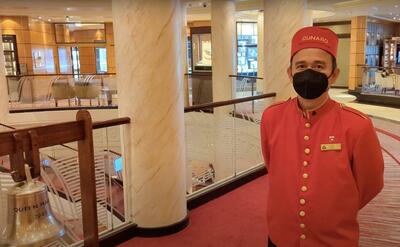 We boarded and spent our first day getting to know our way around the ship. We unpacked in our balcony cabin, No. 5245, which is located on the starboard side at the aft of the ship, and started exploring Queen Mary 2. 
Image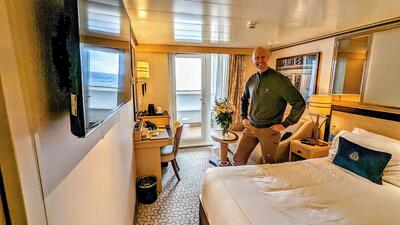 Image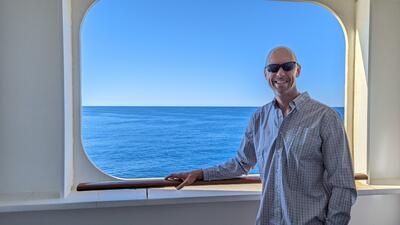 Being almost 20 years old, the vessel is showing some wear and tear in spots, such as the gym equipment and carpeting. However, it also features majestic and ornate public spaces filled with art paying homage to Cunard's rich maritime heritage.
Image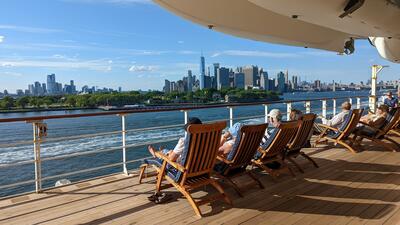 We pulled away from New York City around 6 p.m. on a Sunday under beautiful sunny skies, and passengers filled the chairs and lined the rails on the promenade on Deck 7 to enjoy the sailaway past the Statue of Liberty and under the Verrazano Bridge as the city skyline faded in the distance.
Image
The voyage was underway. No port stops for a full week. 
Image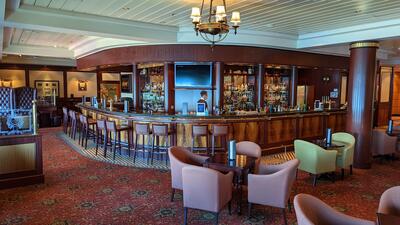 Colleen and I grabbed the Pub Lunch at the Golden Lion Pub. This is a fixed menu that is the same every day of the cruise, and it's a good spot to try on embarkation day before more cruisers catch on.
Image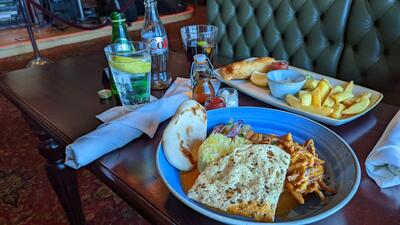 We were able to avoid the large crowds having lunch at the King's Court buffet. Colleen enjoyed the fish (beer-battered Atlantic cod) and chips, and I had a nice chicken tikka masala, as we ate in the pretty pub while looking at the gentle waves just outside the windows.
Image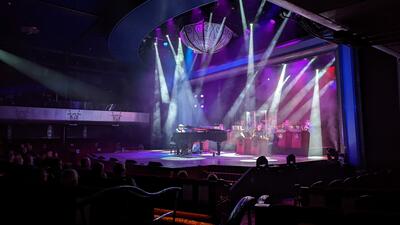 We took a nap, so that we would be fresh for the rest of the night, which included a late-day workout to try out the gym, trivia, dinner at the buffet, the main show (a pianist in the Royal Court Theatre and a cocktail at the Golden Lion. 
Image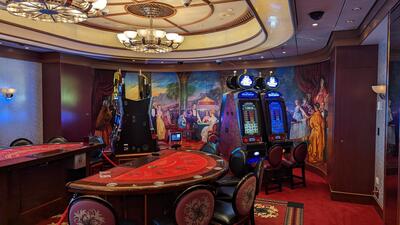 The ship's bars and lounges offer menus filled with a variety of craft cocktails, spirits, wines and beers. Cruise fares do not include drinks or specialty dining, but you can purchase a drinks package (priced around $69 per person per day, and both passengers in same cabin must buy the plan).
We have been paying as we go, and Colleen went for the highly recommended Scorpion's Tail cocktail, which combines jalapeño-infused tequila and squid ink to create a spicy drink that has an ominous black color.
Day 2 Monday, at Sea
Image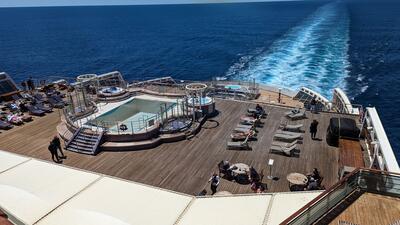 The daily program is packed with so many activities that you would be wise to map out your day in a way that gets you to as many things as you might like to do. There are card- and bridge-playing groups, watercolor classes, blackjack tournaments in the casino, dances lessons, fitness classes, enrichment talks and all kinds of live music sessions. You'll also find two daily shows in the in the main Royal Court Theatre, as well as a planetarium show (offered multiple times during the week), fitness classes, paddle tennis, shuffleboard, movies and afternoon tea.
Image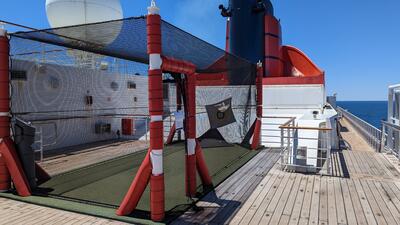 The tea times in the Queens Room are a favorite, and the large ballroom fills up each day with cruisers eager for hot tea, tiny sandwiches and scones with jam and cream, along with other sweet treats.
We were traveling on our crossing with a group of 18 WWII and Vietnam War veterans who were onboard thanks to a Cunard partnership with The Greatest Generations Foundation. In the morning, after breakfast in the Britannia main dining room, we attended the first of several chats held with some of these war heroes.
Image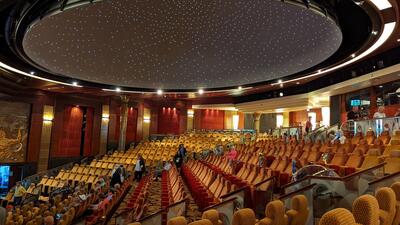 We gathered in the Illuminations theater and heard sad and thrilling tales from 102-year-old Steven Melnikoff and Donald Cobb (97) about their experiences during the invasion of Normandy during D-Day 78 years earlier (this talk took place June 6, the anniversary of D-Day).
Image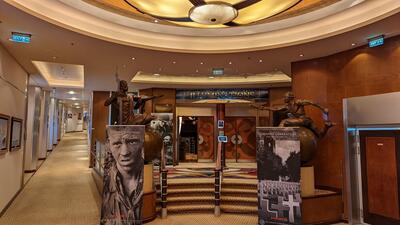 Image
This is the type of fascinating enrichment that Cunard is known for and a big reason why curious travelers like sailing with this line. 
Image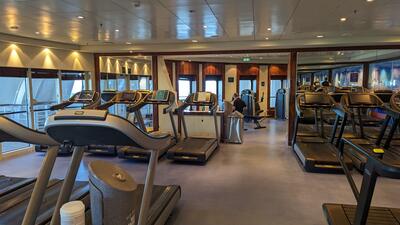 We headed to the gym for an afternoon workout. The treadmills and other equipment are quite worn down. It looks like it hasn't been replaced in more than 10 years. Where the rest of the ship's older features are charming, this seemed dangerous in some aspects. (For example, belts on no fewer than four treadmills were ripped, a serious tripping hazard.)
We were able to get in daily workouts, though, fairly effectively, and these helped offset the boosted calorie intake we always experience own cruise trips.
Image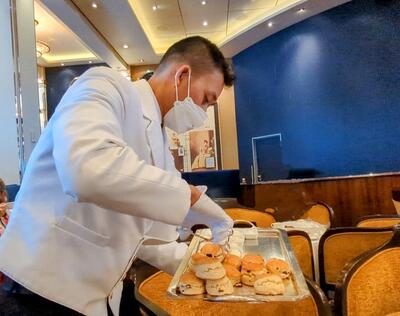 One thing not to miss (and you'll probably want to hit it up a few times, if not daily) is the afternoon tea at 3:30 each day. This is held in the Queen's Room, a glorious ball room. This space fills up with Brits, of course, and hundreds of other passengers enjoying the tea and snacks. We downed scones and some sandwiches along with a hot black tea to tide us over until dinner time.
It was Red and Gold Gala night onboard, and I donned a red tie in my attempt to fit in. It was nice to see many passengers excited to dress up in elegant dresses and fancy suits for the theme night. 
Each Cunard cruise features at least two theme nights during a weeklong. We had this one and a Roaring '20s night on our itinerary.
Image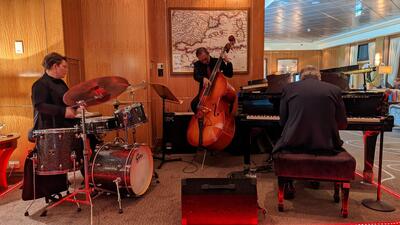 We roamed the ship, popping in to Golden Lion for a beer and live music from a father-and-son duo from Newfoundland, who played Irish and Newfoundland folk classics. 
Queen Mary 2 offers a nice variety of beers, with three Cunard special craft brews: Cunard Red, Cunard Black and Cunard Gold. We really liked the Black, which is a biscotti breakfast stout. This is flavorful and rich. The Red is called an IPA but was flatter and less IPA-like than Americans might be expecting.
Image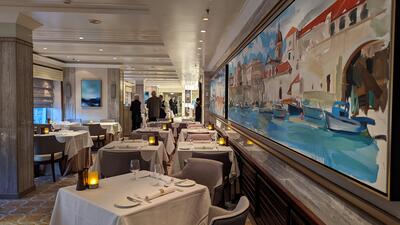 Dinner was at one of the two specialty dining venues. La Piazza offers an Italian menu in a segregated area of the King's Court larger buffet facility.
Image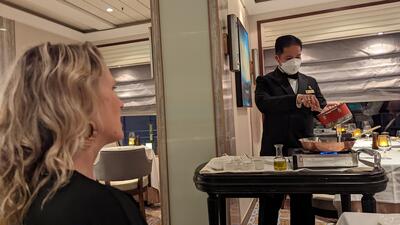 Image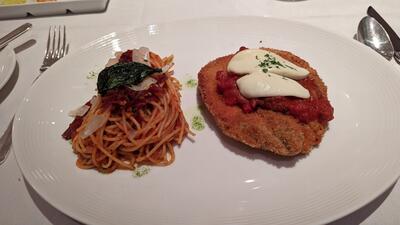 I enjoyed a nice chicken parmesan, and Colleen really liked the pasta of the day, an aglio e olio spaghetti prepared with a little flair tableside.
We strolled the ship for a bit, popping into lounges for live music and helping some friends take glamor shots in their dresses and suits before calling it a night.
Day 3 Tuesday, at Sea
The voyage was three days in, and we still had not seen all the places around Queen Mary 2.
I finally walked the rest of the ship, using the provided map as a guide to try to find all the public spaces. QM2 has a more classic design that puts venues all over the place on numerous decks, so you have to do a bit of expert navigating to find many of the spots. 
I found the large art gallery, a huge two-story disco/lounge, the ConneXions area that features meeting rooms, a computer lab and a huge wing of photographs and interactive screens that serve as a sort of mini Queen Mary 2 museum.
The morning Greatest Generations program featured stories from WWII vets Jim Blane (97) and Don Halverson (99), who spoke about the battles in the Pacific.
Image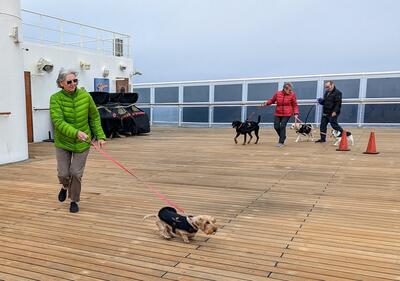 Queen Mary 2 is the only passenger ship with a kennel, and we rushed up to see the owners doing the daily exercises with their dogs. The ship offers spaces for up to 24 dogs and cats, and a kennel master takes care of the animals.
Image
We filled our day after that with time at the gym (of course) and a trivia contest in Carinthia Lounge, where you can find irresistible sweet treats like scones and brownies to have with a tea or coffee.
There is a Godiva Lounge with chocolate candies, gelato and coffees for sale. We popped up to the Commodore Club, which might be our favorite spot, on Deck 9 at the front for amazing views of the bow and craft cocktails. This is where we enjoyed the Land of Hop and Glory beer cocktail.
Image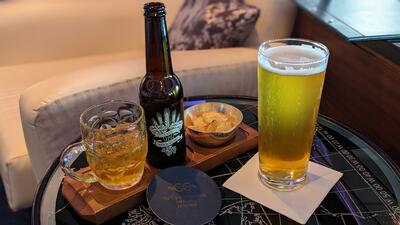 The attached Churchill's cigar lounge is up here, and off to the side of the club. An elevator on the side of the ship offers incredible views of the sea. It's worth a ride just for this.
Image
The ship also offers a vast library and a book store. This is a regular lending library setup with cases full of reference books, travel titles and classic novels. There is also a bank of computers and areas to sit and read quietly.
Image
The ship features two specialty dining venues. The Verandah is a steakhouse, and we dined there on this day. It offers perfectly done steak and all the classic sides, such as mashed potatoes, fries and broccoli, as well as a nice selection of desserts like strawberry pavlova, apple pie a la mode and a brownie sundae with salted caramel peanut butter ice cream. 
Colleen and I shared a steak platter for two, which could easily feed three people. This was the best restaurant experience onboard by far.
Image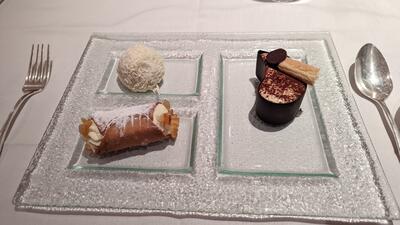 Within the King's Court buffet, a rotating specialty dining space is created each night. During our cruise, we tried La Piazza for Italian specialties (mentioned above) and Coriander, the Indian cuisine concept.
Days 4-7, Wednesday to Saturday, at Sea (Always at Sea)
By now, we were starting to find our rhythm on the ship. The ship time began to adjust each day at noon, moving ahead one hour to become 1 p.m., so we lost an hour a day for five consecutive days on the voyage. 
I think it is good that they do it at noon, which allows passengers and crew to be on a more normal sleeping schedule each night and just have the afternoon shortened instead. But it has to be a better deal to sail a westbound journey, gaining five hours during your cruise, instead of losing five hours.
These final days of the crossing saw the ship passing through a little bit of rainy weather for a day and a half, and the seas got rougher in the northern Atlantic, but this only made it feel like a real transit journey. 
The fairly gentle tossing made it pleasant for sleep in our cabin at the aft of the ship, and many of the hearty passengers, mostly Brits and Americans, still made their way outside for daily walks around the promenade.
Image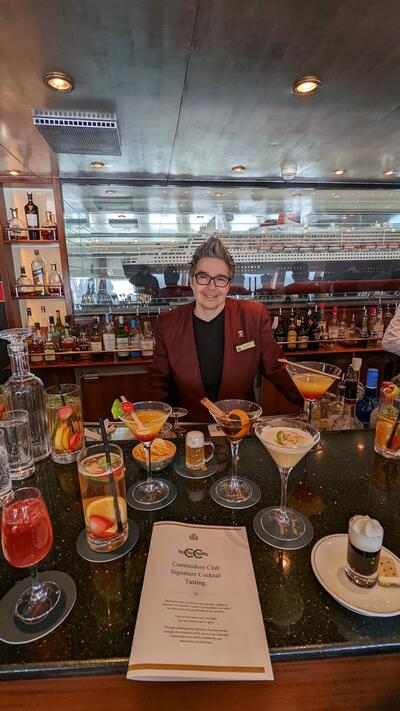 Colleen and I spent our time each day by attending the Greatest Generations chats, attending the Commodore Club Specialty Cocktails class, going to the gym, taking an afternoon nap, enjoying our meals (trying all the restaurants and room service), going to a show in the main Royal Court Theatre (we enjoyed the comedian Mark Palmer), heading to a lounge for music or to watch a sporting event to cap or night — before getting up to do it all over again.
We reserved a two-hour session the ship's thermal spa for Friday. Day passes ($39) and full-cruise passes ($149) are offered, but the sessions must be reserved, and you can only go during your two-hour time slot. This is an inconvenience for those who love spa time and would prefer to pop in and out whenever they feel like it during their cruise. Capacity is capped at 12 people at a time.
The thermal spa suite features a large thalassotherapy pool, saunas, steam room and foot massage baths.
I even attended a cool talk about the works of Banksy and Mr. Brainwash and the rise of "street art" as a popular investment.
Image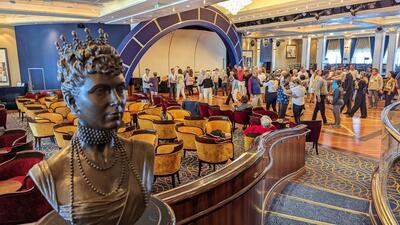 This took place in the stunning Queens Room ballroom space, which just an hour earlier had been the site for one of the week's dance classes. We saw people learning tango and waltz in the well-attended sessions. On the last night of the cruise, Queens Lounge was the spot for Motown Night, with people hitting the dance floor late into the night, stretching out their fun as long as possible.
The program really has something for everyone, and the number of venues and large spaces on Queen Mary 2 made our sailing (we were on with about 1,900 passengers) seem uncrowded all week.
On the final two nights, we dined at Chef's Galley, which is a burger, hot dogs and fries grill at lunchtime. But for dinner, the small space becomes a quaint little restaurant (complete with white linen table cloths) that offers pizzas and pastas. Colleen and I loved the quiet atmosphere and nice selection of hearty pastas and traditional pizzas.
By this time, we were excited to get off the ship in Southampton. The weather was fantastic the final two days of the cruise, but seven days in a row at sea left us a little restless to go ashore and change our scenery. 
I know most of the others onboard felt quite the opposite, as they were having a great time meeting new friends, dancing the nights away and happily working on their sunburns while dozing by the pools. 
A crossing on Queen Mary 2 is a wonderful experience and one that any avid cruiser should look forward to trying because it really does give a glimpse into the classic and romantic era of pleasure cruising as a means of transportation as well as an upscale leisure endeavor.
Hits
Image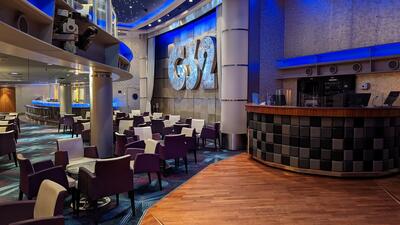 The enrichment program on Queen Mary 2 is the best part of the trip. When you have seven consecutive days at sea, you definitely want to have stuff to do. The program has an abundance of talks, lessons, live music, theme nights and dance parties sprinkled throughout the numerous venues.
The Greatest Generations offerings during our sailing were a special treat. These men shared fascinating stories and heart-wrenching lessons learned from awful wars and provided a measure of inspiration for all who attended the six shows throughout the week.
Image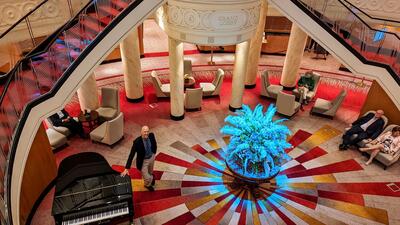 The ship is a star in its own right. Queen Mary 2 features gorgeous spaces, and the vessel exudes elegance and history, with its artwork, sculptures and museum pieces throughout the ship. There are surprises at nearly every turn, with a few conversation pieces that give the ship a distinct place in the industry. A Homer Simpson image is secretly hidden within one work of art. Passengers will also want to find the interesting items known as the Commodores Cufflinks.
The ship's menu of beers and cocktails is outstanding. Cunard offers its three specially branded craft brews, as well as an array of other beers from Great Britain and around the world. The Commodore Club features seven distinct specialty cocktails, such as The Chieftain of the Clan, Yorkshire Pacesetter and Commodore's Cure. There are seven in total, and each of the creations is made to help convey a little story about the distinguished Cunard commodores (fleet captains) for which they honor.
We also tried the Scorpion's Tail in the Golden Lion pub, which offers a full menu of its own craft cocktails.
The ship also features a Champagne Bar with premium bubbly.
An alcoholic drinks package costs $69 per person per day, and two from the same stateroom must buy the package.
The Library on the ship sits on Deck 8 at the bow. It a large area tucked away nicely from the bustle of the main part of the ship, and it's a proper library with stacks and stacks of all kinds of books, historical, reference, novels, travel guides and more. This is the only real library at sea, and people love to grab something to read for the voyage. The library space features couches with wonderful views, computer stations and an attached bookstore with gifts, books and souvenirs.
A chance to simply relax and enjoy the voyage
Misses
Image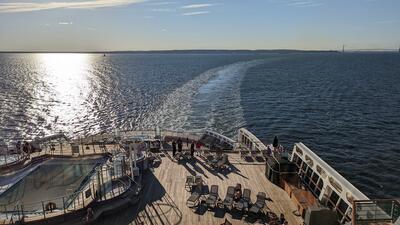 While a major refurbishment in 2016 updated a lot of the gorgeous public spaces, the ship needs  some TLC to address several spots.
We stayed in a cabin with a "sheltered balcony" on Deck 5 starboard side at the aft.
The cabin decor is outdated. Staterooms feature wood cabinets and furniture that is a light-yellow color, with beige walls. The biggest disappointment, though, is the small bathrooms and showers (with the old clingy shower curtains). The bathrooms have ashtrays affixed to the walls still! The older (non-suite category) staterooms like ours have no USB outlets and no charging options for devices at the bedside.
The gym features a fair enough range of equipment, but several treadmills have worn out and frayed and torn treads that, aside from being cosmetically problematic, they are outright dangerous. 
There are other pieces of weight equipment that were similarly worn out.
Image
The Pavilion Pool area also had several spots that need cleaning, painting and general maintenance. The decking and ceilings had mildew and mold spots and even a couple lounge cushions were extremely stained. It was strange to see and detracts from the ship's beauty.
The service was spotty. The bartenders and bar staff in the lounges were generally outstanding, but we had a disappointing experience many times in the buffet and main dining room with staff who were seemed disinterested in being present or friendly. Some, actually, were outright rude, which was a bit shocking. (A dinner in the main dining room, Brittania, started not with a hello or an introduction but instead with a rushed "are you ready?" barely two minutes after we were handed menus.)
These things are a shame because the reflects poorly on a gorgeous ship that cruisers are passionate about. The poor service from some is also not fair to the either crew who obviously are doing a fantastic job for their guests.