It's our second day onboard Carnival Ecstasy and we had a busy day exploring everything this old girl has to offer.
It almost seems like we've entered a time warp to the 90s onboard this ship. Everything is brightly colored with neon shades everywhere you look. The ship wasn't designed for easy navigation either, as we constantly have trouble figuring out where we need to go.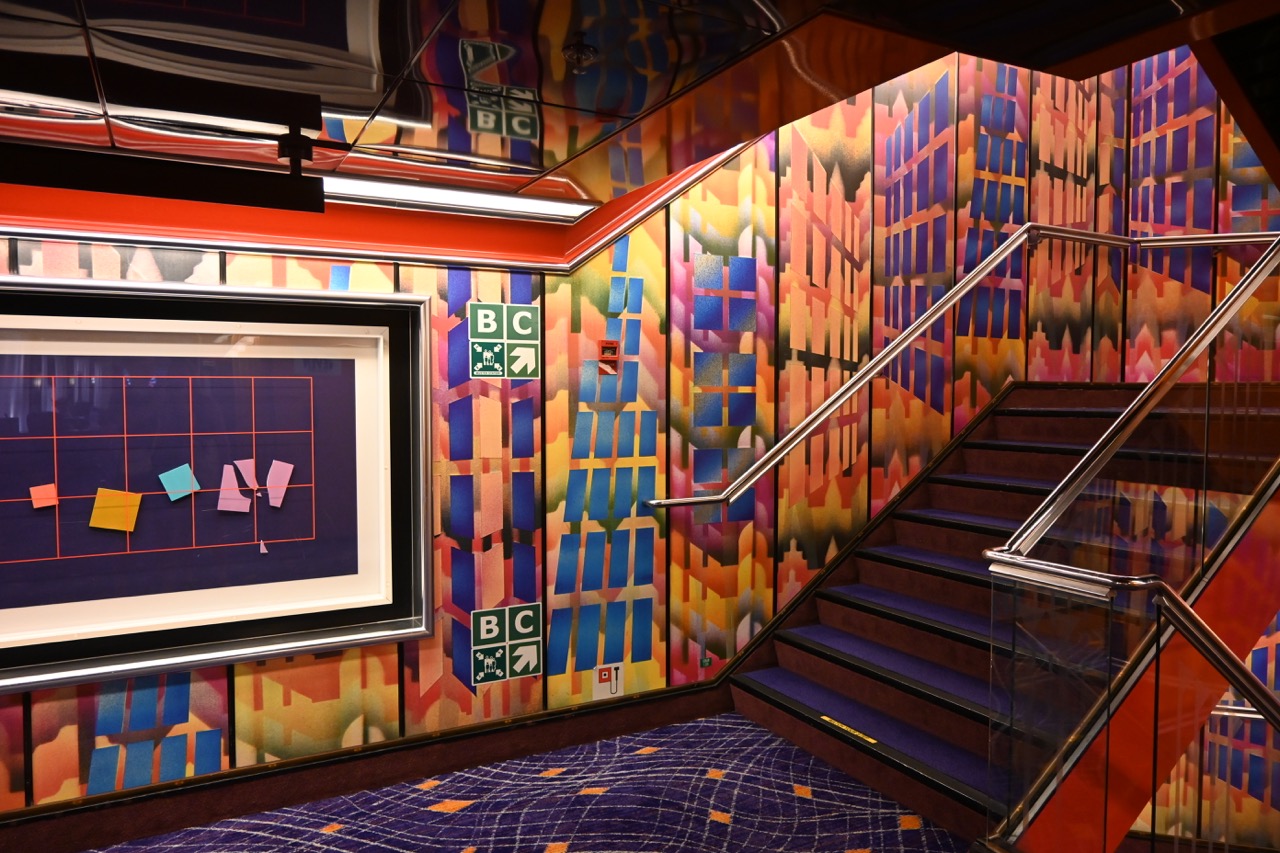 But, the ship has been maintained well and it feels very clean. We've found our cabin and public spaces to be clean, even though Ecstasy is definitely showing her age. Can't fault her though - she's the oldest cruise ship sailing among Royal Caribbean, Carnival Cruise Line and Norwegian Cruise Line.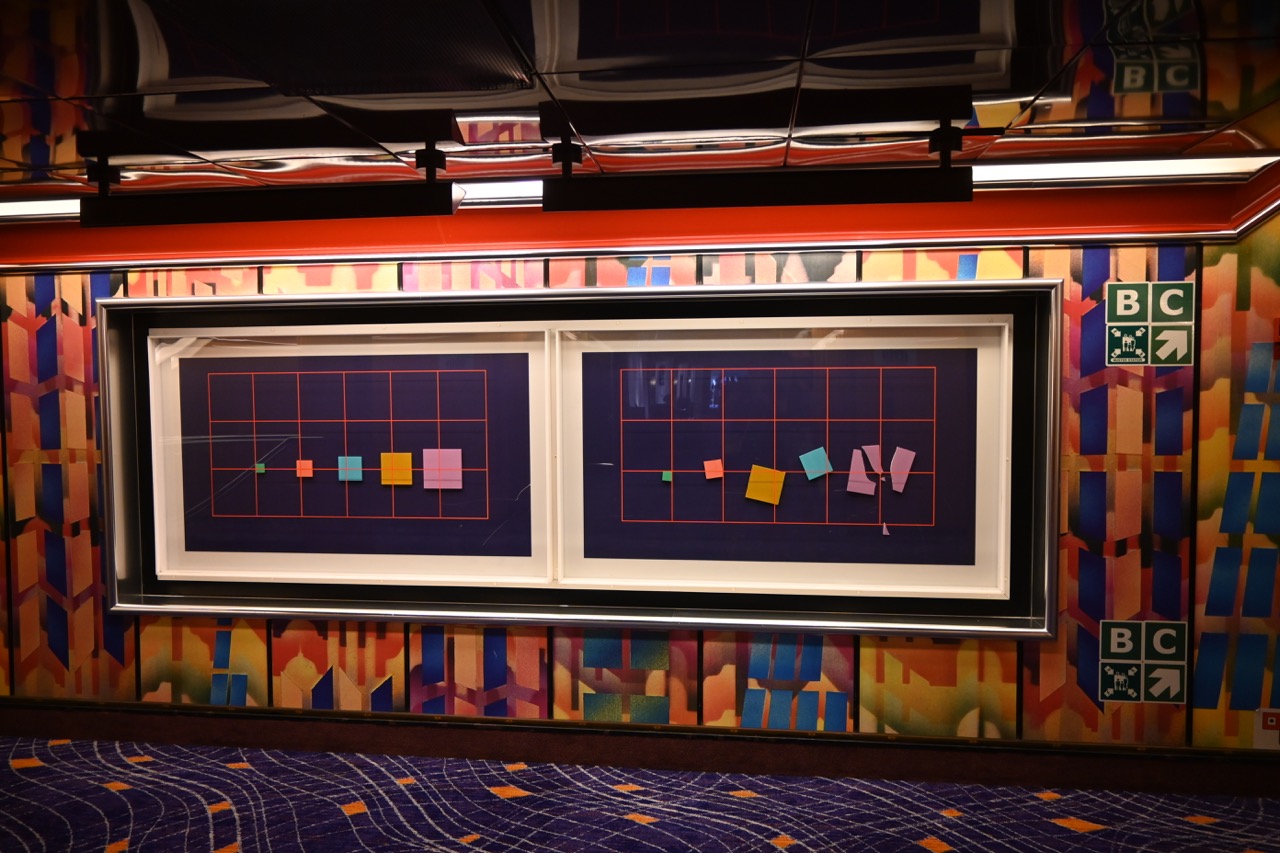 The day started earlier than I was hoping with the cruise director making multiple announcements that I could hear in our cabin, even with white noise playing. These must have started around 9 a.m., which is pretty early for a ship that encourages late night partying.
The announcements were everything from playing bingo, joining the art auction, winning a free excursion, etc. I could have done without the announcements, but they've continued throughout the day as well.
Actually, as I write this, there's another announcement that just came on. The announcements continue into the evening too, some as late as 9 p.m. about fun events happening...You know what's not fun to me? All of these dang announcements!!
After waking up from the announcements, I did a little work while Angie slept.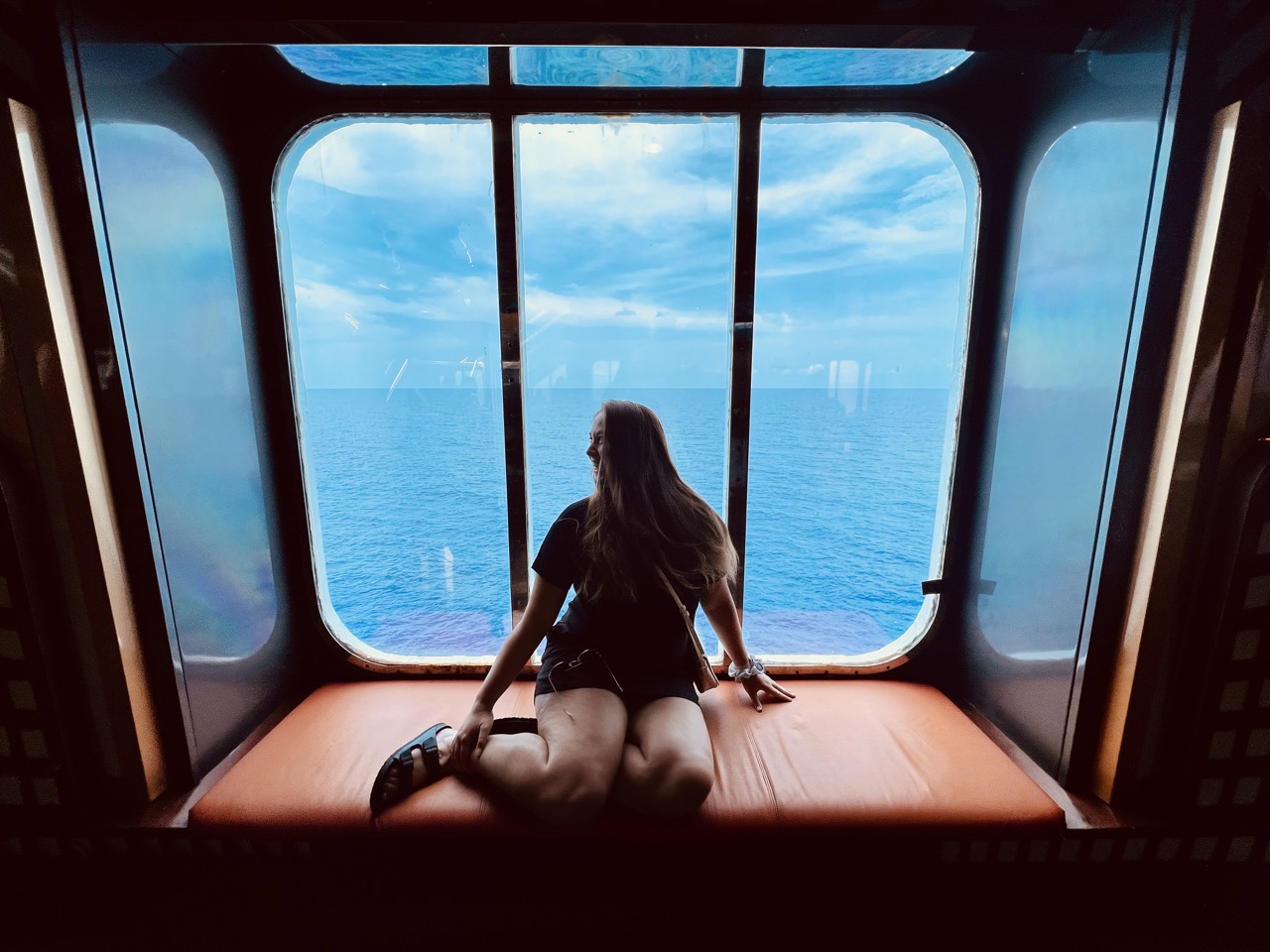 (And no, I didn't see the duck tape that may or may not be holding this window in tact when I leaned against it for a photo).
Sea Day Brunch
Our morning started with brunch in the dining room. We've read rave reviews about the Carnival Sea Day Brunch, which is complimentary on, you guessed it, sea days. It's available until noon, which is great for those of us who want to sleep in (but were woken up by never-ending announcements).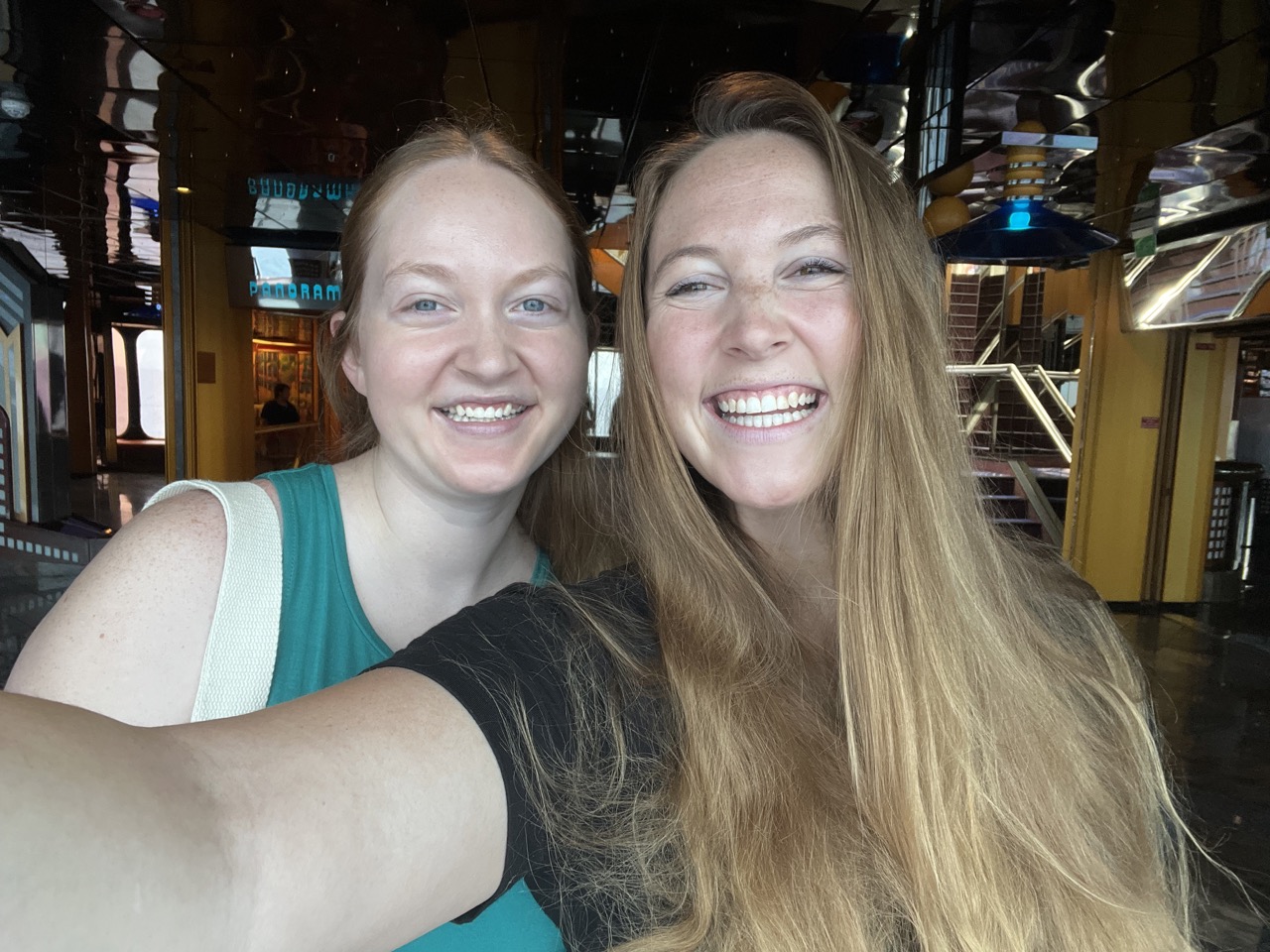 We used the Carnival Hub app to check-in for the Sea Day Brunch and our table was ready within 10 minutes.
In typical fashion, we got lost trying to find the dining room Wind Star. Upon arrival, we were seated immediately and given a table right by the window.
The menu had all kinds of delicious offerings, everything from huevos rancheros to 12-hour French toast and omelets. I ordered the fluffy skillet pancake with a side of bacon. To start, I also tried the croissant and yogurt granola.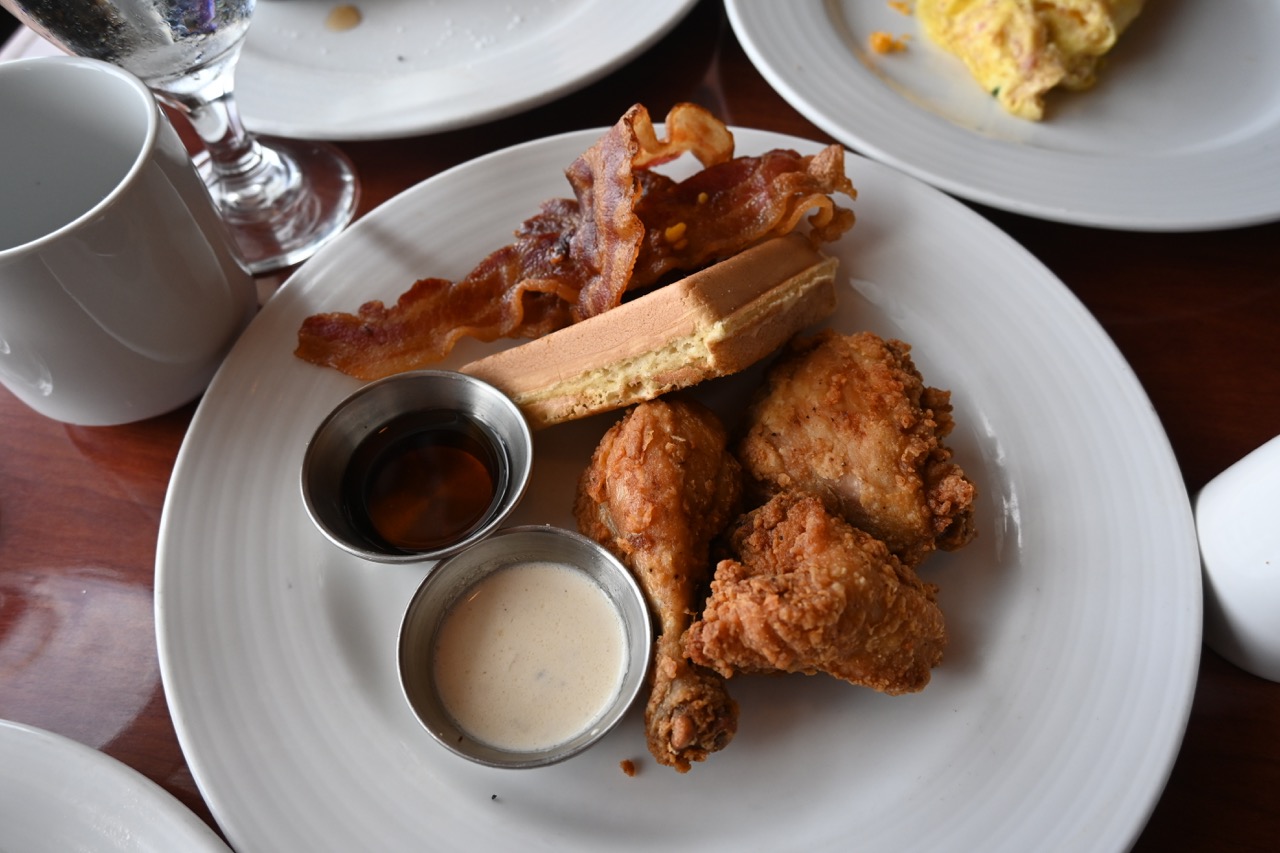 Angie tried the French toast and an omelet. We also ordered chicken and waffles to try.
The 12-hour French toast, topped with cartelized peaches, was INCREDIBLE. You could bury me in this French toast. I also loved the skillet cake, topped with whipped ricotta and cream.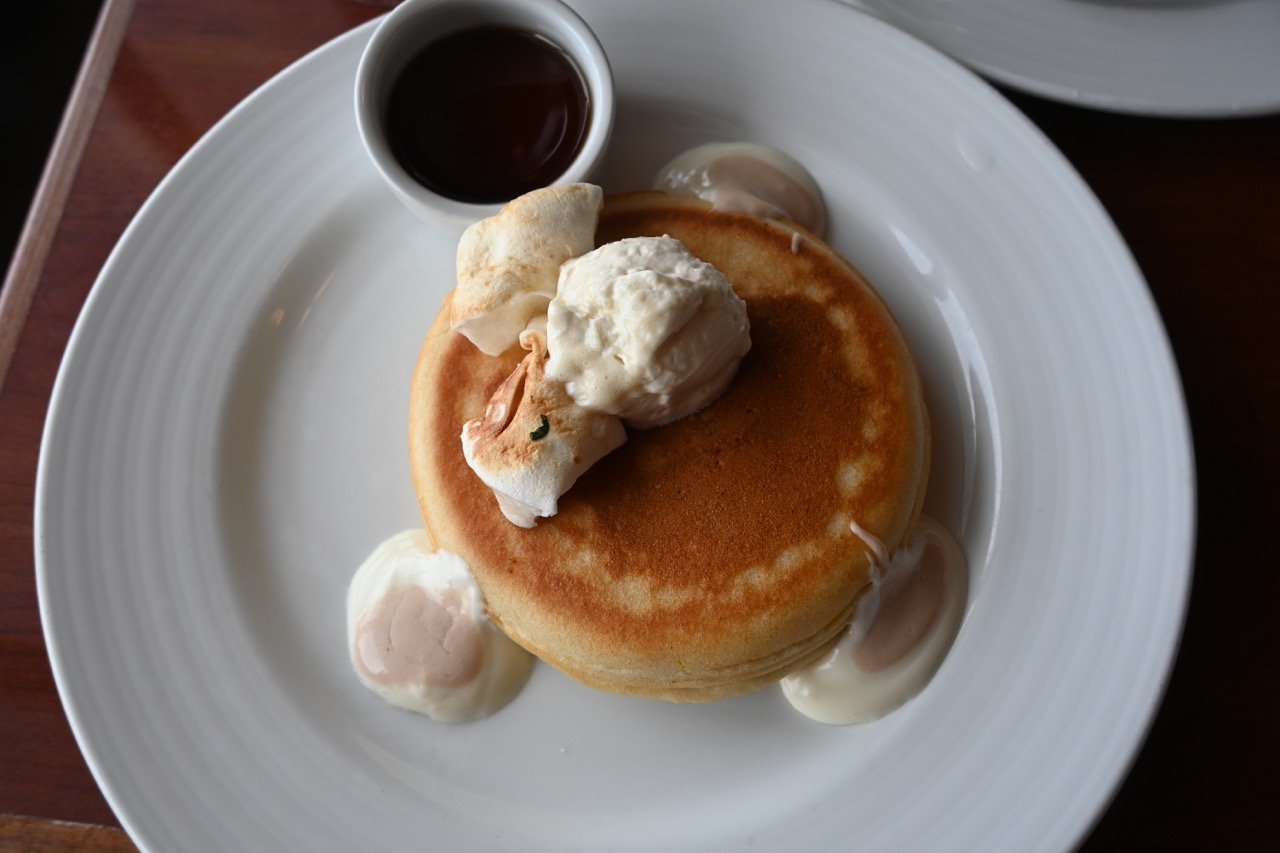 The chicken and waffles wasn't our favorite, as the waffle was overcooked and chicken was bone-in.
Overall, the Sea Day Brunch was a great experience and we will definitely be going back on Day 4, which is also a Sea Day.
Angie needed to do some work back in the cabin, so we made our way back there so she could get online quick. We've both been really impressed with the internet so far on the cruise, which was a big surprise.
Serenity Retreat
Once Angie finished some of her work, we decided to check out Serenity. This was located on the back of Deck 9, so we made our way through the Alchemy Bar and Starlight Lounge to get there.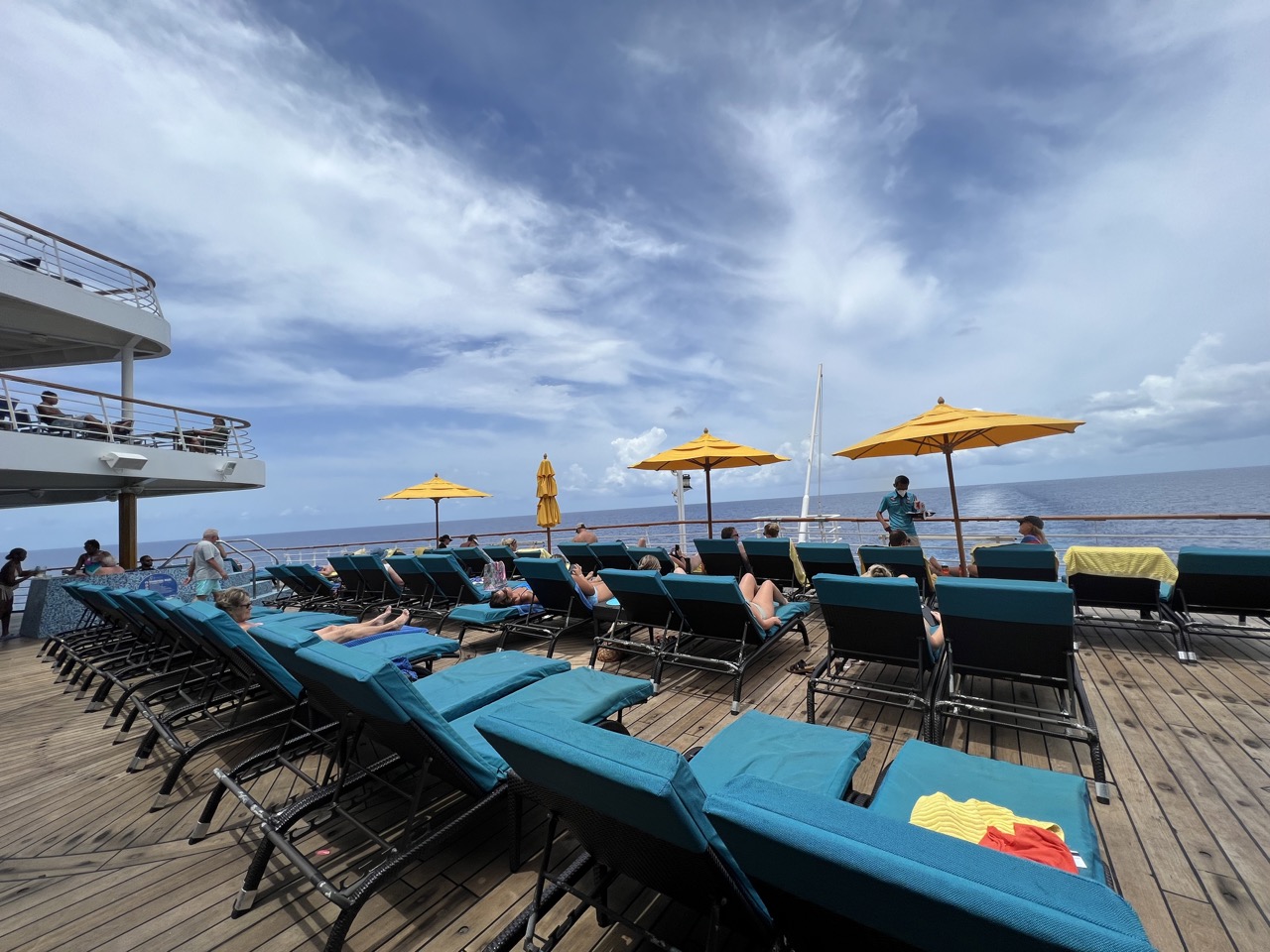 It's interesting that Serenity is tucked away on the back deck and difficult to access, but that does mean it's quiet.
There were 2 hot tubs back here with lots of padded loungers. Again, it's so hot outside that I have a hard time imaging the hot tub feels good.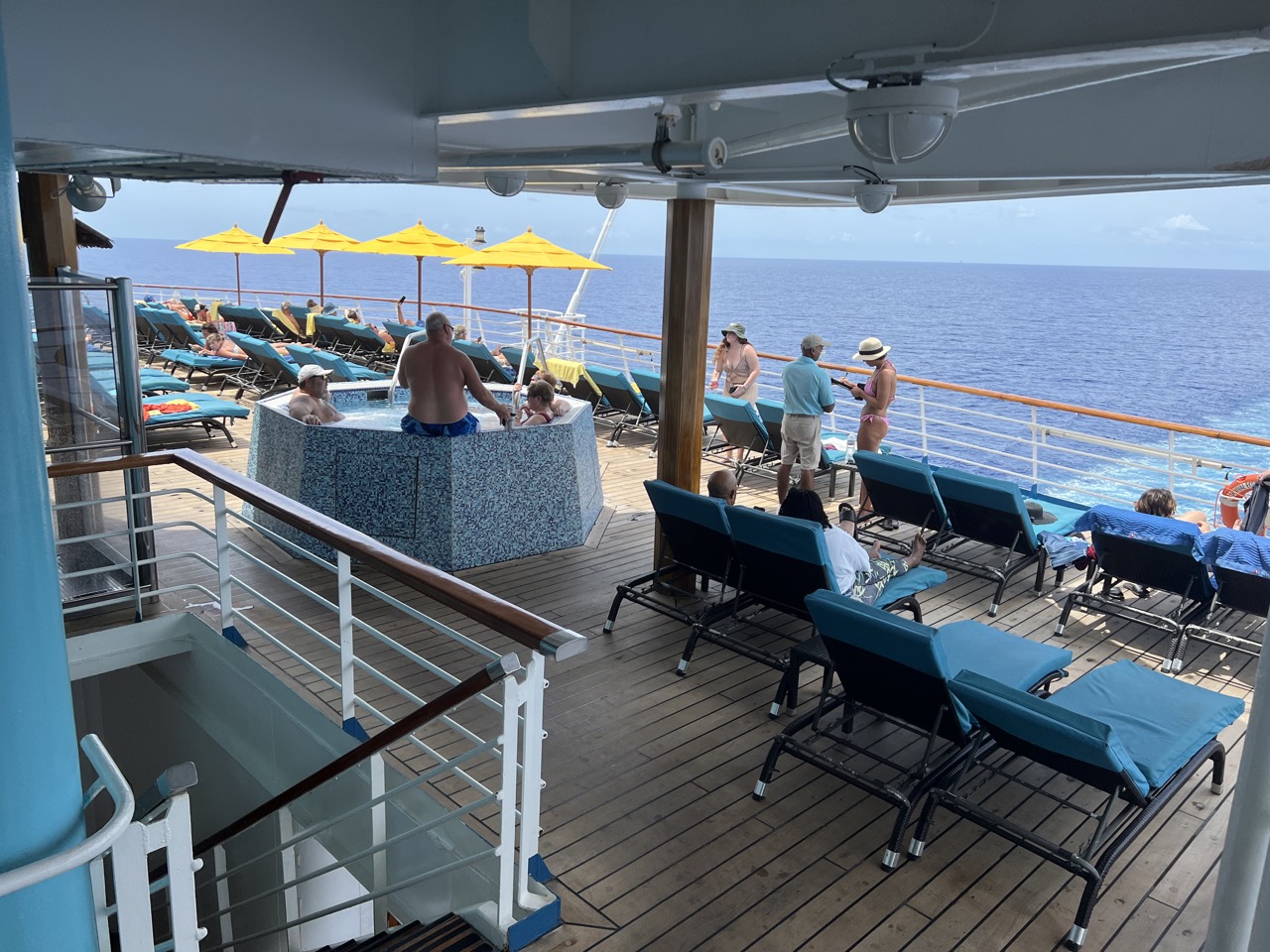 We enjoying relaxing on some of the loungers in the shade and there was a waiter coming around asking for drink orders.
The pool deck was very busy today with tons of people enjoying the pool and the loungers. The DJ had music blasting with lots of people on the platform dancing together.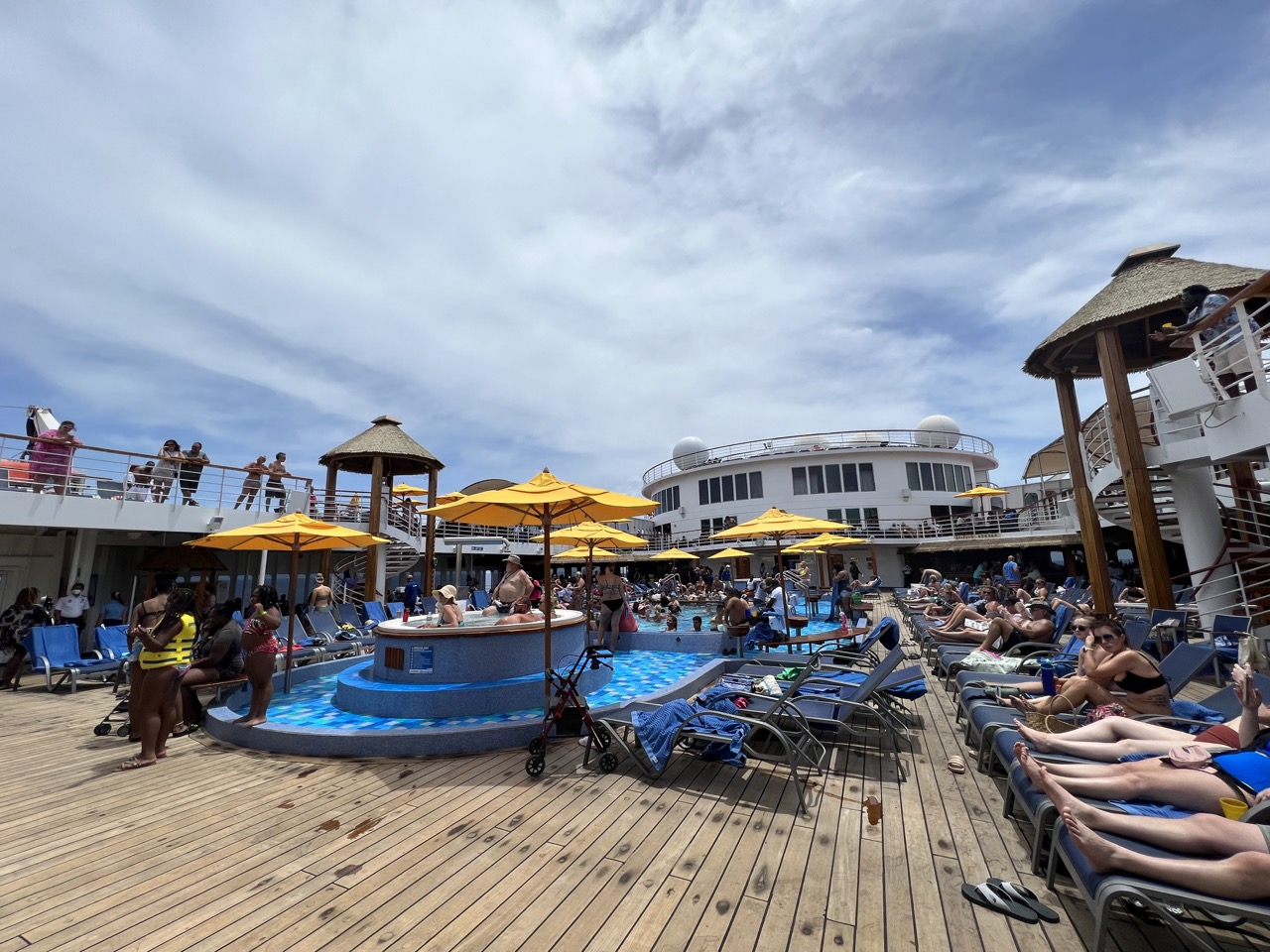 Guy's Burger Joint
It was lunch time, so I decided to try Guy's Burger Joint for a bite to eat. There was no line, but I saw plenty of people having burgers around the ship. It seems to be an incredibly popular choice.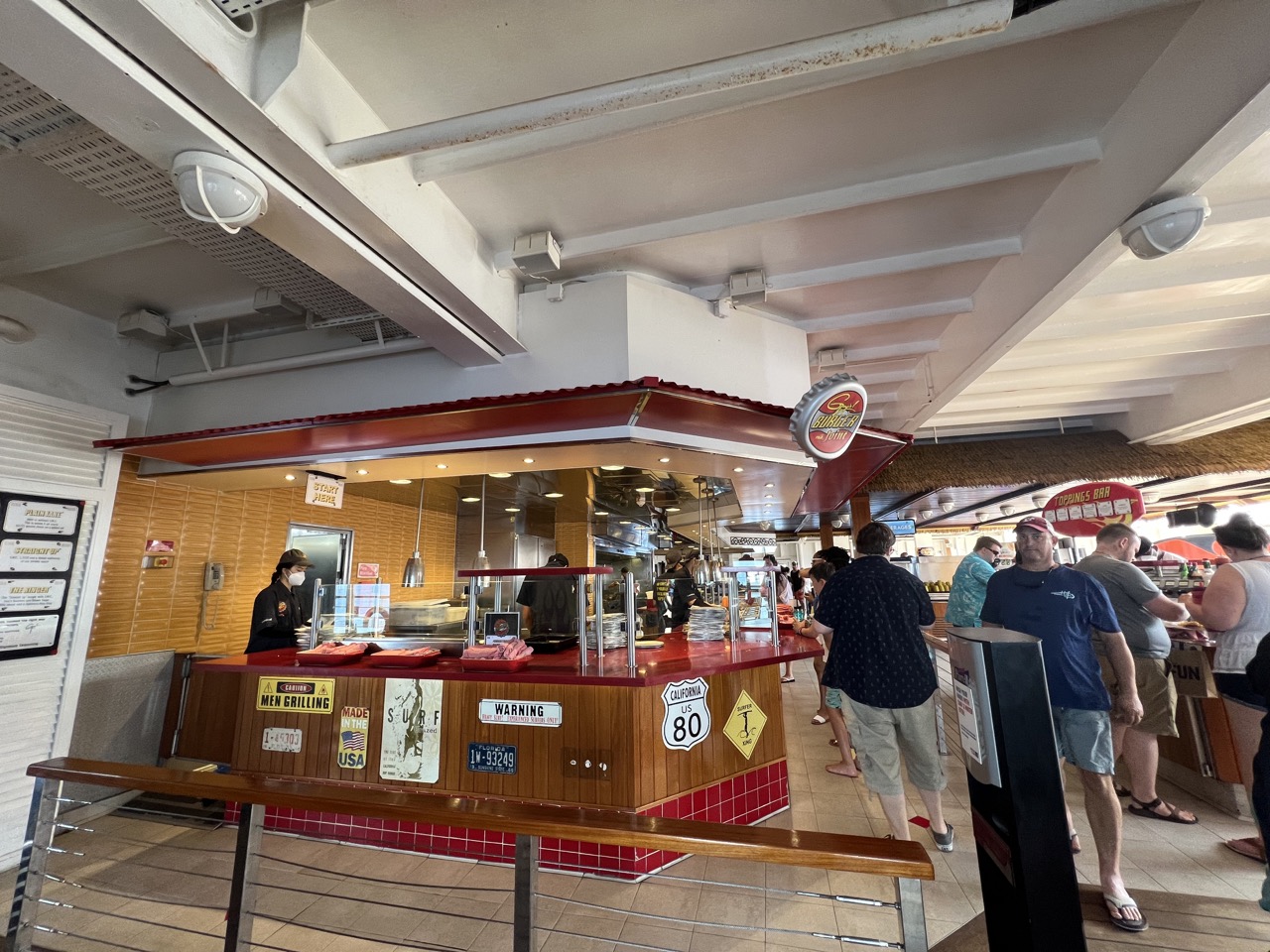 I ordered The Ringer, which has a fried onion ring and Guy's secret sauce with super melty cheese. All burgers come with a side of seasoned fries. I brought the burger back to Serenity.
It was a delicious burger and felt like high-quality beef. They snuck pickles into the toppings (my nemesis) so I had to get those out of my sight. The fries were also really good. It tasted like something I would get at a restaurant and certainly higher quality than McDonalds or some other fast food.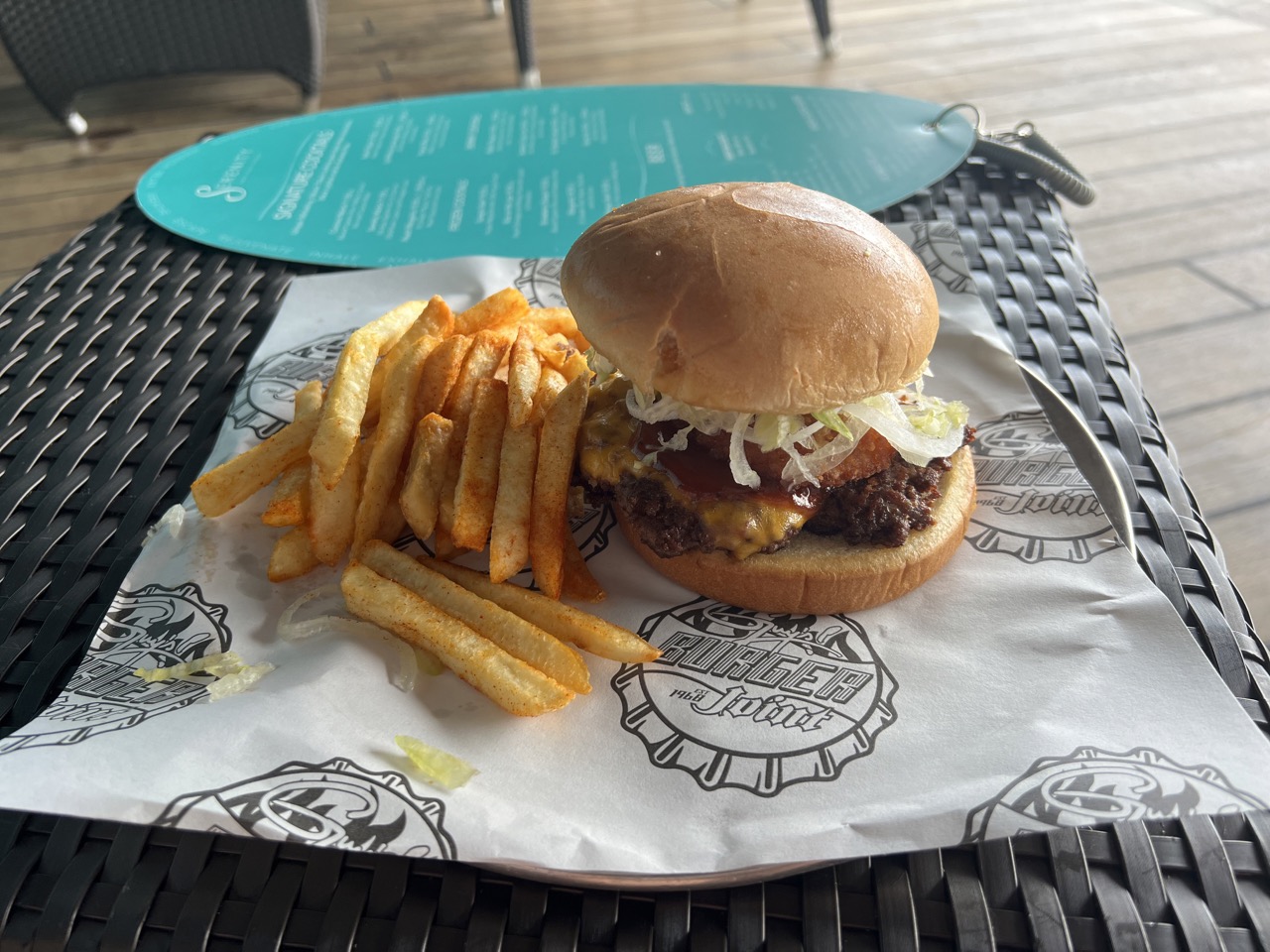 Blue Iguana Tequila Bar
Another signature Carnival offering is the Blue Iguana Tequila Bar. I walked up to the bar and asked what their most popular drink was. The bartender said "everything," which is extremely unhelpful so she grabbed us a menu.
We opted to try the Red's Caribbean Colada, which was a piña colada. I just realized it had no tequila in it so probably need to go back and try a margarita to really do the bar justice.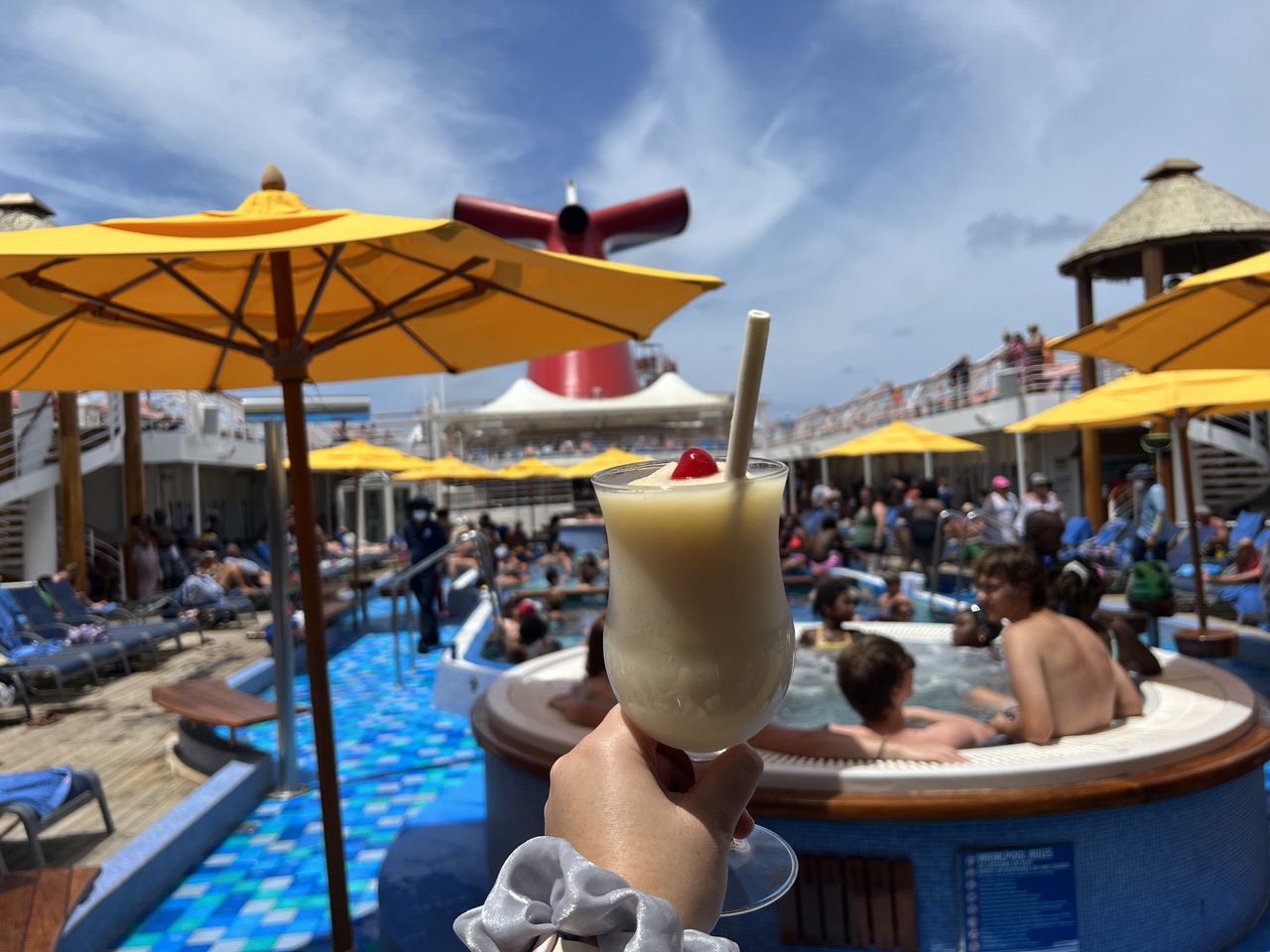 However, the Caribbean Colada was very good and we both enjoyed it under the hot sun. To cool off a bit, we made our way inside and back to the cabin to freshen up before High Tea.
High Tea Afternoon
I was excited to see High Tea on the schedule, so we made sure to work that into our daily itinerary. It was in the dining room and we were seated immediately with a view of the window.
It wasn't very busy, which I expected. I could imagine most people onboard would rather be drinking on the pool deck than spending their afternoon having tea in the dining room. But, for us, this was a unique experience on a cruise we've never had before.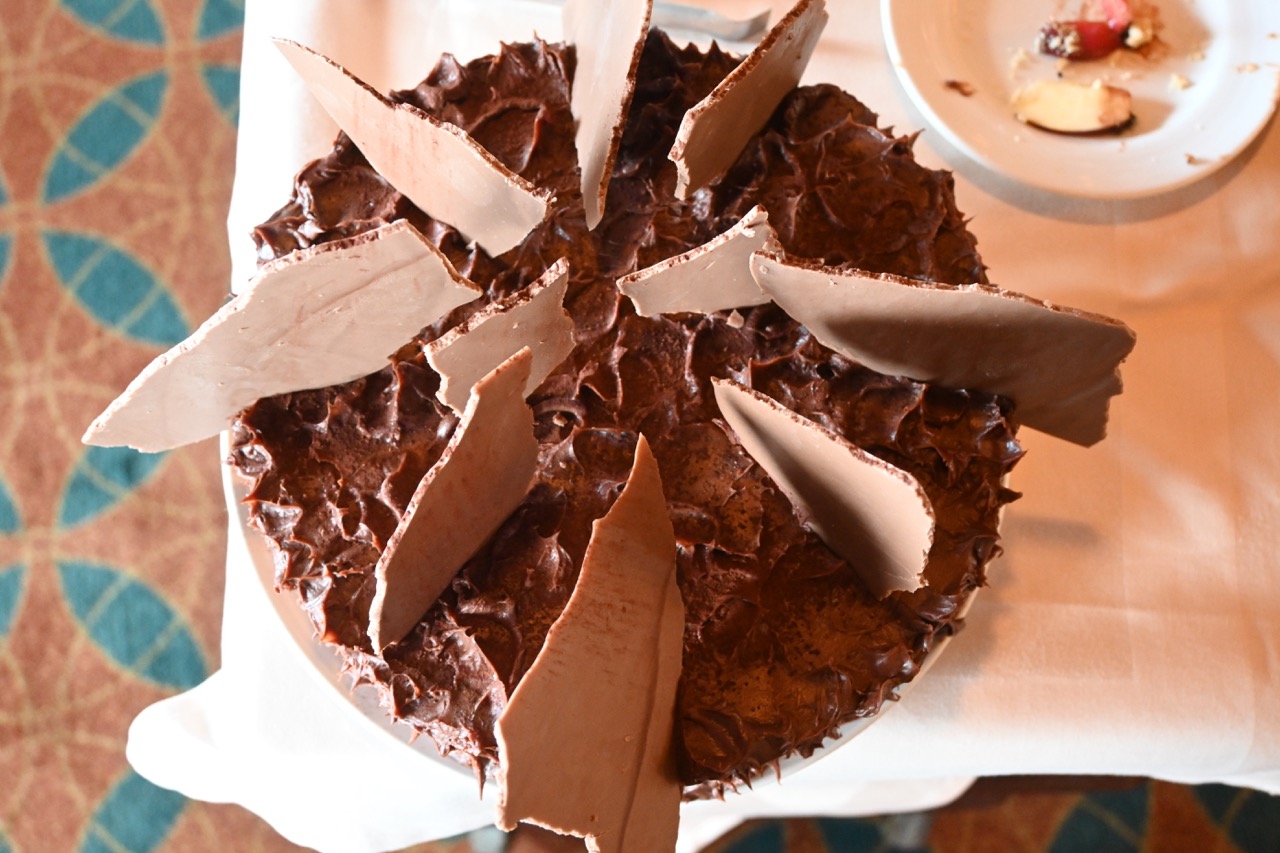 After we were seated, they brought over a small selection of teas. Then they rolled over a cart filled with a variety of desserts. They served us chocolate cake, lemon cake, macarons, scones and cookies. Everything tasted delicious and it was a lovely experience.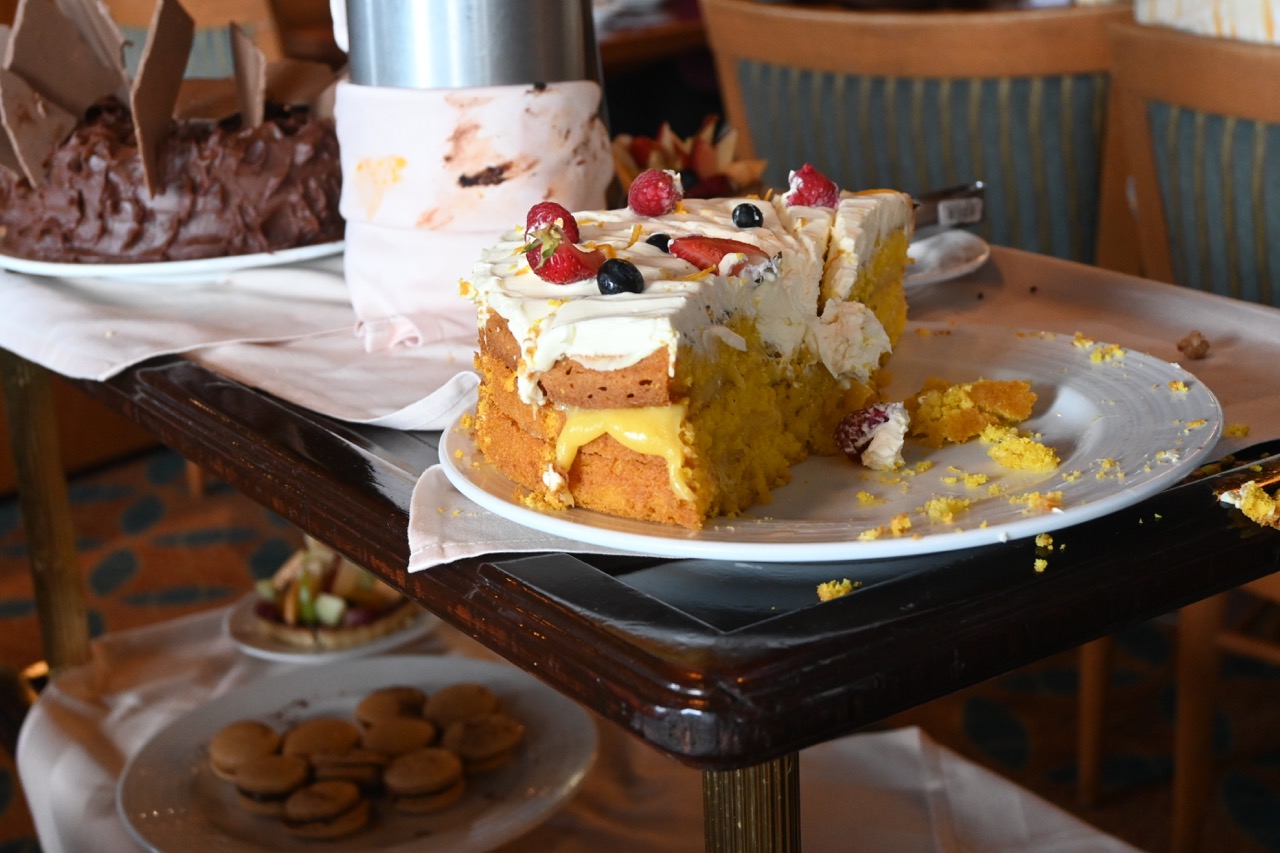 Once we finished High Tea, we had 2 hours until dinner. We decided to go check out the gym. The ship is small and there are not many places to walk other than the top deck. The gym was located at the front of the ship near the spa and had a nice selection of equipment to use.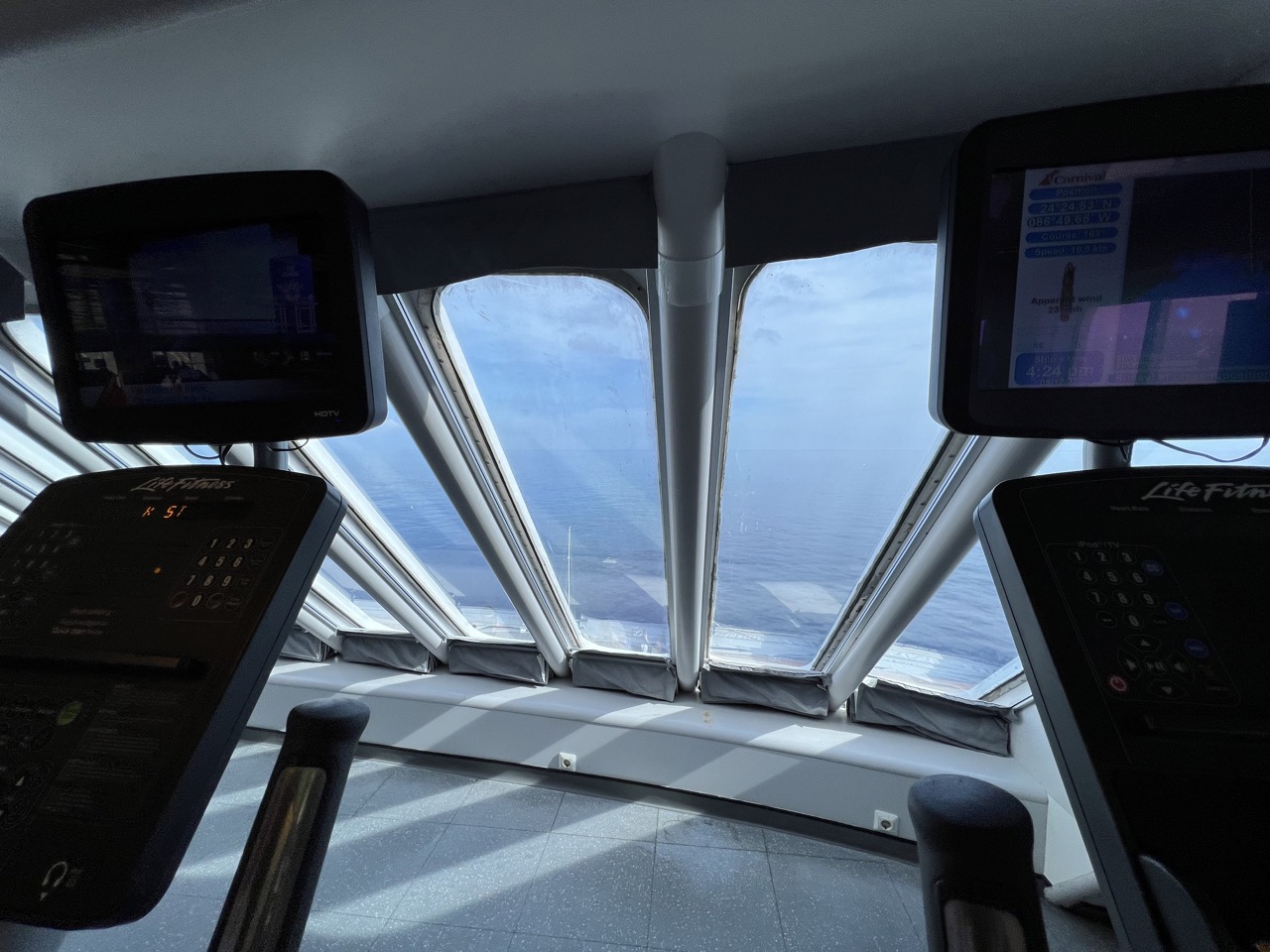 Dinner in Wind Song
After we worked out, we needed to get ready for dinner. Tonight's theme was Elegant Night, and I was intrigued to see how the clientele would take to this theme. As I expected, there was a wide range of outfits for tonight. Some went all out and others showed up in their swimsuit cover ups.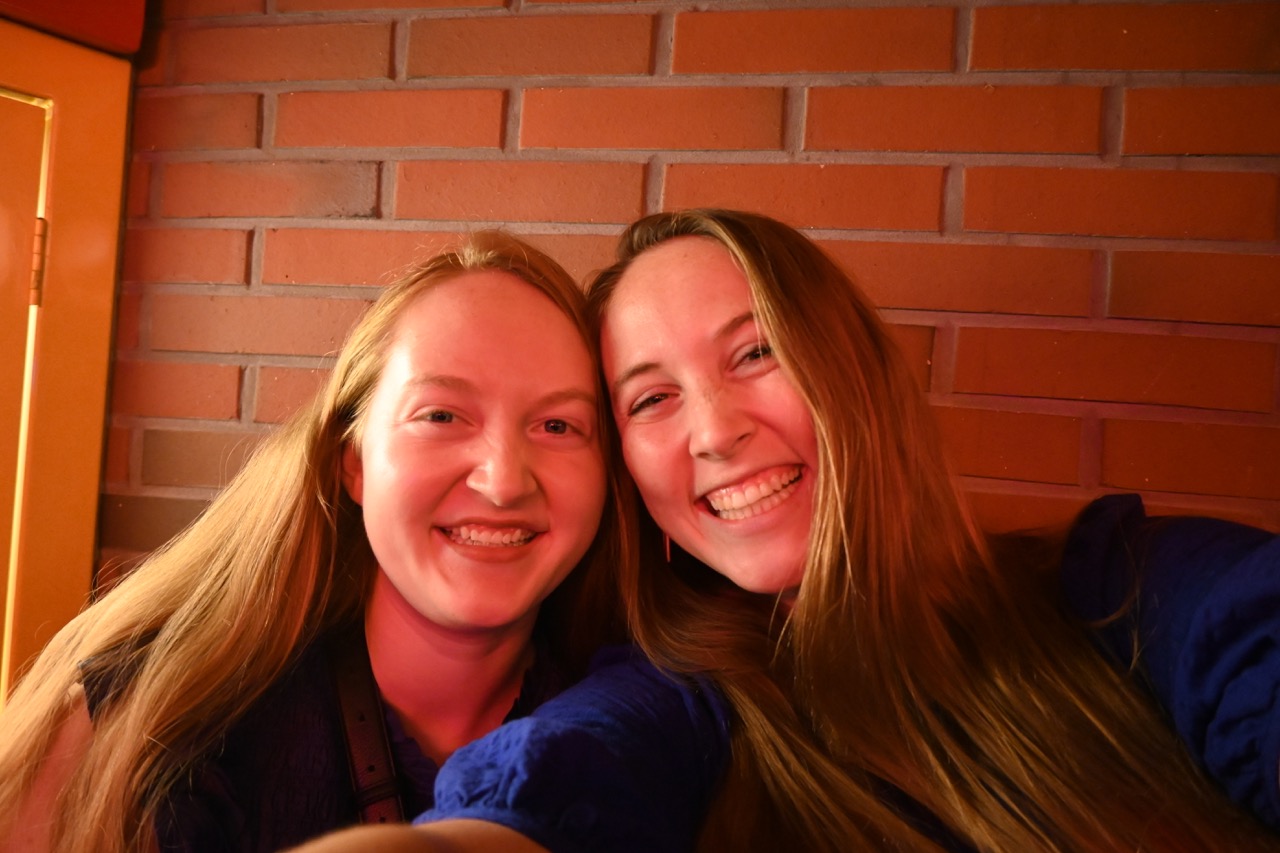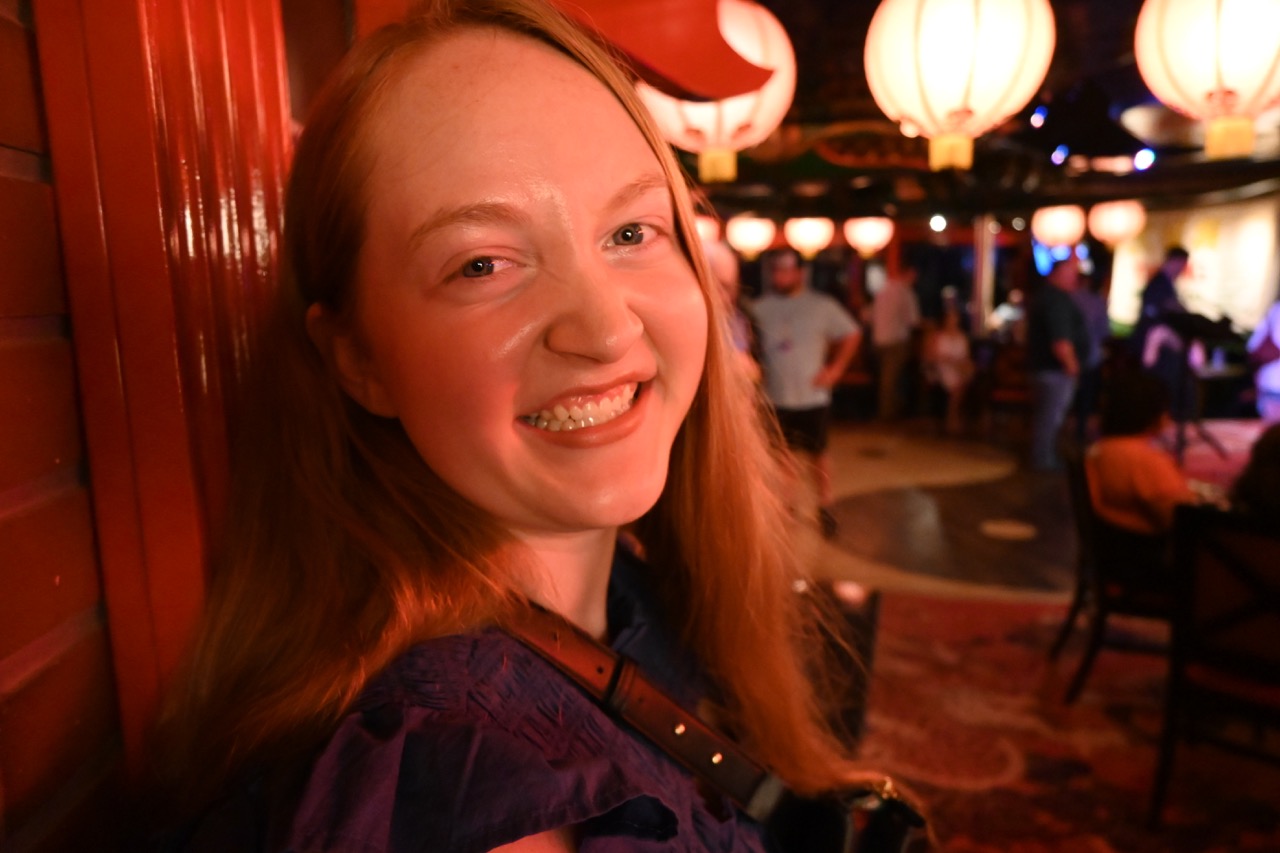 The vibe is very casual and laid back - I honestly wouldn't be shocked if someone walked into dinner still in their bikini!
For dinner tonight, I ordered the prime rib with a Caesar salad and pork tartlets to start. Angie had the meatball soup for a starter and the spaghetti carbonara. We enjoyed our meal again, although our service was very slow again. We seem to be the anomaly, as everyone else leaves before we do.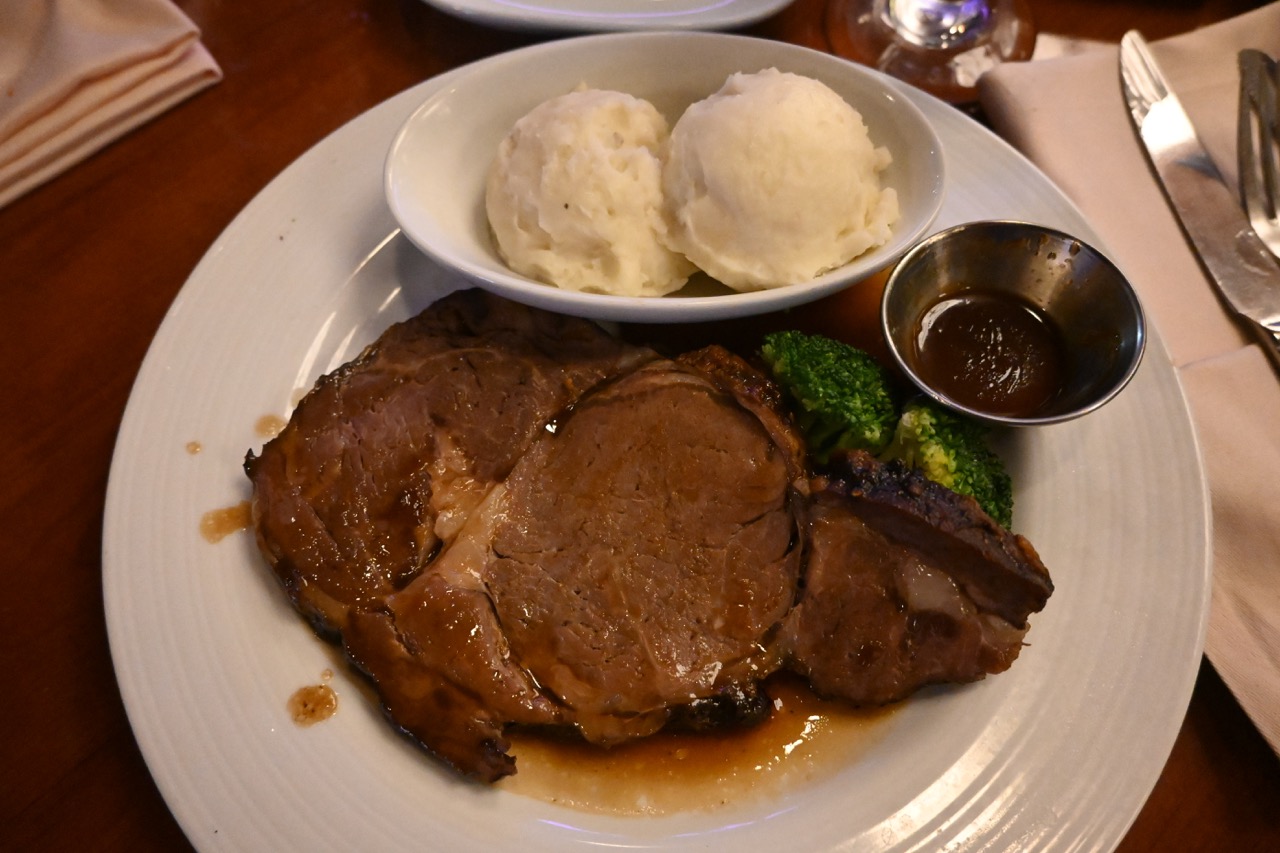 Luckily, we are really enjoying our table and getting to meet new friends during dinner. There was also a singing portion of the dinner when one of the waiters got up and sang a song.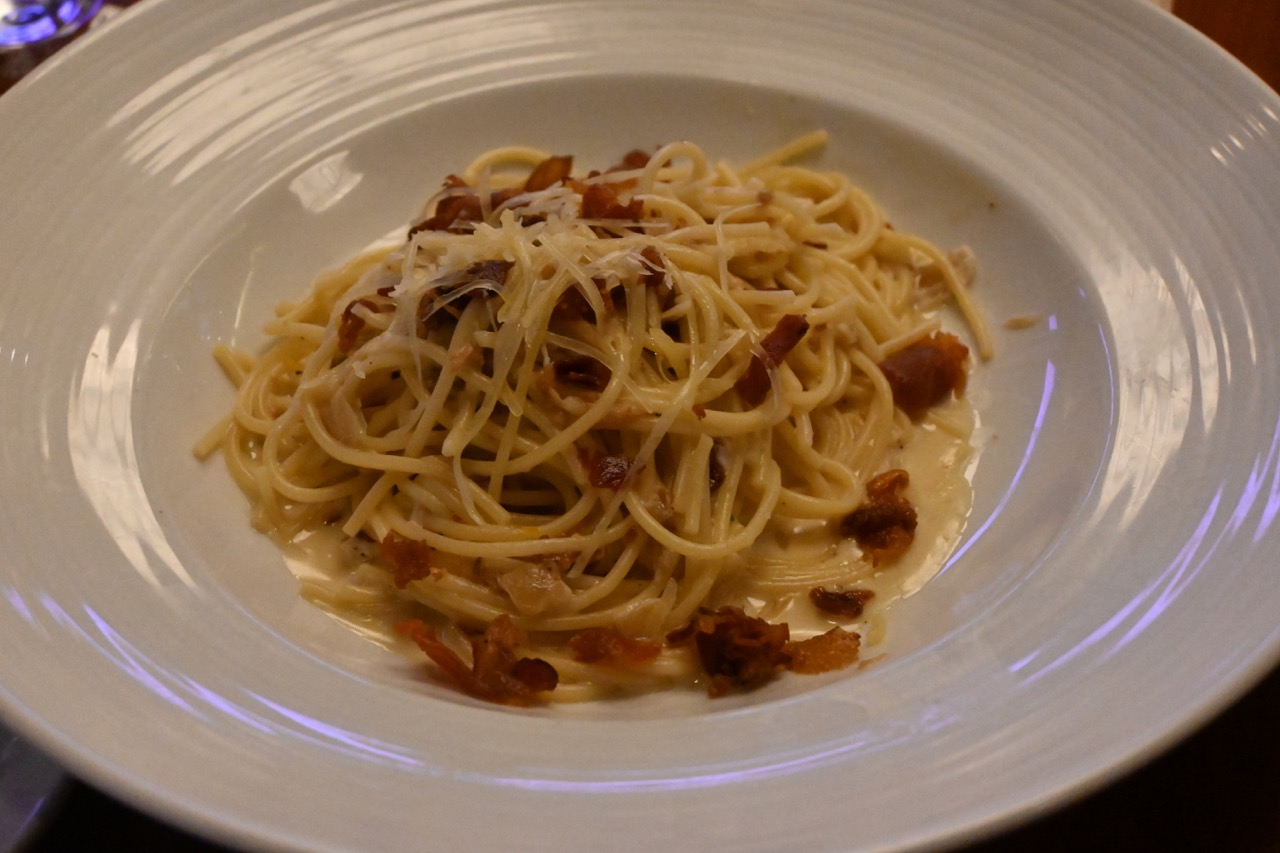 They dimmed the lights and everyone had their phone flashlights going. Apparently, there will be some entertainment every night. Feels like a nightclub when they dim the lights, especially since this ship has a 'big city lights' theme throughout.
Evening Entertainment
Since we were in the dining room later than expected, we were late to the evening show in the theatre. The show tonight was titled The Brits with the ship's singers and dancers. I wasn't left wowed, but everyone was talented and it was fun to watch for 20 minutes. I am surprised that the shows are shorter than I am used to; they only last around 30 minutes. I actually don't mind this though, as it gives you more time to do a variety of activities.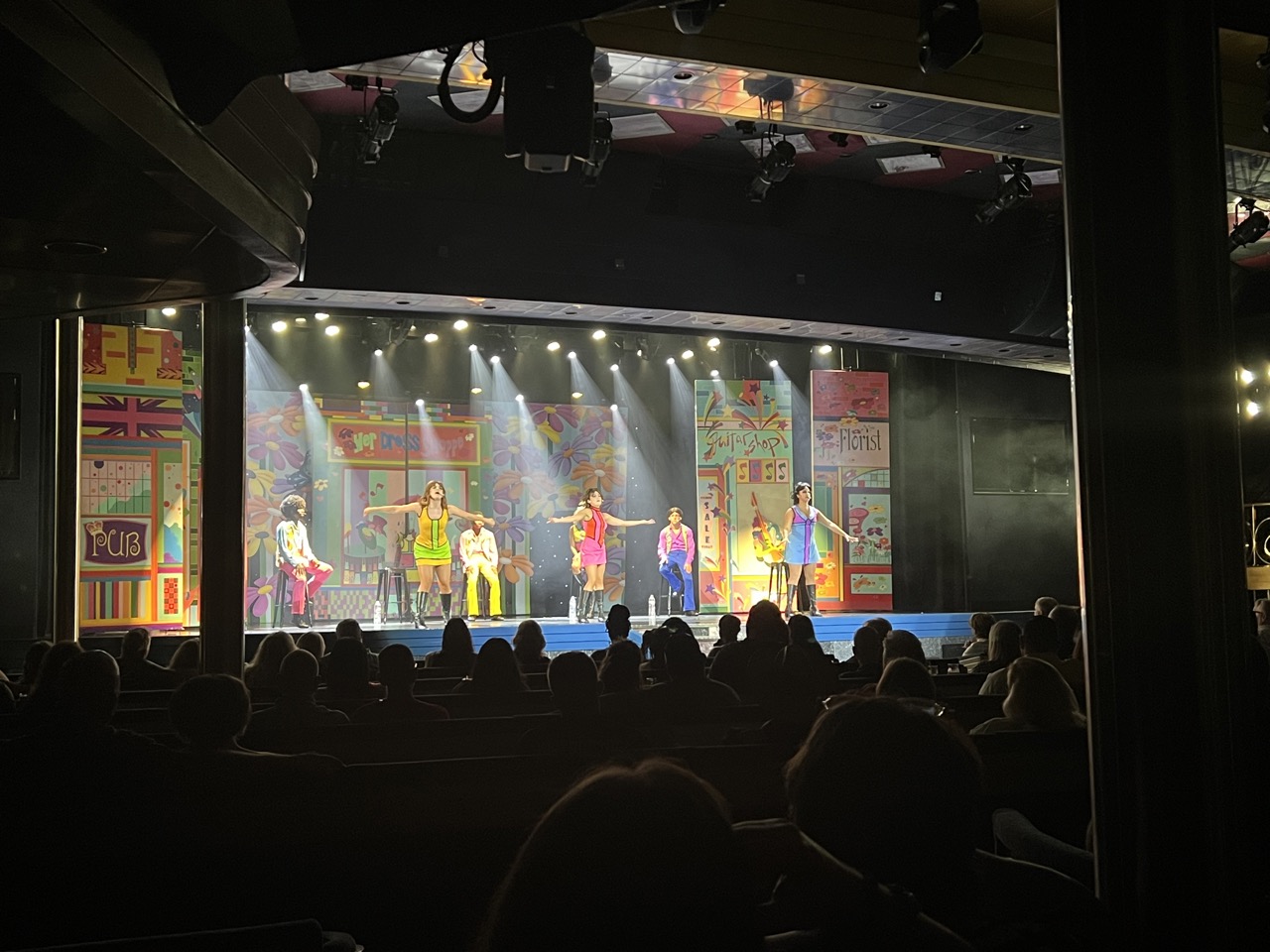 We heard from our dinner friends that karaoke was a hoot last night, so we made our way to the Chinatown Lounge. There was a late start to the fun, but we watched a few people get on stage and give their best performance.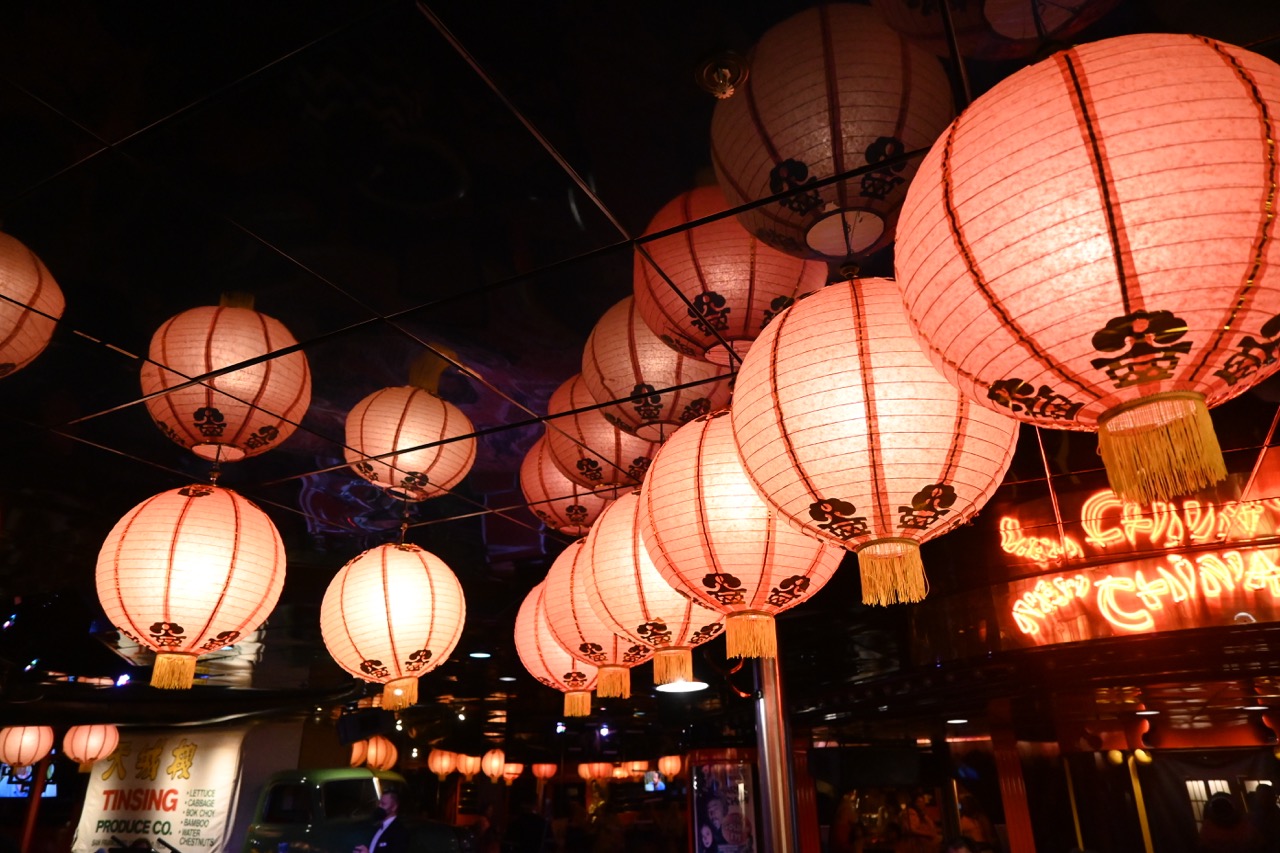 After watching a few (bad) singers, we decided to try the comedy show since we enjoyed it last night. We were bummed that the comedy show was the same as the night before, although everyone's favorite rowdy granny made another appearance!
She was interrupting the comedian and showed off her dance moves again. In fact, the entertainment director had to escort her off the stage a few times. That made it worthwhile to go to the show, even if the content is the same.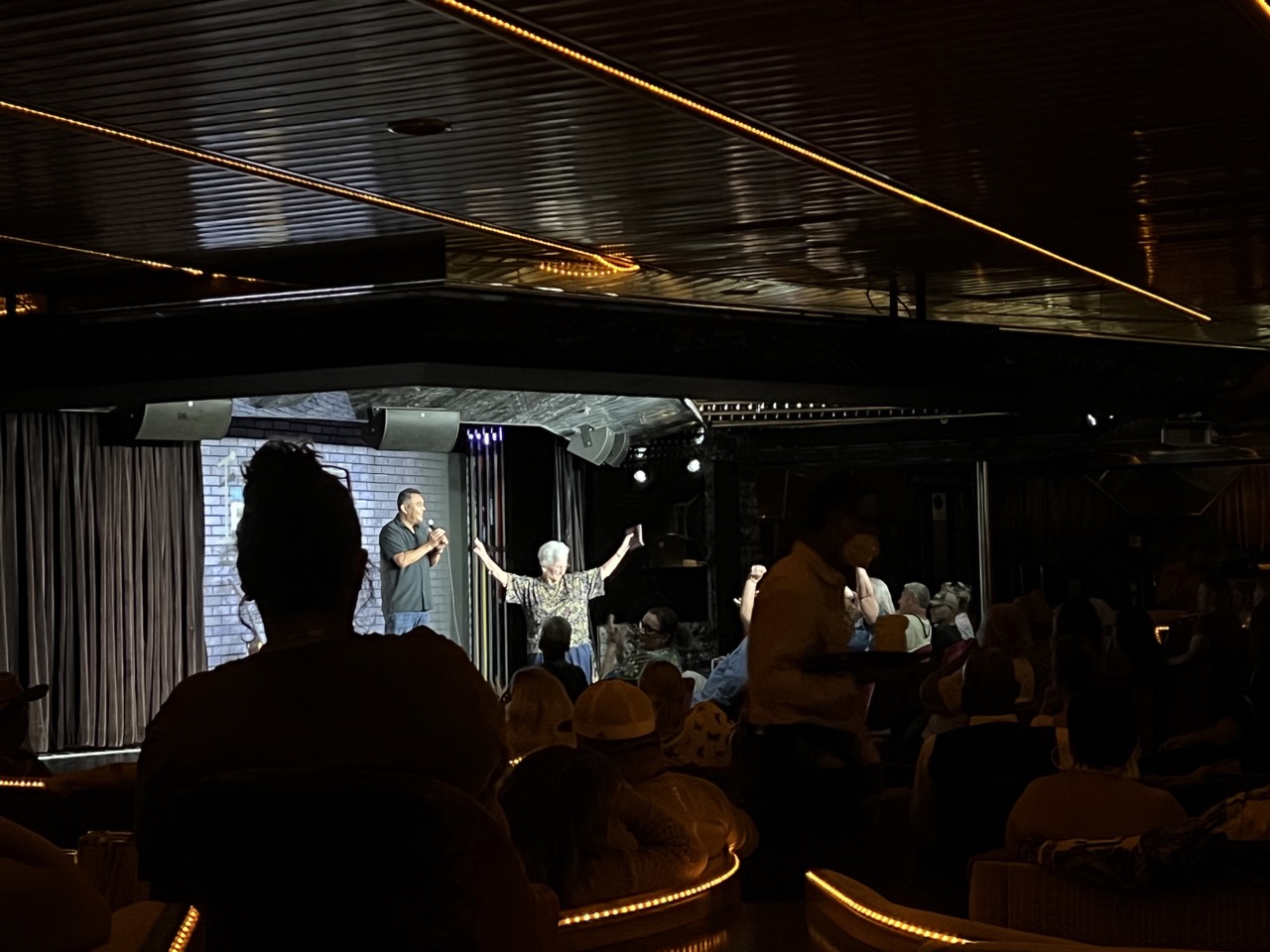 When the comedy show wrapped, we decided to come back to the cabin for blogging and bedtime. We are in Cozumel tomorrow and trying out the Del Mar Latino Beach Club on an all-inclusive day pass. The club only holds 30 people, so we are hoping it will be a relaxing afternoon with poolside drinks and food. It's located within walking distance of the port, which is really nice because that means we don't need to pay for a taxi.
Stray Observations
I feel like everyone's really having a lot of fun - which aligns perfectly with Carnival's brand. Seems like people are mingling and making friends, which creates a more community feel onboard.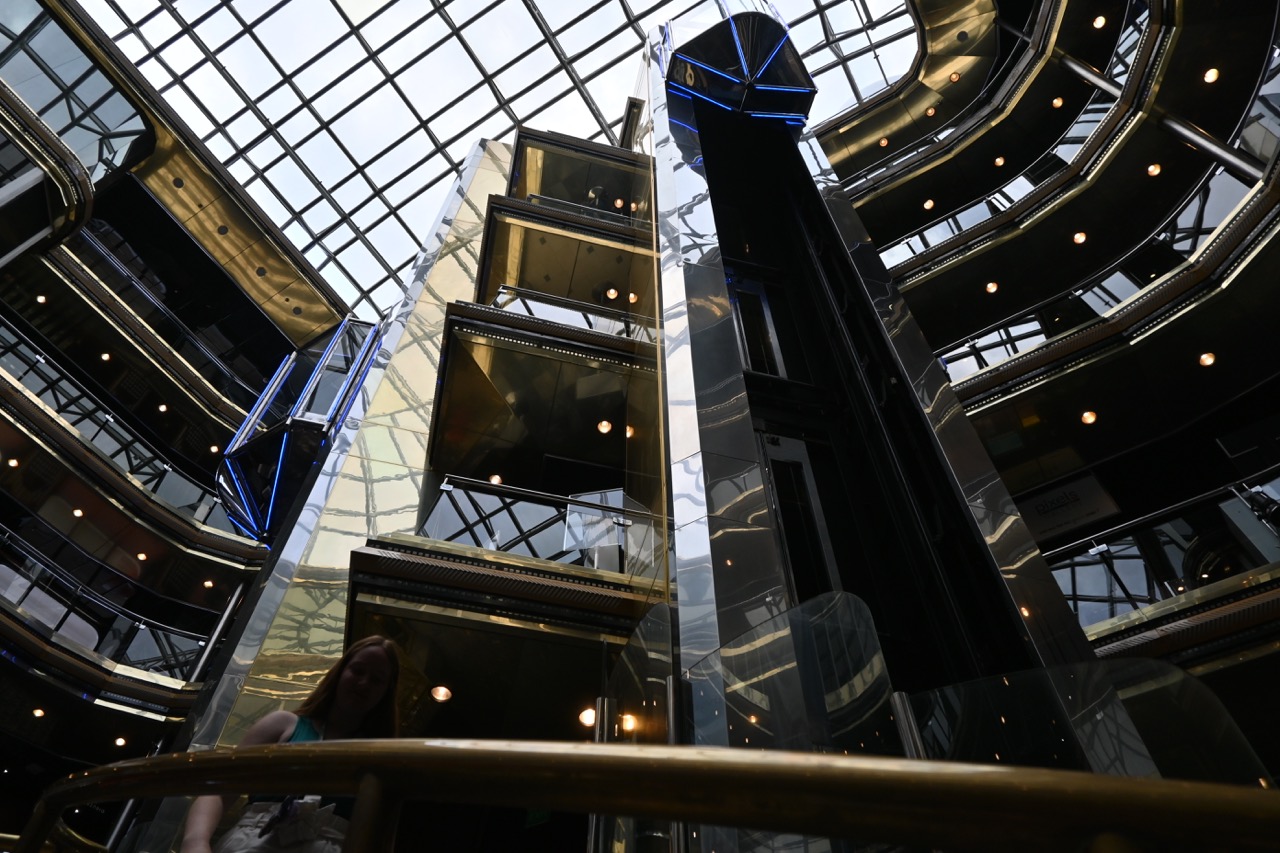 Angie and I realized that some schools started within the last week, so that explains why we maybe got a cheaper cruise fare. There are definitely plenty of kids onboard, but not as many as I was expecting. The port staff said we are sailing with 2,200 but the ship has been sailing at full capacity for most of the summer.
The seas have been extremely calm. Ecstasy is an old girl, so she doesn't have very good stabilizers if we did hit rough water. I am thankful that the seas have been a sheet of glass and very calm. I hope this continues the next 2 days!