Hello CruiseBlog friends! It's Sunday today, which means it's our final day onboard this 4-night Carnival Ecstasy sailing from Mobile. We had a busy day squeezing in everything that we wanted to do (and eat!).
Angie and I are both surprised by how many things there are to do onboard the ship, especially considering its age.
There are plenty of Carnival's signature venues too - like Alchemy Bar, Guy's Burger Joint, Redfrog Rum Bar, BleuIguana Tequila Bar and more. We've also heard the Pizza Pirate and Carnival Deli are excellent, so we set out to try everything we could today. All in the name of investigative journalism, of course!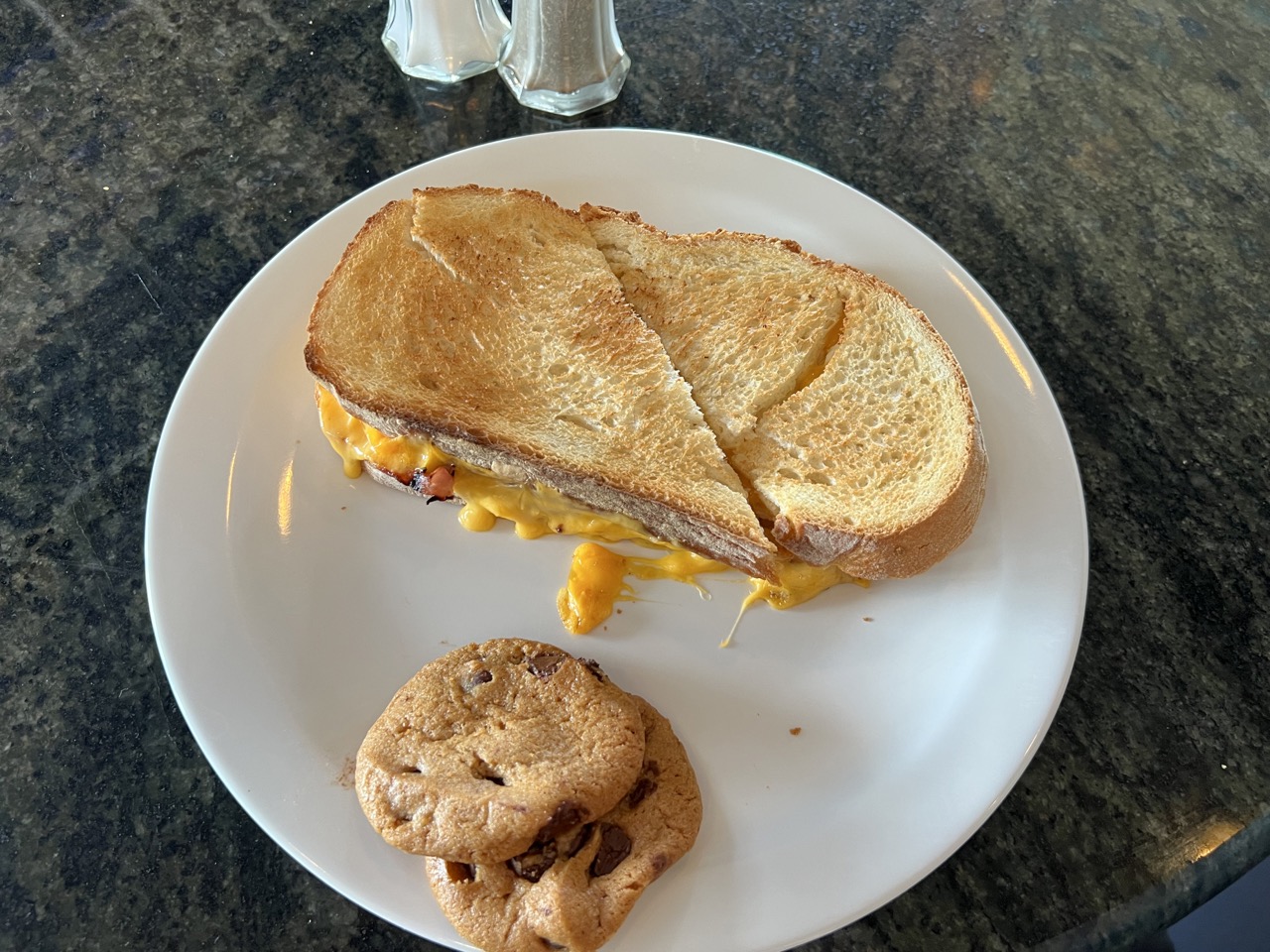 If you're invested in my sleeping saga, I am happy to report that I did sleep better last night thanks to earplugs borrowed from Angie. These really drowned out the constant noises between our neighbors, the announcements and the noisy hallways. I probably wouldn't do another weekend cruise without packing earplugs.
Of course, this is in comparison to longer cruises that I am used to doing, which typically attract a much older (and quieter) crowd.
Sea Day Brunch: Round 2
Angie and I checked in for Sea Day Brunch around 10:30 a.m. and received notification almost immediately that our table was ready. We made our way up to Wind Star and seated ourselves. Sea Day Brunch was much busier today than the first sea day, so I think the word got out about it being delicious.
We indulged in 12-hour soaked French Toast and the skillet pancake again. Both were delicious again.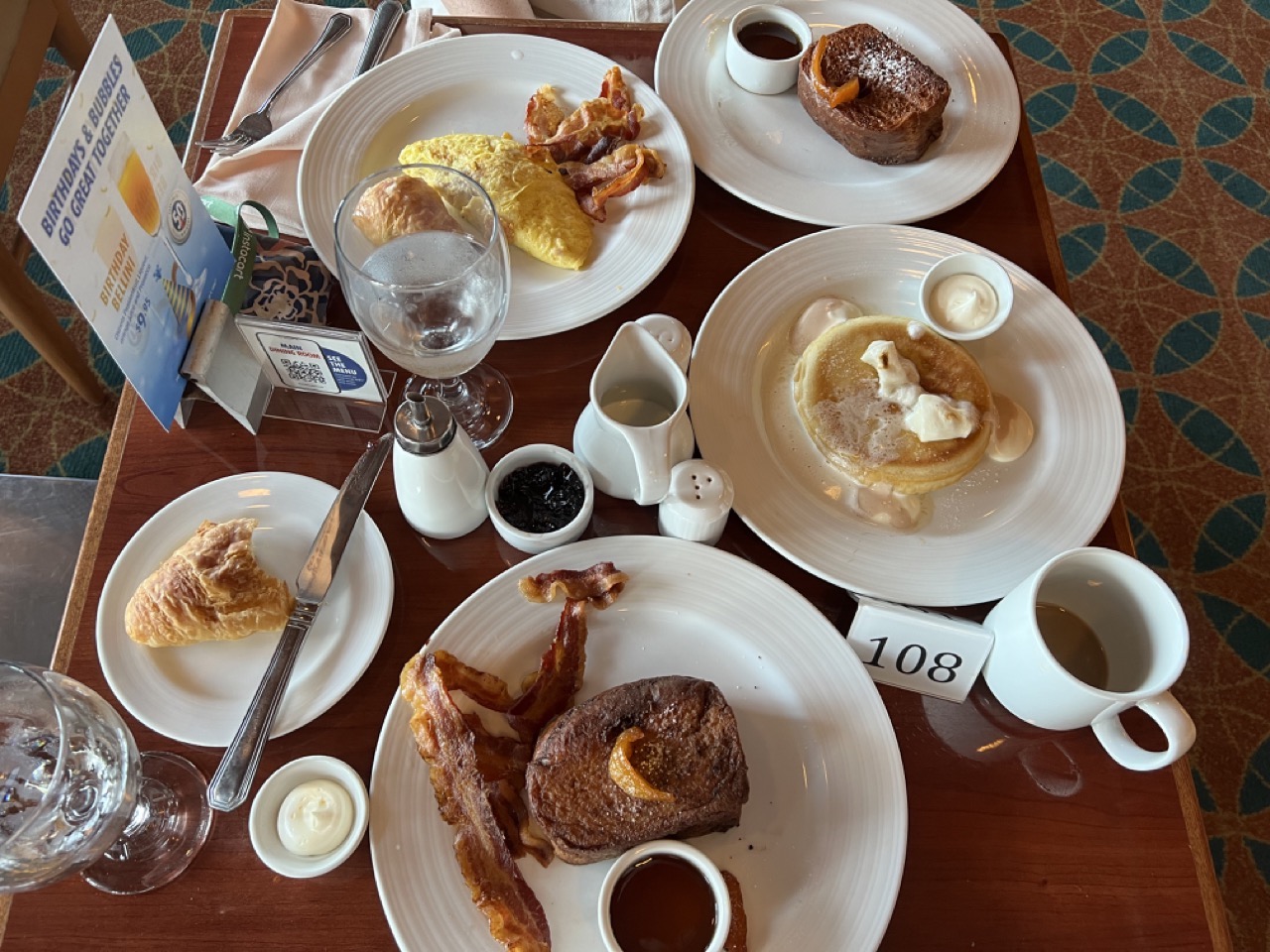 I've definitely noticed that the dining room feels understaffed. If we want something, like butter, jam or another pour of coffee, we have to ask multiple times. If you ask just once, it will probably be forgotten. We've had this happen at dinner every night too. But, we are not picky and we understand the servers are working hard and handling multiple tables at once.
This makes me wonder what the passenger crew ratio is on Carnival compared to other ships. Maybe this is how they can offer cheaper cruise fares. I also noticed that our stateroom only gets cleaned once a day compared to twice a day on Royal Caribbean.
I hate to say this because I can see the crew members working so hard, but this cruise has not the best service (in terms of being attentive) that I've experienced in a main dining room. However, the service is still leaps and bounds better than my recent stay at an all-inclusive in Mexico.
The crew are all very friendly and want to please, but I think there are so many tables in the dining room that it's hard for them to be super attentive. We are just happy to be cruising, so I wouldn't complain; but, definitely something to note for future Carnival cruises.
Afternoon Activities
With full tummies, Angie and I made our way to Music Trivia, which was naming #1 hit tunes. This took place in the Chinatown Lounge, which has fun decorations and goes along with the top deck's NYC theme.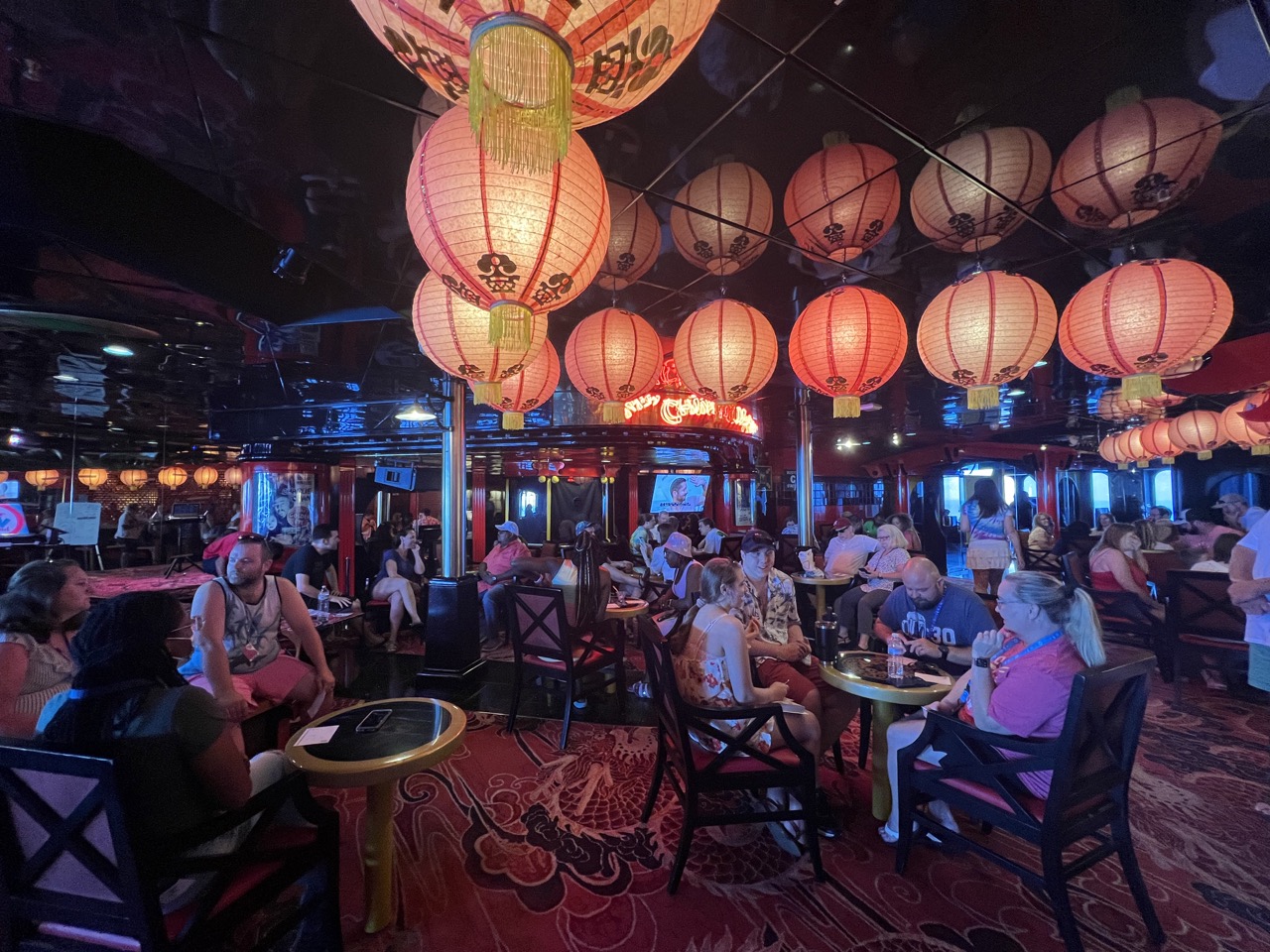 We were pretty confident in this trivia and enjoyed all the trendy songs played. We love how Carnival has trivia with themes that are geared towards our generation. We scored 15/20, which we were pleased with!
After trivia, we wanted to explore the ship a little bit more. We were surprised to see there was mini golf on the top deck, which we hadn't even seen yet. This ship is difficult to navigate so we had never happened upon it.
Angie and I made our way to the very top deck, which was at the front of the ship. There was a small area for mini golf, although it was nothing to write home about. They also had little workout machines, which was cool. It was pretty hot up there and windy, so we didn't stay for too long.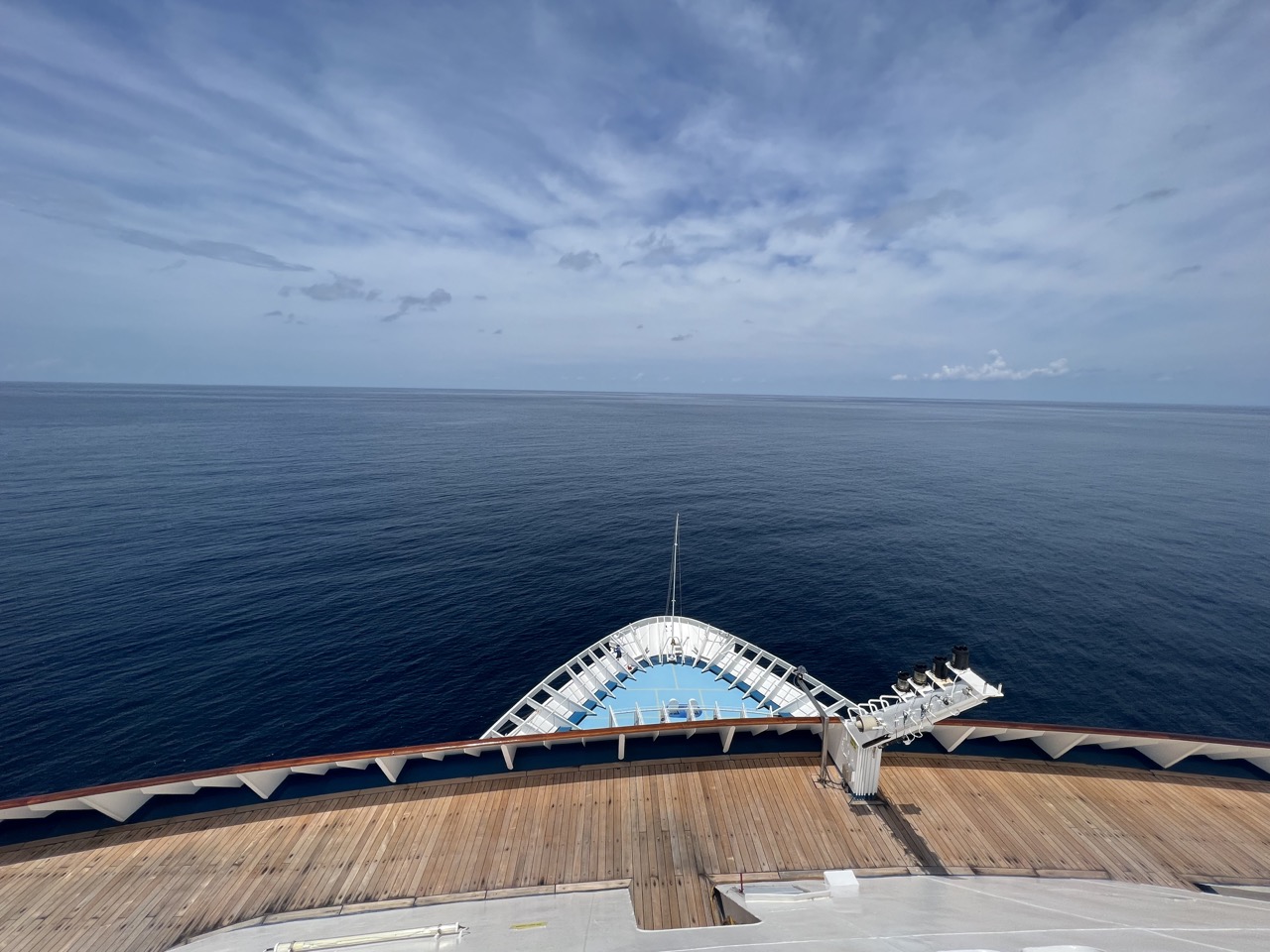 Back on the pool deck, it was buzzing with people having a good time listening to the DJ, playing bean bag toss and crowding in the pool.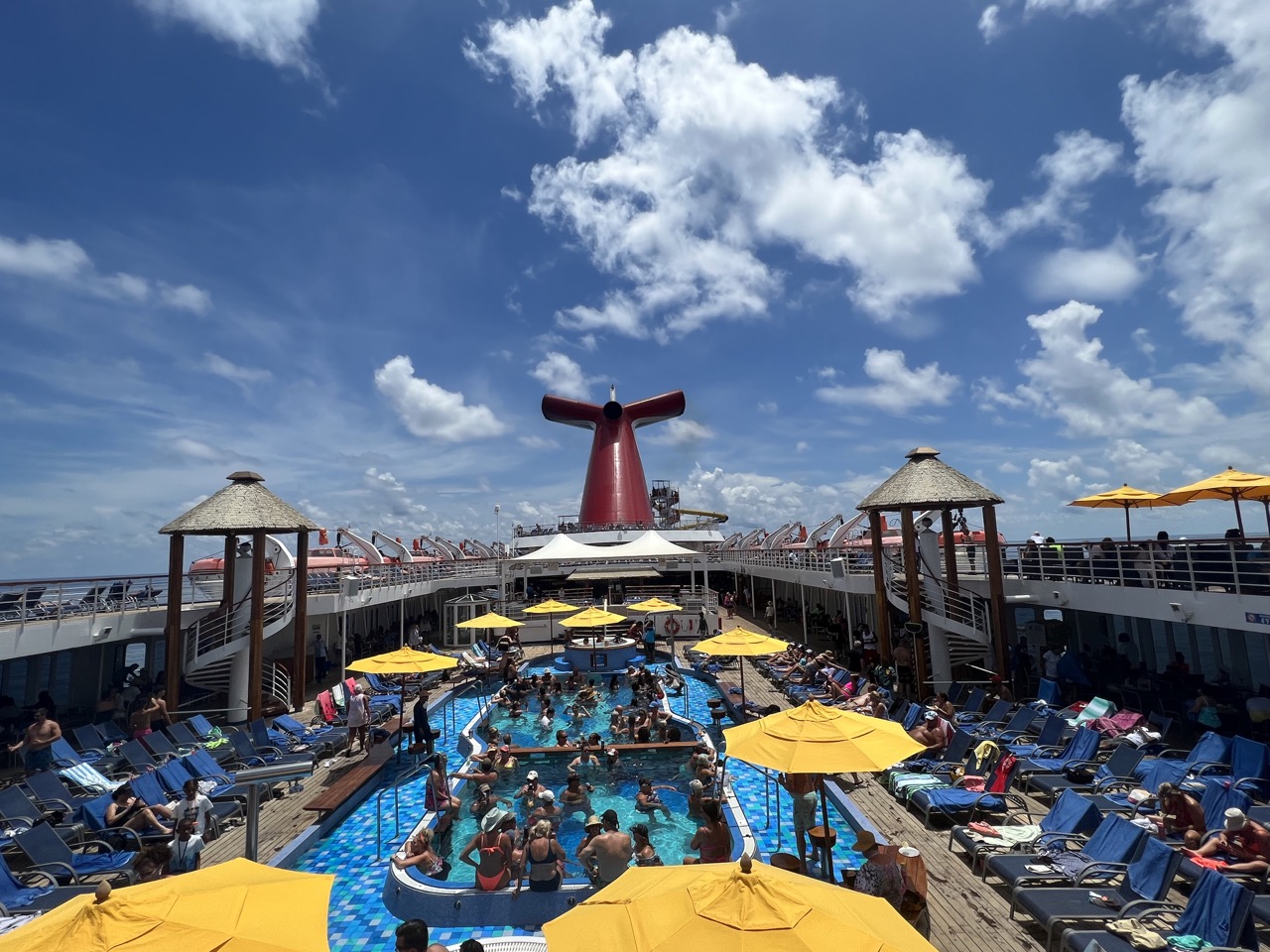 There's only one pool with two hot tubs for everyone, so you can imagine how busy it gets on a hot sea day. There are tons of chairs around the ship and it seems like there's a lot of deck space. No chair hogging here, which is a welcomed change.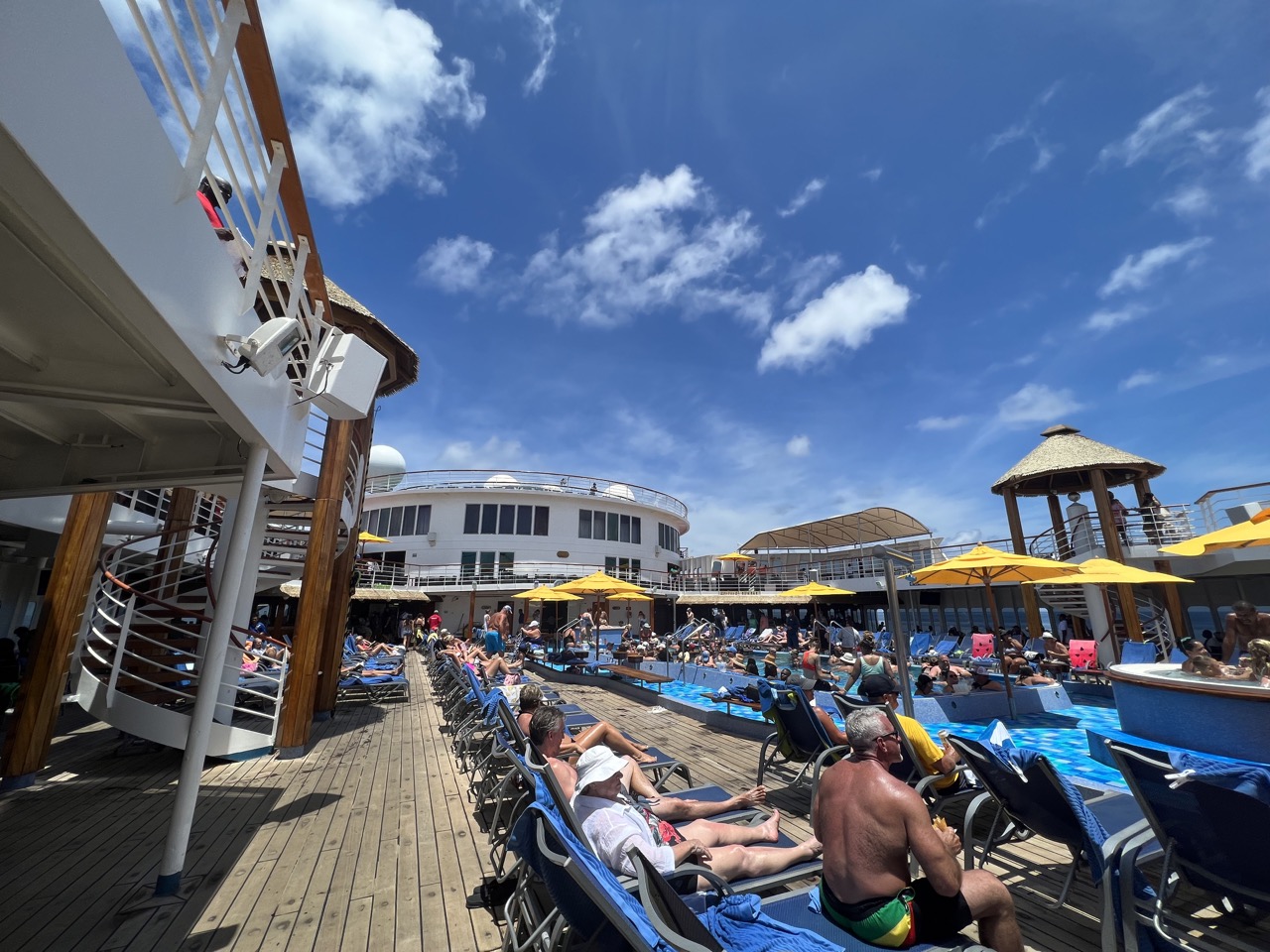 We had to try out RedFrog Rum Bar since we had BlueIguana Tequila Bar already. I opted to try the Dirty Mojito and Angie had the Red Rum's Treasure.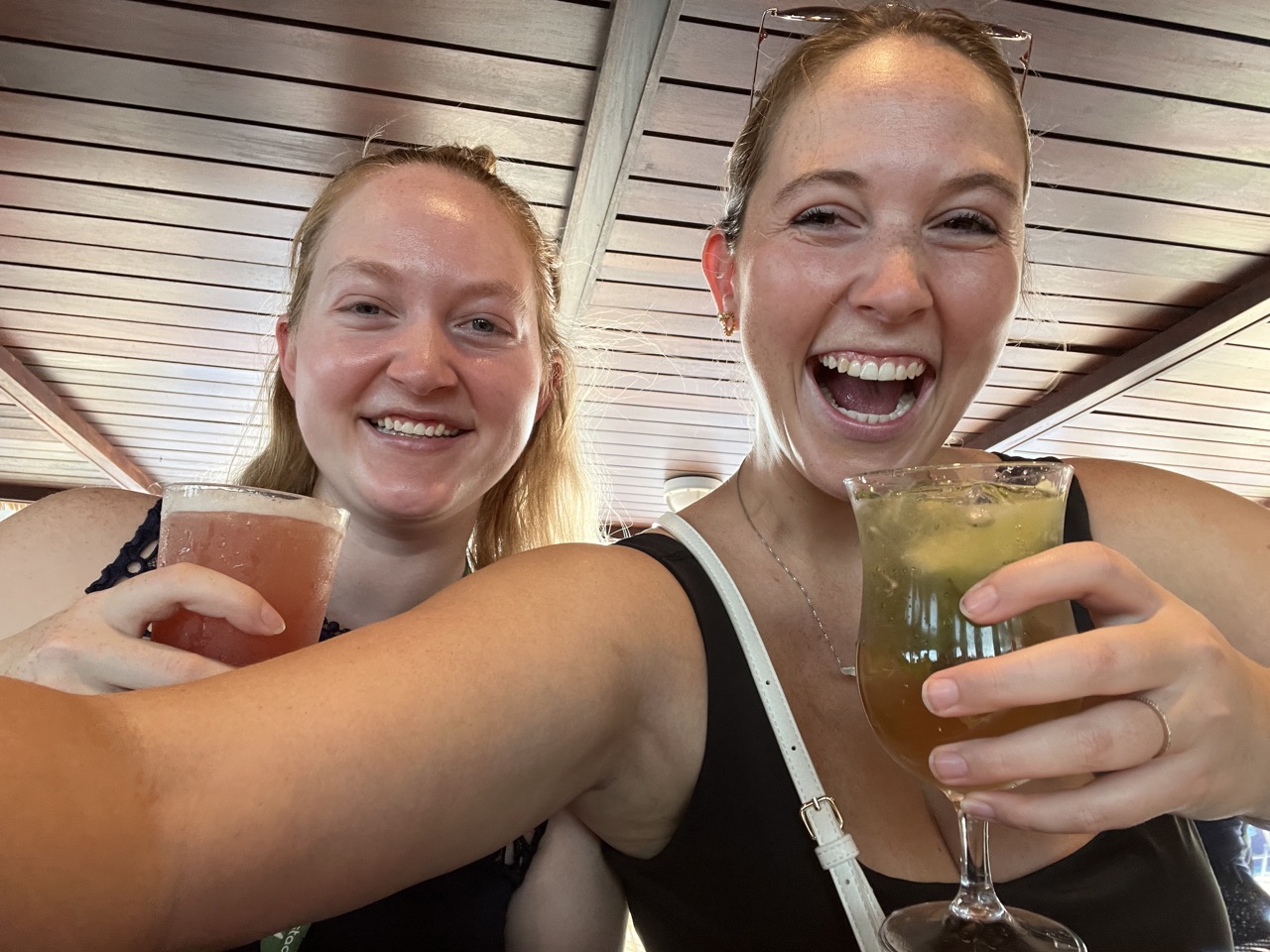 We both preferred Angie's drink over the mojito. Interestingly enough, when I asked for a straw they only gave me the option to purchase a reusable one. We had been given a thick paper straw with our colada the other day, so it must only be provided if you get a blended drink.
The two of us walked around the top decks some more to see if we could find a good place to sit down.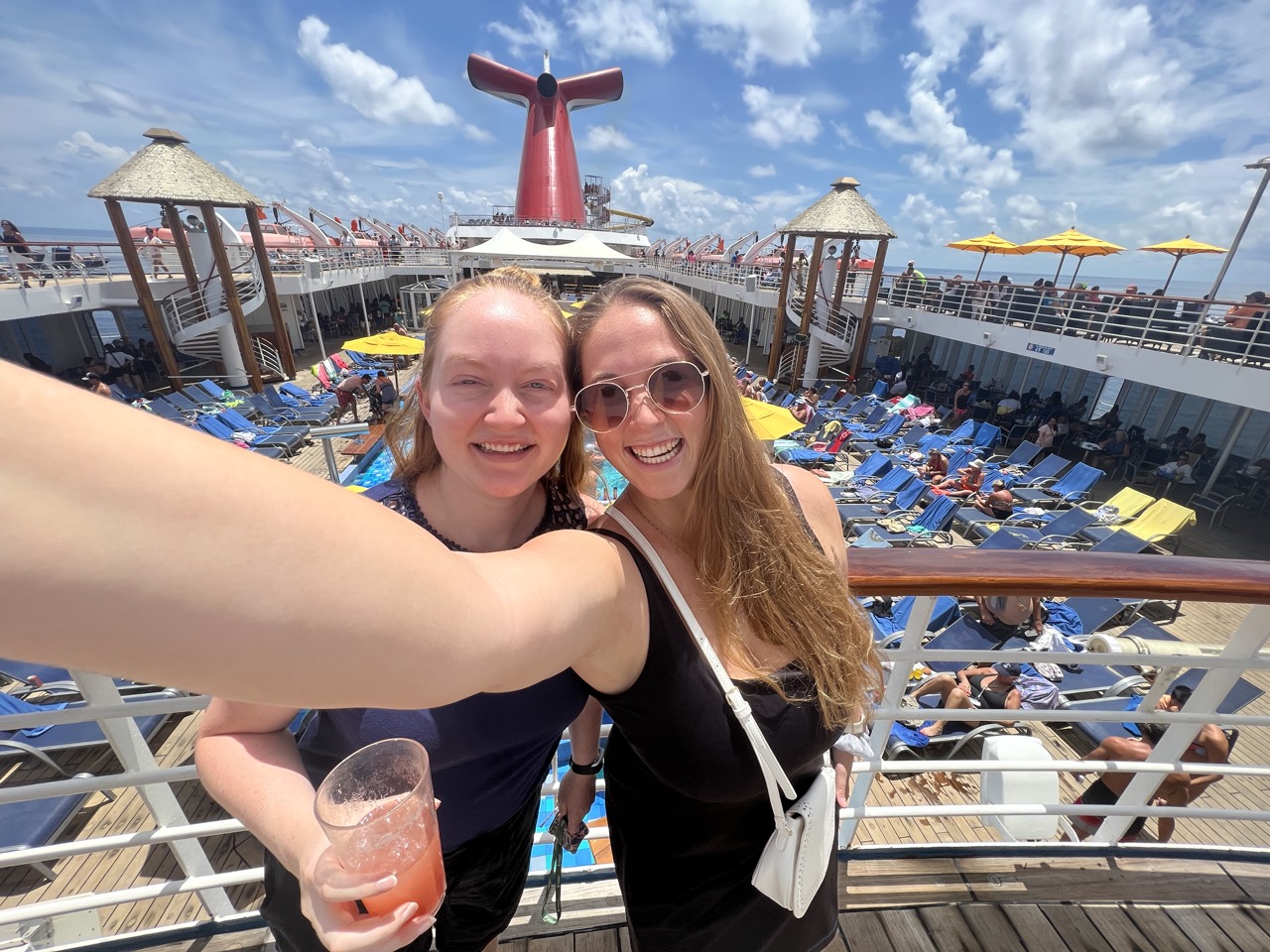 The Carnival Waterworks area was busy with kids using the waterslides and such, but we didn't have our suits on. It was so hot we decided to go back inside and stumbled upon the Lido Buffet.
We tried out the margarita and garlic pizza from Pizza Pirate. I also ordered a hot ham and cheese sandwich from Carnival Deli for us to sample. Both were very good and tasted yummy, even though we weren't even all that hungry. It felt great to sit in the air conditioning for a bit.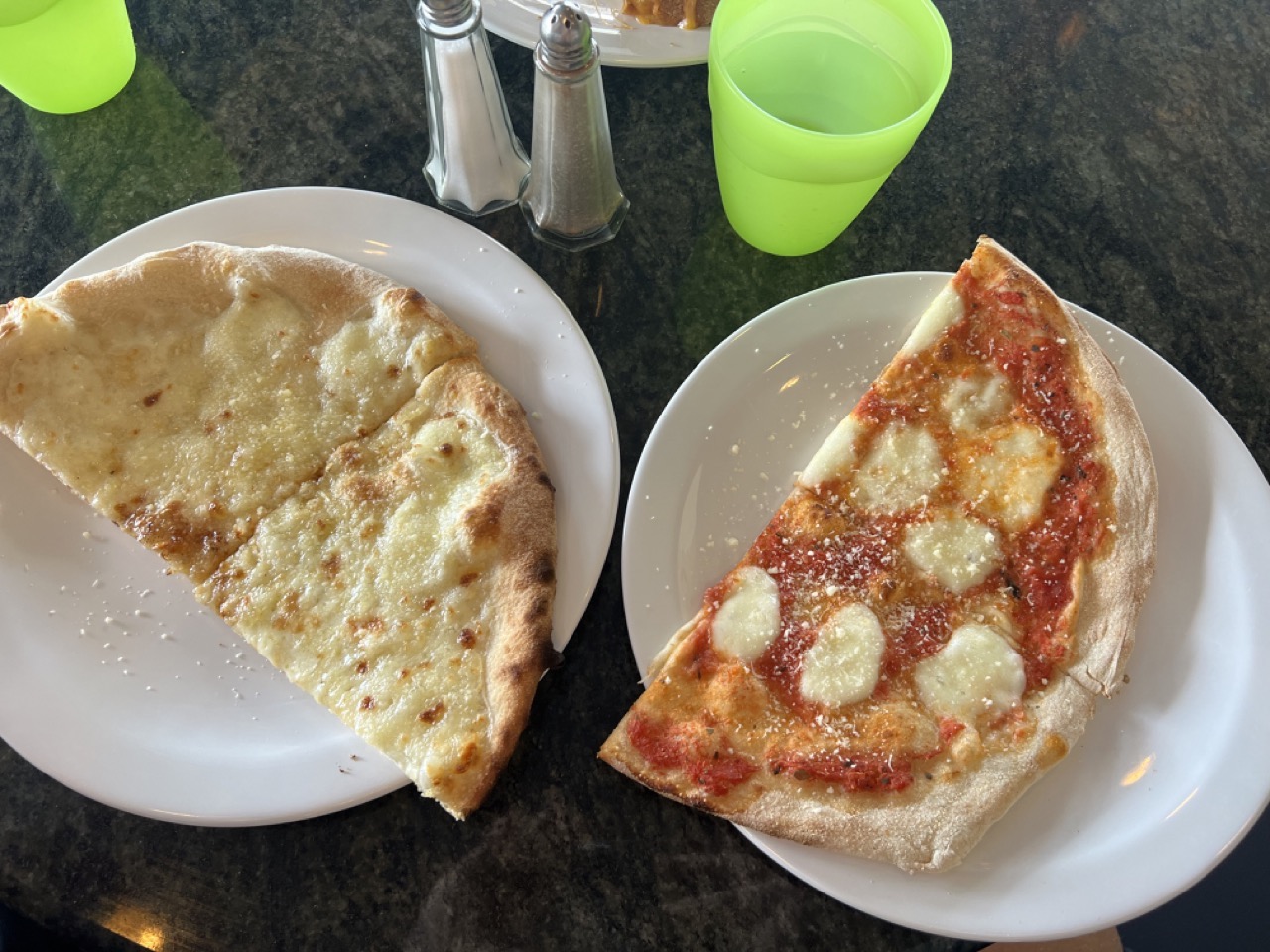 Angie decided to go to the Fun Pamper Party, which she enjoyed. She said they did a short skin routine and even had a teeth whitening sample at the end, which she really liked. I opted to come back to the room and work on the blog for a bit. We also, sadly, needed to start packing since it's our final night.
Final Dinner
Dinner quickly approached so we made our way to the dining room. We've had a riot with our dinner friends and have really enjoyed getting to know the ladies at our table. I don't know if Carnival purposely tries to seat people of similar age or we just got lucky; either way, it's been lively every night and we've had so much fun.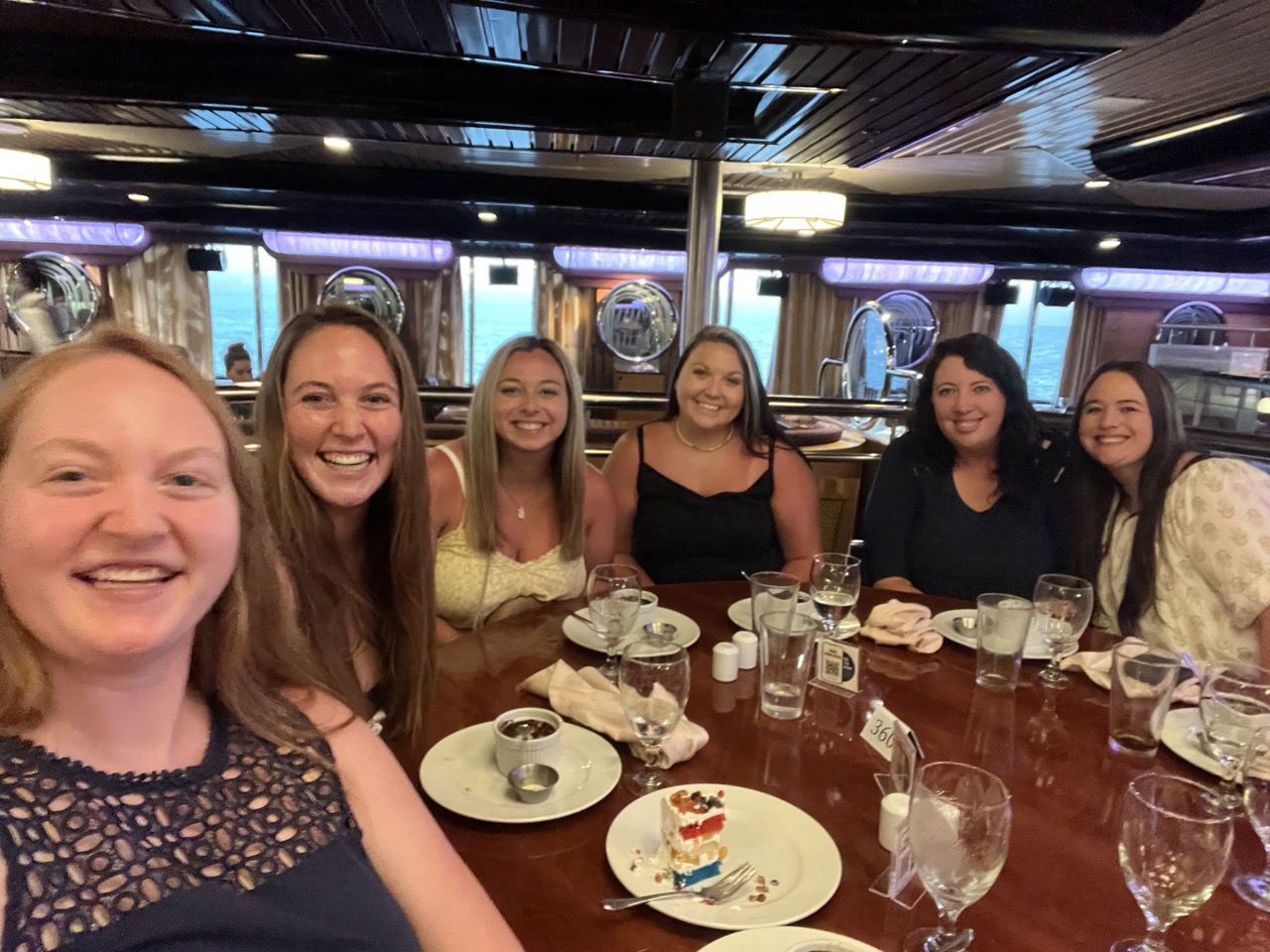 For dinner, Angie and I both had chilled peach soup to start, which was good. There was an option for frog legs as an appetizer that we didn't try, but our table mates did. They weren't too impressed, as it came in a broth rather than battered and fried (like the alligator bites from the night before).
Angie had the country fried chicken and I had the short rib - which was my favorite meal so far! Angie said the country fried chicken was good as well.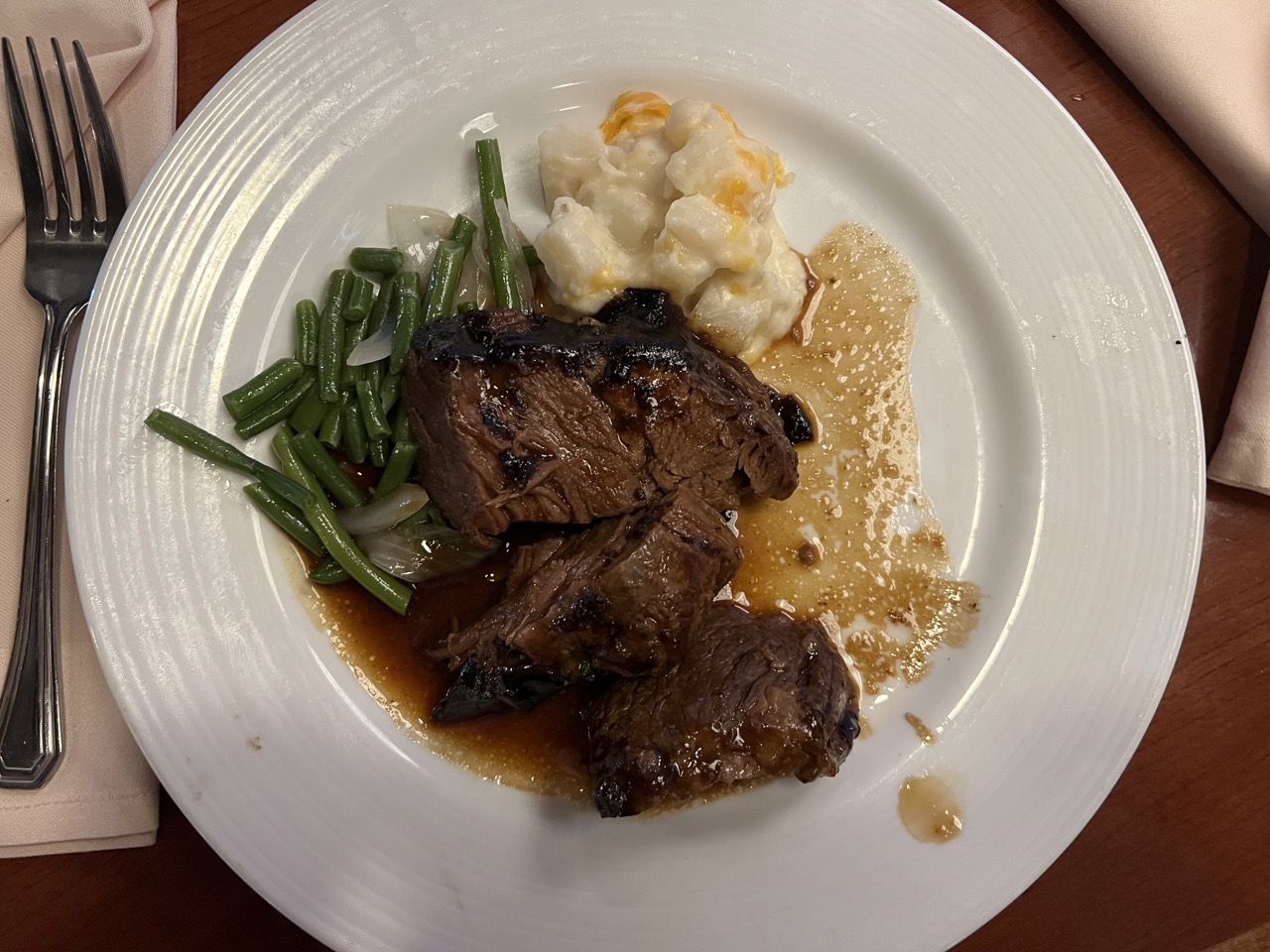 Tonight's mid-dinner show was a big dance party with the servers bringing out a 50th birthday cake for Carnival. They sang and danced to two different songs - our table really got in the spirit with our napkin waving. We even chanted "Roll Tide" a few times to really get in the spirit, although none of us are from Alabama.
Something interesting on this ship that I've never seen before is a Table Entertainer, or an employee that is specifically meant to entertain tables during dinner. We enjoyed magic tricks during two of the nights at dinner.
We inquired about where the employees will go when Carnival Ecstasy is scrapped. He explained that all of their contracts will complete on October 10th and they will all get to go home during that time. All crew will be dispersed to different ships after their break concludes.
This entertainer said he will be coming back to Mobile and sailing on the Carnival Spirit next year. This is a bigger and newer Carnival ship (launched in 2000 compared to Ecstasy's launch in 1991), so that will be great to have a new cruising option in the Mobile port.
The mid-dinner shows definitely align with the 'fun' branding that Carnival has everywhere. Tonight, I didn't even care what I looked like at dinner. Angie wore shorts and I wore a workout dress - something we'd never do on another cruise line. We both agree it's nice to have a laid back environment for this weekend cruise and not have pressure to dress up. 
For dessert, I had the tried-and-true chocolate molten cake while Angie tried the tutti fruity layered cake (which wasn't our favorite).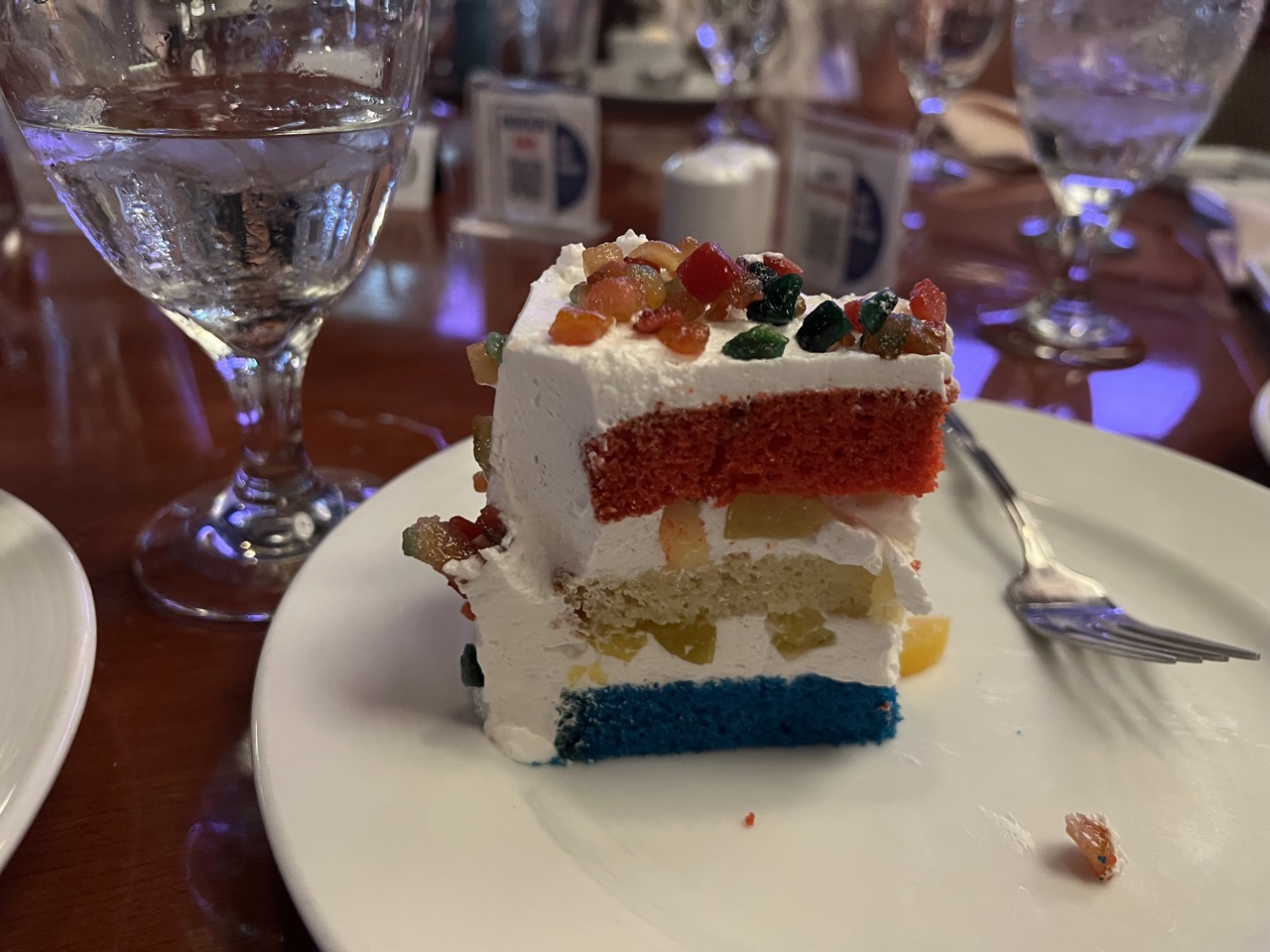 The Carnival chocolate cake is definitely my favorite, although I would have appreciated more dessert choices on the menu each night. I am used to have a large standard menu and then a few rotating choices.
For this cruise, we had one rotating option and then the chocolate cake available each night. They also had fruit, cheese and ice cream but I don't really consider those dessert options when other cruises have a large and expansive menu.
We saw a beautiful sunset from the dining room tonight as well. The seas have remained so calm, which we are grateful for.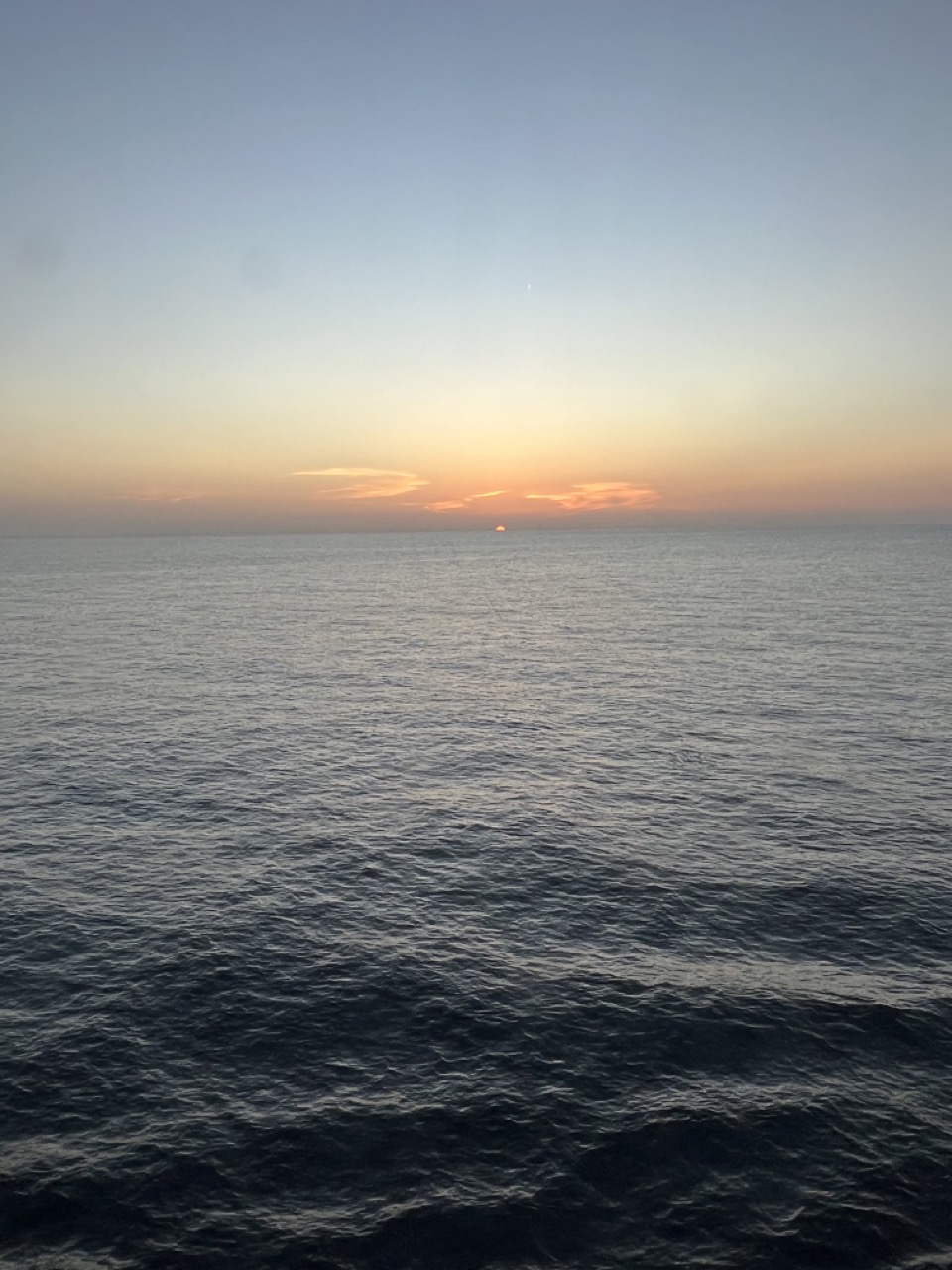 Overall, we enjoyed the food in the main dining room and don't have any major complaints. The food was always good and we never had any issues finding something to order; but, Angie and I both agree that Royal Caribbean's main dining room is better. Royal Caribbean's dining room has higher-quality food, more attentive service and a wider selection of menu options each night.
Entertainment
It was a lively last night onboard the Carnival Ecstasy!
After dinner, we went to the family-friendly comedian again in the Punchliner Club. We've gone here each night and it's always been a great time. We had lots of laughs together.
We also made our way to the Piano Bar for a little bit, which is located in the main atrium. There was a nice little crowd in there singing along to "Piano Man" and "Sweet Caroline." Our table friends have been going there and really enjoy it.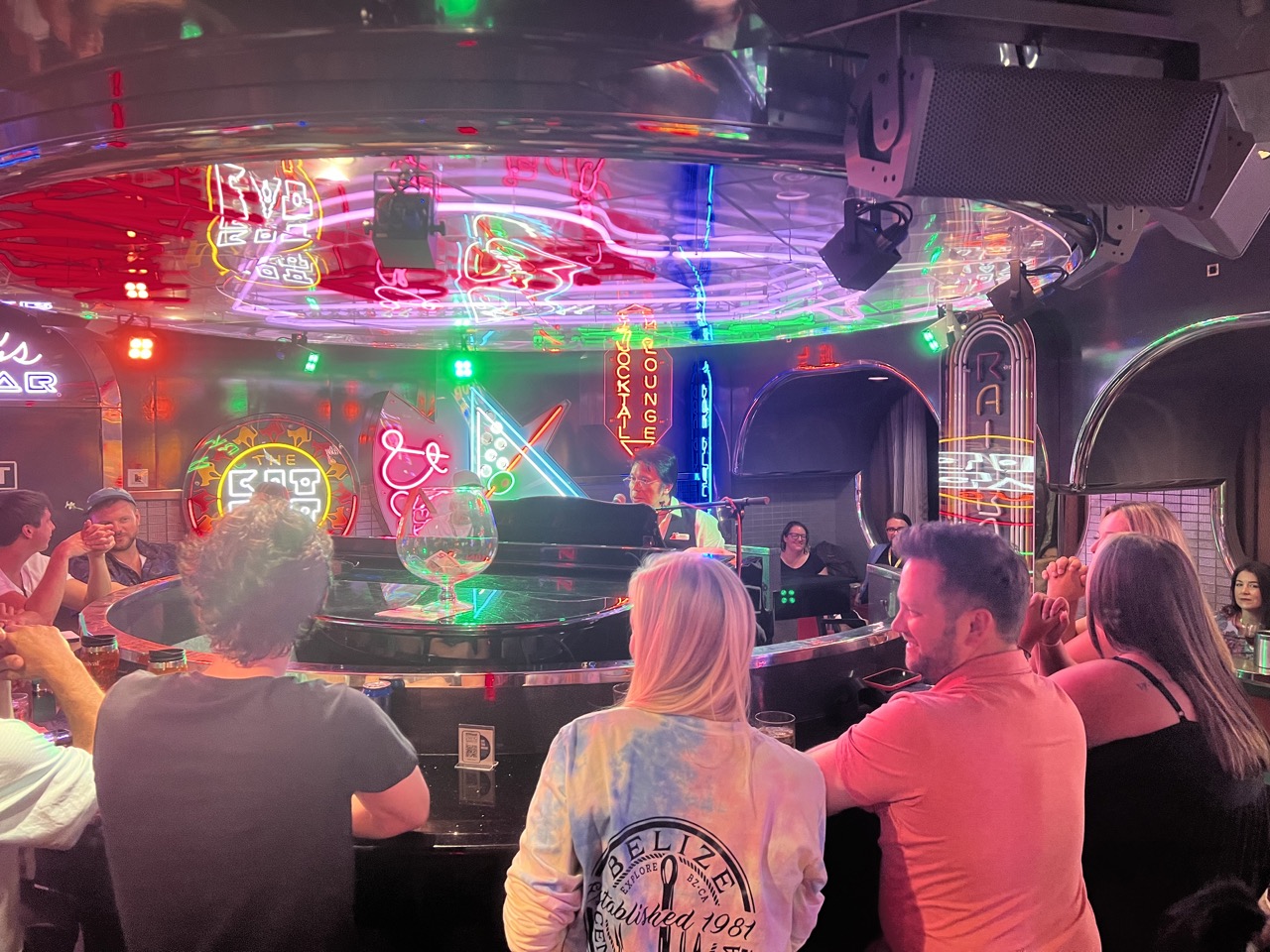 Angie decided to go to the Motown Music singing and dance show in the main theatre to end her night. I don't love singing and dancing shows, so I decided to come back and blog before we go to bed.
Final Thoughts
Overall, I would say this cruise exceeded my expectations! The food was better than I expected and I enjoyed the non-stop fun atmosphere and activities. We loved the entertainment options and everyone keeping things casual and just wanting to have a good time.
The ship has been maintained very well and outfitted with some of Carnival's best signature amenities and venues. Everything was very clean, which is always appreciated. Even the internet impressed me! I was expecting extremely slow service but found the opposite to be true.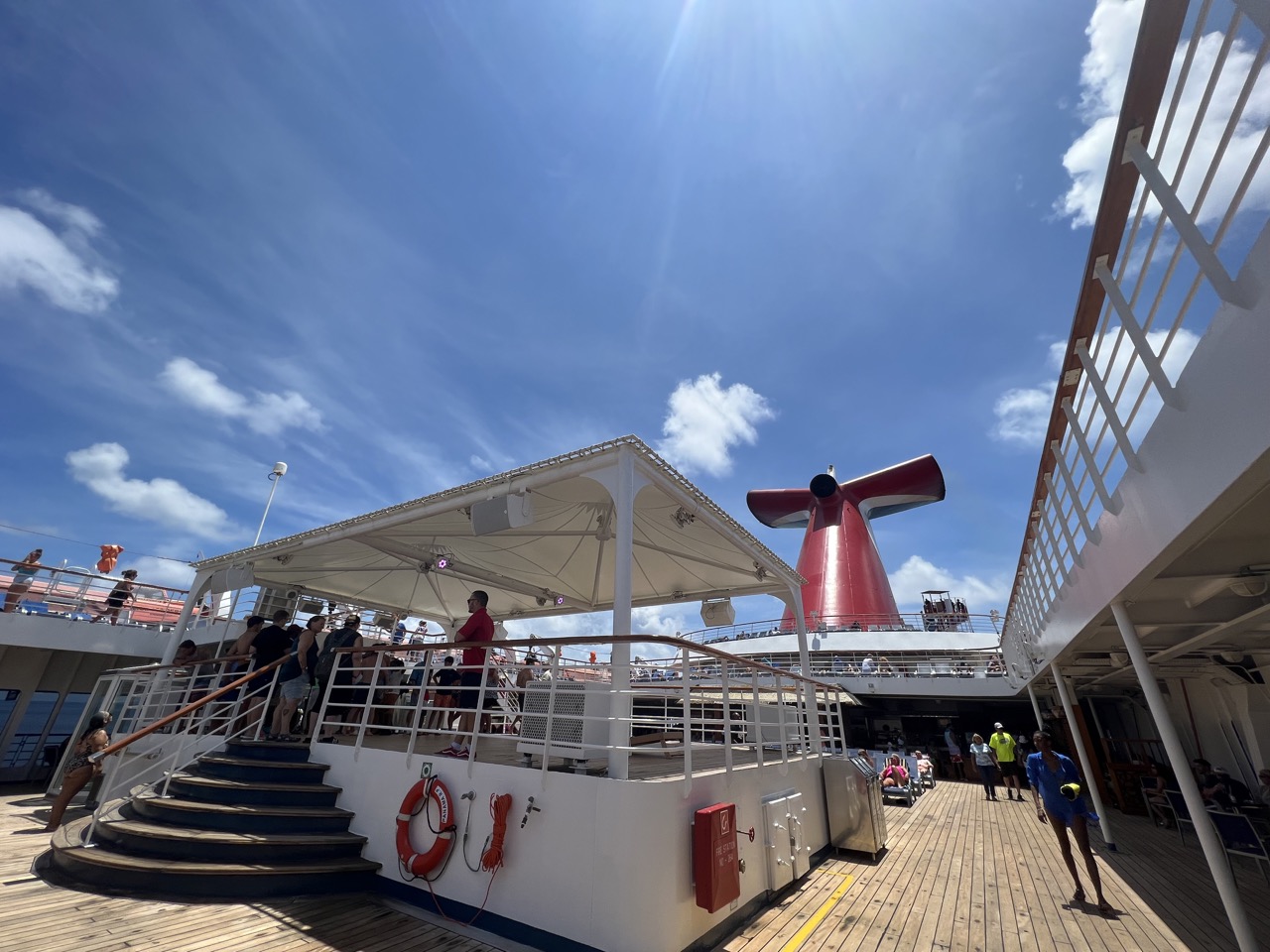 If you're looking for luxury, you won't find it here. There was nothing luxurious about this experience, but we knew that going into this cruise. We were looking to have a great time and enjoy a weekend away. This was good, cheap fun in a casual environment.
I'll be writing more in-depth articles about our experience onboard, so stay tuned for those in the coming days.
We should be getting off the ship around 8 a.m. tomorrow and hopefully back home by 11 a.m. I can't believe how fast the weekend flew by during this cruise. I'm convinced that even the cheapest cruise on the oldest ship can be a great time if you have the right attitude and mindset.
Thanks for tuning in everyone. I've loved sharing our experience here on Carnival Ecstasy. Crazy to think she will be scrapped in the cruise ship graveyard in two more months. Until next time, happy cruising!