One of the best parts of cruising is all of the amazing food that's available. Between complimentary food and specialty options, I love indulging and trying everything that a cruise ship has to offer.
On a recent cruise aboard Carnival Ecstasy, I was surprised to see most of Carnival's signature venues available. Even though Ecstasy is the oldest ship in the Carnival fleet and heading to the scrapyard in a few weeks, the ship was outfitted with plenty of complimentary options for dining.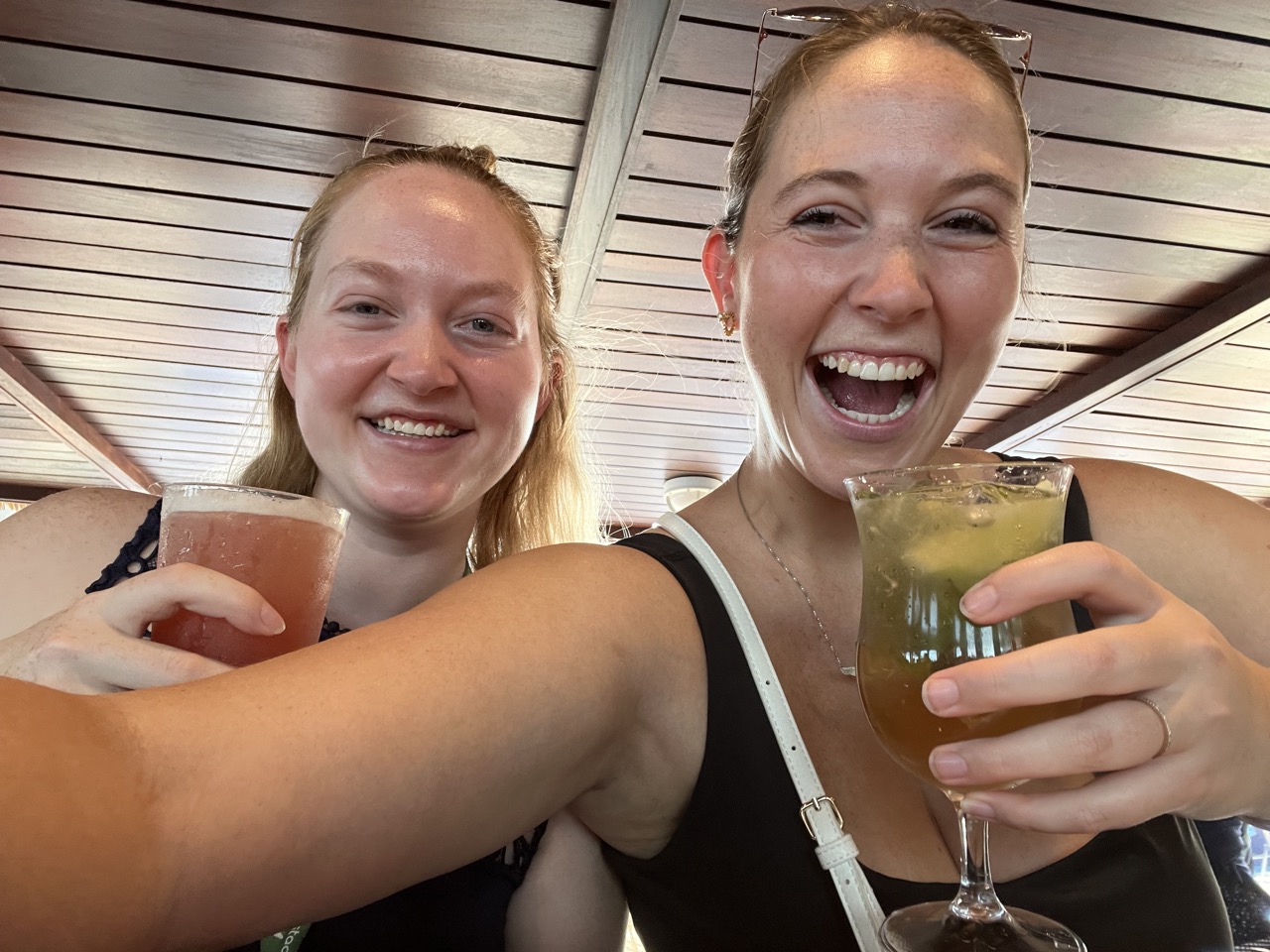 Aboard Carnival Ecstasy, I was able to try most Carnival Cruise Line's signature food options.
We were able to visit BlueIguana Cantina, RedFrog Rum Bar, Alchemy Bar, Piano Bar, Guy's Burger Joint, Pizza Pirate, Carnival Deli, Lido Marketplace and Seaday Brunch onboard Carnival Ecstasy.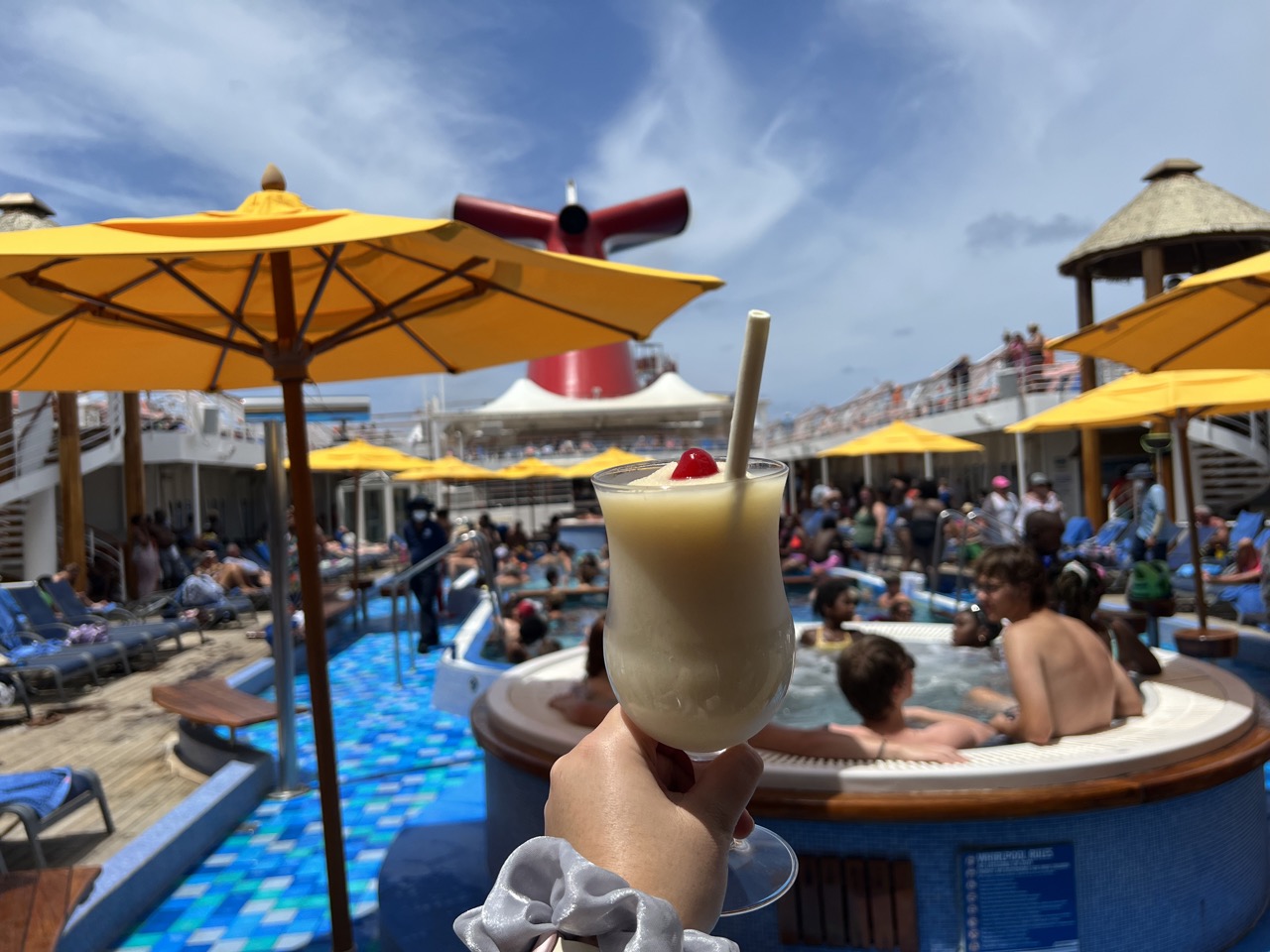 On my previous Carnival cruise, I absolutely loved the burgers offered by Guy's Burger Joint - but I really didn't have the opportunity to try any of the other venues except the bugget. I was determined to try everything aboard Carnival Ecstasy to see how everything compared. 
1. Seaday Brunch
I was most excited to try Carnival's renowned Seaday Brunch - and it did not disappoint! I take brunch very seriously so I have high expectations for brunch food. The menu for Seaday Brunch felt very modern and trendy with options that rival some of my favorite brunch spots back on land.
On our first morning, we checked in for Seaday Brunch on Carnival's app and our table was promptly ready. It was so nice that the brunch was available until noon, so we were able to sleep in and take our time getting to brunch.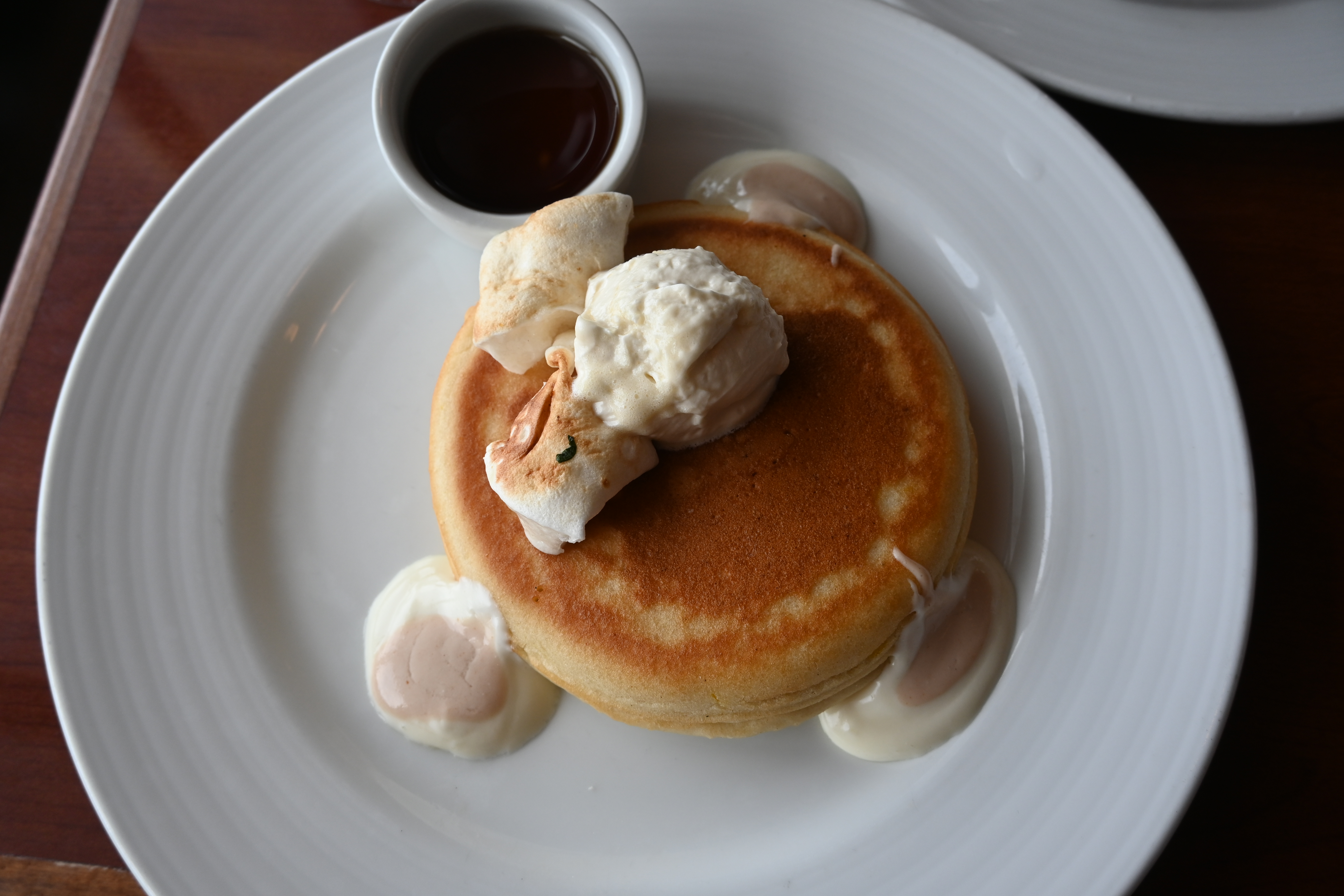 We ordered a variety of items to sample, including the signature 12-hour french toast and skillet-cake.  
Both of these were out-of-this-world delicious. The 12-hour french toast had crispy, caramelized edges, topped with roasted peaches; it was packed with flavor. My sister and I both agreed it was probably the best french toast we've ever had in my life. We went back for a second time on the last sea day and each ordered our own plate to savor its goodness.
The skillet-cake was equally as decadent and topped with whipped cream, marshmallow and whipped ricotta. We loved how it was slightly sweet.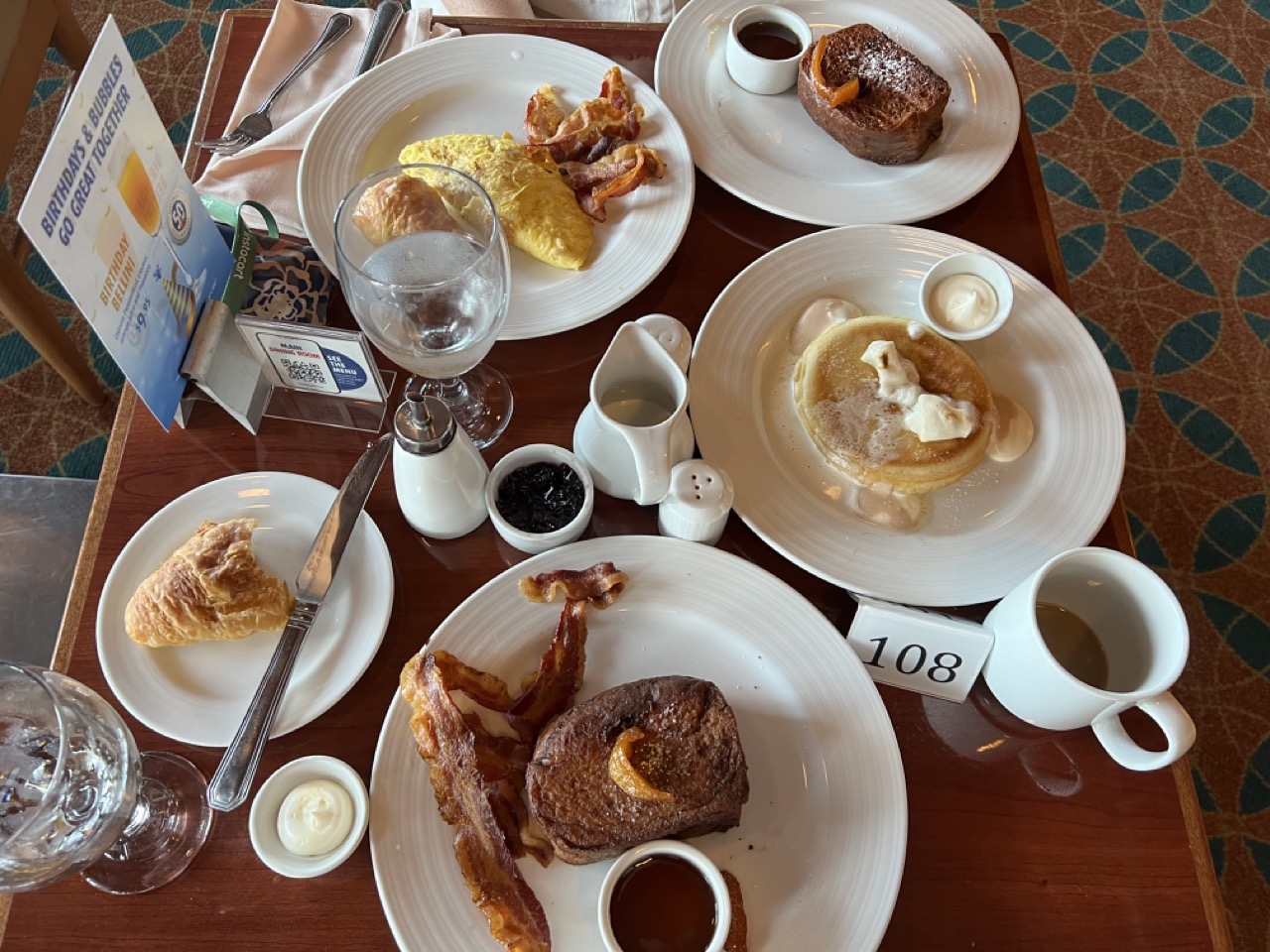 I would have also enjoyed the option of ordering a specialty coffee here (I love myself a morning latte) but the servers said this wasn't available. The chicken waffles left us disappointed and the omelets were overly greasy, but the pancakes and french toast made up for it!
2. BlueIguana Cantina
Coming in at a close second is BlueIguana Cantina! This was another venue raved about when I was doing some research on the food options available on Carnival Ecstasy. 
During our 4-night cruise, I had two really good experiences with BlueIguana Cantina. This was the first place I decided to eat when we boarded the ship, as the chicken tacos were calling my name while we were walking around the pool deck.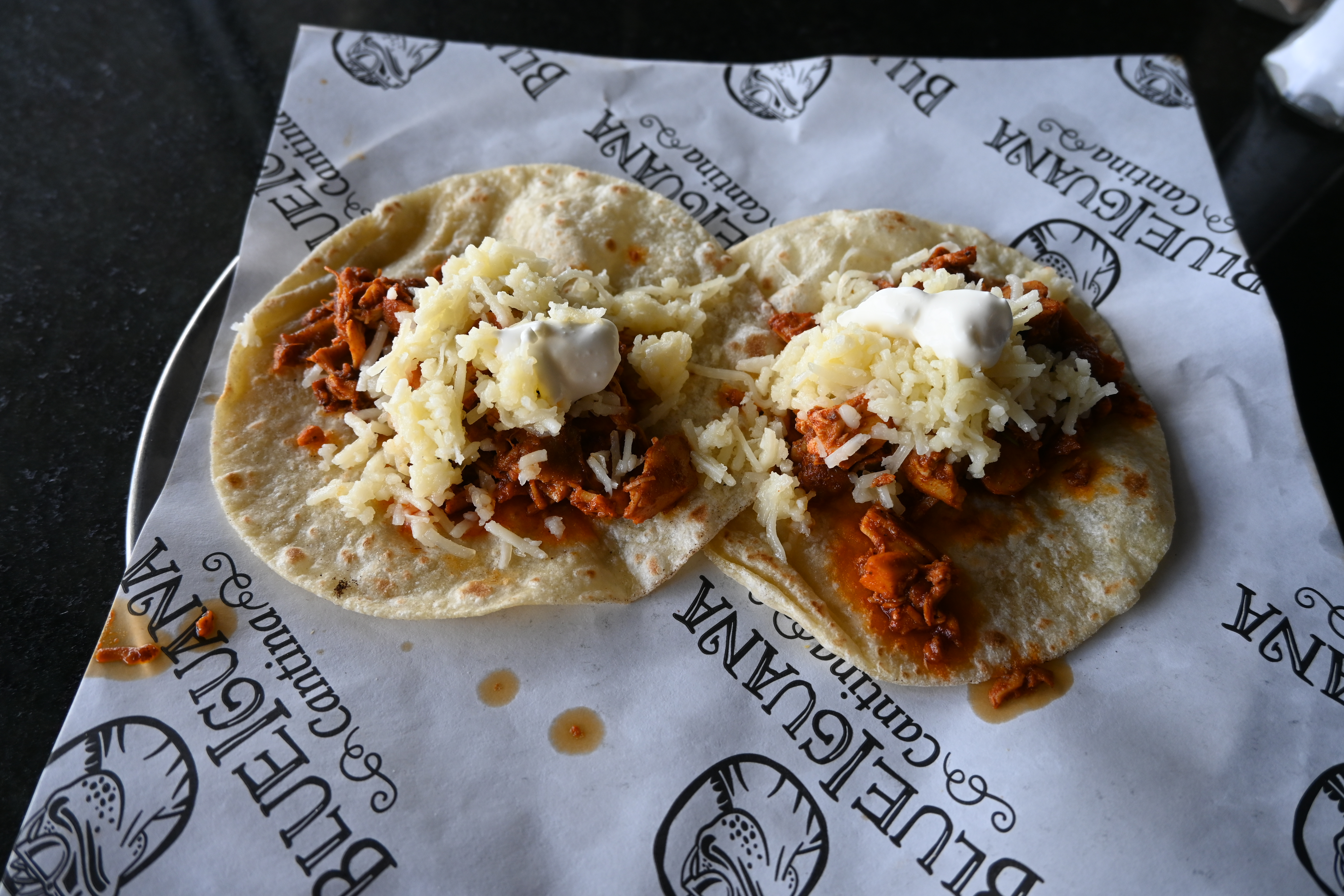 The small tacos, served on flour tortillas, reminded me of street tacos. The toppings bar had tons of options, although it was a little messy and picked over. Either way, the tacos hit the spot and were perfectly sized for a poolside snack. 
I also went to BlueIguana on the last morning of our cruise to have a breakfast burrito because I had heard multiple people talking about how good they were. I filled mine with ham, egg, cheese, skillet hash browns, onions and sour cream in a warm tortilla. I especially appreciated how quickly my burrito was served, as the buffet nearby had a huge line. 
3. Alchemy Bar
I loved the concept of this pharmacy-inspired bar! As a science lover and former chemistry major in college, all of the periodic table references made me smile. I opted for the Revved Up Mojito Martini, which was a fun twist on a classic favorite. It was a strong and sweet cocktail - right up my alley!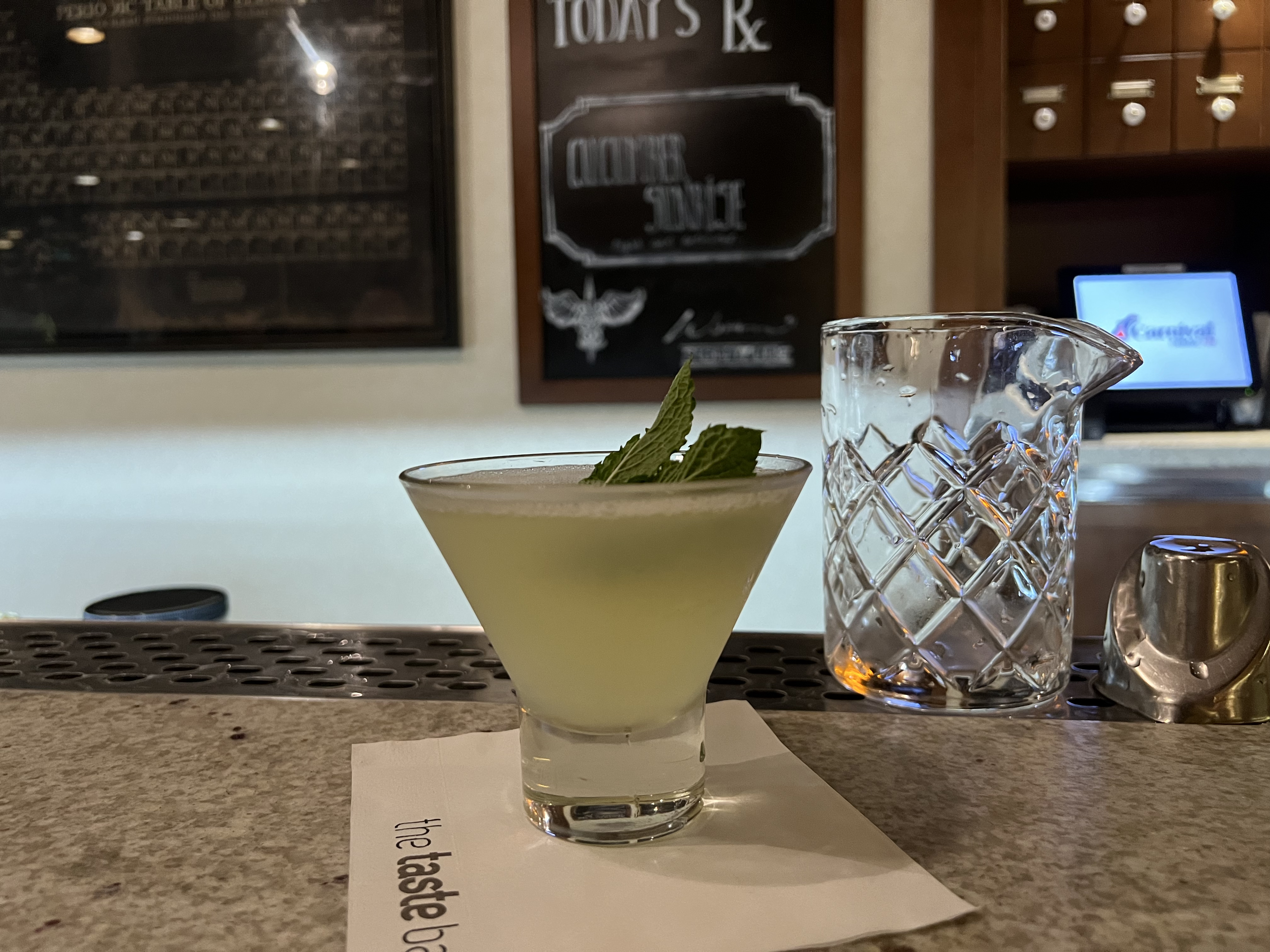 On Carnival Ecstasy, the Alchemy Bar was located outside of the Starlight Lounge. You could tell the bar was added during some phase of refurbishment given its odd placement near the staircase, but it was still nice to have it as an option. 
When we decided to give the Alchemy Bar a try on the first night, we were still technically in Alabama waters so we had to follow the local liquor regulations. Therefore, the menu was limited and we couldn't see what else was even available. 
Since it was so expensive for one drink ($17 after tip) and I didn't have a drink package, I didn't make another trip back to the bar. Hopefully on a future Carnival cruise, I can sample some of the other delicious sounding cocktails.
4. Guy's Burger Joint
Situated right next to BlueIguana Cantina on the pool deck is Guy's Burger Joint, which serves up hearty burgers and lots of fixings. Guy Fieri didn't hold back on this partnership, as Carnival says each ship serves around 1,000 burgers each day! 
This was one of my favorite spots last time I cruised; so, on our first sea day, I decided to have this for lunch. 
I found myself having a hard time focusing on what to order with the menu having so many acronyms (S.M.C = Super Melty Cheese) and topping references (Rojo Ring = Onion Ring) that I didn't understand. I had to keep referencing the bottom of the menu to understand what was in each burger, which made me feel like I was cramming for an upcoming quiz at school. 
Coupled with the blasting music at the pool bar and a line forming behind me, I was frazzled trying to pick the best option. 
I ordered The Ringer, which said it has S.M.C, Rojo Ring and Guy's Burger and Brown Sugar BBQ sauce. I didn't realize it had the L.O.T.P, meaning the burger would be topped with all of the veggies that I had no interest in having on a burger.
Once I removed all of the greenery, the burger was delicious.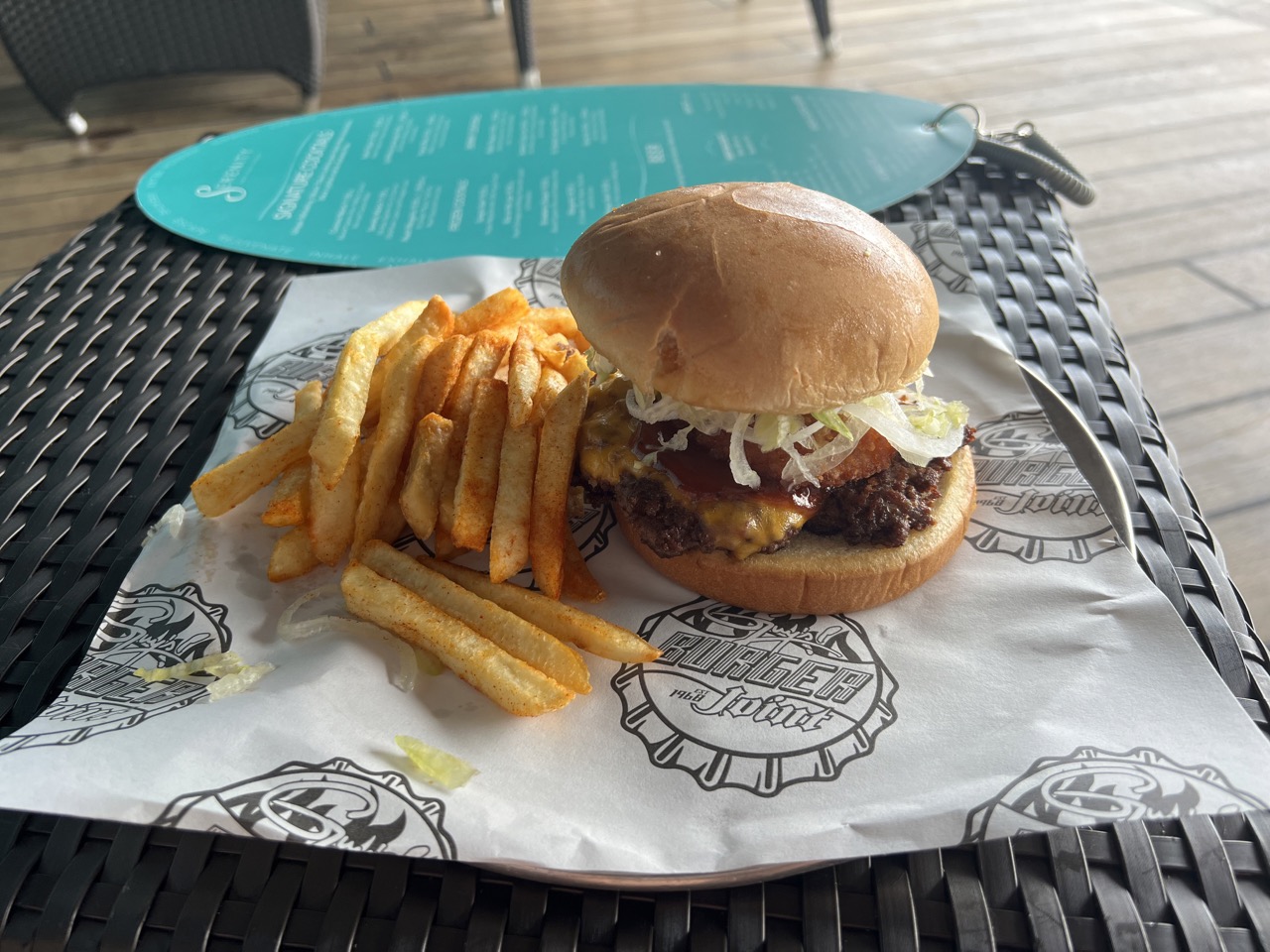 My burger tasted freshly made and of high-quality, something I'd find at a restaurant. It was definitely higher quality than anything you'd find at a fast food restaurant. The fries were nicely seasoned too, although not as hot as I'd like them. I only wish the menu was easier to understand for making quicker, better informed decisions with fewer acronyms. 
5. RedFrog Rum Bar
As its name suggests, RedFrog Rum Bar has a variety of rum-based drinks to fit a cool Caribbean vibe. On Carnival Ecstasy, the RedFrog Rum Bar was much smaller than the images I saw online for other ships.
On our last sea day, we knew we needed to get drinks here since it's a classic Carnival option onboard. The bartenders were full of energy and very attentive as we listened to the pool deck music blast through the speakers.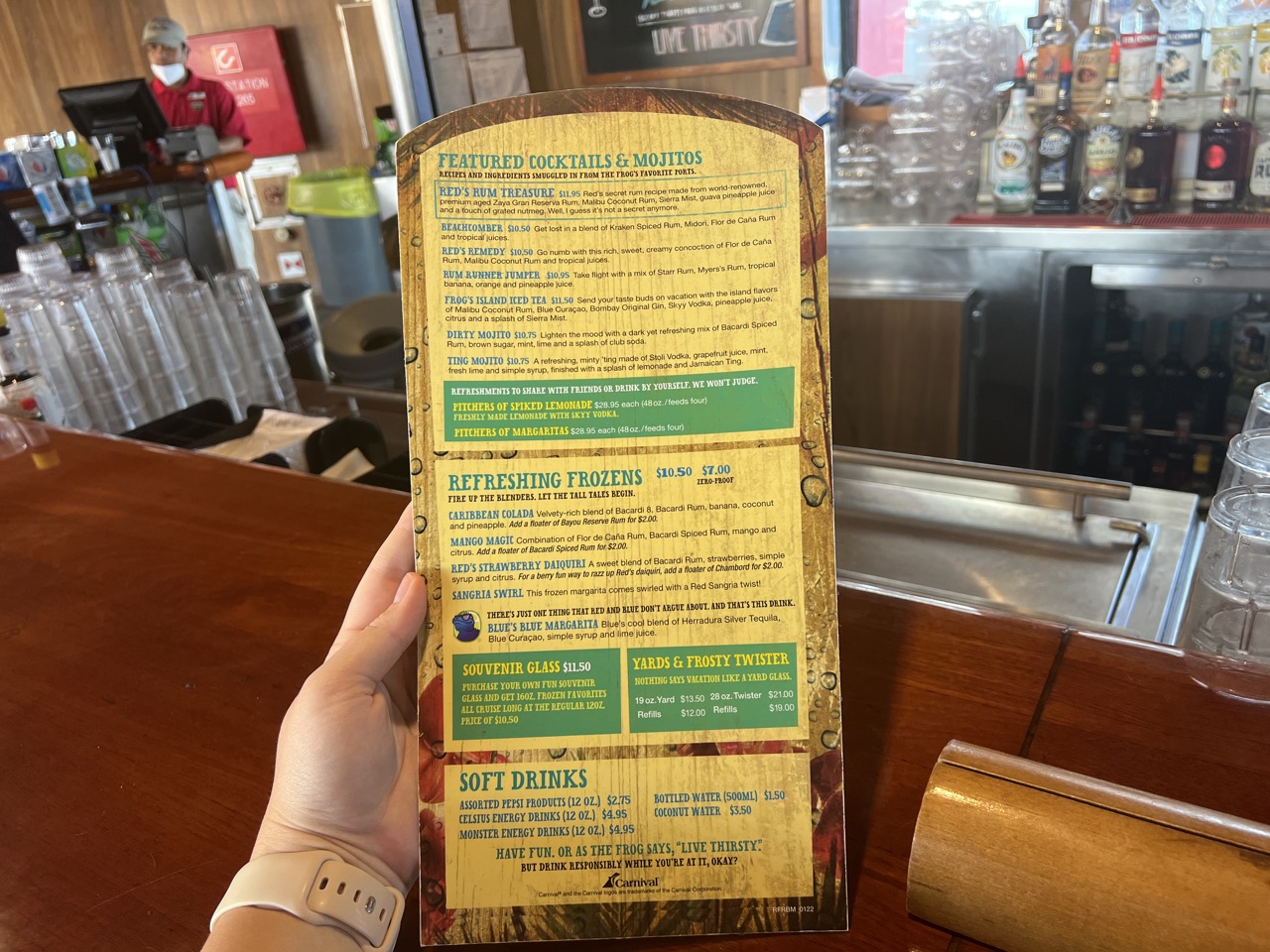 Unfortunately, I didn't love the drink I ordered. I tried the Dirty Mojito, which had spiced rum and brown sugar. It sounded delicious but wasn't sweet enough for my liking. My sister had the Red Rum's Treasure, which was the most popular drink at the bar according to the bartenders. We both preferred her drink over mine.  
Again, since we didn't have a drink package, we didn't go back for another drink because those add up quickly and we wanted to keep costs down. Luckily, we had plenty of drinks the day prior in Cozumel at the all-inclusive resort. 
6. Carnival Deli
One of Carnival's signature food options is the Carnival Deli, which serves old-time favorite sandwiches. There was a large menu with both hot and cold sandwich options.
My sister tried the meatball sandwich and I had the ham and cheese sandwich. The meatball sandwich was delicious with fresh tomatoes and ricotta on tomato focaccia. I also enjoyed my ham and cheese sandwich, in which I chose to swap mustard for mayo. It was made to order and served on two big slices of fresh bread.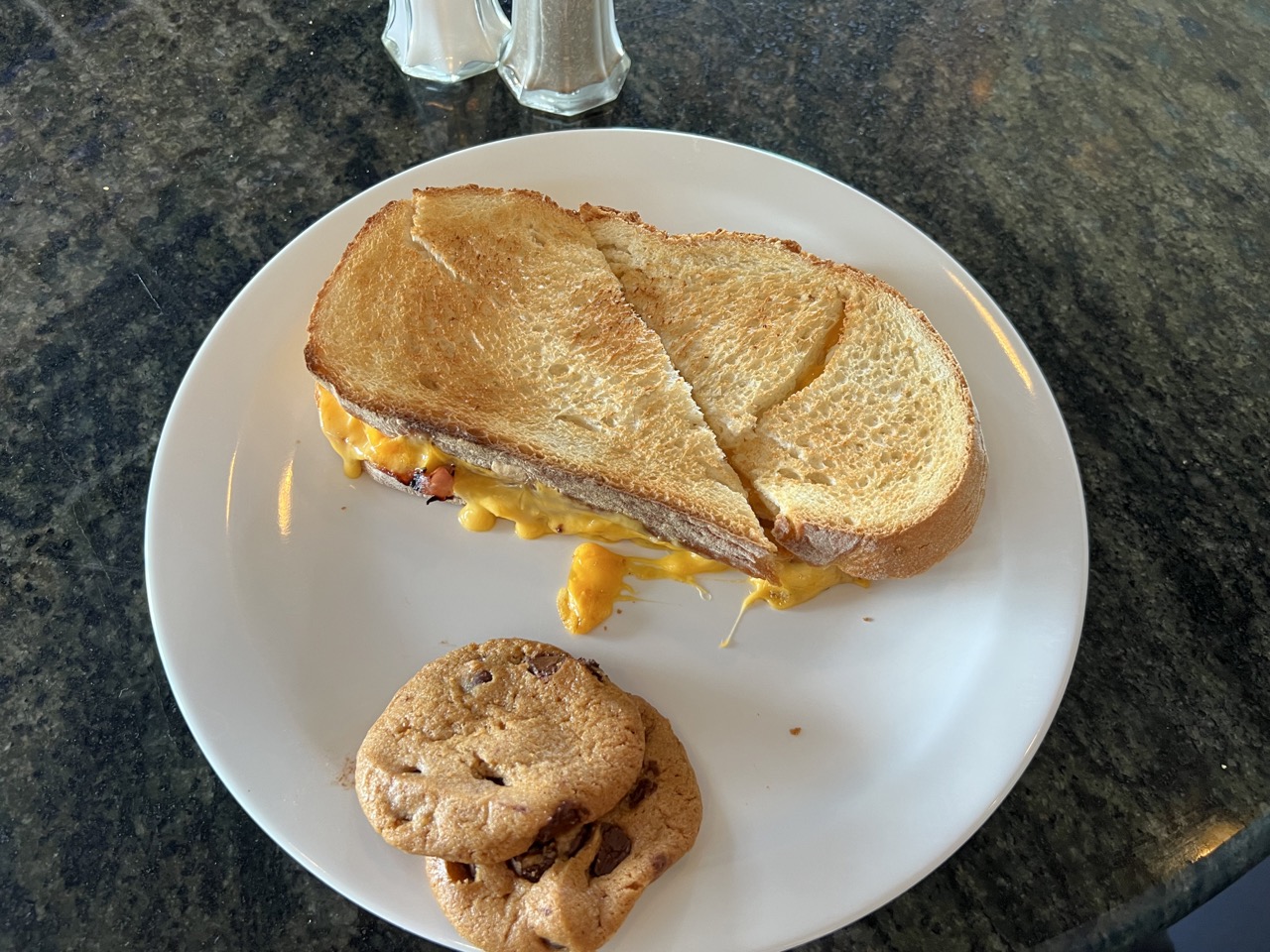 I was surprised by the quality of food served at the Carnival Deli. It was much better than I anticipated - and way better than the deli we had on campus back in college. Service was a little slow and the line was long, which indicates that it's a favorite among everyone. 
7. Pizza Pirate
Located in the Lido Buffet next to Carnival Deli, Pizza Pirate serves up small, hand-tossed pizzas. This pizza parlor is open 24 hours, so it's very popular at night when guests have late-night munchies. 
My sister and I tried Pizza Pirate on the last day of our cruise and we wanted to sample the prosciutto pizza and the garlic cheese pizza. We ended up with a cheese slice and a garlic cheese slice, which was fine.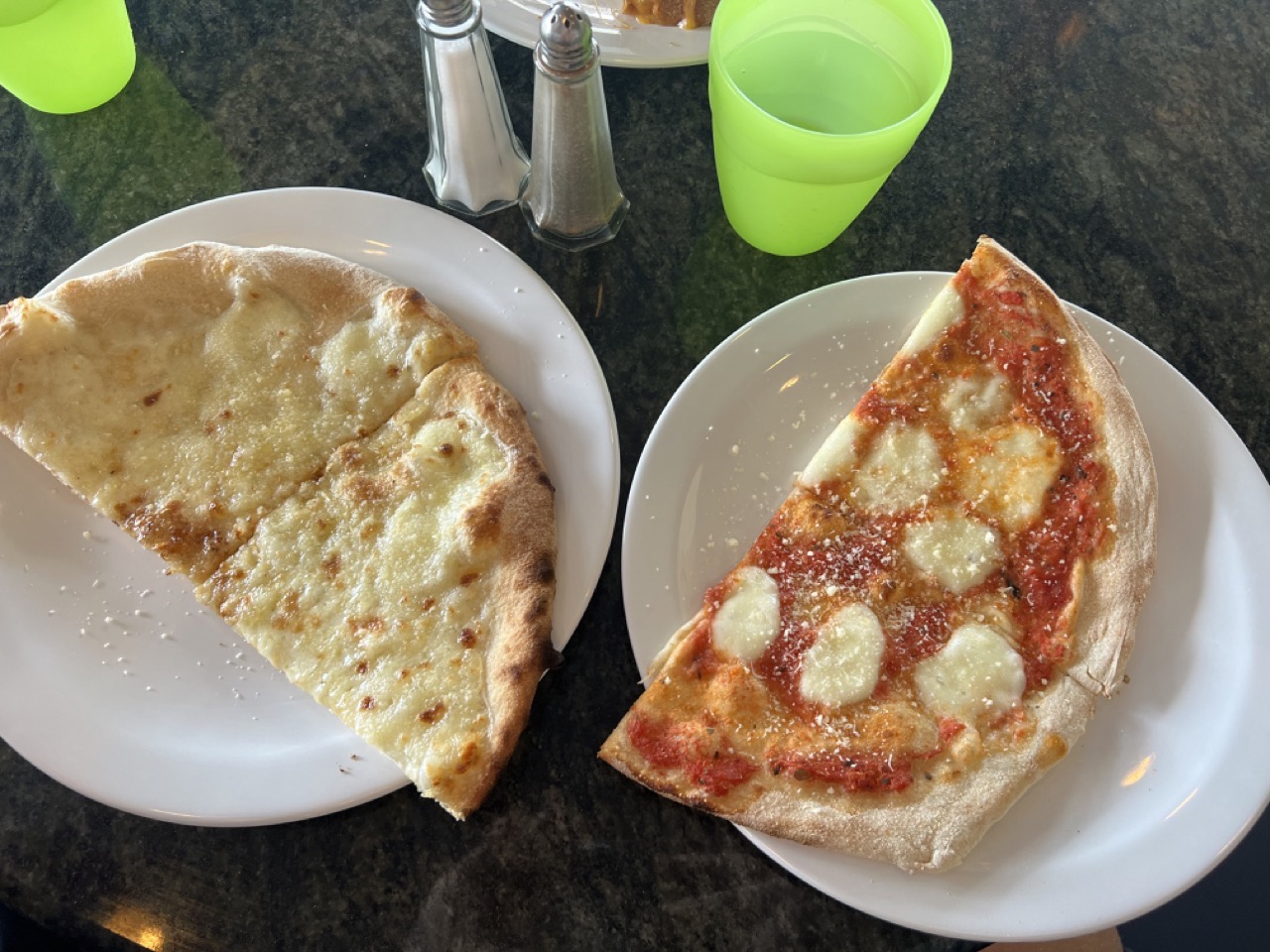 Service was a little bit slow, but the pizza was hot and fresh. The crust was pretty thin and crispy, and we both would have preferred a little more on the toppings. Perhaps the giant bag of Napoli flour in plain sight behind the counter had my expectations a bit high. As a light snack, it was good and tasted yummy.  
8. Piano Bar
The Piano Bar is another classic Carnival venue that contributes to the overall high-energy, nightclub vibes each night aboard the ship. I have never been to a piano bar at sea; it was certainly a fun place to stop by on our last night!
Everyone was singing along with a drink in hand. The highly coveted seats are obviously right around the piano, which sits atop a table/piano hybrid. Roger is the Carnival pianist who was keeping the crowd entertained all night.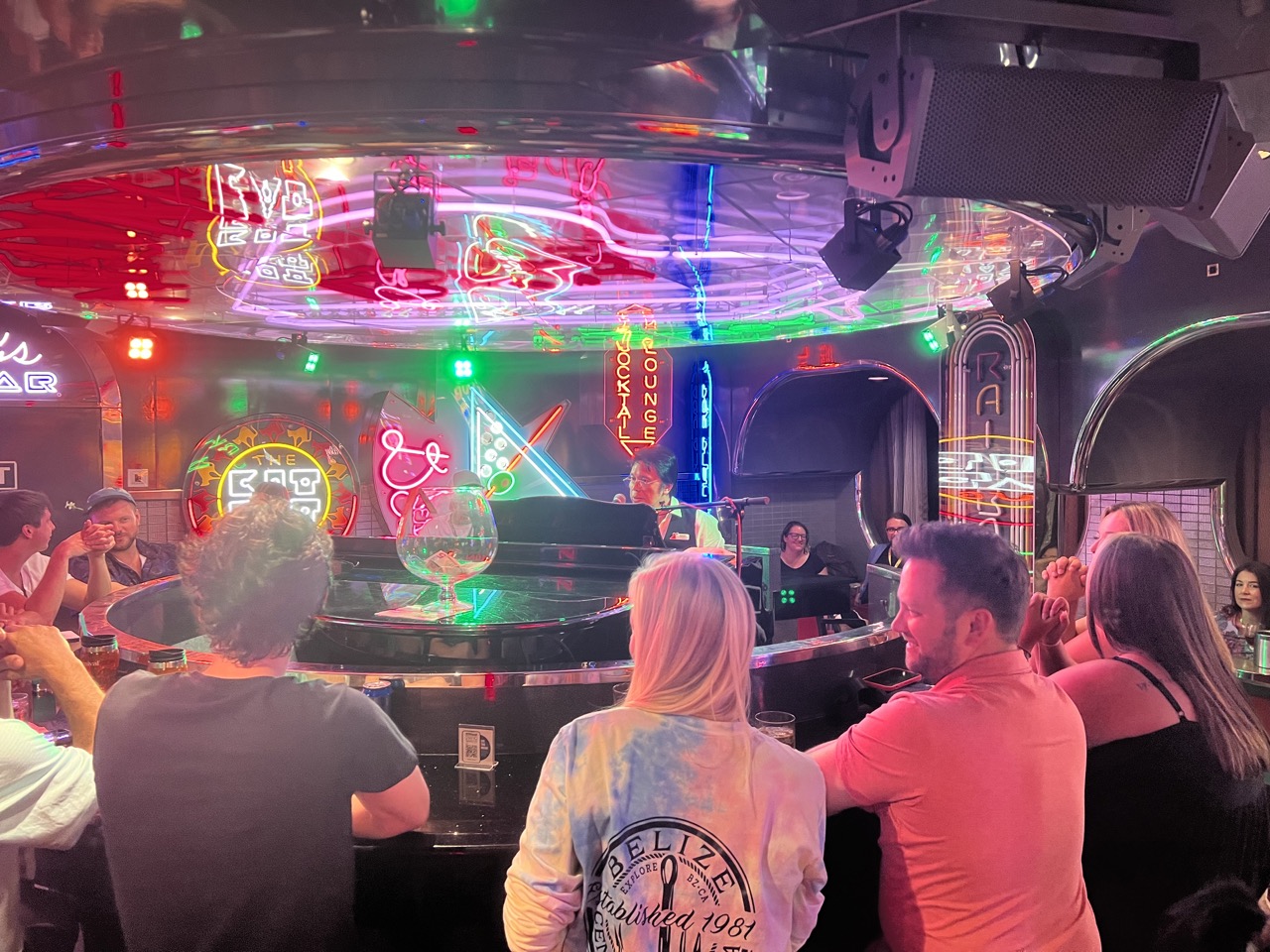 Unfortunately, the Piano Bar earns a lower ranking on my list because it was very small on the Carnival Ecstasy. There simply wasn't enough seating for everyone who wanted to enjoy the fun and listen to the music. It was too packed to try and get a drink, so we didn't stay long. The room was also covered in neon signs, yet the lights were on, which I didn't love. 
I think the experience would be better on a newer ship that has a bigger Piano Bar.
9. Lido Marketplace
The Lido Marketplace is the large buffet that serves breakfast, lunch and dinner. In comparison to other ship buffets, it was smaller than I anticipated. 
We were unexpectedly disappointed in the buffet. The food was pretty mediocre and the options never really appealed to us. Things were always picked over and it sometimes felt dirty.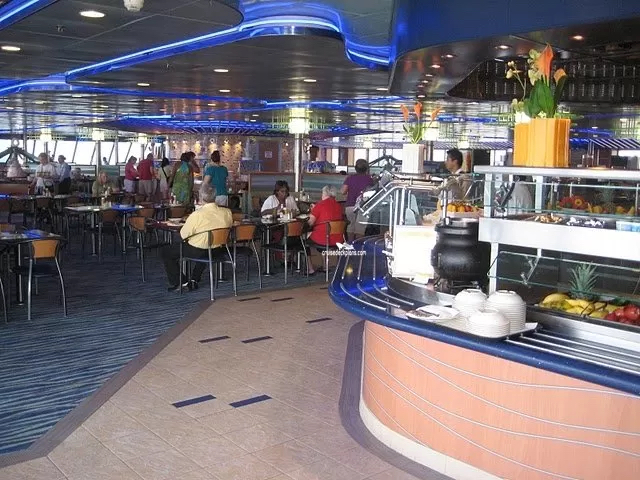 I was expecting a larger selection, but there are plenty of other places to eat onboard that I would recommend before settling on the food in the Lido Marketplace. 
Honorable Mention: Afternoon Tea
Although not technically part of Carnival's signature food options, our 4-night sailing featured Afternoon Tea in the dining room during both sea days. Online forums reveal it might be hit or miss whether each Carnival ship offers Afternoon Tea on certain itineraries with the cruise line citing staffing issues as the reason why. I was excited to see this on the sea day itinerary and knew we needed to give it a try.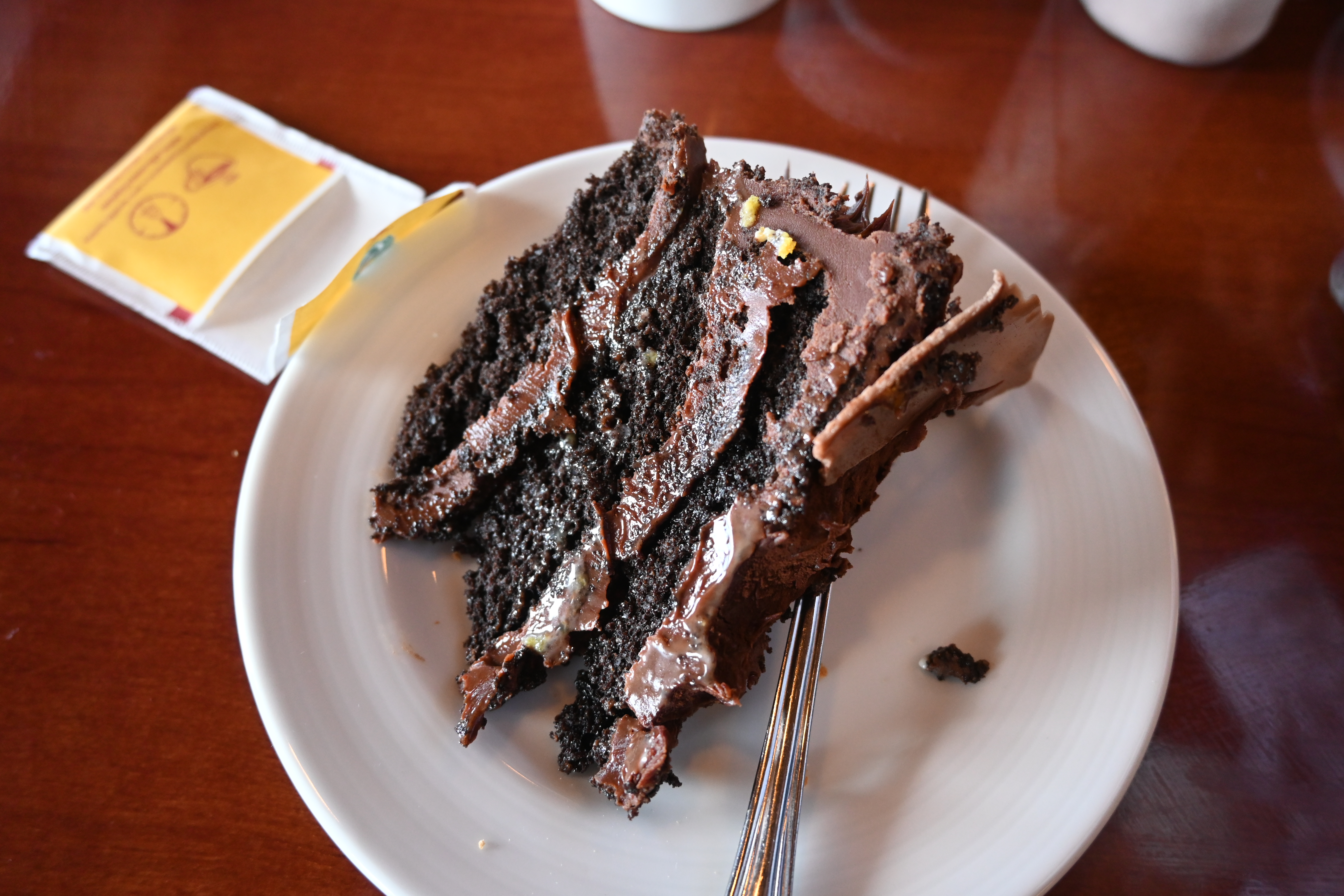 We were delighted to spend some time during our sea day at Afternoon Tea. Although there was a small selection of complimentary tea, they rolled around a cart around filled with tons of divine-looking desserts. We sampled scones with cream, chocolate layered cake, lemon sponge cake, peach crumble and macarons. 
This was such a lovely and relaxing break in the afternoon!