If you're looking to cruise the Caribbean Sea, chances are that you'll be looking at itineraries that include stops in the Virgin Islands. These lush islands are breathtakingly gorgeous, perfect for beach bums and nature lovers alike. While there are thousands of tiny islands that make up the Virgin Islands, there are 7 main islands that attract most of the area's tourism. 
The Virgin Islands are actually divided into 2 separate territories: the U.S. Virgin Islands and the British Virgin Islands. Although the islands are largely similar, each group of islands is owned by its respective country.
The U.S. Virgin Islands are comprised of 3 large islands: St. Thomas, St. Croix and St. John. On the other hand, the British Virgin Islands include Tortola, Anegada, Virgin Gorda and Jost Van Dyke. 
Each island is rich in culture with plenty of activities for families, couples and solo cruisers alike. Whether you want to kick back on the beach with a fruity drink or zip-line through the forest to see stunning views of the island, you certainly won't be disappointed in any of the Virgin Islands. 
St. Thomas
Image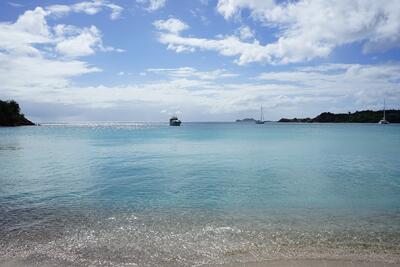 St. Thomas is a popular stop for many cruise itineraries - and for good reason! The island is famous for its white sand beaches, plentiful shopping and crystal blue wasters. 
Cruise ships will dock in the island's capital of Charlotte Amalie, a city nestled between the forested mountain tops. You'll find plenty of shopping and attractions right off the port, with an excellent selection of fine jewelers and shops. 
Image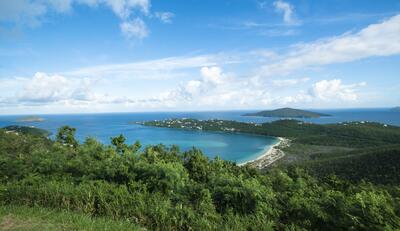 The island is also home to one of the world's best beaches - Magens Bay. The white sand beach is like soft sugar between your toes and the island's stunning mountains surround the bay. The beach is located in a crescent-like area of the island, which creates a very calm tide for swimming and relaxing.
Those looking to be more active will love the hiking trail near Magens Bay, which features 75 miles of hiking atop the hillside. Kayaking is also available in Cos Cay, where you can paddle along sea turtles and other wildlife.
The island is also filled with plenty of restaurants and beach bars when you're ready to indulge in the local cuisine.
Most cruise line will offer a variety of shore excursions to choose from:
Turtle Bay snorkeling

Skyride to Paradise Point

Activities at Coral World (Sea lion swim, scuba adventure)

Beach transfers
St. John
Image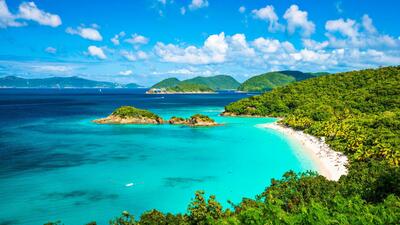 Although St. John is the smallest of the U.S. Virgin Islands, you'll find plenty to do throughout the island, including dozens of beaches, trails and coves to discover. National park lovers will want to visit the Virgin Islands National Park, which is packed with protected marine life and wildlife. The island is also filled with migratory birds, inhabited dolphins and green turtles. 
Active cruisers will appreciate Ram Head Trail, a 2.5 mile leisure hike located within Virgin Islands National Park. While it may not be strenuous, the views are amazing along this trail. Once you've finished enjoying the scenery, you can relax at Salt Pond Bay, which is located at the end of the trail.
St. Johns also offers excellent snorkeling, including the crystal blue waters in Honeymoon Bay. Those looking for more adventure might enjoy Trunk Bay, which features an underwater nature trail. Sail on a catamaran or chartered boat to enjoy the island views from the sea!
St. Croix 
Image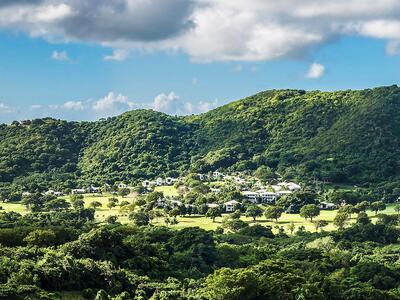 The largest island of the U.S. Virgin Islands is St. Croix, which is home to some of the best diving and snorkeling in the Caribbean. Divers and snorkelers will not want to miss Buck Island Reef National Park, which is filled with colorful coral and acres of underwater trails throughout the seafloor. 
Another excellent spot for snorkeling is Cane Bay, which is located on the northern end of the island. The waters are filled with turtles, seahorses and eels for snorkelers looking to enjoy the local marine life. Cane Bay offers something for cruisers hoping to enjoy a slow-paced vacation, including relaxing on the white sand beach. 
History lovers will appreciate a visit to Christiansted, which is a Danish influenced area of the island. This city features an 18th century fort called Fort Christiansvaern - a must see! Another historical city on the island is Fredrikstad, which offers even more history with its Caribbean Museum Center for the Arts.  
For beach goers, Rainbow beach is a popular stop for those looking to enjoy great food, local music and a beautiful beach for lounging or swimming.  
Tortola
Image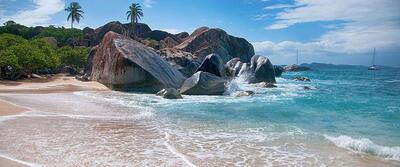 On the British side, Tortola is the largest Virgin Island with plenty of gorgeous beaches. Smuggler's Cove is a top choice for its famous white sand - perfect for walking along the sea with a drink in hand. Those looking to catch a wave will want to head to Apple Bay, which is one of the best places to surf in the Caribbean.
Cruisers can also appreciate Tortola's distillery history at Cane Garden Bay, which is home to Callwood Rum Distillery. The island's distillery history dates back 400 years, making it the oldest rum distillery in the Caribbean. Cane Garden Bay also features plenty of beach sand for lounging, drinking and enjoying the Caribbean Sea.
For divers, Tortola is one of the launching points to visit the RMS Rhone shipwreck. The ship sank in the 19th century due to a powerful hurricane, leaving the ship to rest on the ocean floor. Adventure-seekers can also visit Mount Sage to enjoy panoramic views of the island or zip-line through the trees. 
Tortola is most commonly visited by Disney Cruise Line and Norwegian Cruise Line. 
Anegada
Image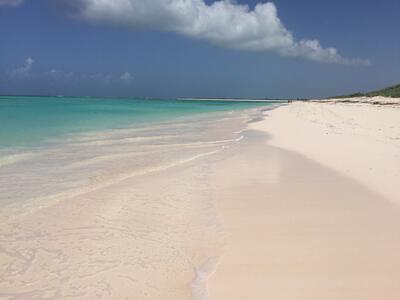 Another British Virgin Island is the tiny volcanic island of Anegada. This low-lying island is famous for its unbelievable coral reefs. Cruisers looking for a quieter retreat will enjoy the island's quaintness and old charm. Although a lesser-known island in the Caribbean, Anegada is also known for its secluded beaches like Loblolly Bay and Cow Wreck Beach. 
The island has virtually no elevation, allowing the ocean's clear springs to bubble from the coral beds. Cruisers who enjoy nature will love the island's resident flamingos, along with other marine life and wildlife. These are best seen on the island's nature trail, Bones Bight. 
Jost Van Dyke
Image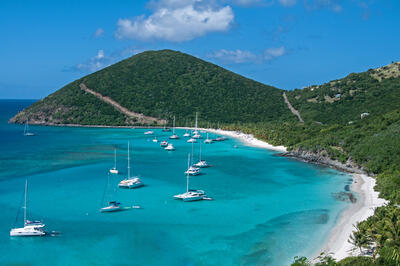 Just a short boat ride away Tortola is the island of Jost Van Dyke in the British Virgin Islands. Although the island is only 3-square miles long, that doesn't mean you won't find plenty of restaurants, beaches and activities to do throughout the island. The Great Harbor is lined with local seafood restaurants and beach bars. 
The vibe on this island is laid-back and chill, making this a perfect day-trip from Tortola. You can expect to see plenty of yachts out on the sea, as Jost Van Dyke is a popular destination for yachters. 
The top beach spot on the island is White Bay - a beautiful stretch of white sand beach covered with coconut palm trees. This serene walk is a must-do on the island during your time!
Virgin Gorda
Image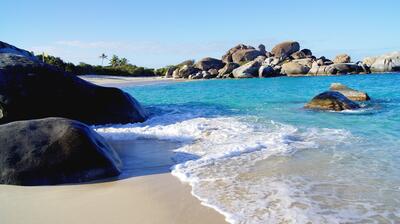 Another short day-trip from Tortola is to Virgin Gorda, which is only a short 30 minute ferry ride away. Legend has it that Christopher Columbus named this island because the shape resembled that of a woman. This small island also features gorgeous, secluded beaches with sugar-like sand.
The most unique feature of the island is its historical granite stones called the Virgin Gorda Baths, which are thousands of years old. The boulders are surrounding the beach where you can snorkel in the translucent water and enjoy the stunning scenery.
Regardless of which islands you choose to cruise to, you'll appreciate the beaches, landscape and unique culture of each island. Whether you want to relax each day on the white sand beaches, hike around the island or snorkel in the crystal clear waters, the Virgin Islands are sure to be a perfect vacation spot!
Cruise lines will offer excursions from Tortola to visit Virgin Gorda. Norwegian Cruise Line, for instance, offers a "Virgin Gorda & The Baths" excursion that lasts 4.5 hours and is priced at $99 per adult and $79 per child. They also offer a "Virgin Gorda Baths & Snorkel" tour that costs $129 per adult and $99 per child.