Have you ever wondered which cruise ship staterooms get booked up the quickest? Are you planning a cruise vacation and wondering how quickly you need to book your cabin?
There are all kinds of cabins you can book on a cruise ship, but not all of them are created equally.  Many long-time cruisers know there are a handful of categories that stand out and they tend to get booked up quickly.
If you're like me, you don't want to miss out on the best stateroom choice, so here's what you need to know about the cruise ship cabins that are not very plentiful and lots of people will want to book.
Upper Tier and Luxury Suites
Image
(Luxury suite onboard Disney Cruise Line's ship Disney Wish)
Every cruise line calls their luxury staterooms something different. Most luxury cabins are a suite of some kind and are often times apart of their very own category. These stateroom categories go by names such as, 'Concierge', 'The Haven', or 'The Retreat', for example.
These rooms are often categorized as suites, and feature the most luxurious accommodations onboard cruise ships. Guests staying in luxury cruise cabins often are given special access to exclusive areas of the ship, as well as amenities. Some of these exclusive areas available to only to suite guests are keycard-access only sundecks, pool areas, lounges, and restaurants.
Rooms within these luxury categories tend to offer more square footage in their rooms, have separate bedroom areas, living room spaces, and private balconies. Some of these suites feature luxuries such as private hot tubs, king-sized beds, dedicated butler staff, and opulent decor throughout.
Suite and luxury staterooms tend to book up fast onboard due to the fact that there are less of these rooms onboard. For example, there may be a few hundred standard ocean view rooms onboard a ship, but only ten premier suites.
Interior Staterooms
Image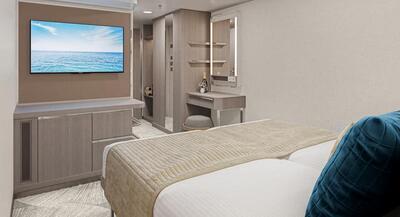 (Interior Stateroom onboard Norwegian Cruise Line's ship, Norwegian Prima)
Interior Staterooms are often times the most plentiful cabins onboard cruise ships. These rooms tend to be the most economical, and offer the best deals to travelers. These rooms offer standard amenities for guests, and are a great introductory cruise cabin for passengers.
While these rooms are often times the most plentiful onboard, they tend offer the best deals, and therefore fill up rather quickly.
Indoor or interior stateroom cabins are just as they are described. They usually do not have a window, or way to see outside. These rooms typically have one queen bed that can be converted to two twin beds upon request. These rooms, while smaller, can comfortably fit two guests and are often cozy and make a great place to call home while onboard.
Because of their great pricing, it is recommended that guests who are planning a cruise, book these interior rooms as soon as possible. Booking these rooms early on in the cruise planning process can help to achieve the best price onboard.
Solo Traveler Staterooms
Image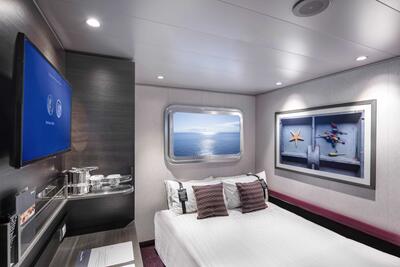 (Solo Cabin example onboard MSC)
Relatively new to the cruise line industry, but quickly gaining popularity, is the Solo Cruiser staterooms. These staterooms are designed specifically for solo travelers, and sometimes feature access to exclusive areas of the ship, such as Solo Traveler Lounges.
These rooms are usually the smallest onboard, and have a studio-like layout. These rooms usually feature a smaller twin or full-sized bed, bathroom, small desk area, and TV. These rooms are usually categorized as being interior, and therefore do not have a window to the outside of the ship. However, some cruise lines offer different categories of Solo Cabins, and some of these categories offer solo travelers their own windows, or even balconies. 
Some popular cruise lines that have Solo Traveler cabins are: Celebrity Cruises, Holland America, Norwegian Cruise Line, and Royal Caribbean.
The Only Pet Friendly Cruise
Image

Something that is very scarce amongst the cruise line industry are ships that allow pets onboard. Currently there is only one cruise line, and one ship that allows pets onboard; Cunard's vessel, the Queen Mary 2. This ship is well known for its transatlantic itineraries from New York to Southhampton England, and back.
"Dogs and cats continue to travel in style across the Atlantic on board Queen Mary 2. There are 24 kennels, lots of space to play and a dedicated owner's lounge. So as not to cause any homesickness, British dogs find familiarity with a lamppost taken from the Cunard building in Liverpool and dogs from the USA naturally enjoy a New York City fire hydrant," notes Cunard about housing passengers' furry friends onboard.
Because this is the only cruise ship that allows pets onboard, getting a cabin onboard, along with a space for your four-legged friend, is very rare. Cunard currently operates a waitlist in order to secure a stateroom onboard, along with a kennel for guests' pets. Many passengers wishing to travel on this ship often have to book their sailings over a year in advance, then join the waitlist, and hope that they are able to secure a spot for their desired sailing. Currently the only way to make it onto the travel-with-pets waitlist is to make a reservation. There is a very limited number of kennels onboard the Queen Mary 2, and guests interested should book as soon as they are able, in order to have the best chance of reserving a space for their pets.
Conclusion
Image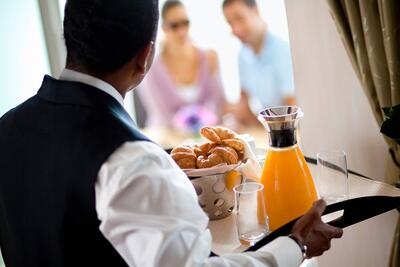 These are some of the cruise ship staterooms that tend to book up the quickest. The cruise line industry has expanded so much in the last few decades that most ships have staterooms of numerous categories to choose from.
Most cruise lines have cabins to fit every guests' desires and budgets.
Which stateroom will you choose for your next voyage?