I'll be transparent here - losing my luggage while traveling is probably one of my biggest fears; it causes me more stress than I'd like to admit. I know I am not the only one who has heard horror stories about airlines and cruise lines mishandling luggage, only to get swept away in an abyss of lost suitcases.
To avoid this, I mostly travel with a carry-on whenever possible. This usually eliminates the possibility of an airline or cruise line losing my suitcase; however, this isn't always possible depending on where I am traveling and how long I will be gone for.
Image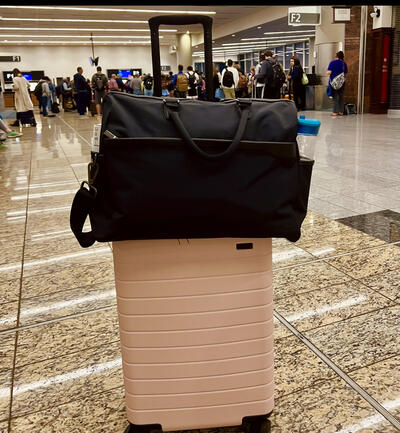 With travel demand soaring in a post-pandemic era, it's become all too common for companies to lose your luggage while traveling. Because of this, AirTags have become enormously popular in the travel community, even in the cruising sector.
Image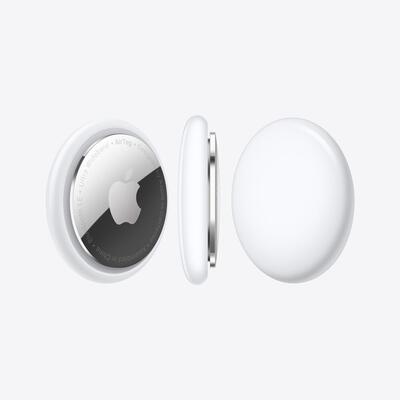 I recently took a three week trip to Europe for a 12-night cruise to Israel on Royal Caribbean's Odyssey of the Seas; I thought this would be a great time to try out AirTags to see if they helped me efficiently track my luggage throughout my travels.
As much as I would have loved to travel in just a carry-on, with multiple climate changes during the three week trip, I surrendered to the checked bag.
Image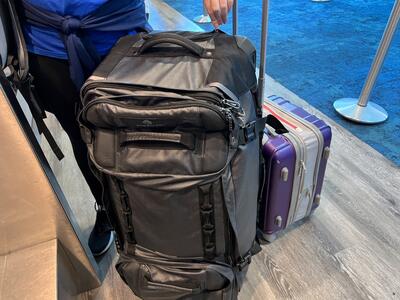 While I've never had any issues with a cruise line losing my luggage, I know it's entirely possible for this to happen. Cruisers have started to use AirTags as a means to track their luggage once they hand off their bags to the cruise porters and wait for their bags to be delivered onboard.
During my European trip, I started my journey in Paris for 4 nights before flying to Rome to embark on our cruise. With so many logistics, including many flights, this was the perfect opportunity to put AirTags to the test.
AirTag Overview
Image
Created by Apple, AirTags are small, white, circular devices (about the size of a quarter) that can be used to track nearly any item that you attach them to.
The AirTags weigh only 11 grams, measuring 1.26 inches in diameter. This makes them an ideal size to place virtually anywhere.
This tracking devices utilizes Bluetooth technology to allow Apple users to track their items within the Find My app. Android users cannot set up AirTags, but can still track an AirTag using the Tracker Detect app on their devices.
Image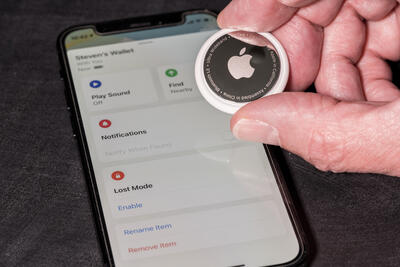 AirTags are affordably priced at $29 each, or $99 for a pack of four. [Note, these links contain an affiliate link. I earn from qualifying purchases that costs you nothing extra]
You can purchase accessories to easily attach your AirTag to whatever you wish to track.
Using Bluetooth technology, AirTags rely on nearby iPhones to communicate their position; there are no GPS chips in AirTags.
Once a nearby iPhone detects an AirTag and reports its discovery to iCloud, the AirTag will communicate its position when the host iPhone has internet connection. This technology is integrated into iPhone OS in which iCloud uses position of the nearby iPhone to record its precise location.
Activating the AirTags
With so many logistics involved in my recent Royal Caribbean cruise in Europe, I thought this would be the perfect opportunity to test out Apple's newest technology.
Image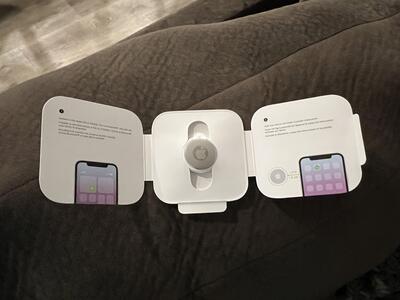 I purchased 2 AirTags prior to my trip online. Setting up the AirTags was very easy. The small AirTag comes with instructions within the packaging for how to connect on your iPhone. This needs to be done prior to your cruise, as the device needs to be paired with an iPhone to track the accessory.
Image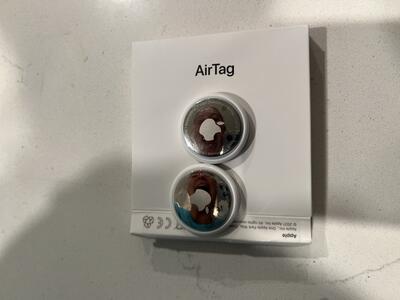 A small piece of plastic is removed to instantly activate the AirTag, which has a built-in battery that should last one year.
My iPhone quickly discovered the new AirTags and prompted me to rename them however I wanted. The device was paired with my iPhone easily; I was impressed by how easy the entire process was.
Image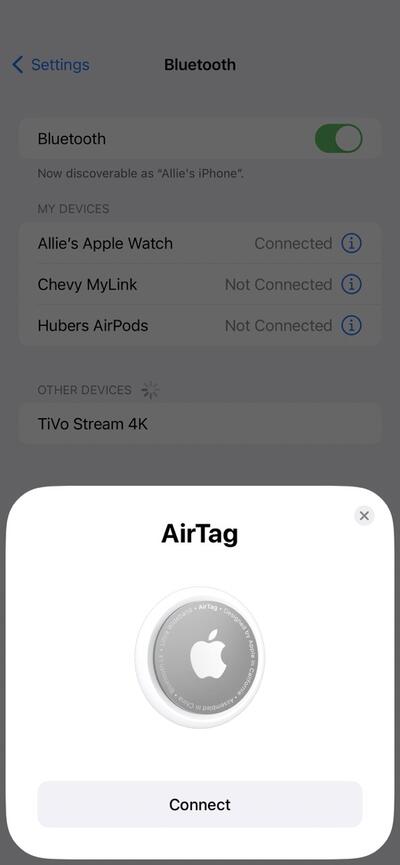 I chose to name them as Allie's Luggage 1 and 2 since my sister and I each had our own checked bags.
Image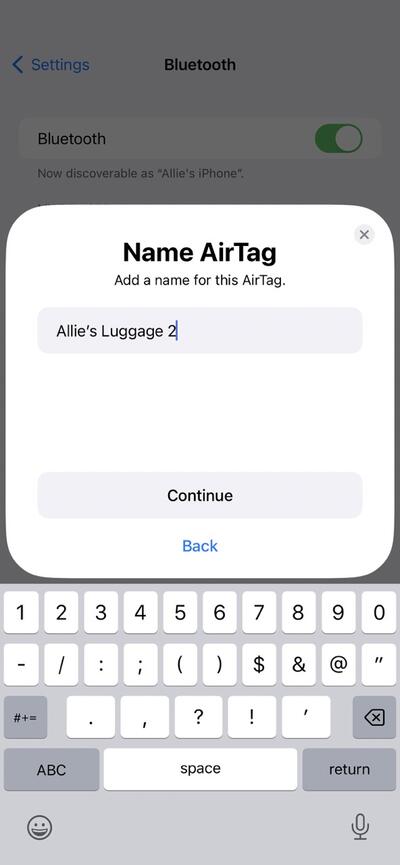 Once the AirTags are paired to your iPhone, there's nothing more than needs to be done for tracking your items. In the Find My app on your iPhone, you can see your new AirTags under the 'Items' tab on the bottom of the app. This is also where you can see Find My Friends and Devices.
Image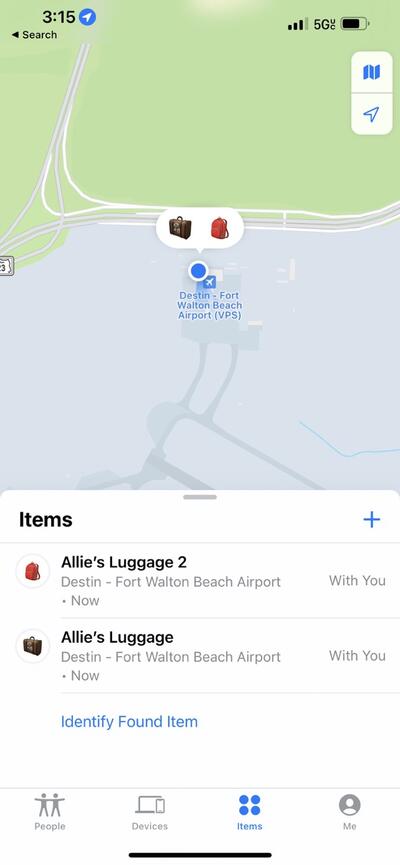 I simply placed the AirTag inside my luggage once I was finished packing and nestled in a pair of jeans. My sister placed hers in a small bag within her suitcase.
Image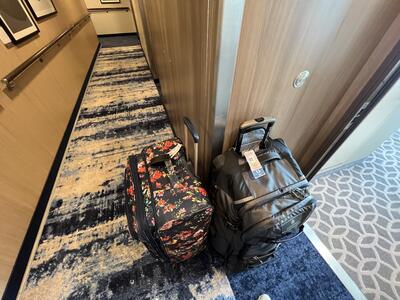 Although you can find AirTag holders for outside of your luggage, research online unveiled this encourages someone to steal your AirTag or remove it to steal your luggage. Keeping the AirTag concealed inside ensure these won't happen.
Image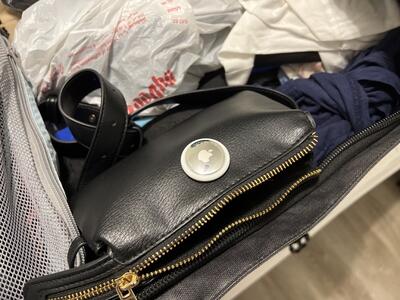 AirTags for Airline Travel
As I mentioned, this trip to Europe involved my sister and I traveling first to Paris and then flying to Rome for our cruise.
With three flights before we even boarded the ship, I had a peace of mind that I could easily track my luggage using the AirTags.
Image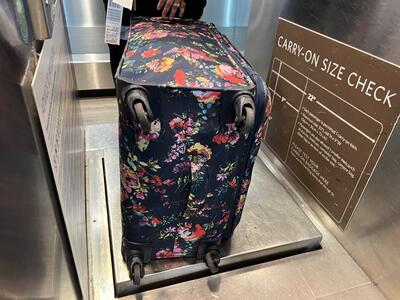 During our transatlantic flight, it was easy to see our luggage board both of our flights to Atlanta and Paris. We were also flying Delta for our flights to Paris, which has an integrated baggage tracking feature on its app.
Image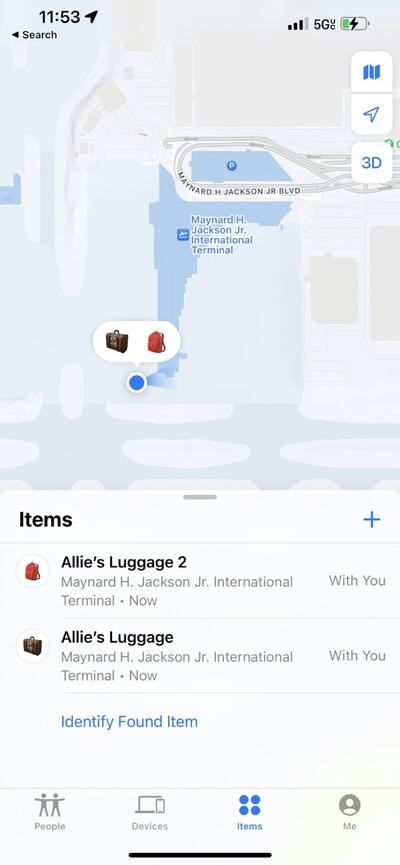 It was interesting to track the AirTag's location in comparison to what the Delta app was saying. I appreciated seeing my bag sit at the gate for our flight to Paris before I received the notification from Delta that the bag was on the plane.
Image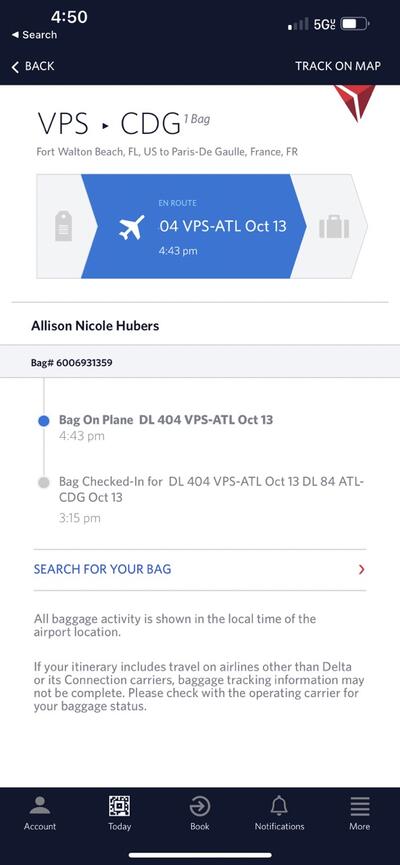 Our bags successfully arrived in Paris, which I could promptly see upon landing and using my T-Mobile international service. This was a huge sigh of relief, although we had one more flight from Paris to Rome before getting on the cruise.
Image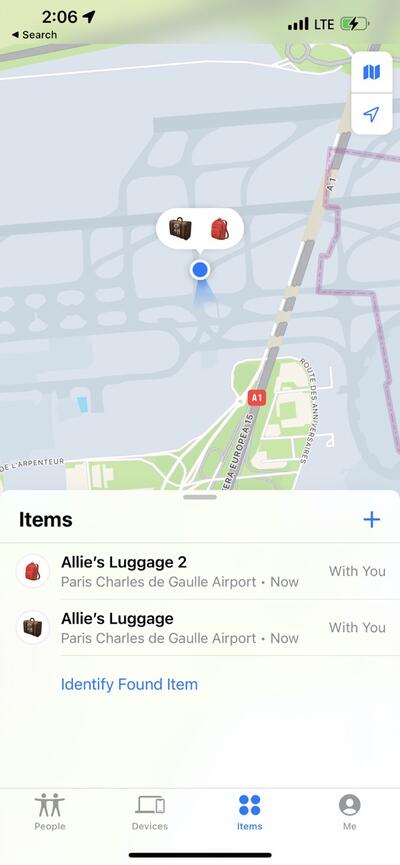 Traveling from Paris to Rome was on EasyJet, which is a budget European airline. There was chaos at the Orly Airport; even though we arrived two hours early, we still barely made our flight due to long check-in lines and security bottlenecks.
This would have been the worst flight to have luggage issues, as we only had one night in Rome before departing on our cruise. Not having luggage for a 12-night itinerary would have been horrible.
I was convinced our luggage would get left behind as we boarded our flight, but the AirTags confirmed that both suitcases were at our gate. This was a huge relief. Landing in Rome, I connected to the Internet immediately to confirm the luggage made it on our flight.
Image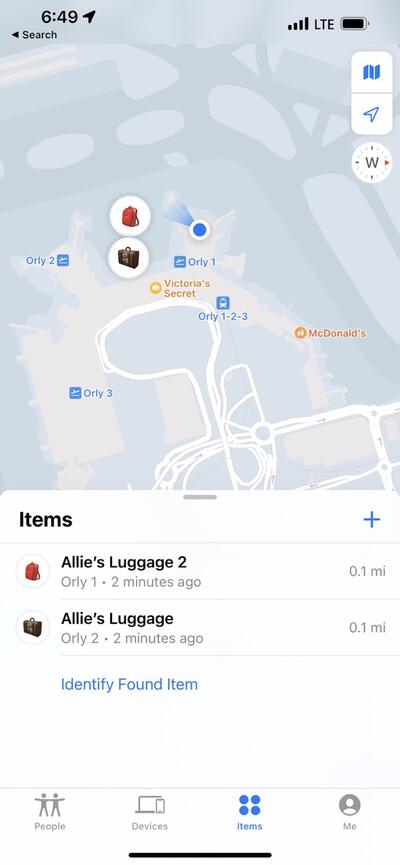 The AirTag technology was especially useful when returning after our cruise, as we had a very last-minute itinerary change to our flights. A long delay on my original itinerary had me returning home an entire day later than planned, so I opted to connect through Amsterdam instead to get home on time.
Amsterdam has been notorious for losing luggage within the last year; not to mention, I only had 90 minutes to connect for my Atlanta flight. I was very nervous that my suitcases would get lost in the luggage blackhole of Schipol.
Image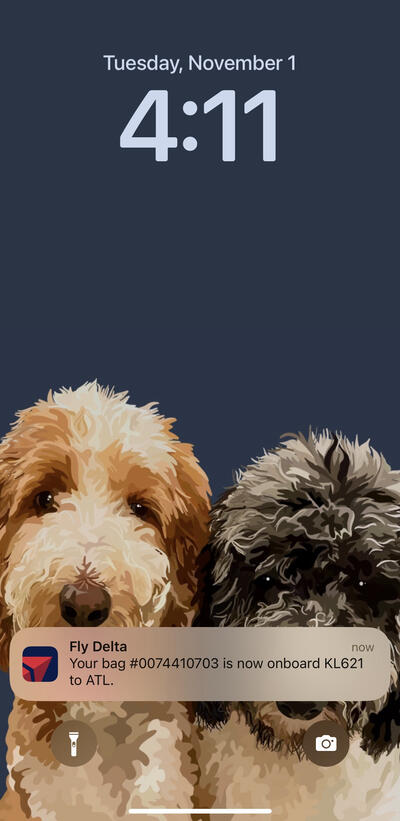 Again, the AirTags provided a huge peace of mind when I saw the suitcases had landed in Amsterdam with me and they were waiting at the gate for my long flight back to the US. The Delta App confirmed my bags were on the plane. My AirTags were again activated in Atlanta when I could easily see they were waiting in the customs area.
With so many flights involved for my European cruise journey, the AirTags were so helpful to be able to track my suitcases to ensure they were exactly where they needed to be.
AirTags in my Cruise Luggage
While I was pleased with my AirTags' functionality for airline travel, I was excited to see how they performed when we boarded Odyssey of the Seas for our cruise in Rome.
Image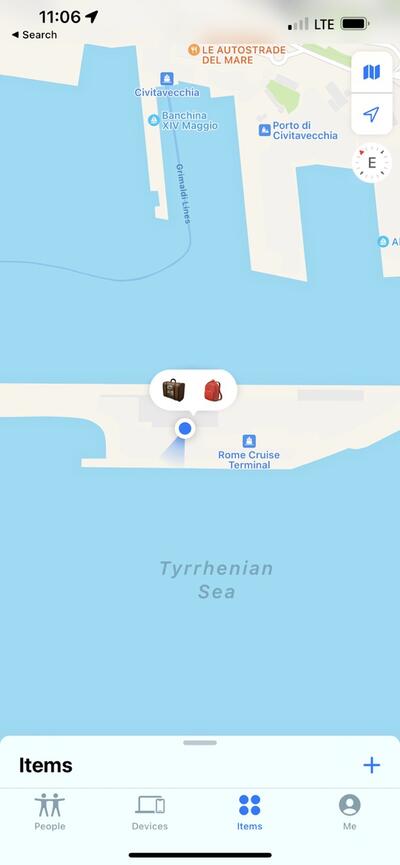 As you probably know, once you arrive at the cruise port, you will handoff your luggage to porters. The baggage will be delivered to your stateroom within a few hours and will be placed outside your door.
Image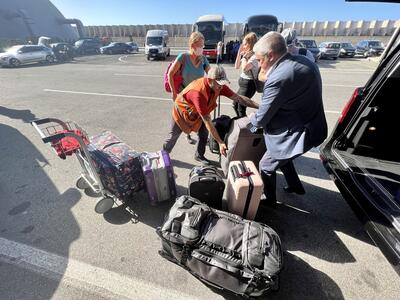 I continuously checked for my AirTags' location once we were onboard. It took a while for the suitcases' locations to show anywhere other than the cruise terminal. I tried to look at the 3D satellite map to see if that gave any further insight on the location, but that didn't help.
Image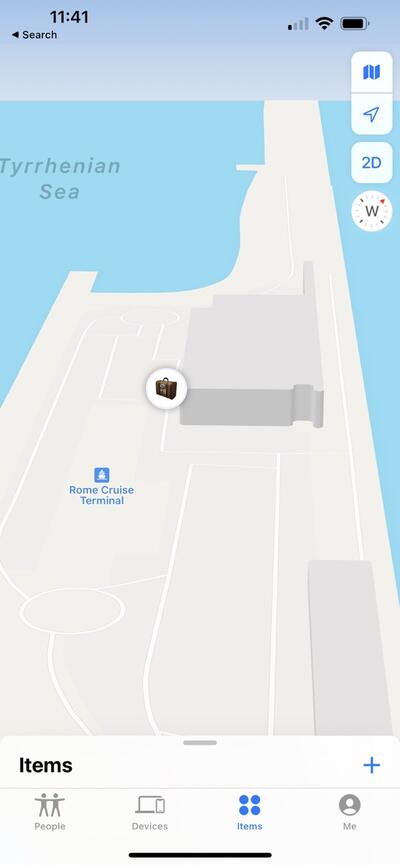 Eventually, the luggage moved away from the cruise terminal and closer to the ocean, according to AirTags. This indicated to me that my bags were now onboard and no longer in the terminal.
Image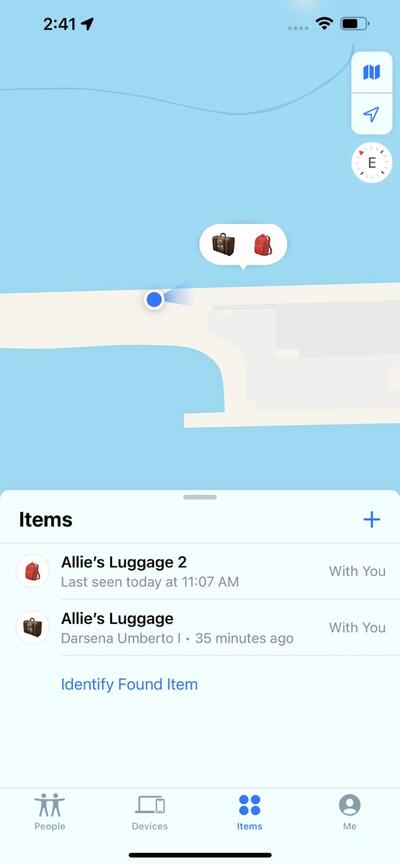 While checking the app as we saw other staterooms receive their luggage, the AirTags showed my bags were with me.
Image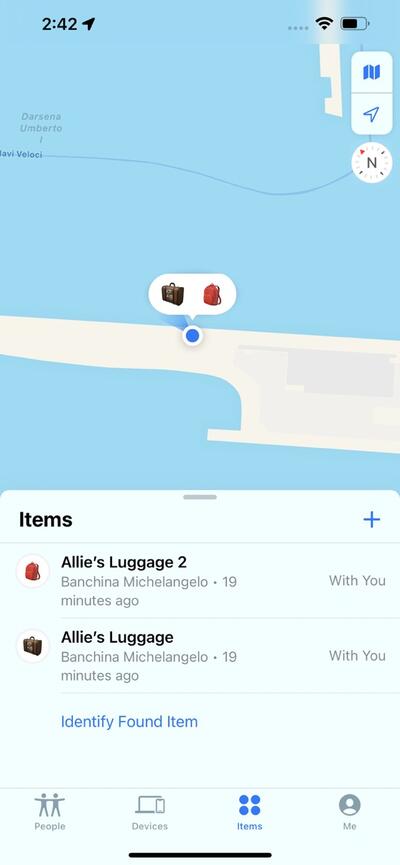 Low and behold, as we walked by an open side door that the crew members use, we saw our luggage sitting by the door ready to be delivered to our staterooms.
Image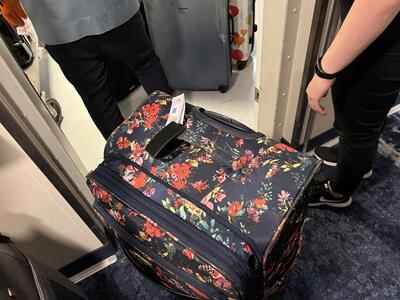 Upon disembarkation, it was easy enough to see our bags waiting in the terminal as we got off the ship. I also envisioned how nice it would be to 'ding' the AirTags if we struggled to find our luggage in a sea of bags; however, this wasn't necessary since we could easily find our suitcases waiting for us.
I breathed a huge sigh of relief that I would have all of my clothes for our long cruise, as this was my biggest fear!
Final Thoughts on AirTags
With a multitude of logistics involved in my recent European cruise, I appreciated having the peace of mind that my suitcases were onboard my flights and our cruise.
Image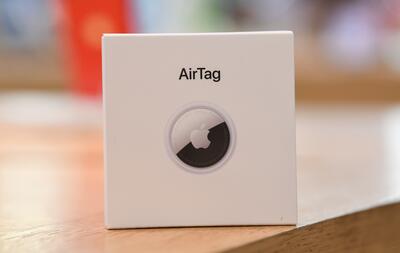 I found the airline travel tracking to be the most useful for my journey, as this is where my suitcases would have most likely been lost or left behind. With tight connections and airport chaos in Paris, I was so appreciative to see my bags onboard the flights with me when I doubted they would make the flights.
Image
In the case of a staircase getting left behind or lost when cruising, it would be monumental to have the AirTag placed inside your bag to locate them.
When boarding your cruise ship, your luggage is never that far away from you between the ship and the terminal. Since I now have the AirTags, I will probably continue to use them for any travel because there's no reason not to.