Each cruise line aims to differentiate themselves in the cruising industry by targeting different demographics; there's a cruise line out there for everyone to fit a variety of budgets and travel styles.
Cruise lines must add their own flair to the cruising experience to create an unparalleled vacation for guests; this entails each cruise ship offering their own special amenities, onboard thrills and specialty restaurants.
Carnival Cruise Line is one of the most popular cruise lines in the world, especially for families, young adults and budget travelers. The cruise line is known for having the "most fun ships at sea" with tons of things to do specifically for kids and families.
Image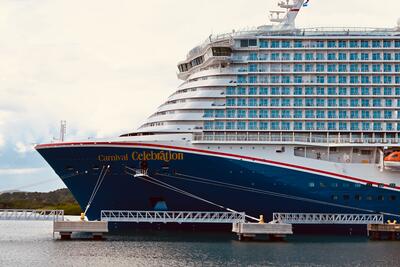 Quintessential Carnival experiences include dancing the night away at the nightclub, starting your cruise at the sailaway party and sipping on poolside cocktails while listening to the onboard DJ blasting music. If you're considering taking a Carnival cruise, you'll find the cruise line does many things well, but really shines in a few areas compared to other cruise lines.
Let's take a look at the 10 things that we think Carnival Cruise does well compared to other cruise lines. 
1. Quick, casual dining onboard
Carnival Cruise Line arguably has the best quick, casual dining options in the cruising industry. Where Carnival shines compared to others is the cruise line's huge variety of fast food-style options when you need a quick bite to eat.
Image
Onboard Carnival's ships, you can find the always-popular Guy's Burger Joint serving up delicious, meaty and cheesy burgers. With help from famed foodie-chef Guy Fieri, Guy's Burger Joint can be found normally on the pool deck, making it the perfect snack for anytime of your cruise.
On its newest ships, Carnival introduced Big Chicken with the help of famous basketball player Shaq. Offering crispy chicken sandwiches and tenders, Big Chicken was easily our favorite casual dining spot on the cruise line's newest ship, Carnival Celebration.
Image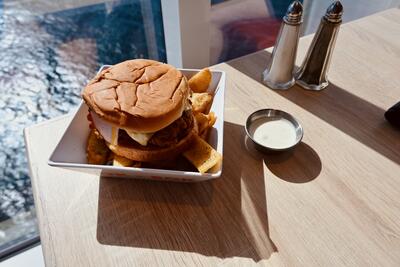 Guy Fieri is also the creativity behind Pig & Anchor Smokehouse with smoked chicken, brisket and pulled pork with classic BBQ sides. Guests can also enjoy the nearby Flavortown Bar with freshly-brewed craft beer onboard the ship.
Other quick dining options include BlueIguana cantina for tacos and burritos, The Carnival Deli for freshly made paninis and sandwiches, and The Pizza Parlor for stone-fired pizza.
Honestly, we wouldn't judge you if you never stepped foot in Carnival's main dining room or Lido Marketplace buffet because the casual dining options are so fantastic. 
2. Affordable cruise fares
One of the reasons we love cruising is the value you'll receive for your vacation.
Image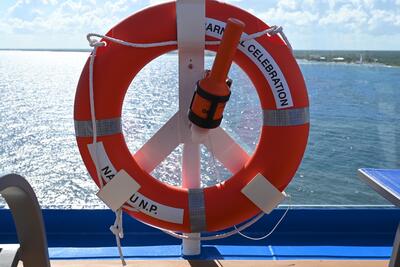 Compared to other cruise lines, Carnival is best known for having dirt cheap cruise fares for most of its fleet. Carnival is probably the best cruise line if you're looking to travel on a budget or want to have a more affordable vacation.
For those sailing as a family with children, these cheap fares are especially attractive since the entire family can enjoy a relatively budget-friendly vacation. These cheap fares also attract college kids and spring-breakers looking for a cheap way to have fun. 
Image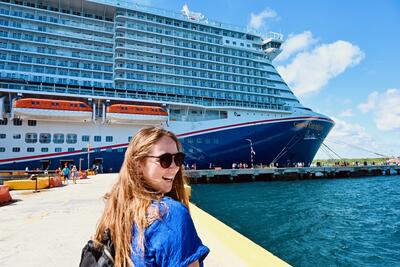 Of course, you might find that holidays and spring breaks are more expensive than other times of the year; but, most of the time, you can find weekend Carnival itineraries sailing for as little $50 per person, per day. This includes all of your food, accommodations, onboard activities, entertainment and transportation between ports.
3. Daily comedian shows
The first few times I sailed on Carnival Cruise Line, I was surprised by how many comedian shows were offered. Each day, you can expect to find a comedy show onboard your sailing.
Image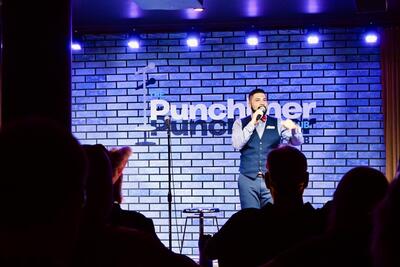 Thanks to Carnival's Punchliner Comedy Club, you can laugh your nights away onboard. On our recent cruise with Carnival Celebration, the comedians told the audience that the cruise line expects them to perform around 100 shows during their time onboard.
Comedian shows are held within the Punchliner Comedy Club, along with other venues and theaters onboard to accommodate demand.
The comedy shows are not just for adults thought - you can expect to find multiple family-friendly shows throughout your Carnival cruise. This is certainly an entertainment option that you won't want to miss, especially with your kids. 
 
4. Party-like atmosphere
There's no other cruise line that does partying like Carnival Cruise Line does!
Image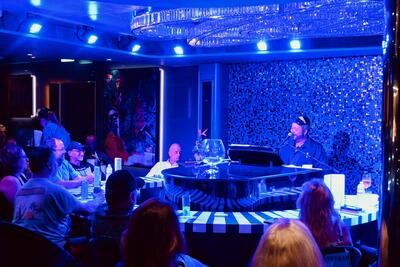 With onboard nightclubs, silent discos, dance parties, piano bars and more, the fun truly doesn't stop when you're vacationing on a Carnival cruise.
Those who prefer having a fast-paced environment will thrive on a Carnival cruise with all of the activities onboard to keep you busy and entertained.
Image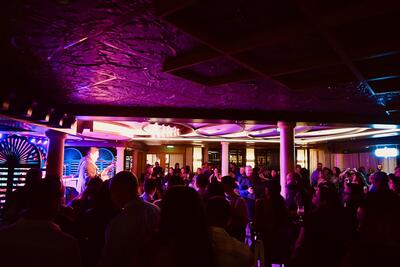 Evenings onboard Carnival cruises are lively and energetic; everyone's looking to have a fun time with drinks in hand, so you can expect there to be loud music and lots of parties! Shows and events are kept to a 30-minute timeframe, allowing you to have a jam-packed itinerary.
Entertainment onboard Carnival is specifically curated for the younger demographics; therefore, you can enjoy trendy trivia topics and music from the Billboard 100.
5. Sailaway parties
I've sailed on many different cruise lines - and it's tough to beat a rowdy, wild sailaway party onboard Carnival's ships.
Image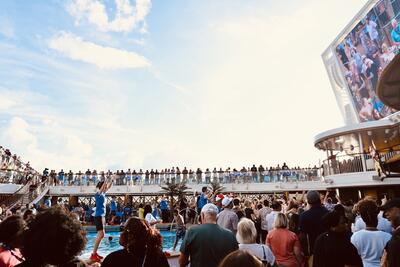 Once you board your cruise ship, it's common for most ships to have a party that kicks off your vacation with music, drinks and dancing. Everyone gathers around the pool to celebrate the start of their cruise with the cruise director, entertainment staff and DJ.
Carnival's sailaway parties are unparalleled; the energy is high, the music is loud and the drinks are flowing. On our Carnival Celebration sailaway from Miami, it was tough to get a drink at the bar with so many people wanting to partake in the sailaway party - I was reminded of my college days in a crowded bar trying to get a pina colada.
Image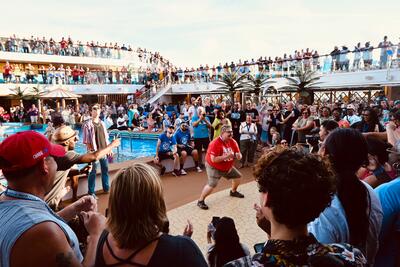 If you're sailing on a Carnival cruise ship, you do not want to miss the sailaway party! It's the craziest sailaway party in the cruise industry - and the best way to start your vacation!
6. SeaDay Brunch
When you're up late partying on a Carnival cruise, there's no doubt you'll be needing to sleep in a little bit on those sea days. Luckily, SeaDay Brunch on Carnival is served until well past noon to accommodate those sleeping in after late-night parties.
Image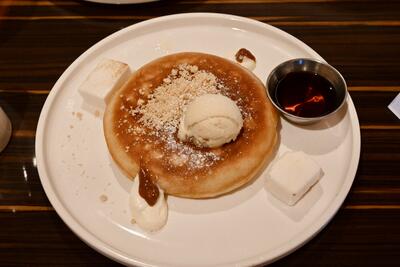 Carnival offers its famous SeaDay Brunch served on every sea day with a variety of breakfast and lunch options to choose from. Some of the crowd pleasers include a 12-hour soaked peach French toast and skillet fluffy pancakes, along with brunch burgers and huevos rancheros.
We particularly loved the 12-hour French toast, which was perfectly cooked with a caramelized crush and roasted peaches on top. It might have been the best French toast I've ever had!
Image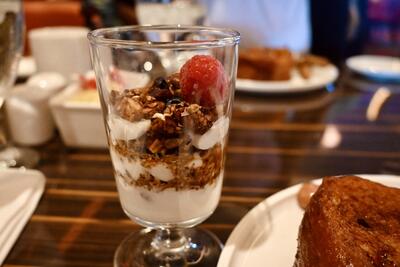 Compared to other cruise lines, it's notable that Carnival has this trendy brunch option available. Most cruise lines end their sit-down breakfast option around 9am, leaving you only to eat at the breakfast buffet. For example, Royal Caribbean's breakfast buffet ends at 11:30am.
7. Excel-class entertainment
Sailing on Carnival Celebration, we were floored by the incredible entertainment onboard the brand-new ship.
Image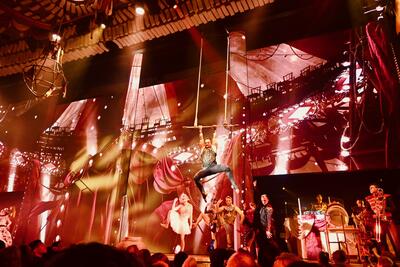 Older Carnival ships have always had mediocre headliner shows, in my experience. It felt like a low-budget productions from high school students. Once we sailed on the new Excel-class of ships, it was clear that Carnival had invested heavily into improving their onboard headliner entertainment.
In Celebration Central, we were able to watch headliner entertainment shows such as the Most Magnificent Circus, We Are One and Celestial Strings. These included fantastic singing, dancing and acrobatics. All of the shows at Center Stage also utilized LED screens to create a spectacular show. 
8. Weekend cruises
Carnival Cruise Line was one of the first cruise lines to tap into the weekend cruise market; with tons of short getaway sailings available, one could argue that Carnival Cruise Line does weekend cruises particularly well.
Image
With the onboard experience focusing heavily on having tons of fun, it's no surprise that Carnival offers some great weekend cruising options. Late night karaoke and sing-alongs at Piano Bar cultivate a party-like ambiance onboard Carnival's "most fun ships at sea".
Image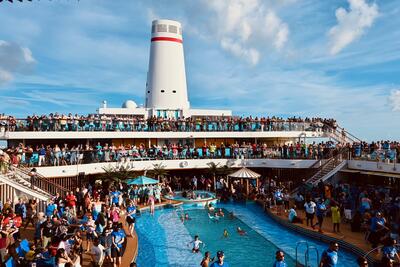 Now, you won't be sailing on the latest and greatest ships from Carnival. Their weekend cruises normally sail on the older and smaller ships within the cruise line's fleet, rather than the new Excel-class ships (where you'll most likely only find 7-night sailings).
But, if you're looking to have a fantastic weekend getaway with cocktails, parties and relaxing, then a weekend Carnival cruise is perfect for you.
9. Accessibility of departure ports
Although not as exciting as fried chicken sandwiches and poolside cocktails, Carnival Cruise Line actually has a strong presence across the United States; more particularly, Carnival serves some more rural ports that other cruise lines choose not to have a presence in.
Image
For example, Carnival has sailings from Mobile, Alabama and continues to be the only cruise line that serves this market. Other less popular ports that Carnival serves includes Norfolk (Virginia), Charleston (South Carolina) and Jacksonville (Florida).
With more obscure ports, Carnival's cruise ships and sailings might be more accessible than other cruise line offerings. 
10. Self-serve ice cream
A cruise isn't complete if you don't overindulge with a cruise ship's self-serve ice cream machine. Nothing tastes better than a cool ice cream cone on a hot cruise day.
Arguably, we think that Carnival Cruise Line has the best soft serve ice cream in the cruise industry! Both creamy and soft, the ice cream always hits the spot when you're on a Carnival cruise ship. Whether you like strawberry, chocolate or vanilla, you're sure to love this ice cream as much as we do.
Image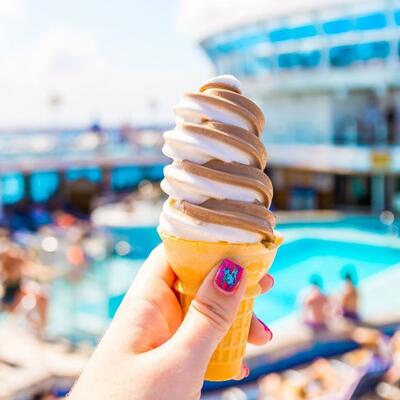 Just recently, Carnival implemented that the self-serve ice cream machines will not be open for 24-hours anymore to reduce waste in the late night and early morning hours. Regardless, you will find there to be plenty of self-serve ice cream stations onboard your Carnival cruise and we highly recommend you indulge.