Celebrity Ascent - the newest cruise ship for Celebrity Cruises - is one step closer to joining the cruise line's fleet.
On January 21, 2023, Celebrity Cruises announced that its brand-new ship, Celebrity Ascent, reached a big construction milestone today in France.
The cruise line stated in a new press release, "On a beautiful, sunny day in France, Celebrity Ascent, the fourth ship in Celebrity Cruises' industry-transforming Edge Series, officially touched water for the first time today, as she was floated out from the Chantiers de l'Atlantique shipyard in Saint-Nazaire".
Image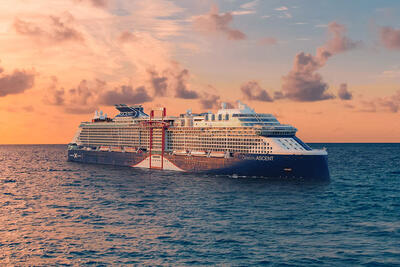 Of course, this is exciting news for the cruise line as it looks to grow its fleet with the addition of Celebrity Ascent.
Celebrity Cruises' CEO, Lisa Lutoff-Perlo, shared that this important construction milestone is the perfect way to celebrate the start of 2023. In a moment of gratitude, Lutoff-Perlo also expressed how grateful she was for the extraordinary collaboration between the shipyard crew in France and the Celebrity team; she particularly thanked all of those involved in Celebrity Ascent's construction for both their expertise and passion.
Image
With the completion of this phase of construction, Celebrity Ascent's hull and exterior superstructure is now finished. This means the brand-new Edge series cruise ship will move onto the next phase of ship construction in Saint-Nazaire, France.
Lutoff-Perlo shared, "Momentum and anticipation is quickly building for this ship and we'll continue to share her progress and all that awaits our guests onboard this next installation in our groundbreaking, next-generation Edge Series."
Image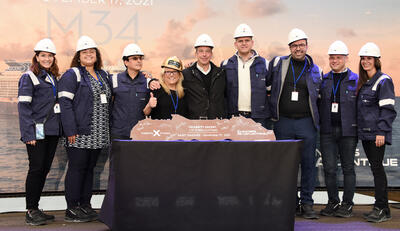 In Celebrity Ascent's next phase of construction, the brand-new ship will moor in her new location, where interior work on the vessel will begin in coming months.
The cruise line shared that Celebrity Ascent will be Celebrity Beyond's "twin sister" in every way
Along with the announcement of this exciting milestone, Celebrity Cruises also shared additional details about its highly-awaited cruise ship, Celebrity Ascent. 
Set to debut in December 2023, Celebrity Ascent will be a near carbon copy of sister-ship Celebrity Beyond in every way. Celebrity Cruises refers to the brand-new Celebrity Ascent as Beyond's "twin sister" ship.
Image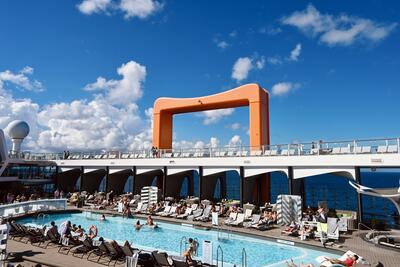 Lutoff-Perlo describes the new Celebrity Ascent as, "So much more than a ship, Celebrity Ascent will be the embodiment of a relaxed luxury resort at sea".
Celebrity Beyond, which debuted in 2022 to rave reviews, was designed by a team of modern lifestyle icons, including award-winning British designer Kelly Hopper CBE. Celebrity Cruises also looked to American designer Nate Berkus to play a big role in Beyond's interior design, along with Paris-based design firm Jouin Manku and innovative British architect Tom Wright.
Image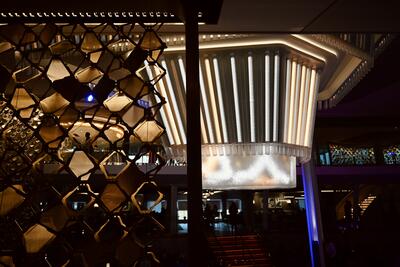 Finally, the cuisine onboard Celebrity Beyond was curated by Michelin-starred chef and restaurateur Daniel Boulud, creating an unparalleled dining experience onboard. 
Similar to Celebrity Beyond, guests sailing aboard Celebrity Ascent will also enjoy signature Celebrity experiences.
In its latest press release, Celebrity Cruises shares that guests on Celebrity Ascent will enjoy plenty of signature Celebrity experiences, ones that can only be found exclusively in the revolutionary Edge Series.
First, guests aboard Celebrity Beyond can expect to find transformational accommodations, including the cruise line's legendary two-story Edge Villa staterooms, in Celebrity Ascent's suite-only area, The Retreat, which is a multi-level, exclusive space. 
Image
The Edge-class of cruise ships also introduced the Infinite Veranda staterooms that transform staterooms into open-air verandas, which are some of the largest at sea. The infinite veranda staterooms also feature stunning floor-to-ceiling windows, giving guests incredible views of the sea. 
Image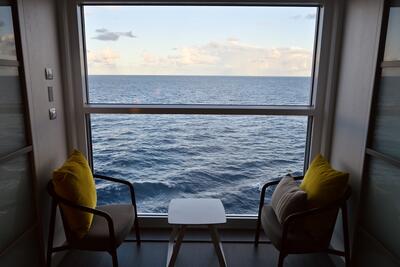 Additionally, Celebrity Ascent will also feature the cruise line's iconic Magic Carpet. Debuting on other Edge-class cruise ships, Celebrity has developed the world's first cantilevered cruise ship experience. This platform serves as a top-deck lounge by night and transforms to a tendering launch by day, known as the Destination Gateway.
Image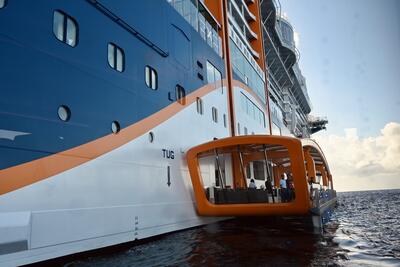 Along with the Magic Carpet, Celebrity Cruises also shares in its press release that the brand-new Celebrity Ascent will be the "pinnacle of relaxation, design and luxury". This includes the newly-designed Sunset Bar at the ship's aft, sprawling over two decks with unbeatable views of the ocean. 
Image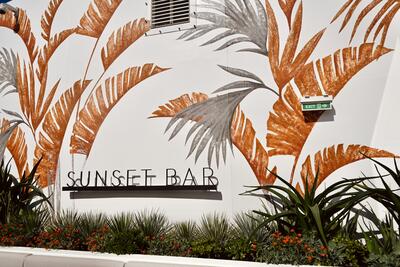 Additionally, guests will enjoy a world-class Resort Deck with exclusive cabanas, along with infinity-edge plunge pools and two-story hot tubs that are shaped like Martinis.
Image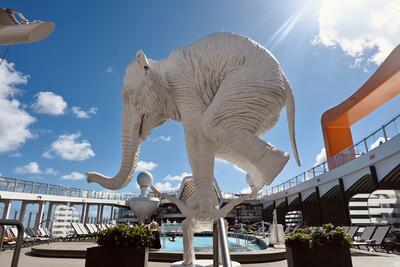 Celebrity Ascent will have more than 30 distinct food and drink venues onboard for guests to enjoy. One venue in particular includes the high-tech, immersive dining experience called Le Petit Chef, which is a classic Celebrity Cruises experience.
Eden Restaurant, a popular spot on Edge-class cruise ships, is a beautifully designed space on the ship's aft with floor-to-ceiling windows. This innovative restaurant features mixology-focused cocktails and unforgettable globally-inspired dishes from around the world.
Image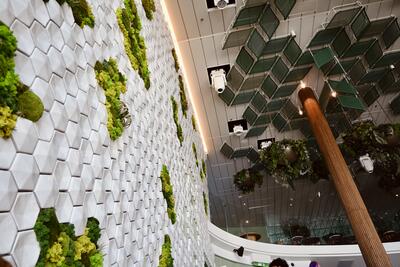 The team at Celebrity has also looked to Michelin-star chef Daniel Boulud to develop the new Le Voyage dining experience, which debuted on Celebrity Beyond. This exquisite cuisine at sea will also be featured on the brand-new Celebrity Ascent.
Celebrity Cruises will unveil more details about Celebrity Ascent as the ship continues its construction phases in France. 
Image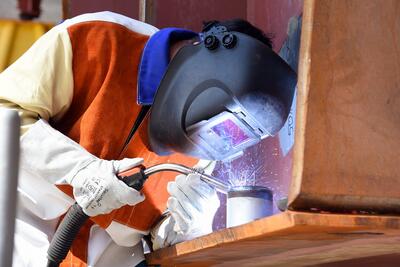 Once complete, Celebrity Ascent will be the biggest cruise ship for Celebrity Cruises, along with sister-ship Celebrity Beyond. At capacity, Celebrity Ascent will be able to hold around 3,200 passengers and 1,400 crew members.