It's tough to get up to speed with everything happening in the world of cruising, so we have a look at everything from this past week in a single post!
Whether you were busy this week, or just didn't read every single article we posted, we have a round-up of this week's articles so you don't miss a thing.
1. Take a tour of Icon of the Seas!
Image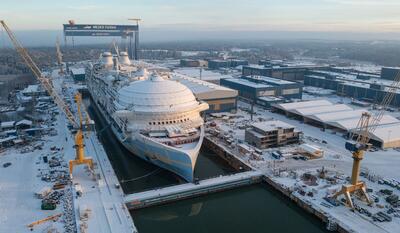 Set to debut in 2024, Royal Caribbean's newest ship, Icon of the Seas, will hold the title of the world's largest cruise ship. Set to boast record-breaking activities, family focused design, and an unbelievable scale, this ship will truly be one of a kind within the industry.
Recently Cruise Blog had the chance to visit the Meyer Turku shipyard in Turku, Finland, where the Icon of the Seas is being constructed currently. With only 8 months left before her inaugural sailing, she is currently over 80% complete, and seeing more than 300 workers daily.
Check out some of the new and exciting features and spaces coming to Icon of the Seas that Cruise Blog saw on their tour, many of which are completely unique to the cruise industry.
Read more: On a shipyard tour, Icon of the Seas boasts innovative design, record-breaking size, and family-focused activities
2. Jenna tried her first MSC cruise!
Image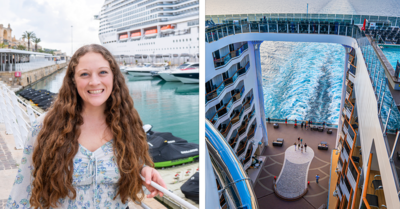 MSC Cruises, an Italian based cruise line is controversial in the cruise world. Known well in the European market, this cruise line has recently been gaining traction with North American cruisers by offering low prices, world-class destinations and trendy ships.
Jenna recently boarded her first MSC cruse on the MSC World Europa, which is currently their biggest ship within their fleet. She was not sure what to think about sailing onboard an MSC ship, as many of the reviews she had read were subpar at best.
With the MSC World Europa being the 6th largest cruise ship in the world, she boarded with high expectations for her sailing. She breaks down the 12 things that she loved and hated about her first MSC cruise.
Read more: 12 things I loved and hated about my first MSC cruise

3. Guide to Vancouver Canada cruise port
Image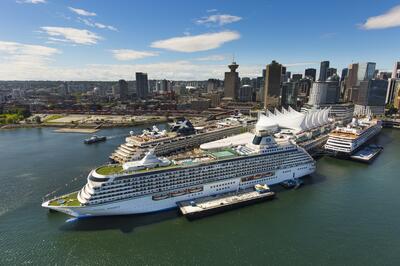 Recently there has been a large increase in the amount of cruises sailing in and around the Alaskan and Canadian regions.
Hayley recently sailed aboard the Norwegian Encore departing from Los Angeles, California sailing to Vancouver, British Columbia. This sailing featured an overnight stay in Vancouver, giving her the perfect opportunity to explore the city, and gain a better understanding of the cruise port and terminal.
Join Hayley as she goes over everything you need to know about the Vancouver cruise port, including some recommendations of things to check out when you are visiting next.
Read more: Guide to Vancouver Canada cruise port
4. What's the difference between these two new NCL ships?
Image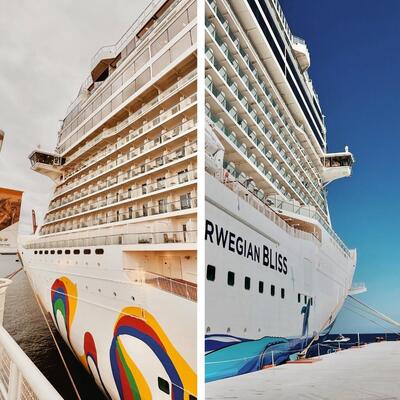 Norwegian Cruise Line has been innovative when it comes to their newest ships. With the debut of their Norwegian Breakaway Plus Class of ships, they are certain to be able to offer something for every cruiser.
Hayley recently had the opportunity to sail on two ships in the Breakaway Plus class, the Norwegian Encore and the Norwegian Bliss. While these sister ships share many similarities, she also noticed some of the differences that they offer as well.
With the Bliss being built in 2018 and the Encore in 2019, these newer ships were the first of their kind. Join Hayley as she goes over the notable differences between these similar vessels, and help you decide which ship is right for you.
Read more: How The Norwegian Encore & Norwegian Bliss cruise ships compare
5. Everything you need to know about a cruise ship's lido deck!
Image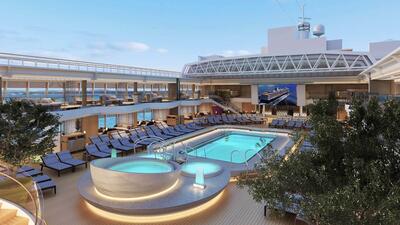 After booking your first cruise, it is important to learn some of the familiar ship lingo you may hear onboard.
You may hear people referring to the "lido deck", but be left confused when you are not sure where that deck is located and what it entails. With the Italian word "Lido" referring to a beach where people congregate and go swimming, it is easy to put together that the "lido deck" refers to the cruise deck that houses the outdoor pool(s), hot tub(s) and lounge chairs.
However, not all ships refer to their pool deck as the "lido deck" and it may be located on different levels depending on which ship you are on. We gathered everything you need to know about a cruise ship's lido deck before you go on your next cruise.
Read more: What is the lido deck on a cruise ship?
6. The important to-do's after you book your cruise!
Image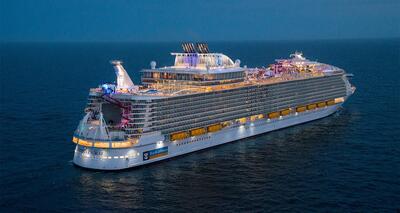 After deciding which cruise line, ship, and itinerary you want to sail on, you can finally book your next cruise and begin the countdown to vacation.
However, before you step onboard, there are certain things you will want to do to ensure you have the best cruise vacation possible. For instance, do you plan on flying or driving to the port? Will you be interested in any of the add-ons offered for your sailing? Which excursions are you interested in?
In order to ensure you start your vacation off on the right foot, here are 16 things to do after booking your cruise.
Read more: 16 things to do right after booking your cruise
7. How do MSC Divina and MSC Seascape compare?
Image

With the unveiling of the newest, biggest mega ships from many of the popular cruise lines, it may have you wondering if you can still enjoy a cruise on an older ship.
Chantal recently had the opportunity to sail on both the MSC Divina and MSC Seascape, which are MSC's oldest and newest ships sailing in the Caribbean in an effort to answer this question. Known for their competitive pricing, she was able to snag a great price on a 4-day cruise on the MSC Divina, followed by a 7-day cruise on the newer MSC Seascape.
Being able to experience both back-to-back, she was able to truly compare the two ships, and declare a victor for which ship was a better experience.
Read more: Old vs new, can MSC Divina compete against MSC Seascape?