After sailing on Carnival, Disney Cruise Line, Royal Caribbean, and Virgin Voyages, my friends and I finally booked a sailing on the Celebrity Summit for our annual getaway. After a recent summer stay in Boston, the Celebrity Summit is now calling Miami her home port. This was my first time on a Celebrity Cruise Line ship.
 When booking our Celebrity cruise, we were surprised at the lower prices relative to other cruise lines. Therefore, we opted to upgrade to the Concierge Class, for even more perks. In addition, we purchased the All Included package that includes the Classic Beverage package, gratuities, and the basic Wi-Fi package. It was nice to have almost all of our expenses covered once we were on board. 
Pre-cruise hotel
Image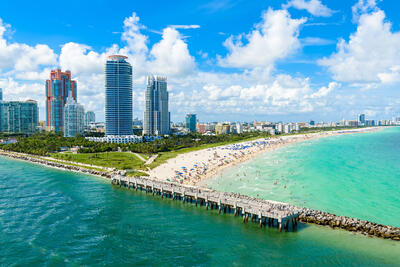 As with any of our cruises, we all decided to arrive the day before just in case of any flight delays. We stayed at Marriott Vacation Club Pulse, South Beach which was both affordable and conveniently located. I'll definitely plan to stay there again when I sail from Miami. 
The next morning, we had an early 11 a.m. check-in time and left our hotel with plenty of time to get to the port and check in. 
Pro: The Boarding Process
Image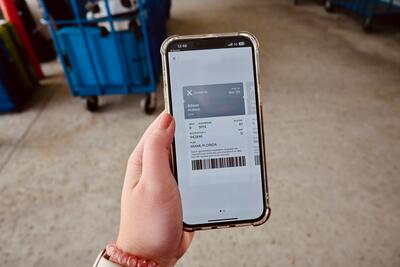 Boarding the Celebrity Summit was one of the most seamless boarding experiences that I've had. While we arrived a few minutes early, we faced almost no lines and were on board in record time. As soon as we were on the ship, we were directed to our muster station where we quickly checked in and were sent on our way. 
Then, we went to our stateroom, which was surprisingly already clean and waiting for us. It was so nice to drop off our day bags before exploring the ship. 
Pro: Our Stateroom
Image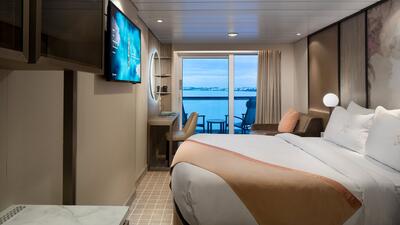 I wasn't sure what to expect with our stateroom. We knew that we had a smaller balcony than normal, with an obstructed view. Luckily, it wasn't much of an issue and we didn't spend too much time on the balcony. 
The rest of the room, however, was very comfortable. There was plenty of room to store all of our belongings, and the room was decorated in soothing, crisp colors. Our stateroom host was also excellent and made sure we were well taken care of. 
Pro: Food on the Celebrity Summit
Image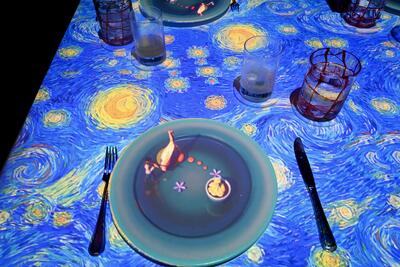 Because we had booked the concierge level, we were invited to a sit-down lunch in the main dining room on embarkation day. This was such a nice, relaxing lunch, where we had the opportunity to sit and look at the schedule for our sailing and start planning our must-do activities. 
Overall, the food on the Celebrity Summit was a pro. We loved everything on the Oceanview buffet and even chose to dine there one night rather than in the main dining room. 
In addition to Oceanview and the main dining room, we also booked two excellent specialty dinners - the Tuscan Grill and Qsine (Le Petit Chef). I'd especially recommend Qsine because the food was delicious and the Le Petit Chef experience is very unique. 
Image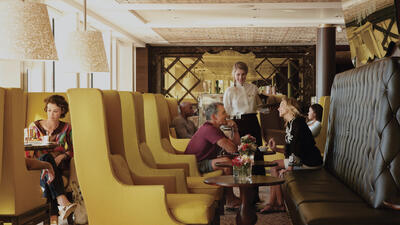 I also really liked the Café al Bacio coffee shop. With the Classic Drinks Package we had purchased, coffee drinks at the cafe were included. This was a great place to both grab a drink on the run or sit in the cafe and enjoy the view. 
Pro: Variety of Activities
Image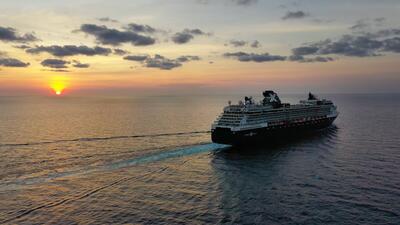 As a group sailing together, we generally look for a variety of different activities that appeal to each of us. Celebrity Cruise Line absolutely delivered. We enjoyed trivia, game shows, a slot tournament, and more. There were other activities as well, including live band karaoke and salsa dance classes. We always had plenty of options for things to do and were never bored. 
All of the activities we opted to do were included in the cost of our sailing. However, there were also some additional activities, like fitness classes, that came with an additional expense. 
Pro: Solarium and Pool Deck
Image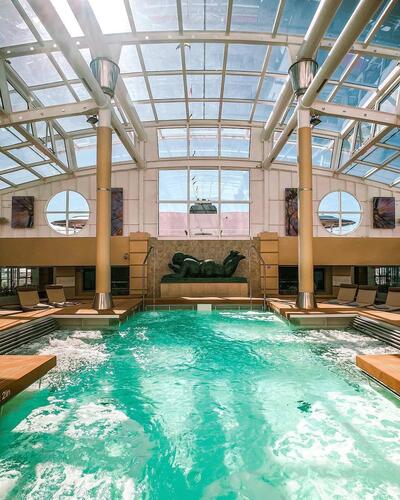 During the Nassau port day and our day at sea, we spent most of our time on the pool deck and in the adult-only Solarium. While these areas were all busy every day, there were plenty of chairs and lots of room in the pools whenever we looked. 
As adults traveling without kids, the Solarium was especially nice. It includes two hot tubs, a warm heated salt pool with waterfalls and jets, and an AquaSpa Cafe. It's all included with your cruise price, and while it's adjacent to the spa, access to it isn't restricted to spa guests. 
One thing that did surprise us, however, was the pool and Solarium hours. While the app indicated that the Solarium closed at 10 p.m., it was closed at 9 p.m., and guests who were in the Solarium pool at this time were asked to leave. 
Con: Spa
Image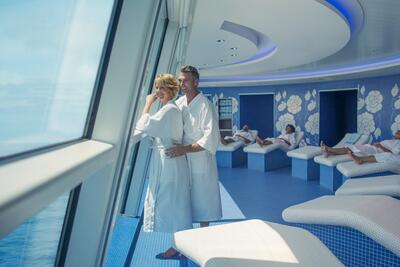 When we travel on a cruise vacation, we typically pay the upcharge to enjoy the spa thermal suite. On the Celebrity Summit, this area is called the Persian Garden. 
We were surprised, however, to see that it was just a small area, without its own whirlpool. Instead of purchasing a pass to it, we decided just to use the free Solarium. 
Con: Entertainment
Image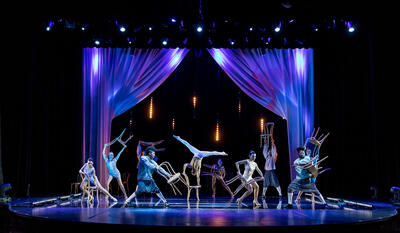 I always love to watch the cruise entertainment at night after dinner - especially the large-scale, Broadway-style shows that generally take place in the main theater. On the Celebrity Summit, there were two different evening shows held on nights 2 and 4. 
While the performers were talented and the shows were entertaining, I was a little disappointed that these shows didn't have storylines. Instead, they were both more of a concert style, without a plot. 
Our sailing also had several other performances in the main theater, including a comedian and a musical act. Both of those were a lot of fun and it was worth attending those. 
Con: Kid-Friendly Activities
Image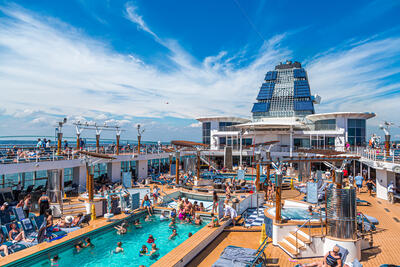 We were sailing with only adults and loved the vibe and level of entertainment on the ship. However, we did see very few kids. I think if you were sailing with young children and were looking for a very kid-friendly experience you probably would be disappointed. 
The Celebrity Summit does have pools and kids' clubs, but there's nothing exciting for kids like water slides or rock-climbing walls. It is, however, a great ship for an adults-only sailing. 
Overall, I enjoyed my adult-only experience on Celebrity and would sail on them again. I'd also bring my teenage children, who often enjoy a relaxing day at the pool or exploring a port. If I booked another trip, I would also book the concierge level and the all-inclusive package again.