What Is a Christmas Cruise Really Like?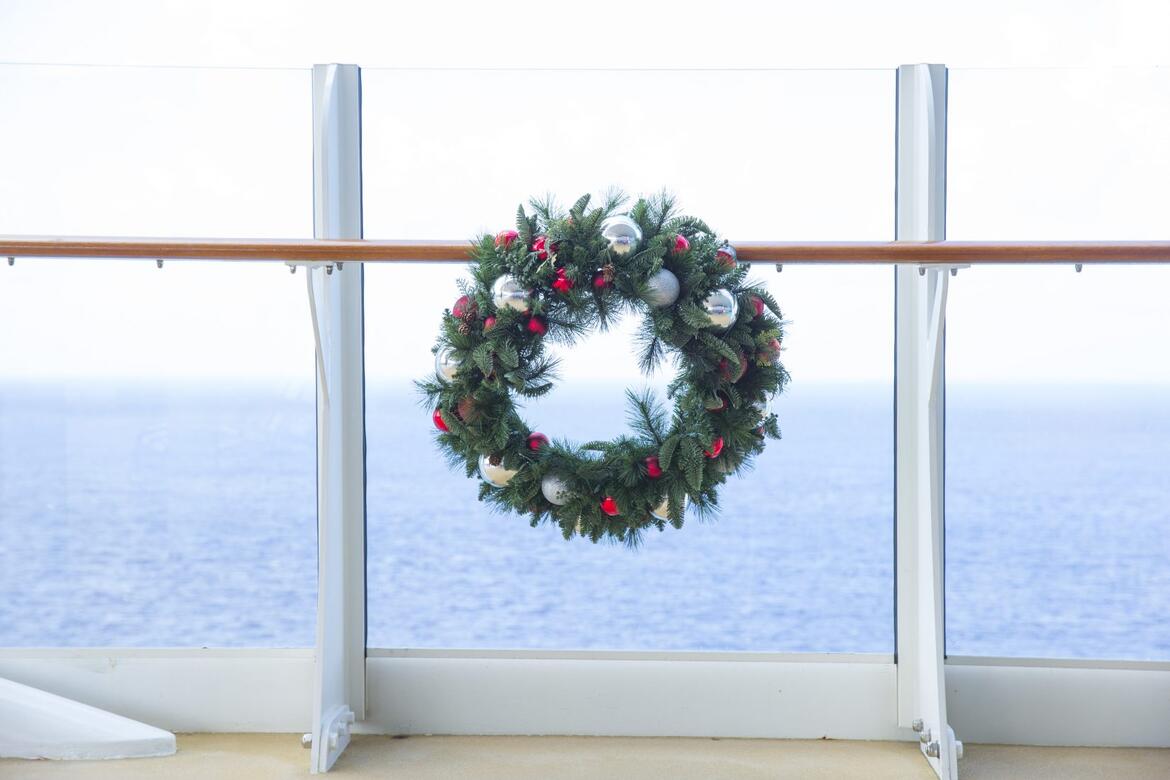 If you've never tried cruising at Christmas, it can be difficult to put into words.
Picture yourself drinking a steaming cup of cocoa while you enjoy the sunrise from your cabin's balcony and exchange gifts with your loved ones -- no need to worry about making your bed, cooking a huge meal or cleaning up afterward.
Of course, the experience on Christmas cruises depends on the cruise line you choose, but there are some nearly industrywide themes in terms of decorations, activities and menus. Below, we recap many of them so you can decide if a festive sailing is right for you.
Decorations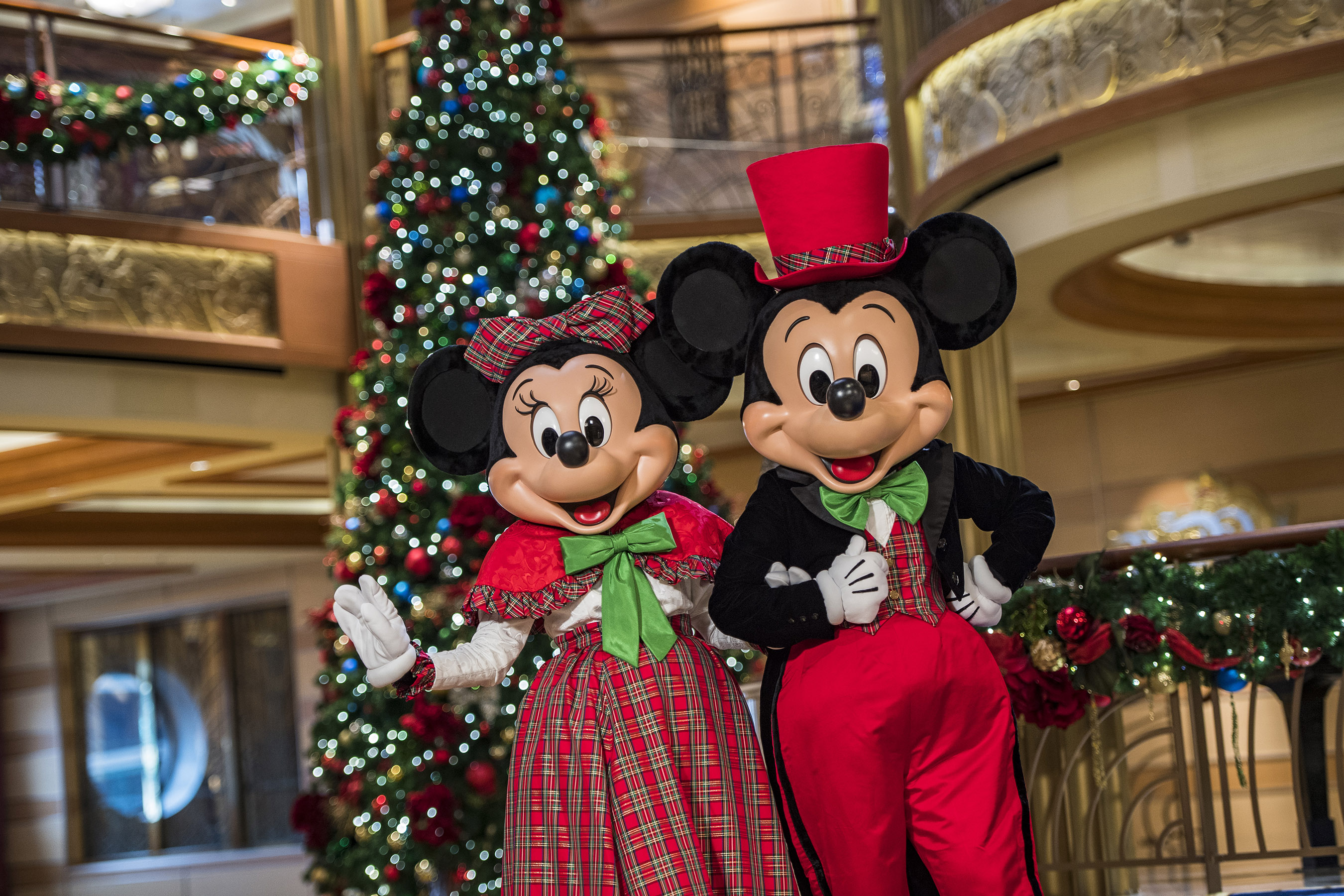 Although some begin earlier, most cruise ships start decorating shortly after Thanksgiving, so there's about a month window when you can enjoy holiday decor.
Most standard decorations include wreaths and garland, as well as trees adorned with lights and ornaments. Some ships also feature gingerbread villages created by the onboard culinary staff.
The Christmas trees are usually artificial, but to mark the season, some ships do bring live poinsettias onboard, along with yule logs -- the edible kind or a version you can watch on your stateroom television. (Because fire is such a danger at sea, it would be difficult to burn a real log.)
Meals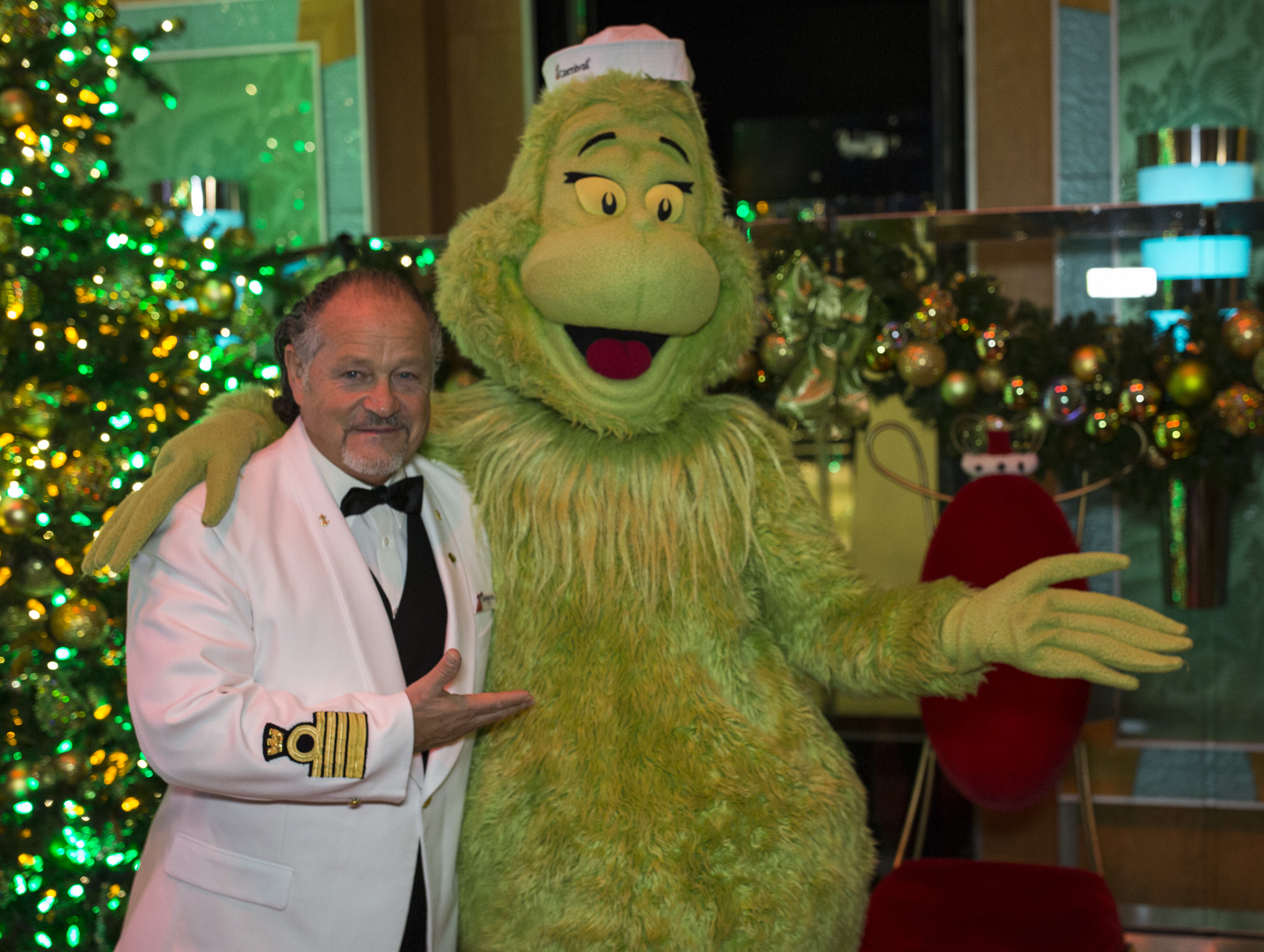 Nearly every cruise ship that sails during Christmas will cook up a special menu for Christmas Eve, as well as Christmas Day. These usually focus on traditional dishes, such as goose, duck, puddings and other holiday fare.
A special brunch might also be offered on Christmas Day, keeping in mind that the early morning is generally reserved for passengers to open their gifts.
Themed treats and desserts -- think cookies and gingerbread -- are often a part of the celebration, as well, particularly in the buffet.
What about beverages, you ask? Seasonal favorites like hot chocolate, mulled wine, eggnog and cider are staples during the winter holidays on most ships.
Activities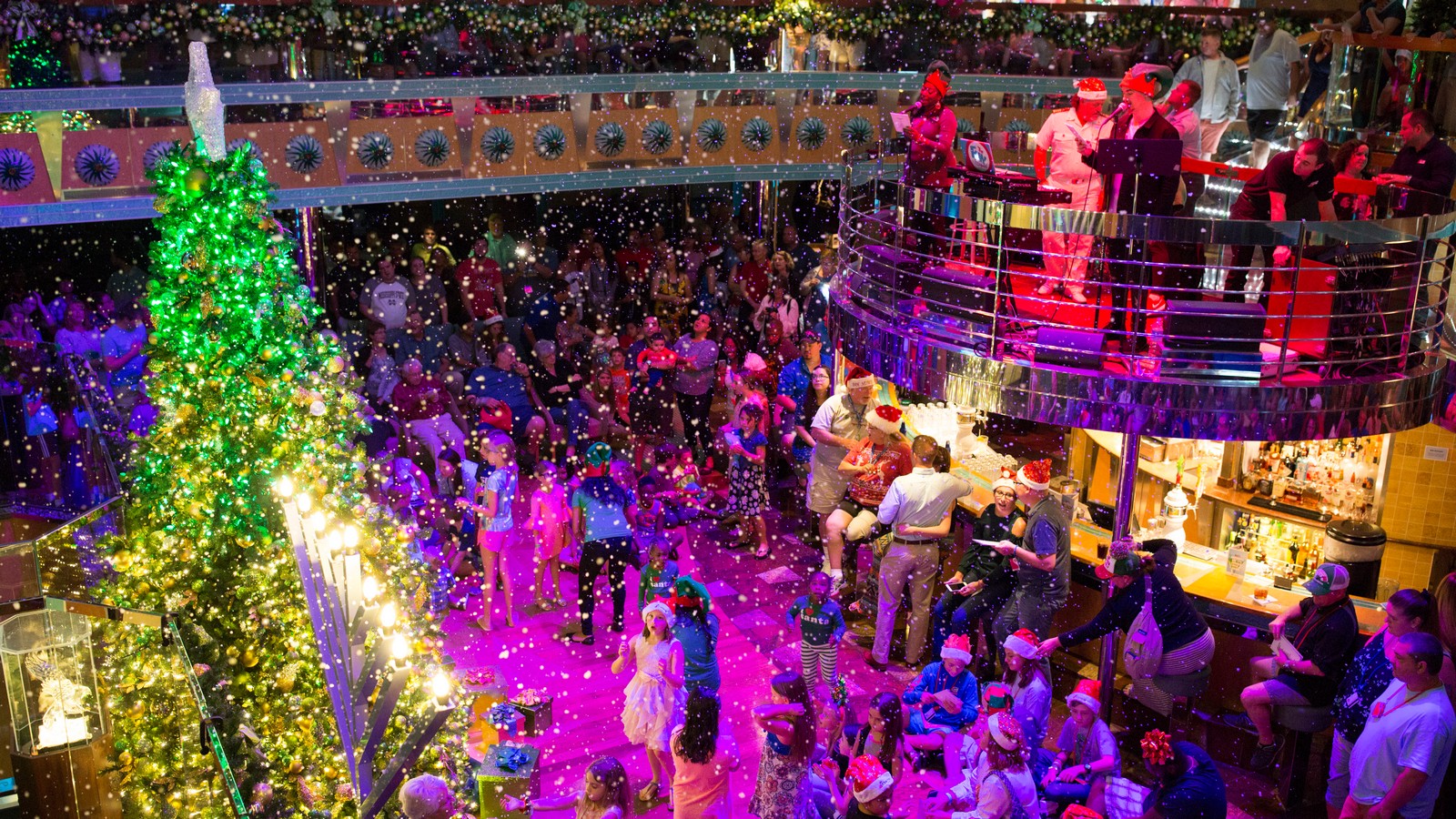 When considering a Christmas cruise, it's helpful to know that the festivities aren't limited to just dining and decorations. There are also plenty of holiday-themed activities to be found onboard.
Most vessels plan impressive lists of diversions to keep passengers in the spirit. Examples we've seen include Christmas carol singalongs and karaoke; parades; visits from Santa; and arts and crafts, including decoration-making for children in the kids' clubs.
For more in the DIY vein, some lines allow cruisers the opportunity to decorate their own cookies and build gingerbread houses.
Mixed in with all of this on some ships are fun get-togethers like winter carnivals, yuletide deck parties and atrium gatherings where snow machines make it feel like you're in a climate-controlled winter wonderland.
Games, tree lightings, holiday trivia and readings of "The Night Before Christmas" add to the fun, but in keeping with the reason for the season, most ships also offer religious services for those who celebrate. (Midnight mass, anyone?)
Some cruise lines go a step further by dressing crew up as holiday characters for photo ops. Lines with branded partnerships mean that you could enjoy a visit from the Grinch (Carnival) or Disney characters in their holiday best.
Still other lines feature special touches that truly set them apart, such as Holland America's milk-and-cookies turndown service, Princess' wreath-making and gift-wrapping classes, and Royal Caribbean's Christmas-themed scavenger hunts and ugly sweater parties.
Entertainment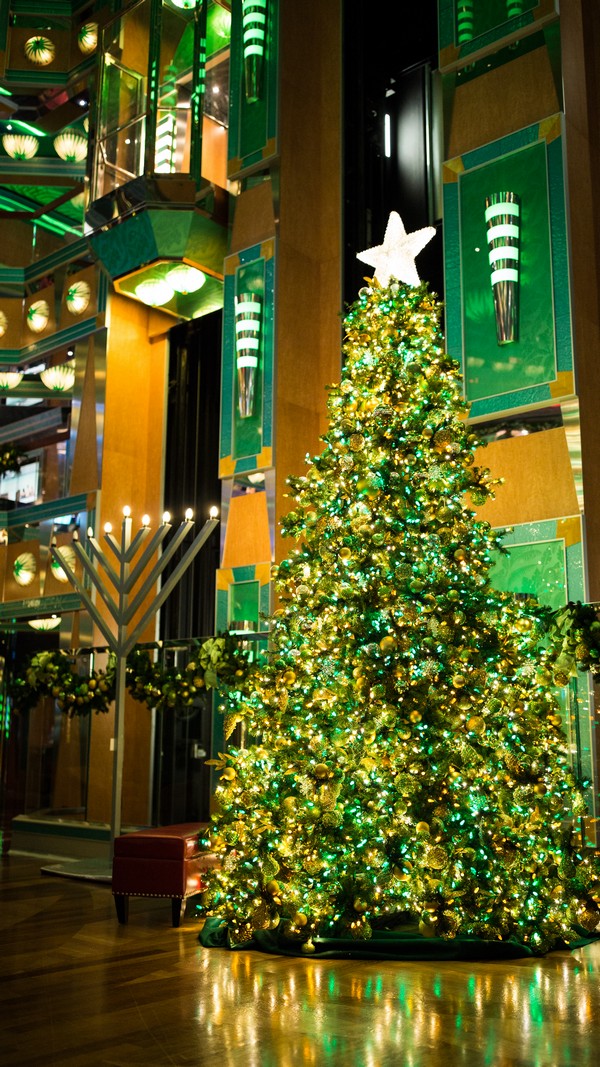 If all of this just isn't enough to put you in the Christmas spirit, special entertainment is arranged on most ships, too. These might include caroling, spontaneous pop-up performances and holiday-themed theater shows.
For cruisers who think it just doesn't feel like Christmas until they've seen a slew of movies that warm the heart, not to worry. Many ships build holiday films into their schedules, for viewing both in-cabin on-demand viewing and outdoors under the stars on the pool deck.
Christmas Cruise Tips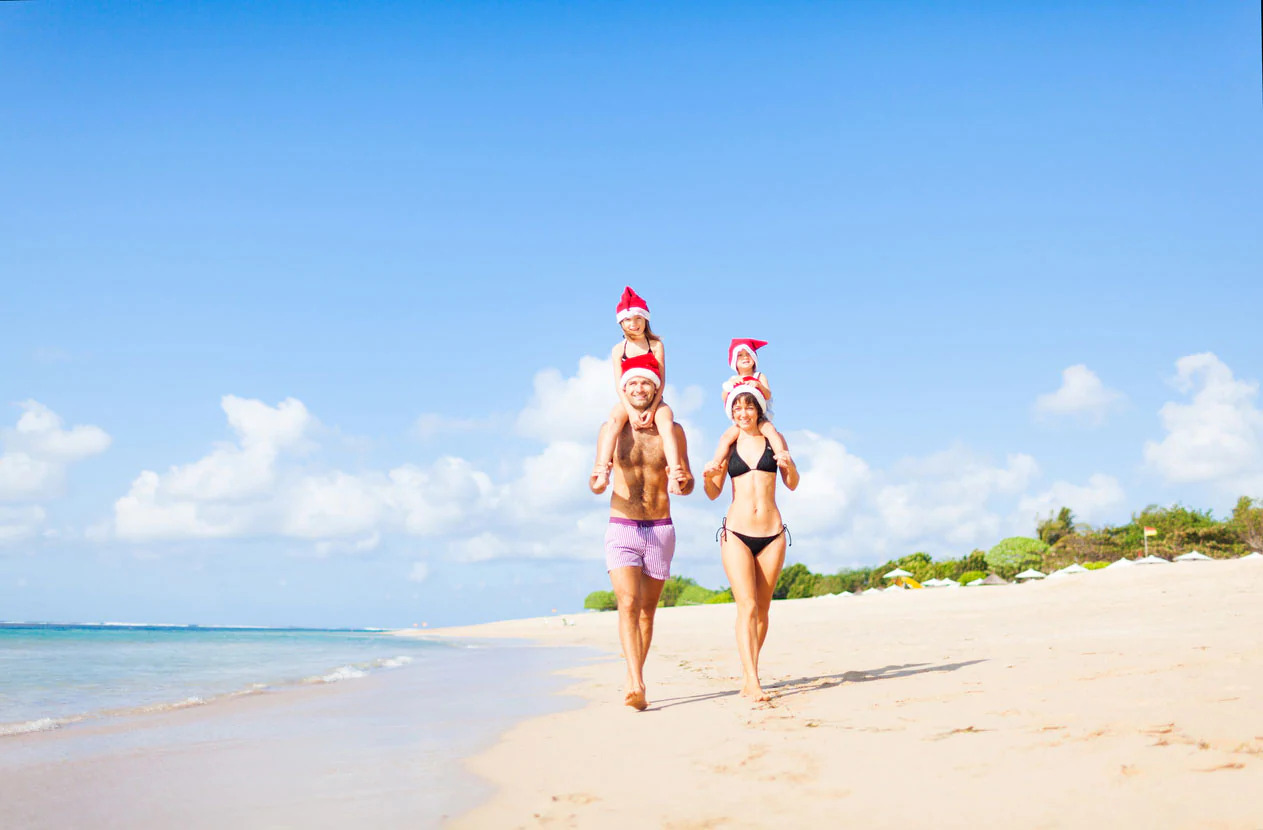 Should you decide to take a Christmas cruise, here are a few things to keep in mind when preparing for your trip:
Leave presents unwrapped, especially if you're putting them in checked luggage. If you're flying, TSA could be forced to unwrap them if your bag is flagged. The same is true if something seems off when your bags are screened during embarkation. Bring supplies to wrap them onboard, or see if your ship offers a gift-wrapping tutorial.
Be careful with decorations. We know it can be tempting to make your cabin Christmasy with the same embellishments you're used to at home. However, some cruise lines don't allow holiday lights onboard, and all ships universally ban candles. Check with your line for restrictions.
Remember the crew. The workers onboard during your voyage are spending their holidays away from home and likely miss their families. If you're so inclined, bring a couple of holiday cards -- generic winter cards are preferable -- and some small bills to spread the joy and thank them for making your vacation peaceful.
The more festive, the better. Don't be afraid to pack items that will keep you on theme and in the spirit. We're talking Santa hats, reindeer antlers, ugly sweaters, light-up necklaces -- the works. Have fun with it.