In the competitive industry of cruise tourism, companies are pushing the limits with what can be built on their ships.
From roller coasters to climbing walls, the things you can do on new cruise ships is incredible.
Here is a look at the top 15 most amazing cruise ship activities.
15. North Star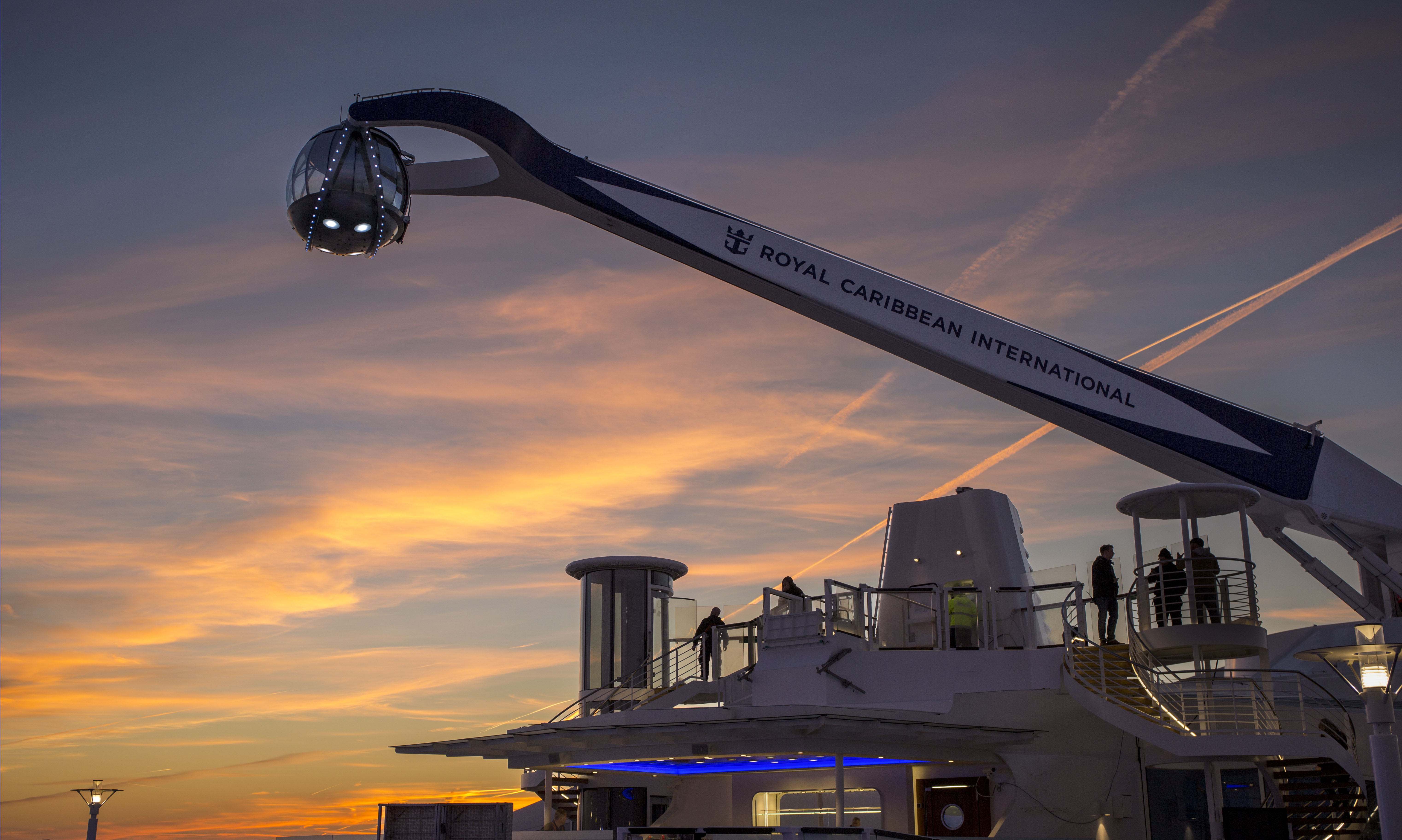 Royal Caribbean is one of the largest cruise operators in the world, and in recent years they've made a point of ensuring they install the most creative and often unbelievable features on their ships.
Their Quantum class vessels, which first set sail in 2014, are the third largest cruise ships in the world. Each have an attraction called North Star.
Essentially, it's a glass pod that's attached to a mechanical arm. Guests are sealed inside the pod, then it's lifted up into the air and then over the side of the ship.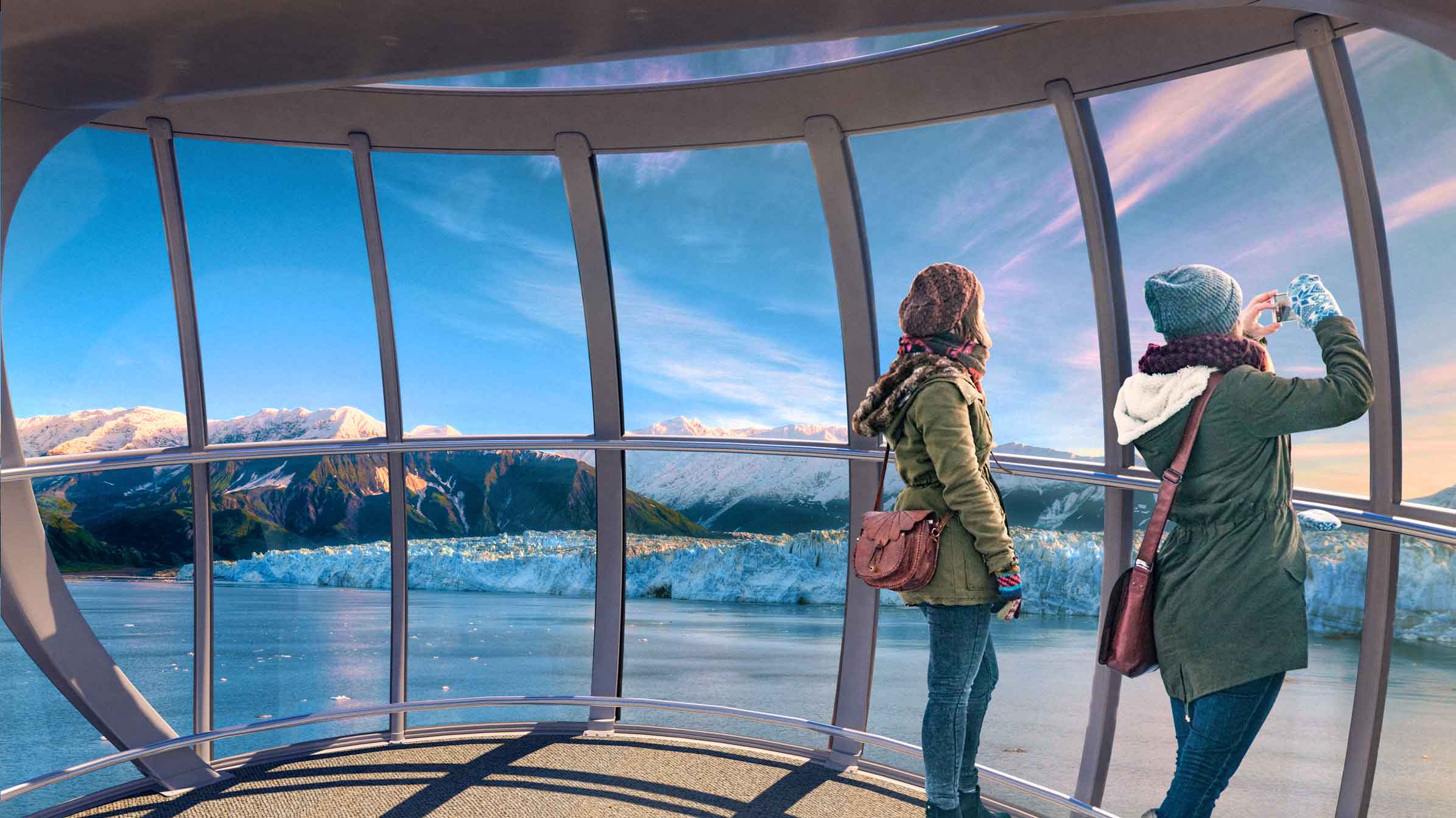 With a capacity of up to 14 people, the 20 minute ride raises you as high as 300 feet above sea level, which leads to stunning views out across the vessel, the ocean or whichever port the ship is docked in. Note that this is not always complimentary. During peak times, the cruise line is subject to charge an additional fee. 
The best time to experience it is when the liner is at sea and the water is relatively calm.
The North Star is available on the following ships:
Quantum of the Seas
Anthem of the Seas
Ovation of the Seas
Spectrum of the Seas
Odyssey of the Seas
14. Helicopters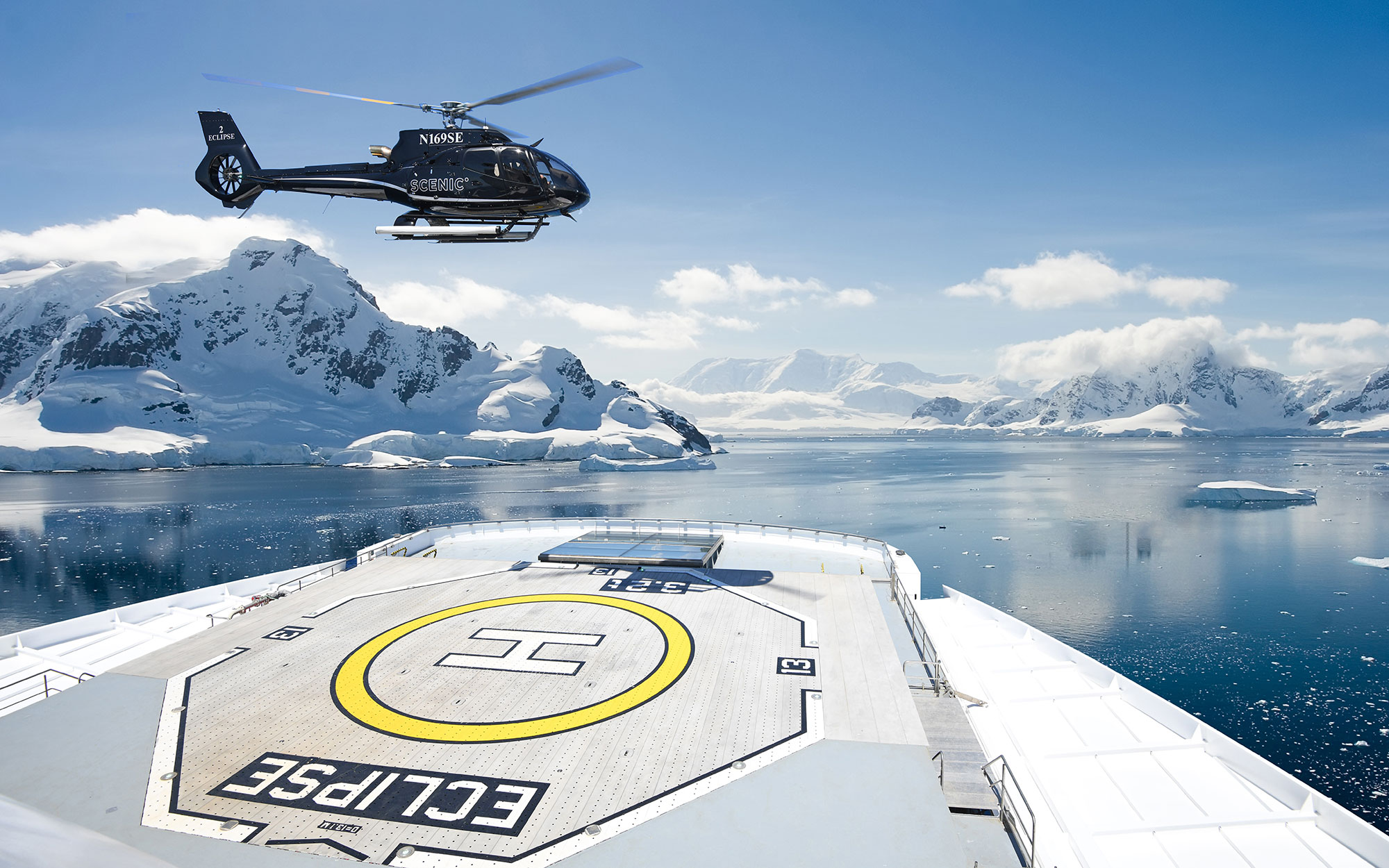 You might think cruise ships have a variety of vehicles for you to be able to play with in port, such as jet skis or glass bottom boats, but the Australian based Scenic Eclipse has something far more exciting, its very own helicopter.
Stored in a specifically designed cargo bay, two brand new Airbuses, H130s were top of the line choppers when they were bought and are some of the quietest ones available, meaning the disruption to other passengers and wildlife is minimal.
There's also a system inside the cabin which reduces the amount of vibrations that you feel, which leads to an incredibly smooth ride.
The company hired experienced staff, including military veterans and rescue pilots, to take guests from the top deck for 20 minute tours over the ports that they visit.
With leather seats, you are sure to be comfortable on board. They also provide Bose noise canceling headsets to allow for easy communication between the guests and crew. With cruises available that travel to the Antarctic and Arctic regions, a facility like this really gives travelers a vantage point that until now has been virtually impossible.
13. Roller Coaster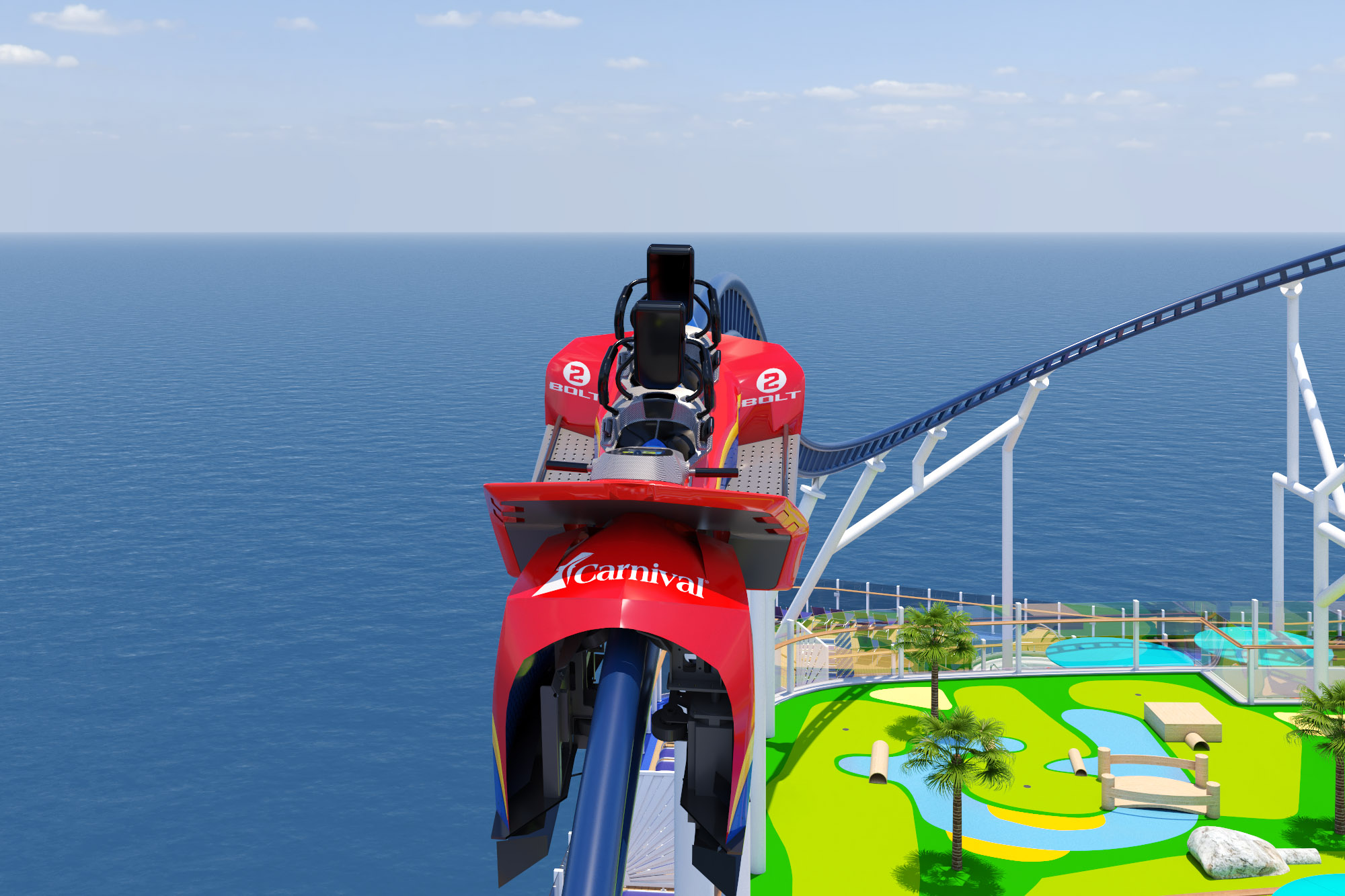 Roller coasters were once something that you only see in an amusement park, but recently they seemingly started to appear almost everywhere, from backyards to the tops of tower blocks. Now, there's even one that's been built on a cruise ship.
This isn't just a small ride claiming to be a roller coaster either, but a full fledged experience called Bolt.
It's the main feature of the Carnival Cruise Lines new ship called Mardi Gras.
Reaching up to 187 feet above sea level, guests are strapped into a motorcycle like cars and shoot around the track at speeds of up to 40 miles an hour
As it's fitted to the top deck, the coaster offers 360 degree views across the ship and the ocean. And to make it even more exciting, riders are able to control the speed of their cars themselves.
There's even an added competitive edge to what lap time is being posted on a board after the race, so everyone knows who's the bravest of them all.
12. Go Karts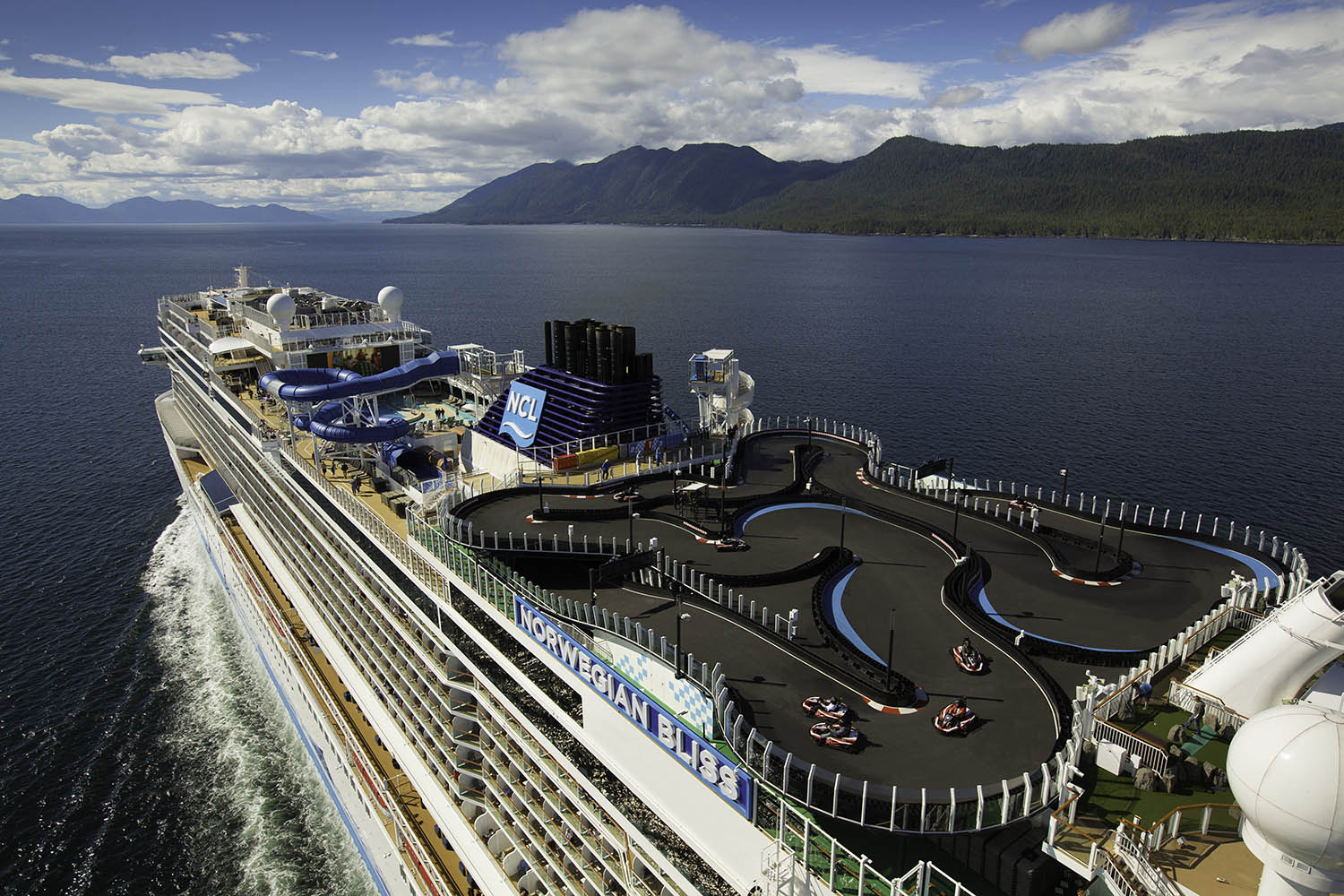 Go karts are often people's first experience of driving a vehicle, with thousands of tracks around the world. It's highly competitive, too, with the majority of the planet's top race car drivers beginning out as karters. And it seem like only a matter of time before a cruise ship company found a way to build a track on the top deck of a ship.
In 2019, Norwegian Cruise Lines announced that three of their ships would be fitted with one, and on their flagship, the Encore.
The new custom designed track actually transitions across two decks called the Norwegian Encore Speedway. It's 1150 feet long, has 10 turns. They're even four parts that hang up to 13 feet over the edge of the ship.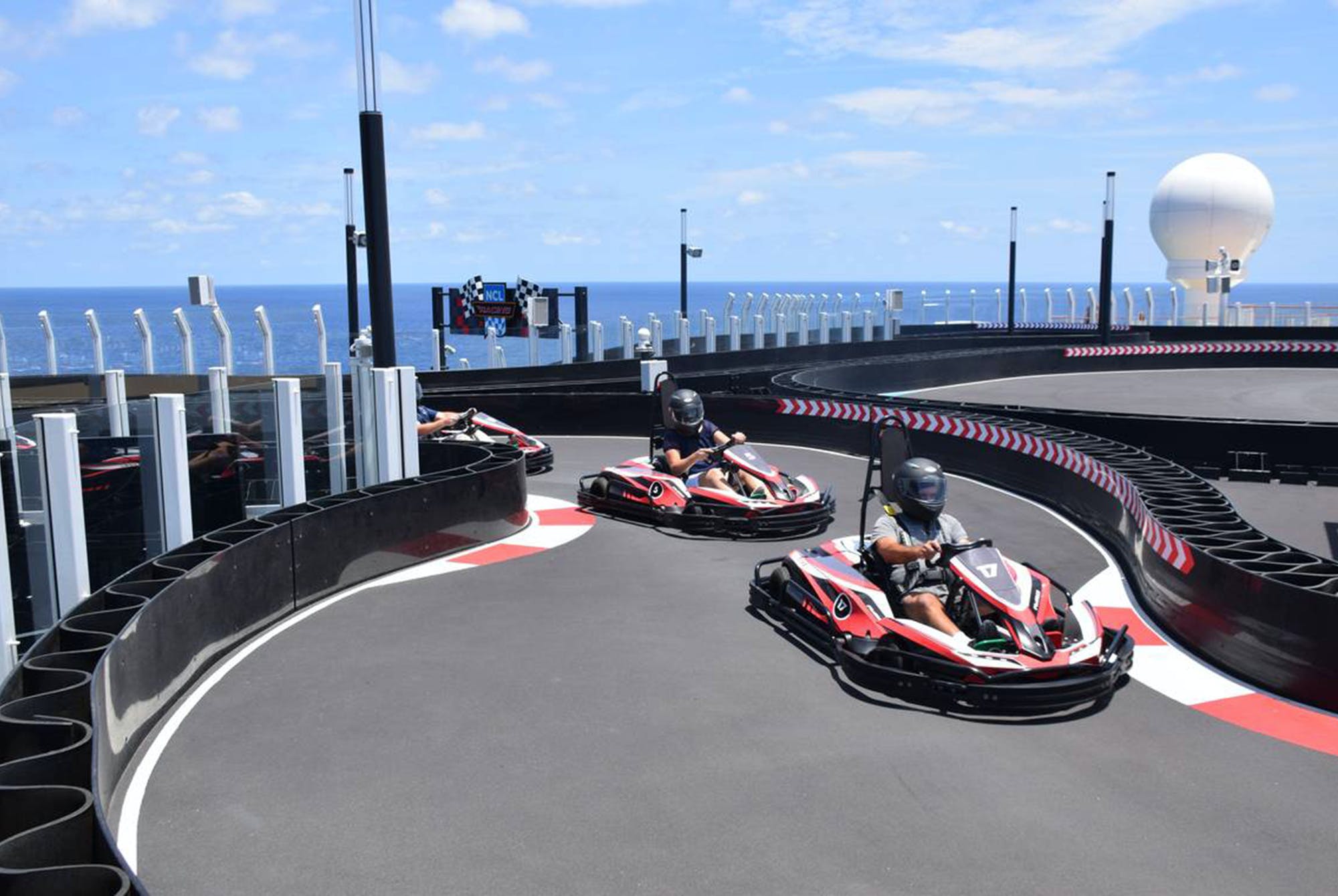 There's room on the track for 10 cars at a time, each of which is fully electric powered and can reach speeds of up to 30 miles an hour. They may not be the fastest you could ever drive, but they're definitely the fastest vehicles available to race around a ship.
Sessions lasts for around eight minutes, and there are extra features to get spectators involved, too. There is, for example, an observation deck with a laser gun. If you manage to shoot one of the karts, you'll give it a temporary speed boost.
The tracks on each of the three ships are different in their own ways. And on the sister ship, NCL Joy, it's Ferrari themed and emblazoned with the Italian manufacturer's signature red coloration throughout.
Not surprisingly, since they first opened, NCL said that the go kart tracks are there number one on board activity, and there are continuous queues full of kids and adults alike.
Go kart tracks are available on the following Norwegian Cruise Line vessels:
Norwegian Encore 
Norwegian Bliss
Norwegian Joy
Norwegian Prima
11. Surf Simulator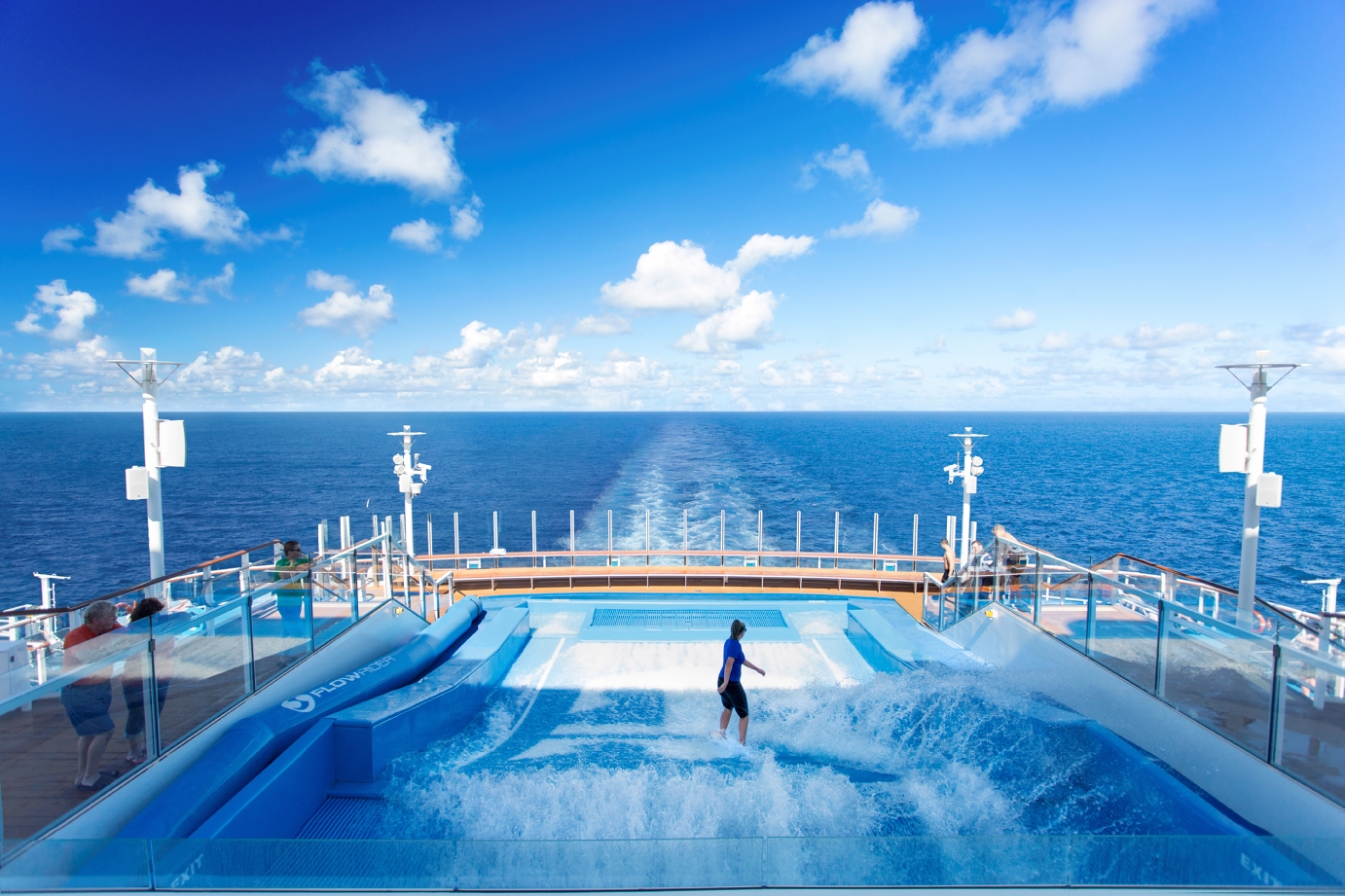 Cruise ships are so large they're almost like floating cities. Huge amounts of research and technology are involved in their design to ensure they're stable and comfortable at sea as possible.
On several of their ships, they offer an attraction called the Flow Rider, which is a 40 foot long surf simulator designed to appeal to everyone from complete novices to experienced professionals.
The first time you get on, whether you're planning to surf or bodyboard, you're given an introduction onto how the simulator works, how to ride the waves, and according to the team behind it, how to fall because eventually everyone falls.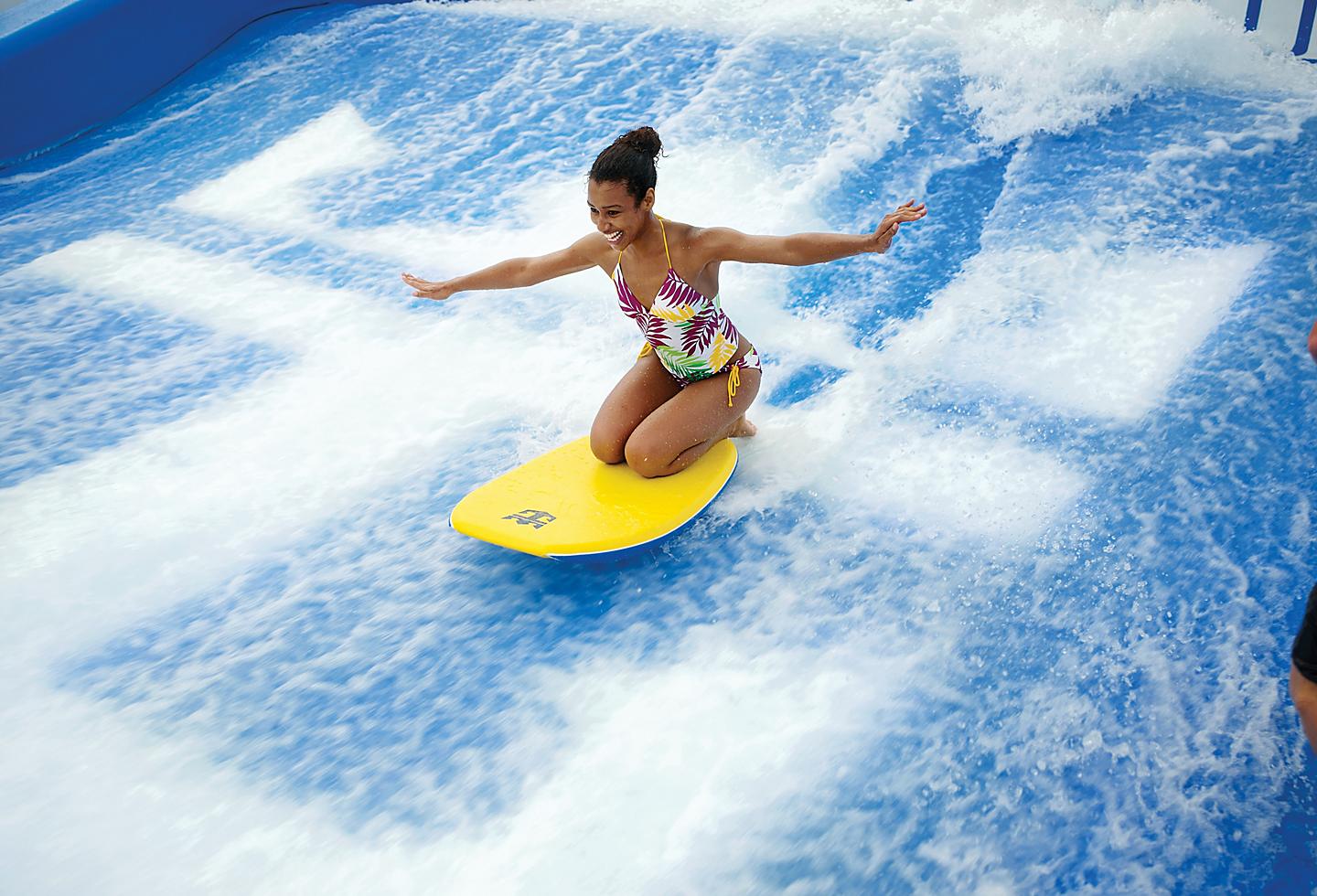 There are actually 220 fellow riders surf simulators around the world, but Royal Caribbean is the only company that takes them out to sea and has 16 of them across the fleet.
Private lessons are available for those who want to perfect their technique; however, group lessons are available at a lower cost. 
Since the wave strength can be customized, they are suitable for people of any age, from young children to adults.
Flow Riders are available on the following ships (with an * to denote which ships have two):
Adventure of the Seas
Allure of the Seas (*)
Anthem of the Seas
Explorer of the Seas
Freedom of the Seas
Harmony of the Seas (*)
Independence of the Seas
Liberty of the Seas
Mariner of the Seas
Navigator of the Seas
Odyssey of the Seas
Oasis of the Seas (*)
Ovation of the Seas
Quantum of the Seas
Voyager of the Seas
Symphony of the Seas (*)
Spectrum of the Seas
Wonder of the Seas
10. The Ultimate Abyss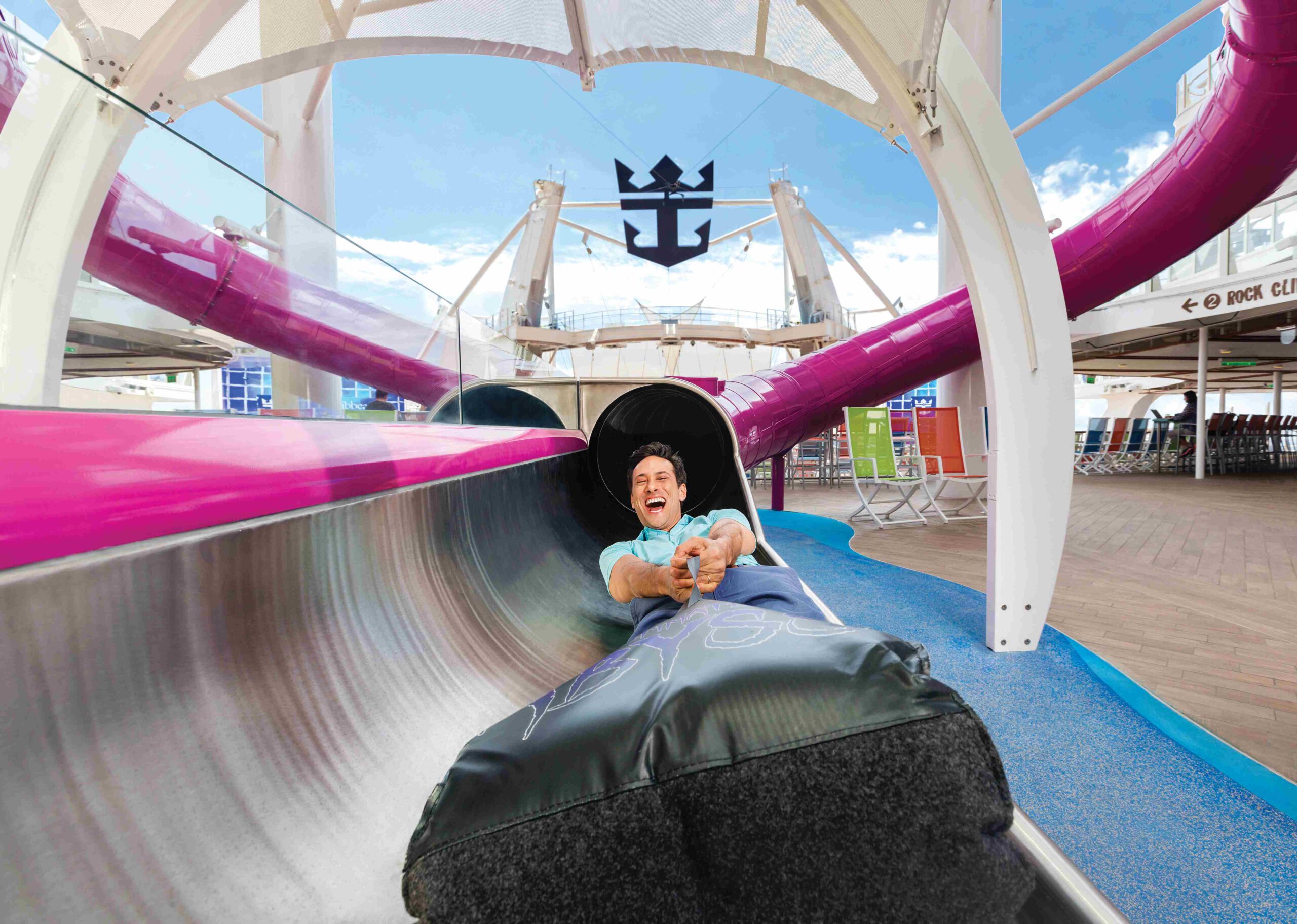 Cruise ships have for a long time features swimming pools on their decks and most of them have several water slides to increase the excitement.
Royal Caribbean, however, has taken this a step further with the introduction of the Ultimate Abyss, which is a slide like no other.
Available on most Oasis Class ships, and first introduced on the Harmony of the Seas, the Ultimate Abyss is made up of two 216 foot long slides that run parallel to each other. Currently, the only Oasis Class ship not to feature the slide is the Allure of the Seas, as its revitalize project was postponed due to the pandemic. 
Beginning at the sports zone on the 16th deck, they twist and turn all the way to the Boardwalk on the sixth deck at the back of the ship, with riders reaching speeds of up to nine miles an hour on the specially designed mats.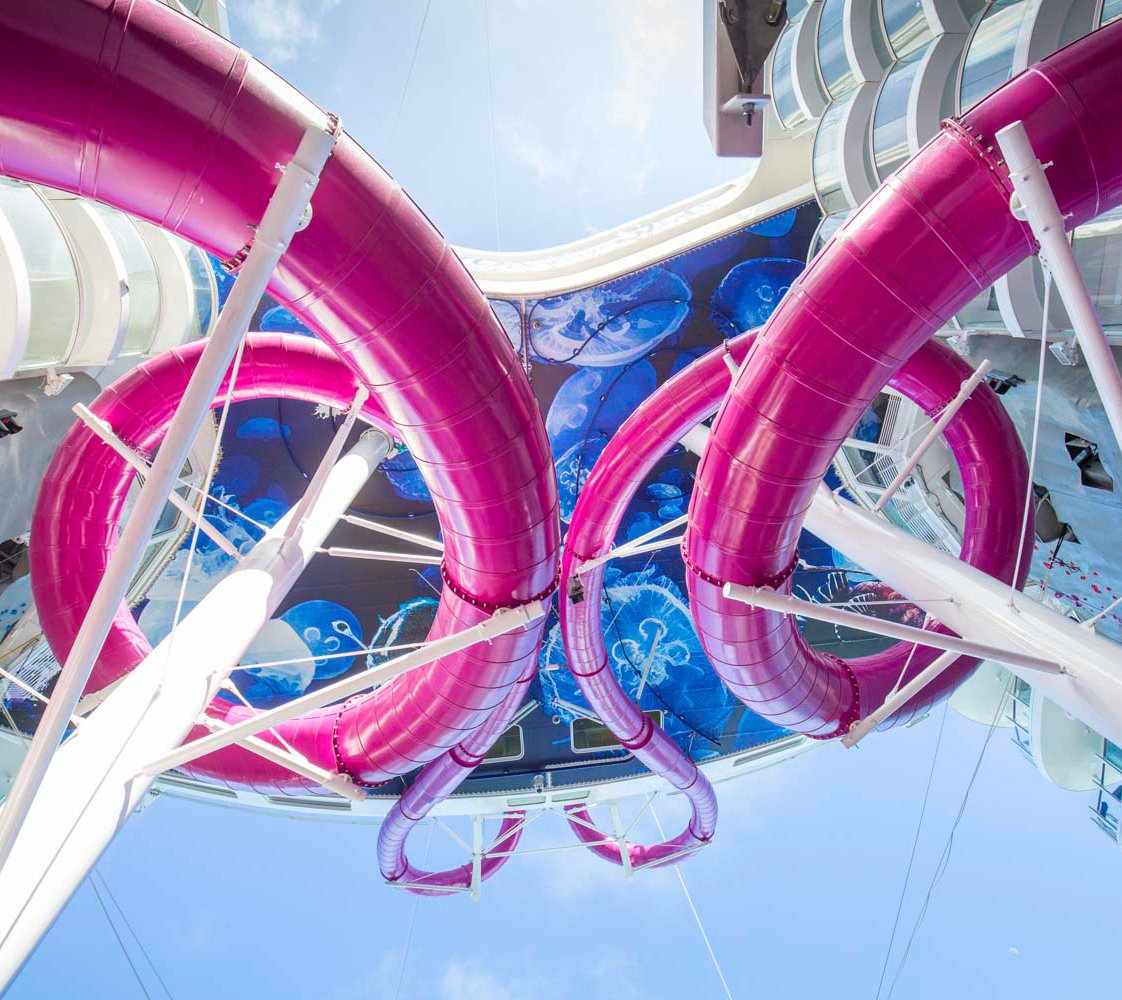 Of course, there are surprises along the way as the slides are completely enclosed and run through dark tunnels. Inside are flashing lights and an audio system that plays music and mysterious noises which combine to create an experience like no other.
Even the entrance is designed to get your heart pumping because after walking through a giant fish mouth, you walk up to the glass platform and can see the full 100 foot drop of the slide beneath you.
Despite seeming ominous at first, it's been designed to be enjoyable for everyone so there aren't any vertical drops are truly terrifying sections, but once you emerge out the other end, you'll find yourself near the Aqua Theater where you can sit down and watch a show.
9. SkyRide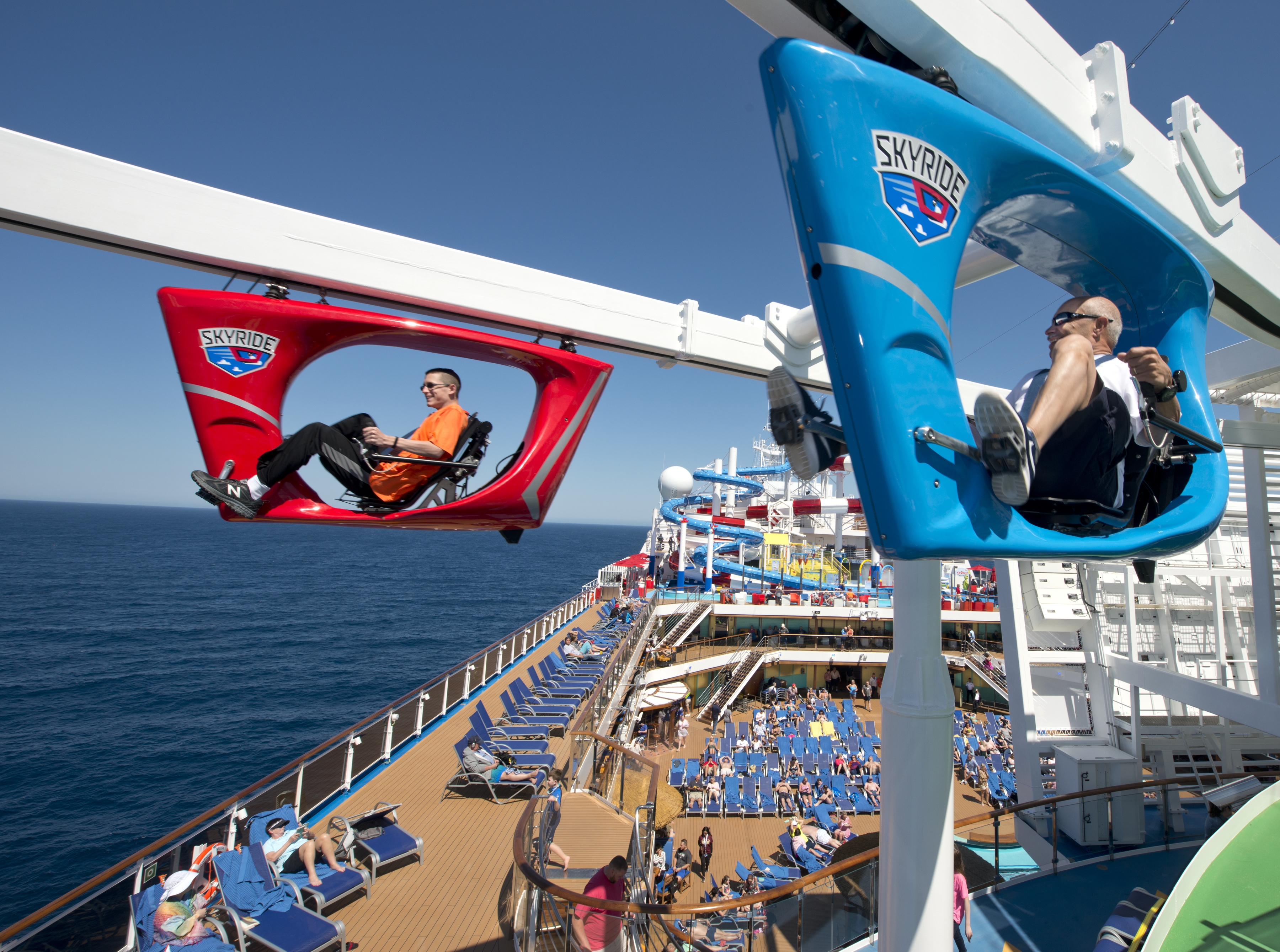 SkyRide is a human powered monorail-like attraction that was originally designed for installation at land based venues.
Since being installed on several of Carnival's cruise ships a few years ago, it repeatedly won awards for being one of the best features available at sea.
It's made up of a track that takes, twists and turns around the ship. The riders sit on specially designed bikes, which they pedal to move along.
Because they're strapped in tight, the route goes surprisingly high, makes use of space that would otherwise be left empty.
At points, the track extends beyond the width of the ship and suspends riders more than 150 feet above the sea and is therefore easy to install without needing to sacrifice any other attractions and gives guests a unique view of the ship and the ocean.
Amazingly, as of January 2020, SkyRides on two of Carnival ships that accommodated more than 350,000 people, who pedaled a combined 67,000 miles.
It is currently available on the following Carnival ships:
Carnival Horizon
Carnival Panorama
Carnival Vista
8. Ropes Course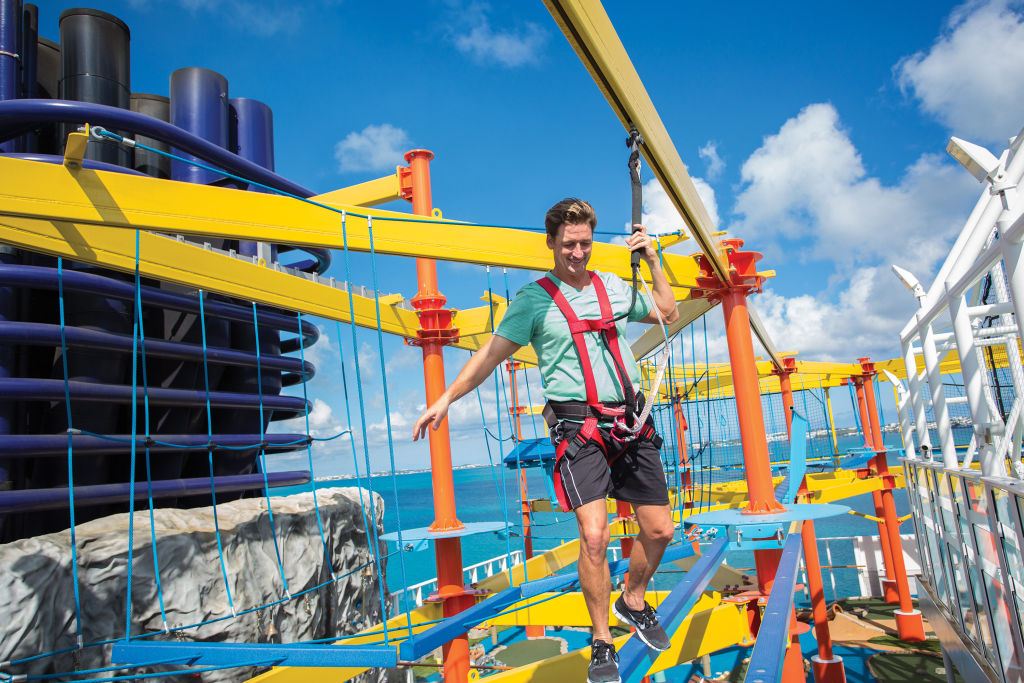 If you've ever been to summer camp or virtually any visitor attraction in a forest, then the chances are you've either tried or have the opportunity to go on a rope course.
Usually these see guest traversing rope bridges and swings that are suspended in the treetops. But Norwegian Cruise Line has come up with a different approach, almost giving the guests the opportunity to feel what it was like to be a sailor in previous centuries, that rope courses take people on tours across the top levels of their vessels.
They're available on a company's Breakaway and Breakaway Plus Class ships, and each one has been designed differently to offer unique experience.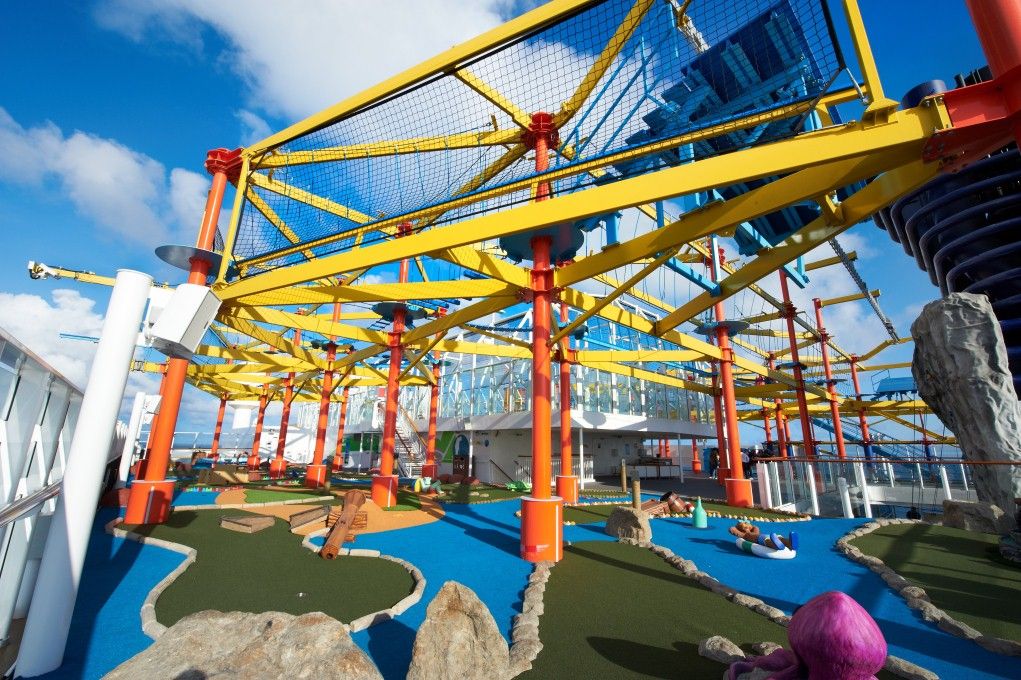 They incorporate anywhere between 40 and 100 obstacles, which include suspension bridges zip line tracks, even planks that reach eight feet out across the side of the vessel.
Guests are, of course, strapped into harnesses and must follow a predetermined path of rails at their own pace.
Guides are located throughout the course to assist anyone who's having difficulties with any section and to ensure everything proceeds as safely as possible.
Ropes courses are also available on select Carnival Cruise Line ships including the following:
Carnival Breeze
Carnival Horizon
Carnival Magic
Carnival Panorama 
Carnival Radiance 
Carnival Sunshine
Carnival Sunshine
Carnival Vista
Mardi Gras
7. Water Coaster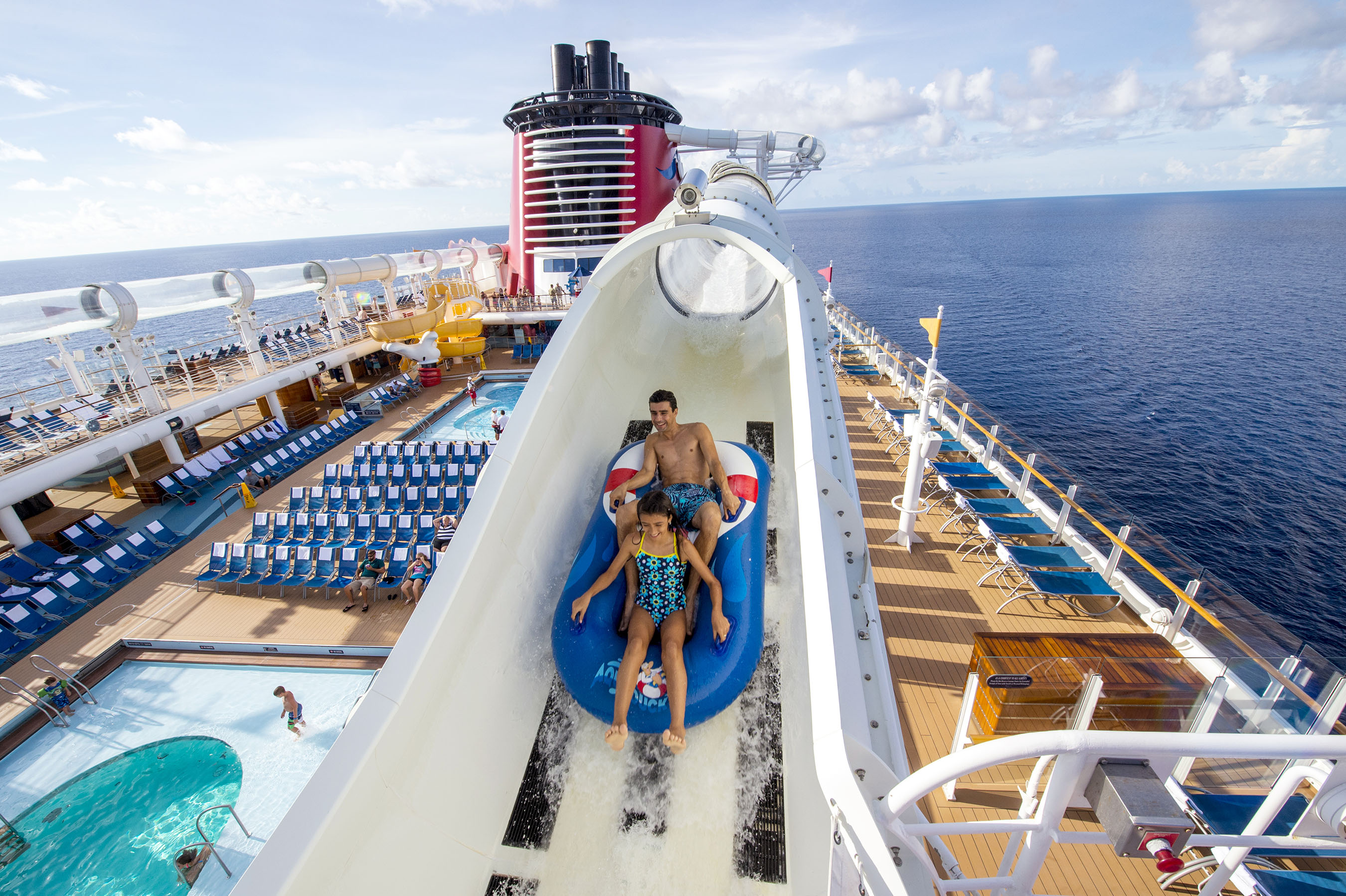 First built on the Disney Dream in 2011, and subsequently on Disney Fantasy in the following year, AquaDuck is a water coaster that's designed by the people behind the rides at Disney's amusement parks, the Imagineers.
It was the first water coaster to be installed on a cruise ship and at 765 feet long is supported by a series of forty six foot tall stilts.
The entrance can be found at the water parks of the ships on deck 12, and the track is made out of transparent acrylic.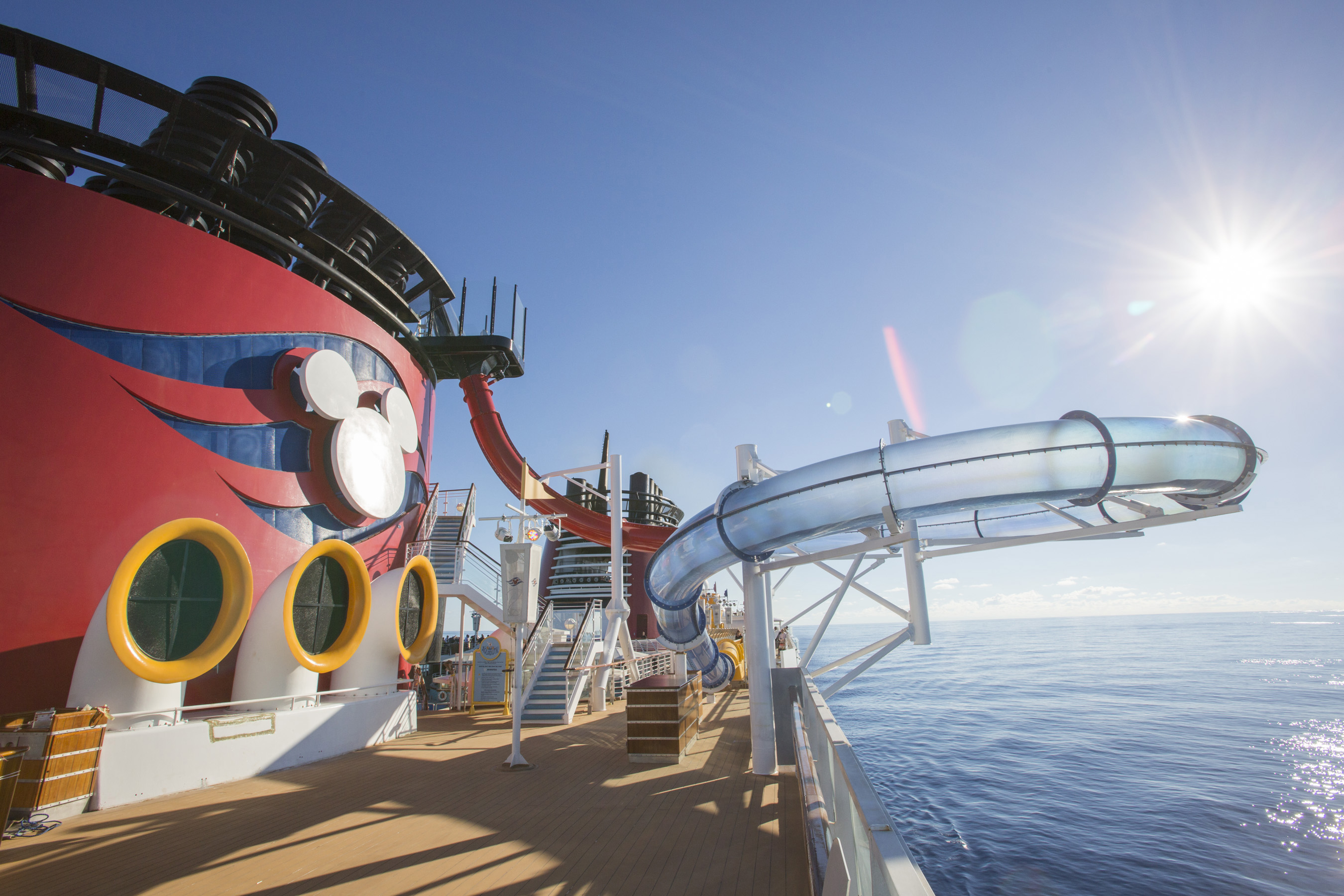 Riders sit in inflatable rafts and are carried up the beginning of the ride by a conveyor belt. You'll see the ocean and the ship through the tube as the raft is launched into the track, which goes 12 feet over the side of the ship as 150 feet above sea level.
High powered water jets are used to push the rafts uphill at a crazy speed of 20 feet per second, and then they slide down a series of turns and two slope straight sections before entering a 335 foot long rapids section and then finishing in a lazy river.
The experience feels like a roller coaster, even though it's a boat ride. And despite being over a little more than a minute, they'll be queuing up for another go straight away.
Image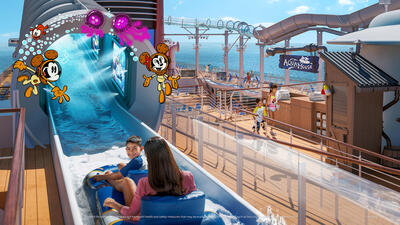 The Disney Wish, which made its long awaited debut in 2022, featured an upgraded version of the AquaDuck called the AquaMouse, which features a more interactive experience with television screens, audio, and 60 water nozzles that spray guests throughout the ride.  
6. Carousel Lounge
Since being founded in Montreal in 1984, Cirque du Soleil has become one of the most renowned live performance companies in the world. With numerous shows that tour the globe, several residencies in Vegas and a reputation for reinventing what audiences expect from a show, it can often prove difficult to get your hands on tickets to see one for yourself.
That is, of course, unless you're booked onto an MSC Cruise on one of their Meraviglia class ships.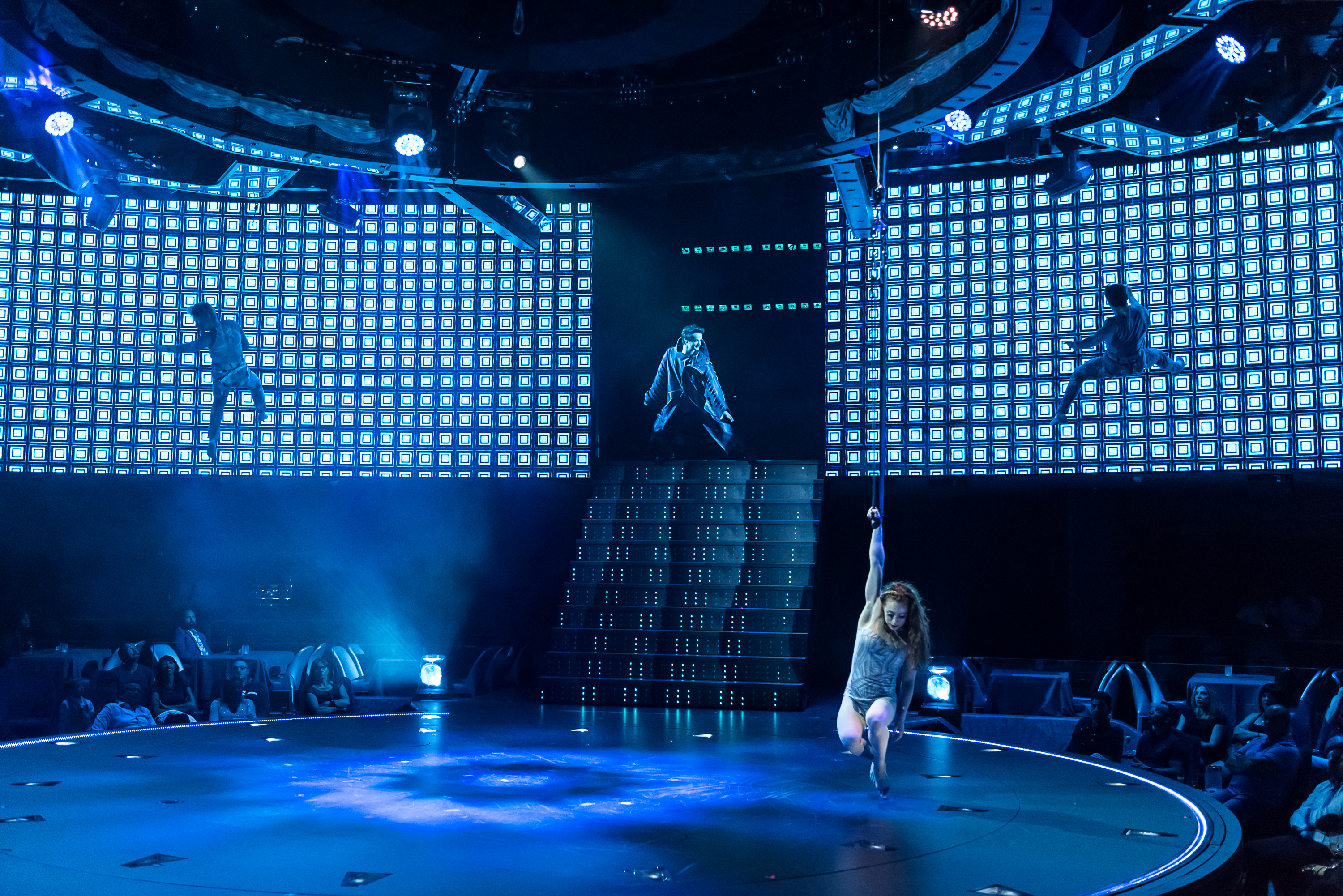 On board they have a custom designed theater, called the Carousel Lounge, which is built in conjunction with Cirque du Soleil with all the technology and apparatus needed to stage performances.
There are four ships in total, and on each one there are two unique shows that aren't presented anywhere else in the world, even on the other ships. This means that eight were designed all with their own music, costumes, choreography and artists.
Inside each lounge is a 130 foot tall LED screen, a rotating stage, a retractable staircase, various other tricks and surprises.
It's been a massive undertaking that took more than four years of planning, not least because they had to design a stage and show that would work no matter the sea conditions that the ship was passing through at the time.
5. Bionic Bar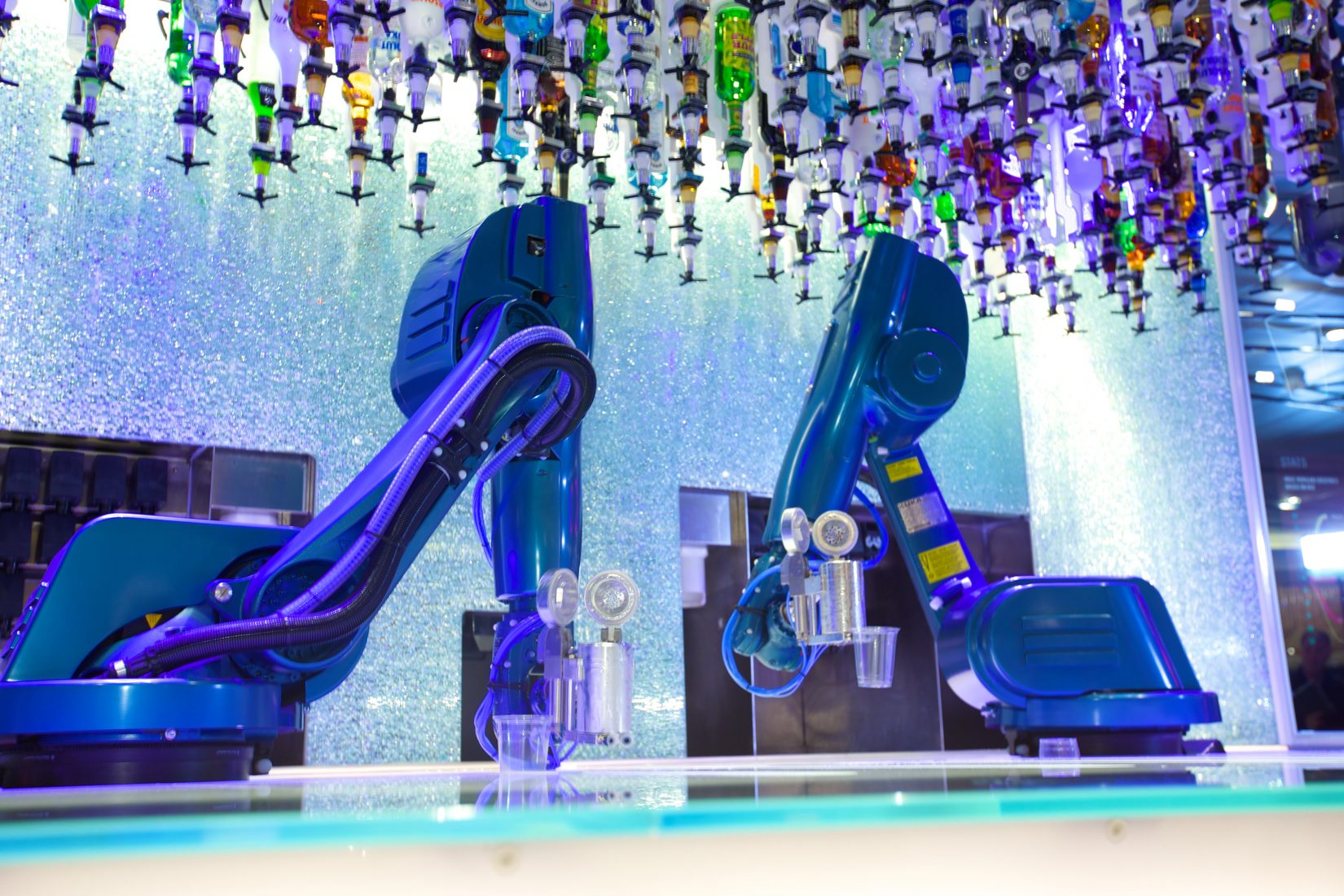 We've all been frustrated when we found ourselves waiting too long at a bar to receive our drinks, but there's no complaining at the new bars on Royal Caribbean because instead of being staffed by expert mixologists, the cocktails are created by robotic arms called the Bionic Bar as possibly the most futuristic experience you'll find on any cruise ship.
Guests are able to order their cocktail or mocktail of choice on a tablet, and then watch as the robot arm select the drinks that are suspended from the ceiling of the bar and expertly prepare them in front of their eyes.
You're not limited to the drinks on the menu either and can instead request a custom drink.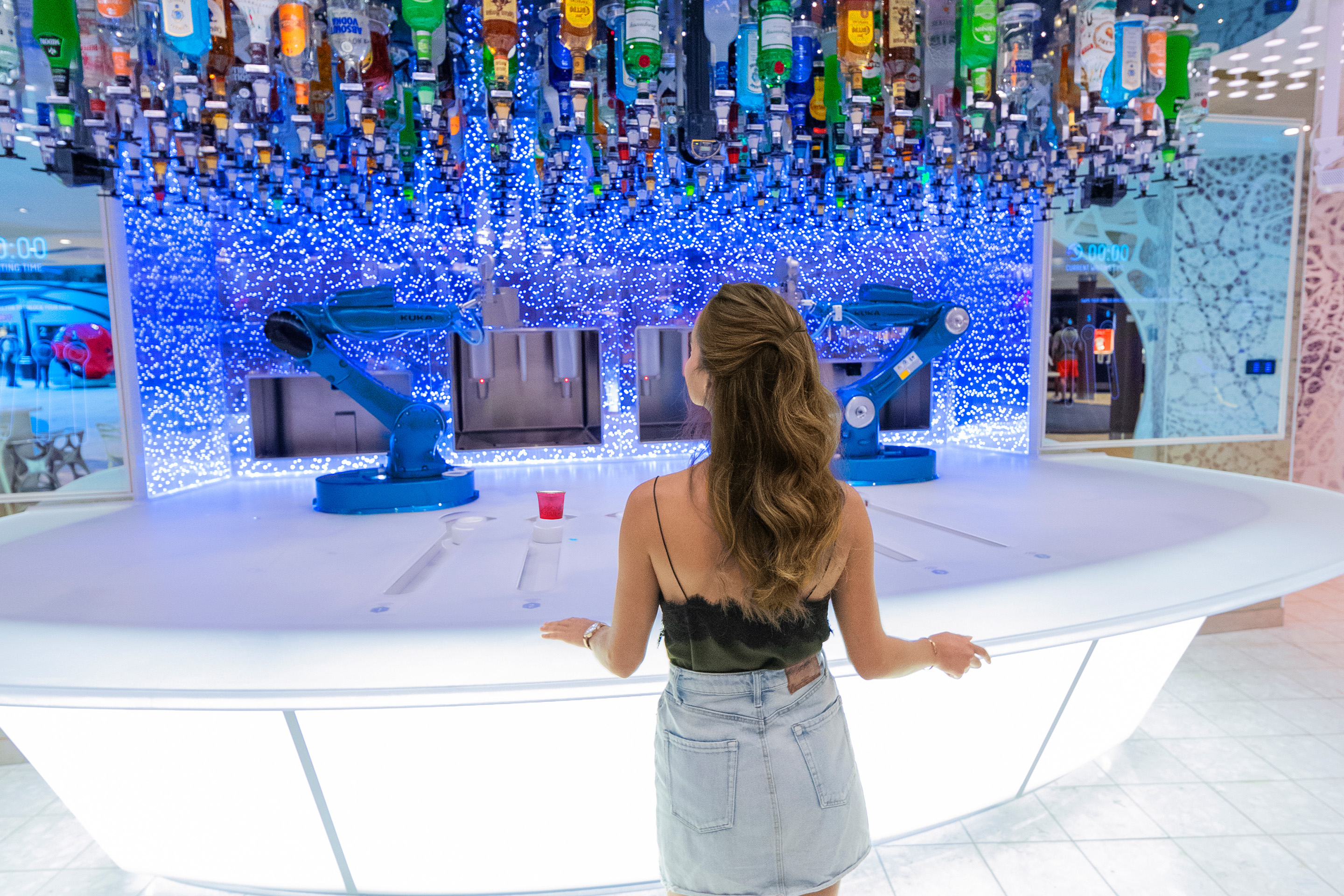 And you're never left in doubt as to how long it'll be until yours is in your hands. Electronic displays around the bar shows who's in the queue and which order is being prepared.
While they also provide information such as which drink is currently being made, the ingredients it uses and how many steps it will be until a complete.
There are human workers on hand to just in case things go wrong or there are spillages to clean up. But if the success of the Bionic Bars on the Quantum class vessels are anything to go by, we could be seeing technology like this being used in more land based venues very soon.
In addition to Quantum and Quantum Ultra class ships, the Bionic Bar is also available on the following vessels:
Oasis of the Seas
Harmony of the Seas
Symphony of the Seas
Wonder of the Seas
4. Virtual Balcony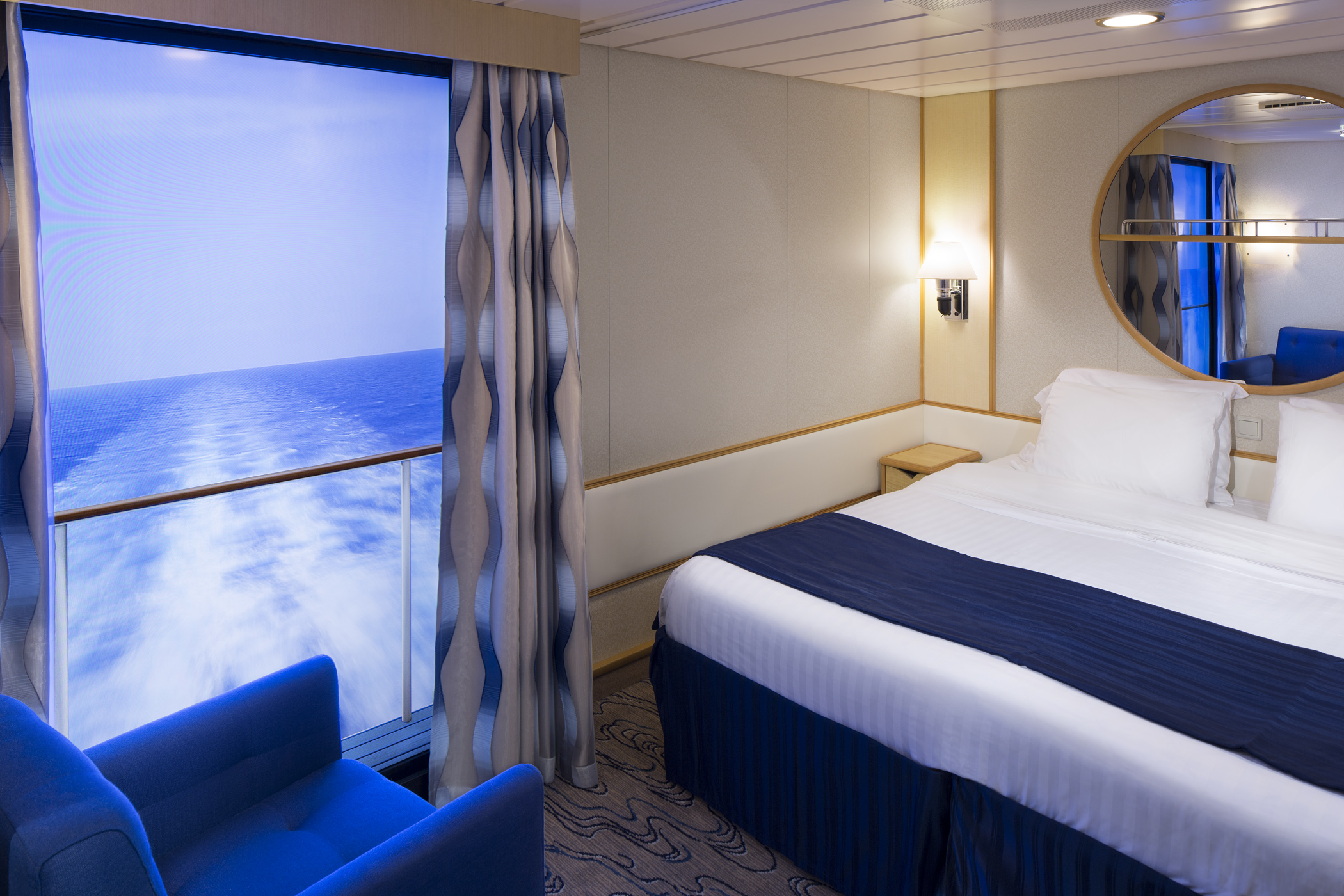 Cabins on cruise ships aren't where guests tend to spend most of their time, but offer the perfect place to rest and unwind after a long day of taking in the sights and making most of the facilities on board.
For those that can afford rooms with a view, the windows look out across the ocean with spectacular vistas.
But there's a large number of interior cabins where this simply isn't possible. In the past, guests would just have to make do with feeling like they're boxed in.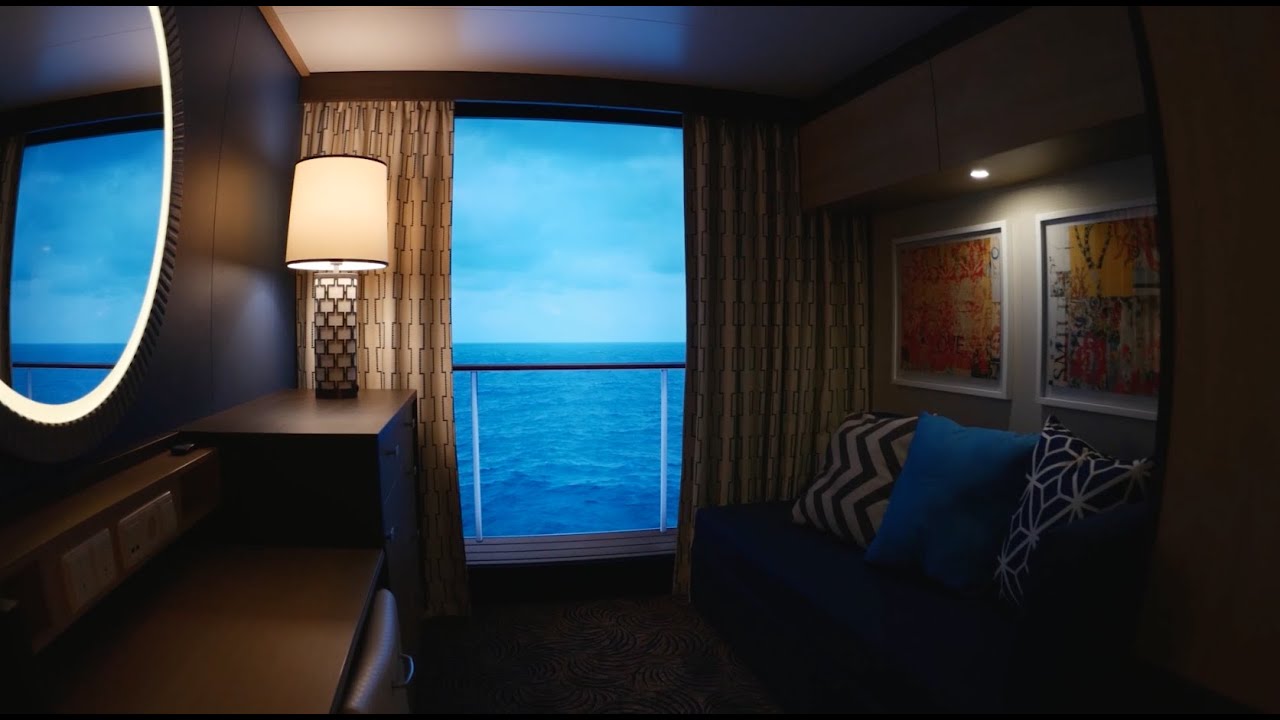 But Royal Caribbean has developed a new technology that affords everyone with the same experience.
On some of their ships the interior staterooms have been fitted with virtual balconies, which are 80 inch high definition screens that virtually cover the entire wall from the floor to the ceiling.
These can be used to project live images of the outside of the vessel.
3. Rock Climbing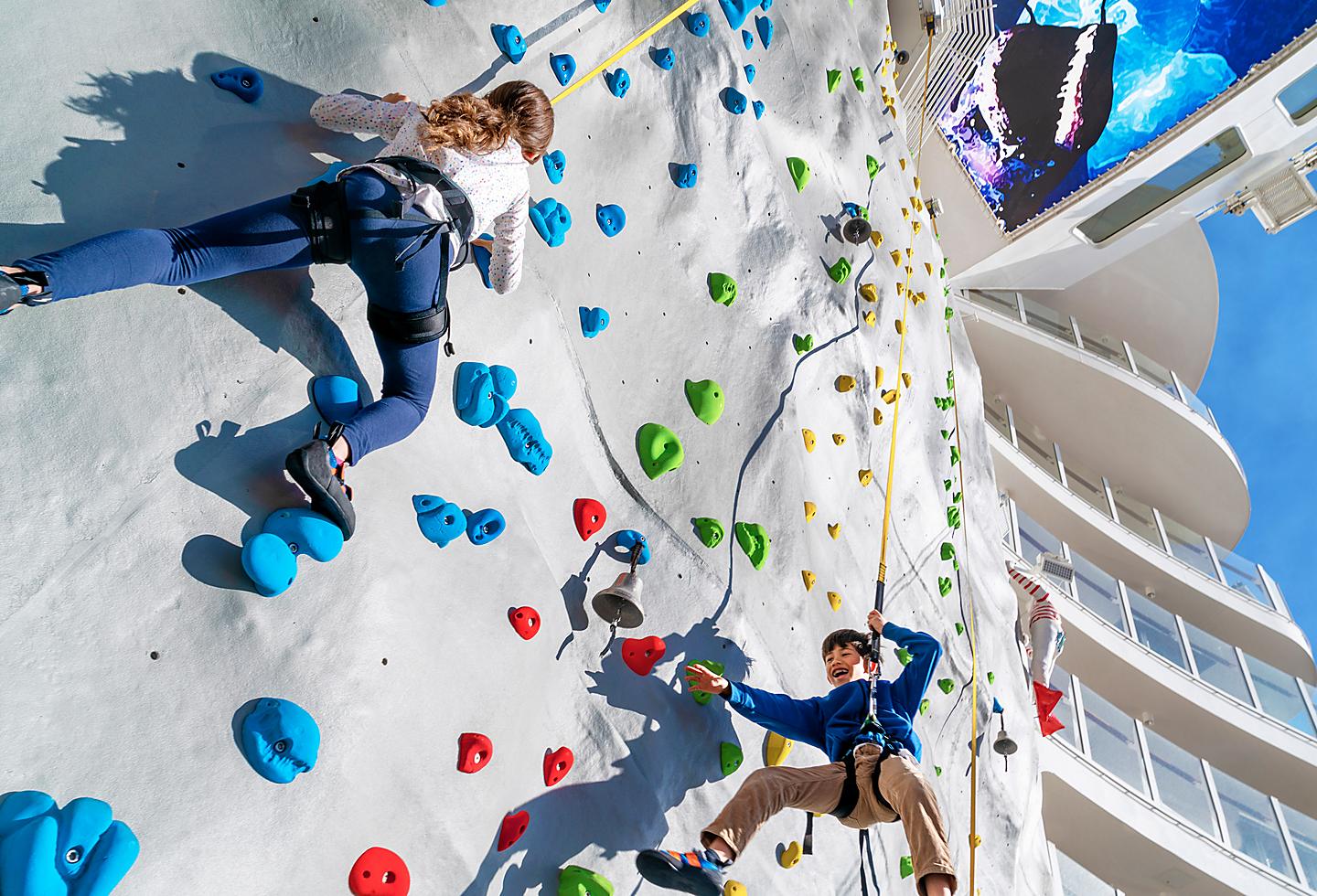 Ever since Royal Caribbean first put a rock climbing wall on one of their ships, the feature has become so popular that they've gone on to install them on every other vessel.
While you may be looking forward to climbing an actual rock face on one of the islands that you visit, there's no better way to practice, learn how to climb or perfect your skills than on an artificial wall.
They've got you covered no matter your skill level. The 30 foot walls have a variety of different paths, from beginner roots to expert difficulties and are open longer than most other amenities , so you'll always be able to book a time slot to suit you.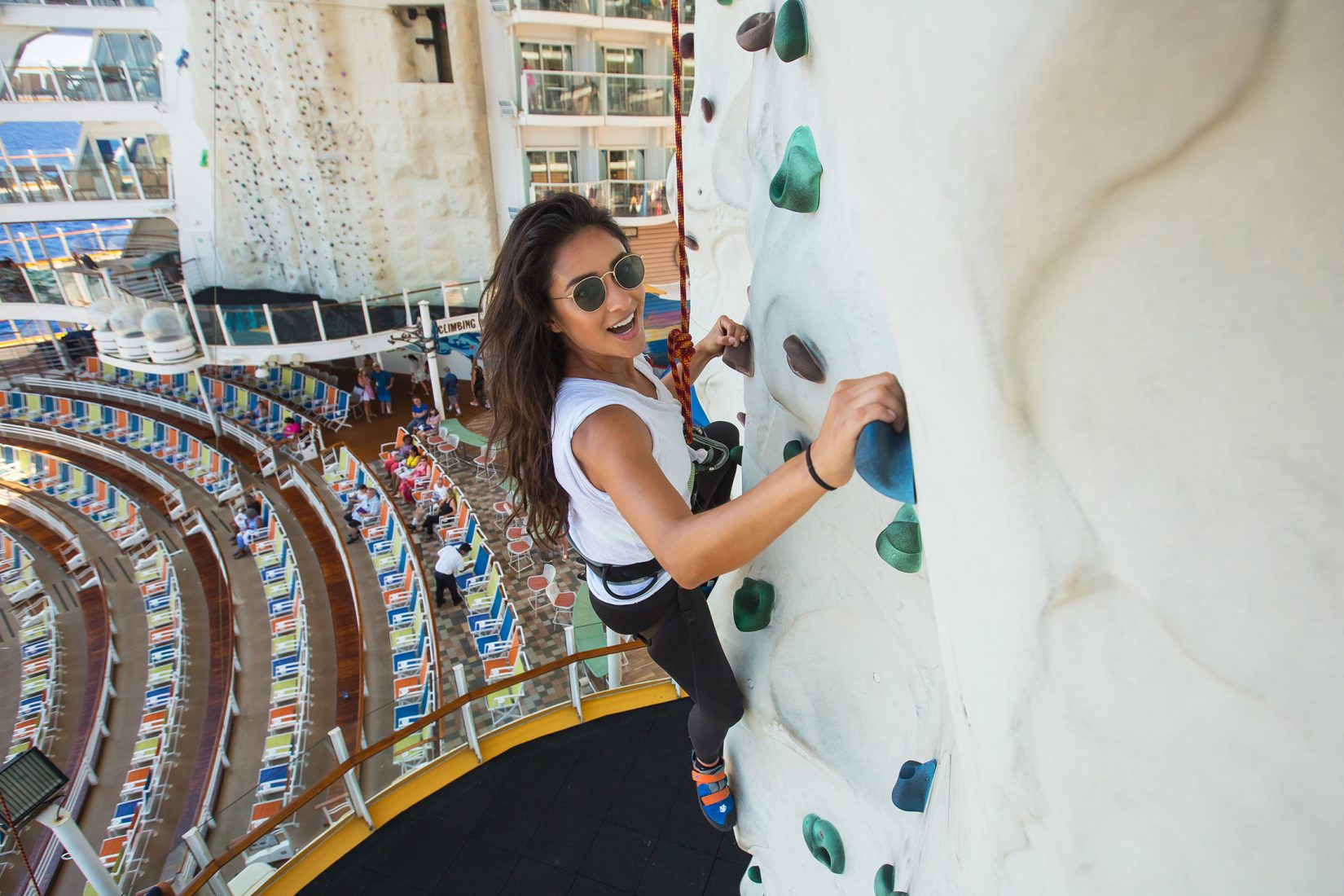 All safety equipment is included, such as helmets, harnesses and shoes, and experienced staff members on hand to give advice, training sessions and whatever other help you may need.
The walls aren't just there for recreational fun either. The ship hosts regular tournaments between guests, which are divided into those for advanced climbers and novices across different age groups. They host speed runs and challenges and most challenging advanced climber sessions for those who really want to test their abilities.
Rock walls are also available on select Norwegian Cruise Line ships.
2. Race Car simulator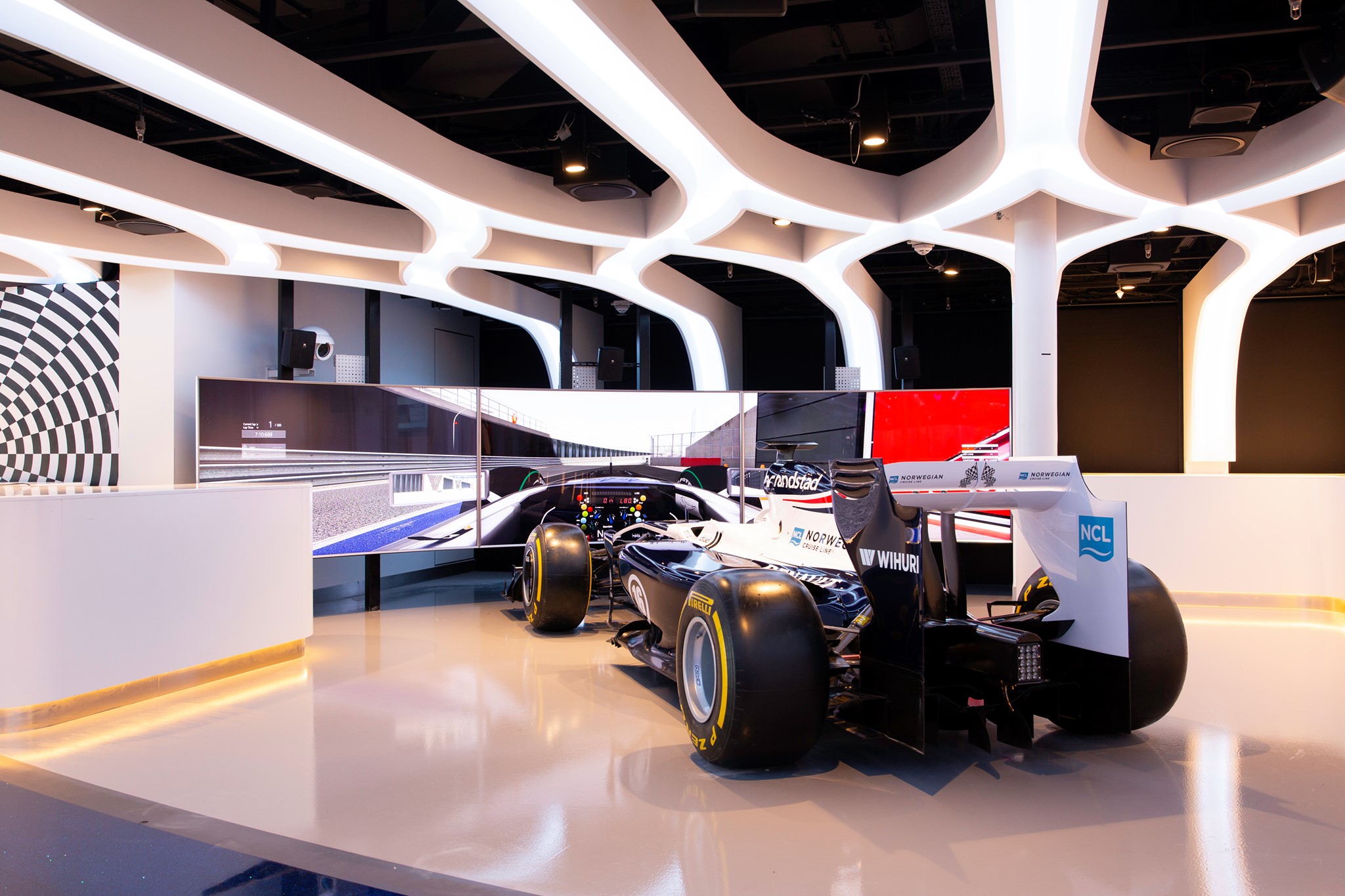 For most of us, the only time we can drive in a vehicle at high speed is when we get onto the freeway or have an opportunity to take part in a track day. But the majority of people will never get the chance to see what it's like in the fastest race cars on the planet. Sure, we can get a sense of it through video games, but that's far from being like the real thing.
Norwegian Cruise Line realized that a lot of their customers would love an unusual experience like this, so they commissioned a specialist simulation company to build a Formula One simulator for their ship, the Norwegian Joy.
This isn't just a basic game of talk about, but the type of simulator that professional drivers practice in, and it took a huge amount of research and investment to develop.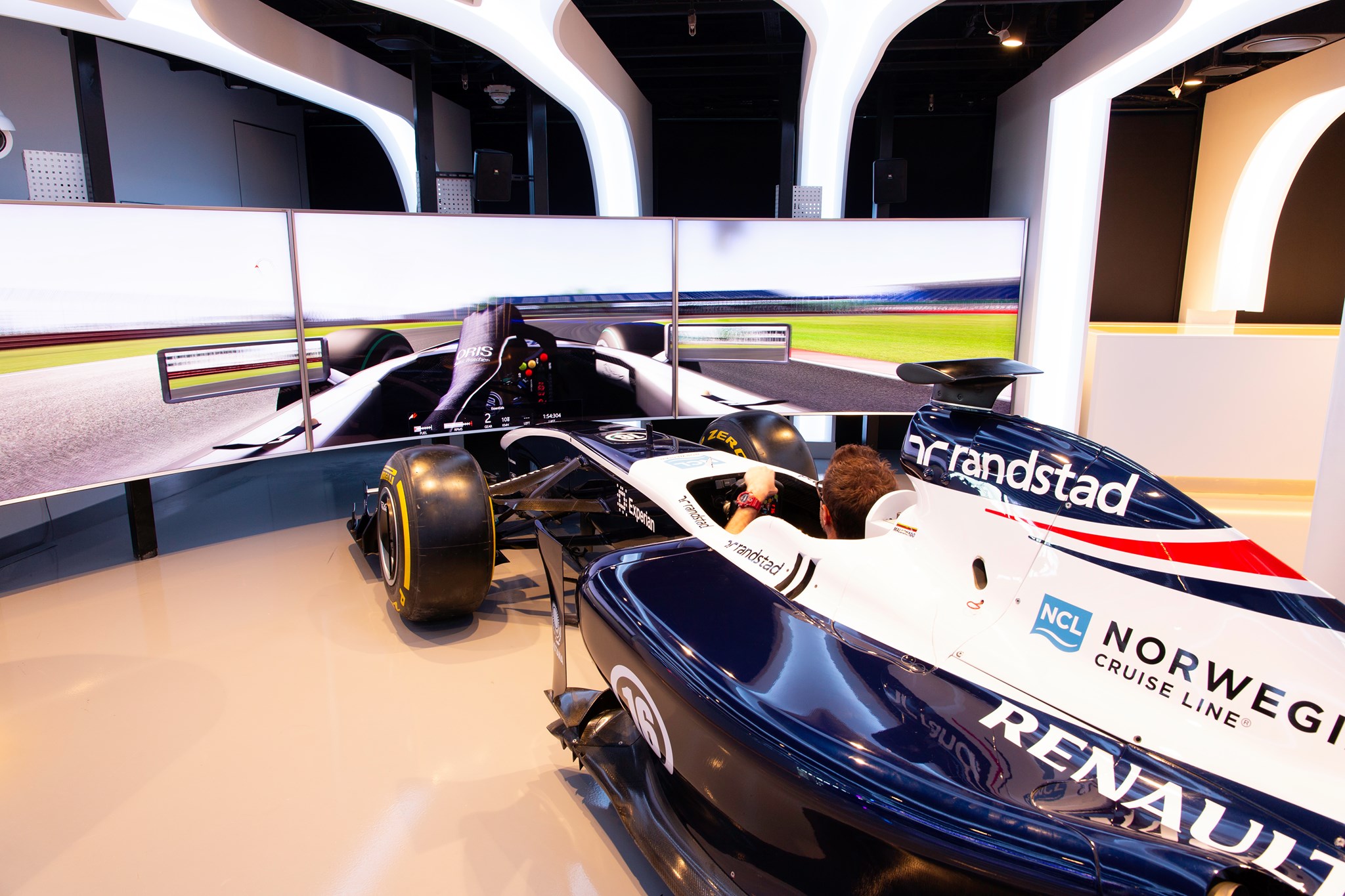 They began by purchasing a Williams FW31, which was the exact vehicle that Nico Rosberg drove in the 2009 championship. It was converted over eight months to mounted on a frame that simulates the forces involved.
Along with a fully functional force feedback steering wheel, pedals that can be adjusted for the user's height, a full suite of surround sound speakers and a 235 inch screen that's made up of twenty four point nine million pixels.
Custom software projects faithfully recreated Formula One tracks onto the display, and it was all done in collaboration with the engineers from the Williams Formula One team to ensure it's as lifelike as possible.
1. Indoor skydiving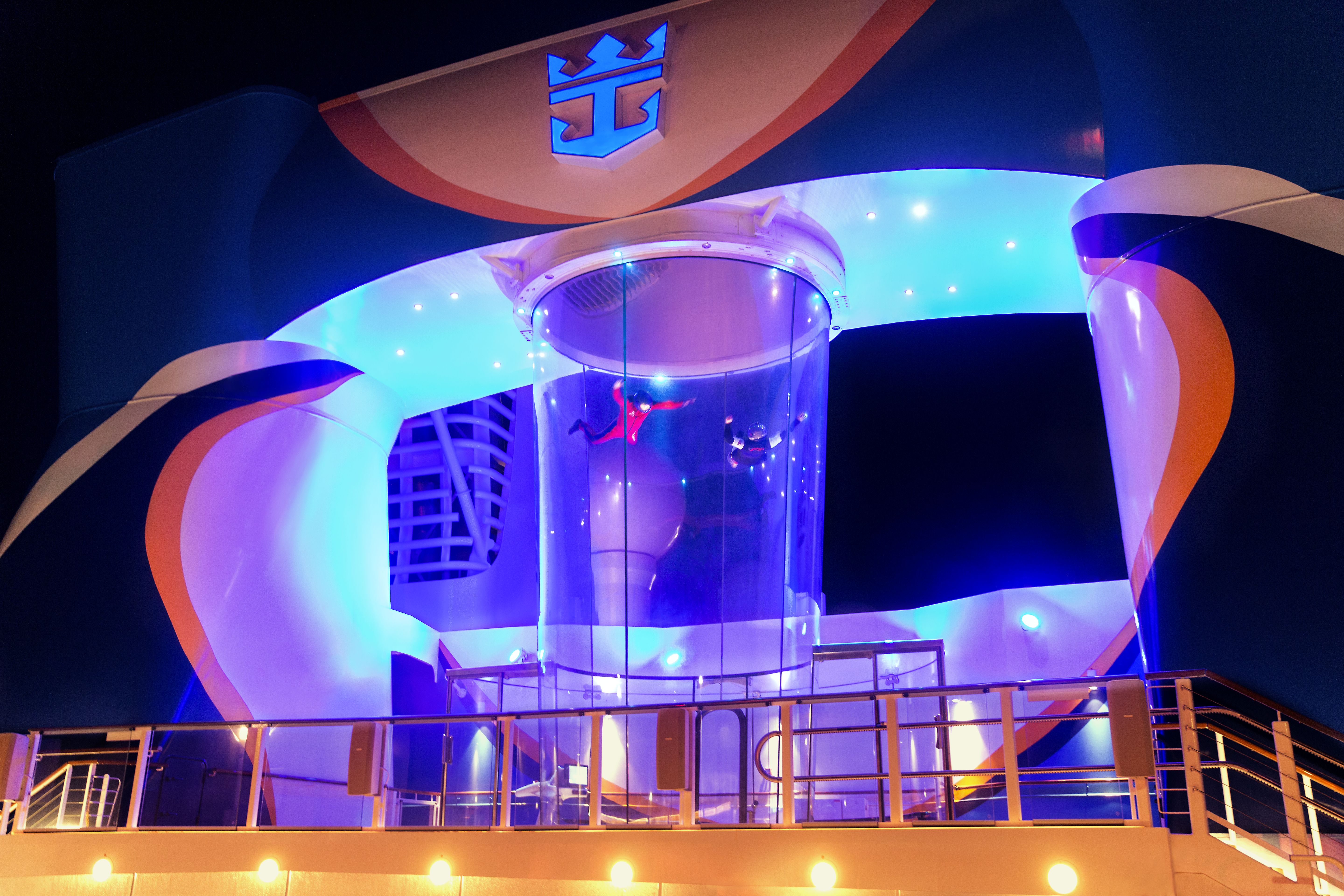 Skydiving is the most popular extreme sport around the world, but not everyone's able to jump out of a plane and plummet down towards the ground with only a parachute to slow down their descent.
In recent years, this has led to the development of indoor skydive centers, which make use of powerful system of fans to create an updraft. So anyone who walks out across it will be lifted into the air.
This is as close to the sensation of skydiving as you can get without doing the real thing. The venues have become increasingly common, so much so that you'll even find them in some shopping malls. They do, however, use a huge amount of power and involve some heavy machinery.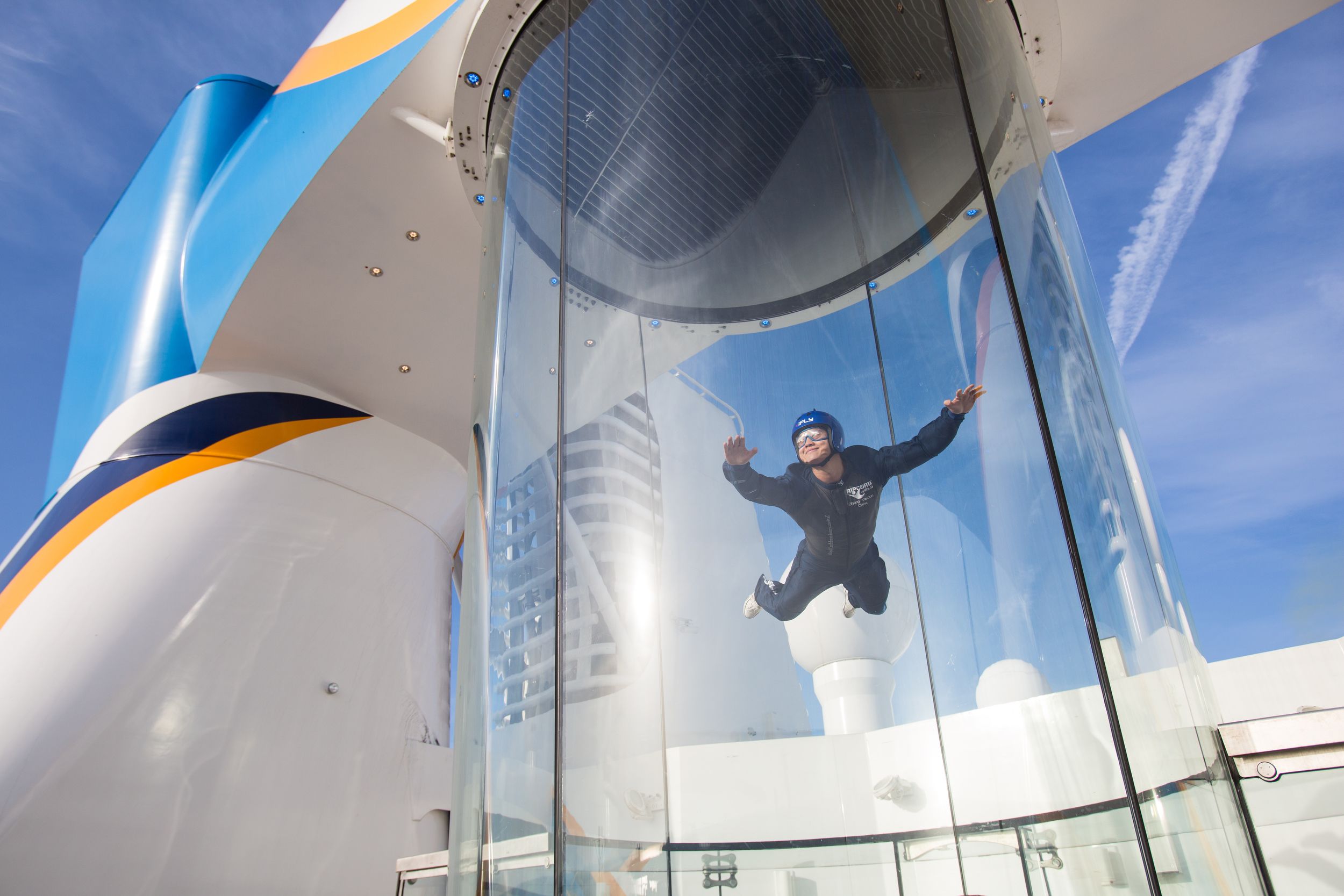 So it was a serious feat of engineering when Royal Caribbean announced the inclusion of an indoor skydiving facility on each of its Quantum class ships.
Done in partnership with Ripcord by iFly, guests are given flight suits, goggles and helmets and are taken through the same training process that those going on a real skydive would.
Sessions are done with groups of 10, and once everyone has had their safety briefing and instructed on how to make the most of the experience, they're invited to take their 60 second turn above the fans.
It's simple to get going, and most people, by the end of it, are ready to try and start performing a few tricks of their own.
Feeling like you're falling from a plane is probably the last thing you'd expect to experience while on a cruise, but anything's possible, especially now. Companies have become so competitive trying to convince customers to go with them.