Oh-dark-thirty wakeup calls, malfunctioning ride share apps, and flight delays are not how I prefer to start my trips, but sometimes you have to work to earn your cruise. Today was one of those days. 
At 6:15 a.m., my Uber app refused to book a trip. At 6:30 a.m., Lyft kept replacing one driver with another, pushing back my pickup time. The security line at Dulles airport was long, slow, and not socially distanced, and I regretted letting my TSA Pre-Check expire during the pandemic. And did I mention the weather system in Fort Lauderdale that caused my plane to spend an extra half an hour on the runway waiting for the green light to takeoff? Yeah, it was that kind of morning.
On the bright side, no one sat in the middle seat next to me, and my luggage was already on the conveyer belt when I arrived at baggage claim in Fort Lauderdale.
But all was well because I had arrived in Florida with plenty of time to board Rotterdam, Holland America's newest cruise ship and my home for the next five nights.
Embarkation
Image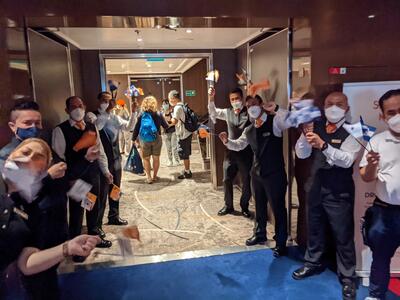 I'm sailing on the maiden voyage of Holland America's new Rotterdam from Florida, so I wasn't expecting an empty ship. Unlike my previous cruise, I was not asked to schedule a specific arrival time, and I never even asked what time boarding started. When I arrived, the unloading area was bustling with activity, but not crowded. 
Inside the terminal, I saw other guests but never had to wait in line. Stop one was the Covid document check, stop two was security, and stop three was the boarding pass scan and security photo taking. Other than juggling all my paperwork for which I needed more hands, the check-in process was quick and painless, without even a temperature scan. My key card would be waiting for me onboard.
The welcome aboard Rotterdam was the one I was hoping for and never received on my previous cruise on Carnival Pride. I stepped onto the ship to a double line of crew members waving flags and cheering as I sashayed through their ranks to the elevator banks. The warm welcome made up for the rough morning.
Even better, I could head straight to my cabin to dump my bags. Despite gray skies and rain, the day was looking up.
Balcony cabin
Image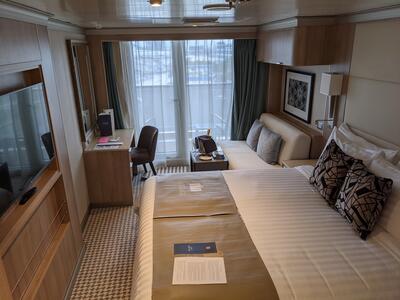 My room steward Ukiss (I'll remember that name!) greeted me in the hallway and let me into my cabin. The cabin feels modern with a neutral color scheme accented by geometric prints. The loveseat is comfy with soft pillows, and I like the abundance of quiet-closing drawers and shelves in the main cabin. Bathrobes, beach towels, throw blankets, and a large umbrella are stashed in the cabin for your use during the cruise.
Image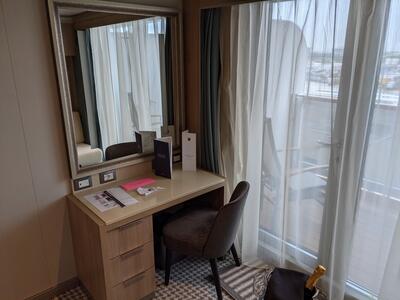 Rotterdam is ready for modern-day travelers. The desk area has three U.S. outlets, two European outlets, and a USB port. An additional USB port and U.S. outlet are located on either side of the bed. I won't have to plug in my phone across the room at night, and roommates won't have to fight about when they can each charge their laptop or tablet.
The bathroom has a stall shower with glass doors and a foot rest for shaving, and is plenty roomy. On the other hand, the storage space is minimal; I barely have enough shelf room for all my toiletries, and I'm not sharing the cabin with anyone. Soap and lotion by the sink and shampoo, conditioner, and shower gel in the shower come in dispensers – no bars of soap or travel-sized take-home bottles here. 
Image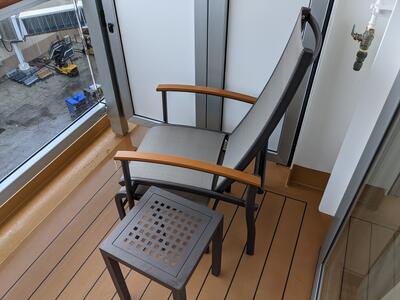 The balcony has two upright chairs with a bit of a recline and foot rests, so you can lean back and pretend you have a lounge chair, and a square drinks table that could hold a room service tray. I can't wait to try it out when the sun returns.
Exploring the ship
Image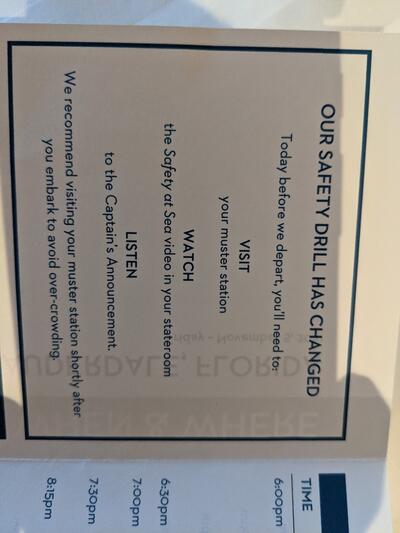 I was ready to explore the ship – but safety comes first! Holland America has a new three-part muster drill, which puts the "brief" in "safety briefing." First, visit your indoors muster station to scan your key card. Second, watch a safety video in your cabin; you can multitask and do this while unpacking. Third, listen to the captain talk about safety over the P.A. system before sailaway. I happened to be in my room when he started talking, but you might be relaxing by the pool or at the bar.
With this new drill, you can work in the muster around your schedule, and you skip all the standing around and waiting for the slowpokes in your muster station to finally show up. You can also pay as little or as much attention as you like to the announcements, and no one will know.
Image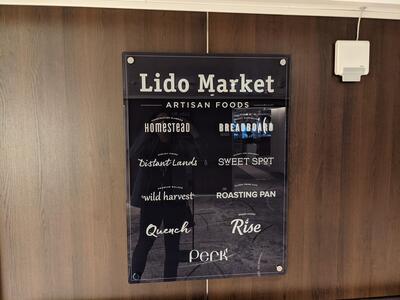 By this time, it was past 2 pm, and I was hungry for lunch. The main dining room had already closed, so I headed up to the Lido Market on Deck 9 for a buffet lunch.  Rotterdam's Lido is composed of several food stations, including Homestead (hot lunch), Distant Lands (international cuisine, with made-to-order stir-fry), Roasting Pan (meat carving station), and Breadboard (sandwiches). The Sweet Spot has a mix of baked goods and ice cream.
Image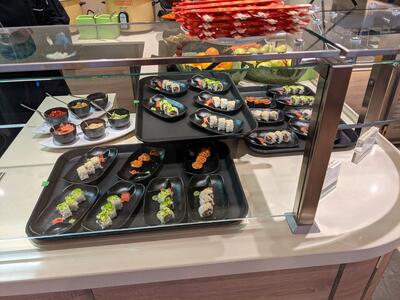 Image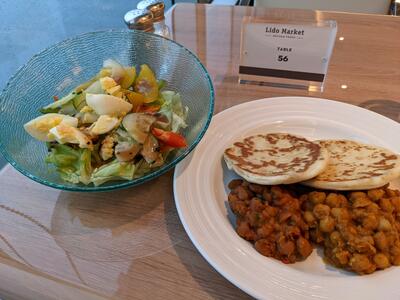 I love Holland America's Wild Harvest build-your-own-salad station, but I also wanted to try the Indian chickpeas and the vegan chili at Homestead. When it's vacation, you don't have to choose, so I stopped by both stations to pick up my lunch. I didn't love the chili, but the chickpeas were delicious. I skipped dessert, figuring I would want a snack later on.
Image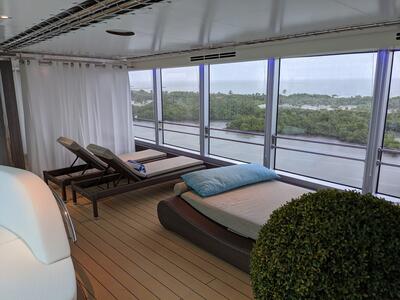 The rain was coming down pretty good, and I wasn't sure I'd be able to check out the pool deck. Turns out it wasn't a problem because Rotterdam has a retractable roof over its midship pool. The Lido becomes a solarium when the weather is bad, so I was able to admire the beautiful pool and hot tubs. The deck above is filled with daybeds and padded lounge chairs, sectioned off with privacy curtains, and I hope to veg out in the sun here later in the cruise.
Image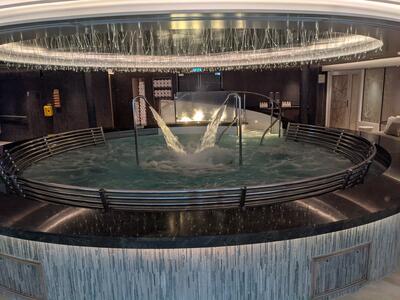 I took a tour of the spa, which has a thermal suite with a therapy pool and heated loungers, as well as various saunas and steam rooms. I could be tempted to purchase a day pass for $40 and relax in there. I even got a sampler massage where the therapist demonstrated the herbal poultice and hot stones and worked some knots out of my neck and upper back for a few, blissful minutes. It was a terrific advertisement for the spa treatments, but as I did not win a spa credit at the raffle, I'm not sure a hot stone massage is in my future this cruise.
Fast forward to 5 p.m. Sailaway was delayed due to late deliveries, and I needed a snack before my 8 p.m. dinner. I dropped by New York Deli and Pizza on the upper-level of the pool area, which was listed as open, but the servers there were no longer offering pizza by the slice. Disappointed, I decided to check out the Grand Dutch Cafe.
The cafe overlooks the atrium and its spiral sculpture, with seating along the walkway for people watchers, as well as in a separate room with large windows overlooking the sea. The color scheme is Delft blue and white (like the famous Dutch pottery), and the shapes of the menu display and hallway design resembles the row houses of Amsterdam.
Image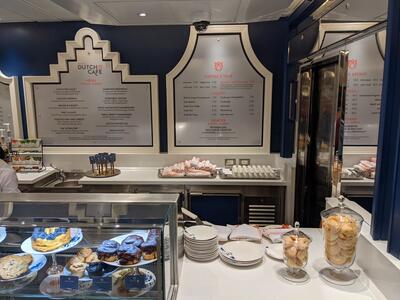 Image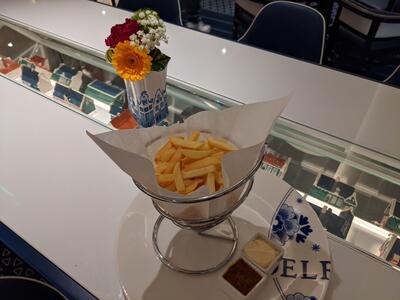 The Grand Dutch Cafe is technically an extra-fee coffee shop that also sells European beer and liquor. But it also has complimentary food items, some ready-made in a case and others that you order. I chose a chococlate chip cookie and an order of Friet & Mayo (French Fries that come with mayo and a peanut sauce for dipping). The peanut sauce was so yummy that I probably ate more French fries than I meant to before dinner! Next time, I might try the pancakes or mini cheese souffles.
Image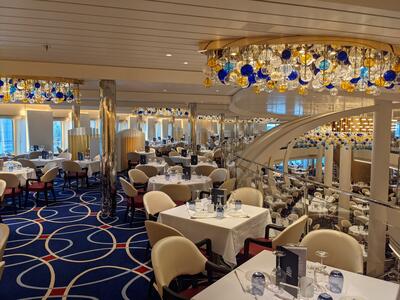 I ate dinner in gorgeous main dining room, which is also designed in blue and white with eye-catching lights made of blue, white, and yellow glass balls. My dinner wasn't especially noteworthy, the salad and vegetarian moussaka were tasty, and the waiter suggested a banana crumble dessert which had a delicious topping and did not appear to be on the menu.
Image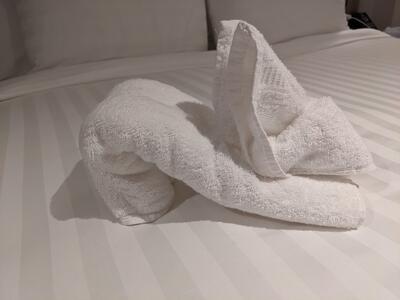 The towel animal waiting for me looked like some kind of unidentifiable rodent that clearly needed some eyes to make it come alive. We'll see if the Holland America room stewards have learned a thing or two from their Carnival counterparts and if the animals improve over the course of the sailing.
Tomorrow, I explore Bimini for the first time. Check back to see if I can find some fun in the Bahamas!