Celebrity Cruises has completely redefined the cruise ship experience with the design, style, and amenities in the introduction of its new Edge series ships.
With the launch of Edge and Apex, guests are treated to beautiful versatile spaces, award-winning cuisine and service across 29 venues.  
With a variety of international destinations, Celebrity is currently offering some great promotions that include free wi-fi and drinks, making it the ideal time to look at their current itineraries.
Although similar in design and offerings there are some differences between the Edge and Apex.
Overview of Edge Series
Image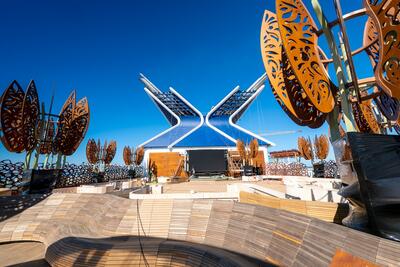 Considered mid-sized ships by today's standards, the Edge class focuses on an upscale experience, highlighted by a new outward facing design that features upgraded cabins and amenities like a 7000 square foot resort deck with a garden.
Infinite veranda rooms use the newest technology to allow passengers to open up their cabins for full access to the veranda, making the room bigger and better able to capture the full ocean experience.
One of the most unique features of this series is the Magic Carpet, a brightly colored cantilevered platform on the starboard side of the ship. Able to travel 13 decks, it is a floating, open air venue for a variety of dining/lounge events. It also serves to streamline the tendering process, where required.
Celebrity Edge
Image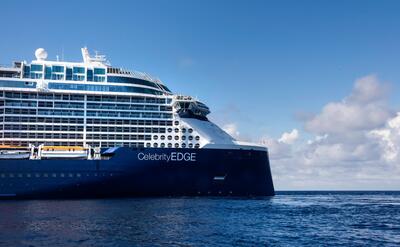 Homeport: Fort Lauderdale, Florida, Barcelona, Spain, Rome, Italy, Sydney, Australia, Singapore, and Dubai, United Arab Emirates
Ports: Caribbean, Panama Canal, Central and South America, Mediterranean, Transatlantic, Middle East, South Pacific and Asia. 
Launched in December 2018, Edge has a maximum capacity of 3385 passengers and 1320 crew. It offers a wide selection of itineraries ranging from 4-14 days to several international destinations.
Dining
Image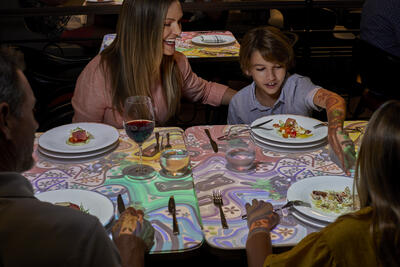 Their award wining dining options start with a new twist on the main dining room experience. Unlike most cruise ships, Edge has four separate main venues which feature new American, contemporary French, Mediterranean (Greek) and Tuscan cuisine.
Also included are casual eateries such as the Eden Café for daytime meals, the main buffet Oceanview Café, Mast Grill poolside and the Spa Café for a lighter meal.
Specialty dining venues include a steakhouse, bistro, seafood, sushi, open air Eden and Rooftop Garden Grill. Truly novel is Le Petit Chef, an inventive dining /entertainment event.
Beverages
Image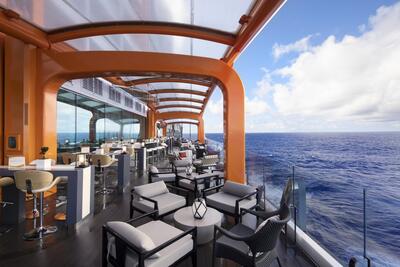 The three story Italian inspired Grand Plaza, hosts a number of lounges including The Martini Bar. Making cocktails is serious business on Edge, and is part theatre as well as science. The ship also boasts an award winning selection of wine and beer.
Whether it be in the casino, poolside, or the Sunset Bar, there are lots of places to indulge, relax, or dance the night away among the ship's 11 lounges and bars.
Amenities on the Edge include:
3 pools, including one adult only and spa

4 hot tubs

Adult only solarium with pool

Live shows – A Hot Summer's Night Dream, Colors of Life

Live entertainment (guitar, jazz, latin)

Casino

Karaoke

Movies

Activities like basketball, mini put, archery

Kids and youth programs

Spa

Fitness Centre – gym and classes

Luxury Shopping – Tiffany, Cartier

Enhanced suite area with dedicated sun deck /pool, lounge and restaurant
Why pick Celebrity Edge?
Image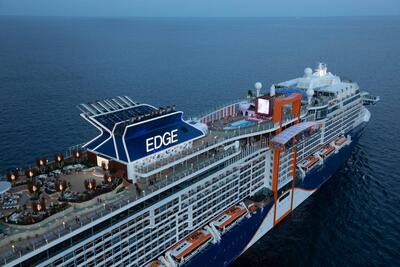 Edge has won a number of awards since its debut and still offers fresh appeal. It homeports in a number of locations, providing easier access to travelers in different regions around the world.
For those looking (especially adults) for upscale dining and an innovative approach to entertainment, this is the perfect ship with 29 diverse food and beverage options.
It has a ton of incredible itineraries that will appeal to cruisers wanting to try something more unusual. A voyage to the South Pacific, with a stop in Mystery Island, Vanuatu, an Australian Wine tour or a 14 day Suez Canal cruise are some of its impressive choices.
Celebrity Apex
Image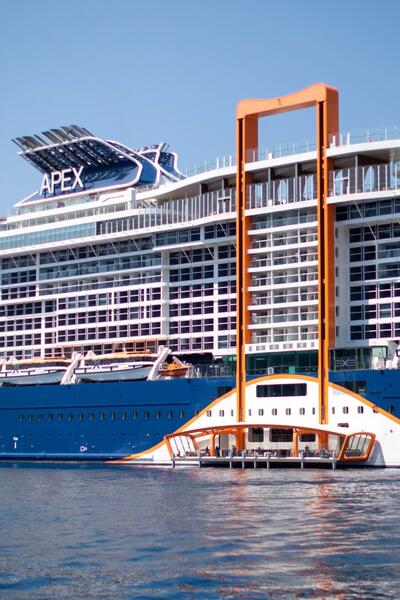 Homeport: Fort Lauderdale, Florida, Amsterdam, Netherlands, Athens, Greece, Rome, Italy, Barcelona, Spain
Ports: UK, Northern Europe, Russia, Mediterranean, Caribbean, Middle East, Transatlantic
With its official launch in 2021, Apex has the same ship design, tonnage and passenger capacity as Edge with 3385 passengers and 1320 crew. It will sail internationally on 5-14 days. It includes the same amenities such as pools, sun, decks, spa and casino.
What's different on Apex?
Image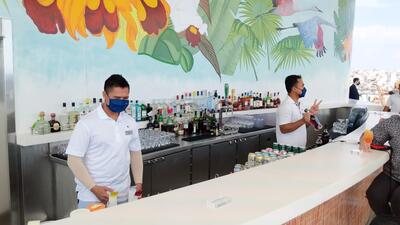 Dining and Beverages
On Apex, The Casino Bar has been changed to Craft Social, a sports bar that offers 40 plus handcrafted beers along with elevated pub food like truffle fries and mac'n brie. Word has it they even have a stout that goes for $495 a bottle, although it's not on the posted menu.
Eden, the open garden themed venue, features a new menu with offerings such as fish, meat and pasta. Food is nicely paired with  7 new cocktails to go with each night's show "Wonder at Eden".   
New Amenities / Activities:
There are new shows Rockumentary, Crystallize and Tree of Life

The theatre has been upgraded with 110 foot curved 4K LED screens

Enhanced gym and spa with additional space and programs

Addition of exclusive Mont Blanc Store
Price and Itineraries
Image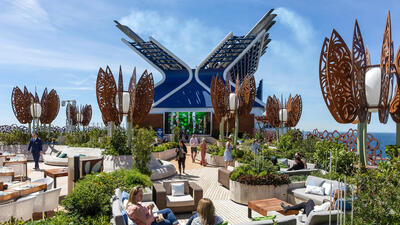 A new ship can charge a premium due to increased customer demand. On similar itineraries and sailings, Apex is charging slightly higher rates for the same room categories. Costs range from a little as $20 per person to $500.
While Apex and Edge do overlap in some regions, Apex will be completing more Northern European itineraries, including the UK. Scandinavia and Russia.
Why pick Apex?
Image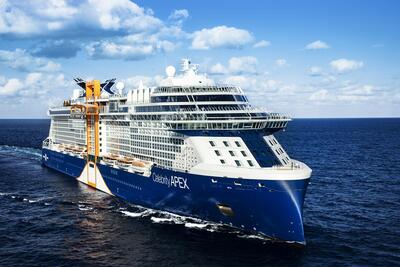 For cruisers who want to try the latest and greatest, Apex is the ship to try in this class.
It continues to provide top-notch service, a wide array of restaurants and bars, new shows and some enhancements from the Edge.
Apex has a wide variety of interesting itineraries, with a lot sailing in Northern Europe. The historic castles of the British Isles, northern delights like Iceland, and scenic fjords will entice cruisers.