Today, Celebrity Cruises announced the launch of the All-Inclusive Photo Project (AIPP), a trailblazing initiative to help transform travel media. This ground-breaking project seeks to better reflect diverse groups that are not sufficiently represented in current travel imagery.
Celebrity Cruises President and CEO Lisa Lutoff-Perlo commented: "We want our marketing - as with everything we do as a cruise line -  to represent how the world looks, and what we experience on our ships daily, as guests and crew from all walks of life work and play together to create a really special onboard environment."
The collection of photos will be the first ever diversity focused open source image library featuring groups such as minorities, people with disabilities, plus size, and LGBTQ+ (Lesbian, Gay, Bisexual, Trans and Queer). The AIPP collection will be launched in April with a dedicated brand advertising campaign.
Working with world acclaimed photographer Annie Leibovitz, and other leading artistic changemakers, the project is an exciting new path forward in Celebrity's ongoing commitment to improve diversity and inclusivity.
Creative contributors
Image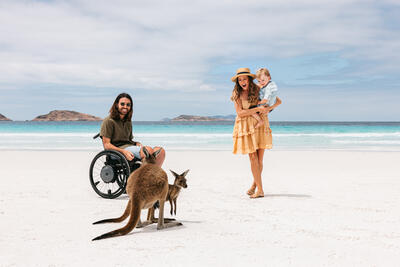 Leibowitz has photographed everyone from John Lennon to the Obamas and has too many accolades, awards and accomplishments to list. Her creative genius has made her highly sought after by top magazines and celebrities, but she also uses her immense talent to help break down barriers and effect social change. For this project, she is collaborating with other well known photographers, including:
Giles Duley, an English documentary photographer who has worked with leading charities including Save the Children and United Nations refugee agency. While working in Afghanistan, he was injured by an IED, becoming a triple amputee.
Naima Green is a Black and queer New York-based photographer, artist and lecturer in Photography at Smith College. Her award winning work has been shown extensively. A passionate educator, Green has both a Masters in Fine Arts in Advanced Photographic Studies and a Masters in Art and Art Education.
Jarrad Seng is a multi-talented artist, photographer, filmmaker, and podcast host, working with leading organizations such as National Geographic and Canon. The self-described adventurer successfully battled to be one of the final contestants on the hit reality show Survivor (Australia). He works out of Australia and is of Malaysian-Chinese descent.
Inclusive Imagery
Image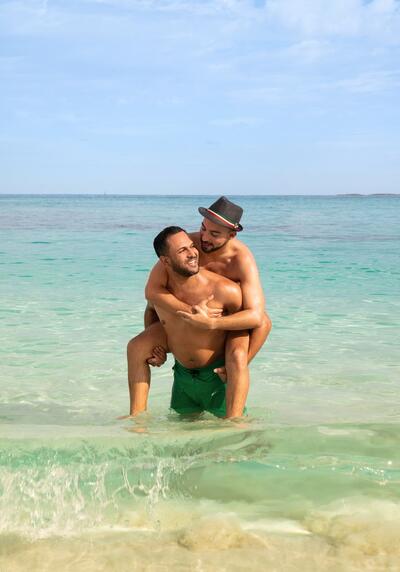 Celebrity released the first glimpses of the images, which feature diverse groups of people, ones we do not typically see in marketing materials.
Leibowitz's signature use of color, light and her ability to capture her subject's uniqueness shines brightly in these photos. The portfolio has both touches of Hollywood glamour and a relaxed vacation feel. The images were shot on location in Spain, Florida, the Bahamas, St. Thomas and Western Australia and feature models, musicians, athletes, artists, activists and refugees
Image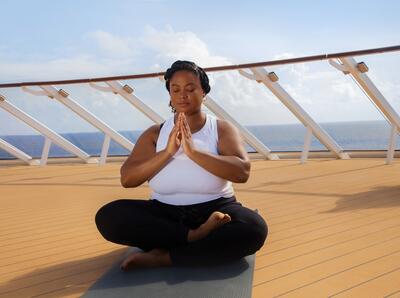 Lutoff-Perlo describes the work: "What Annie and all of the talented artists involved in this project have captured so beautifully, is that for vacations to really live up to the marketing moniker 'all-inclusive,' then they should start by using images that are inclusive of all, not just a few."
Access
Image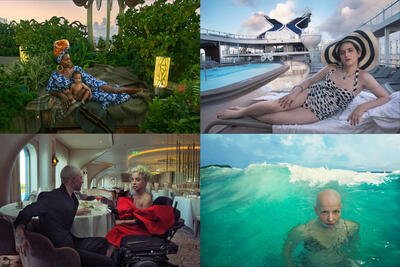 Celebrity Cruises will make dozens of the images available through its open source online library for other travel companies. Something long overdue in the industry. For years critics have complained about the lack of diversity and realistic representations of society in media.
The company's own research confirms this, noting that almost 2/3 or 63% of participants believe that the travel industry needs to better represent diverse groups in their marketing materials. Those from the black community, LGBTQ+ community and those with a disability were amongst the most noticeably absent.
Travel businesses large and small will benefit from this open resource. No doubt, it will be welcome by many who want to enrich their brand and media presence by showing travelers that reflect the realities of their customer base.  
Business that makes sense
Image
Not only is the initiative the right thing to do, it makes a lot of business sense. As demographics change and Generation Z and Millennials become a greater portion of a competitive travel marketplace, the imagery needs to reflect the broader openness and diversity of these groups.
With open source media even small businesses can have better access to high quality photos that better represent their clients.
As Michael Scheiner, Celebrity Cruises' Chief Marketing Officer, describes it: "By leveraging our collective travel industry might, we can begin to make travel marketing truly all-inclusive".
Celebrity Cruises - Diversity and Inclusion
Image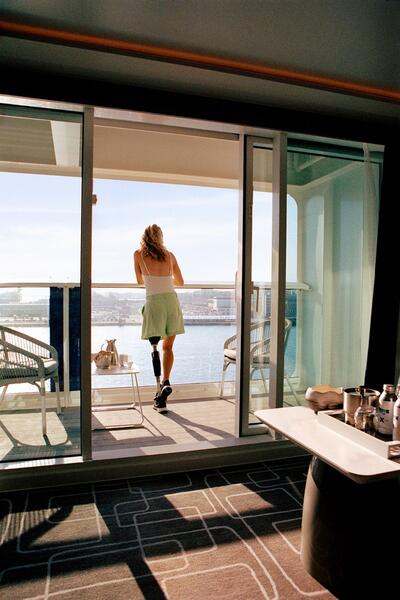 This type of initiative is not uncharted territory for the upscale cruise line, which has been a significant supporter of diversity and inclusion for years. Celebrity has pushed boundaries by re-imagining what a cruise ship can be and how it can be used. Now, the company is applying its innovative philosophy for a broader purpose.
Even the company's core values highlight the importance of this cause, citing: "we connect through our similarities, but we learn the most from our differences. We bring together different cultures, experiences and people to open up the world for everyone".
Amongst the first to do same sex marriages, and openly welcome diverse groups, Celebrity has been recognized with numerous awards, including the 2019 Best Onboard LGBTQ Gatherings, 2019 Best Large Ship Cruise line for LGBTQ Passengers and 2020 Gold Award for Best Cruise Line for LGBTG Passengers.
Gender Equality
Image
Notably, Celebrity is an industry leader in advocating gender quality. The maritime sector is known to be predominantly male-dominated, but 32% of Celebrity's bridge officers are women, compared to an average of 2% in the industry. 
Not only does the company have a female CEO, Lisa Lutoff-Perlo, but was the first to promote an American captain at Sea, Captain Kate McCue. She will be in charge of the company's newest ship, Celebrity Beyond, which is set to debut on April 27th of this year.
The cruise line celebrates International Women's Day with high profile events that recognize its all female bridge on its award-winning Celebrity Edge. This year, they honored the day by changing all of the logos to XX on its social media.