Princess Cruise Line launched its newest ship, Discovery Princess, from the Port of Los Angeles today. On her maiden voyage, Discovery Princess will be sailing to beautiful ports in the Mexican Riviera. 
Through the end of April, Discovery Princess will continue to sail from Los Angeles to ports in California and Mexico. She will then make her way up the Pacific region to begin offering 7-day sailings to Alaska from Seattle. Discovery Princess will be the newest ship sailing to Alaska this season. 
Discovery Princess will have her traditional naming ceremony celebration in Los Angeles, California on April 29, 2022 before starting her Alaska season.
Image
To commemorate her maiden voyage, Princess President John Padgett welcomed Discovery Princess' first passengers, Michael and Sally Smith, onboard. Both longtime and frequent Princess cruisers, the couple was ecstatic to be welcomed with a special ceremony. 
Padgett shared how the maiden voyage of Discovery Princess symbolizes an important milestone for the cruise line's return to service. At the start of the pandemic, Princess Cruise Line made headlines around the world when its ship, Diamond Princess, had a massive coronavirus outbreak. He said, "Cruising is back and the elegant Discovery Princess showcases the many reasons why travelers should take a cruise now". 
Image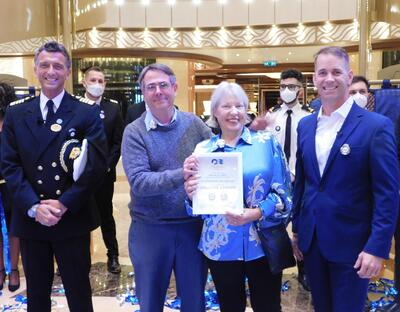 Padgett also recognized and praised the ship's workers who will work tirelessly to ensure a memorable cruise vacation to all those who sail on the beautiful Discovery Princess.
Discovery Princess, which can hold 3,660 passengers at capacity, is the cruise line's 15th ship across its fleet. She utilizes the latest and greatest technology to reduce fuel consumption and overall waste - all part of Princess' environmental compliance efforts.
The snazzy new cruise ship will be the sixth and final cruise ship joining Princess's Royal Class of ships. Discovery Princess is built with the same spectacular style and luxury as her sister ships - Enchanted Princess, Sky Princess, Majestic Princess, Regal Princess and Royal Princess.
With 19 decks and 1,800 cabins, Discovery Princess will continue to offer plenty of innovative experiences for cruisers, including breathtaking views from the largest balconies at sea. Those looking to splurge on a luxurious cruising experience can book one of two Sky Suites onboard Discovery Princess. These rooms not only feature personalized exclusive service, but Sky Suite guests will also enjoy an astonishing 1,000 square foot balcony. This massive balcony, nearly 10 times the size of a standard cruise ship balcony, offers 270-degree views and wraps around the top of the ship. 
Image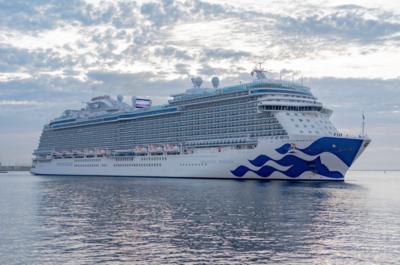 Cruisers can enjoy plenty of relaxation time in Discovery Princess' stunning Sanctuary, which is an ultra-relaxing retreat onboard for adults-only. Discovery Princess will also showcase more pool spaces with 10 hot tubs, an infinity pool and 2 deep-tank pools. 
Discovery Princess is the third ship designed with MedallionClass, which creates a cruise full of personalization and exceptional service. With a simple wristband, guests sailing on Discovery Princess can easily locate loved ones onboard, access their stateroom, and board the ship in an expedited manner. The MedallionClass also enables crew members to bring guests whatever they want, wherever they are located, by using this technology.
The elegant Discovery Princess has 25 different dining options onboard that will serve world-class cuisine created by Michelin-star chefs. Discovery Princess has more al fresco options than any other Princess ship. She also features a new live jazz bar called Take Five, a craft cocktail venue and a comedy club. 
Image
Entertainment onboard Discovery Princess is sure to leave guests mesmerized throughout their cruise. Live shows include a new Broadway-style production called Spotlight Bar in the state-of-the-art Princess Theater. 
Cruisers onboard Discovery Princess can stay connected with MedallionNet, which Princess Cruise Line states is the best WiFi at sea. Guests can work remotely anywhere on the ship, stay connected with friends and family back home and easily post content on social media when using MedallionNet.