Founded in 1972, Carnival Cruise Line is celebrating its 50th birthday this year, and will be introducing a new celebration space onboard Carnival Celebration, its newest ship.
Carnival Celebration is set to debut this November 2022. The new venue onboard Carnival Celebration will be called 'The Golden Jubilee'. This new space onboard will consist of a bar and lounge, and its design will highlight Carnival Cruise Line's evolution throughout the last 50 years.
The announcement was made this week at the Seatrade Cruise Global Conference in Miami.
'The Golden Jubilee' will be located on Deck 6 of Carnival Celebration, and will feature artwork and memorabilia from Carnival Cruise Line's previous ships. A unique feature of the space, will be its specialized bar menu. This menu will take guests on a journey through the cruise line's history, as its reminisces while simultaneously looking to the future. The bar will feature a menu with the cruise line's most popular cocktails since 1972. Some of these cocktails include a Harvey Wallbanger and Tom Collings.
Image

(Concept design of The Golden Jubilee)
The president of Carnival Cruise line said about the new venue, "The Golden Jubilee is the ultimate nod to our 50th Birthday - a nostalgic but timeless lounge where our guests can re-live and connect with Carnival's yesteryears while enjoying a glamorous and elegant space that embraces our current Carnival style."
Just some of the design features within 'The Golden Jubilee' will include:
Chairs from TSS Carnival's River Lounge with cocktail tables from Carnival Fascination's Hollywood Boulevard.
Original etched glass from TSS Mardi Gras' casino.
Bronze statue from the debut of Carnival Sensation in 1993, of Carnival Cruise Line founder, Ted Arison, and of Finish shipbuilder Martin Saarikangas.
Hand-drawn sketches blended into the walls and mirrors, showing passengers a look into moments in the cruise line's history, such as Carnival Fascination's naming ceremony.
The promenade onboard Carnival Celebration, just outside 'The Golden Jubilee', will also give guests a look into Carnival Cruise Line's history. Making this venue a true celebration of the Cruise Line's 50 years.
Image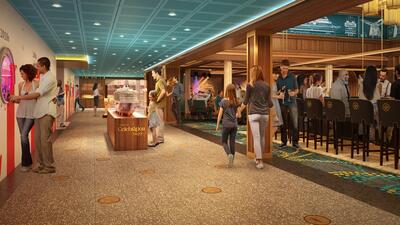 (Concept design of the Promenade outside The Golden Jubilee)
Additionally, Carnival Cruise Line has announced the different zones that passengers will be able to experience while onboard Carnival Celebration. These zones include: 820 Biscayne, Celebration Central, The Ultimate Playground, Summer Landing, and Lido.
Carnival Celebration is set to be Carnival Cruise Line's second vessel to be powered by Liquified Natural Gas (LNG). The ship will also feature a roller coaster for passengers to enjoy onboard.
Image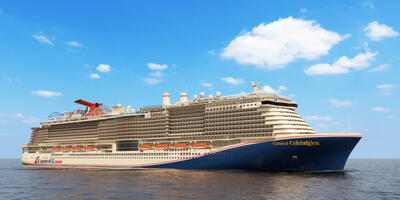 More details on Carnival Cruise Line's newest ship will be revealed in the near future, as the ship prepares for its debut in November 2022. Once completed, Carnival Celebration will set sail on November 21st, for its inaugural cruise from Miami Florida, to the Eastern and Western Caribbean. The ship will be sailing on five-, six-, seven-, and eight- day cruises in the Caribbean.
Carnival Celebration will set sail in November from the newly designed Terminal F at PortMiami. This is Carnival Cruise Line's third terminal in Miami, and the largest that the cruise line currently holds in the south of Florida.