The Disney Wish, Disney Cruise Line's newest and largest ship, has passed its first sailing test after it officially departed from the Meyer Werft Shipyard in Germany, on March 31st.
After almost two years of construction, the Disney Wish sailed from Germany to Eemshaven Netherlands to complete its final series of sailing tests. This journey from the shipyard in Germany, to the Netherlands is known as Ems Conveyance.
Once in the Netherlands, the Wish will undergo a series of complex maneuvers and tests in order to accurately access if the ship is ready for its first passenger voyages.
The Disney Wish undergoing sea trials is the final step before the ship can embark on its scheduled itineraries. These sea trials will test the ship's technical, as well as navigational systems.
Among the technical aspects of the ship that will be tested, are the engines and the propulsion systems. Cruise ships typically undergo multiple sea trials before they are assessed as being ready for passengers. The Wish completing its first sea trial means it is one step closer to embarking on its maiden voyage in July of this year.
Image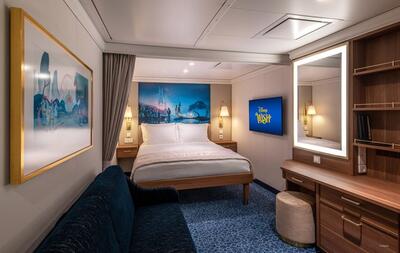 (Disney Wish, Indoor Stateroom)
The maiden voyage of the Wish was previously delayed from June of this year, to July 14th 2022 due to effects the Omnicron COVID-19 variant had on production of the ship in Germany. The Wish is the third cruise ship for Disney created with Meyer Werft, after the Dream and Fantasy.
The Disney Wish's first itineraries will take passengers to the Bahamas, departing from Port Canaveral Florida. These first scheduled voyages will last between three and four days. For the time being, the only location and region the Wish will be sailing is the Bahamas.
Image
The Disney Wish being the largest ship thus far in Disney's fleet measures at 144,000 tons, contains 1,250 staterooms, and is capable of providing for 4,000 guests each sailing. This is slightly larger than the other vessels in the Disney Cruise Line fleet, in terms of how large the ship itself measures.
The Disney Fantasy, the next largest Disney Cruise Line ship is also capable of accommodating nearly 4,000 guests, but measures smaller than the Wish.