If you are going on a Disney Cruise with young kids, you'll probably want to take advantage of all of the family-friendly activities on the ship. From entertaining Broadway-style shows to traditional character interactions, these special Disney touches are the things that make the Disney Cruise Line stand out to families.
There are also other activities available on the ships - sometimes offered at an additional cost. One of these is the Bibbidi Bobbidi Boutique, which originated at Walt Disney World and expanded to additional locations including the Disney Cruise Line.
The Bibbidi Bobbidi Boutique is a special experience for kids, but it can also be expensive. So you'll need to evaluate whether the Bibbidi Bobbidi Boutique is worth it for your family. Read on for our considerations to help you decide.
What is the Bibbidi Bobbidi Boutique and Where Is It?
Image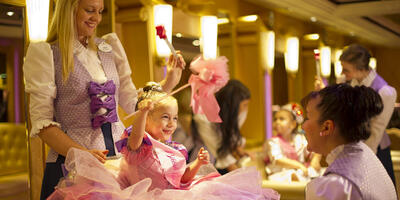 The Bibbidi Bobbidi Boutique is a salon, run by a team of "fairy godmothers". They offer a variety of fairytale transformations, including a knight, princesses, or a ship captain. These transformations typically include hair and makeup as well as a costume, and they are extremely popular among young children. You'll often see kids walking around the ship post-visit, making it even more appealing to kids.
There are currently Bibbidi Bobbidi Boutiques on the Disney Dream, the Disney Fantasy, the Disney Magic, and the Disney Wonder. It's located on Deck 5 on the Fantasy and Dream, and on Deck 10 on the Wonder and Magic. There will also be a location on the brand-new Disney Wish. They accept kids ages 3-12.
Types of Packages and Pricing
Image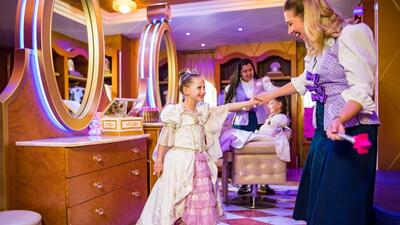 There are several different packages available, depending on the type of transformation you are looking for as well as the number of days you want to visit. These are all at an additional cost to the standard price of your cruise.
Princess packages (which are the most popular) start at $99.95 for hairstyling, face glitter with a gem, a sash, a t-shirt, a cinch sack, and nail polish. For an additional fee, you can upgrade to the Castle Package which includes a princess gown, necklace, and other accessories. There's also a Frozen package, perfect for Elsa and Anna fans.
For a very special experience, there are also multi-day packages where your child can be transformed for 3 days of your cruise. These packages start at $495 and go up to over $1000.
The knight packages are the least expensive at $79.95. They include hairstyling, a costume, accessories, and confetti. There's also the Captain's Package, which includes a Captain Minnie/Mickey plush, a costume, and hairstyling.
Cancellation Policy
After you've booked your child's Bibbidi Bobbidi Boutique appointment, you'll still have the option to cancel if something comes up or if you or your child change your mind. However, a 24-hour cancellation fee applies. If you cancel in less than 24 hours, or no-show, you'll be charged $10 per person.
Is the Bibbidi Bobbidi Boutique Worth It?
Image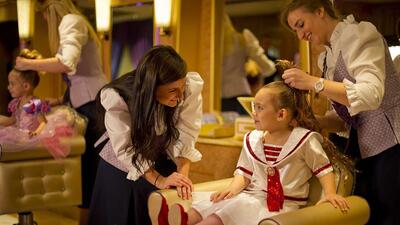 This can be an expensive activity on a ship filled with complimentary, included activities. So you'll really need to evaluate whether the Bibbidi Bobbidi Boutique is worth it.
It is a unique experience and something that kids will always remember. They will also see other kids who have been transformed, and they may make it even more appealing. It's definitely a special thing to do, especially for a birthday or other important occasion.
However, there are some reasons not to do it. The hair/makeup portion of the makeover is a big part of it. If you'll be visiting a beach on your cruise vacation, or if your child likes to go in the pool, on the AquaDuck or AquaDunk, or in the splash area, all of that work will be undone.
Image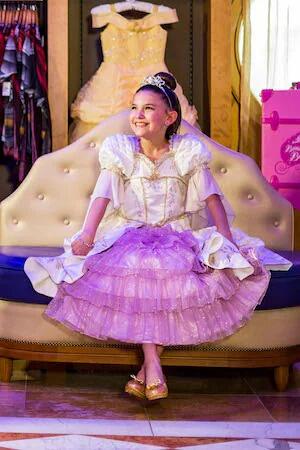 There's also the opportunity cost of spending your limited time on the ship in a salon. If your kids have other things they will want to do on the cruise, they may not want to spend as much time having their hair done.
Ultimately, it's a decision you should make considering the temperament and interests of your child, as well as your plans for your cruise vacation. If you get on board and decide not to do it, remember that you can cancel with at least 24 hours' notice.
How to Make Reservations for the Bibbidi Bobbidi Boutique
Image
Appointments for most Bibbidi Bobbidi Boutique packages can be made online or in the app before your sailing, once you have made your final payment and are in your booking window (based on your Disney Castaway Club level).
Based on availability, you are also able to make reservations once you are onboard. The Royal Sea packages, however, need to be reserved in person, onboard.