As stated on their website, on May 4th 2022, Carnival Cruise Line updated their testing requirements of COVID-19 for passengers aboard their ships.
The Carnival Cruise Line website now states, "except when destination requirements differ, guests who are up to date with their vaccines may take their test within three days prior to sailing. Up to date means a person has received all recommended COVID-19 vaccinations, including any booster dose, when eligible."
"If a guest is fully vaccinated but not up to date with their vaccines (i.e., is eligible for a booster but has not received one), they must take their pre-cruise COVID-19 test within two days prior to sailing", states Carnival Cruise Line.
Image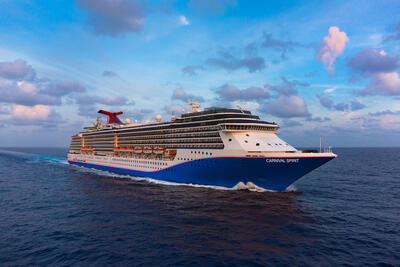 The cruise line has additionally laid out specific requirements on their website for passengers visiting the destinations of either Bermuda or Canada, with Carnival Cruise Line. This is a change from the cruise line's previous testing requirements. Prior to May 4, 2022, the Carnival Cruise Line detailed the following requirements to guests visiting Canada, but have since added these requirements for guests visiting Bermuda.
"Fully vaccinated guests traveling to Bermuda and Canada, including those who are up to date with their vaccines, can take either a PCR test between 72 and 24 hours prior to sailing, or an antigen pre-cruise test no earlier than two days prior to sailing, in order to comply with CDC and destination regulations", stated Carnival Cruise Line on their website.
Currently Carnival Cruise Line is requiring all of its guests to be both fully vaccinated before cruising, as well as requiring that each passenger provides proof of a negative COVID-19 test result before boarding a Carnival Cruise Line vessel.
Image
Prior to this most recent update, Carnival Cruise Line required that guests be both vaccinated and receive a booster against COVID-19 in order to sail on specific itineraries. Those itineraries included:
Carnival Pride Transatlantic (set sail April 24, 2022)
Carnival Pride Barcelona (to set sail May 8, May 19, May 29, 2022)
Carnival Splendor 23-day Carnival Journey ( to set sail September 6, 2022)
The Carnival Cruise Line website, as of May 4, 2022, no longer states that guests traveling on these specific itineraries must be both vaccinated and boosted. Instead Carnival Cruise Line has stated that guests must be vaccinated in order to sail with the cruise line, but that if a passenger has not received a booster against COVID-19, the COVID-19 testing requirements will be different.
Image
Guests who are both fully vaccinated, including having received a COVID-19 booster, must take a COVID-19 test three days before sailing.
Guests who are vaccinated but have not received a booster must take their COVID-19 test two days before sailing with Carnival Cruise Line.
Passengers of Carnival Cruise Line can find further details regarding the cruise line's COVID-19 protocols here.