Cruising continues to be a popular vacation choice because it appeals to families, couples and solo cruisers alike. There's no doubt that you can find something for everyone to enjoy when you cruise!
However, some of the most popular cruise lines cater to families, including Carnival Cruise Line, Royal Caribbean and Norwegian Cruise Line. In fact, these cruise lines are building brand new ships with more and more onboard thrills - like rollercoasters, waterslides, trampolines, go karts, skydiving simulators, bumper cars and zip lines. 
Because so many people choose to cruise together as a family, there can be plenty of kids and teenagers running around a cruise ship. This is especially true if you sail during the summer or holiday breaks when kids are out of school. 
Image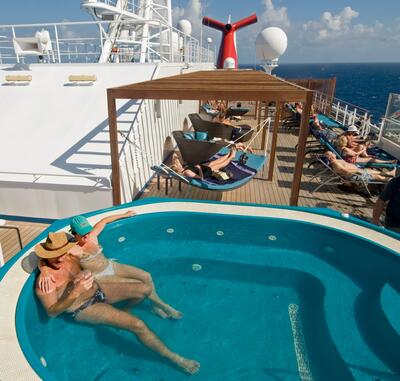 Needless to say, dodging kids while you navigate the pool deck (drink in hand, of course) might not be everyone's idea of the perfect vacation. 
While empty nesters or couples without children can choose to sail on an adults-only cruise line, these are tend to have a more formal atmosphere and sail onboard smaller cruise ships. Cruise lines like Viking Cruises and the new Virgin Voyages are the most popular adult-only cruise lines, but these also tend to be more expensive than a mainstream cruise line.
Fortunately, nearly all cruise ships have adults-only areas that provide serenity and relaxation opportunities for those needing some peace and quiet.
Whether you're sailing without kids and hoping to find a quiet area - or if you just need some kid-free time to yourself - check out these top 15 adult-only areas on your next cruise. 
1. Royal Caribbean: The Solarium
Image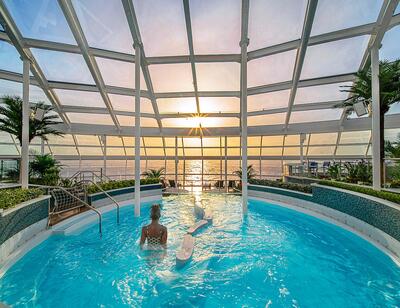 Royal Caribbean is the biggest cruise line in the world, carrying more passengers annually than any other company. Its newest ships have some of the coolest and exciting onboard thrills (like surf simulators, zip-lines, waterslides ). Inevitably, families cruising with Royal Caribbean absolutely love all of the activities available onboard.
Lucky for adults, away from all the noise is Royal Caribbean's famous Solarium, which is an adults-only area that has pools, hot tubs, lounge chairs and daybeds. The biggest ships in Quantum and Oasis class have the largest Solariums in the fleet. These areas rival even the poshest spas with cascading pools, lush greenery and lagoons. 
Image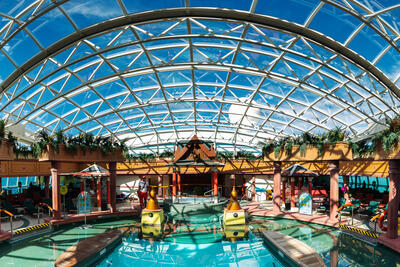 The Solarium is canopied by giant glass panels that keep the area nice and warm, meaning you can feel like you're cruising the Caribbean even when you're sailing through an Alaskan glacier. 
The Solarium is free to access onboard all of Royal Caribbean's cruise ships and only allows cruisers who are 16+ years old. 
2. Princess Cruises: The Sanctuary
Image
Princess Cruises is also known for appealing to cruisers from all generations. Cruisers sailing with Princess Cruises can find the ultimate retreat in The Sanctuary, which is a luxurious and exclusive adults-only area onboard. 
Princess guests can enjoy private cabanas, linen canopies, and plushy loungers in The Sanctuary. Pool attendants called Serenity Stewards greet Sanctuary guests with cold towels and flavored water. Guests can even enjoy noise canceling headphones for a total relaxation experience.  
On Princess' newest cruise ships, guests can even be treated to spa treatments from the Lotus Spa. Deep tissue massage by the pool could be the ultimate relaxation moment you need!
Passes are available for purchase for both half-day and full-day access, starting at $40 for the entire day. The Sanctuary is available on all of Princess' cruise ships except for Ocean Princess and Pacific Princess. 
3. Carnival Cruise Line: Serenity
Image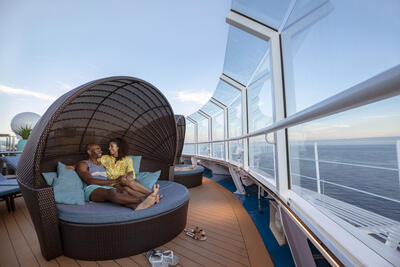 Carnival Cruise Line's fun ships are best known as the party ships, having a very energetic atmosphere onboard. These cruises cater to party people and families looking for a quick getaway. However, those looking to retreat to something a bit quieter will appreciate Carnival Cruise Line's adults-only area called Serenity.
Serenity provides a luxurious escape with loungers, hammocks, hot tubs, pools and a full service bar. This hideaway is full of tranquility and a great place to recharge from the all day fun that you're surely having. Read a book, have a drink or day a siesta during your time in Serenity. 
Serenity requires guests to be 21+ but access is complimentary for all guests. The Serenity is available on all ships except Carnival Conquest and Carnival Sunshine. 
4. Carnival Cruise Line: Cloud 9 Thermal Spa
Image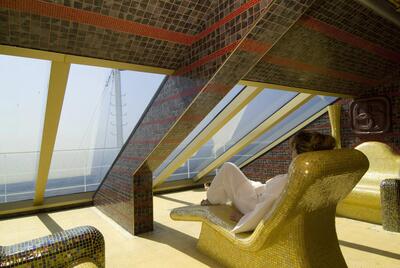 If you are sailing on Carnival Cruise Line and looking for another adult-only area, look no further than the Cloud 9 Thermal Spa. This is the perfect place to relax - with no kids allowed! 
The Cloud 9 Thermal Spa is a wonderful place to rejuvenate and recharge during your Carnival cruise. Multiple zones are dedicated to various thermal treatments. You can also sport a soft-cotton robe during your time in the thermal spa. 
Your worries will float away while you relax in this kid-free area. Daily access for Cloud 9 Thermal Spa starts at $40 with passes available for multi-day visits as well. 
Finish off your perfectly relaxing day at Carnival's adult-only Piano Bar or Blue Iguana Tequila Bar.  
6. Disney Cruise Line: Quiet Cove
Image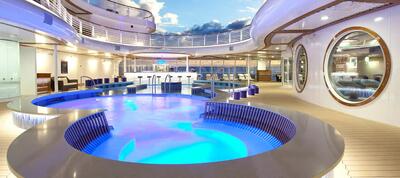 If any cruise line caters to families, it's Disney Cruise Line. This cruise line is best known for its character meet and greets, insanely interactive dinners and stunning Disney-themed shows.
With so much onboard space dedicated to kids, Disney Cruise Line didn't forget to include an adults-only area. The Quiet Cove is an oasis for adult relaxation and features a sleek pool surrounded by lounge chairs. Adults will also appreciate access to Quiet Cove's bar when looking to enjoy a poolside cocktail. 
Best of all, Quiet Cove is complimentary for all guests sailing onboard one of Disney Cruise Line's ships. 
6. Disney Cruise Line: The Satellite Sun Deck
Image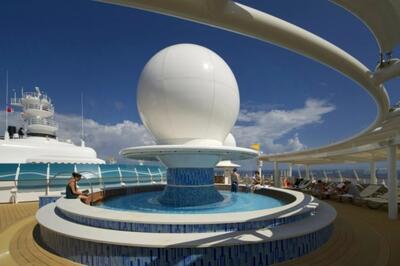 While adults can certainly enjoy Quiet Cove, Disney Cruise Line has an additional adults-only area onboard called Satellite Sun Deck. Located on Deck 13 on Disney Fantasy and Disney Dream, this stunning area is exclusively reserved for adults, requiring guests to be 18 years or older to enjoy. 
The Satellite Sun Deck features a circular splash pool and cascading rain curtain that creates the perfectly calm ambiance of the space. 
Similar to Quiet Cove, the Satellite Sun Deck is free to use for all adults onboard the ship. 
Adults on Disney Cruise Line can also find some serenity in other adult-only areas, including Remy's Restaurant for dinner, The District for cocktails and Serenity Bay on the cruise line's private island, Castaway Cay. 
7. Norwegian Cruise Line: Spice H20
Image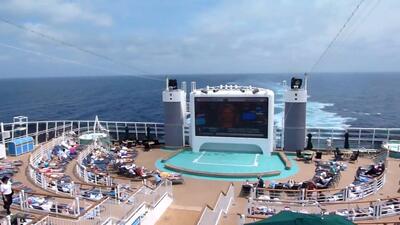 Another family-friendly cruise line is Norwegian Cruise Line, whose newest ships rival the biggest mega ships in the industry. Multi-story entertainment venues and top deck go-karts are sure to be loved by every family member.
But, those looking for an adult-only retreat can enjoy Spice H20, which is an enclave offering daytime leisure and plenty of relaxation. Hot tubs, sun loungers and a huge television screen can be found in Spice H20.
By night, Spice H20 transforms into an Ibiza-style nightclub where guests can dance under the stars, cocktail in hand!
Spice H20 is available for free onboard Norwegian Bliss, Norwegian Joy, Norwegian Escape, Norwegian Getaway, Norwegian Breakaway, Norwegian Epic and Norwegian Star. 
8. Norwegian Cruise Line: Posh and Vibe Beach Club
Image
Norwegian Cruise Line's ships take adults-only relaxation very seriously, as guests can also find the ultimate serenity in Posh and Vibe Beach Club. Adorned with canopies, chaise loungers, plush daybeds, hot tubs and waterfalls, these beach clubs will provide the peace and quiet that adults inevitably need on any vacation. 
Passes are available for purchase and admission is limited, which creates an exclusive and quiet retreat in the sundeck.
A full service bar, fruit skewers and chilled towels are also available for guests enjoying the beach club. 
Image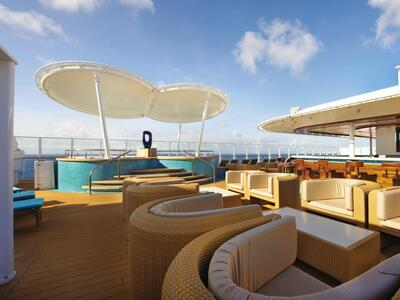 Posh Beach Club can be found on Norwegian Epic while Vibe Beach Club can be found on Norwegian Breakaway, Norwegian Getaway and Norwegian Escape. 
These beach clubs offer day passes starting at $15 while weekly passes can cost around $79. 
9. Celebrity Cruise Line: Resort Deck Solarium
Image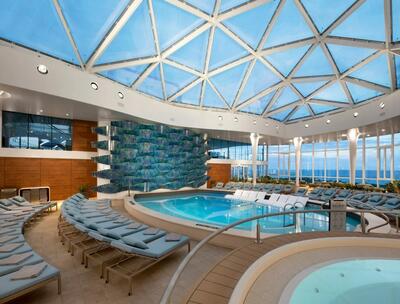 As a sister cruise line to Royal Caribbean, Celebrity cruisers can enjoy access to the Resort Deck Solarium, which is an adults-only pool area where you can recharge. 
The Solarium is one of the most popular spots on any Celebrity Cruise - and for good reason! 
This relaxing space features a glass-dome covered pool and features whirlpools surrounded with sun loungers. Adults can unwind and kick-back with a cocktail from the bar, all while lounging in luxurious style when spending time in the Solarium.
Image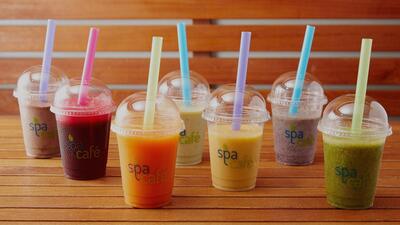 Celebrity's newest cruise ships even incorporate contemporary art that moves with the sea, allowing cruisers to connect with the ocean in new ways. Celebrity Beyond's Solarium is next-level, featuring a Spa Cafe and Juice Bar, offering more opportunities for guests to enjoy themselves in this relaxing space. 
Access to the Resort Deck Solarium is complimentary for Celebrity Cruisers on all of the cruise line's ships. 
10. MSC Cruises: Top 18 Sun Deck and Garden Pool
Image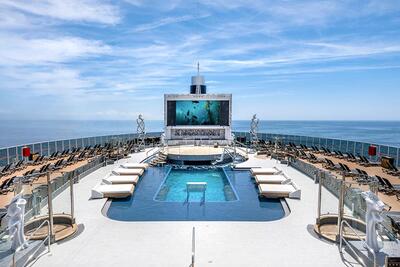 Those seeking a quiet moment in the sun will certainly appreciate MSC's Top 18 Sun Deck area, which is an adults-only deck. This premium space is available for guests to relax and unwind during their cruise with stunning views of the open sea.
With plenty of sun loungers, executive spa service and Tiki bar, this adults-only area is a favorite for MSC cruisers.
Available on MSC Divina, MSC Fantasia, MSC Splendid and MSC Preziosa, guests can enjoy Top 18 complimentary during their cruise.
11. MSC Cruises: The Garden Pool
Image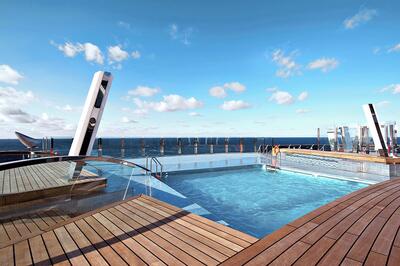 While MSC Cruises has plenty of spaces for adults to relax onboard its cruise ships, the MSC Divina takes relaxation to the next level with its new Garden Pool. 
Located on Deck 15, the Garden Pool features a gorgeous infinity-style pool at the back of the ship. Lounge chairs surround the pool with a cocktail bar not far. This is the perfect place for guests to unwind and have a moment to themselves. 
The Garden Pool is complimentary for guests to use and surely can't be missed. 
Those looking to try something unique can also sign up for an AquaCycling class, which takes place in The Garden Pool. This is a spin on traditional cycling with bikes placed underwater. The views certainly can't be beat!
12. P&O Cruises: The Retreat
Image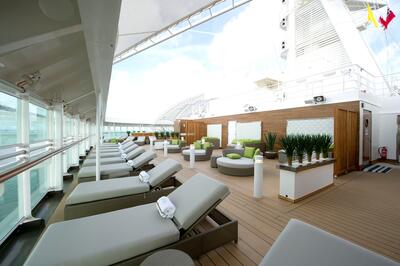 For European cruisers, P&O cruise ships feature an adults-only area called The Retreat. This exclusive area offers cabanas for spa treatments, loungers for sun bathing, whirlpools and even pool butlers to cater to your every need. 
The Retreat is located high on the top deck of P&O's cruise ships and features a private terrace and sun beds. 
Even better, guests who have access to The Retreat can also enjoy a pass to the thermal spa. This is the perfect way to spend a day at sea relaxing. 
It's best to book early for the Retreat, as it can sell out quickly. Passes cannot be pre-booked; rather, guests can purchase passes onboard at Oasis Spa. Those booked in spa cabins will have VIP access to The Retreat. 
13. Costa Cruise: Apollo Pool
Image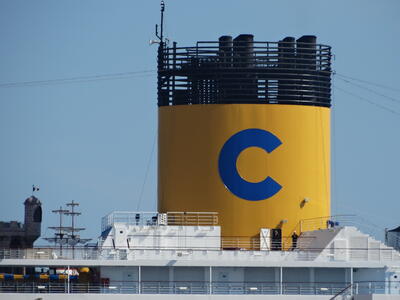 Cruisers sailing on the European cruise line, Costa Cruise, can enjoy the Apollo Pool, which is an adults-only area on the ship. 
Costa Cruises is immensely popular with families, so access to the Apollo Pool for adults is greatly appreciated by everyone looking for some relaxation opportunities. 
Access to the Apollo Pool is free to use for all adults onboard. 
14. Oceania Cruises: Spa Terrace
Image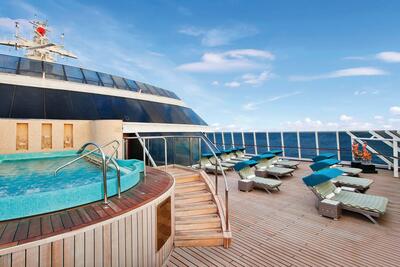 While Oceana Cruises caters mainly to adults, infants and children are allowed onboard. Guests looking to be pampered can enjoy Oceana's exclusive, adults-only Spa Terrace. 
This indulgent area is available on Oceania Marina and Oceania Riviera.  
Those who book a spa treatment at the Canyon Ranch Spa can enjoy the luxurious Spa Terrace for free. For an additional fee, you can enjoy whirlpools on Oceania Marina or saltwater thalassotherapy pool onboard Oceania Riviera.
15. Holland America Line: Sea View Pool
Image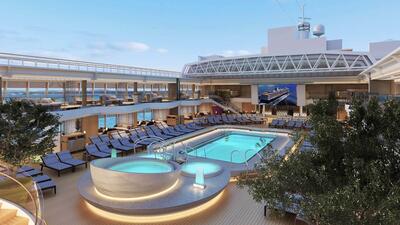 Although Holland America cruises typically appeal to the adult demographic, you can still find families and children onboard. Guests looking for a quieter atmosphere can retreat to Holland America's Sea View Pool.
Although not technically adult-only, this aft pool requires guests to be 14 years and older. Adjacent to the pool is a bar and pizza cafe, so you can soak in the sun while indulging in a cocktail and slice of pizza. This is a great space for cruisers looking to read a book, relax in a sun lounger or even take a nap.
Sea View Pool is complementary and available onboard Eurodam and Nieuw Amsterdam.