When it comes to travel, I've slowly become more loyal to certain brands. As someone who loves to cruise and travel the world, I'd rather spend my money with companies that have earned my loyalty and continue to provide positive experiences. 
I've learned the hard way that you normally get what you pay for. 
Back in college, I didn't care about the airline or cruise line that I traveled with, as long as I was doing everything as cheap as possible. One spring break, my husband and I cruised with Carnival Cruise Line because it was the cheapest sailing we could find. This was onboard the old Carnival Fantasy, but we had a great time regardless of the price we paid. 
Image
These days, I prefer to fly on Delta Air Lines and cruise with Royal Caribbean - even if it costs me more when compared to other companies. I grew up cruising with my family on Royal Caribbean, which has continued into my adulthood.
Until recently, it had been more than a decade since my last Carnival cruise. In fact, it had been more than a decade since my sister had sailed on Carnival. The two of us went on a spring break trip with our parents back in 2010. 
Because I love snagging a great cruise deal, I was on the hunt for a weekend getaway. My sister and I found a cheap, last-minute sailing aboard Carnival Ecstasy departing from Mobile, Alabama. Since this was only 1.5 hours from my home and we were free that weekend for a 4-night sailing to Mexico, we decided to go for it! 
Image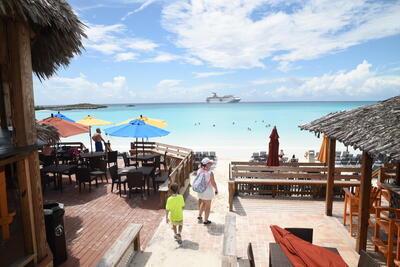 We were excited to give Carnival another try to see what it has to offer these days. Most importantly, we were curious to see whether the Carnival experience aligns with our current travel style. 
We've been cruising so long with Royal Caribbean that everything is very familiar and comfortable to us. We have our favorite meals in the dining room, our beloved spot in the Solarium and our go-to drinks at the bar.
Our expectations were low for this cruise, as Carnival is known for offering dirt cheap cruise fares. These cruises typically appeal to a more party crowd than other cruise lines. This weekend getaway sailing would surely attract a rowdy Southern crowd; but, we kept our minds open and wanted to really integrate ourselves into the Carnival culture. 
Here are 12 things that surprised me about going on my first Carnival cruise in a decade.
1. Carnival's FUN branding is literally everywhere 
I knew that Carnival's brand was centered around having 'The Most Fun Ships at Sea'. Before we got onboard, I didn't realize that their FUN branding would be part of nearly every experience onboard. 
Image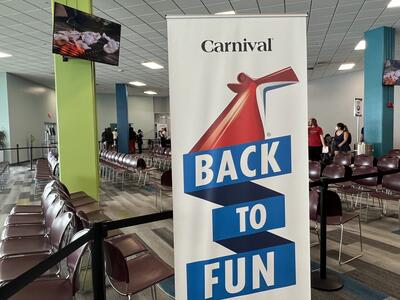 As we boarded the ship, we saw a big sign that said "Back to the FUN". During the sail away party, we found out the entertainment staff was called "The FUN squad". Every announcement mentioned the word fun.
Even in the dining room, the head waiter would get the dining room riled up by saying "We have the most fun ships at sea!" 
Even though I knew this was Carnival's slogan, they really lean into this branding throughout their cruises. But, in all honesty, we did truly have a lot of fun onboard so whatever they are doing…it's working!
2. The complimentary food was surprisingly good
As I already mentioned, I had really low expectations for this cruise. It was the oldest ship in Carnival's fleet, so I didn't expect there to be too many options for food. 
After some initial research, I found that Ecstasy had a number of signature Carnival venues onboard for us to try. This included Guy's Burger Joint and BlueIguana Cantina, both of which were excellent. 
Image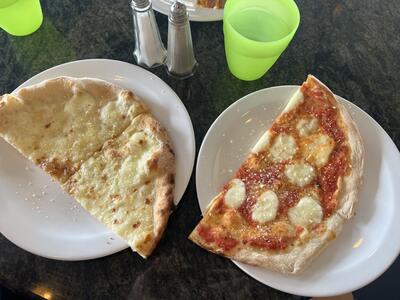 We also found Carnival Deli and Pizza Pirate to serve surprisingly good food in the buffet area. The pizza was made with fresh mozzarella and the sandwiches were bursting with flavor. Both of these were better than anything served at the buffet and were open for late night hours, which made it a hit for party-goers. 
3. Seaday Brunch blew us away 
Along with the last point I made, I never expected anything on Carnival to feel trendy, but the famous Seaday Brunch really did live up to the hype. Everyone on social media was raving about the skillet cake and french toast, so we had to try both of these. 
Image
Again, these lived up to the hype! The french toast was so good, it might have been the best french toast I've ever had. 
We loved that this was complimentary and also available until noon on sea days. Other cruise lines always seem to end their breakfasts earlier, but having that time buffer let us sleep in comfortably knowing we wouldn't miss out on brunch. 
4. The cruise director made too many announcements
This one surprised me in a bad way, unfortunately. Carnival really prides itself on having the most fun ships (see #1), but I really didn't expect them to make nonstop announcements during the cruise.
Our first morning was a sea day and the announcements started promptly at 8am. I realize that this could be our cruise director, this particular sailing or simply because we were sailing on an older ship with thin walls.
Image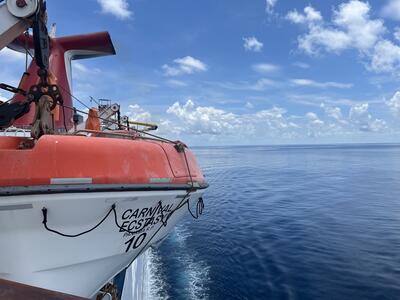 However, I really don't want to be encouraged to stay up late and then be woken up early to hear about the art auction and bingo. 
Mind you, I also sleep with white noise and I could STILL hear the announcements made. I thought maybe this would change throughout the voyage, but it really didn't. There were announcements made at all hours of the day. 
5. Activities were shorter than I am used to
Although activities or entertainment on a cruise ship vary in length, I am definitely used to these lasting around 45 minutes to an hour. Sometimes it feels like these events can drag on, especially if it's a tribute to an old singer I've never heard of. 
We learned quickly that Carnival's activities and entertainment offerings were kept to just 30 minutes. This was a pleasant surprise for me!
Image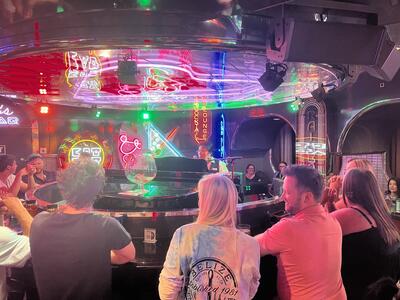 The theater shows and comedy club shows were all kept to 30 minutes and promptly ended on time. This really helped cultivate a high-paced environment on the ship. 
Having shorter time slots for these activities also meant we could do more things in our evening. We could bop around from karaoke to music trivia and finish our night at the Love and Marriage game show. I felt like I could still enjoy the evening in a variety of ways without having to pick just one thing to attend.
6. Afternoon High Tea was offered on sea days 
I was shocked to see Afternoon High Tea available on both sea days. I've heard of cruise lines offering this, but I definitely thought this would be the standard of European cruise lines and appeal to a much older audience. 
Even though I don't typically love tea, I absolutely loved this quiet time in the dining room. 
Image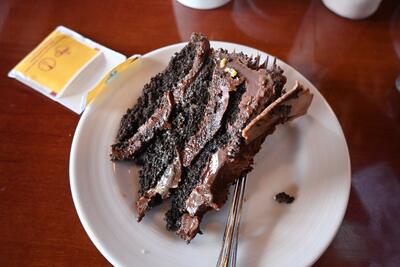 To our surprise, there was a lovely Afternoon High Tea offered in the dining room from 3-4pm. When we arrived, we were served complimentary tea. My sister thought the fun flavors were also complimentary, but she was charged $2.50 for this. 
Apart from this, the servers came around with tons of delicious goodies to go with our tea. We indulged in chocolate cake, clotted cream with scones, peach crumble, fruit tart and lemon sponge cake.
7. Activities were catered to younger demographics
Although Carnival brands itself as having the most fun ships at sea, the cruise line inevitably appeals to families as well. In fact, we heard many times that Carnival considers itself to be 'The Most Family Friendly Cruise Line' as well. 
In this way, I wasn't sure what to expect in terms of activities and entertainment; but, I was pleased to see that the activities were generally catered towards a younger demographic. 
Image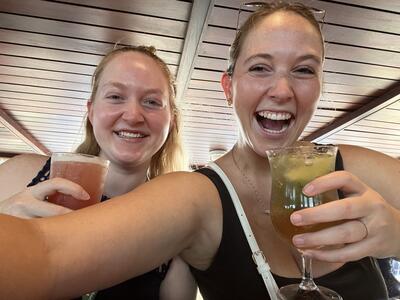 I really appreciated the variety of entertainment available. Each night, there was a comedy show that had both a family-friendly segment and an adults-only segment. We loved going to music trivia because they had songs that we actually knew! Other activity topics included Harry Potter and Friends trivia, which are certainly geared towards our demographics. 
8. The Internet onboard was fast and reliable
When you go cruising, internet onboard can be totally hit or miss. Depending on how many people are onboard using the internet, it can be frustrating when you need to connect and aren't able to. 
Sometimes the internet speed on a cruise ship can be lightning fast and other times, it can feel like you're back in the 1990s. 
Since we were cruising on a very old ship, I was hesitant about whether I could rely on the internet onboard. I've found that newer ships seem to have better service while older ones tend to have slower speeds.
Image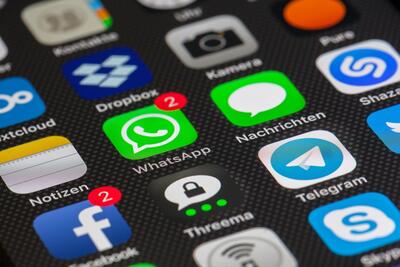 To my surprise, the internet service was probably the best I've experienced at sea. I was able to FaceTime without trouble, upload pictures to the blog without resizing and get some work done whenever I needed.
Perhaps this was a one-off thing, but I have nothing to complain about with the onboard internet.  
9. I enjoyed eating with strangers at dinner
Eating with strangers in the dining room can also be hit or miss when you cruise. On a recent Royal Caribbean weekend cruise, my sister and I were assigned a table with couples all close to our grandparents' age. 
I'm usually not in the mood to sit with strangers at dinner, especially when I am sailing with my husband and we want quality time together. 
On this cruise, we were surprised to find that Carnival assigned us to a table with people similar to our age and demographics. We were seated at a table with all women traveling together. I wasn't sure if it would be awkward, but we ended up having so much fun together.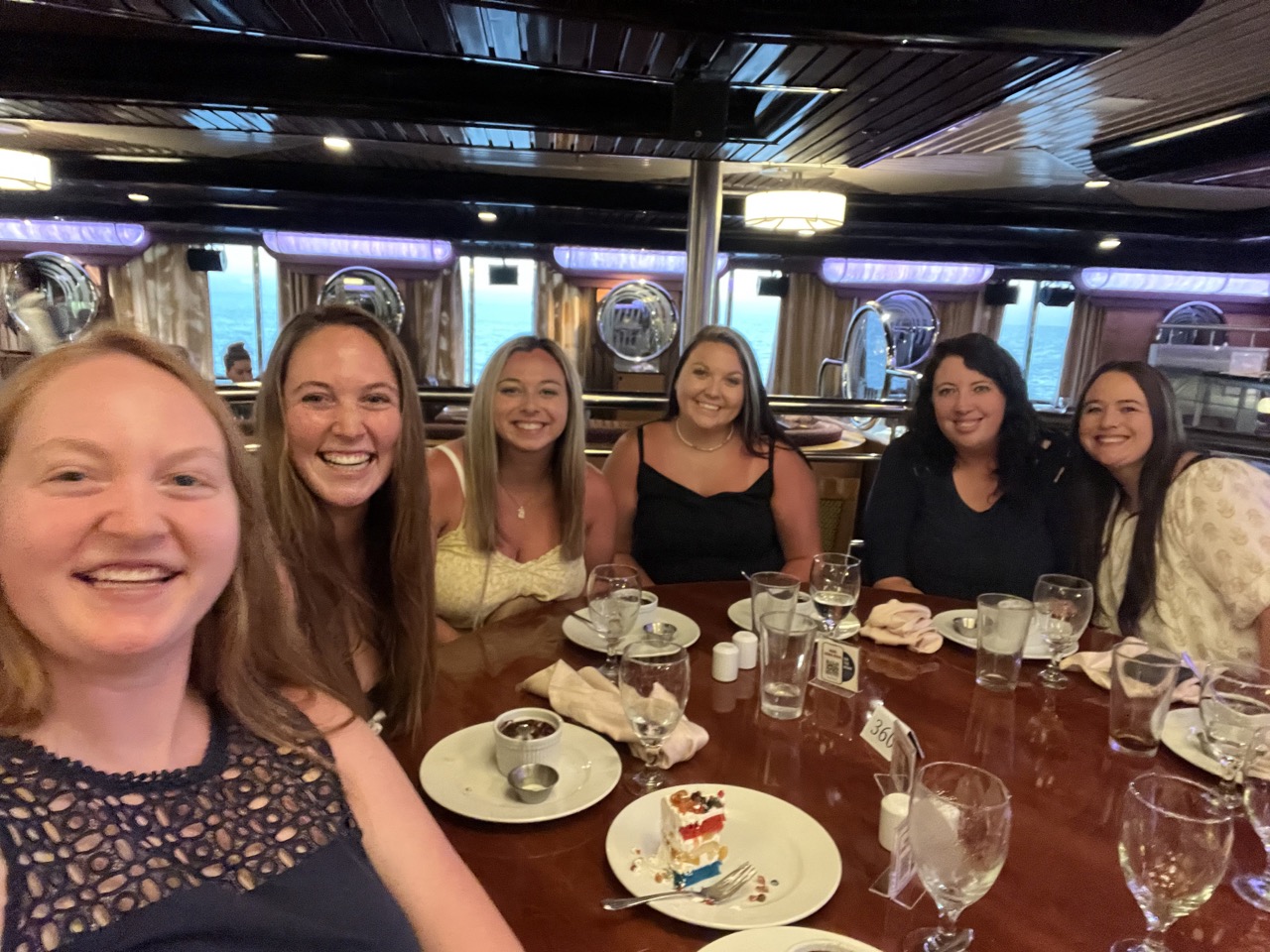 I actually looked forward to dinners in the dining room because we enjoyed our table's company so much. The women were all very nice and welcoming! We appreciated being seated with women similar in age to us, which I believe is something Carnival prioritizes. 
10. The cruise director younger than I'm used to seeing
The age of the cruise director was not something that was ever notable to me until this cruise. When the cruise director introduced himself during the sail away party, I was shocked to see he was so young compared to other cruise directors. 
The cruise director on Carnival Ecstasy was probably in his early 30s, which is something I've never experienced before. Having the entertainment staff led by a young and energetic director definitely set the stage for a fun sailing ahead!
Image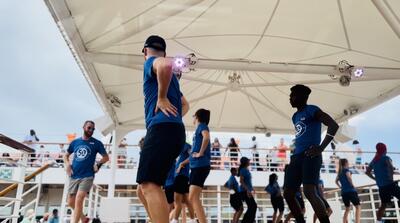 This makes me wonder if most of Carnival's cruise directors are younger to help cultivate a more fun, lively atmosphere onboard. 
11. Everything was very casual onboard
Normally when I cruise, I spend extra time each night to look presentable at dinner. I pack outfits specifically to wear each evening onboard. Although it feels like there's a general shift towards being more casual onboard cruise ships (even on Royal Caribbean), I was surprised to see how casual everyone dressed each evening.
Most of the people at dinner were wearing shorts with tank tops. Some people were in their bikinis with coverups.
On the last night, I didn't even bother putting on makeup or changing for dinner. I wore an athletic workout dress with my sandals and called it good.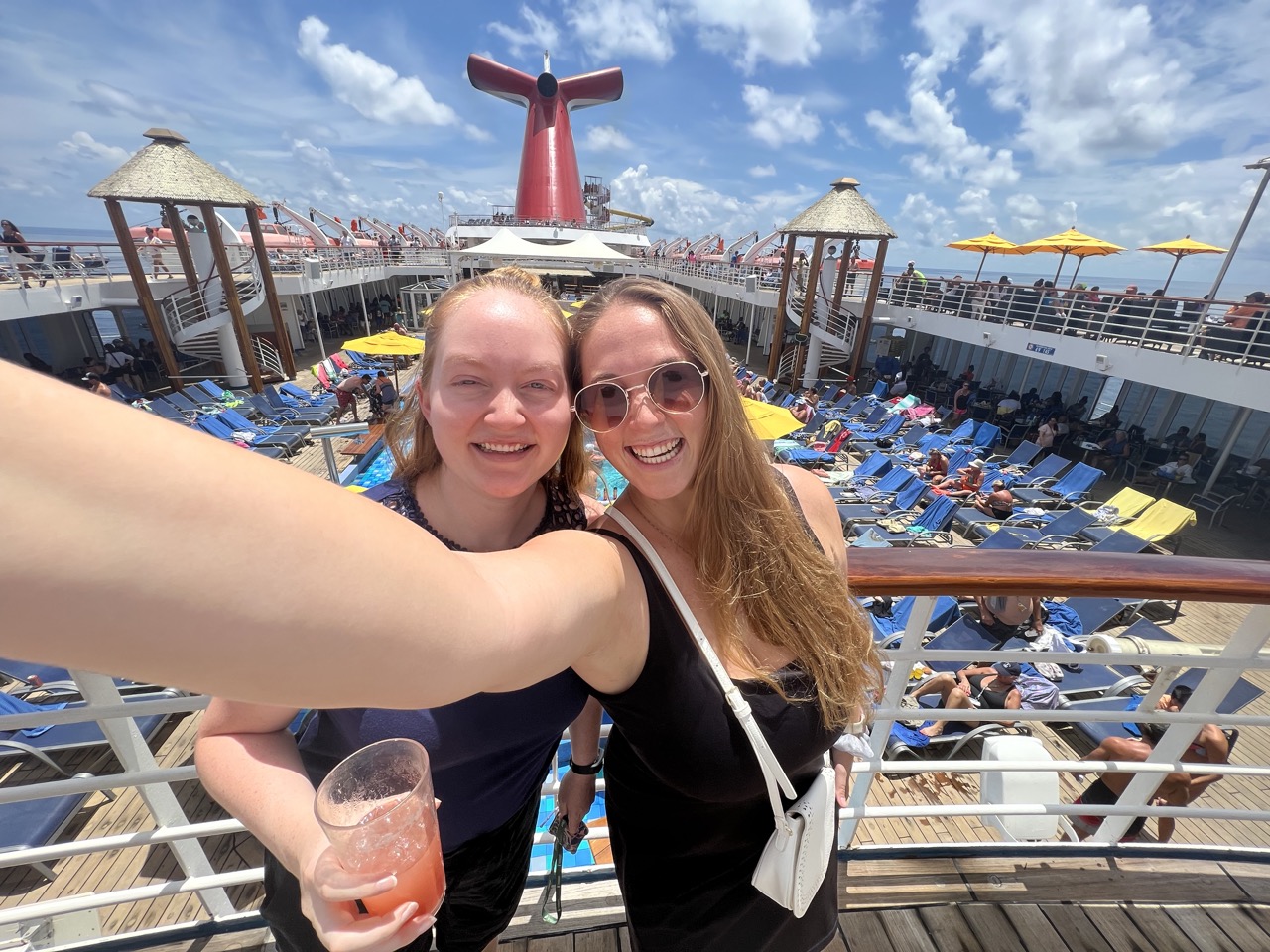 I didn't worry about what I was wearing and what people would think of it. While I would never wear this on different cruise lines, it was kind of nice to have such a casual atmosphere onboard.
12. I surprisingly had a lot of fun on this cruise
As I previously mentioned, I had really low expectations for this cruise. The ship was the oldest cruise ship sailing the seas and Carnival is known as having a wild and rowdy crowd. 
The first two days were eye-opening and we both had a little bit of culture shock. By the third day, I was feeling more comfortable onboard and nothing was surprising me anymore. I found myself staying up late to go to the comedy shows and activities, which is something I normally don't do when I cruise because I am too tired by the end of the day. 
Image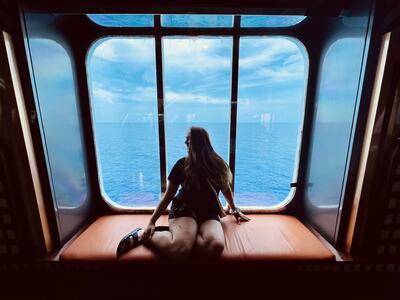 I appreciated that there was so much to do on the ship and the activities were short, sweet and to the point. I didn't expect to have as much fun on this cruise as I did, but it certainly changed my opinion about cruising with Carnival.