Forget about seasickness - these days, I am probably more likely to feel homesick when I cruise.
Ask anyone who cruises or travels a lot and you will probably hear the same response. There's truly no place like home and being on the road (or sea) after a while can certainly make me miss the comforts of home.
While I absolutely love cruising and traveling, sometimes it's hard for me to leave my pups and husband behind. I love our home and the life we have together, even when it means going on an amazing cruise - which I absolutely love too!
Image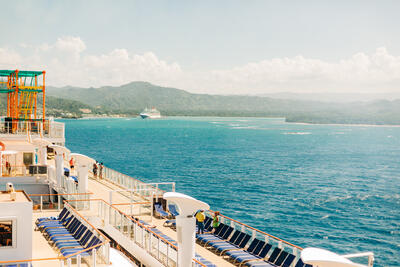 I'm so fortunate that I get to cruise a few times a year as a cruise blogger. I also cruise for fun with friends, family and my husband, as it's clearly our vacation of choice. With COVID-19 pushing back tons of my planned travels, I've been cruising a lot lately.
Making your cruise ship cabin feel more like home is an easy way to combat any bouts of homesickness. Transforming your cruise ship cabin into a comfortable, homey oasis can provide a small sense of familiarity that you're missing. 
Image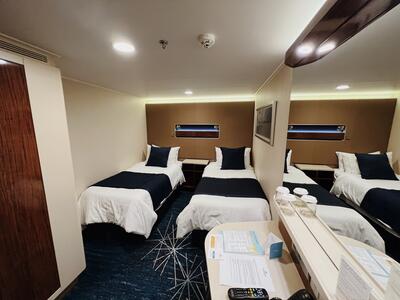 Back in college, I actually lived on a cruise ship for 4 months while studying abroad on Semester at Sea. My tiny cabin onboard really did become my home away from home. When I'd explore ports for multiple days, I would crave coming back to the ship and going back to my cozy cabin. 
Here's a picture of my Semester at Sea cabin - the room I called home for over 100 days! You can see how we made the cabin feel more like home with pillows, blankets and pillow cases from home.
Image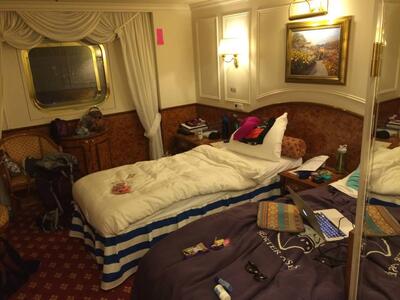 That experience made me realize the importance of bringing those aspects of home with you wherever you go. Home is where the heart is, right?
Here's a few tips on how to make your cruise ship cabin feel more like home so you can ease a bit of your own homesickness. 
Pack wall magnets 
One simple way to jazz up your cruise cabin is to pack magnets. Because cruise ship cabin walls are magnetic, you can easily place magnets on your wall to easily transform your space into a more homey environment. These magnets could be virtually anything that you want to see on the walls. 
Image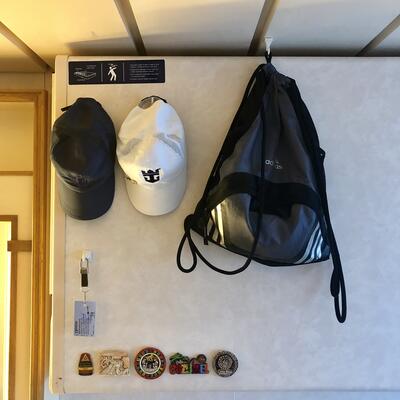 Not only should you pack magnets, but you can even pack magnetic hooks! These will allow you to hang everything from hats to jackets - just like you do at home. I also love to hang my new magnets that I collect in each port. Since my fridge at home is covered in travel magnets, this is a nice element of home that I can bring to my cabin.
Decorate your door
Don't forget that your cabin door is also magnetic; in fact, placing magnets on your door is a common practice for veteran cruisers.
One fun idea is to bring Scrabble letters for people to leave you messages. I also like to bring a few magnets from my fridge that remind me of home. For example, I brought my Semester at Sea (SAS) magnet from my fridge on my last cruise. I also packed my 'I love doodles' bone magnet to put on the door to remind me of my pups.
Image
Another fun idea is to bring a white board that you can hang on the door. This allows you to leave notes for others if you are traveling in a group and don't have access to your phones. We've also seen some really creative signs that commemorate anniversaries, birthdays or weddings.
Image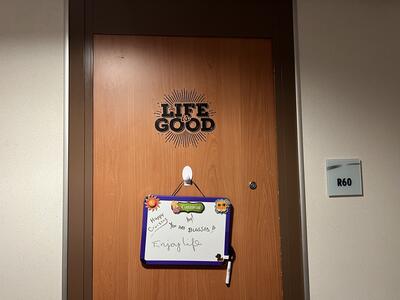 Bring pictures from home 
Along with magnets, you should consider packing a few pictures from home to bring that sense of familiarity with you as you set sea. Having pictures of friends and family visible in your cabin just adds the perfect touch of home. Pictures take up very little room in your suitcase but can totally transform your cabin with a sense of home.
Since the walls are magnetic, it's super easy to hang a picture or two on the walls or your door. As someone who loves pictures, having a few photos of my little family really makes my cruise cabin feel more like home - especially when I am traveling for work. 
Image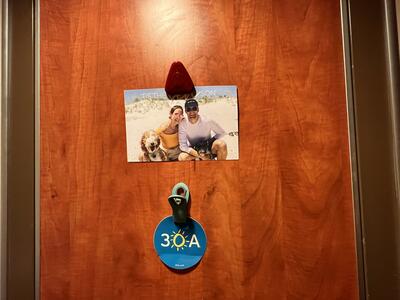 On my last cruise, I brought our Christmas card from last year and hung it up on the outside of the bathroom door. This little reminder of home made me smile every time I walked by!
Unpack your suitcase
While I never unpack my suitcase in a hotel room, I always unpack my suitcase when I cruise. Not only does this save precious space in your already-tiny cabin, but it also makes you feel less like you're living out of a suitcase. 
Image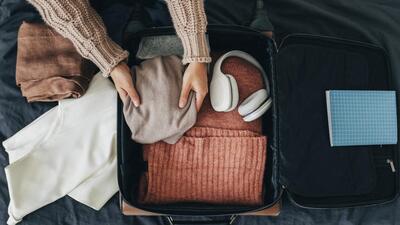 I once sailed with family members who kept their suitcases piled on their couch for the duration of a 12-night cruise. The leaning-tower-of-suitcases made their space feel extremely cramped and anything but homey. 
Cruise ship cabins have plenty of space for you to get comfortable onboard. Utilize the shelving and hangers to put away your clothes and belongings. Once you're unpacked, put your suitcase under the bed so it's out of sight. This is a simple way to make your cabin feel more like home. 
Use your favorite toiletries 
While most cruise ship cabins will come with basic amenities in the bathroom, like a shampoo, bar soap, and body wash, I always bring my favorite products from home. The familiarity of my shampoo, conditioner and body wash transport me from the tiny cabin shower to my spacious master shower at home. 
Image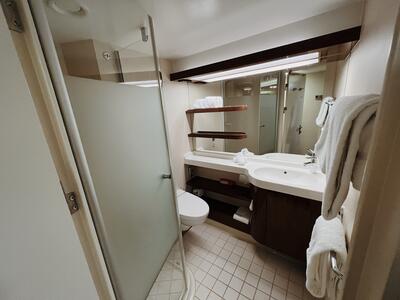 To save room, I only pack travel-sized products so I don't take up too much room in my luggage. Since I can drive to cruise ports in Florida, I am lucky that I can pack full-size products too when I cruise from a nearby port. If I am in a pinch, I will bring some of my favorite full-size products simply because I am not limited by the airline rules.
I love being able to keep my morning and evening skincare routine at sea, making me feel more at home. 
Sleep with your pillow from home
This is a tip my husband swears by! As much as I make fun of him for this, he always makes room in our suitcases to bring his own pillow from home. He invested in an expensive memory foam pillow that he claims makes all the difference in his sleeping. 
Image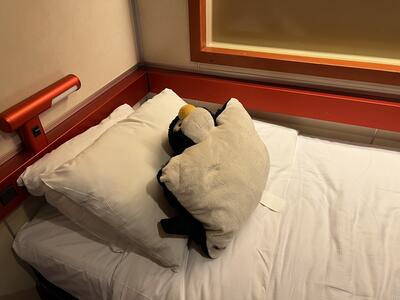 Even if we have to fly to our cruise destination, he will make a point to bring his pillow - even if it means sacrificing space in his suitcase. Although I snark at this, by the time we are laying in bed on the first night of our trip, I am slightly jealous that he has his own pillow. It really does make the bed feel more like our bed at home. 
Along with feeling more at home with your pillow, you will likely sleep much better - and who doesn't love a good night's rest on vacation?!
Bring liquid soap for the bathroom
Another family tip! I am stealing this one from my dad - the person who taught me to love cruising from the beginning. 
Although this is a small nuance, I hate using a bar of soap to wash my hands. That tiny rectangle of cheap soap in the cruise cabin makes me feel like I am anywhere but home. Bringing along a small dispenser of liquid soap just elevates your hand washing experience in your cruise ship cabin. 
Image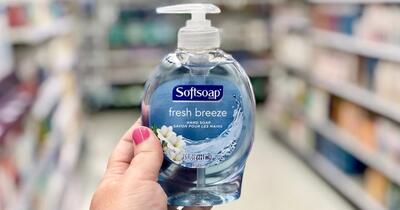 Also, it's incredibly important to wash your hands frequently when you travel to stay healthy. I truly feel like my hands feel cleaner when I was with liquid soap instead of a bar. Since my dad normally doesn't have as many liquids to pack as us ladies in the family, we usually had him pack the soap dispensers in his bag. 
Pack a portable alarm clock
If you're someone who likes having an old-school clock in your room, it can be really nice to have a portable alarm clock in your cruise ship cabin. I usually rely on having my phone for seeing the time, but my sister likes having a portable alarm clock in the cabin with her.
Having a bedside clock can also especially help if you're sleeping in an inside cabin. Without a window in your cabin, it can be hard to know exactly what time it is. I've slept in way later than I ever imagined because of how dark it is in my inside cabin! 
Image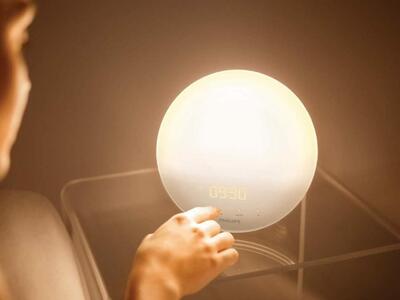 When it's pitch black regardless of the time in your cabin, it can be super nice to have a small clock so you know the time. Some people even prefer to bring a sunrise alarm clock that slowly lights up as the sun rises!
Bring a small blanket from home
When I lived on a cruise ship for 4 months, having a blanket from home really helped ease the homesickness. Now, if I have room, I will try to pack a lightweight blanket from home that I can have on my cabin bed and snuggle with every night. 
One year for Christmas, my mom made a fleece blanket with pictures of our dog on it! We love snuggling with our pups at home, so not having them in our bed really makes us realize we aren't at home. If we cruise somewhere cooler in the future, I will definitely plan to pack this with so I can come back to our cabin each night and see our smiling boy on the bed!