When it comes to weekend cruises, no one does it better than Carnival Cruise Line. 
In fact, Carnival was the first cruise line to really market itself as the best option for weekend cruises. This is unsurprising, as weekend getaway cruising perfectly aligns with Carnival's brand of having "The Most Fun Ships at Sea."
Image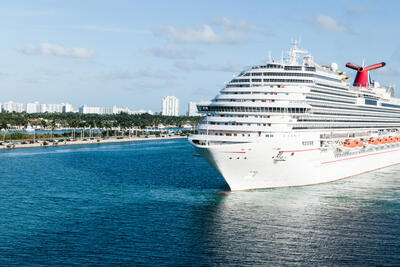 As a cruiser living in Florida, this means I have the flexibility to take weekend cruises more often than the average person. Although it had been over a decade since my last Carnival cruise, I was intrigued when I found a cheap weekend cruise from Mobile, Alabama on Carnival Ecstasy.
For just $250 per person, we could sail to Cozumel, Mexico over a weekend in August while also enjoying two days at sea. This port is less than two hours from my house, so it was almost too convenient to turn down. 
 
Image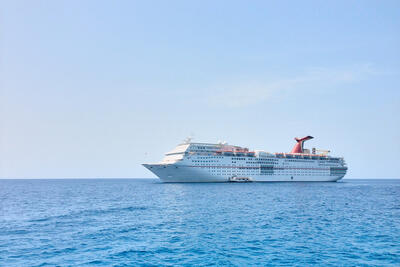 A little research revealed that this cruise was on the oldest ship in Carnival's fleet. To my surprise, Carnival Ecstasy would be retiring and heading to the scrapyard in just a few months. This was interesting, as using old ships for weekend cruising has been a trend slowly being phased out by other cruise lines. For example, Royal Caribbean has started to offer weekend cruises on some of their bigger and newer ships.
Although I've taken a few weekend cruises with Royal Caribbean, I was excited to see what Carnival had to offer. Carnival is known for cultivating a highly energetic atmosphere onboard - people often refer to these cruise ships as the party ships!
Image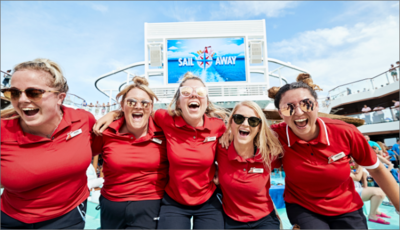 I was a little worried that the onboard Carnival experience might not align with my current travel style anymore. I usually don't love drinking all day or staying up super late to hit the nightclub. If we are being honest, I struggle to stay up for the evening entertainment sometimes!
I figured I would need to have extra coffee throughout the day to keep up with the onboard parties. 
As I've gotten older, I've learned the hard way that you often get what you pay for. With a cruise being this cheap, I had my expectations set low in regards to luxury, service and amenities. You can't pay for a dirt-cheap cruise and expect to have a luxurious experience. 
Image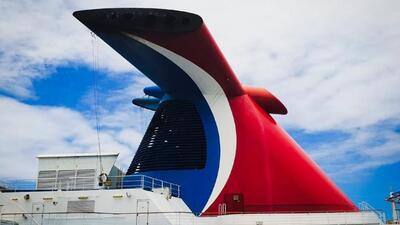 But, I also kept a very open mind. I reminded myself that any cruise can be fun if you have the right attitude - and a weekend in Mexico would surely be more fun than a weekend at home mowing the lawn. 
Here's an overview of my experience onboard a weekend Carnival cruise. 
Why I Like Weekend Cruising 
To start, I want to give a few reasons why I love cruising over the weekends. 
Don't get me wrong, I absolutely love a week-long cruise to really disconnect and get away. I even love 12-13 night cruises for grand adventures, which allows me to see multiple countries without ever having to re-pack my suitcase. 
Image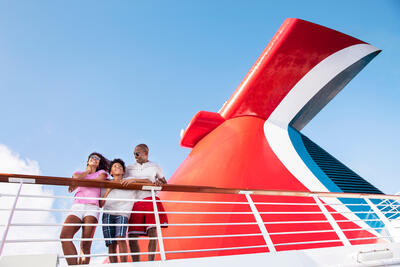 First, taking a weekend cruise is usually very affordable. Since you're only sailing for a few days, you're never spending more than a few hundred bucks to sail. Of course, you can always spend way more than that with shore excursions, drink packages and other add-ons. But, for the most part, weekend cruising is great for those looking to keep their budget low. 
It's even better when you can drive to the cruise port and not have to worry about the additional cost and stress of airfare. 
Image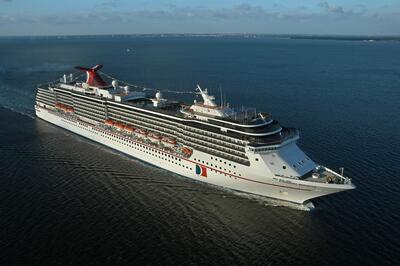 Second, it's much easier for me to take a weekend cruise with work than it is to take longer vacations. I can finish most of my weekly work before setting sail and I am already back to work the following Monday. 
This also makes it much easier to get a group of family or friends together for a weekend sailing. It's not uncommon to see bachelorette parties and family reunions take place on a weekend cruise. It can be tough to align work schedules and commitments during the week, but a weekend cruise is easier to schedule.
Image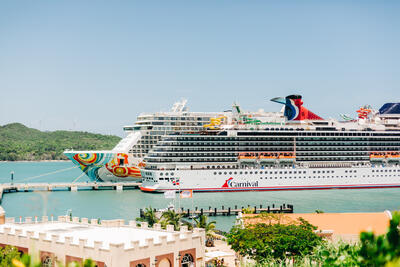 Finally, weekend cruising is a great way to get out of my day-to-day life and escape reality for a bit. Vacation really is a state of mind and sailing away from the stress of daily life is a perfect way for me to reset. 
Carnival Ecstasy Initial Impressions
When we first boarded the Carnival Ecstasy for a weekend cruise a few weeks ago, I expected the cruise ship to be one giant party. 
The partying started almost immediately as we got onboard and made our way to the pool deck. Everyone was letting loose and having a good time as Carnival Ecstasy sailed away from Mobile and started her journey to Mexico for the weekend. 
Image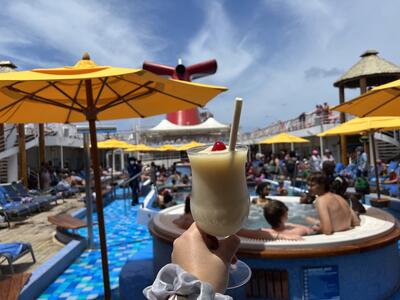 The first indication that this would be a wild cruise was when a granny holding a cocktail got on the pool deck stage and started to grind on the DJ. Even the DJ yelled across the pool deck, "Oh man, y'all. This is gonna be a good cruise!"
Safe to say, we realized quickly that it would be a rowdy crowd! We noticed tons of families and friends traveling together based on the number of matching shirts. 
Image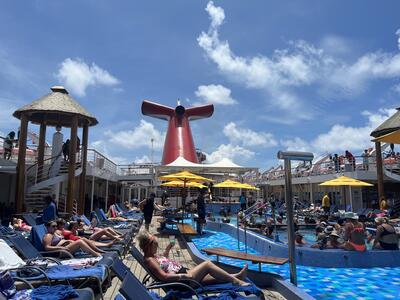 That evening, we noticed most people weren't even getting dressed up for dinner. Most people were still on the pool deck drinking even as the sun went down and the sail-away music stopped. It seemed like everyone came to dinner without even changing from their pool-party attire.
At first, I had a bit of culture shock with everything. I wasn't used to such a crazy environment onboard. But, people only had four days to dance and drink their vacation away, so they weren't wasting any time. 
By the third day, we became pretty acquainted with the party atmosphere onboard. It was nice to feel like we didn't need to impress anyone - certainly, no one was judging what we were wearing or how we looked. 
Image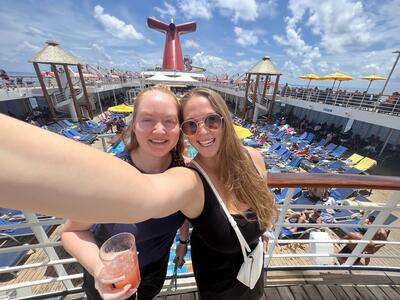 The casual and upbeat environment was welcomed and allowed us to focus more on enjoying the high-paced energy. There was nothing stuffy about this cruise!
The Fun Squad
Image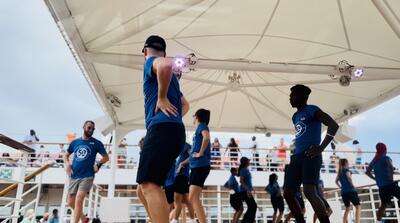 For this weekend cruise, I was shocked to see our cruise director was probably the same age as me. I've never been on a cruise with a young cruise director! Although most cruise directors are very fun and charismatic, they're almost always around my parents' age. 
To our surprise, the entire Fun Squad (or entertainment staff) probably had an average age of 30. This is no accident, as I am sure Carnival utilizes this energetic staff to keep the energy high onboard.
Image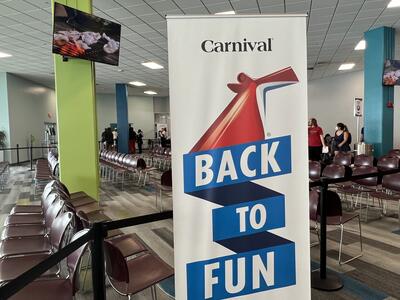 On a weekend cruise, the Fun Squad was working around the clock! They hosted all of the onboard events and activities to keep the party going. 
Carnival also heavily leads into its "Fun" branding - everywhere you look, something has the word fun in it. Every announcement makes mention of Carnival being the most fun fleet in the industry! You can't go anywhere on a Carnival ship without thinking of fun.
Weekend Cruise Entertainment
One of the biggest surprises for me on this weekend cruise was the entertainment. First, the activities only lasted around 30 minutes for everything. On most cruises, I've found the shows and entertainment last at least 45 minutes - some cruise ships have full-length Broadway shows!
With shorter activities, we could do more onboard. This allowed us to go from the comedy show to the karaoke bar and finish off at the Alchemy Bar within 2 hours. It was nice not having to commit large chunks of our onboard time to one activity. 
Image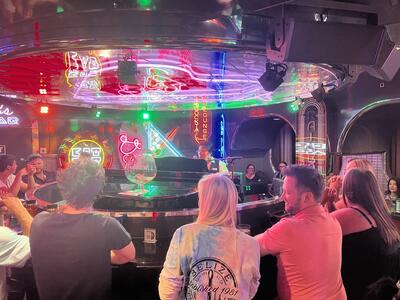 We were also pleased to see most of the activities were geared towards our demographic. The trivia topics were things that we could actively participate in. Topics for trivia ranged from Harry Potter to the TV shows Friends and The Office. 
The music trivia songs were all ones that we recognized too - most music wasn't older than 1980. We participated in 2000s music trivia and 90s music trivia, which was really fun!
Image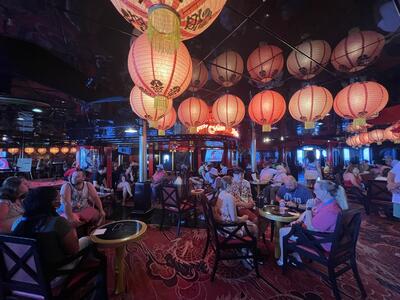 I always roll my eyes when my parents want to go to the Name That 70s Tune trivia when we cruise with other cruise lines. I didn't realize how the entertainment is geared towards an older audience on other cruise lines. 
It also seems like similar events on other cruise lines are normally held late on other cruise lines. If you want to find fun music or go to the silent disco party, you will have to stay up pretty late. The earlier slots are reserved to appeal to the older cruisers and they assume the younger ones will stay up late. 
Image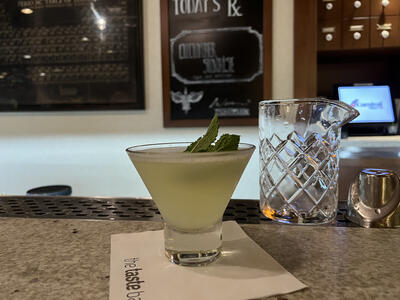 On this Carnival cruise, you didn't have to stay up super late to go to the events that sounded fun! As someone who likes to go to bed early, I appreciated that I could still find activities and events that appealed to me without staying up until midnight. 
We found ourselves laughing through the adult-only comedy shows and singing along at karaoke almost every night. Everyone onboard was there to have a good time and you could feel that eclectic energy throughout. 
No Time for Relaxation
Let me start by saying that I almost always come back from a cruise feeling rejuvenated. I normally love spending my sea days in the adult-only area reading a book, sipping on a mojito, taking a nap and eating snacks poolside. 
I won't lie though, I came back from this weekend Carnival cruise feeling exhausted. Although we had a lot of fun, there was no time (or place) to relax or take a nap. 
Image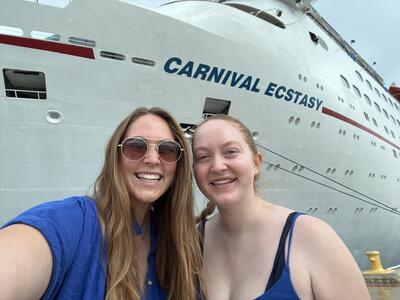 If people were hoping to relax on this weekend cruise, there were very few places for us to do that. Our days were better spent letting loose, exploring the ship and having a drink poolside while we listened to the DJ play his tunes. 
For the most part, I sleep like a rock on cruise ships; between the swaying of the ship and my interior cabin being pitch dark, I sleep super well. I was surprised when I found that I wasn't sleeping well on this ship at all!
Image
The first night, our neighbors were very noisy into the early hours. When we ran into them in the hallway, we discovered it was a group of college friends spending the weekend together. This absolutely aligns with what we expected for a weekend Carnival cruise. 
All throughout the night, we heard groups of drunk people stumbling back to their cabins. Unfortunately, older ships tend to have thin walls. A rowdy crowd coupled with thin walls makes for horrible rest and relaxation. 
Image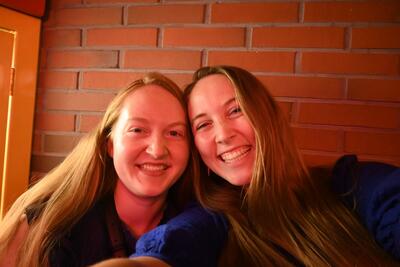 I was hoping to sleep in during our sea days since we had some late nights, but I was woken up both mornings by early announcements and loud people in the hallways. 
The non-stop string of announcements was one of my least favorite aspects of the Carnival experience. Staying up late having a great time, just to be woken up by the cruise director making unnecessary announcements, isn't my idea of fun. 
Image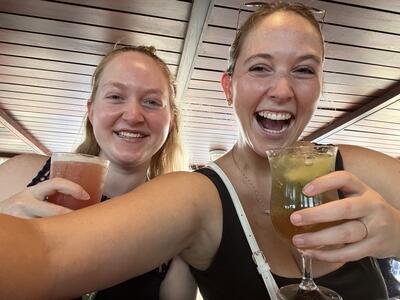 Although an older crowd can be slower-paced, at least they are very quiet and considerate onboard. By the last morning, I had to sleep with earplugs if I had any hope of feeling rested in the morning. I've never had to wear earplugs on a cruise, but I was running on empty and there's only so much coffee I can drink to get through the day. 
Final Thoughts
I came into this weekend Carnival cruise expecting that it would be, in short, a party cruise. Between Carnival's "Fun" branding and weekend cruises tending to have a more party atmosphere, I had a feeling this cruise would be wild. 
Not to mention that Carnival cruises have a well-known stereotype of having a rowdy and crazy crowd onboard. 
Image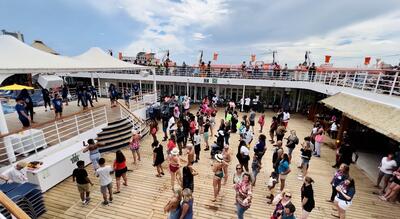 When we boarded the ship, we learned pretty quickly that most of our preconceived notions were fairly accurate. While it wasn't as crazy as I had anticipated in my mind, the energy onboard was off the charts.
This cruise was a perfect fit for those looking to have some good, cheap fun. Nothing about this weekend Carnival cruise was glamorous; but, we didn't expect glamor given the cheap price!
Image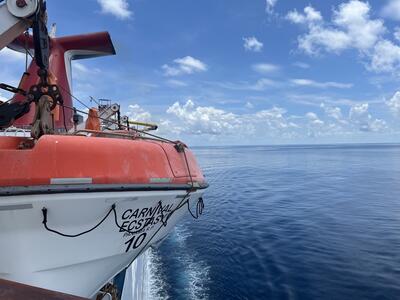 On the side of luxury, rejuvenation and relaxation, there was none of this on our cruise. It would actually be hard to find a place to truly relax on this ship because everything onboard is geared towards hosting fun activities and entertainment. 
Everyone on this ship was looking to have a great time over this weekend cruise. We loved how friendly everyone was and how much fun they were having. We couldn't help but have fun ourselves!