Everyone sing it with me, "Celebrate good times, come on!". That's been a popular song choice here onboard Carnival's brand-new, stylish Celebration cruise ship - and for good reason. 
Carnival Celebration is the newest ship in the Excel-class, preceded by the Carnival Mardi Gras, which was launched last year. These new ships are nearly 40% bigger than anything Carnival Cruise Line has built before. 
I'd also argue Carnival Celebration is one of the most stylish cruise ships that Carnival has ever debuted.
Image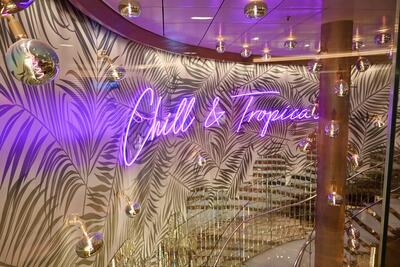 Building mega-ships was a big move for Carnival, as the cruise line has mostly resisted the trend among other cruise lines in the industry to build ships that continue to be bigger and better than ever. 
Image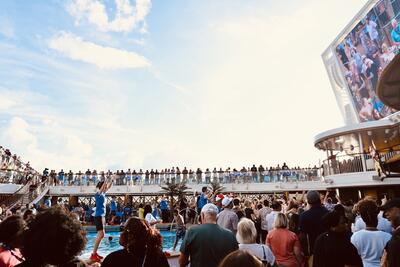 Cruise Blog is excited to be onboard one of Carnival Celebration's first sailings! The carpet is perfectly soft and there's still a hint of fresh paint in the air. Everything is squeaky clean and sparkling.
Image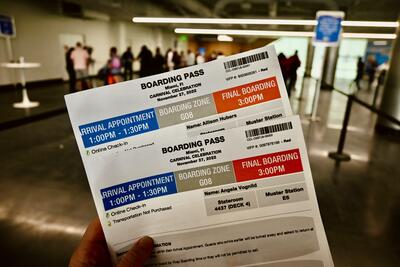 Carnival Celebration made her inaugural sailing from Southampton where she sailed across the Atlantic to Miami. There was a short 5-day sailing prior to our 7-night cruise to Cozumel, Costa Maya and Mahogany Bay, Honduras. 
Image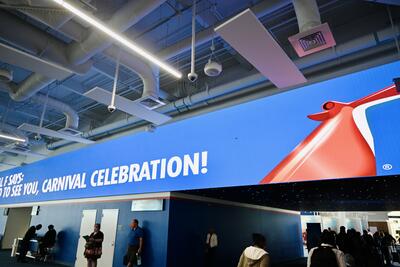 With Caribbean sailings from Miami, Carnival Celebration stands out among her piers in the port with her magnificent size, modern design and colorful top-deck additions (including the industry's first rollercoaster, which debuted on sister-ship, Mardi Gras last year). 
We are excited to take you along with us as we explore and discover everything Carnival Celebration has to offer. 
Image
Welcome Aboard
We are sailing this week in a modestly-sized inside cabin. Even thought this is one of the first sailings on a brand-new ship, the price for this 7-night sailing on Celebration was still relatively cheap compared to other brand-new ships in the cruise industry. 
Image
Our inside cabin is similar to other staterooms we've sailed on with other cruise lines. We were surprised to find our room have bunkbeds, meaning we could sleep two more people in here. I've never been given a stateroom for four people when booking an inside cabin guarantee with just two of us. 
Image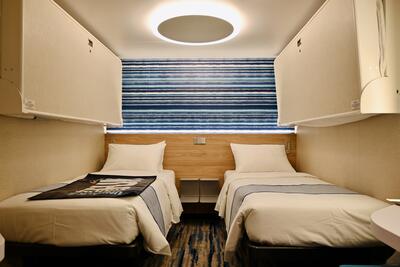 The bunk beds are slightly annoying, as they jut out from the wall rather than suspend from the ceiling. However, this is simply a risk you take when you book and inside cabin, so we can't complain too much. 
The bathroom is nicely sized and has nice storage spaces both above and below the sink. We were pleased with the size and appearance of the bathroom considering our room is fairly cozy.
Image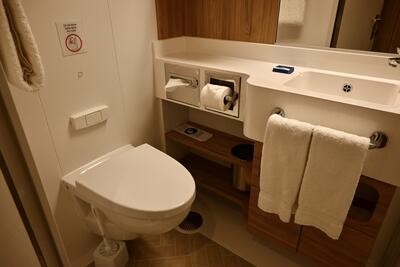 The shower is significantly larger compared to older ships we've sailed on. I appreciate this trend of having bigger showers, as it's a much more pleasant experience. 
Image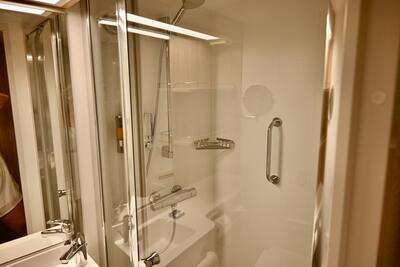 We also love that Carnival asks during their check-in process whether we'd want our beds split or together. When we arrive, they are already separated, just as we requested. 
The beds have small, steel-looking nightstands in between our beds; we also have a small reading light and USB plug-in on the other side. We noticed the bunk beds also have a reading light and 2 USB plugs.
Image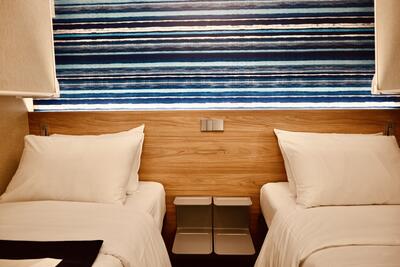 I do wish we had a spot somewhere to sit other than our beds, but there is an ottoman under the vanity that could be used as a spot to sit. 
Image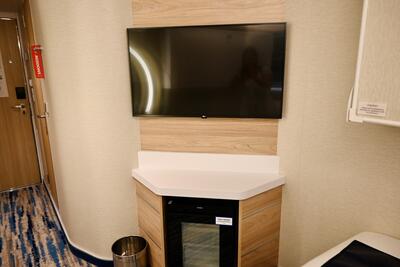 Our cabin has plenty of storage with two large closets that have lots of hangers and shelves. We were able to easily unpack for our 7-nights onboard, which we proudly only packed carry-on suitcases for. 
Image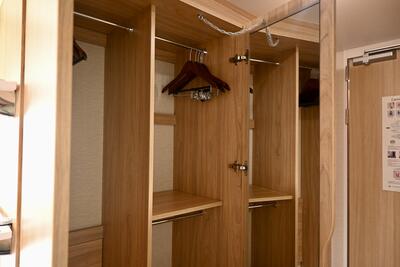 We have friends onboard traveling in a balcony cabin, which is noticeably larger than our inside cabin. This stateroom has a pull-out couch and bunkbed that suspends from the ceiling. I wish our inside stateroom had bunkbeds hidden in this same way to make the room feel a tad more spacious.
Image
The group agreed that our inside cabin would be pretty crammed if there were four people sailing; however, it's a great option for those cruising on a budget or those who don't care to spend much time in their staterooms. 
Snazzy 820 Biscayne Zone
After quickly dropping off our luggage, we were excited to start exploring everything that Carnival Celebration has to offer. One of our first stops was the Miami-themed zone dubbed 820 Biscayne. We were greeted by a giant postcard that said Greetings from Miami!
Image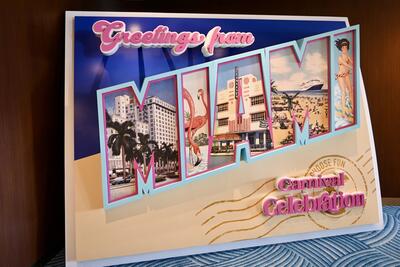 This zone is neon-themed and gives all the vibes of downtown Miami. You'll find Bar 820 here, along with Miami Slice (the onboard pizza parlor) and Deco Deli (made-to-order sandwiches). 
Image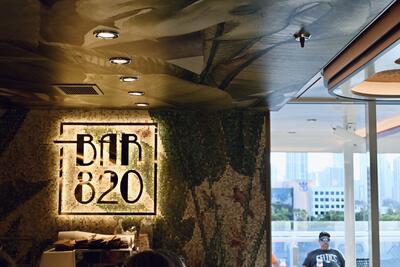 You can't miss the bright lights of this zone, which also leads cruisers to guest services at the other end and can create some congestion during certain times. 
Image
We enjoyed a meatball sandwich from Deco Deli, as there was no line when we were wandering around. The pizza from Miami Slice also looked excellent - we are going to try our best to enjoy all of the dining options onboard that our stomachs can handle!
Image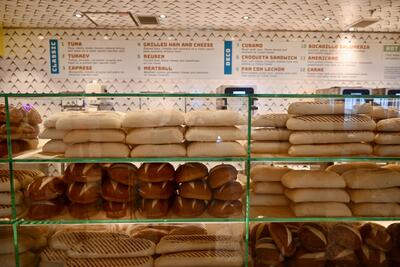 Biscayne 820 is also where you'll find the complimentary dining option of Cucina del Capitano. We dined here on our first evening and enjoyed the Italian options - we might even dine there another night!
Image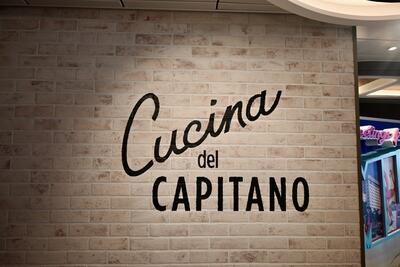 We were surprised to find our that Cucina del Capitano was complimentary onboard, as it certainly gives the look and feel of a specialty dining restaurant. 
Image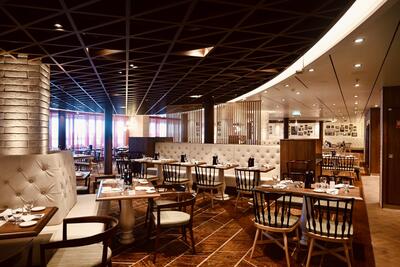 There's a warm ambiance inside Cucina del Capitano with photos of Italy - my favorite place in the world! - scattered around the wall. 
Image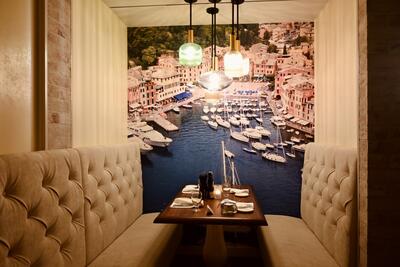 The Gateway: Travel Through Time
While Carnival Celebration has more than 12 dining options onboard, there are even more bars and lounges with 20 different venues to enjoy. Each bar and lounge has its own unique menu and ambiance.
I was most excited to take a look at Latitudes Bar in The Gateway, which is travel themed zone onboard Carnival Celebration. This was a big change from Carnival Mardi Gras, which utilizes this space for the French Quarter. 
Image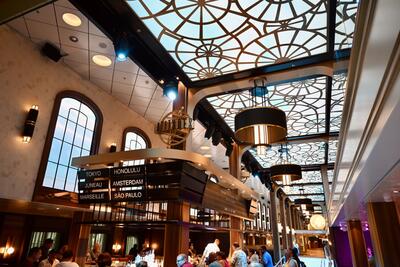 The Gateway makes me feel like I'm simultaneously standing in Grand Central station while also being transported to other worldly destinations.
Latitudes features a long list of cocktails from around the world! As a world-traveler myself, I am excited to try some of these fun cocktails. 
Image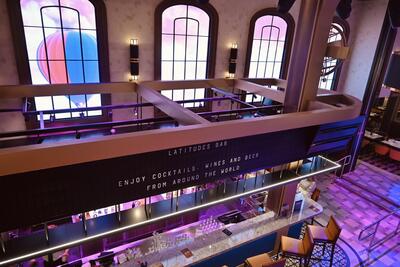 I absolutely love the atmosphere in The Gateway, which also features Emeril's Bistro by famed-chef Emeril Lagasse. This venue is not complimentary, but features reasonably priced dishes served a-la-carte style. 
Image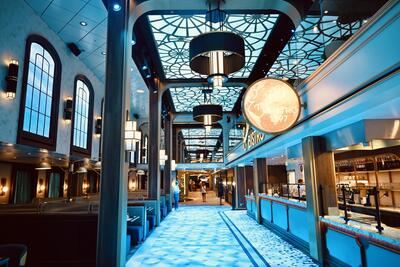 You'll also find The Golden Jubilee Bar right by The Gateway; you can't miss the dazzling chandelier and Great Gatsby style bar. 
Celebration's Ode to History
One aspect that we also really love about Carnival Celebration is all of the nods to Carnival's history.
Right outside of The Gateway is an old-fashioned Rolls Royce. This antique was actually on Carnival Ecstasy until she was sent for her retirement in the scrapyard; Carnival chose to repurpose the Rolls Royce and give the car a new life on Carnival Celebration.  
Image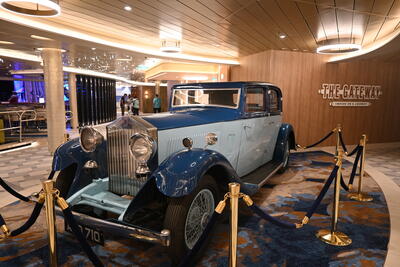 You'll find pieces of Carnival's history all over the ship, including these portholes that feature different eras of Carnival throughout the years.
Image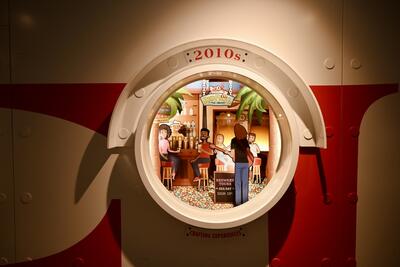 Sailaway Party on Lido Deck
Arguably, Carnival has the best sailaway parties in the entire cruise industry. I have never seen so many people on the pool deck gathering for a sailaway party! 
Image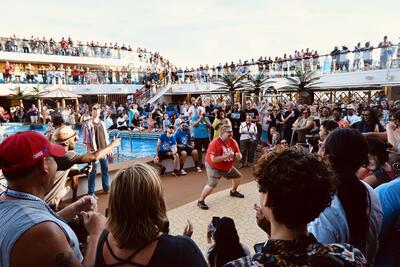 Everyone was singing, dancing and drinking as Celebration pulled away from Miami and started its journey to Mexico. The Fun Squad was all over the pool area dancing while the cruise director was on an above platform leading the festivities. 
Image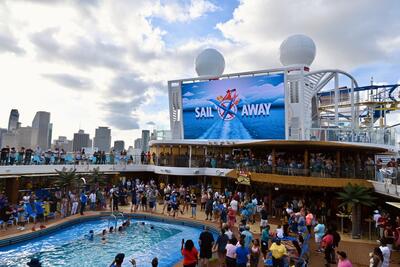 Of course, we had to grab drinks from RedFrog Tiki Bar for the occasion. Ordering a drink from the crowded bar made me feel like I was in a packed nightclub trying to get the bartenders attention. 
Image
We enjoyed a pina colada (a cruise classic) and a bahama mama as we jammed to the music blasting across the Lido Deck. 
Image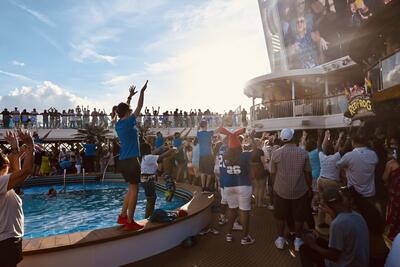 Lido Marketplace Buffet
An interesting design aspect of Carnival Celebration is that you need to walk through the Lido Marketplace buffet to get to the pool deck when arriving from the aft of the ship. 
Image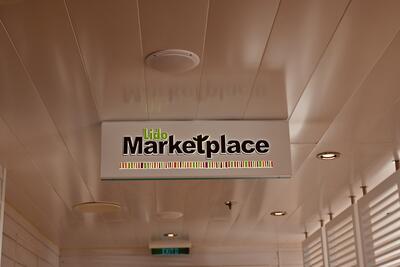 While we have yet to eat at Lido Marketplace, we walked around the buffet last night to see what they offered for dinner. We were surprised to see just a small section open for dinner, although there was plenty to choose from. 
Image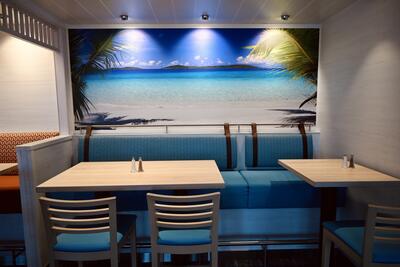 There are plenty of booths and areas of seating that line the walkway through the Lido Marketplace buffet to the Lido Deck. I have already seen a lot of people walking through here in their swimsuits and dripping-wet towels; so I am interested to see if this is a design change in future Excel-class ships. 
Image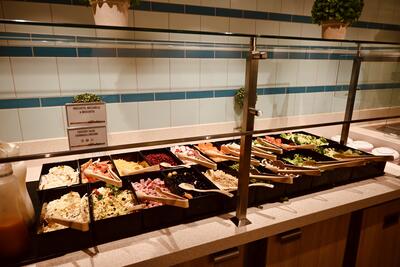 Image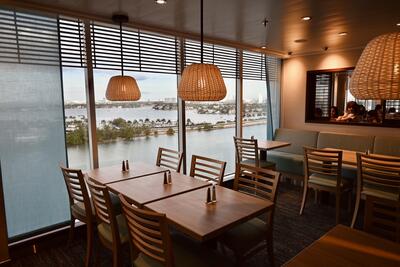 Stylish Public Spaces
Everywhere onboard Carnival Celebration feels very stylish and trendy. I am impressed with how thoughtfully-designed the ship is, especially considering Carnival isn't necessarily known for its design choices but rather how fun and energetic their ships are. 
Image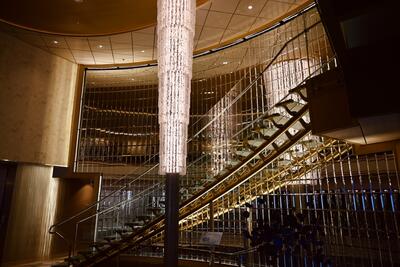 Even the staircases are nicely decorated with contemporary wallpaper. 
Image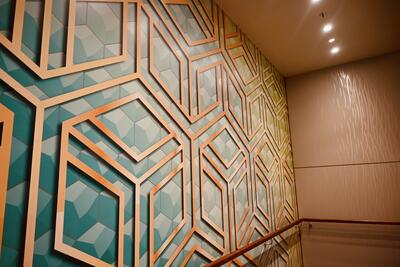 There are brightly-decorated lounges and public spaces around the ship. I feel like I am constantly seeing new spaces and taking out my camera to snap photos of everything.
Image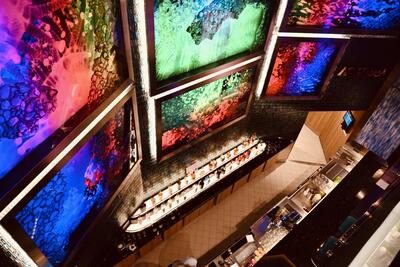 Adults-Only Serenity
With plenty of kids running around the ship, it's nice to see Carnival Celebration feature a large area just for adults, known as Serenity. 
Image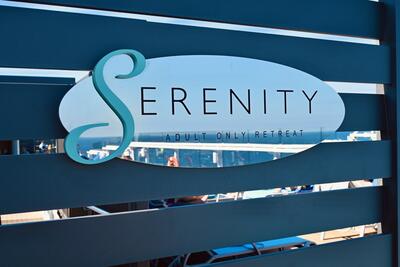 You'll find an array of padded and plushy loungers and daybeds here; it's a quiet area that's perfect for sipping a cocktail, taking a nice nap in the sun or reading a book. 
Image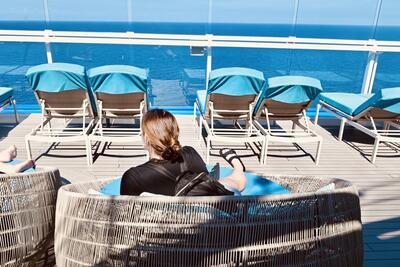 Serenity also features a small pool, hot tubs and its own dedicated bar. I look forward to spending more time here!
Image
The Ultimate Playground
Located on the aft of the ship is the Ultimate Playground with waterslides, mini golf, a sports court and the revolutionary rollercoaster at sea, Bolt. 
Image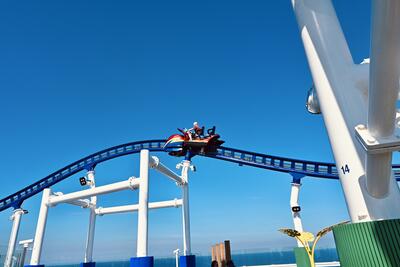 We plan to ride Bolt at least once during this cruise, which costs $15 per person for two laps around the track. We've seen plenty of people ride the coaster already and it looks like it's a pretty fun time!
Image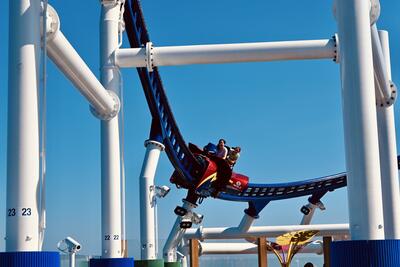 There's also a ropes course in this area, which is complimentary and features a series of obstacles. 
Image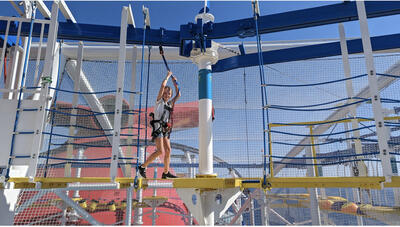 The waterslides onboard Carnival Celebration are supposed to be really fast and adrenaline-pumping, so that's also on our to-do list for this cruise. 
Image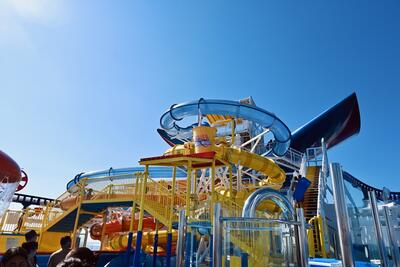 Camp Ocean
Carnival Celebration has so much to do for kids and families - it's truly the perfect ship for families. Camp Ocean is considered an onboard camp for kids; it's like summer camp all year!
Image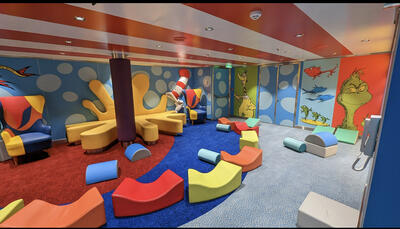 Celebration has a large space for its Camp Ocean, which has programming for kids aged 2-11. Younger kids can enjoy tons fo age-appropriate activities in a supervised area. 
Image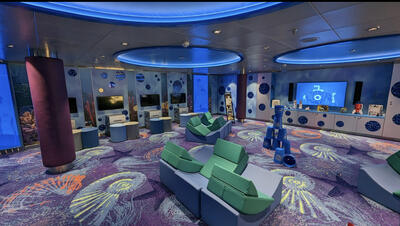 Older kids will surely love this room filled with video games and TVs!
Image
All-Night Fun
Carnival Celebration has a seemingly infinite number of things to do onboard in the evening. We enjoyed a comedy show in Punchliner Comedy Club, which has shows multiple times each day and evening.
Image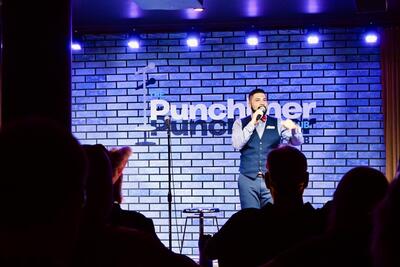 We also checked out the Lido Deck last night, which was playing Top Gun Maverick on the big screen. The pool deck was illuminating the dark sky - the perfect end to our first day onboard. 
Image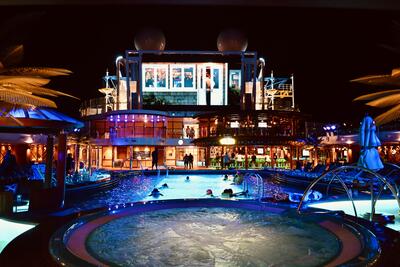 Image