2022 was a big travel year for me - I calculated that I spent nearly 5 months away from home during the last year. Most of those journeys were on cruise ships; I took a 8 cruises in 2022 and spent 55 nights at sea. 
That's a lot of cruising, if you ask me!
Some of these cruises were for work purposes, such as ones that we document here on CruiseBlog. Some work cruises included our content from Carnival Ecstasy and Carnival Celebration.
A few cruises were for taken entirely for leisure - such as my 12-night Canary Islands, Spain and Portugal cruise with my husband after he returned from his military deployment. 
Image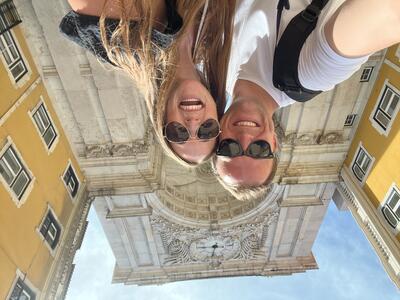 While most cruises departed from my home state of Florida, I also traveled to Alabama, London and Rome during the last year as well. With the pandemic pushing back a few itineraries, my 2022 year quickly became packed with a cruise almost every month. It was a busy year with plenty of airline miles and cruise points earned. 
My 2023 year is a little less packed, but I still have probably 4 cruises I plan to take throughout the year. Again, some of these are work related but most of them are for leisure. 
Image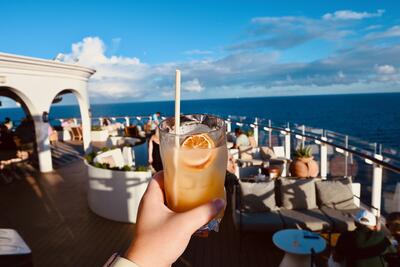 After 8 cruises in 2022 and 5 months on the road (or at sea), I've learned a thing or two about traveling; more particularly, I've found there are some splurges that are worthwhile to elevate my cruise and travel experiences. 
While I consider myself to be a savvy cruiser (i.e. I love finding a great cruise deal), there are still things that I've found can absolutely be worth the extra money when cruising. 
Image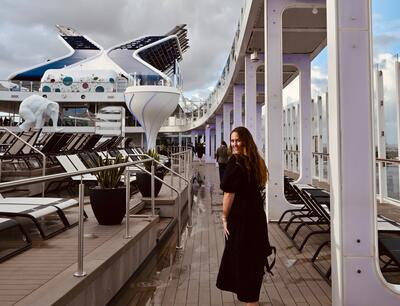 Here are 8 splurges I plan to make on my 2023 cruises.
1. Drink Packages
In all my years of cruising, I've never actually purchased a drink package. 
As one of Royal Caribbean's top-tier loyalty members, I've been able to get by with complimentary happy hours and daily drink vouchers included in my loyalty status. I wouldn't consider myself a big drinker by any means, especially when I am sailing on a port-intensive itinerary or with my family. 
Image
My parents have never been big drinkers, so I've never felt the need to purchase a drink package when cruising with them. My sister is similar, and since we cruise together so often, we just enjoy our complementary drink vouchers from Royal Caribbean. 
On the other hand, my husband and I enjoy sipping on cocktails a bit more when we cruise. The two of us look forward to nightly happy hours or seaside drinks when we are in certain ports. 
Image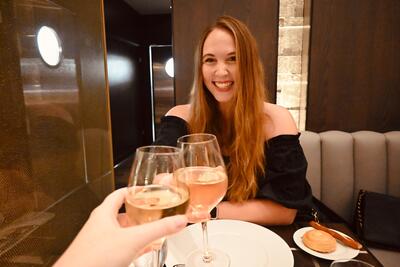 There were a few times on our last cruise together where we paid for drinks out of pocket and wished we had purchased a package. 
Going into 2023, I decided to splurge and purchase a drink package for the first time on an upcoming cruise. My husband and I will be sailing with a group of our friends, who have all purchased the drink package as well. 
Image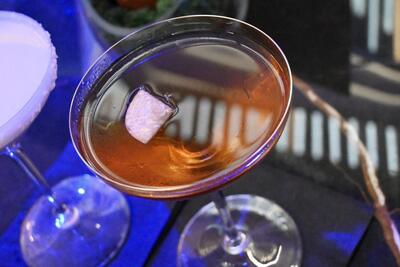 Sailing with our friends will be a ton of fun and we didn't want to feel like we had to stick to a drinking budget.
Since we will only be cruising for 4 nights, the drink package felt reasonably priced; so, it seemed like the perfect opportunity to splurge!
2. High-end luggage
If you had told me last year that I would be willing to spend hundreds of dollars on high-end luggage, I would have laughed. 
I've always been one to have cheap luggage when I travel and cruise. Most of the time, my luggage comes straight from TJ Maxx or Ross Dress for Less. Of course, these suitcases never last me too long - but always did the job for the cheap cost.
Image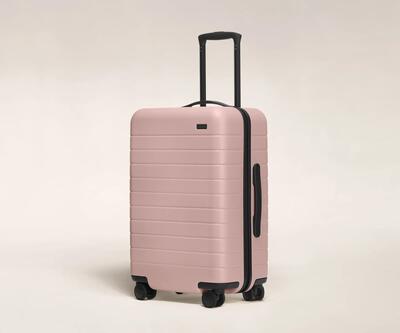 On the other hand, my husband was given high-end luggage for his job as a pilot. I had never used expensive luggage, nor seen the value, until this year.
On our 12-night Canary Islands cruise, I was astonished at how easily his carry-on rolled in comparison to to my clunky T.J.Maxx suitcase. The difference was astonishing. 
As we navigated through the airports, cruise terminals and even onboard the ship, my cheap suitcase was constantly tipping over or rolling incorrectly, while my husband's expensive luggage was gliding like a dream. 
Image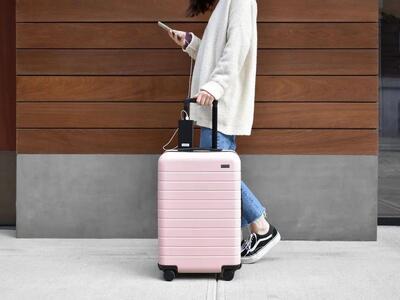 I prefer to travel with just a carry-on whenever possible, so my suitcases are normally pretty heavy. I've learned that cheap luggage doesn't handle this very well but I never had anything high-quality to compare it to. 
During this trip, I decided it was worthwhile to invest in better luggage since I cruise and travel so much. Seeing how much better his high-end luggage performed, it seemed like a splurge I was willing to make.
Back in September, I splurged and purchased an Away carry-on suitcase for $350. 
Image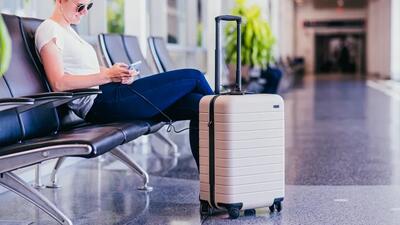 Let me tell you - this carry-on purchased has been the best cruise splurge I've ever made!
I've taken this suitcase on 3 cruises since I purchased it and I have absolutely no regrets. While it's a hefty price tag (I could get probably 7 cheap suitcases at T.J.Maxx for that cost), the suitcase has made my cruising and traveling experiences so much better. 
In 2023, I would love to splurge more and invest now in high-end checked luggage. I am still rocking the T.J.Maxx special (a Jessica Simpson floral suitcase) for my checked bag on bigger trips - and I am convinced a more expensive checked bag will continue transforming my cruise experience for the better. 
3. Balcony and suite upgrades
If you've followed my cruise travel within the last year, you know I am all about finding cheap cruise deals. I've been a big fan of inside cabins because they're so affordable. The cheaper the cruise cabin, the more often I can cruise - always a win!
Image
During the last year, I upgraded my cabin twice from an inside cabin to a balcony or suite. During my Canary Islands cruise with my husband, we were able to upgrade from an inside cabin to a balcony guarantee for a very reasonable price - like less than $200. 
Having a balcony on this cruise was wonderful as we sailed into stunning ports in Spain and Portugal, even though it was obstructed with a bright yellow lifeboat. We also appreciated having more space in our cabin and watching the sunsets right from our cabin.
Image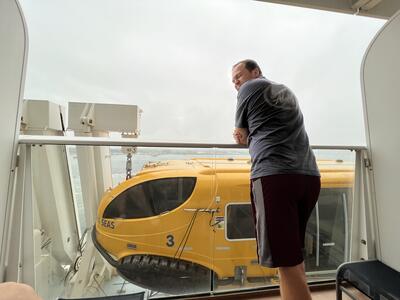 With such a positive experience, I decided it was worth it to splurge on a balcony stateroom when the price is reasonable, the cruise is longer, and/or the itinerary has particularly beautiful scenery. 
During my 12-night Israel cruise in October, my sister and I decided to bid on a Junior Suite for $300 each. Again, this is not something I would normally have splurged on, but the price felt very reasonable for the length of the cruise.
Image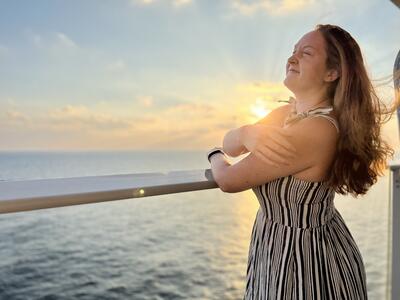 To our surprise, our bid was accepted and we sailed in a Junior Suite onboard Odyssey of the Seas as we sailed to Israel. The spacious room, bathroom and balcony felt so luxurious compared to an inside cabin. 
In 2023, I am going to continue splurging on stateroom upgrades to balconies or suites when the price is reasonable and the right opportunities present themselves. Having more space and a private balcony really elevates the cruising experience, in my personal opinion. 
4. Convenient flight times
Even though I live in the Florida Panhandle, I am still a 10 hour drive from the Miami and Fort Lauderdale cruise ports. Therefore, I often find myself flying to ports for cruises. 
In 2022, I started to splurge on flights that were a little more expensive because I preferred having more convenient travel times.
Image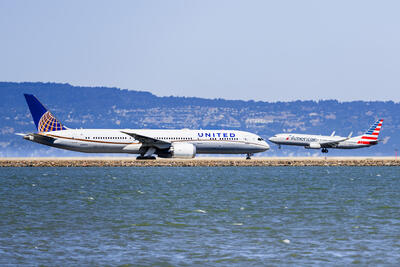 Before, I would spend all day at an airport if it meant I saved $100 on my airfare. Now, I am more willing to splurge on airfare that gets me home at a reasonable time after disembarking a cruise.
I've learned that my time has value, so splurging on airfare that doesn't waste my time is money well spent. 
Having multiple layovers, or unnecessarily long layovers, is not in my cards anymore. I'd rather splurge to have a reasonable flight itinerary that gets me to the cruise port the day before my sailing. 
Image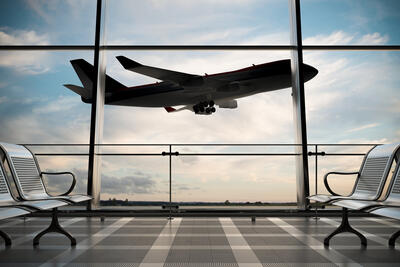 Similarly, I am willing to splurge on airfare to fly my preferred airline (Delta Air Lines). While other budget airlines might have direct flights, I think it's worth it to splurge so I can have a positive air travel experience, which ensures my cruise vacation can get off to a positive start as well!
5. Cruise line shore excursions
I'll be the first to admit that I don't always love booking excursions through the cruise line. Often times, these are way more expensive than independently operated excursions through local tour companies. 
Image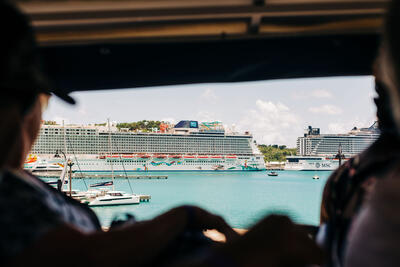 However, these cruise line sponsored excursions give you more flexibility and convenience. Also, you are guaranteed to get back on the cruise ship if your tour is running late or you experience delays. 
Most of the time, I only book shore excursions through the cruise line in special circumstances when it makes sense to do so. For instance, on my cruise to Israel, we splurged to book full-day excursions through Royal Caribbean for our 3 full days in Israel. We also splurged on an excursion to Santorini through the cruise line.
Image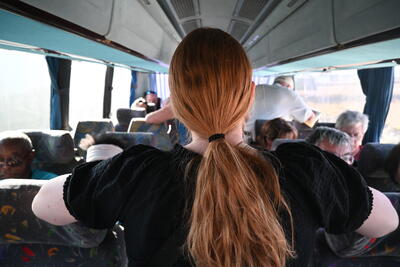 Booking through the cruise line gave us priority immigration in Israel - this was priceless! Priority immigration meant we could get through immigration very quickly in the morning versus those on independent tours who had to wait for sponsored excursions to go first.
Rather than losing half of our day due to immigration, splurging on a shore excursion through Royal Caribbean made the most sense for us to optimize our time in Israel. 
Image
We also experienced delays on our excursions during two of the days in Israel. Luckily, the ship was required wait for us because we were on a Royal Caribbean sponsored tour so we didn't have to stress about making it back in time. 
Finally, in Santorini, splurging on a shore excursion allowed us to have priority tendering off the ship. We were also bussed to and from the excursion ferry port rather than being required to take the cable car or donkey stairs from Fira, which is the port where independent tours meet. 
Image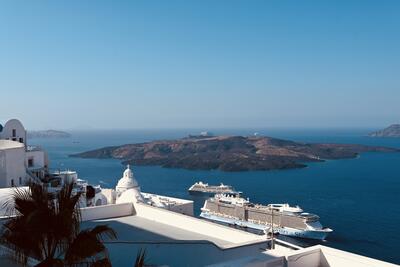 Splurging on these shore excursions makes sense for many reasons, including the convenience, flexibility and assurance that we will not get left behind. Although you pay a premium to take cruise line sponsored excursions, it can totally be worthwhile in certain circumstances.
In 2023, I will continue to splurge on cruise line sponsored excursions rather than always looking for cheaper alternatives when it makes sense to do so. 
6. Dining packages
Similar to drink packages, I had never seen the value in dining packages or specialty restaurants until this year. 
Image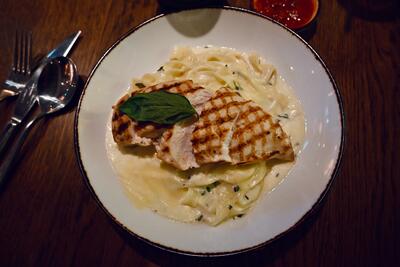 Cruise ships have so many complementary dining options onboard that I never felt it was worthwhile to pay extra for food. The more I've cruised, I've started to appreciate the quality, service and experience of specialty dining onboard cruises. 
In 2022, I purchased a 3-night dining package for my husband and I when we took our European cruise. Since we had 12 nights onboard, we really enjoyed having the variety of speciality restaurants when the main dining room menu didn't appeal to us. 
Image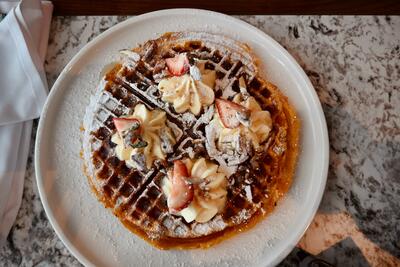 Pre-purchasing the dining package saved us money too. If we had purchased these meals onboard, we would have spent hundreds more. 
Going into 2023, I have already splurged and started to purchase dining packages for my upcoming cruises. Cruise lines have sales all the time - so snagging a great deal on a dining package has been pretty easy. 
Image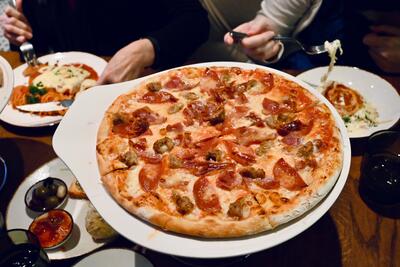 While the complimentary food onboard cruises is certainly enough, splurging with a dining package and having the luxury of speciality dining elevates my cruise experience even more.  
7. Comfortable airline seats
Basic economy airline tickets used to be my jam, but I've started to splurge on purchasing more comfortable airline seats whenever I can - especially for international travel!
When my husband and I went to check-in for our flight to London before our European cruise this summer, we were given an offer by Delta to upgrade our seats to first-class beds. Since we had just spent 6 months apart during his deployment, we absolutely splurged and accepted the offer to upgrade our seats.
Image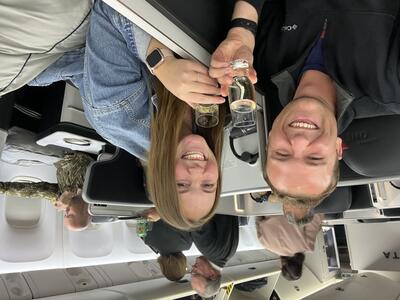 On a short domestic flight, I definitely don't see this splurge always being worthwhile. However, on a long international flight, we had no regrets splurging on our first-class seats. We were served a luxurious meal before drifting off into a lovely slumber on our lay flat beds. 
Landing in Europe with little jet lag was a huge win, as we could enjoy most of our day without feeling exhausted. 
Image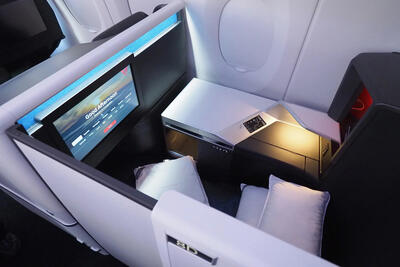 Looking into 2023, we have a European cruise planned again from Amsterdam visiting Iceland and Ireland. We've already purchased Premium Select seats for our transatlantic flight and wouldn't hesitate to splurge on an upgrade to first-class if the opportunity presents itself.
8. High-speed internet
I'm still waiting for the day when all cruise ships offer complementary internet onboard; but, until then, I will continue to splurge on an internet package. 
Image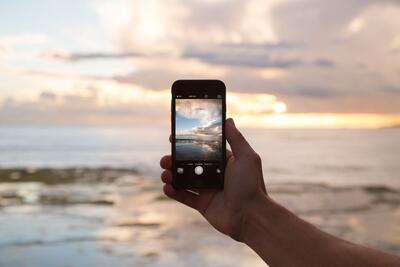 Before, I never found it necessary to purchase internet onboard. All of my cruising was strictly for leisure and I wanted to disconnect as much as possible. 
Since I work remotely and cruise more often now, having internet onboard is essential for me to stay up-to-date on everything. Whether that's my remote job or blogging for CruiseBlog, it's a necessity for me.
I also simply enjoy the luxury of having internet access throughout my cruise, even if it costs me upwards of $200. 
Image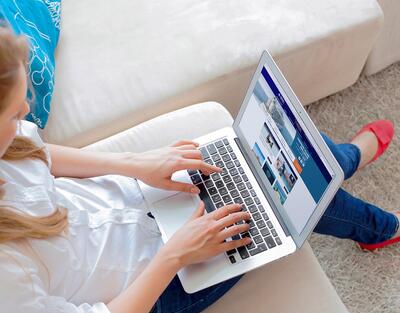 Luckily, I receive a loyalty discount on Royal Caribbean cruises for internet packages and even receive 2 days of free internet; however, having high-speed internet throughout the duration of my cruise is worthwhile for me to purchase a package. 
I am able to stay in touch with family back home; additionally, I am able to keep working when I need to. While working on a cruise isn't something I advocate for, taking 8 cruises in a year isn't totally possible unless I squeeze in my remote work here and there. 
In 2023, I plan to continue splurging on high-speed internet packages to have the luxury of connection for my cruises.