Over the last decade, the cruising industry has been transformed through innovation and technology. 
Cruising was once considered a fairly posh, traditional and exclusive experience. In fact, the cruise industry goes back all the way to 1901. The most infamous cruise ship, of course, is the Titanic, which was pretty revolutionary for its time. The ocean liner had an impressive design that featured pools, restaurants and onboard activities. 
In the 1960s, the cruising industry really started to emerge as a vacation destination rather than an ocean liner. Norwegian Cruise Line was one of the first cruise lines to establish itself as a vacation destination. Not long after, Royal Caribbean and Carnival Cruise Line entered the market - two big names that still dominate the cruising industry today. 
Image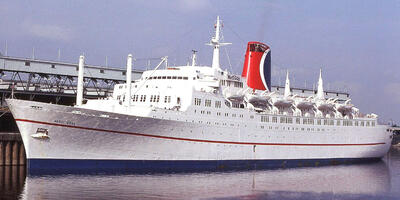 Carnival Cruise Line was one of the first big names in the cruising industry with its first ship, Carnival Mardi Gras - a name that was recently recycled for one of Carnival's newest ships.
The cruise industry became even more popular when The Love Boat, filmed on a Princess cruise ship, debuted on TV in the 1980s. 
Image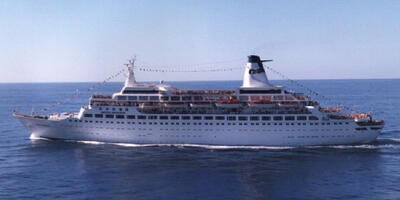 In 1988, Royal Caribbean was one of the first cruise lines to build a 'mega ship' with Sovereign of the Seas, which could hold a record-breaking 2,850 passengers. 
Image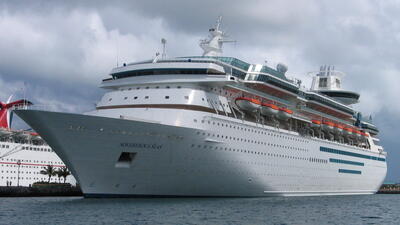 More cruise lines entered the market throughout the 1990s and established themselves as the biggest cruise competitors. Each decade since 1970 experienced passenger volume that was double from the decade prior, which is a testament to how popular cruising has become. 
Today, modern cruise ships are nearly five times as large as the Titanic. These massive mega ships are designed to be floating resorts. 
Image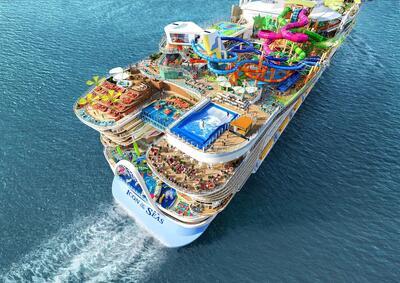 With new cruise ships becoming bigger and better than ever, the onboard experience has undoubtedly changed.
Activities that were once considered quintessential to cruising have been replaced. Cruise lines have to keep up with the trends to ensure their ships remain popular. 
Here are 10 abandoned cruise ship activities that longtime cruisers can reminisce about.
1. Skeet shooting
Image
Also known as trap shooting, guests were once able to skeet shoot on a cruise ship. This involved taking a loaded shotgun to the back of a cruise ship and shooting at clay pigeons. 
This beloved activity was very popular on sea days during cruises back in the 1980s and 1990s. While cruisers held loaded guns, crew members would fling clay birds into the air to act as shooting targets. 
Of course, it's not hard to see why this activity has been phased out. There're major safety implications with having loaded firearms onboard a cruise ship. Not to mention, passengers could be drinking the day away before taking their hand at skeet shooting. 
Image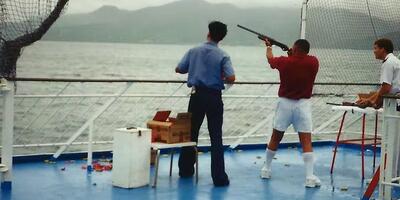 Also, throwing foreign objects into the ocean is also strictly forbidden on cruise ships today. There could also be noise complaints given the implications of shooting shotguns at sea, as most could hear the loud activity taking place. 
2. Horse decorating
Image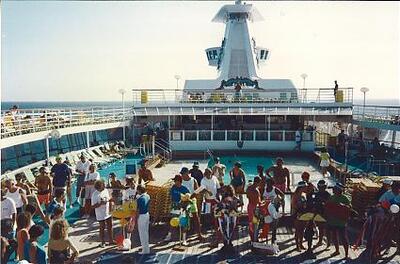 Another abandoned cruise ship activity was the practice of horse decorating for an onboard derby in the 1980s and 1990s. Remembered as a silly and fun activity by many, wooden horses were used for a gambling derby onboard the cruise ship.
The wooden horses were auctioned early on in the cruise to those who wanted to complete in the derby. These cruisers would then decorate their wooden race horses and proceed to parade the horses around the cruise ship to garner support and interest.
These wooden horses were also named and cruisers came up with some sort of back story about their horse that was shared to the audience before the race. Often times, these stories about each wooden horse would be humorous biographies imagined by the owner. 
Image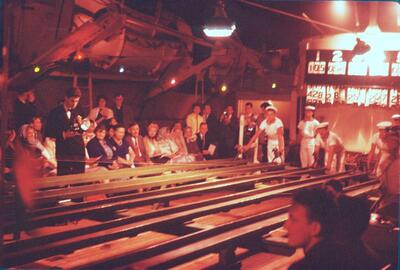 The horses would then race in a derby that normally took place in a lounge or pool deck. Six horses would compete in the derby, which was essentially a dice betting game. Passengers would cheer on the horse they placed their bet and the winning horse gets the grand cash prize.
This abandoned activity hasn't been seen on a cruise ship in many years, much to the dismay of longtime cruisers. 
3. Ice sculpture carvings
Image
Although you might still find ice sculptures on display when you cruise today, you surely would have seen multiple ice sculptures and even demonstrations during cruises in the previous decades. 
Back in the day, ice sculpture carvings on the pool deck created quite the spectacle. Talented chefs would display their master carving skills with massive blocks of ice. To the excitement of the crowd, the chefs would create some beautiful and intricate display of art in a matter of minutes. 
Ice sculptures could be seen around cruise ships - most importantly, at the popular midnight buffet. 
Image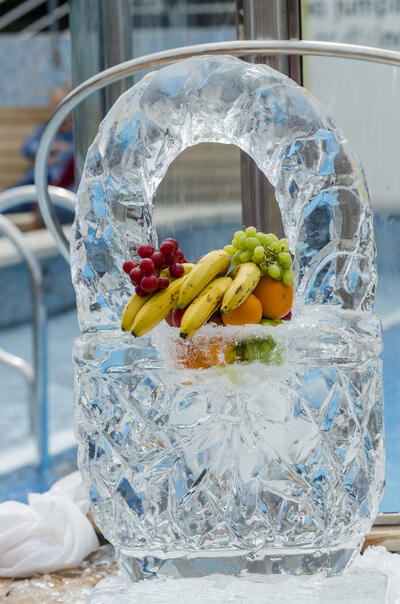 It's hard to imagine this kind of abandoned activity could draw huge crowds; but, these days, cruise ships have so many activities onboard that surely these demonstrations just aren't popular anymore to cruisers. 
4. Midnight Buffets
Image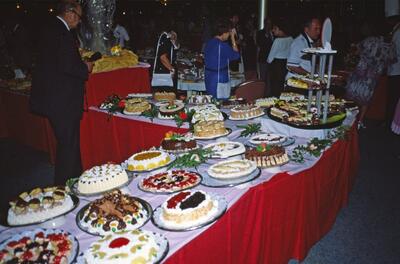 Eating has always been one of the main activities on cruise ships. Within the last decade, the midnight buffet has slowly been phased out. 
What was once the 'cannot be missed' activity onboard each day, midnight buffets had extravagant displays of food, fondue, ice carvings, chocolate and more.
The entire ambiance of the buffet would be transformed during the midnight buffet with more food than one could ever imagine. 
Image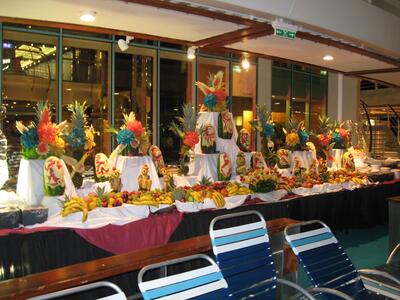 When cruising had a more traditional approach, guests could dine at limited times and venues. With cruise ships having additional dining spots and food available nearly 24 hours at a time, the midnight budget is no longer needed for guests to get their late night snack.
Additionally, midnight buffets were surely wasteful when these grand events took place each night. Eliminating waste has also been one of the reasons for the midnight buffet to be phased out.
5. Onboard driving range
Similar to skeet shooting, cruisers could pay a couple dollars to shoot golf balls off the back of the cruise ship.
By removing a section of the railing, guests were able to make the ocean their driving range. With a bucket of balls and a club, people were somehow harnessed to the ship so they couldn't fall from the top deck where the railing was removed. 
Image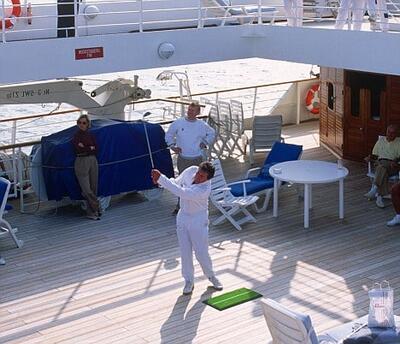 An unobstructed section was then used for an onboard driving range where guests could hit golf balls right into the ocean.
Unsurprisingly, environmental concerns were raised about how long the golf balls stayed in the ocean. Unfortunately, most golf balls were not biodegradable and the ones that were more eco-friendly were quite expensive. 
Eventually, this cruise ship activity was abandoned as more exciting things to do onboard emerged; eventually, the magic of hitting golf balls into the ocean was replaced with onboard golf simulators. 
6. Topless sunbathing
Image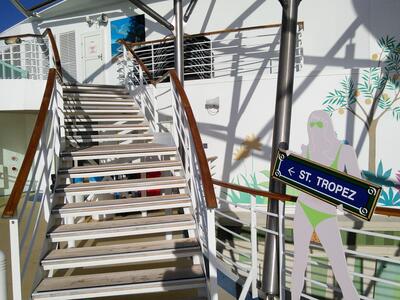 In a blast from the past, the early days of cruising allowed passengers to sunbathe topless. While the practice is still somewhat common in Europe, even North American sailings permitted topless sunbathing for many decades. 
Normally, cruise ships had a special designated area on the top deck for women to utilize if they were worried about their swimsuit leaving unwanted tan lines. 
For example, on Carnival Cruise Line, the pool deck space surrounding the famous Carnival tail was widely considered the topless sunbathing spot. 
Image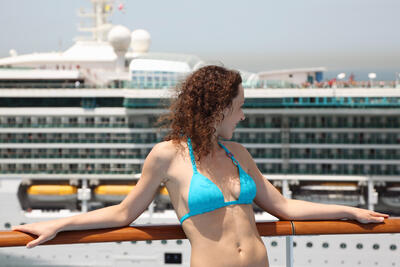 These days, most North American cruise ships have banned topless sunbathing altogether. Carnival Cruise Line has eliminated all of its topless sunbathing spots onboard its cruise ships. Additionally, Norwegian Cruise Line and Royal Caribbean state in their guest conduct policy that topless sunbathing is not allowed. 
Today's era of family-friendly cruising has eliminated this activity for good reasons, although some European cruise lines still allow topless sunbathing.
7. Passenger talent night
Image
Even though karaoke remains a popular cruise ship activity, another abandoned cruising activity is the passenger talent show. 
During this old tradition, passengers onboard a cruise ship could get onstage and perform pretty much anything they were brave enough to demonstrate to an audience. This could include singing, dancing, magic, comedy, or anything that a passenger felt was their talent. 
Many remember the passenger talent shows as quite entertainment with the talent ranging from mediocre to outstanding. 
These days, you can expect to find karaoke or lip-syncing battles as an activity on your cruise ships. Some cruise ships also have crew talent shows, which can presumably be more regulated. 
8. Nightclubbing
Image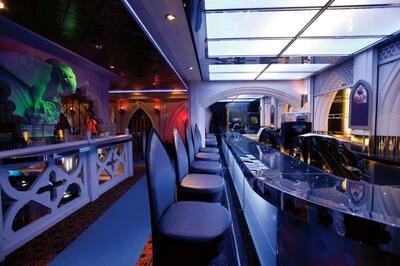 For ships built in the 1990s, many were able to find dedicated nightclubs onboard. As a late night activity, cruisers could head to the nightclubs and dance the night away with drinks and DJs.
On Royal Caribbean's ships built throughout the 1990s, these nightclubs each had their own name, such as The Crypt and The Labyrinth. 
During the day, these spaces onboard were not used until the late evening when the nightclubs became a loud party. 
These days, cruise lines have done away with dedicated nightclubs. Most of the nightclubs have been replaced on these older ships; for example, Royal Caribbean chose to replace those nightclubs with staterooms and a specialty restaurant. 
Image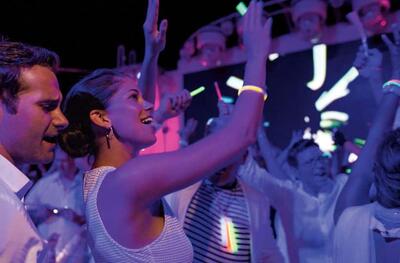 Because the nightclub space wasn't utilized during the day, cruise lines now use a lounge or other space onboard each night to serve as a nightclub. 
9. In-line roller skating
Image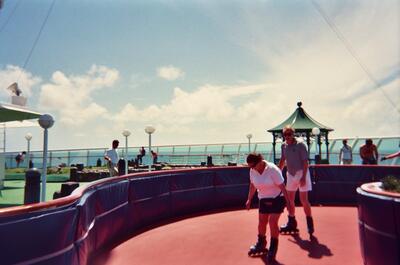 I may not be too old at the ripe age of 27, but I even remember some activities on cruise ships that have since been phased out. 
One of those activities I distinctly remember is inline roller skating. In fact, I brought my own roller-skates on a cruise ship once so I could comfortably partake in the activity. I wasn't sure if the cruise line provided skates for me to use, so I convinced my parents that I needed to bring my own (along with ice skates to use on the ice skating rink). 
All the kids ooed and awed at my cool roller-skates that I bought all the way from home. The rink was fairly small and we simply went around and around the track multiple times in circles. While the ocean views were amazing, it was pretty lame compared to other activities onboard. 
Image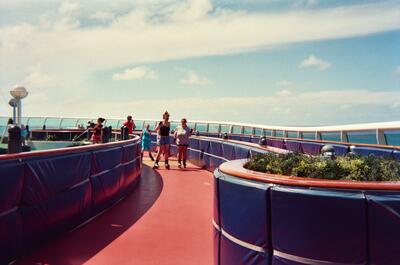 Today, cruisers can still ice skate on many cruise ships but long gone are the days where you could roller-skate on the top deck of a cruise ship. Most rinks on cruise ships that had dedicated spots for roller skating have replaced the abandoned cruise ship activity with waterslides. 
10. Smoking anywhere onboard
Image
Just like restaurants, you were once able to smoke anywhere you wanted onboard a cruise ship. This abandoned cruise ship activity is a welcomed change for passenger comfort and onboard safety. 
Of course, you can still smoke onboard a cruise ship, but only in designated smoking areas. You can no longer smoke in any public place and certainly not indoors unless you're in a designated smoking lounge or in the casino. 
Having a fire onboard is the biggest threat to cruise ships, so eliminating this activity was necessary for the safety of the vessel. Additionally, most passengers who don't smoke are not wanting to get bathed in smoke everywhere they go on a cruise ship.