No one wants to think about getting sick on their cruise vacation; in fact, it's the absolute last thing I want to think about when I am enjoying a mojito on the pool deck.
Especially in a post-pandemic world where we are more aware of potential diseases and illnesses, you might wonder what it's like using a medical facility on a cruise ship.
Unfortunately, illness can strike even on a cruise ship - of course, it's a huge bummer when it does. Luckily, all cruise ships have a medical facility onboard to treat a variety of illnesses and conditions.
I've cruised a ton in my life and been really lucky with my health. I've heard horror stories of people getting sick, breaking arms or even needing to be evacuated to receive medical care. Unlike most, I lived on a cruise ship for 100 days and never had to visit the doctor.
Image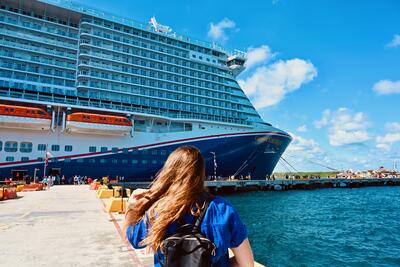 As luck would have it, my last cruise was an instance where I found myself needing to use the medical facility. My sister and I were sailing onboard Carnival Celebration for one of the ship's inaugural sailings from the United States.
Here's my experience of using a medical facility on a cruise ship and what you can expect if you find yourself in a similar position.
Towards the end of my cruise, I started to feel like I might need to visit the medical facility - but I hesitated
While I won't get into specifics, I began to experience some minor symptoms for an acute issue that I've experienced before. I knew that I probably needed a quick round of antibiotics to take care of my symptoms and resolve the illness.
I went back and forth on whether I really wanted to head down to the medical facility on Carnival Celebration. This might have been a little bit of denial - who wants to admit they're sick on a cruise?!
Additionally, I didn't want to share close quarters with people who were sick with contagious illnesses, like the flu, RSV and Covid-19. Knowing that so many bugs were circulating this past winter, I was hesitant to visit the onboard doctors.
Image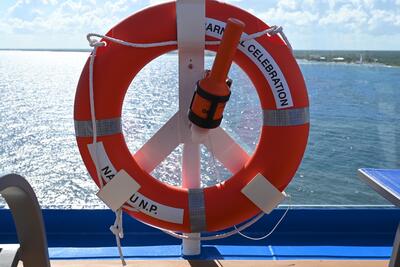 I've also heard stories about the medical facility onboard costing an exorbitant amount of money, as they do not accept insurance. All costs for medical services and medication is out of pocket and charged to your onboard account.
However, I was beginning to stress about my symptoms getting worse. As an anxious person by nature, I knew getting some antibiotics would ease my mind and allow me to enjoy the rest of my cruise.
You can't put a price on peace, especially when it comes to your health.
Eventually, I decided to head down to the medical facility to get checked out by the onboard doctor
Since it was a sea day, the medical facility was open in both the morning and afternoon. Since I had toyed with the idea all morning, I knew if I wanted to get medication that I had to get down there by the time they closed in the afternoon.
Everyone in the medical facility was required to wear a surgical mask, which was something that I appreciated.
Image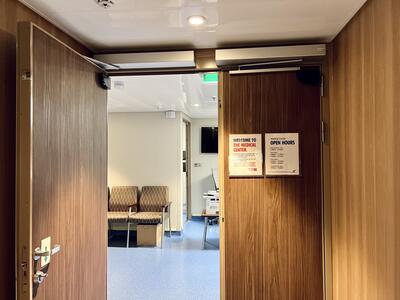 Upon arrival, I was greeted by a crew member who asked what the reason of my visit was for. He handed me a clipboard with some paperwork to fill out, which included my medical history and any current medications I was on.
Image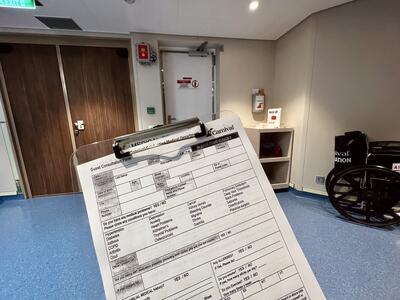 Since Carnival Celebration is a brand-new ship, the medical facility was in excellent shape. I was surprised to see how expansive the area was. It reminded me of an acute care or urgent care clinic.
After completing my paperwork, a nurse ushered me to a small area with a curtain divider and hospital-style bed
In this space, I didn't have my own room, rather there were multiple areas sectioned off by curtains.
Image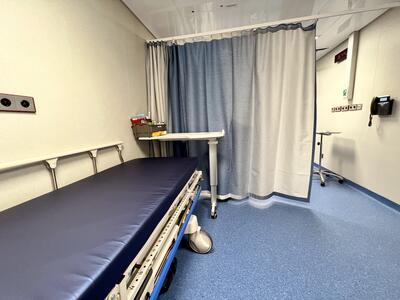 The nurse sat next to me and reviewed my medical history, asking about my symptoms, current medication and lifestyle choices (yes, including how many drinks you've had on your cruise).
She also took my pulse and blood pressure, just like at an acute care. The nurse made her way to the next person, sitting just a few feet away from me with a curtain between us. I could also hear the doctor consulting with a crew member about ALL of her recent symptoms.
Image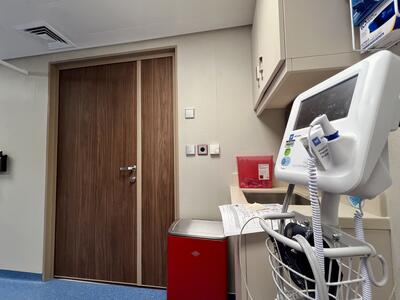 While the medical facility was expansive, it wasn't necessarily spacious. It's a compact center to accommodate multiple people and potential medical situations.
The nurse then listed a variety of options to proceed, including forgoing a visit from the onboard physician
Once the nurse examined me, she listed a variety of options to proceed with my treatment. First, she said she could provide me some over-the-counter medication to help alleviate my symptoms. If we went this route, she said I didn't need to pay for the physician visit.
Image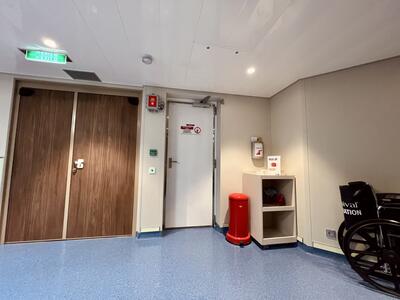 Because I've dealt with this acute illness before, I asked if I could simply get some antibiotics. The nurse said no, that I could not get antibiotics unless I saw the physician.
I asked how much it would cost to see the physician and she responded $125. I didn't think that was outrageous considering the out-of-pocket cost of healthcare I am used to at home.
Image
I was surprised that the nurse was upfront about the cost and asked if I wanted to proceed, while also feeling appreciative that she gave me options.
During this time, the nurse was also able to test and confirm the need for antibiotics, just as I've had to do at an acute care clinic back home.
The medical physician met with me shortly after to evaluate my symptoms and prescribe antibiotics
Once I agreed to pay for seeing the physician, I was greeted quickly by the onboard doctor; he was friendly and introduced himself as an M.D. He reviewed the nurse's notes and the results of the test that was conducted.
Image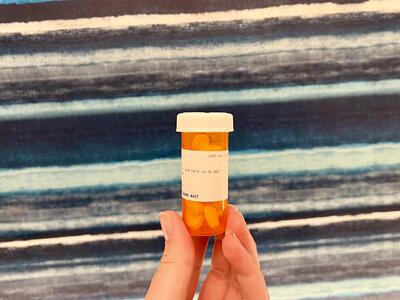 After I indicated that this is a minor illness I've dealt with before, the physician asked if I have a preference of antibiotics. Luckily, I was able to share the type of antibiotic that has worked best for me and the physician agreed to prescribe those.
It was a short visit due to the nature of my symptoms. Within minutes, the nurse came back and had my antibiotics. She told me to come back the next day to pick up the paperwork that I would need to submit to my insurance.
The next day, I picked up the paperwork from my visit and the bill - my total visit cost $155
The following day, I went back to the medical facility to pick up the paperwork and total bill from my visit. I've heard horror stories of people being charged outrageous amounts for using the medical facility onboard, so I was prepared for the worst.
Image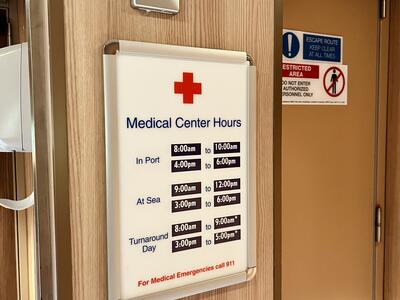 I was shocked the visit was reasonably priced at just $155. The paperwork was important because it had a summary of the visit and the itemized bill to submit to insurance.
Because I have travel insurance, I felt confident that some of this visit would be covered. The $155 total from the medical visit was billed to my onboard account, which was charged to my credit card on the last day. 
Overall, I was impressed with the care I received in the cruise ship medical facility and wouldn't hesitate to use it again
Although I was originally hesitant to visit the medical facility during my cruise, the peace of mind to get started on antibiotics was worthwhile.
I was impressed by the professionalism of the nurse and doctor onboard the cruise; additionally, I was shocked that the total cost was only $155 for the physician visit, antibiotics and tests conducted.
Image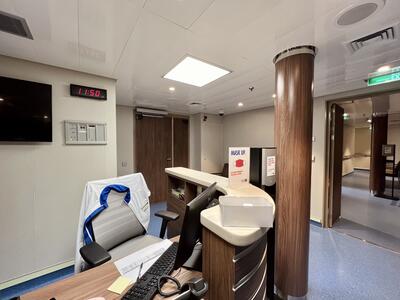 I'd argue that the convenience and accessibility of an onboard medical facility is a travel luxury. If you think about it, the ease of receiving medical care on a cruise ship is quicker and easier than you'd probably find on land.
During my time on Celebrity Beyond last year, Captain Kate even emphasized how rare it is to have medical care so close to you when you're on a cruise ship, especially if you're traveling to ports that might not have the best local healthcare. 
Once I got home, I submitted the documentation from my medical visit to my primary health insurance, which covered about $61 of the bill. Next, I submitted the remaining amount to my travel insurance company, as I have an annual policy. My annual travel policy covered the remaining $95 from the medical visit, which is the best outcome I could have hoped for.
Image