What comes to mind when you think of luxury cruise lines? Probably how much they cost! Let me tell you why I think you should still consider a luxury cruise line for your next cruise vacation, and how it might be more reasonable in price than you think. 
One of the greatest things about cruising is that there is a cruise line out there to fit nearly every style, itinerary preference, and budget. 
Have you ever wondered what it's like to travel onboard a luxury cruise line? Maybe you are wondering if a luxury cruise is really worth it. Read on to find out some of the extras that are included in sailing with a luxury cruise, and how it might just be more affordable than you think! 
My Experience
Image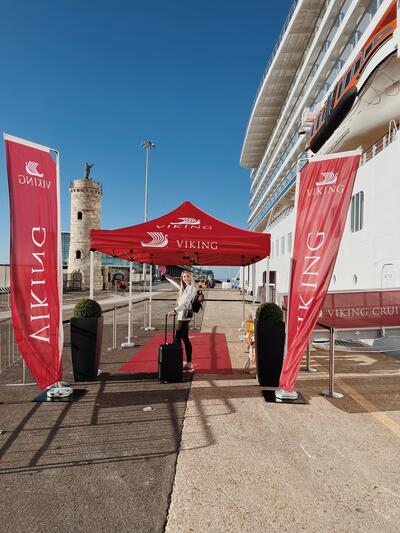 This past December, I sailed with Viking Cruises onboard one of their newest ocean ships, the Viking Neptune, and one of the Viking River Cruises, onboard Viking Tialfi. Viking Cruises is considered to be what many refer to as an upscale, or luxury cruise line. 
We chose this trip for our honeymoon, and I am pleased to say it was worth the cost, and we walked away from this cruise vacation completely happy, with no regrets. Let me tell you why in my personal opinion, sailing with Viking Cruises, a luxury cruise line may be worth considering for your next vacation. 
All Inclusive
Image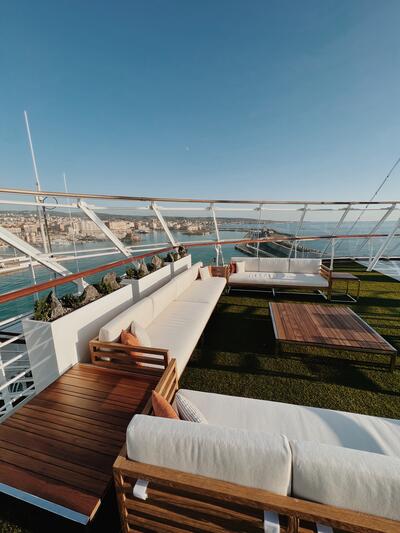 A big perk of sailing with cruise lines that are categorized as 'luxury', is that often times they include nearly everything once guests make it onboard. 
For example, on our two week cruise journeys with Viking Cruises we had the following items and amenities included in the initial cost of our cruise, at no extra cost: 
Unlimited Wifi on both ships

 

Unlimited wine and beer during lunch and dinner
Specialty coffees, teas, and bottled water 24/7
All port taxes and fees

 

Laundry services (self use laundry near each deck of staterooms)

 

At least one included excursion at each port of call
Unlimited access to the onboard Nordic and thermal spa

 

Dining at both specialty restaurants onboard

 

24 hour room service

 

Every room onboard Viking Ocean ships is a balcony room
Luxury bath and toiletry products restocked daily
Mini fridge in room restocked daily with soda and snacks
Exceptional Service
Image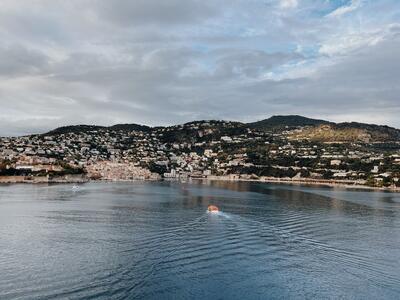 Throughout our cruises with Viking we experienced exceptional service. There were several times when we interacted with guest services onboard, for things such as lost-and-found, and making our included specialty dining reservations. Every time we spoke with a Viking representative or staff member, we were treated with professionalism and sincere kindness. 
We often encountered the same crew members throughout our cruise, and each time we were greeted with enthusiasm. Every crew member we interacted with seemed to genuinely enjoy their job, and was interested in if we were enjoying our trip.
One of my personal favorite aspects of Viking's customer service, was my interactions with the staff members who work in reservations. When we decided to book with Viking, I decided to call their customer service line to have someone walk me through the process, and to check on some discounts I had heard about through their email list. 
The representative I spoke to was incredibly helpful, and was able to apply several discounts to our sailing that helped make our trip even more affordable. 
Viking keeps detailed track of which customers speak to which of their phone representatives, and each time I called to speak to someone I was transferred to the representative that was assigned to us.
This helped make sure I never waited on hold to speak to someone, and that when I did talk to a representative, they knew all of the details of our trip, and how to best assist us. 
Design and Aesthetics
Image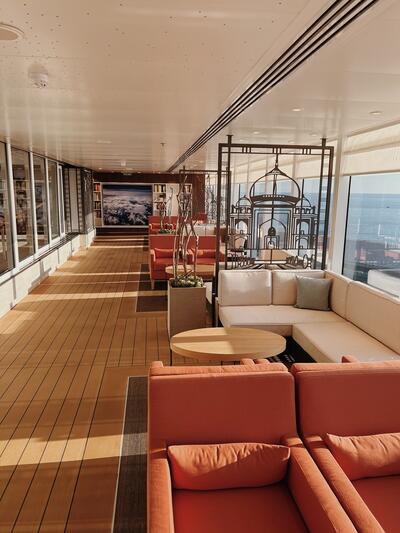 When researching for our upcoming trip on Viking Neptune (one of Viking's ocean ships), I was pleasantly surprised to find light woods, a lot of natural light, neutral colors, and organic textures featured in the style. While this might not seem exciting to some, and quite different than the usual bright colors and loud sounds found onboard larger ships, the designs onboard Viking inspire relaxation and serenity. 
Everything about the ship inspired a calm energy, and beckoned guests to let go of the stressors of everyday life, and bask in the peacefulness of the beautiful ship. 
The best way that I can describe Viking Cruises' ships, is that of a beautiful boutique hotel that travels with you. Viking puts a lot of emphasis on the destinations it visits, and this comes across in its designs onboard.
Much of the artwork onboard reflects travel themes and exotic destinations. 
Something interesting about all of Viking's ocean vessels so far, is that they all have exactly the same design and near identical layout. This means that if you travel on one ship, if you choose to sail with Viking again, once you board the ship you will feel right at home. 
The design of the ships might not appeal to everyone, as its atmosphere couldn't really be described as exciting or thrilling. But for those looking to escape in an atmosphere that exudes serenity and beauty, I think Viking's ships are the perfect answer. 
The Stateroom
Image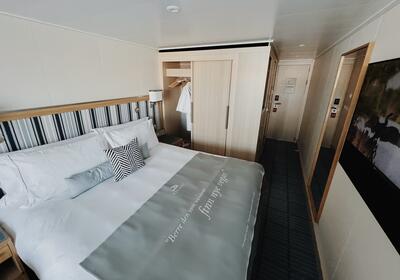 Because of its category as a luxury cruise ship, the staterooms onboard tend to be, you guessed it, luxurious! 
Onboard all Viking Ocean Cruises for example, every stateroom has a balcony. That means that even the lowest category stateroom has their very own private balcony. In addition, the rooms feature amenities such as king-sized beds, small living room areas with chairs, large closet for storage, mini-fridge with snacks and beverages, robes and slippers for guests to enjoy, coffee maker in-room, large walk-in showers, and every bathroom has heated floors. 
These are just some of the luxuries that can be found in these types of staterooms. 
Get More out of your Destination
Shore Excursions
Image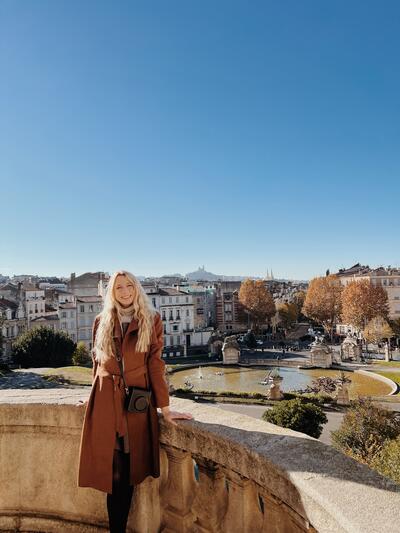 Viking Cruises offers something relatively rare in the cruise line industry, included and complimentary shore excursions at every destination. 
Viking promises that there will be at least one included shore excursion at each destination and port of call. These included excursions usually span in length from 3 hours to 6 hours. Many of these excursions are walking or scenic tours of the cities in which the ship is visiting, and come with the expert guidance of local tour guides who will share interesting facts about the destination. 
These included shore excursions were far above my expectations. 
I had relatively low expectations for these tours, as I knew they were 'free' or complimentary. However, I was very impressed with the professionalism and in-depth detail that was put into these tours. These included tours rivaled many of the paid excursions that I have been on with other cruise lines. 
Some of these complimentary excursions even included access into historical sites, or a snack from a local vendor. For example, one of our excursions to the Christmas Markets in Germany, we were given a demonstration on how candied nuts were made, and given a large sampling to take back onboard with us. 
In addition to their complimentary shore excursions, Viking offers paid tours and excursions that offer an even more in-depth look into ports of call. My personal experience with these extra paid-for excursions is that they are reasonably priced and are a great value for money. 
We paid for one extra excursion when we were visiting Florence, Italy and we thought the experience was worth every cent. Our tour took us into the historical home of the Medici Family - the Pitti Palace, as well as on a walking tour to see many of Florence's famous and notable sites, a lunch at an authentic and local Italian restaurant, free time to explore on our own, and transportation both to and from Florence from the port. All the while, we were accompanied by a guide who was extremely knowledgable about the city and told many interesting stories and facts. 
History Enrichment and Entertainment
Image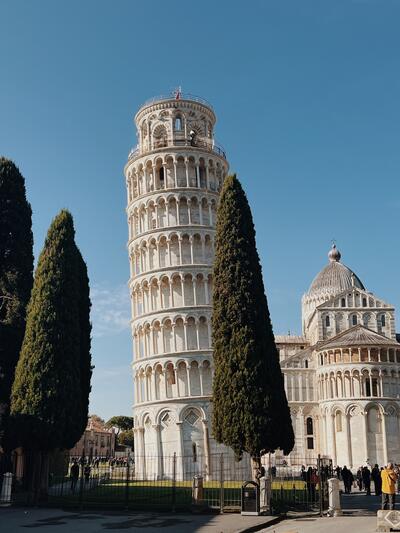 Viking is different than many cruise lines in that its entertainment focuses mostly on the destinations the ship visits. 
Something that I personally found very interesting and engaging, was the history and destination presentations given by the onboard Historians. Every Viking Ocean ship is equipped with at least one Viking Resident Historian. 
Throughout the cruise, these individuals deliver interesting presentations that share details with guests about the destinations they will be visiting and exploring. These history lectures give guests the knowledge to know about the places they will be seeing on their journey, and gives passengers a wonderful insight into their travels. 
For example, on our ocean cruise with Viking, we attended several of the history presentations, but my personal favorite was the one given on the Medici Family of Florence. This history presentation taught me so much information about the history of Florence that I didn't know. This helped so that when we toured the city the next day, I felt like I could properly appreciate the place I was visiting. 
Luxury cruise lines will typically have smaller-scaled entertainment, partially due to the fact that they are usually smaller in size. This means that usually guests will not find large production Broadway-style performances or Cirque-du Soleil style shows onboard. This does not diminish the quality of the entertainment, but guests should be aware that the style does tend to be different onboard these smaller ships.
On our itinerary, Viking also brought onboard a local singing and dance group when we were docked in Barcelona, Spain. This group performed traditional and local songs and dances, and it was a lot of fun to see while we were visiting Barcelona. 
Destination Focused Dining
Image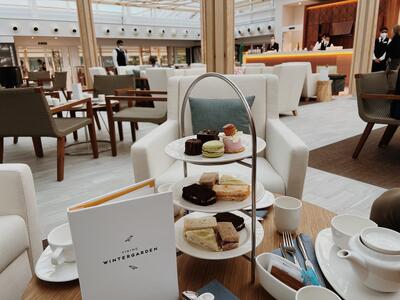 As with many cruise line, Viking has several restaurants onboard. 
Every ship features three restaurants, the main dining room called The Restaurant, Manfredis' Italian Restaurant, and The Chef's Table. All of these dining locations are complimentary to all guests onboard. 
Again, with most cruise lines, the menu at The Restaurant features classic dishes that are offered each night, in addition to dishes changed daily that are themed to the location and destination that the ship is visiting that day or part of the cruise itinerary. 
The food onboard these ships tends to be spectacular. 
Because luxury cruise ships are typically smaller in size, you may not find copious varieties of foods onboard that you would find on much larger ships. However, I was still pleasantly surprised to discover that the buffet venue onboard our Viking Cruise had plenty to offer guests, and the quality was superb. 
Some of the restaurants onboard luxury cruise ships rival that of Michelin-Star quality. On all Viking Ocean Cruises, there is a Restaurant by the name of Chef's Table. This restaurant features a changing menu, where guests are served a surprise 5-course meal. Guests do not get to choose what they will be eating, but instead enjoy food created specially by a master chef. 
One of my favorite experiences onboard Viking Ocean Cruises was Afternoon Tea served in a venue called the Winter Garden. Everyday at 4:00pm, tea was served in this beautiful space, usually accompanied by live music of some sort. The extensive tea menu was joined by a platter of yummy sandwiches and cakes. 
I can firmly say that everything we ate onboard our Viking Ocean Cruise was wonderful.
Having the food onboard themed to the ship's itinerary, and destinations helps to immerse guests even further into the locations they are visiting. 
This helps ensure that even if guests don't get the chance to try local foods while they are out and about exploring, that they still get a taste of the places they are seeing on their cruise. 
Deals, Promotions, and Sales
Image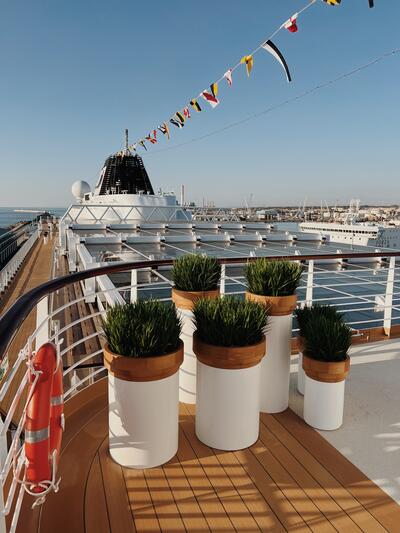 Viking Cruises and other luxury cruise lines often offer extensive deals and promotions throughout the year. These deals help to make these cruise sailings more affordable, and often make sailing with these cruise lines more possible than some might think. 
Read on to see some of the recent promotions and deals I was able to score on our previous Viking Cruises adventure! 
Onboard Ship Credit
Image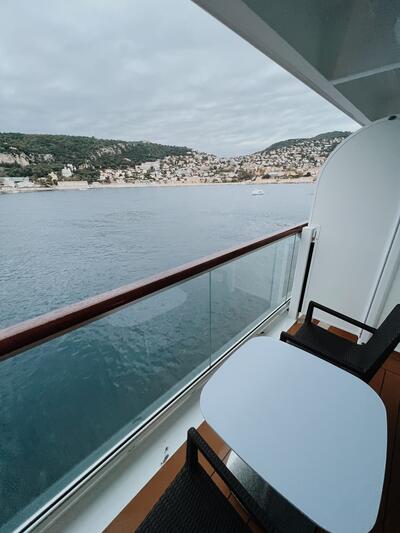 One of the frequent promotions that Viking offers is shipboard credit. This money can be used towards either cocktails (if guests choose to not purchase the Silver Spirits Beverage Package), gratuities, or to make purchases at one of the ship's onboard shops. 
Included Airfare
Image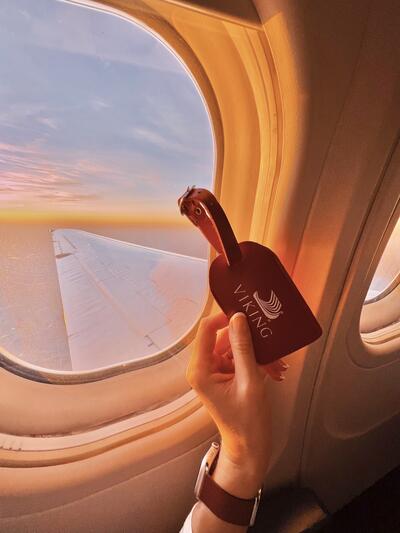 (Luggage tags included with Viking Ocean Cruise reservation)
Viking Cruises offers its guests the ability to book their airfare, should it be necessary, through the cruise line. 
Viking Cruises often offers free airfare or heavily discounted, if booked directly through them. This can be a huge savings, as flying to Europe to board a cruise sailing on a European itinerary can be quite expensive, even into the thousands of dollars just in airfare. 
We were lucky to reserve our cruise during a time that Viking was offering free airfare. Viking allowed us to identify which airline we preferred to fly with, enter any airline loyalty/rewards numbers we might have, as well as identify our preferences for window or aisle seating. Additionally we were able to pick which airports we would like to begin our journey from, and which airport we would like to fly back to after our trip was over. 
Money off the Cost of the Cruise
Image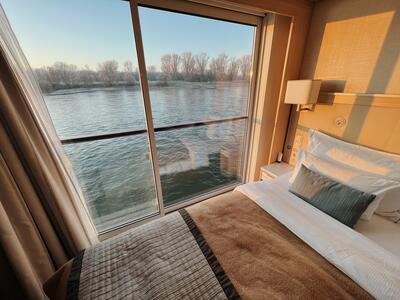 (French Balcony style stateroom onboard Viking Cruises River Ships)
Yes, the initial cost of a luxury cruise may be more expensive from the on-sight, however, Viking Cruises often offers promotions such as 30% off the cost of a cruise, etc. 
Prospective guests can sign up for Viking Cruises' email notifications, and newsletters. Through these emails, potential passengers will be notified when great deals become available. 
Beverage Packages
Image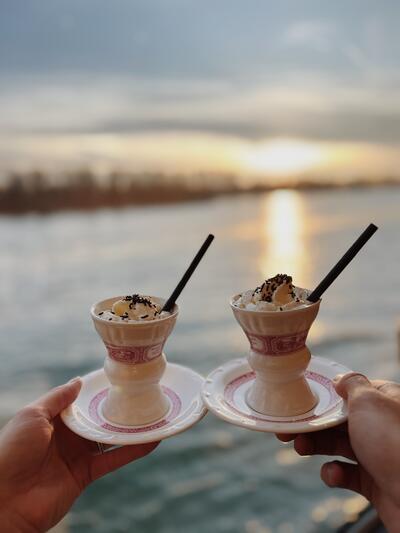 Wine and beer are included for all guests onboard all Viking Cruises ships, during lunch and dinner meals. 
If guests would like to indulge in cocktails onboard, then guests of Viking Cruises can purchase the Silver Beverages Package. This beverage package includes any alcoholic beverages (under the cost of $15 USD. Most cocktails were about $9 USD, including gratuity) at any time of day, and costs about $18 USD per person, per day of the cruise. 
The including of the beverage package is often one of the promotions offered by Viking. 
Value for Money
Image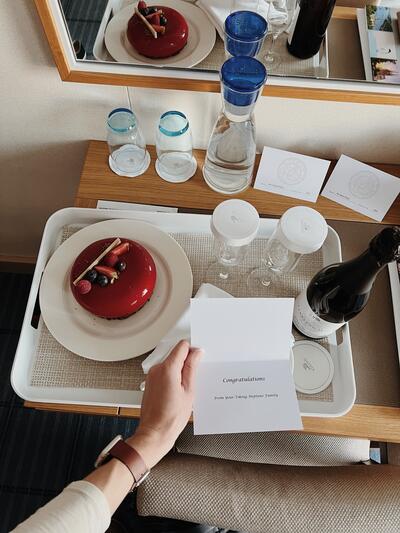 Luxury cruise lines do usually come with a higher initial cost than most cruise lines. However, once the price is broken down, it might not seem as expensive by comparison. 
For example, if a guest was to make a reservation onboard popular cruise lines such as Norwegian Cruise Lines (NCL), or Royal Caribbean, that included all of these amenities, it would cost guests an upwards of $7,000 USD for two people, for a week long cruise. Below is an example of a potential price breakdown.
7-night European Mediterranean Itinerary including beverage packages, a balcony room, specialty dining, wifi, port taxes, and shore excursions, and airfare would cost the following, on the following cruise lines, for two guests: 
NCL = $6,991.80 (all inclusive)
Royal Caribbean = $2,766 (this does not include excursions, wifi, beverage packages, specialty dining, or airfare)

 

Celebrity Cruises = $6,846.54 (all inclusive)
Disney Cruise Line = $3,634.60 (does not include excursions, wifi, beverage packages, specialty dining, or airfare)
Viking Cruises = $7,198 (all inclusive, except airfare for this breakdown)
Something to note, these are just potential examples of some price breakdowns at the time of research. Prospective guests may be able to find completely different prices depending on itinerary, time of year, ship, etc.
Having a cruise line offer an all-inclusive package is a great option for guests who want to pay for the entirety of their vacation ahead of time, and do not want to feel nickle-and-dimed throughout their sailing. 
Yes luxury cruise lines tend to be more expensive, but their value for money also tends to be pretty good and comparable to that of other cruise lines. 
For example, in my personal experience with Viking Cruises, we paid about $8,500 for our 16-day honeymoon vacation. This cost included one Ocean Cruise with Viking and one River Cruise, plus airfare, and Viking Cruises' Silver Spirits Beverage Package. We were able to procure this price because of the promotions that Viking was offering at the time. 
Again, I would highly recommend signing up for cruise lines' email lists and newsletters. These emails are much more than just spam, they often contain exclusive discount codes that can get you great prices and fares on cruise sailings. 
Other Discounts to Consider
Image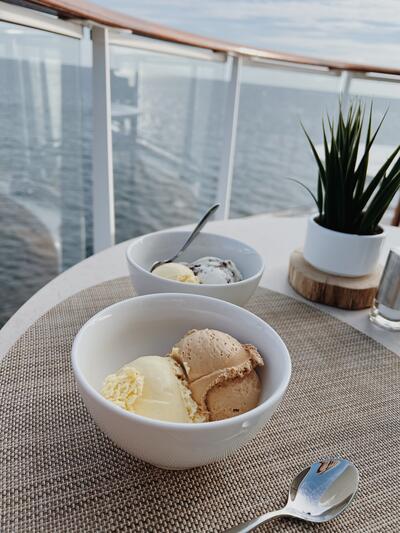 (Gelato made fresh onboard each day)
While they may be small, Viking Cruises does offer a couple additional discounts to any guest. 
If you know someone who has sailed with Viking before, they can 'refer' you, and you can procure $100 per person off the price of your cruise. Typically $200 for a couple traveling together. 
Additionally, if you sail with Viking and enjoy your experience enough to book another sailing with the cruise line, you can get a $100 per person discount by entering your Viking Explorer Number (a number given to you after sailing with Viking once), and booking a cruise within one year of your previous sailing. 
These discounts may not seem large, but when it comes to cruise deals, every dollar counts! 
Adults Only
Image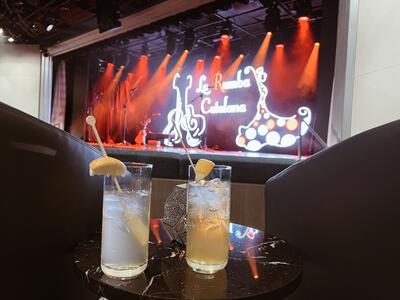 Most luxury cruise lines tend to be adults only in who they host onboard. Because of this, most luxury cruise lines are not exactly categorized as child-friendly. 
On most luxury cruise lines you will not be able to find kids clubs, or splash pad areas for the little ones. Because of this, I would say that Viking Cruises and other luxury lines are more to be considered for couples, friends, or families with adult (over the age of 18) children. 
Because of their adults-only nature, luxury cruise lines are often quiet and relaxing, offering a space to escape and unwind while sailing the high seas. 
Why I Think you Should try a Luxury Cruise
Image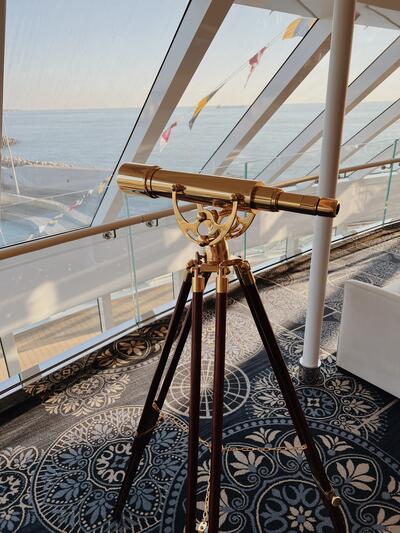 (Infinity pool found at the back of the ship on all Viking Ocean Cruises. One of three pools onboard)
Sailing with a luxury cruises sometimes offer an all inclusive experience, where guests can kick back and enjoy their vacation. 
Cruise lines such as Viking Cruises and other luxury lines tend to not be equipped with all of the bells and whistles of the bigger ships, such as large entertainment venues and spectacles, casinos, water slides, or kids clubs, but they do offer a romantic venue for couples and friends to explore the world. 
Conclusion
Image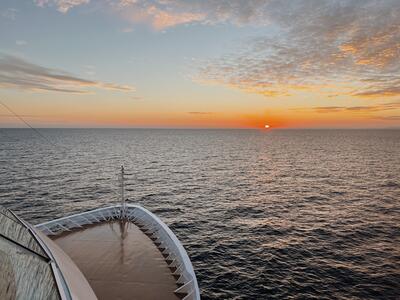 A luxury cruise line will not appeal to everyone, but that is one of the great things about cruising. As I mentioned earlier, there is a cruise line out there for nearly every guests' personal presences and budget, and this gives potential cruise passengers the freedom to create a vacation journey that is best suited for them! 
A luxury cruise line may not be the right vacation for every traveler. Everyone has their own preferences, and aspects of the cruise that make the cost worth it to them. However, if sailing onboard a luxury cruise sounds interesting to you, I think it might be worth checking out!