Carnival Cruise Line is known for having the most fun ships at sea. Attracting a young demographic, the cruise line caters to an upbeat, party-like atmosphere onboard; the fun starts from the minute you wake up! Additionally, you can find the best sailaway parties and nightclubs at sea.
I've sailed on four different Carnival cruises in my lifetime. First, I sailed on Carnival Destiny, which is now known as Carnival Sunshine, back in high school with my family. This was a spring break trip with quick stops to Cozumel and Key West from Miami.
In college, I sailed with my husband (then boyfriend) on Carnival Fantasy. The ship was undoubtedly old, but it was a great deal and hundreds of dollars cheaper than Royal Caribbean. We had a fantastic sailing and didn't care about being on an older, smaller ship.
Image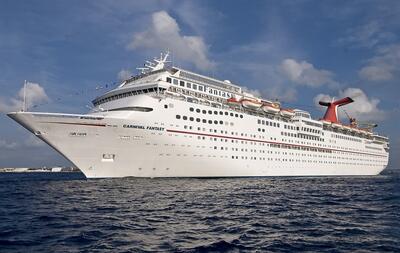 In 2022, I sailed for the first time in over a decade with Carnival Cruise Line. My sister and I sailed from Mobile, Alabama on the oldest ship in the cruise line's fleet - Carnival Ecstasy. This ship was 31 years old, which is older than almost every cruise ship sailing for major cruise lines right now.
Carnival Ecstasy was scrapped the next month, so it was a unique experience sailing on a ship that was soon-to-be retired. 
All of my Carnival experiences up to this point were on some of Carnival's oldest and smallest ships.
Image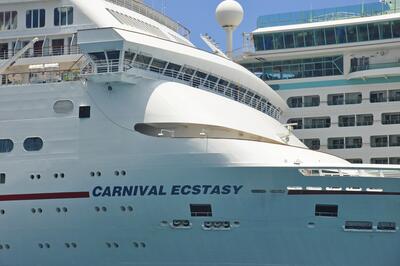 To end the year, we wanted to experience the best of what Carnival Cruise Line has to offer; so, we sailed onboard the brand-new Carnival Celebration for one of the ship's inaugural sailings.
After four cruises with Carnival Cruise Line, I have a pretty good gauge on how I feel about the cruise line. I am confident in a few things that I will never do again onboard one of Carnival's ships. Read on to find out more.
I'll never sail on Carnival Cruise Line's oldest and smallest ships again
After sailing on Carnival Celebration, there's no doubt in my mind that I will only choose to sail on Carnival's newest ships.
Gone are the days of cramped ceilings, excessive amounts of neon coloring and long lines at the buffet.
Image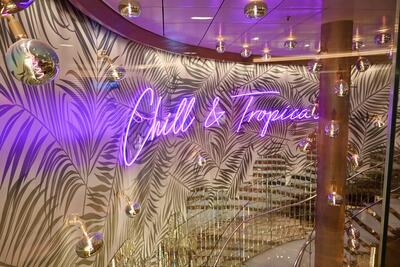 The Excel-class of cruise ships, which currently includes Carnival Mardi Gras and Carnival Celebration, is revolutionary for the cruise line. These modern, sleek and stylish cruise ships are absolute game changers for the cruise line.
Until this newest class of ships, Carnival Cruise Line continued to build smaller ships comparative to the rest of the industry. The cruise line lacked innovation for many years and instead built ships that were all consistently similar to one another.
Even their brand-new ships built in 2019 looked as old as Royal Caribbean's ships from the early 2000s.
Image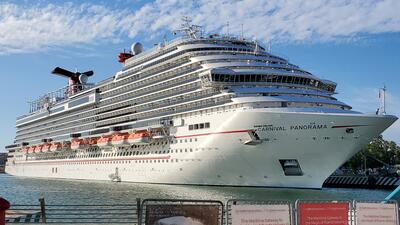 Finally hopping on the bandwagon of mega ship building, Carnival Cruise Line debuted the Excel-class of ships, which can hold 40% more than anything else in the cruise line's fleet.
Image
While these new ships aren't necessarily luxurious, the Excel-class of cruise ships creates a totally new Carnival experience. I can't see myself choosing to sail on any of Carnival's older ships at this point, as Carnival Celebration really outshined any other Carnival ship I've sailed on.
After trying Carnival's buffet multiple times, I won't plan to eat in the Lido Marketplace again.
While Carnival Cruise Line has arguably the best quick, casual food in the cruising industry, their buffet leaves a lot to be desired.
Image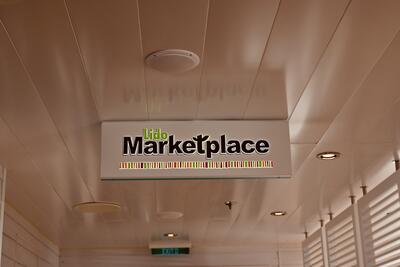 On my very first Carnival cruise with my family, I remember being shocked by how bad the food tasted in the buffet compared to other cruises I had been on. The long lines, lack of seating and dark lighting made the buffet lackluster to say the least.
After Carnival started to integrate more dining choices, like Guy's Burger Joint, the need for the buffet has slowly started to decrease. Still, having a decent buffet is pretty much required on any cruise ship because of the convenience and range of food availability.
Image
I figured Carnival Celebration was the best chance for Carnival to prove me wrong; unfortunately, the Lido Marketplace onboard was just as drab as every other Carnival buffet I've tried.
The food choices were limited and everything we tried was pretty bland. When you have so many amazing options, like Big Chicken and BlueIguana, there's no need for me to keep trying Carnival's buffet.
I will never plan to eat again at Carnival's buffet, unless I absolutely have to (i.e. it's my only choice).
On Excel-class ships, I'll never watch another Center Stage show in obstructed stadium seats.
If you've sailed on Carnival Mardi Gras or Carnival Celebration, you'll know exactly what I am talking about here.
Image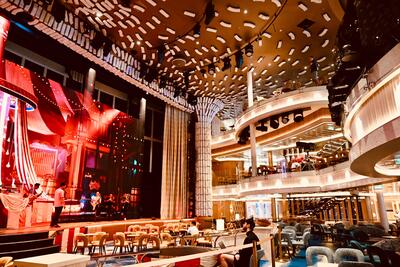 Onboard Excel-class ships, the grand atrium features some really awe-inspiring headliner shows that are performed at Center Stage, like the Most Magnificent Circus and Celestial Strings. 
This atrium is outward facing and spans three decks, so it's a large venue. While the open-floor concept creates a welcoming space, the seating situation is horrible.
Image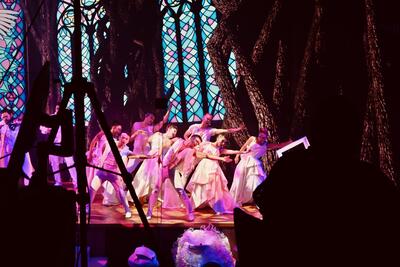 For two of the main headliner shows, we sat in stadium-style seats on the second floor. We figured these were meant to be used for the audience, as there would be no other purpose for the seats.
Unfortunately, we had obstructed views both times, but there were no other seats available. People were constantly walking in front of us to get from one side of the ship to the other while many stopped to gawk and take pictures. It was so frustrating and distracting.
Not to mention, Carnival had their entire technical sound booth and a make-shift table blocking the view as well. 
Image
I'll never watch another show in these stadium seats again on an Excel-class ship; instead, I plan to arrive early enough to snag one of the coveted floor seats. I also hope that Carnival will make some design changes to alleviate these issues in future ships.
When cruising on Carnival, I will never walk into town in Cozumel again.
On both of my Carnival cruises this year, we visited Cozumel, Mexico during our Caribbean sailings. The first time visiting this popular cruise port was on Carnival Ecstasy in August followed by Carnival Celebration in November. 
Image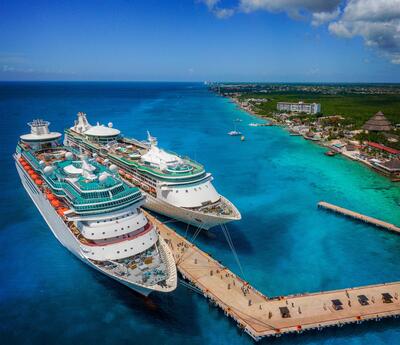 For the day, we opted to do a resort day pass because of its proximity to the cruise port. With a quick Google search, the resort was only a 10 minute walk from the terminal - very doable!
Well, I didn't realize that Carnival's cruise ships dock at a slightly different spot than Royal Caribbean, which is what I was most familiar with. As we walked off the ship, I used my phone to enter the address of the resort.
Image
It was a 26 minute walk, which was more than double of what I was expecting. Now, I don't have any issues with walking in port; but, it was HOT in Cozumel when we visited in August.
As we started walking outside of the port terminal area and towards the town, it felt a little sketchy. Not totally unsafe, but I was regretting that we didn't take a taxi.
There are other cruise terminals in Cozumel that are closer to the actual town area, but Carnival's ships mostly do not dock there in my experience.
Image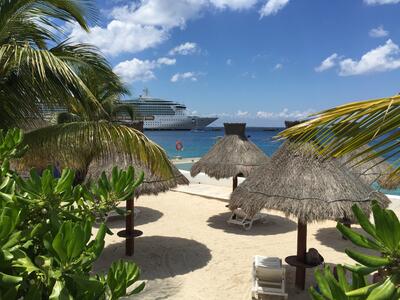 In the future, I will plan to take an organized excursion or taxi if I need to get to town somewhere. Given the heat and surrounding area, this is the best option.
After splurging on specialty dining, I will never eat at Carnival's steakhouse again.
On my Carnival Celebration cruise, we decided to splurge and book an evening at the onboard steakhouse, Fahrenheit 555. After the experience, I will not be planning to try this specialty restaurant again.
Image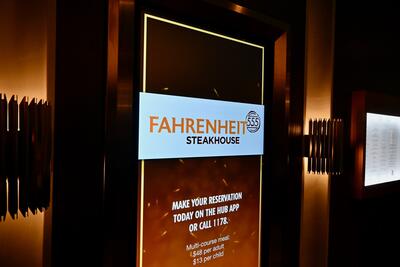 Although we did have attentive service, we were surprised to find we were limited to how much we could order. Our waiter explained we could only order one appetizer, one entree with two small sides and dessert, which was a shock to us. We've never been told we were limited in a specialty restaurant on a cruise.
Image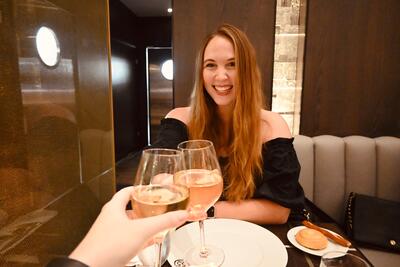 We tried to strategically order the different menu items we wanted to try, but the restriction was a little off-putting. Not to mention, the sides were really small so if you ordered something you didn't like, then you were out of luck.
Now, I understand Carnival wants to cut back on waste and prevent people from ordering too much; however, specialty dining isn't a place to make cutbacks in my opinion since it's an additional cost at $50 per person. Unfortunately, my steak also tasted a little overcooked and chewy.
Image
Overall, I am glad we tried this restaurant but you won't be finding me back in the Carnival steakhouse again.
Finally, I'll never wait until the last day of my Carnival cruise to try the onboard thrills.
This was a lesson I had to learn the hard way!
On Carnival Celebration, we had wanted to try the ropes course in the Ultimate Playground, but we opted to put it off a few times. The ropes course was complimentary and allowed cruisers to complete an obstacle course above the top deck.
Image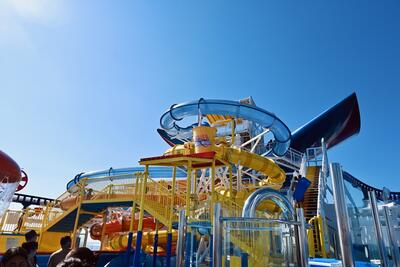 On the last day of the cruise, the winds were unfortunately too strong so the ropes course was shut down because of safety concerns. Additionally, Bolt was also closed off because of the weather.
Since we had waited until the last day to try the ropes course, we weren't ever able to actually try it because that was our last chance. I was relieved that we had done Bolt earlier in the cruise.
Image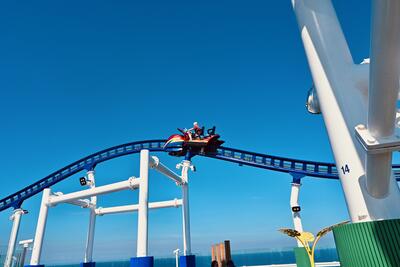 It had never occurred to me that waiting to try an onboard thrill (that's weather dependent) until the last day is a little risky. I wish we had taken the opportunity to do the ropes course earlier in the cruise when we had the chance to do so. 
In the future, you won't find me putting off activities until the last day of the cruise.